Once-in-a-lifetime Europe—none of the crowds, all of the perks!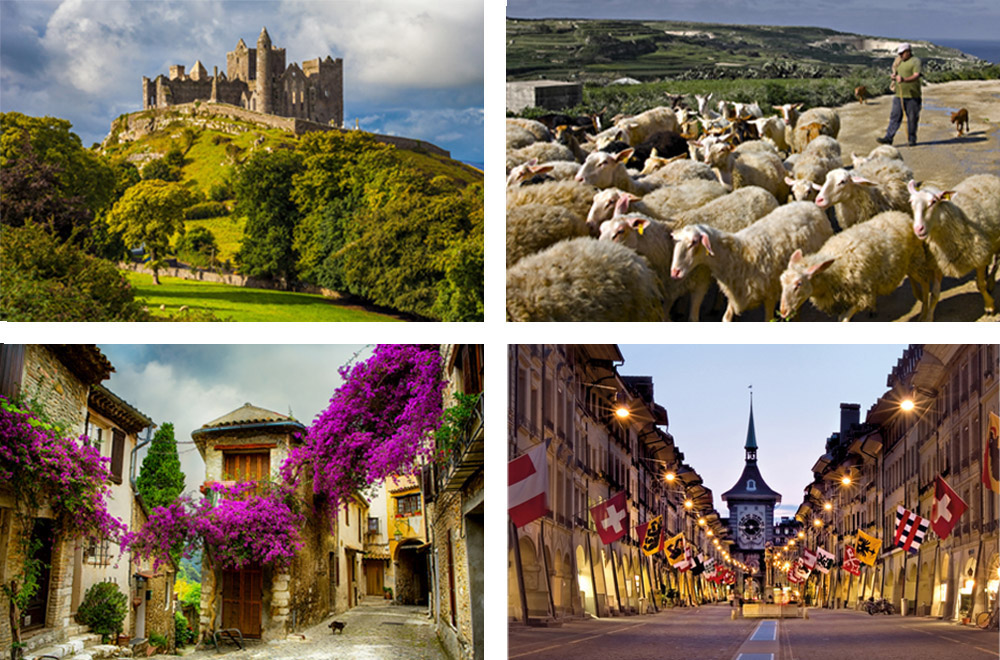 I've been saying for a while now that if you're fully vaccinated, this fall is a golden window of opportunity for travel to Europe.  The E.U.'s recommendation to limit unvaccinated travelers means fewer tourists, more authentic experiences, better pricing, and a safer environment for you. It's a rare chance to experience Europe crowd-free and with an especially warm welcome.
So I've decided to help you take advantage of this opportunity—before pent-up demand is unleashed in 2022.  I've pulled strings with the local experts on my WOW List to get them to offer you once-in-a-lifetime experiences of Europe this fall and winter, with none of the crowds and all of the perks!   We collaborated to come up with 14 opportunities, all in countries that are open to U.S. travelers and have relatively low virus caseloads and high vaccination rates compared with those in the U.S.  An easy solution for looking up any country's vaccination rate and Covid caseload is Our World in Data. Use the following links to compare any country's vaccination rate and Covid caseload per million people with your home country's. (Add a country to the graph by clicking its box in the lefthand column.)
These opportunities are so robust that they are available for a short time only and only if you contact the experts through the buttons below. These 14 custom-tailored trips will be optimized from start to finish by WOW List experts who will leverage their in-country relationships to maximize your delight, minimize your risk, eliminate hassles, and deliver unprecedented added value.
WHAT YOU GET
1.  Complimentary upgraded accommodation. Think terraces and balconies providing the best ventilation and views, and enhanced privacy and living space.
2.  Complimentary WOW exclusive access and insider experiences.  All are Covid-optimized, of course.
3.  Perks throughout your trip.  Think complimentary breakfasts, entrance tickets to sights, etc.
The bottom line: Your WOW List expert will work to ensure you get the ultimate value and experience based on your destination, timing, focus, and safety criteria. Want proof?  See these reviews from travelers who just got back.
IT'S EASY AND SAFE (RELATIVELY SPEAKING)
1.  These trips stick to the locations within each country that have high vaccination rates and low infection rates. 
Don't misunderstand the U.S. State Department Advisory Levels, which apply to the entirety of each country, including less-safe areas where you won't be going.  Would you nix a trip to Vermont because of Covid rates in Florida?  Also, check the dates on State Department advisories because some have not been updated in months and reflect a situation on the ground that is no longer the case.
2.  Flights to/from Europe are more Covid-safe than U.S. flights. 
That's because almost everybody onboard has been vaccinated or has just tested negative (depending on the entry requirements of the country you're flying to).  Also, as we know by now, the chances of becoming infected on an airplane are extraordinarily low.
3.  Europe's entry rules are not as confusing or restrictive as some people are making it sound.  If you're vaccinated, most of Europe is open to you. Entry requirements are here.
4.  Quick Covid tests for travel are easy to get now.  I use at-home mail-in tests both pre-trip and before flying back to the U.S.  Test options are here.
5.  We recommend single-country Europe trips.
This limits entry requirements and border logistics.
6.  WOW List experts arrange everything to be private, open-air whenever possible, socially distanced, masked when indoors, and compliant with local Covid protocols.
IT'S ONLY AVAILABLE HERE 
This combination of added values and experiences is available only through WendyPerrin.com for bookings made between today (September 15) and October 15.
WHEN TO BOOK
By Friday, October 15, 2021
TRAVEL BY
February 28, 2022
TELL YOUR FRIENDS
There may not be an opportunity like this again.  Plus, if you tell a friend who takes one of these 14 trips, it will qualify toward a WOW Moment for both you and your friend!  (See full details below.*)
CHOOSE FROM THE 14 DESTINATIONS BELOW
Click on the black button for your choice and submit the questionnaire.
AUSTRIA: For fairytale charm and festive cheer
If you're fully vaccinated, you can go.
The Danube Valley's wine harvest runs through mid-October, and the wineries are a lot more pleasant this year without the usual river-cruise day-trippers.  Outdoor dining lasts late into the fall, and Gwen knows which restaurant courtyards are most charming and warmed by heat lamps. In Vienna there's plenty of sidewalk dining, and fresh-air excursions abound, given how hike-friendly the city is (remember the Vienna Woods) and bike-friendly too (bike lanes are removed from traffic).  Austria's Christmas markets are scheduled to open in mid-November, and they're another reason to spend time outdoors, sampling mulled wine and local specialties, enjoying the homespun stalls of artisan crafts and musical concerts under the stars. Don't miss Salzburg, whose Christmas market stepped right out of a fairytale. Read reviews.
ENGLAND: For golden countryside and a Dickensian Christmas
If you're fully vaccinated, you can go. 
The Cotswolds, the Lake District, and the Yorkshire Dales are ablaze in the fall; even London's Royal Parks turn golden.  Stonehenge will be blissfully uncrowded for once and, thanks to new timed-entry systems, so will indoor landmarks such as the Tower of London and Westminster Abbey. With far fewer bus tours in places like the Cotswolds, roads will be less crowded too, making it easier to drive.  Jonathan knows which manor-house hotels have created elegant spacing for guests, with rooms spread out around estates; you could be in a coach house, a mews, or a gate lodge.  Fall and winter is game season (think venison, grouse, pheasant, partridge, rabbit), and it has never been easier to get into London's best restaurants, many of which now have outdoor seating.  London dresses up for Christmas in mid-November, with spectacular lights and holiday markets, but if you can't wait till then, Guy Fawkes Night is celebrated with bonfires and fireworks on November 5. Read reviews.
GREECE: Because some Greek islands are open year-round
Unvaccinated travelers can enter with a negative Covid test.
Summer lasts here until mid- to late October.  After that it's still sunny and pleasant for hiking, exploring classical sights and villages, and even day boat trips, with temps in the 60s in November and the 50s in December.  Many Greek islands shut down in late October or early November, but Crete, Corfu, and Rhodes operate year-round, offering traditional cultural and culinary experiences and festivities in the winter months.  November is a great time for sheep farms, olive orchards, and the wine harvest.  Indoor experiences can always be made private—from cooking classes in homes or local tavernas to private visits to the Acropolis Museum.  Mina and Faye handled thousands of travelers this past summer, and not one of them tested positive prior to returning to the U.S. Read reviews.
IRELAND: From castles to cottages, feel the cozy warmth 
If you're fully vaccinated, you can go.
Ireland was meant to be enjoyed in an Irish wool sweater, and the Cliffs of Moher and the Ring of Kerry were meant to be appreciated without the summer crowds marring their majesty (and your photos). The lit fireplaces of fall give off the scent of burning peat bricks mixing with the sea air.  But the best part of Ireland is the people—and the craftsmen and artisans you meet through Jonathan have more time in fall and winter to engage and show you how they make leather, glass, furniture, jewelry…or that aforementioned wool sweater (custom-made, of course).  Hotels get into the festive spirit in November—and many have created outdoor, covered dining spaces—but consider taking over a manor house with your family for Thanksgiving or a castle for Christmas.  Temperatures in December are like the Pacific Northwest's (they tend not to dip below the 40s), but when you want to retreat indoors—say, to the theater in Dublin—you'll find only vaccinated people, as you must produce your vaccine card to enter museums, restaurants, and other indoor spaces.  Read reviews.
ITALY: For la dolce vita, from the Amalfi Coast to Lake Como
If you're fully vaccinated, you can go with a negative Covid test. 
This is the fall when the ultimate Italian fantasy might actually be within your grasp.  Start on the Amalfi Coast and Capri, where October is still bikini weather and, this year, free of the usual stampede of bus tours and cruise ships. In November head to Piedmont for truffle season (the White Truffle Fair in Alba runs until December 5).  Try truffle hunting, taste the local Barolo wines, watch artisanal cheese makers, cycle among the vineyards (electric bikes are available!), hike the rolling hills beneath the crisp blue skies….or do it all with your family in a villa for Thanksgiving.  On December 7 be in Milan for the start of the opera season at La Scala. Opera houses and other indoor venues in Italy feel safe because a Green Pass (the equivalent of a CDC vaccination card) is required for entry, but if that's not safe enough for you, Andrea can get you private visits to the Duomo, La Scala, The Last Supper, Milan's famed museums and stores, and any fashion designer's atelier. At Christmastime the villas on Lake Como are usually occupied by their owners who are celebrating the holiday with their families, so there isn't the same villa selection as in summer, but if a family home is preferable to Milan's chic hotel scene, you could take over one with a heated indoor pool or jacuzzi.  Activities might include private cooking classes in your villa, skiing at Valtellina, or evening cruises on the Lake to admire the villages lit up with colors for Christmas. Read reviews.
ITALY: A feast for the senses in Rome, Florence, Venice, and Umbria
If you're fully vaccinated, you can go with a negative Covid test. 
Fall is the ideal time for Umbria, whose picture-postcard rolling hills and medieval villages are a less crowded, more authentic alternative to neighboring Tuscany.  October and November are harvest months for oil and wine. Learn to cook al fresco in an olive grove, on a goat-cheese farm, in a vineyard….Remember, November is when Billie took her dream Italian cooking vacation culminating in Umbria.  When December starts, though, you're better off in a city. Think Rome, Florence or Venice.  Maria and Brian can recommend an array of outdoor experiences, from learning how to ride a Vespa in Rome (where temps are in the 50s in December) to learning how to row a gondola in Venice.  Florence is more about indoor venues —museums, palazzi, legendary boutiques—but these feel safe because entry is limited to those with a Green Pass (the Italian equivalent of the CDC vaccination card). And this year museums are limiting group sizes indoors, so you can take in Italian masterpieces without a sea of heads in front of you. At Christmastime these cities' holiday lights, outdoor Christmas markets, and gastronomic treats—tortellini in brodo, panettone, pandoro—will have you feeling like a local in a way you never can in summertime. Read reviews.
MALTA: A Mediterranean island that's warm in December!
If you're fully vaccinated, you can go.
Malta's 83% vaccination rate is the second highest in the world, and it's easy to spend virtually all your time outdoors.  October is still warm enough for swimming, snorkeling, scuba diving, or a romantic overnight sail to the island of Gozo, with dinner on the boat under the stars, followed by a morning swim in Crystal Lagoon off the island of Comino, with nobody else around.  Boating is possible into November and December too. Other Maltese experiences you cannot have anywhere else include a visit to a Ġgantija-era healing cave and excursions to connect with local farmers and artisans and enjoy rustic Maltese lunches in private olive groves or natural wineries.  As for private indoor experiences, Jason and Damon can arrange for private entry into St. John's Co-Cathedral—a baroque feast for the eyes— after hours when it is closed to the public, a private meeting with a Resident Knight of Malta in his ancient enclave belonging to the Knights of St. John, and much more.  Read reviews.
PARIS: For a festive Thanksgiving in the City of Lights
If you're fully vaccinated, you can go. 
Paris is already busy for Christmas and New Year's, so consider Thanksgiving.  By mid-November the City of Lights is all dressed up for the holidays. There are few better cities than Paris for strolling outside all day, and you'll find delicious foods at its outdoor Christmas markets, which are scheduled to open by Thanksgiving.  (France's best Christmas markets are in Strasbourg, of course, and they're scheduled for November 26 – December 30, so consider tacking on time there too.)  If your goal in Paris is privacy and to live like a local, Jennifer has access to the most convenient and charming apartments with all the modern creature comforts.  If you prefer the services of a hotel and just want a room with windows that open or a balcony for fresh air, remember that there's hardly a city with more "French balconies" than Paris. As for public indoor spaces, only vaccinated people are allowed entry into museums, the opera, restaurants, etc.  So, to get in and around, either you'll need a French health pass that serves as proof of your vaccination or Jennifer can arrange for an antigen test for you every 72 hours that can also serve as your health pass.  Our readers who are in Paris now report that when they dine indoors, it's reassuring to know that everyone else in the restaurant has passed the same requirements they have. Fashion lovers, consider Paris after the holidays—for the steep post-Christmas sales in January.  Read reviews.
PROVENCE: Savor the South of France
If you're fully vaccinated, you can go.
The light in Provence in winter is why so many famous artists moved there, and the sunshine makes al fresco lunches possible well into November. Provencal markets bustle in the fall, and in addition to the festive nougat and Banon cheese wrapped in chestnut leaves, black truffles must be sampled. Provence is France's biggest producer of truffles, and truffle hunting starts in November, so ask Philip to arrange a traditional Provencal truffle hunt for you, topped off with a cooking class where you can cook with and eat the fruits of your harvest. Hike amid the glorious autumn landscapes and hilltop villages of the Luberon, and cycle through the wine country around Gigondas and Vacqueyras, where there are few cars and great eateries.  While Philip can arrange for private access to local landmarks—you can have, say, the Palace of the Popes to yourself after closing time—it's really not necessary because the sites are not crowded now  and only vaccinated people are allowed entry (get your French covid pass here). The holidays bring local Christmas markets and ancient Provencal traditions such as the living nativity scene in Les Baux featuring real shepherds.  Consider celebrating Christmas with your family in a private villa with your own chef.  Read reviews.
PORTUGAL: From vineyards to riverboats to subtropical islands…
Unvaccinated travelers can enter with a negative Covid test.
Temps remain in the 60s well into November, when it's still warm enough for dinner outdoors at the many restaurants that now have significant sidewalk seating; heat lamps aren't needed till late November.  This fall Goncalo can get you access to special sightseeing locations that normally either you can't get into, you must pay extra to get into, or you must book more than a year in advance. Plus the most in-demand restaurants that normally require reservations a year ahead are now taking them just one week out.  In October head to the Douro Valley's vineyards for the harvest.  Private river boats—which are much better for sightseeing than your typical river cruises—sail the Douro through the end of November and sometimes into December. When it comes time for indoor activities in December, remember that entry to some (but not all) indoor spaces requires proof of vaccination or a negative PCR test.  Winters are mild on the subtropical islands of Madeira—known for outstanding hiking opportunities—and the Azores, where you can also hike, bike, and off-road around the postcard-perfect lagoons. Read reviews.
SICILY: For the Italian island lifestyle in winter
If you're fully vaccinated, you can go with a negative Covid test. 
Fall is the island's best season if your goal is to combine culture and outdoor beauty. Autumn brings the olive, almond, and wine harvests, and sunny, mild weather that even in December is still in the 50s. Outdoor activities include exploring Sicily's Greek and Roman ruins, hiking Mt. Etna, and cycling though nature reserves and wine country. Boating is possible through the end of October. Marcello and Matteo can make any and all indoor activities private—cooking classes (in a restaurant kitchen or palazzo), visits to private art collections and artists' studios, wine tastings on wine farms—and, thanks to a less busy fall than usual, can open doors to private palazzi and other places not typically open or available in the fall. Consider basing your family in a villa for Thanksgiving or Christmas, on rolling hills with Mediterranean views, and having a different cultural or culinary adventure each day. Read reviews.
SPAIN: Get there before the rest of the world comes back
If you're fully vaccinated, you can go.
Before the pandemic, cruise ships clogged Barcelona's harbor, disgorging tens of thousands of tourists daily. Now, before the cruise ships return, is your chance to have Barcelona to yourself. It's also your chance to learn what all the Madrid buzz is about before the Spanish capital becomes the new It place and prices double.  Swank new 5-stars in Madrid include the Four Seasons, the Mandarin Oriental Ritz, and Rosewood Villa Magna (they've watched the buzz build and are getting in on the action). Both Madrid and Barcelona have plenty of parks and boulevards for soaking up the local scene in 60-degree weather well into November.  Virginia can have you tasting the finest Spanish wines, sherries, pintxo, and tapas outdoors until late November too—at her friends' private wine estates and scenic farmhouses.  In December head south to Andalusia for open-air sightseeing at the Alhambra Palace and Generalife Gardens in Granada, the Royal Alcazars of Seville, and Medina Azahara in Cordoba; hiking and birdwatching in Andalusia's parks; and the dancing stallions at the Royal Andalusian School of Equestrian Art. Of course, whenever it's indoor culture you crave, Virginia can arrange for private after-hours visits to the country's cultural magnets. Read reviews.
SWITZERLAND: Alpine charm, hikes, and thrills
If you're fully vaccinated, you can go.
The southern canton of Ticino is a must for any traveler to Switzerland—from its palm-lined lakes with Mediterranean architecture to its verdant valleys with miniscule villages of stone houses—and the hiking is lovely through at least the end of October.  Amp it up with a helicopter ride to a private outdoor lunch at Rustico del Sole, 1,000 meters above Lake Maggiore.  Art hounds will enjoy the 8th Swiss Art Triennale, which this fall transforms the town of Bad Ragaz into Europe's largest sculpture park, and the Kunsthaus Zurich, which will unveil its giant new art space designed by Sir David Chipperfield.  November and December bring Christmas markets (think Montreux) or basing yourself in a luxe chalet for winter sports (think kayaking on aqua-blue Lake Brienz amid snow-capped mountains). From medieval castles to bellsmiths' workshops, all indoor experiences arranged by Nina are private, with the exception of the Glacier Express, the panoramic Alpine train route, since its new Excellence Class now provides more space per passenger. And we haven't even mentioned chocolate fondue yet….  Read reviews.
TURKEY: Open-air sights by boat and balloon
Unvaccinated travelers can enter with a negative Covid test.
You can sightsee and dine outdoors almost all the time through the end of November, and you can get around privately everywhere, not just via Karen's spacious, WiFi-equipped vehicles but via private boat and balloon too.  A gulet adventure is the perfect anti-pandemic vacation, and it's possible through the end of October.  Then head to the only city on two continents, Istanbul (this was my experience of Istanbul during Covid), where one of Karen's private yacht cruises up the Bosphorus halfway to the Black Sea is a must (see my slide show here).  Other outdoor experiences include cooking classes and backstreet food tours.  Top it off with Cappadocia—the unique lunar landscape with otherworldly rock formations and ancient cities carved into rock— for sightseeing by hot-air balloon and unforgettable hiking, biking, and ATV rides.  Read reviews.
WANT A DIFFERENT EUROPEAN COUNTRY?
Click to Ask Wendy, submit the questionnaire, and we'll work our magic with the right local specialist to try to get you our special offer elsewhere.
* TELL A FRIEND AND POTENTIALLY GET "WOW MOMENT CREDIT"
If you tell a friend who books, takes, and reviews one of these trips, and the trip qualifies toward a WOW Moment for your friend, it will qualify toward a WOW Moment for you too!  Here's how trips qualify.  Normally, every set of three qualifying trips earns you a WOW Moment during the third trip. This extra credit means you earn a WOW Moment with just two trips. So, if you've already earned one qualifying trip, then as soon as your friend qualifies, you will receive a WOW Moment certificate for use on a future trip.  If you've got no qualifying trips yet, then as soon as your friend qualifies, you'll be halfway toward earning a certificate.  (To ensure that you receive credit, email info@wendyperrin.com with your friend's name and email address when you tell them about this offer.)