The insider advice on this page is from two of Wendy's Trusted Travel Experts for Malta: Jason and Damon Camilleri-Allan of Exclusively Malta.
Jason and Damon Camilleri-Allan
From accessing private residences of nobility in the city of Mdina to meeting members of the Knights of Malta, brothers Jason and Damon can unlock doors that you couldn't find on your own and probably didn't even realize exist. Damon is based in London and Jason lives in Canada; both are citizens of Malta, where their mother was born and where they have a team on the ground. They're equally skilled at making the most of a one-day shore excursion, adding a few nights in Malta onto a trip elsewhere in Europe, or custom-tailoring a weeklong exploration of the islands' rich history and culture. They work with a range of accommodations, from luxury hotels to locally run boutique properties and classic Mediterranean palazzos that you can have all to yourself (with private maid, butler, and chef service, if you like).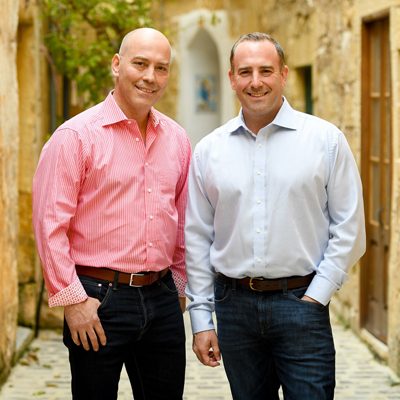 Things to Do and See
Most underrated place
The Three Cities, a six-minute ferry ride from Valletta. Before Valletta was established as the capital in the 1560s, it was Birgu (Vittoriosa), along with Bormla (Cospicua) and Isla (Senglea), that featured prominently. A visit to the Three Cities will offer a peaceful vantage point with many opportunities to explore and enjoy some lesser-known but spectacular museums.
Most overrated place
The Blue Lagoon, off Comino Island. During the warmer months, tourist boats flock there to see the clear waters. Instead, Damon and Jason can arrange a sailboat or luxury yacht to places just as beautiful but without these crowds. If you're set on the Blue Lagoon, stay on nearby Gozo Island and visit early in the morning—or better yet, charter a sailboat or yacht for the night and have the lagoon all to yourself when you wake up.
Hidden gem
While many people visit the Upper Barrakka Gardens in Valletta, most overlook the public garden with fantastic views that is located across the harbor in the city of Senglea. Its most striking feature is the gardjola watchtower; Damon and Jason can arrange for a private cocktail hour or dinner in the tower, with a spectacular fireworks display.
Cheap thrills
Charter a traditional dghajsa boat to see the Grand Harbour. A 30-minute tour of this historic harbor costs less than 50 euros for up to six people.
Stroll along the relatively short, flat route from the sleepy village of Qrendi to the Blue Grotto. Be sure to visit the Hagar Qim and Mnajdra temple complexes along the way, which are the oldest free-standing temples in the world!
Prime picnic spots
The views are impeccable from the Dingli Cliffs on Malta and the salt pans on Gozo. Jason and Damon frequently plan private, pop-up picnics in quiet spots around the islands, with a casual basket of goodies or a more formal set table and chef-prepared barbecue.
Bragging rights
The Knights of Malta is a Roman Catholic organization dedicated to charity that has played a role in the country's heritage since the 16th century. Jason and Damon can introduce you to various members of this Order and others over a private dinner. These luminary locals will elucidate how the Knights' history is interwoven with that of Malta and explain their current philanthropic mission.
Jason and Damon are friends with a noble family whose ancestors have lived on Malta since the 17th century—and they will personally welcome you into their 250-year-old home, which is full of remarkable works of art; it's like stepping into a museum.
Where to Stay and What to Eat
Best-value splurge accommodations
The Iniala Harbour House is the most luxurious hotel in Malta—in terms of design, food, and service—with the best address in Valletta and magnificent views of the Grand Harbour. Jason and Damon's travelers receive upgrades when available.
That said, Malta's most beautiful and interesting properties are its private countryside villas and city palazzos. Jason and Damon have access to modern, Mediterranean-style villas in the north of the island and centuries-old palazzos (some of which have pools or rooftop hot tubs) in the Three Cities.
Best-bang-for-your-buck hotel
The 21-room Cugo Gran Macina, which skillfully works Scandinavian-style minimalist luxury into the bones of a limestone historic landmark. Although it's located across Grand Harbour from Valletta, Jason and Damon work with boaters who will privately ferry you to town and back in their dghajsa water taxis. It's worth booking a mid-category corner suite for the harbor views from your private terrazzo.
Restaurants the locals love
Most villages have a band club, with everyone from the young to the elderly marching in the band during that village's feast. Stop in at the King's Own Band Club Bar and Restaurant, just off the main street in Valletta, for a sampling of Maltese delicacies at reasonable prices.
Rogantino's is a 500-year-old hunting lodge in the middle of a farmer's field on the outskirts of Rabat. You can eat indoors or out; order the suckling pig.
Fontanella, situated on the bastions of the medieval city of Mdina, is a local favorite for coffee and cake. The 180-degree views are stunning, and the choice of cakes seems endless.
Dishes to try
Rabbit is Malta's national meat. Try it pan-fried, stewed, or in pasta. The Qrendi Bocci Club serves an excellent version, along with other local dishes.
Many restaurants offer a Maltese platter, which showcases local bread, cheese, tomatoes, sausage, pickled vegetables, and more. For the ultimate farm-to-table experience, Jason and Damon can arrange a picnic platter in a private olive grove.
Pastizzi. It's a savory filo-dough snack, usually filled with ricotta or mashed peas, found all over the island. Try it in a local bar such as the King's Arms or the ever-popular Is-Serkin, both in Rabat village— or Jason and Damon can organize a hands-on pastizzi-making session.