Update from Wendy:  My son Doug wrote this article when he was 14, based on our trip to Israel five years ago, but all of these experiences are still available today in 2023. 
When my mom took me to Israel, we did a lot of things that teenage boys would like. We went sandboarding in the Negev Desert. We went four-wheeling through Mahktesh Ramon. We climbed all over tanks in the Golan Heights.  We splashed through Hezekiah's Tunnel below the City of David. We dug up artifacts with an archaeologist. But my mom wants me to tell you my three favorite things we did.  So here they are.  If your parents take you to Israel, these are three things you should not miss:
Powered Paragliding at Masada
Masada is a 2,000-year-old fortress that was occupied by Jews, then conquered by the Romans. In the morning, we went to the top and walked through it. Our guide, Joe Yudin, showed us everything. Here we are at a 3-D model of the fortress.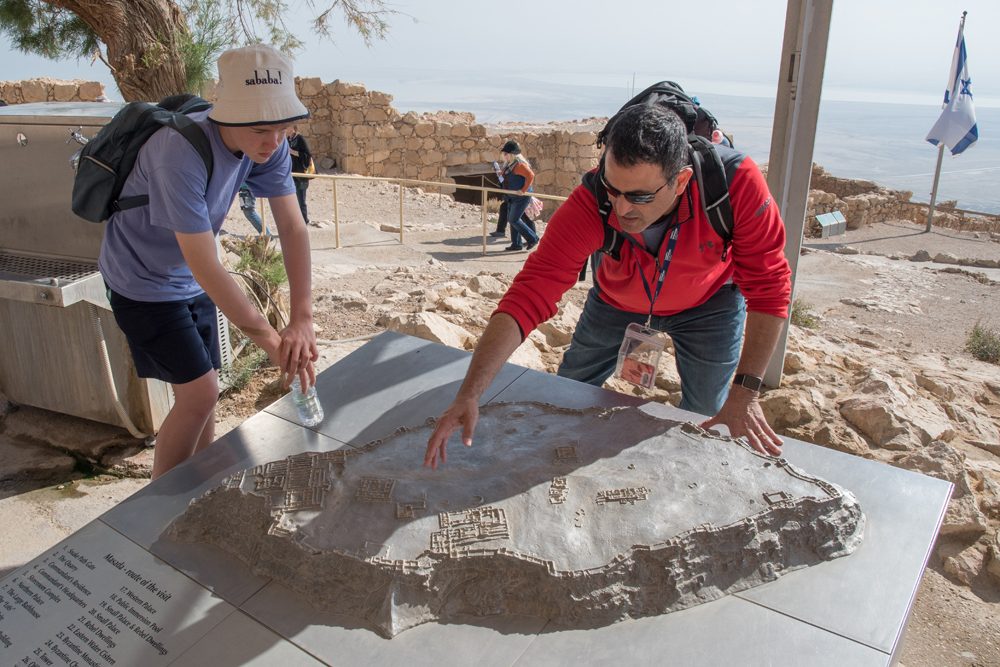 Then, in the afternoon, we got a surprise: Back down at the base of Masada, we did something that you've most likely never done before. And it was thrilling.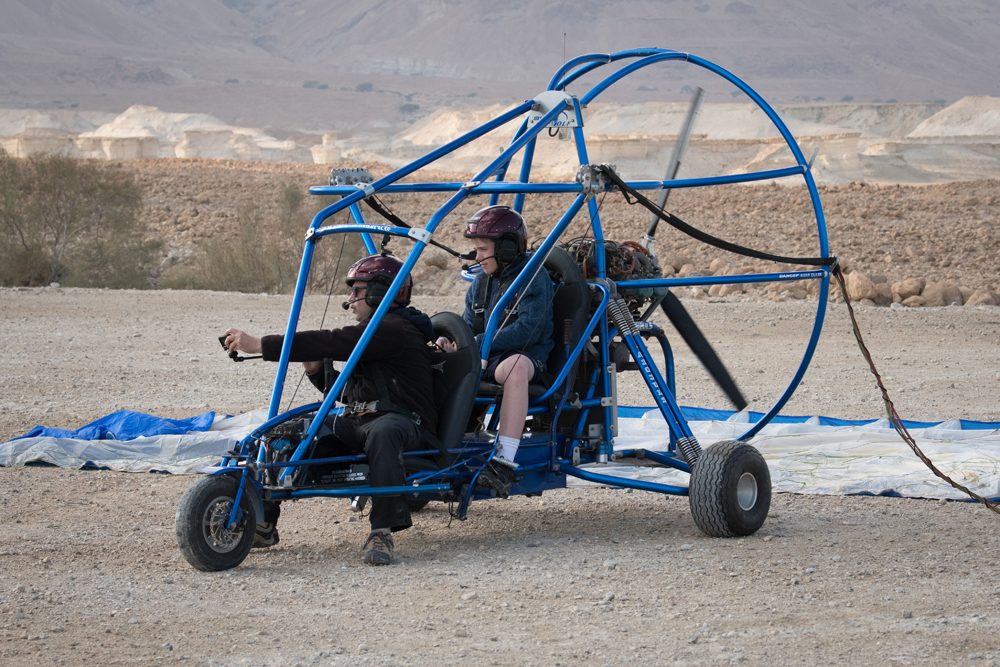 We met up with a friend of  Joe's who has a powered paraglider. Segev was our pilot.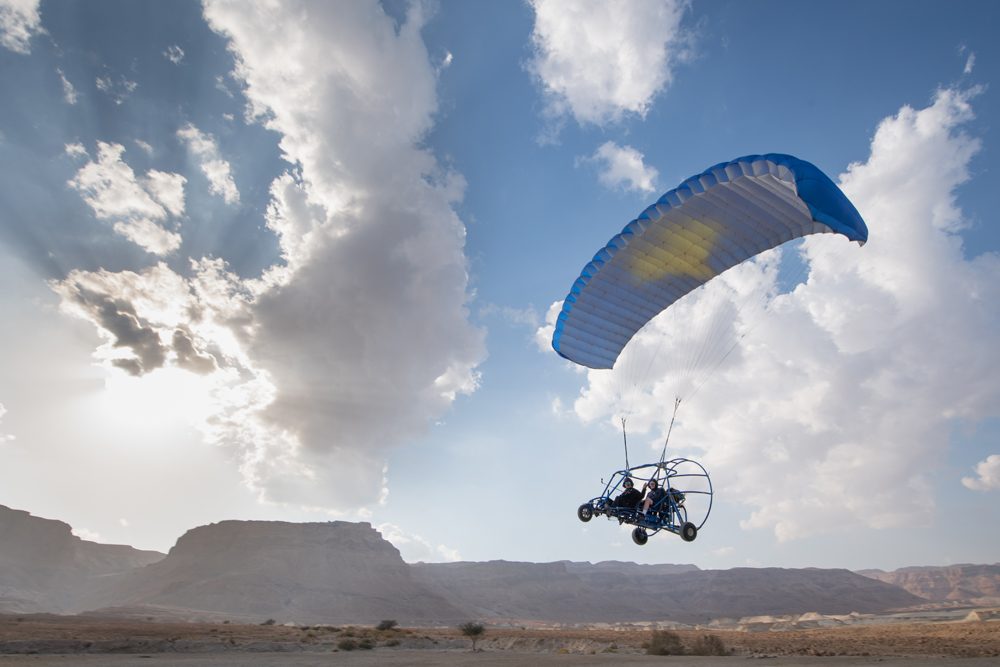 In the powered paraglider, you take off going extremely fast for about 40 meters. For the first 30 seconds, I was terrified. Segev increased altitude really quickly. After that, you felt like a bird. If you wanted, you could do a bunch of really sharp turns, so it was like a rollercoaster. Then we went high up into the air and circled Masada.
Our view of Masada was like the 3-D model but better. From the air I got a whole different view of Masada than when we were walking in it. It changed my perspective of how beautiful Masada is. When you have an aerial view of the fortress, you can see how big certain rooms are. The storage room, which I had thought was tiny, turned out to be 1/8 the size of the fortress. You can see how everything was configured in a strategic way to ward off the Romans. And from the air you can see the ramp that the Romans made to conquer it and where they would live and hide.
Then we went what felt like five feet over the Dead Sea Canal. It felt like my feet were going to get wet.
Then the pilot went back up and cut the motor, so we glided down softly using the parachute—until he blasted it again, getting ready for landing. The landing was just as fun as the takeoff.
Next time I would love to paraglide over Jerusalem because it has a mix of modern and ancient buildings.
Check out the video that Segev made of our flight!  Everybody in the family had a turn flying over Masada.
2. Counterterrorism Training
We got to experience what it is like to train as an Israeli soldier when we spent an afternoon at a counterterrorism training center called Caliber 3. Our instructor, Eitan Cohen, taught us the tactics and moves of the soldiers.
After giving us a safety briefing, Eitan gave us a real gun, and we got to do target practice on balloons. They make it very safe and you wear protective gear.
I learned how the army trains and why many people in Israel feel the duty to serve in the army. I also learned why they would be willing to give up their lives to protect others. They do it for their country and how much they love their country.
We also got to see a private demonstration of the K-9 unit. Their dog, Zeus, was found on the street when he was a puppy. With years of love and practice, he is now a soldier. He knows when to attack and was trained to jump through a 6-foot-high window. It was spectacular what Zeus could do. Our little dog at home can't jump even one foot.
Then we did an exercise where they set up their shooting range to simulate a crowded marketplace. We were told that one of these people is a threat. Our job was to figure out which one.  What we learned is that you can't tell who the terrorist is by what they look like.  Any of these people could be a terrorist.
In a real marketplace, the soldiers' job is to quickly spot the terrorist and to get between the terrorist and the innocent pedestrians and protect them.  We learned about how first responders will rush in when everybody else rushes out.  First responders don't even know you, but they will rush in and try to save you. They will sacrifice their lives to save you. That's just the kind of people they are.
3. Scuba Diving in the Red Sea
In Eilat I went scuba diving for the first time. In the past I had been snuba diving, which is in between snorkeling and scuba. In snuba, you have a regulator (which is the tube you breathe through), and your air tank floats on top of the water. In scuba, you have more freedom; you're not confined by a hose to a certain area. In Eilat, you're allowed to scuba dive without being certified.
We went down to 20 feet on the dive. We saw a few colorful fish and jellyfish, but mainly we went diving with dolphins. The dolphins were a lot closer than I expected. One of them tried to play with Dad. One of them came up to about an inch in front of my face.
The dolphins are wild animals, not captive. They can come and go to the open sea as they please.
It was cool because we saw what the marine life is like in a different part of the world. The guide held onto our hands to keep us safe, but that didn't take away from the experience. It was an amazing experience that I hope I will be able to do again.
Even though some of these experiences might look scary, none of them were. They were fun and exciting.
Be a smarter traveler: Sign up for Wendy's weekly newsletter to stay in the know. Read real travelers' reviews, then use the black CONTACT buttons on Wendy's WOW List to reach out to the right local fixer for your trip.