I'm just back from Istanbul, where I checked out how an iconic global crossroads has learned to manage Covid for the throngs of travelers who have continued coming here almost throughout the pandemic. Unlike the great majority of countries, Turkey has been welcoming international travelers for more than a year now, and when it got ready to vaccinate its citizens, it chose to vaccinate everyone in its travel industry first. This means that everyone who has regular contact with tourists is double-vaccinated. Turkey's caseload is lower than the caseload back home (Turkey is currently averaging 23 cases per 100,000 people, vs. 47 cases per 100,000 in the U.S.), and its vaccination rate is catching up to that of the United States (57% of Turkey's population has received one shot, vs. 61% in the US).
Turkey is a country where it's easy to eat every meal outdoors—in the spring, summer, or fall—and to focus your sightseeing outside too, as the country is an outdoor museum. The first portion of this family trip—our sail in a private boat along the Turquoise Coast—was a Covid-safe experience from start to finish. Istanbul was more challenging: It's a big, bustling city full of museums, mosques, and other indoor spaces that are tourist magnets, some with single-entry points. Since this was my fifth trip to Turkey, I've got a good sense of what's normal for travelers in Istanbul, which helped as I investigated what's changed, what hasn't, what's open, what's closed, what's safe, what's not, what's easy, what's hard, and how to enjoy one of the world's most vibrant and exotic cities to the max while staying safe. If you'd like to take a trip like mine, or plan one anywhere else in the world, contact us via the black buttons on The WOW List. In the meantime, enjoy my photos!
My number-one hotel tip
Book hotel rooms with balconies (or at least windows that open) for ventilation and where you can eat your breakfast (typically included in your hotel price) outdoors.  It's easy to eat all your meals outdoors in the spring, summer, or fall. And, of course, spend time in neighborhoods where the throngs of tourists aren't.  Check out these scenes from our stroll through Üsküdar, on the Asian side of Istanbul. When there wasn't enough space on the sidewalks to stay socially distanced, people just walked in the street (which were empty enough for it). Check out our lunch too: We ate indoors, but next to a big window with a strong breeze, at Ismet Baba Fish Restaurant.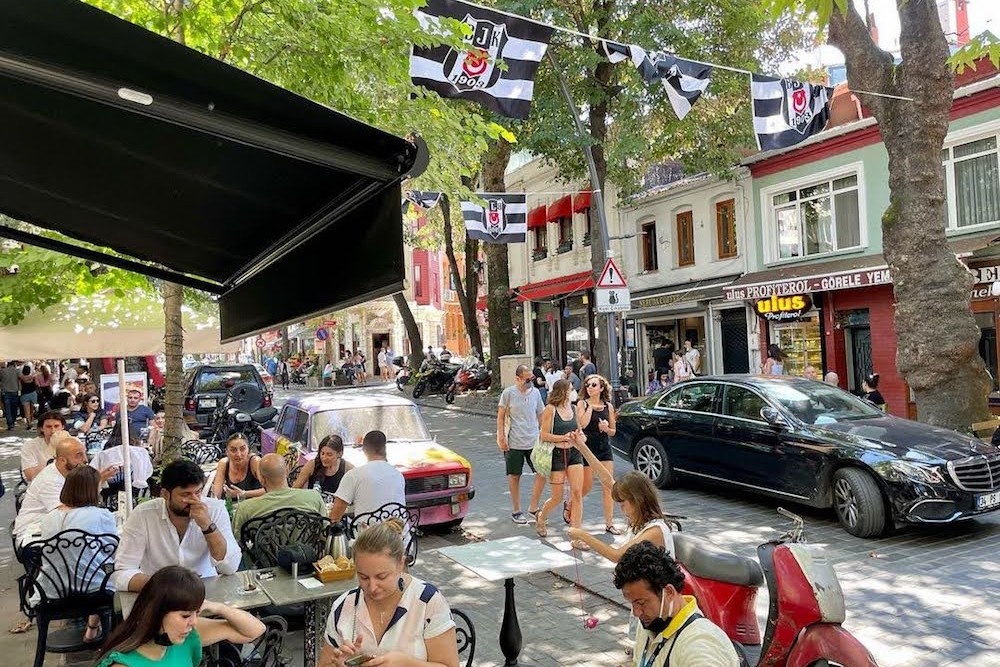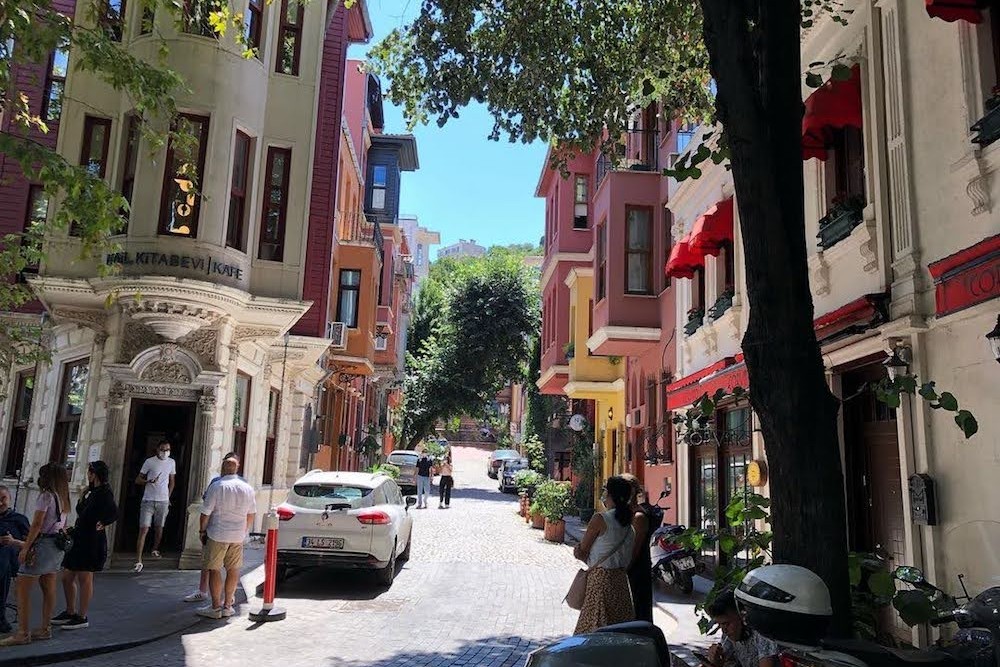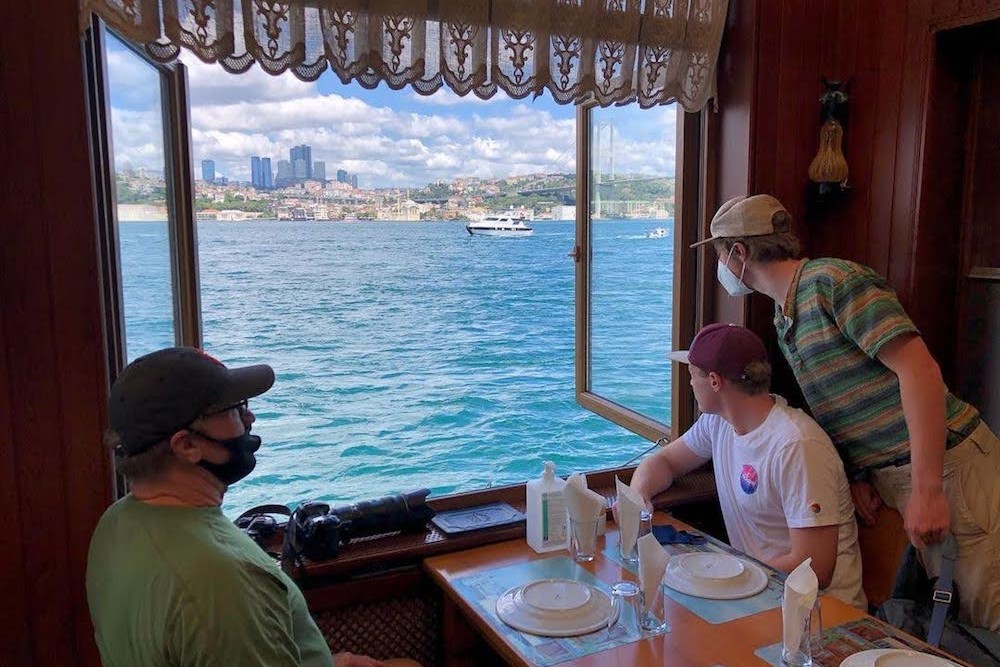 At night, we watched sunset turn to night from Mikla restaurant on the roof of The Marmara Pera. In how many restaurants can you sit in Europe and overlook Asia?!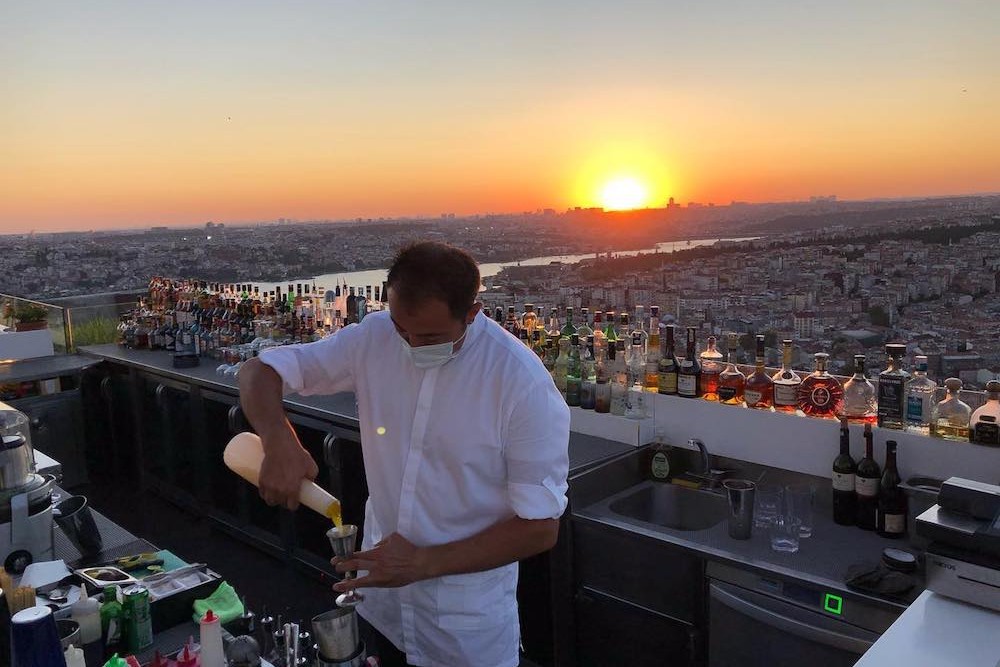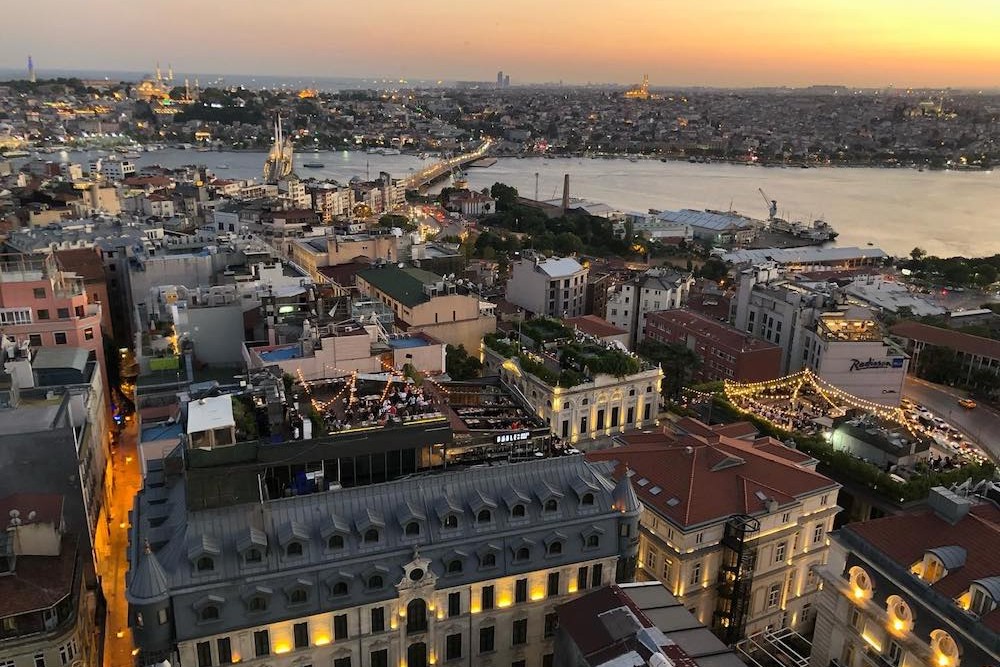 The one indoor thing you do not want to miss
Turkey is a country where it's easy to do most things in the open air—including dining and sightseeing—but there's one indoor thing you do not want to miss: Istanbul's Grand Bazaar. When we went to the Grand Bazaar, it was mid-afternoon, and the main passageways were crowded, with about 20% of the people not wearing their masks. It was ventilated, though—the windows were open, and cool air was blowing through—and it was pretty easy to quickly access offshoot passageways that were nearly empty and the occasional open-air courtyard (both pictured). My advice:  Go to the Grand Bazaar at 9 am, when the shops start to open and there are the fewest people.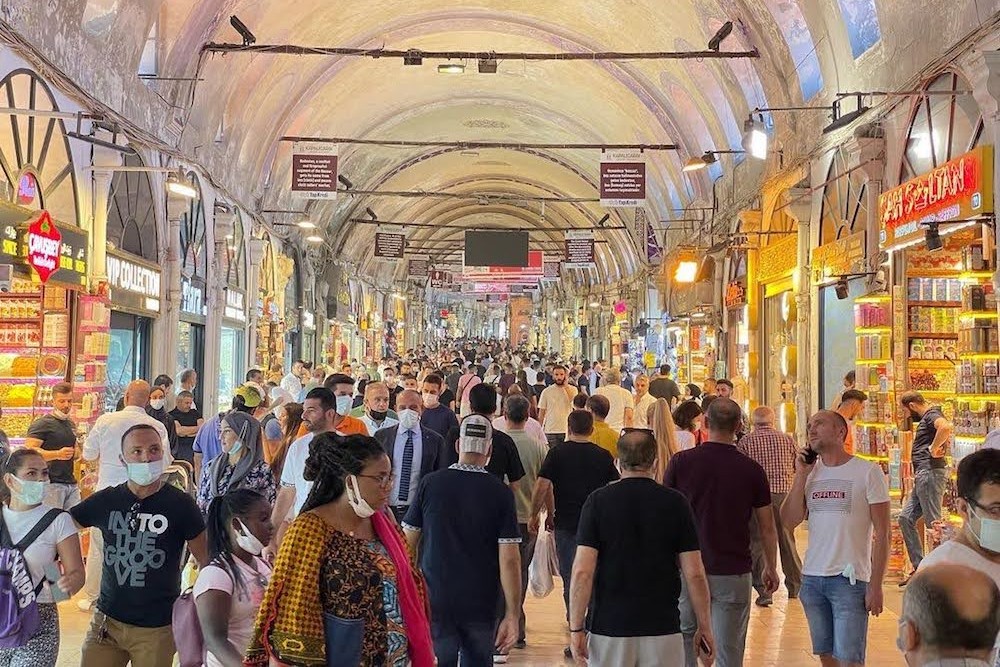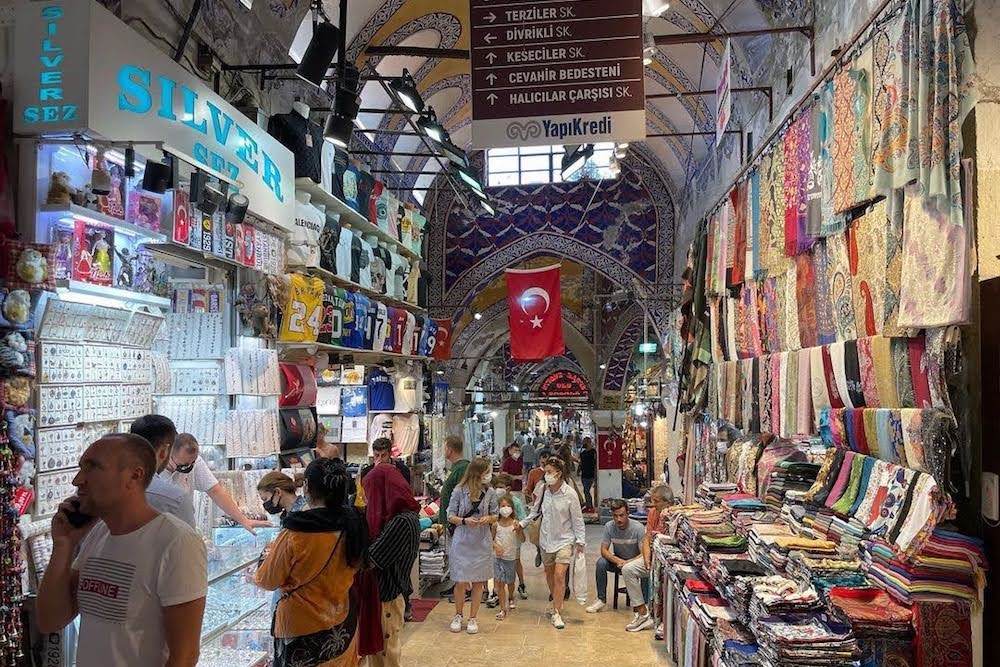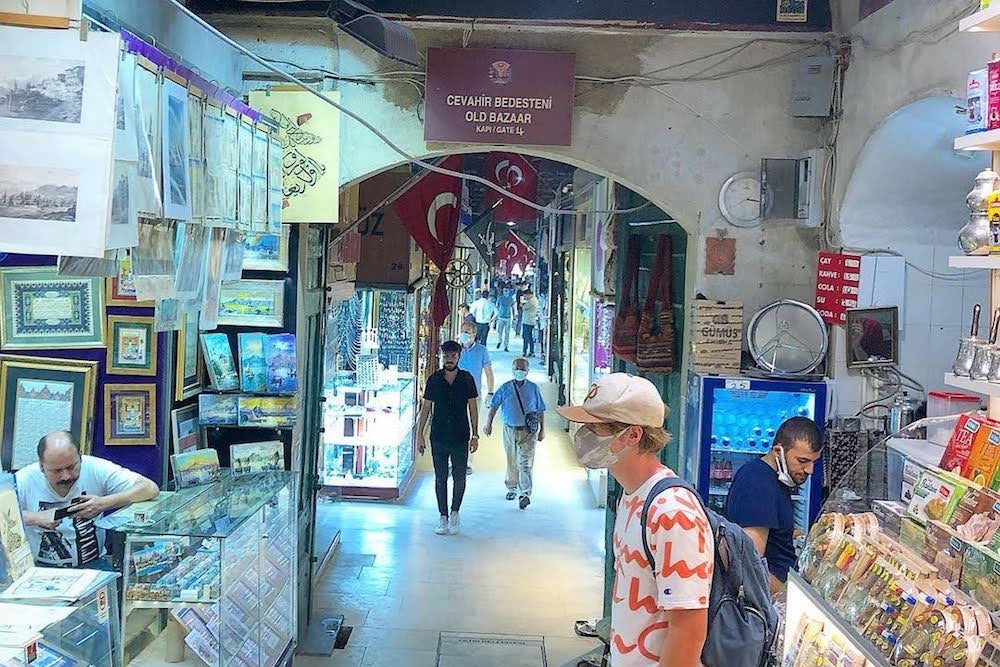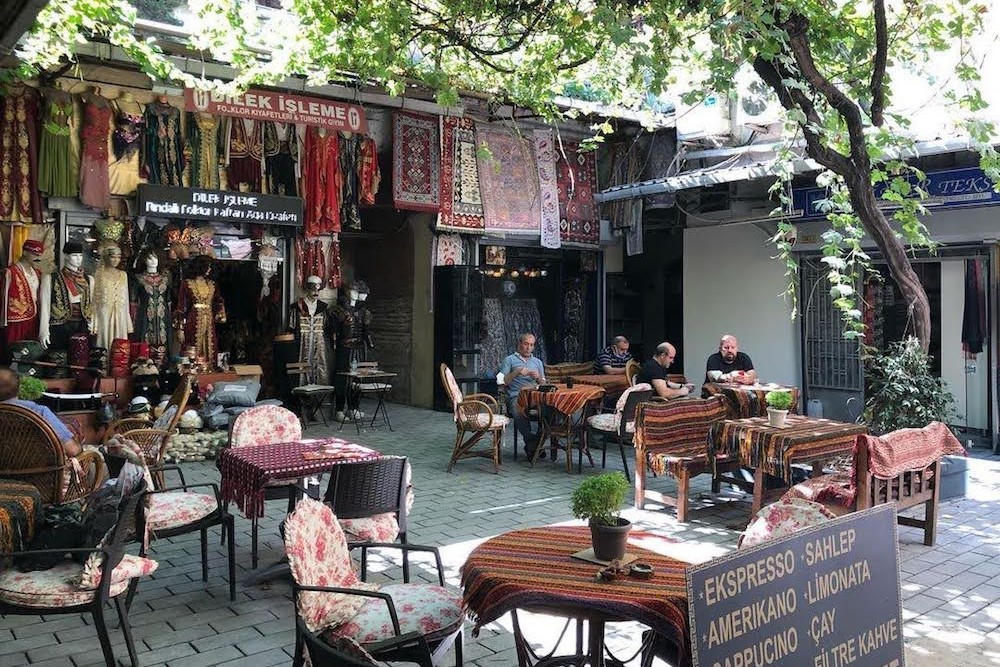 And if it gets too crowded…
If the Grand Bazaar gets too crowded, head to safe havens nearby. One block away sits Orient Handmade, a clean, spacious, professional, trusted carpet emporium where we acquired a little souvenir.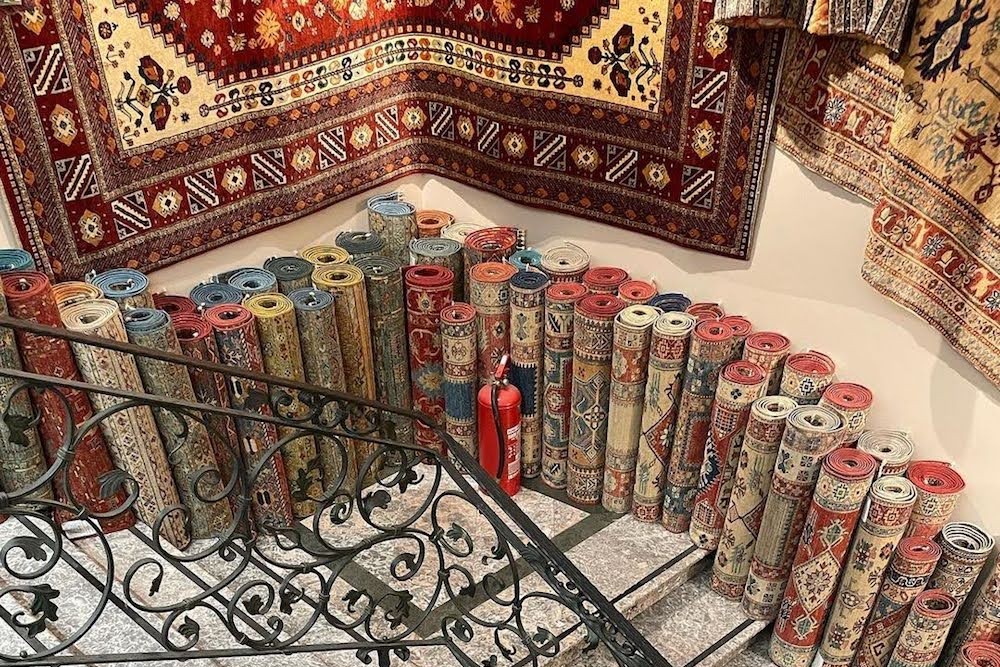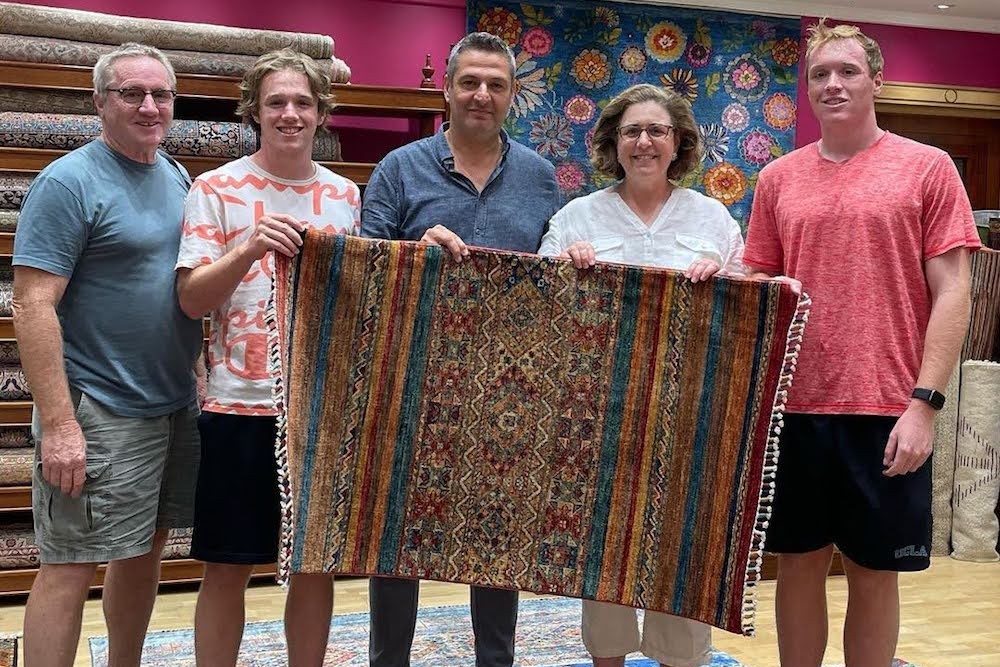 How to see the Spice Bazaar safely
Thanks to Covid protocols in place, Istanbul's Spice Bazaar feels safe to me. It wasn't at all crowded when we went at 10 am. (Go when the shops open in the morning, instead of in the busier afternoons.) The bazaar's windows were open, and cool air was blowing through. At the entrances are hand disinfectant dispensers, and they check the temperature of every person entering (see demonstration by yours truly). Plus the shops we purchased tea and spices from served us out of sanitized bins in the back, rather than from the display areas up front.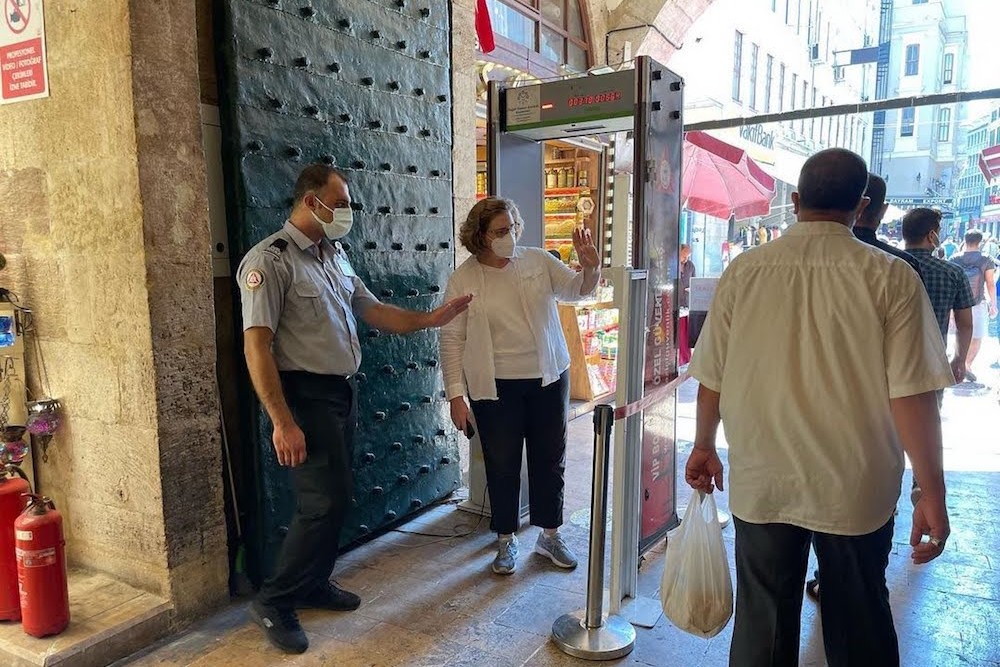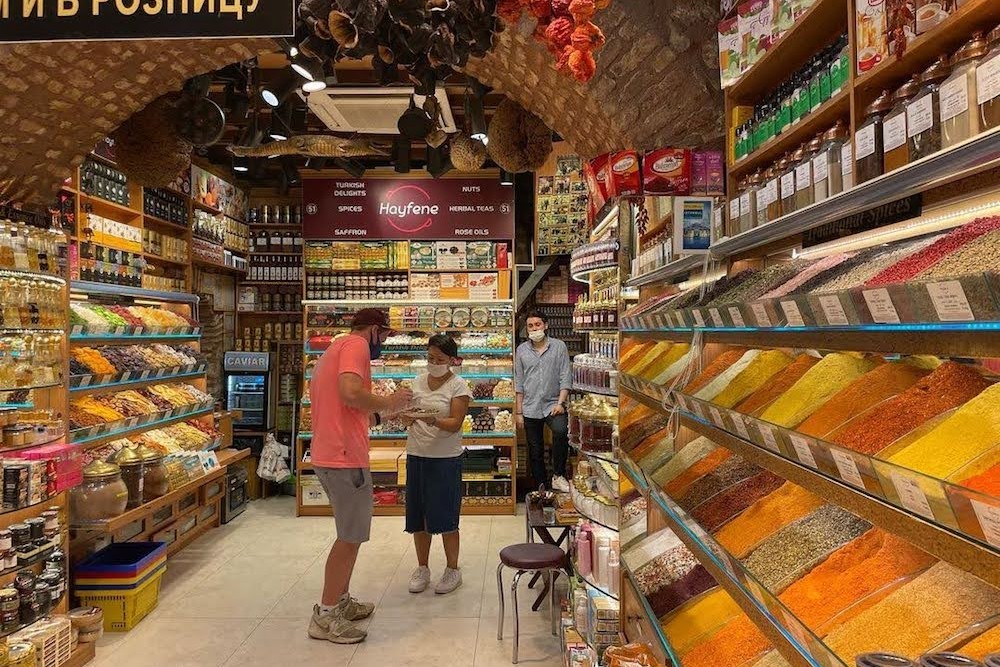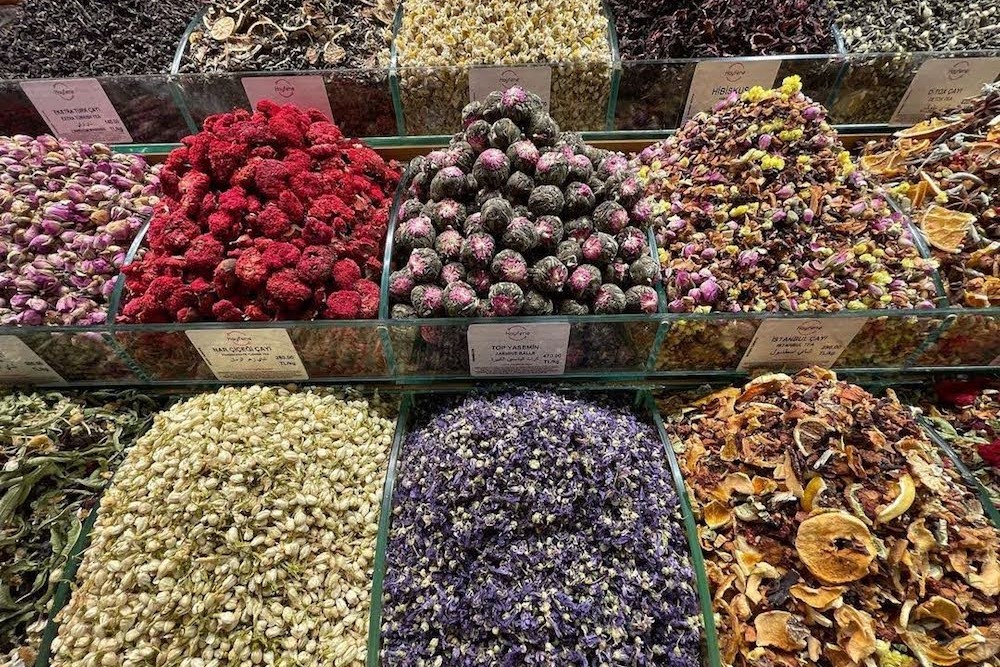 How to visit Hagia Sophia safely
Hagia Sophia means "holy wisdom," but when we visited, there were a lot of unwise people inside not wearing masks (about 20%). The mosque was closed for disinfection when we first arrived—apparently they disinfect every couple of hours—and we were told to come back in half an hour. At about 1:00 pm when we returned, it was impossible to stay 1.5 meters away from other people (1.5 meters = 4.9 feet = the social distancing that Turkish signs advise). This was on a Monday in August, so it was a peak day and month. Lesson learned: Go when it's least crowded, which is first thing in the morning—8 or 9 am—and not on a Friday. (And, given how many people are removing their shoes, remember which shelf you left yours on!)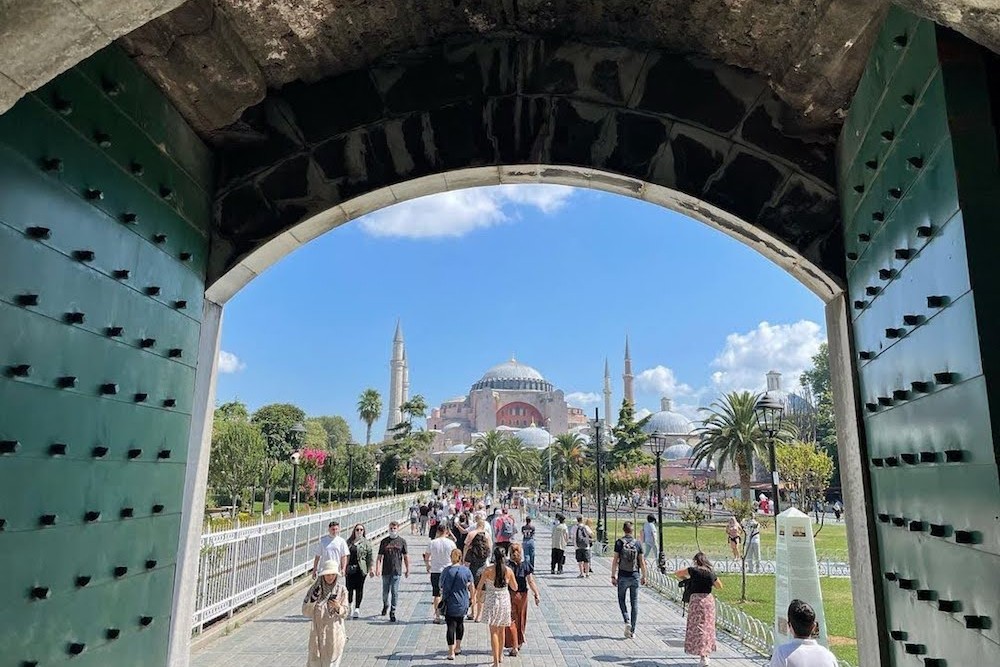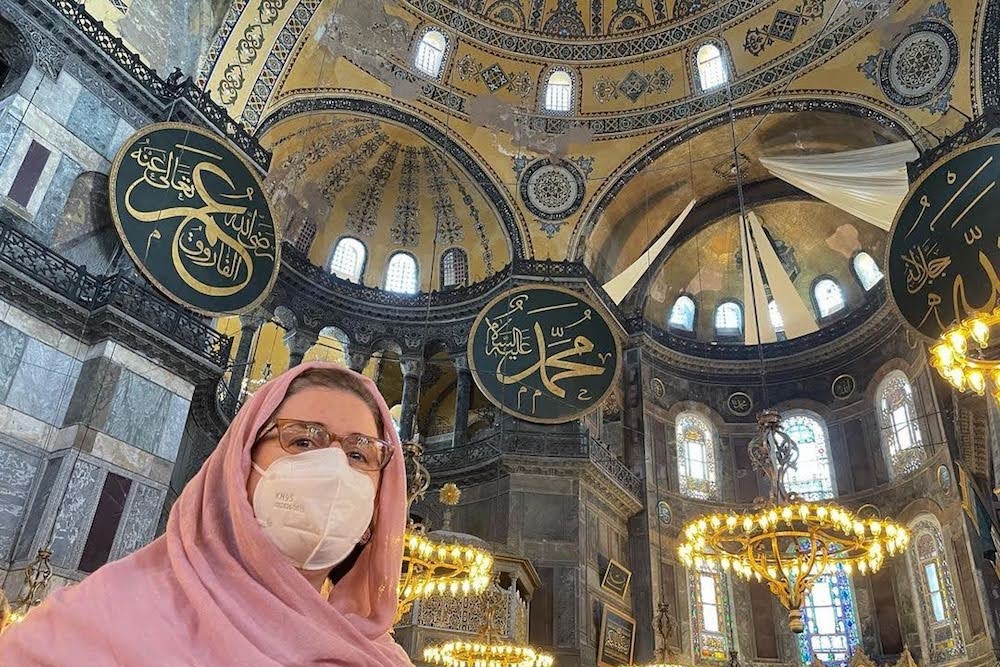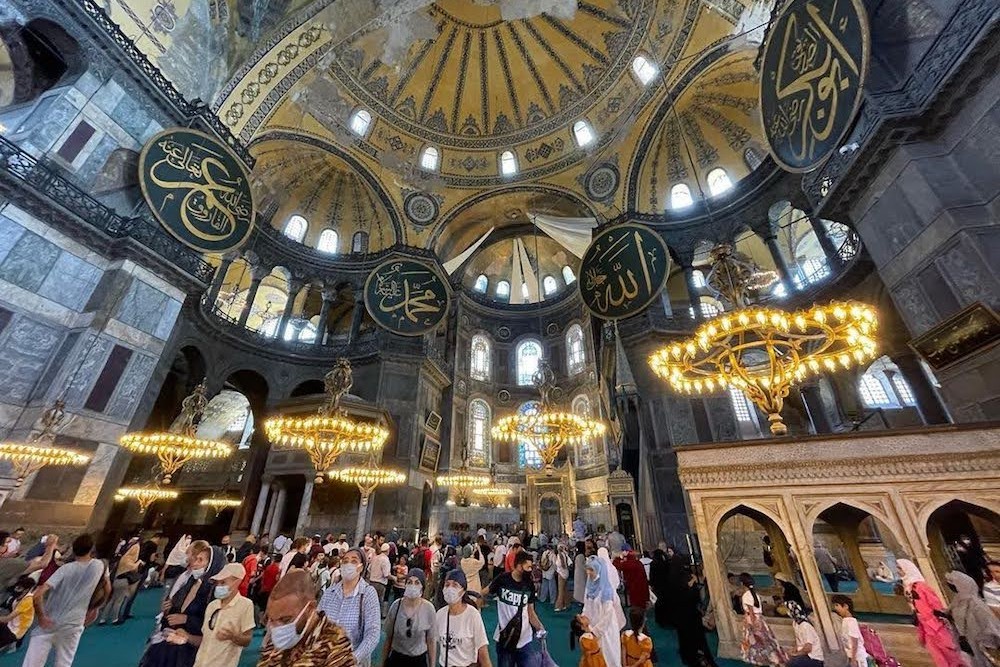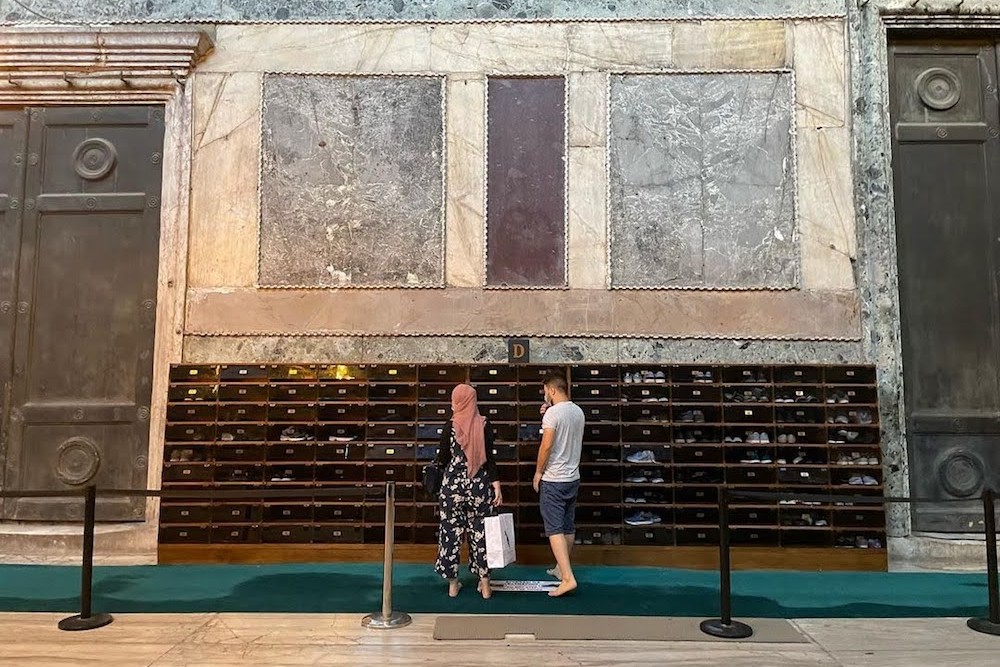 My favorite mosque in Istanbul
The Sülimaniye Mosque has always been my favorite mosque in Istanbul: It's bright and pretty and peaceful, with panoramic views and airy gardens. When we visited at a peak time for sightseers (midday on a weekday in August), it was uncrowded and well ventilated and felt Covid-safe. By contrast, the Blue Mosque was the most jam-packed and stuffy place we visited in Istanbul, with no social distancing—AND it's under restoration, so there's little to see. So, during Covid, you might skip the Blue Mosque in favor of Sülimaniye.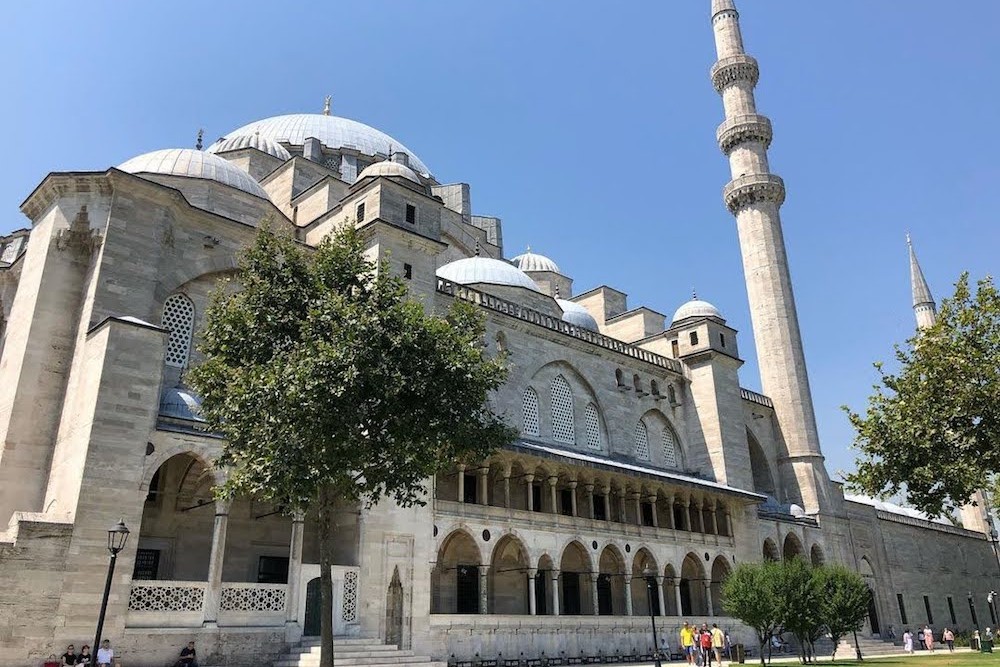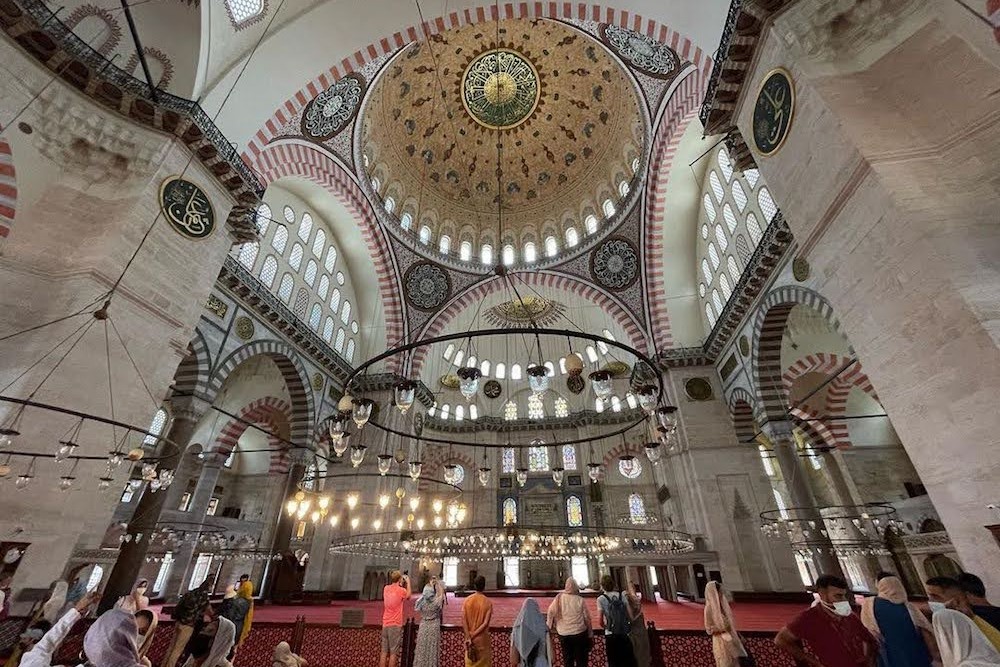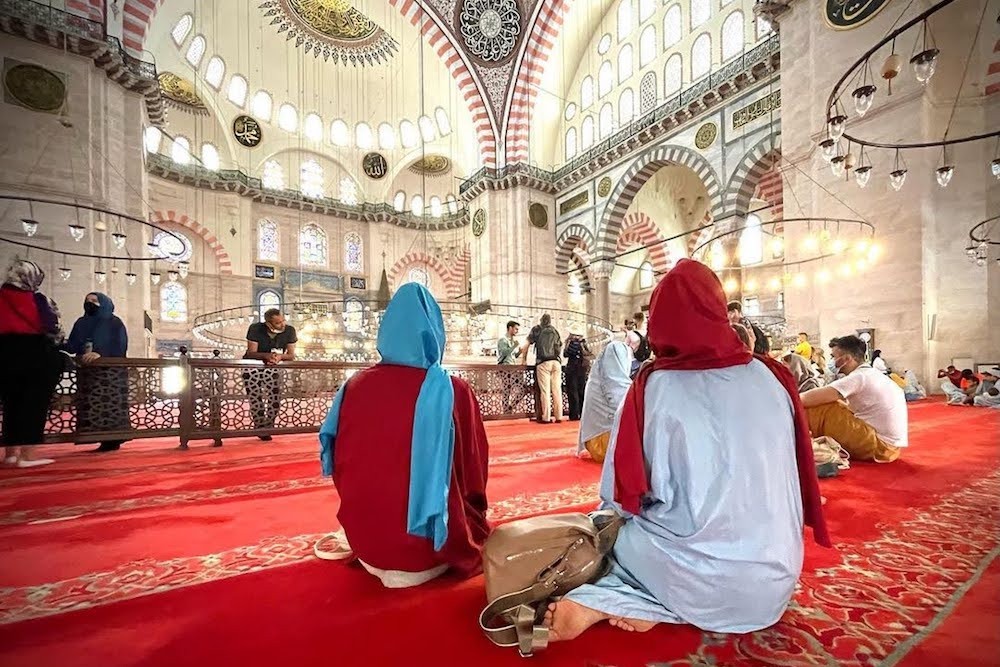 What it's like at Topkapi Palace
Topkapi Palace! Social distancing wasn't really possible in the security line, which is the single entry point to the Palace, but it's a quick line and outdoors. It was better than an airport security line!  After that, the crowd disperses. The arms and relics rooms were hopping, but the Harem and the Sultan's bedroom were empty. Check out the Topkapi Dagger!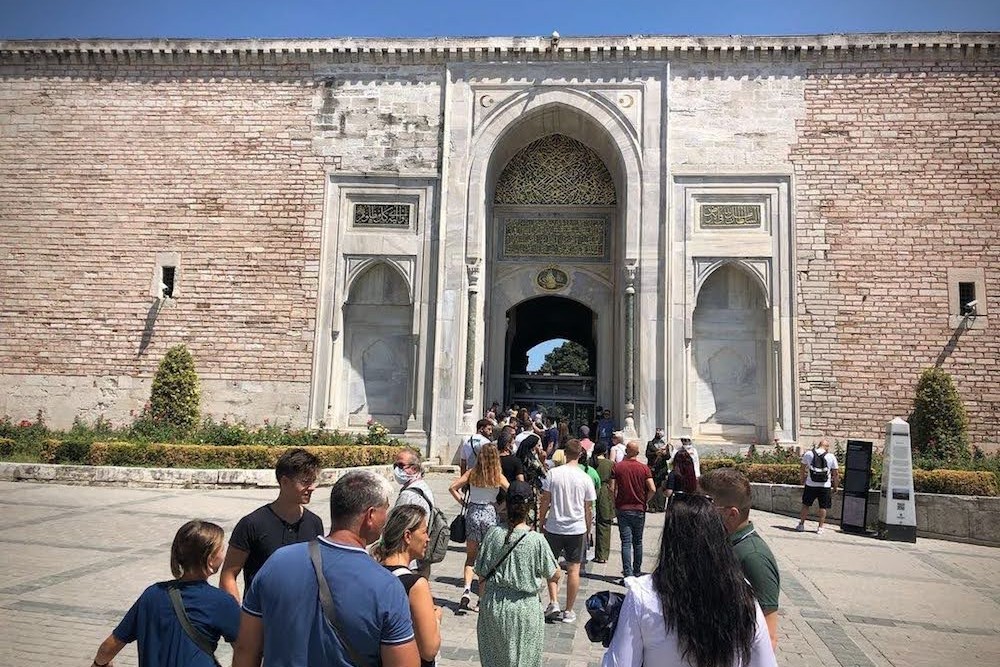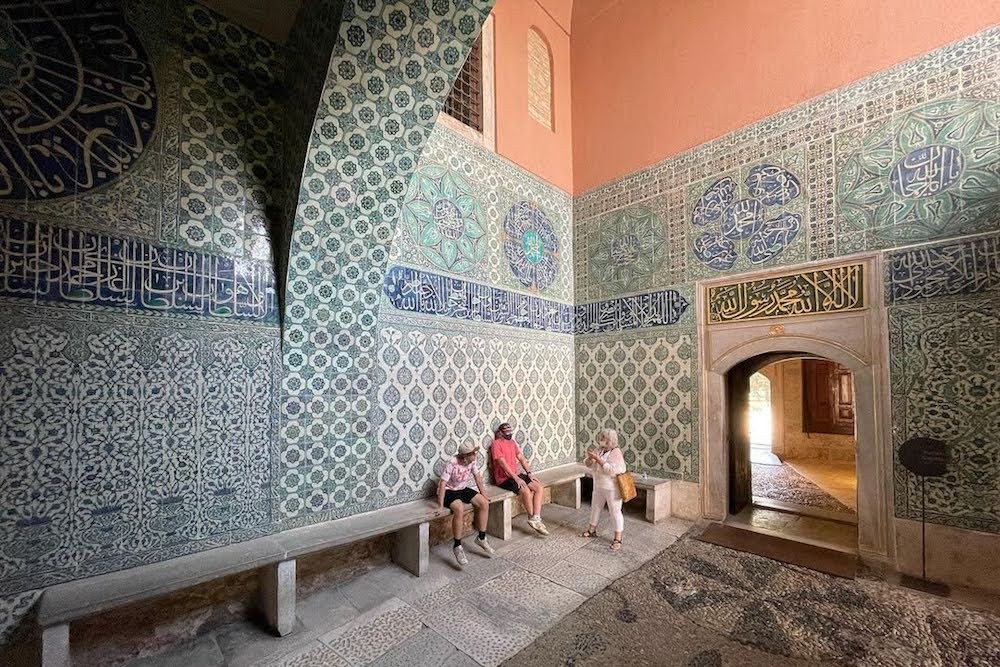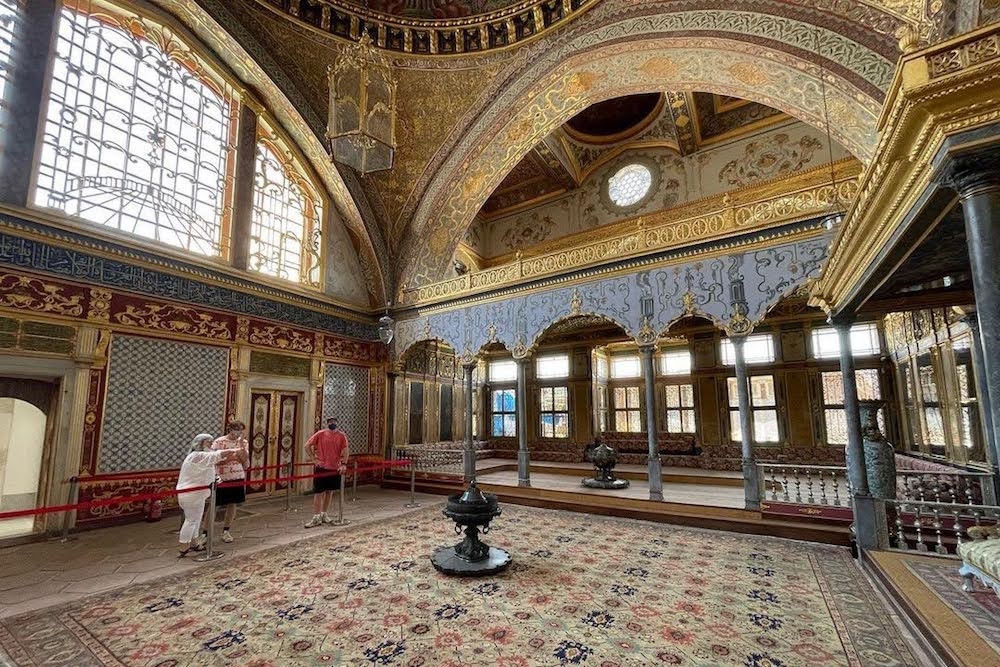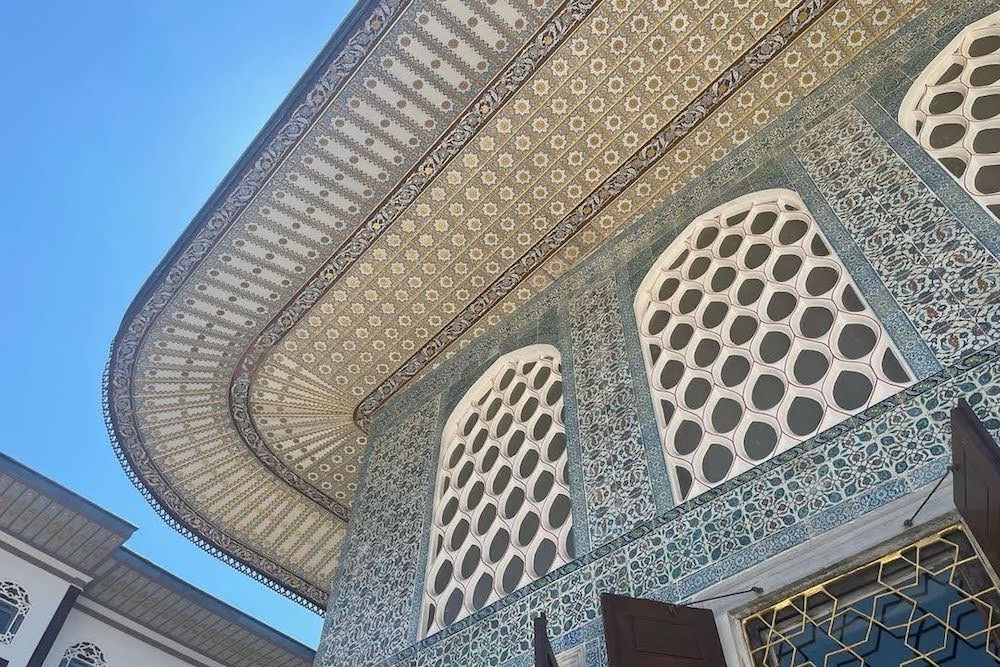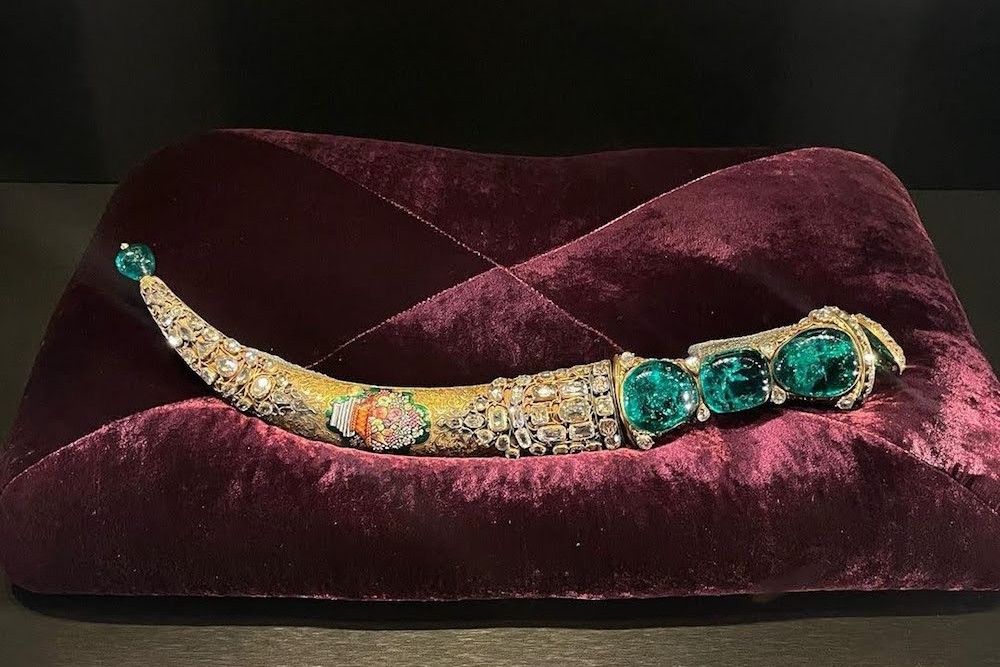 Transparency disclosure: So that I could experience Istanbul on your behalf, WOW Lister Karen Fedorko Sefer arranged for complimentary accommodations and transportation in Istanbul. Everything I did on my trip is accessible to every traveler who contacts Karen via my WOW questionnaire. Thanks to my WOW system, you'll get marked as a VIP traveler.
---
We're Here to Help
Right now is a remarkable opportunity for global travelers. When your friends say that travel is problematic as a result of the pandemic—rental cars aren't available, service even at 5-star hotels is shoddy—the problem is they're not planning their trips right! Travel can be spectacular now if you choose the right destination, know the savviest local fixers, and approach them the optimal way. Check out these recent trip reviews to see the difference that Wendy's WOW approach to trip planning makes. And if you're looking for a similarly carefree travel experience, contact us at Ask Wendy.