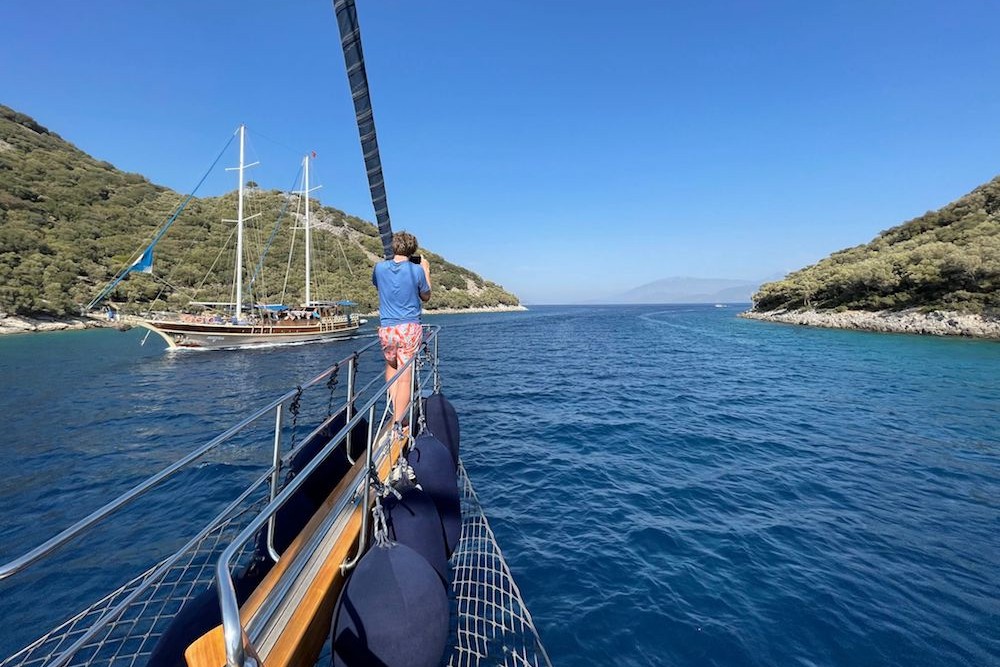 In summer 2021, when many travelers were making their first trip back to Europe since the pandemic hit, Wendy chose the perfect vacation for her family: a private-yacht sail on the Turquoise Coast.  They spent almost all day, every day, in the open air, luxuriating on the plush shaded deck, enjoying delicious coast-to-table food, sightseeing privately on shore where they were almost the only tourists, and jumping in the water if it ever got too hot.  The whole family agrees this was one of their best vacations ever and plans to do it again.  Here's the article Wendy wrote at the time:
My husband says I chose "the perfect anti-pandemic vacation."  We're on a private boat in the Mediterranean Sea off the coast of Turkey, in a Covid-safe bubble. When we anchor in a new harbor each day to check out a beach town or fishing village or ancient ruin, our exploration is always in the open air, and social distancing is easy.   Enjoy photos from my trip on a gulet along the Turquoise Coast. It's a "cruise" option you may not have thought of, and it's safe, easy, and spectacular.
We love the Turquoise Coast!
Here we are in Turkey, fighting off jet lag with sea breezes and reinvigorating dips in the (surprisingly not too chilly) water, and spending virtually all day, every day, in the open air.  And trying out Tim's new drone; check out the aerial shots!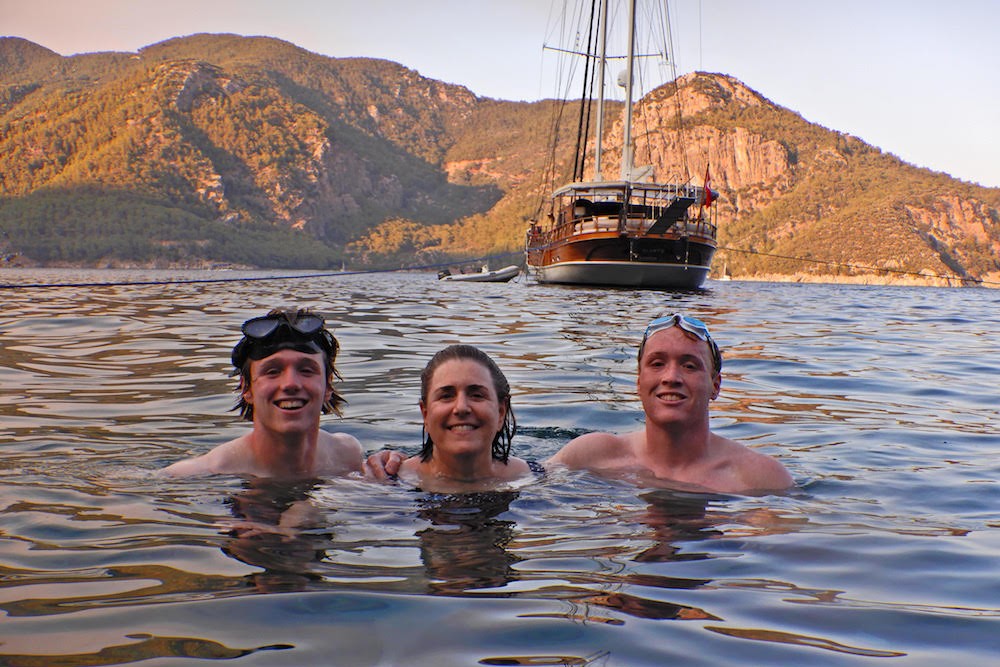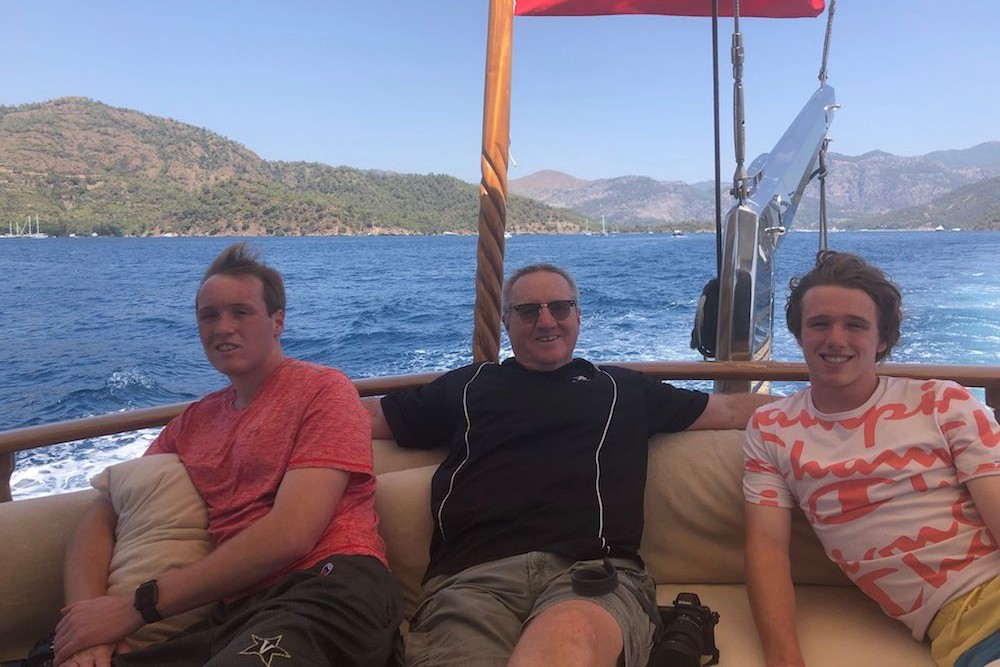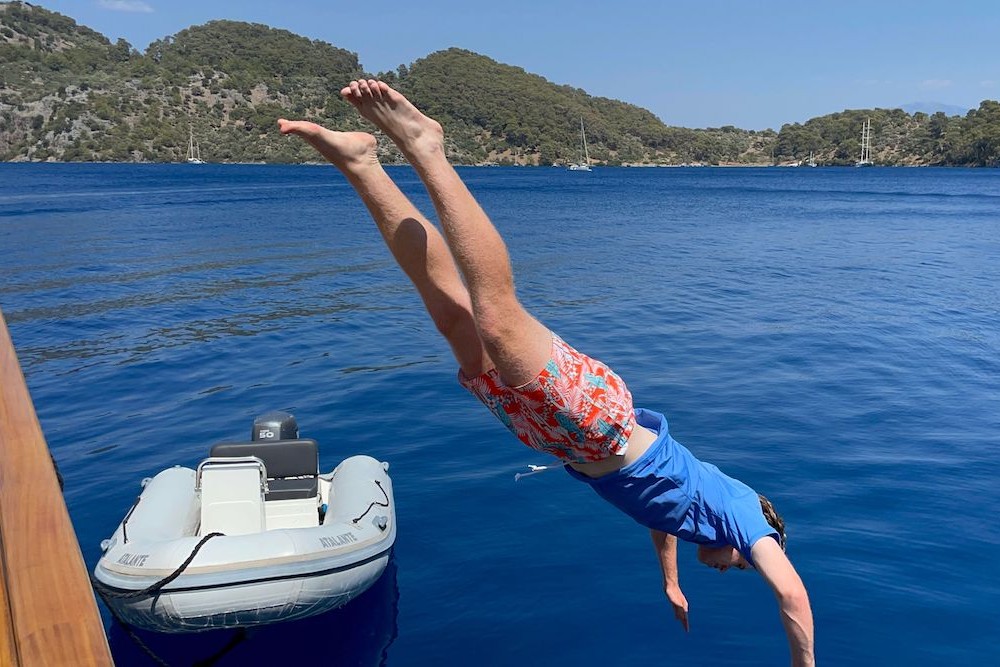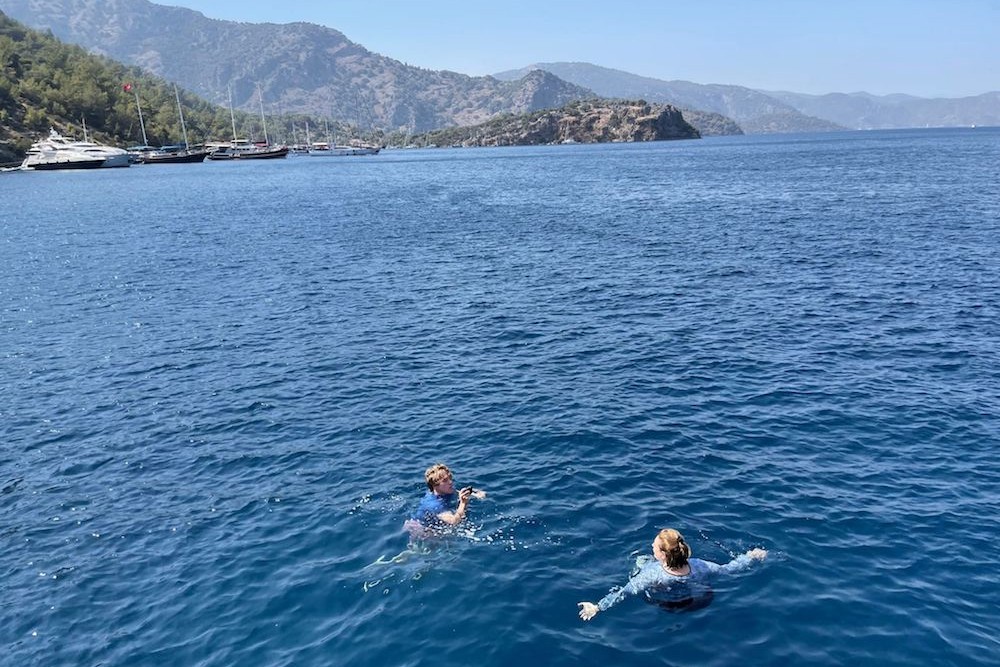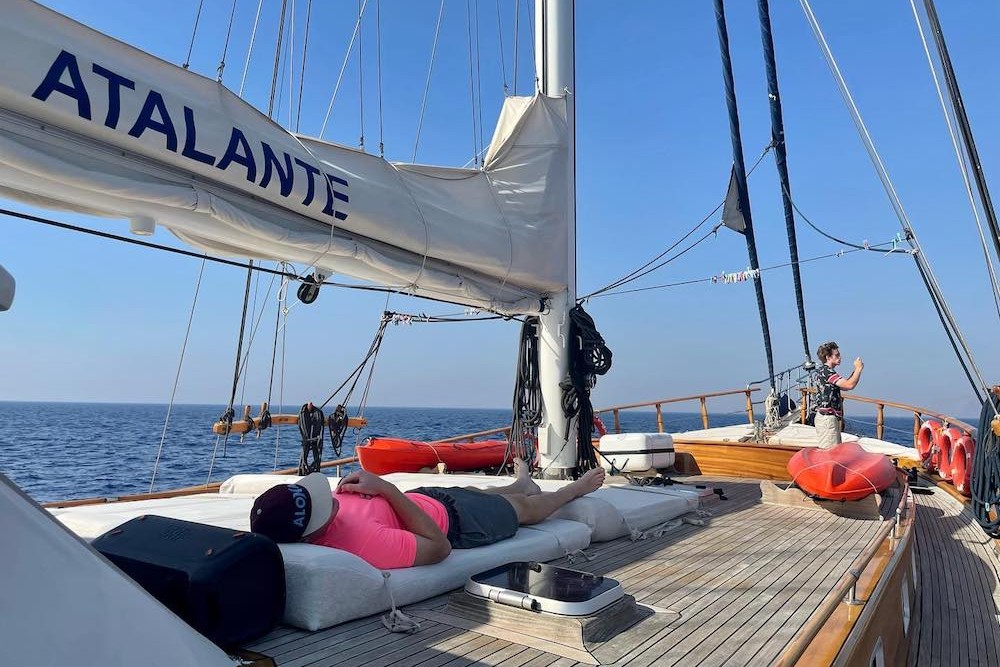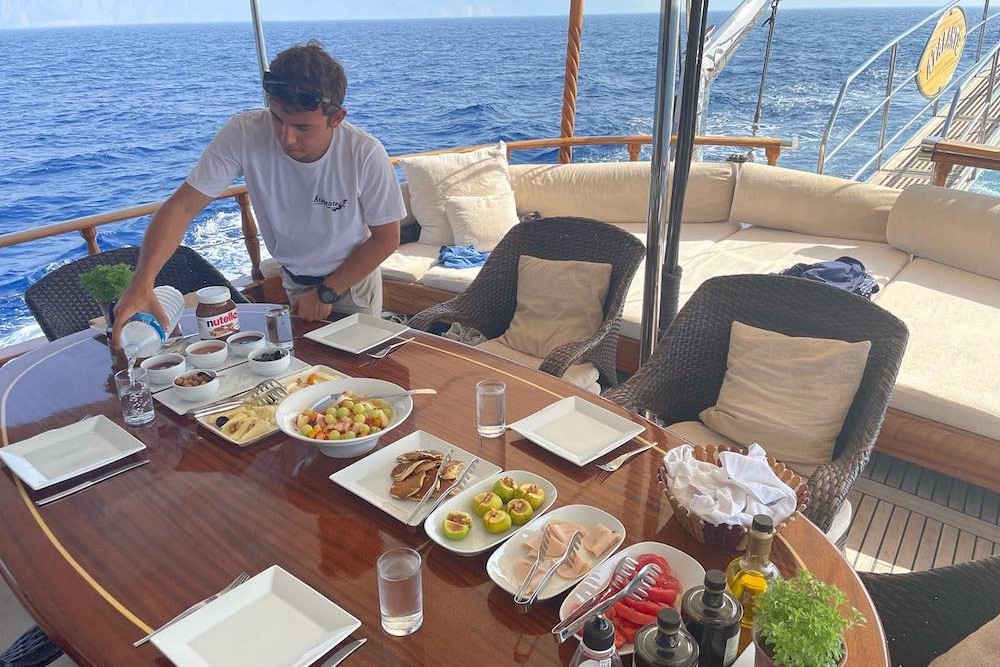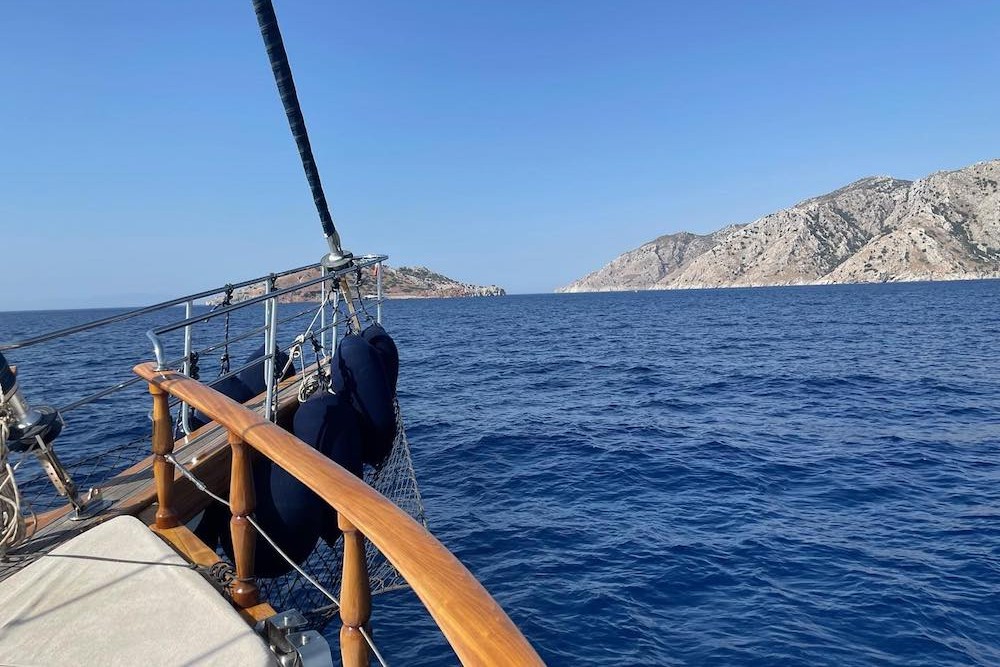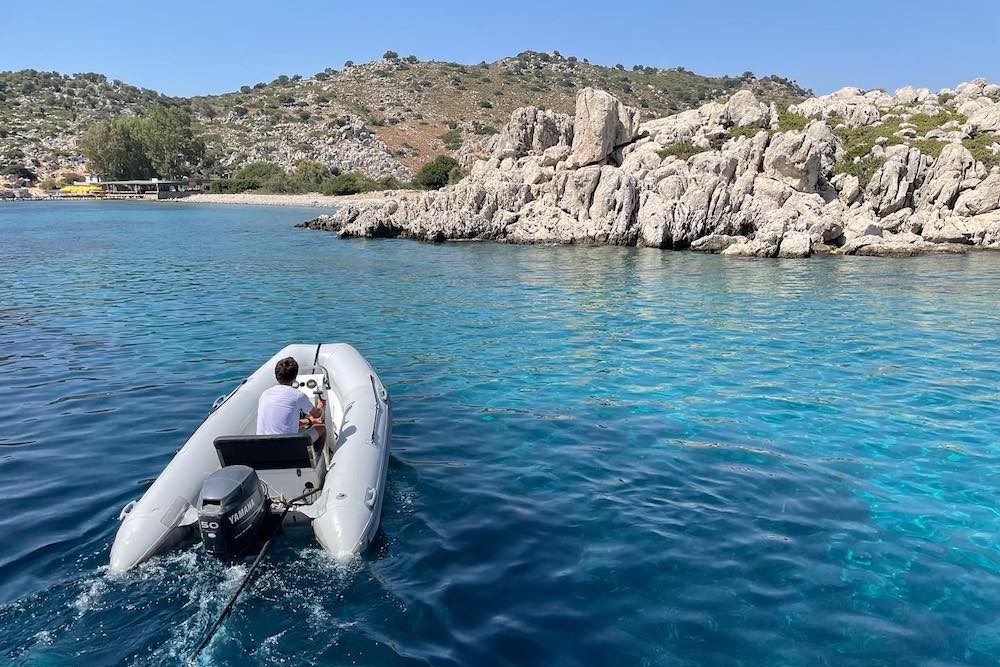 A family milestone
Today the boys did their first-ever Open Water dive together (now that all three are PADI-certified). The water in this part of the Mediterranean is surprisingly clean and clear.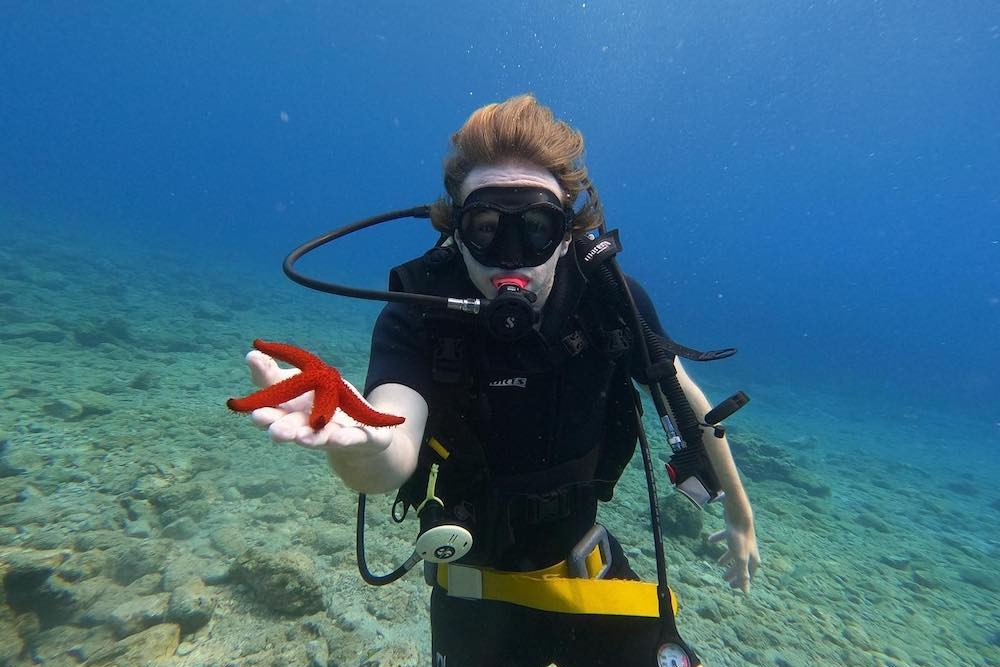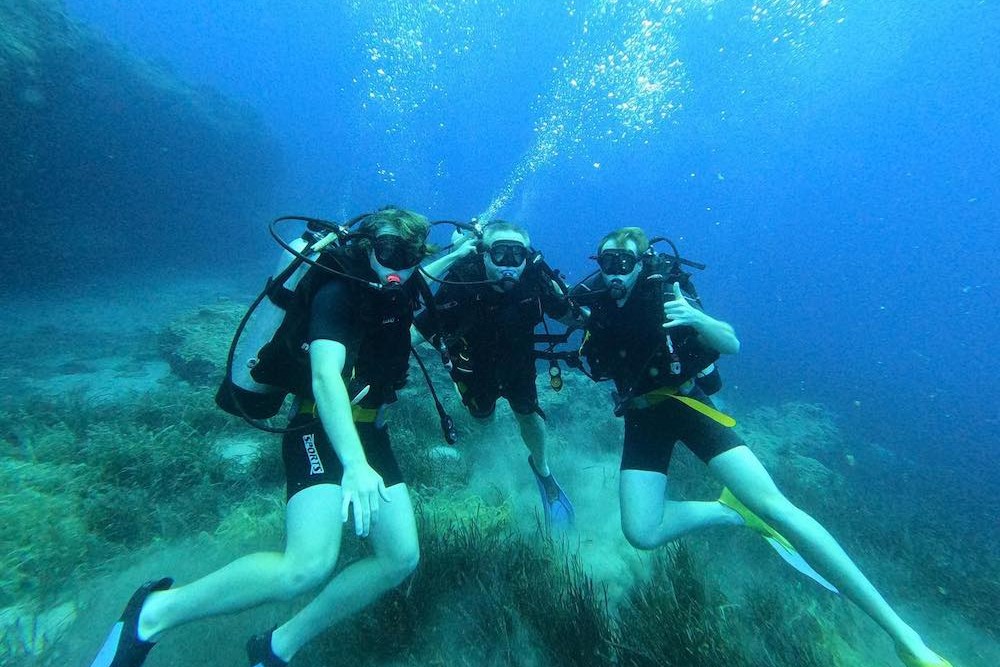 Discovering under-the-radar villages
Each time we anchor at a beach town or fishing village or ancient ruin, we're the only Americans there. Sometimes we're the only tourists there. We anchored in Bozburun and took the dinghy into town for sightseeing and again for dinner at the Bozburun Yacht Club. We made a lot of friends there, probably because there was a piano for Doug to play. (He's played many a piano in many a country, and it's always a great way to meet the local people.) Here's what else we found in Bozburun, on Turkey's Aegean Coast.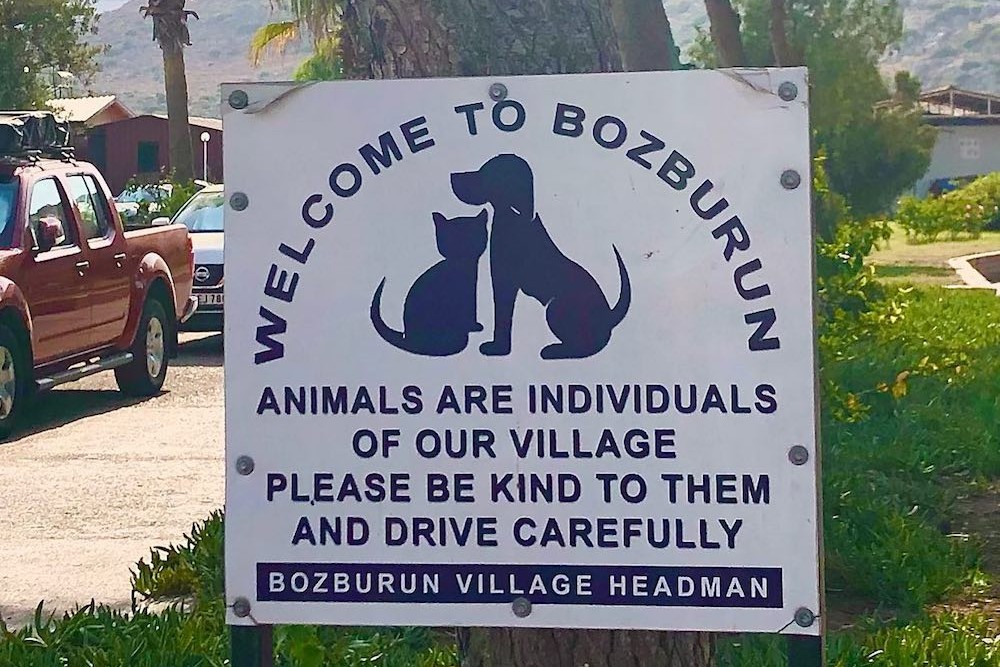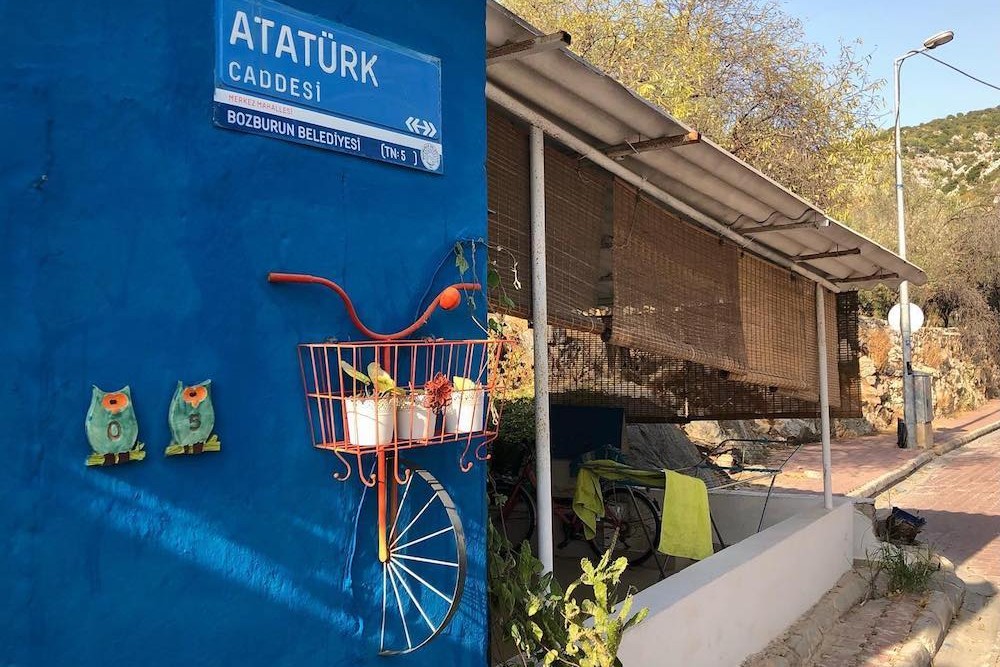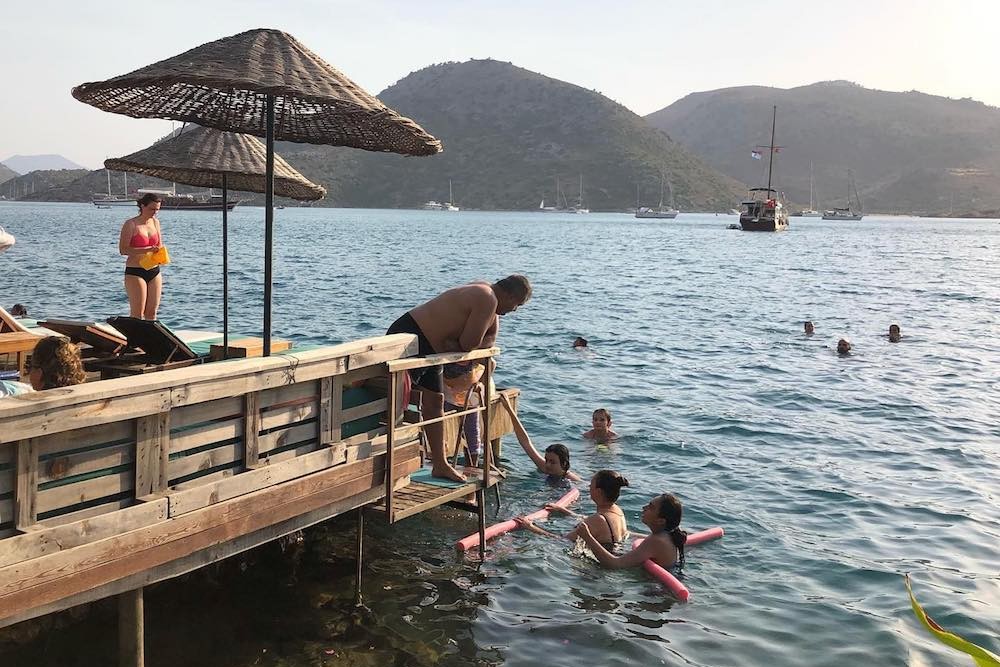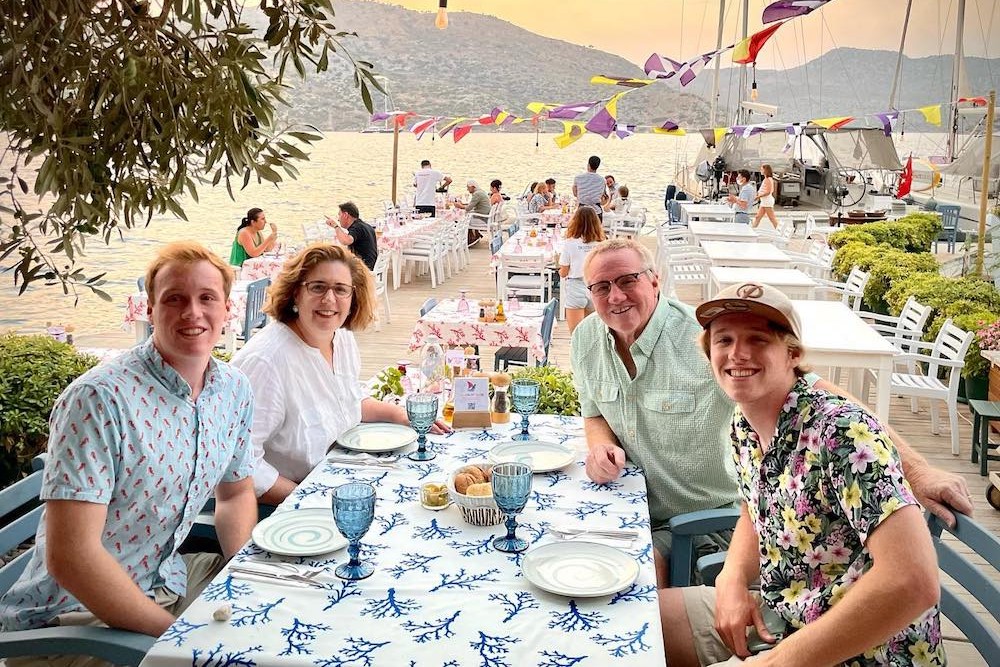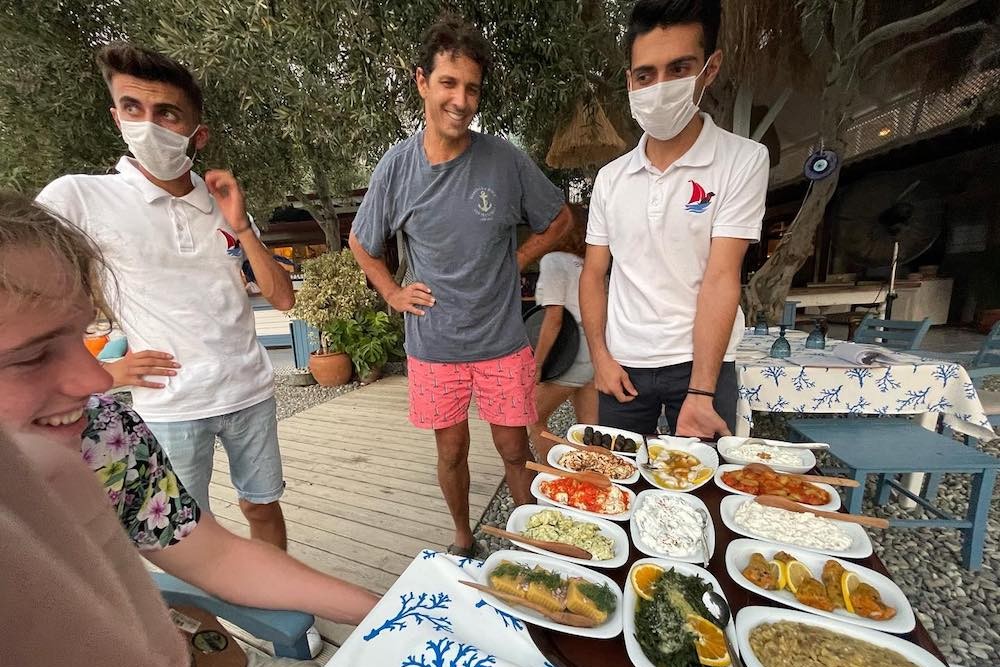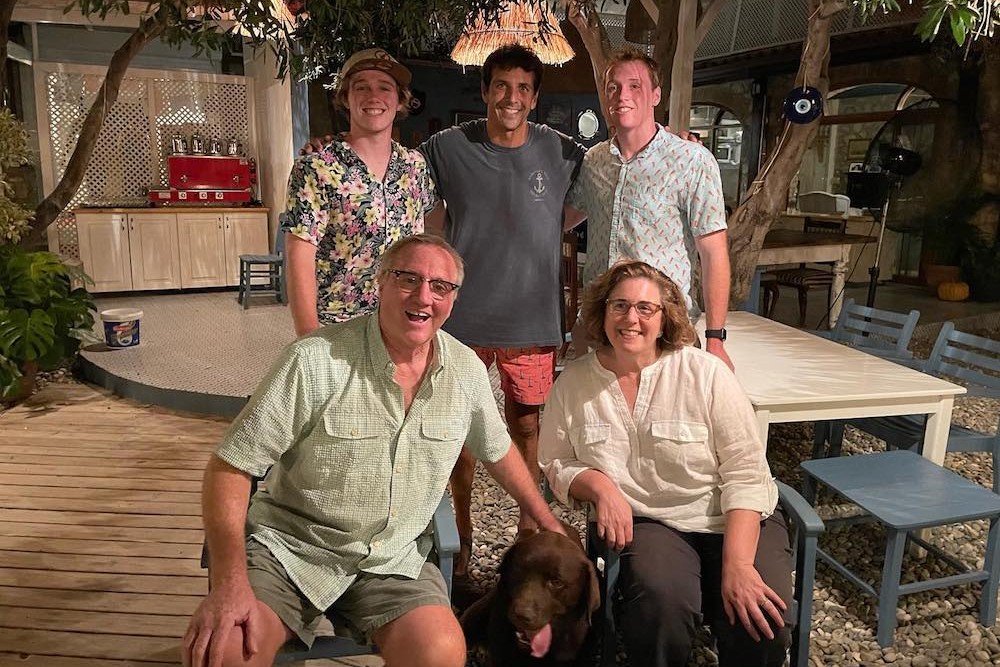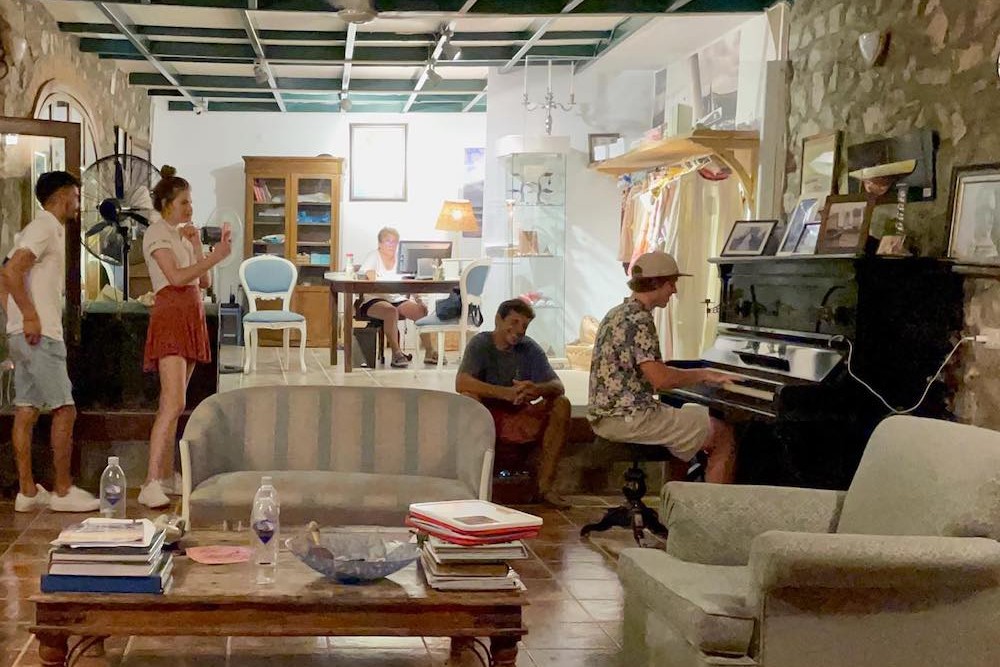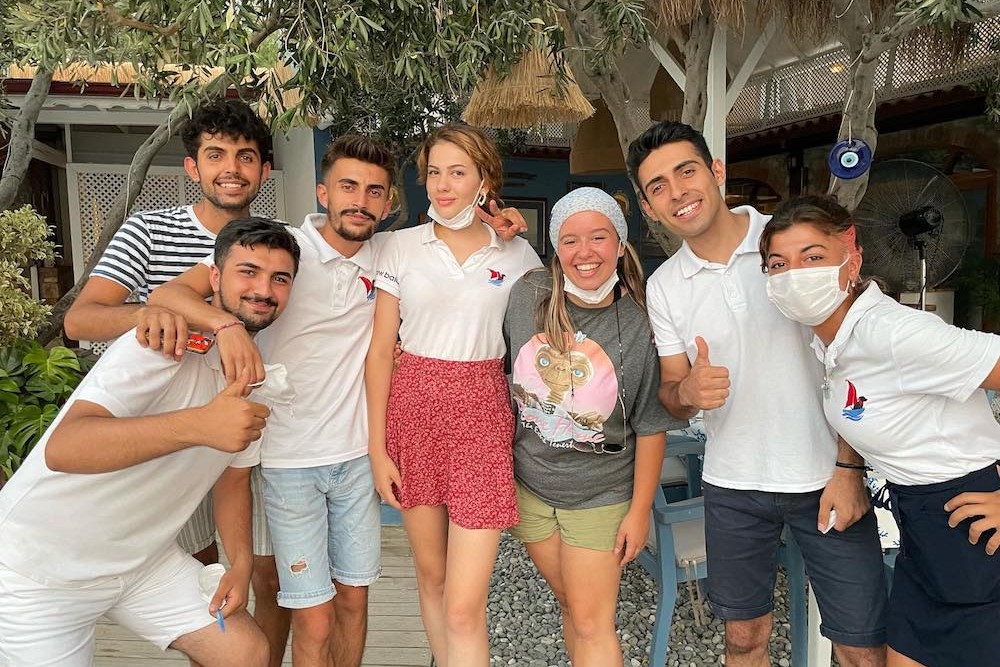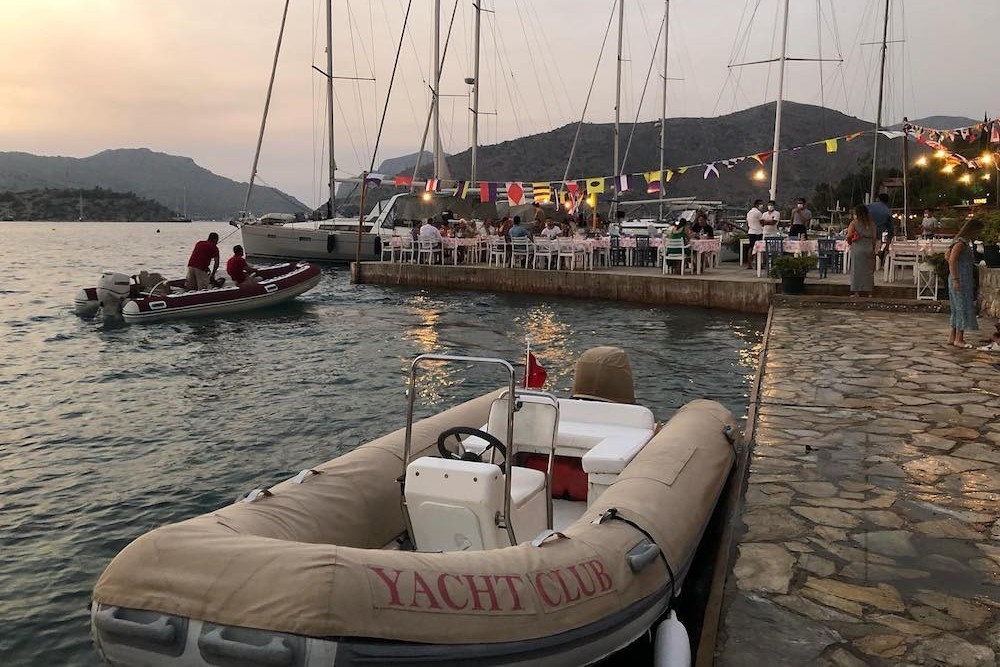 On a gulet, the market comes to you!
They row up to your boat, make small talk ("Where are you from?"), toss you their wares so you can try them on, reduce their price even though it didn't occur to you to bargain, then wish you well and row off to the next boat. They're polite and respectful—none of the hard sell you might find in a touristy spot.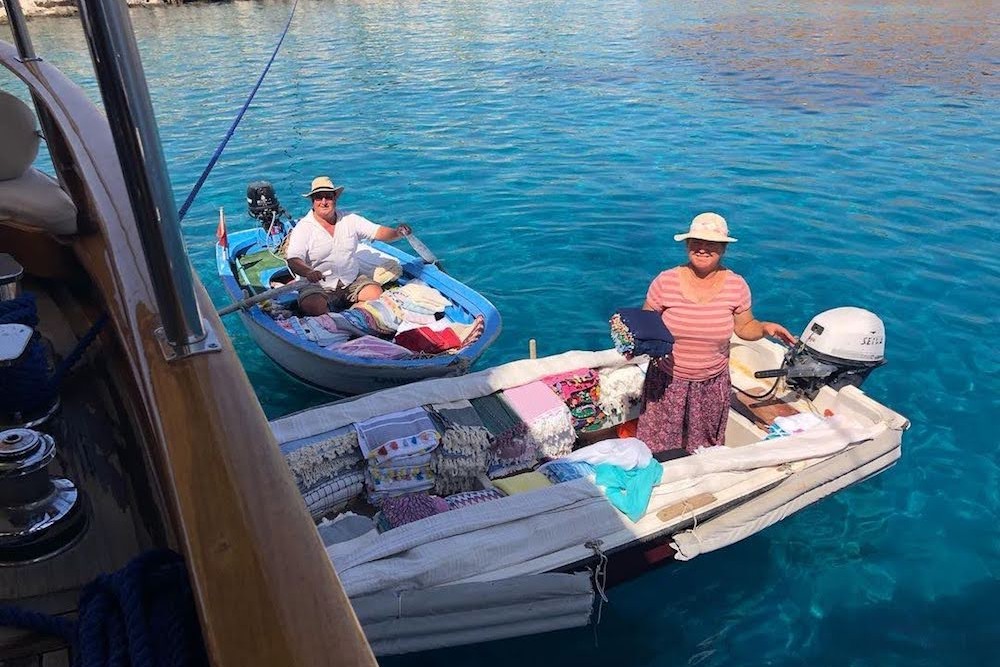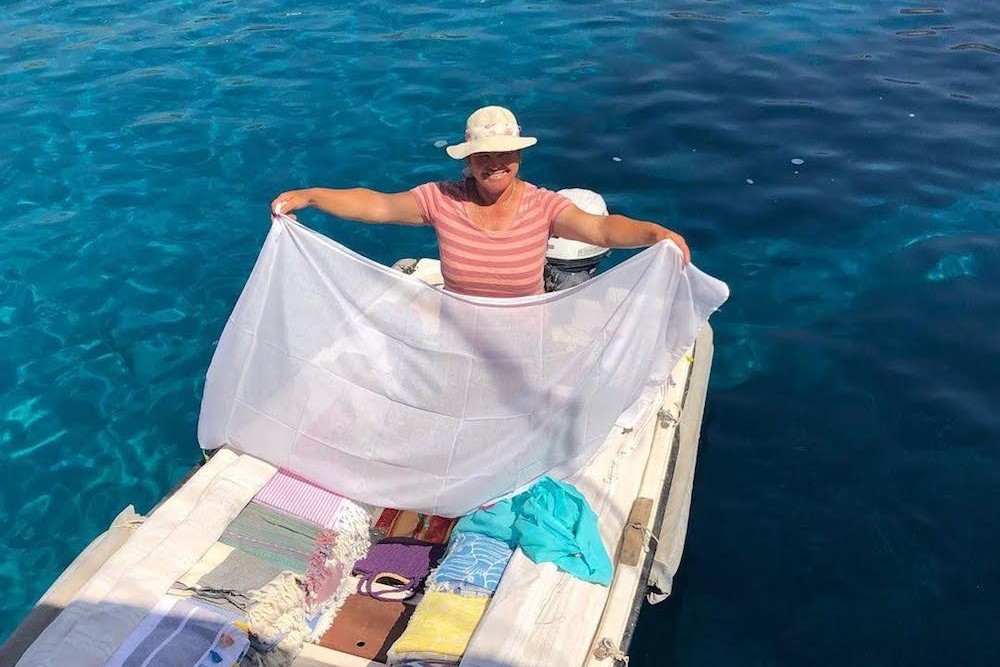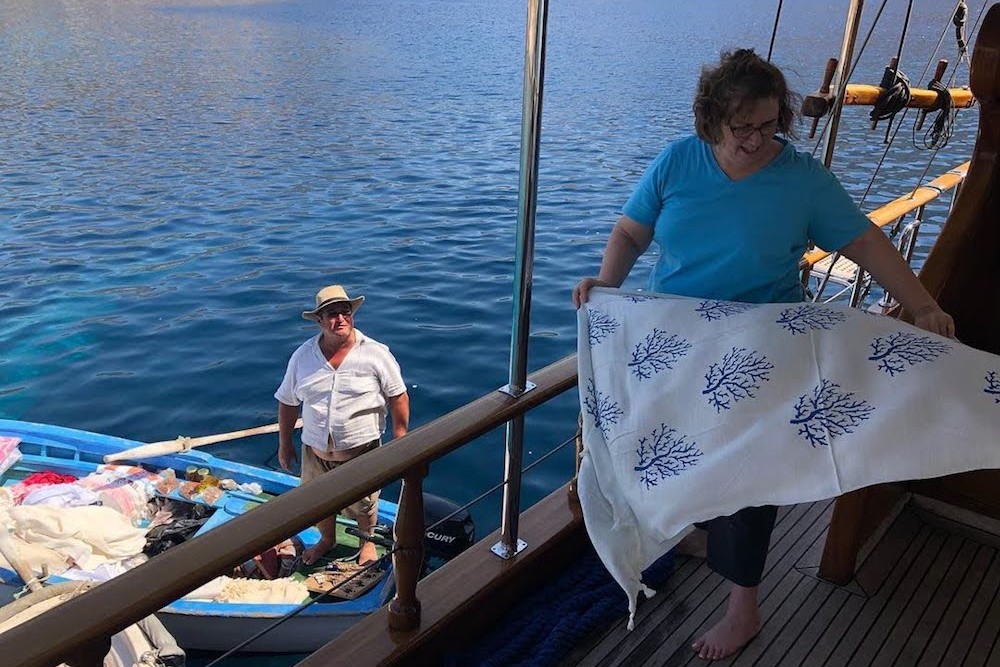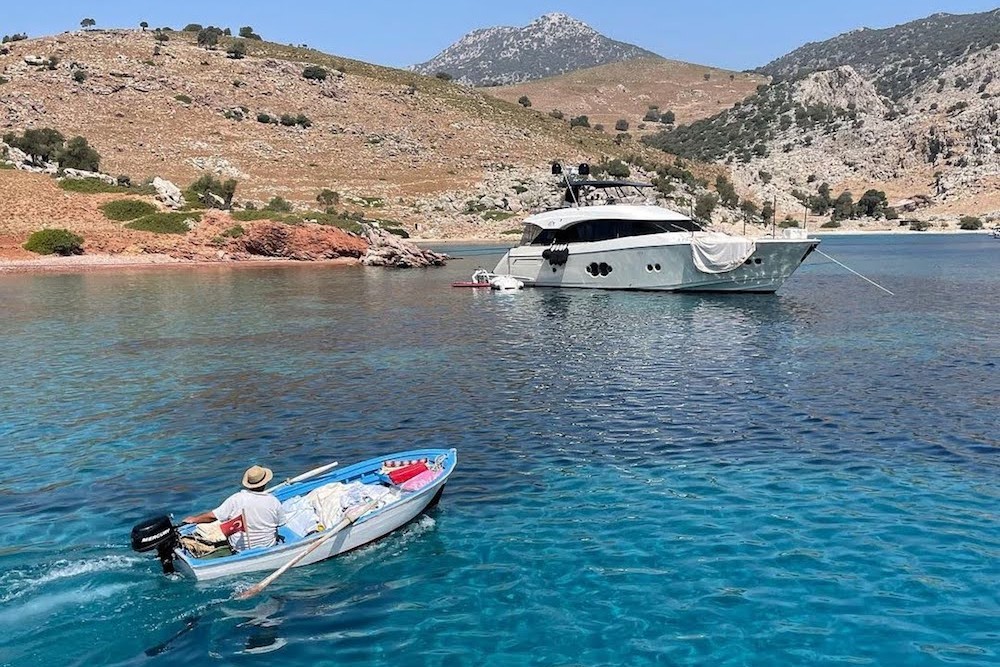 Special private access to a "museum hotel"
This Ottoman mansion and "museum hotel" is Mehmet Ali Aga Konagi. It's been closed because of the pandemic, but the WOW List specialist for Turkey who arranged my trip, Karen Fedorko Sefer, was able to get us in!  Deniz Ikizler showed us its treasures and treated us to "plum sorbet" in the garden, and Doug found another piano to play—an historic C.J. Quandt, Berlin.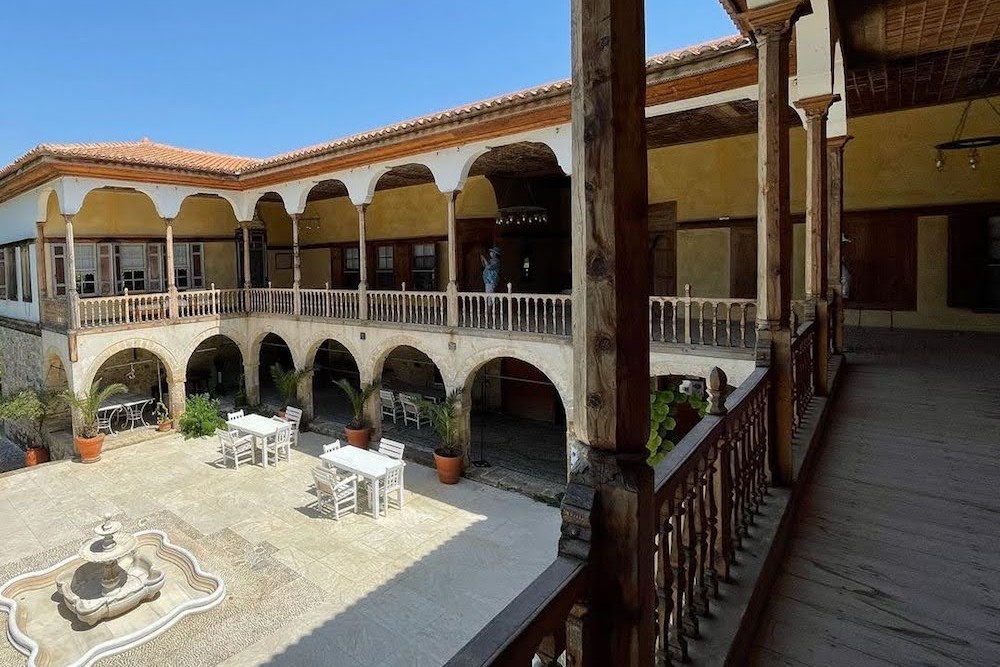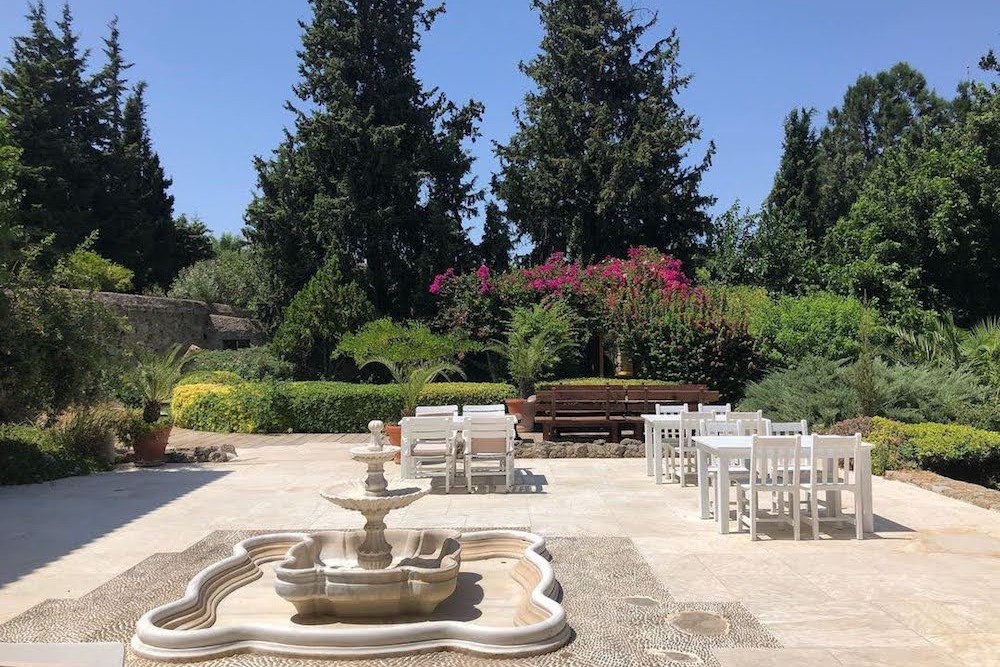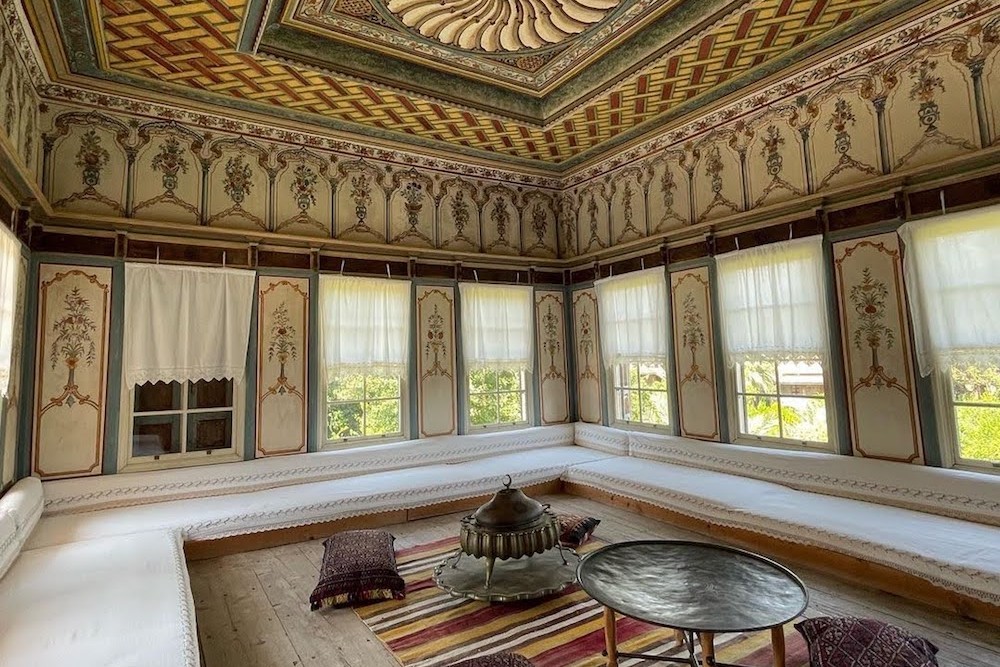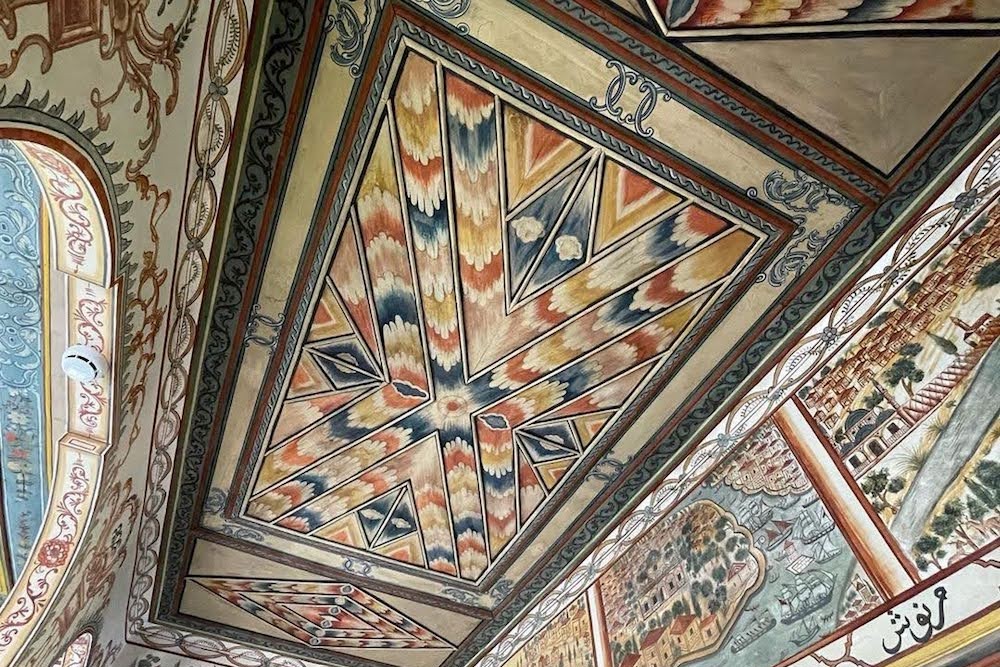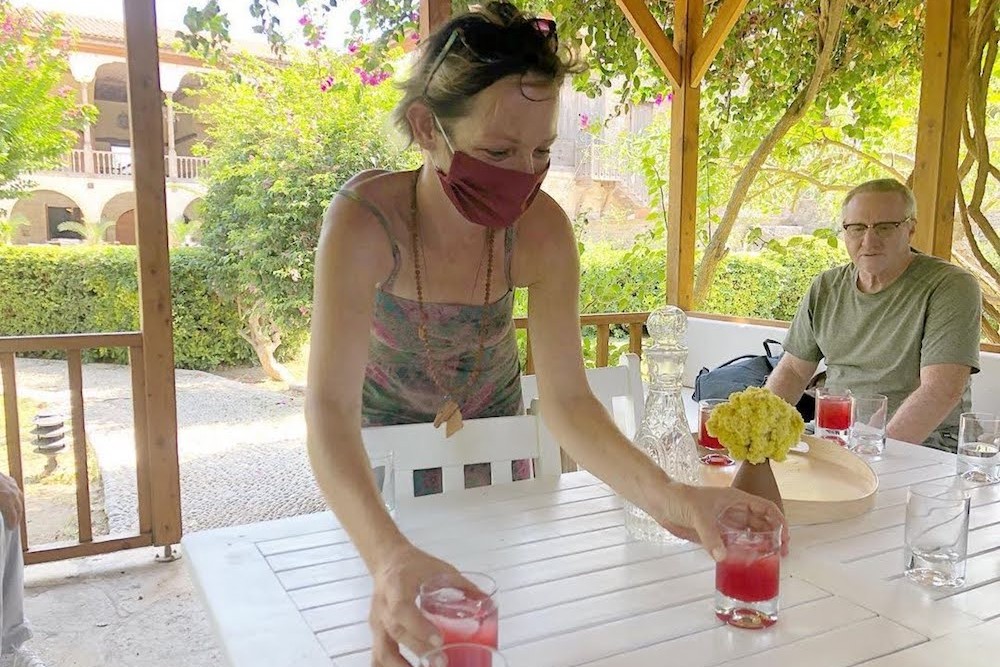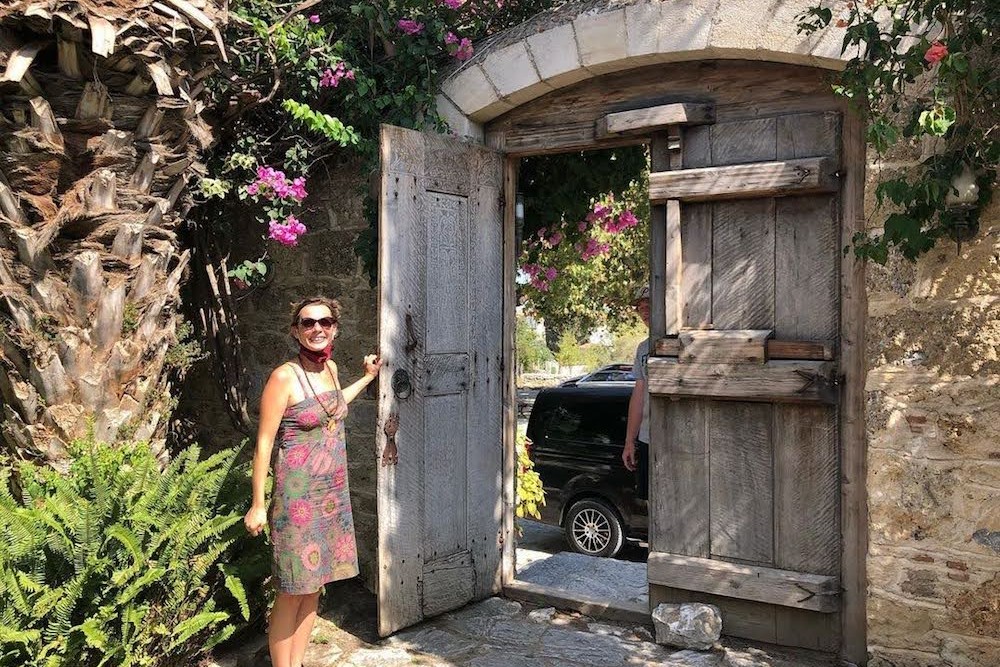 Exploring the historic ruins of Knidos
In the ancient Greek city of Knidos on Turkey's southwestern coast, there were more goats than people.  We also were not far from the wildfires. We're lucky to have a boat to go back to where cooling off is easy: Just jump in the water. If you'd like to contribute to the relief effort, I'm told good places to donate to are Türk Kızılayı (Turkish Red Crescent) or Turkish Philanthropy Funds.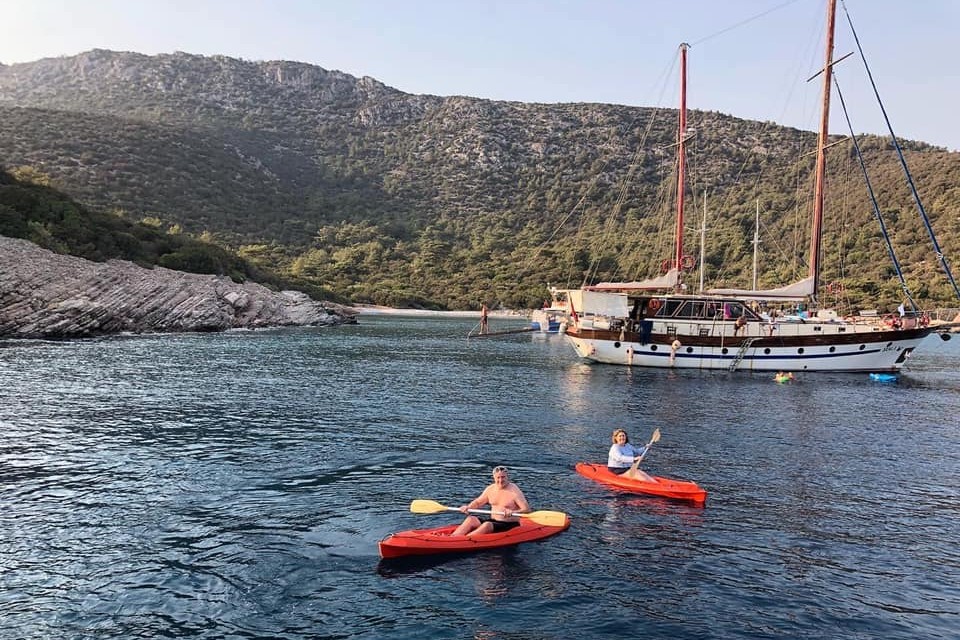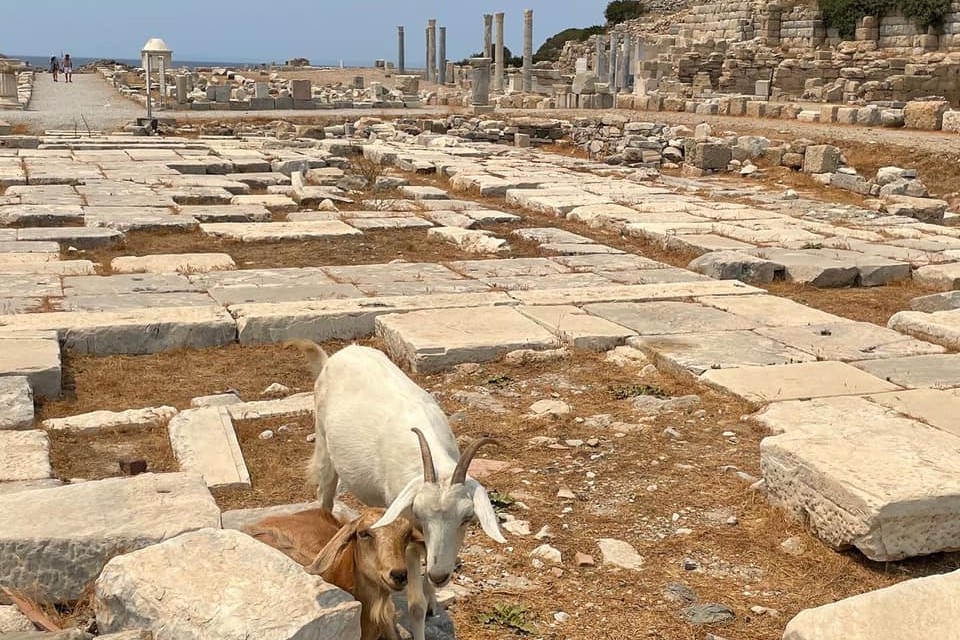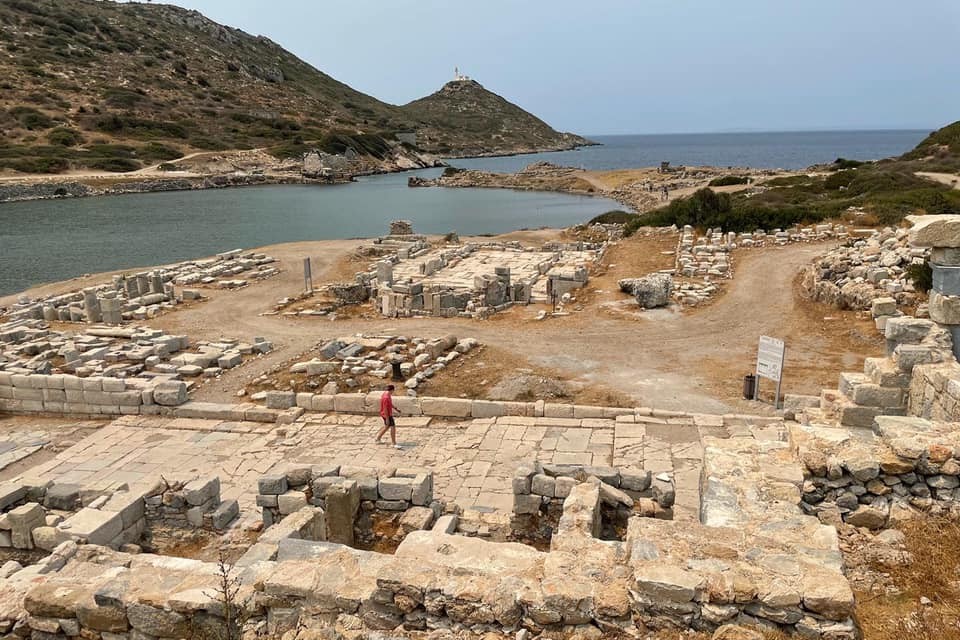 A beach town almost entirely to ourselves
Sailing into a new harbor is like waiting for a gift to be unwrapped: What will we find? In Datca we found a beach lined with restaurant tables almost up to the water's edge for toes-in-the-sand dining; streets of boutiques and bakeries and artisan gift shops; an Old Town of winding cobblestone alleys, car-free and dotted with outdoor cafes for coffee and ice cream; Ottoman mansions and olive farms a short drive away; and barely anybody there to enjoy any of it. Datca has everything except tourists. It's also the biggest beach town in my memory where there are no American chains—no Pizza Hut, no McDonald's, no Starbucks.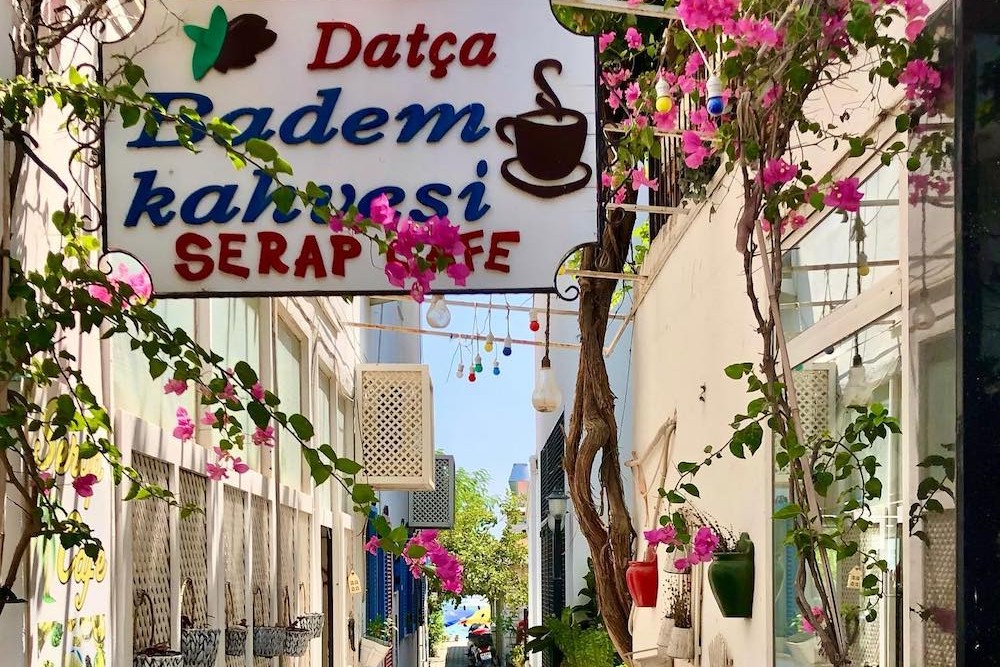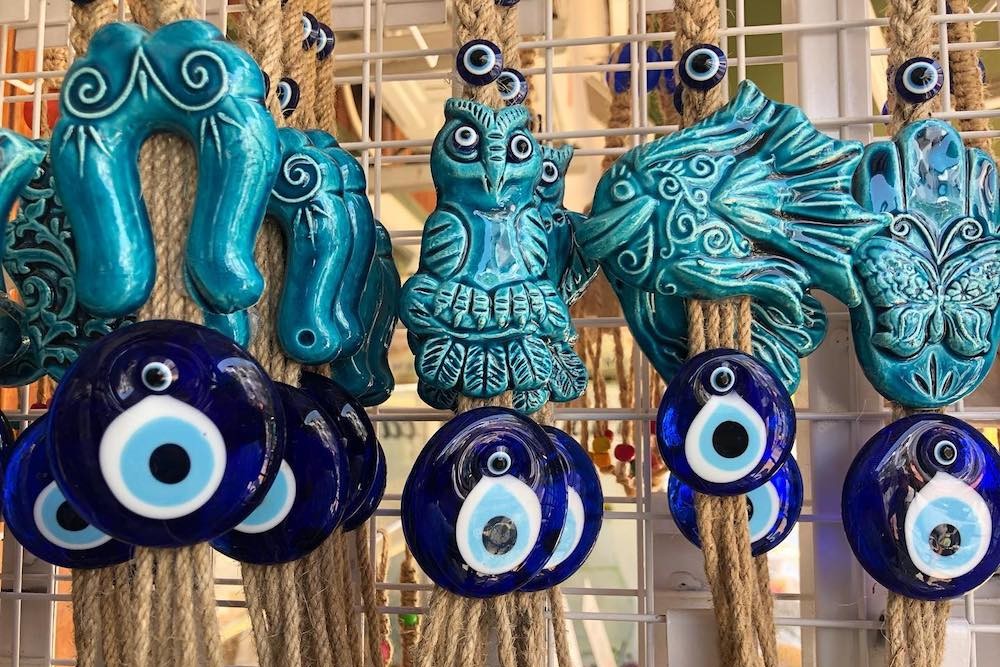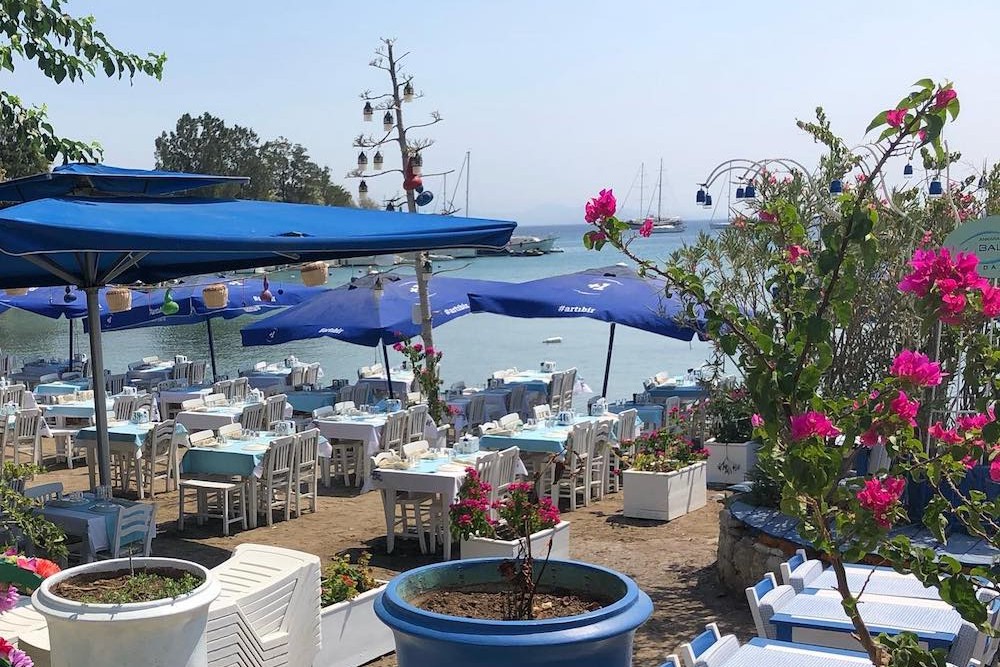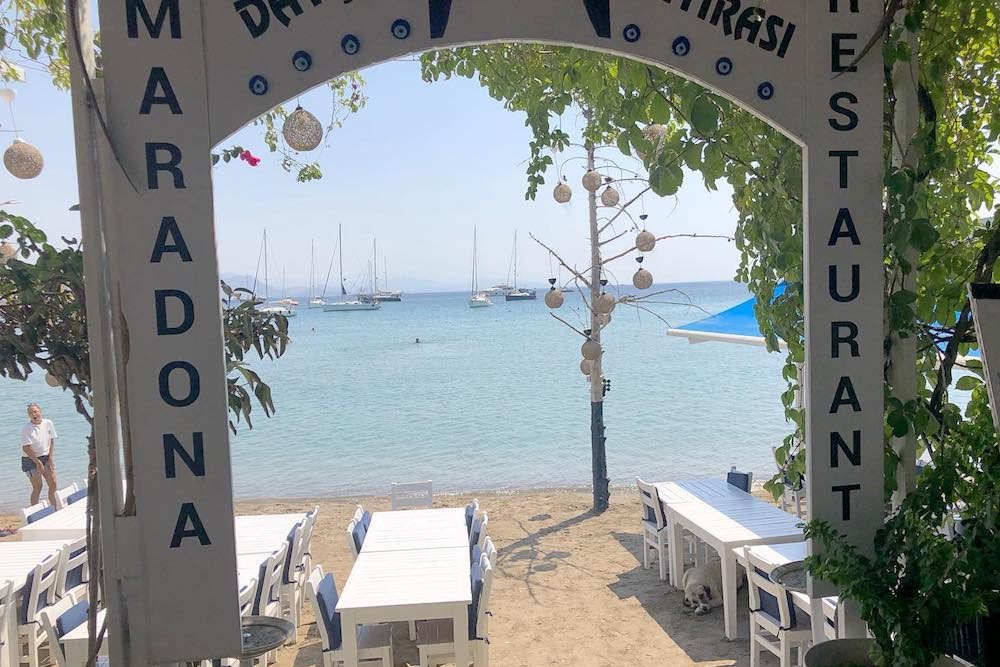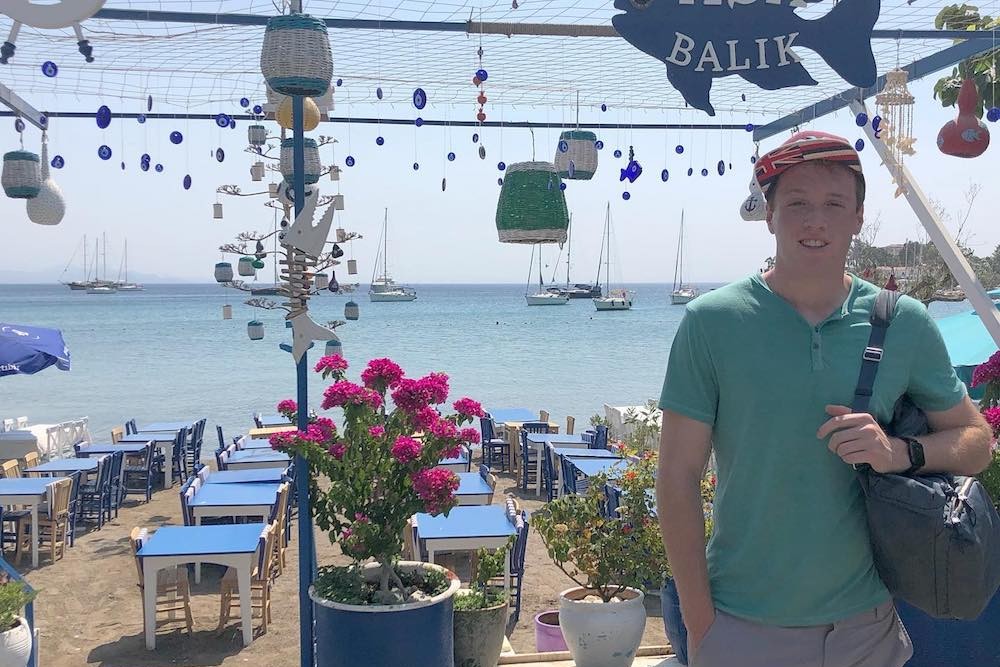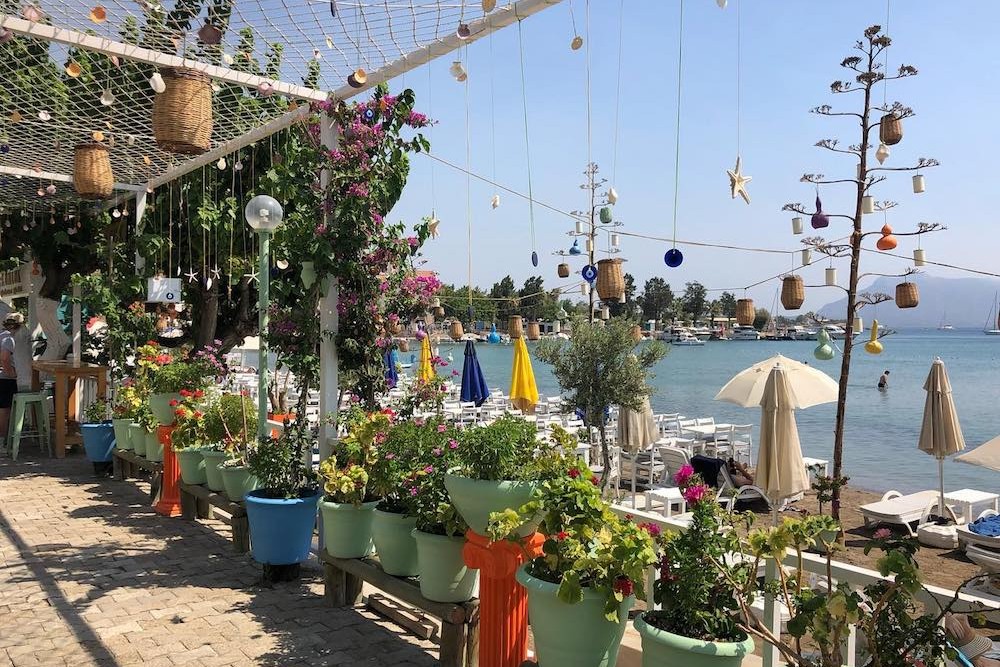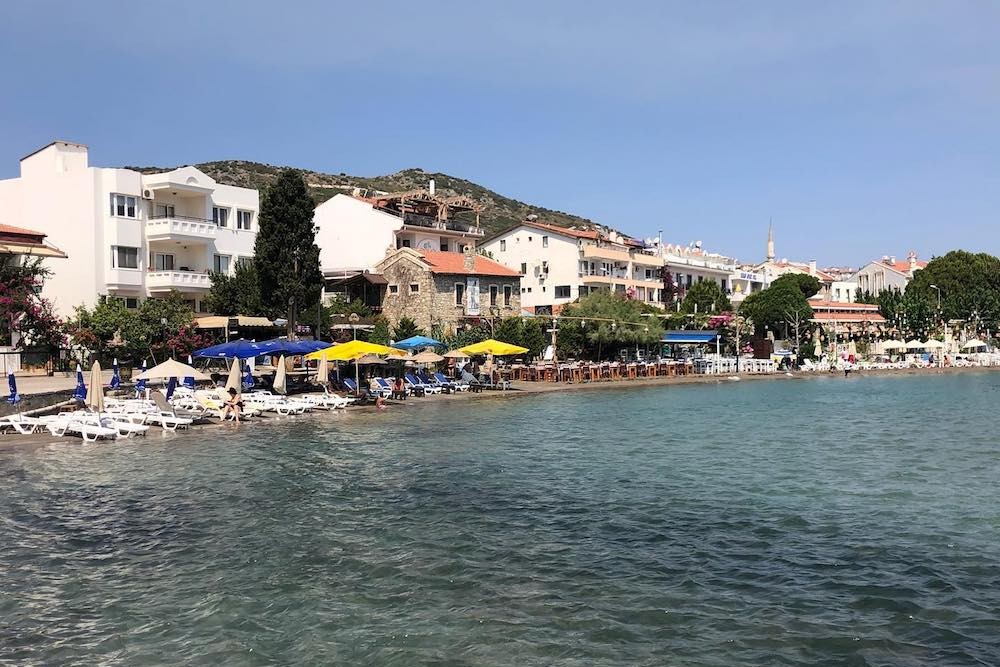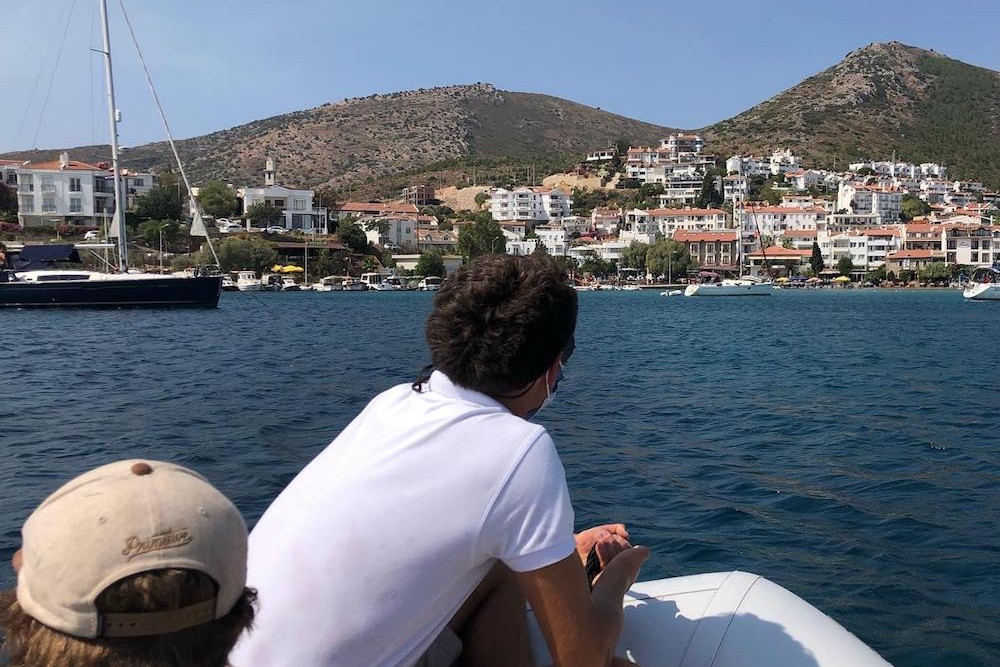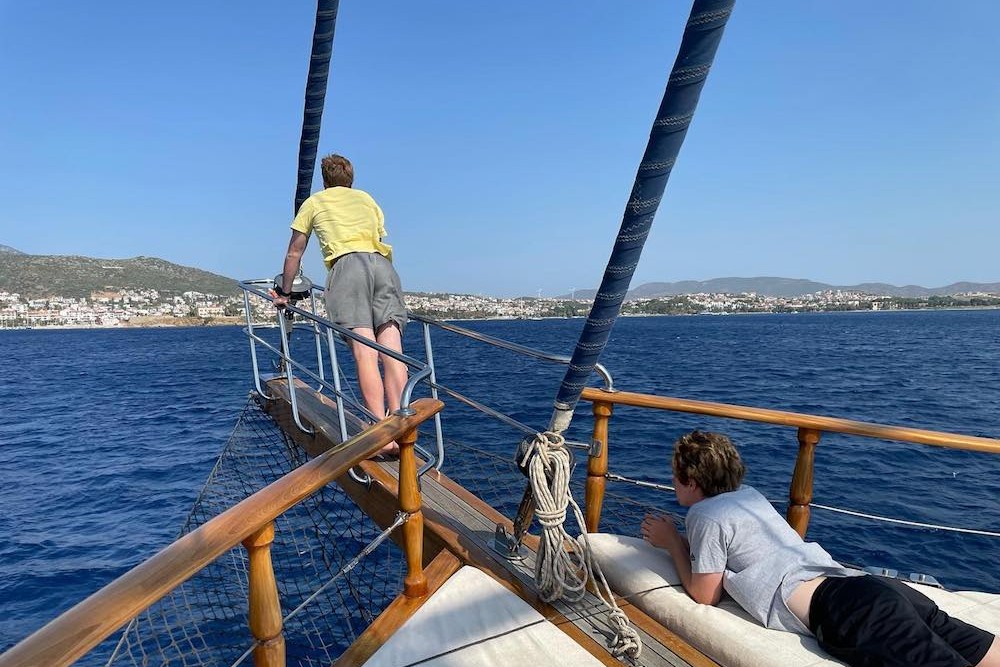 Bodrum good-byes
Because Turkey is considered a safe, smart destination choice during the pandemic, so many yachts are converging on Bodrum that berths at the marina are hard to come by. Check out the narrow slot our boat squeezed into, right in front of Bodrum Castle. It's hard to say goodbye to our trusty captain and crew, but it's time to fly to Istanbul. Görüsürüz, dear new friends!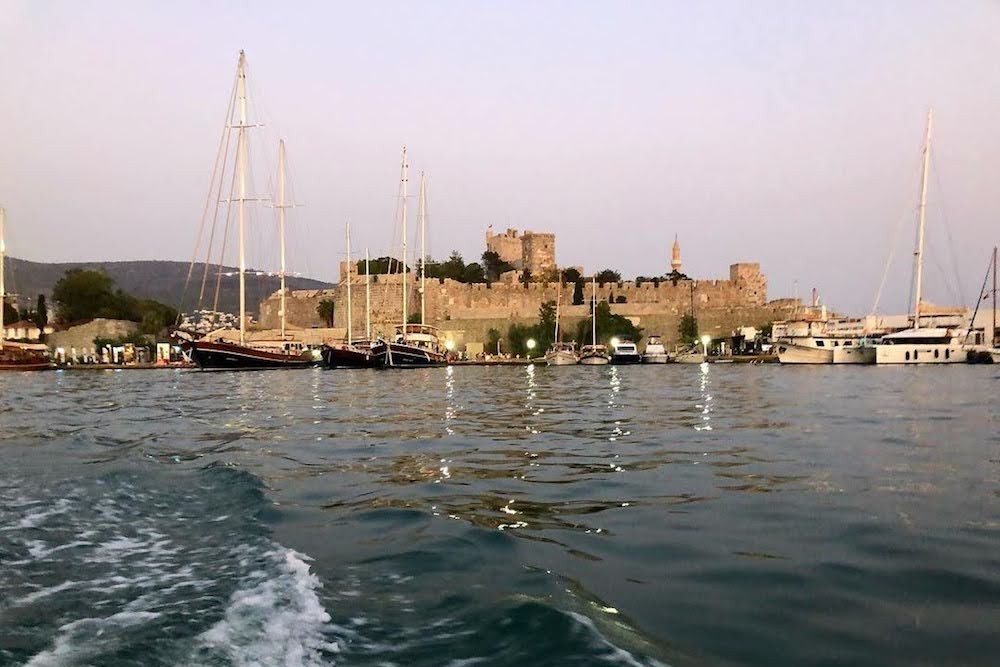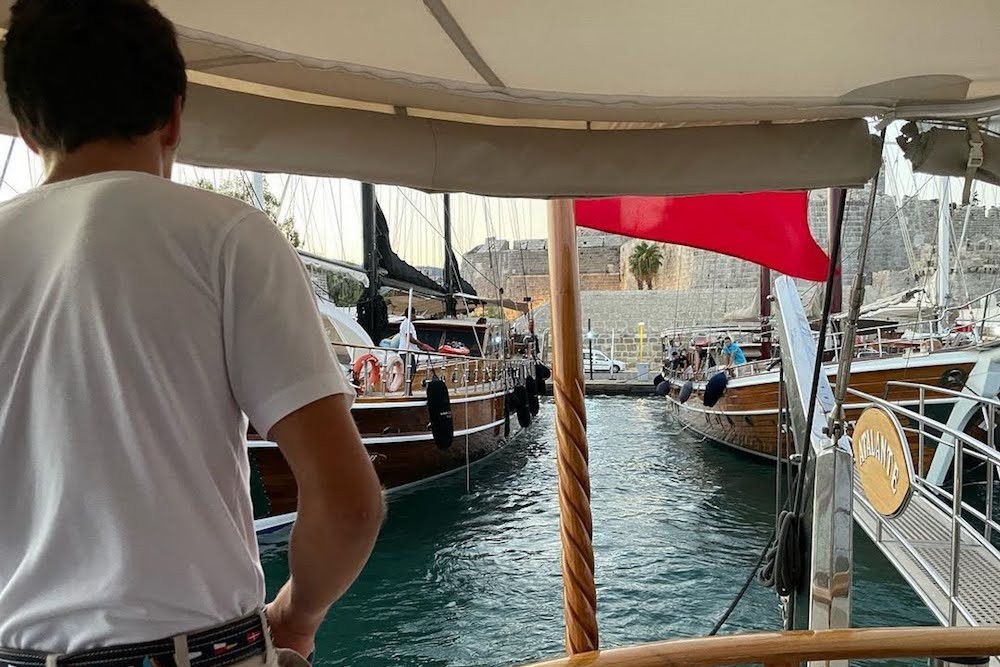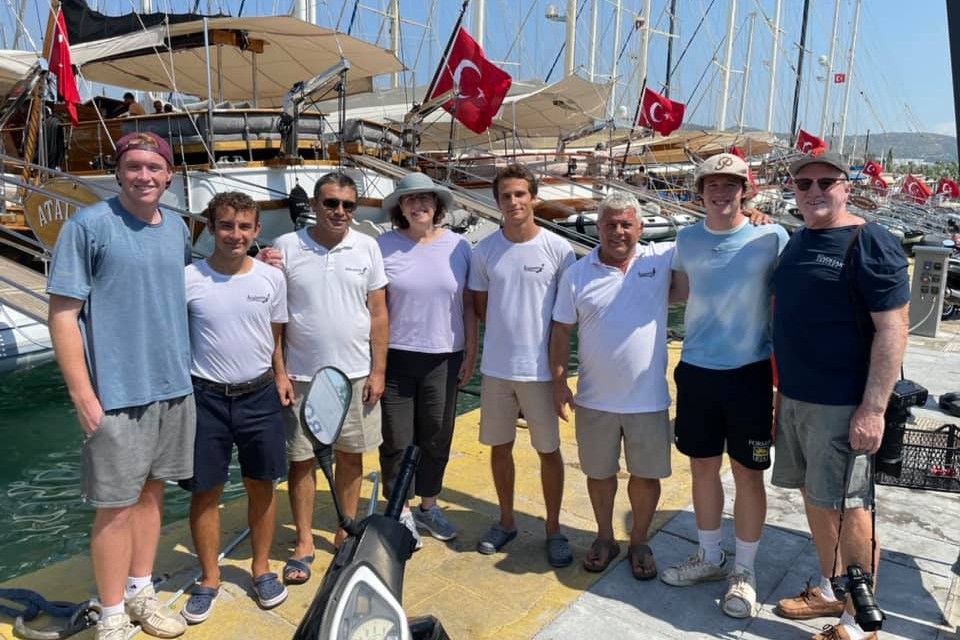 Read reviews of more private yacht trips in Turkey.
Transparency disclosure: So that I could experience Turkey's Aegean Coast on your behalf, WOW Lister Karen Fedorko Sefer arranged for a reduced rate on a gulet.  Everything I did on my trip is accessible to every traveler who contacts Karen via my WOW questionnaire.  Thanks to my WOW system, you'll get marked as a VIP traveler. 
---
Be a safer, smarter traveler: Sign up for Wendy's weekly newsletter to stay in the know. And read real travelers' reviews of Wendy's WOW List and use it to plan your next trip.