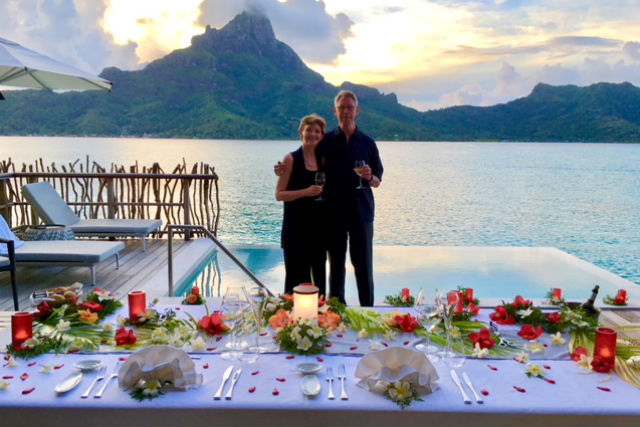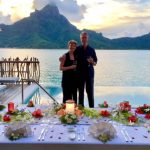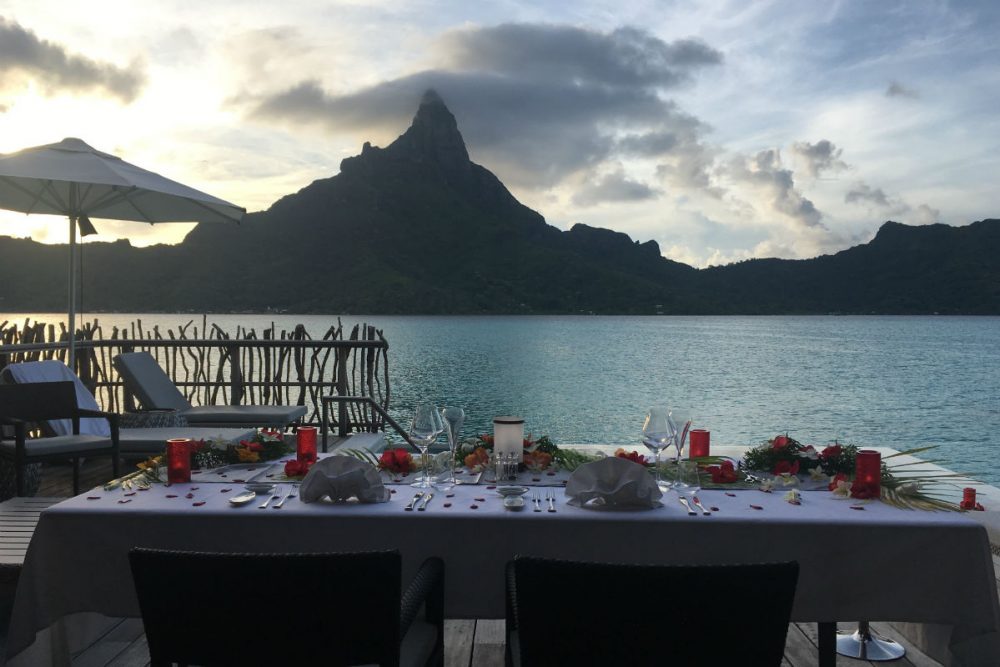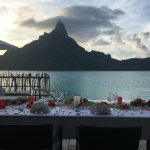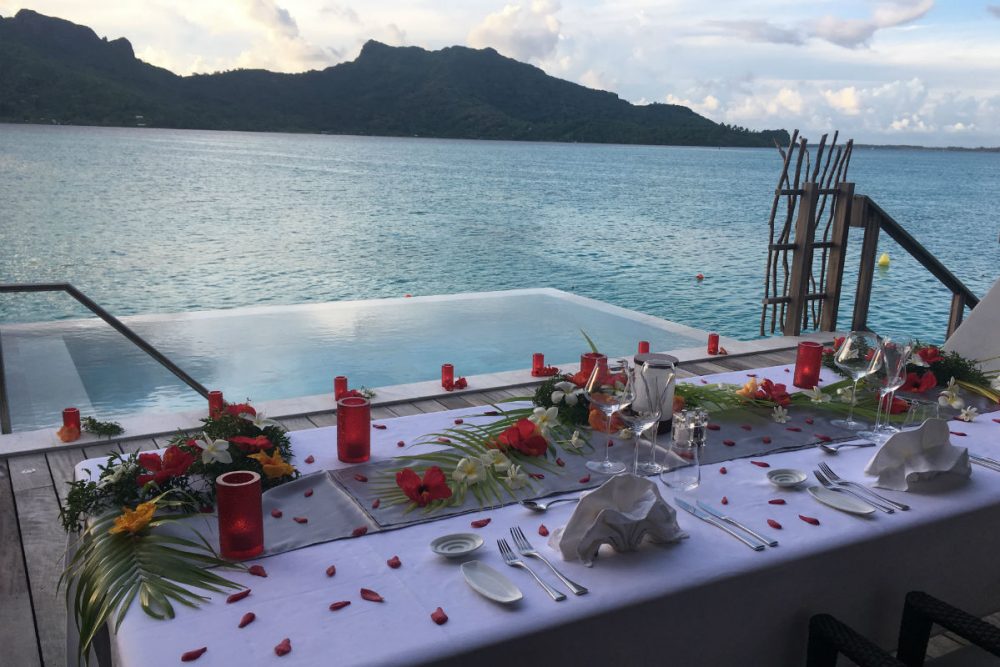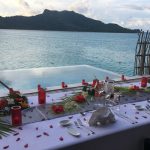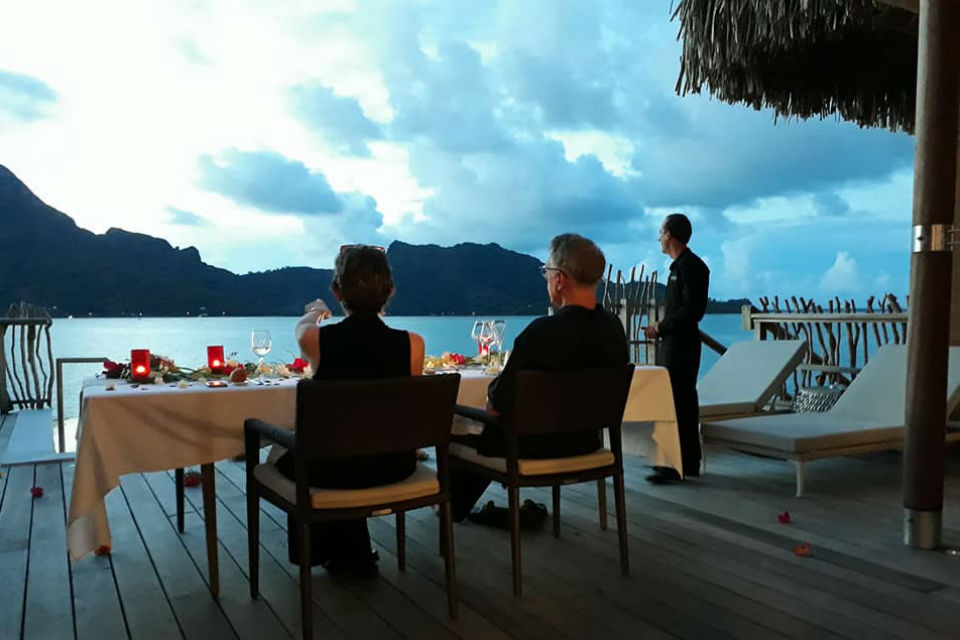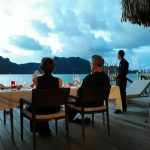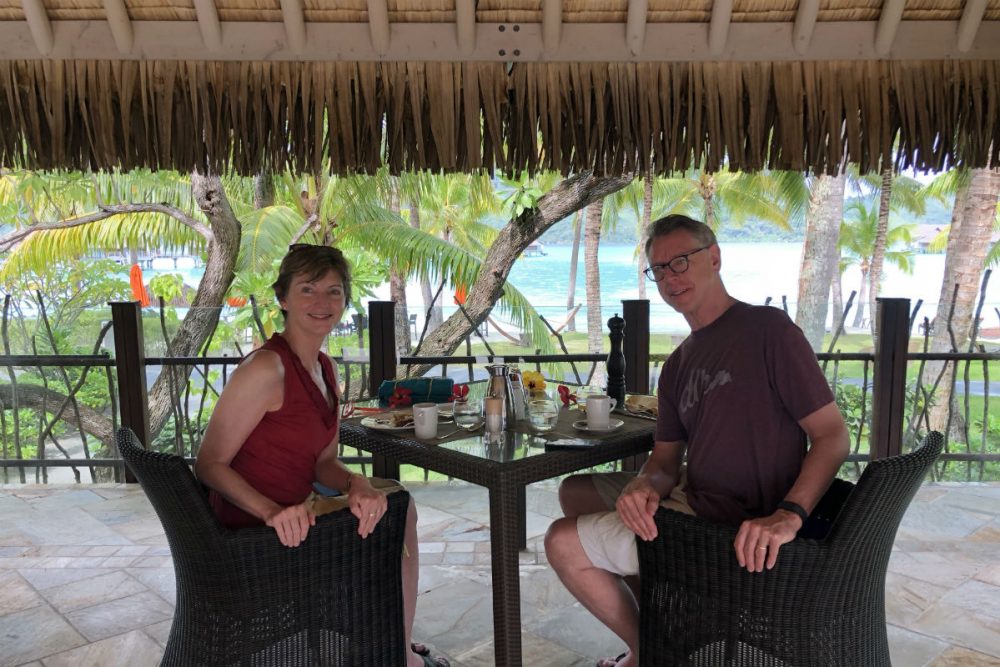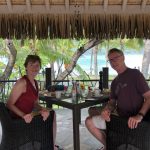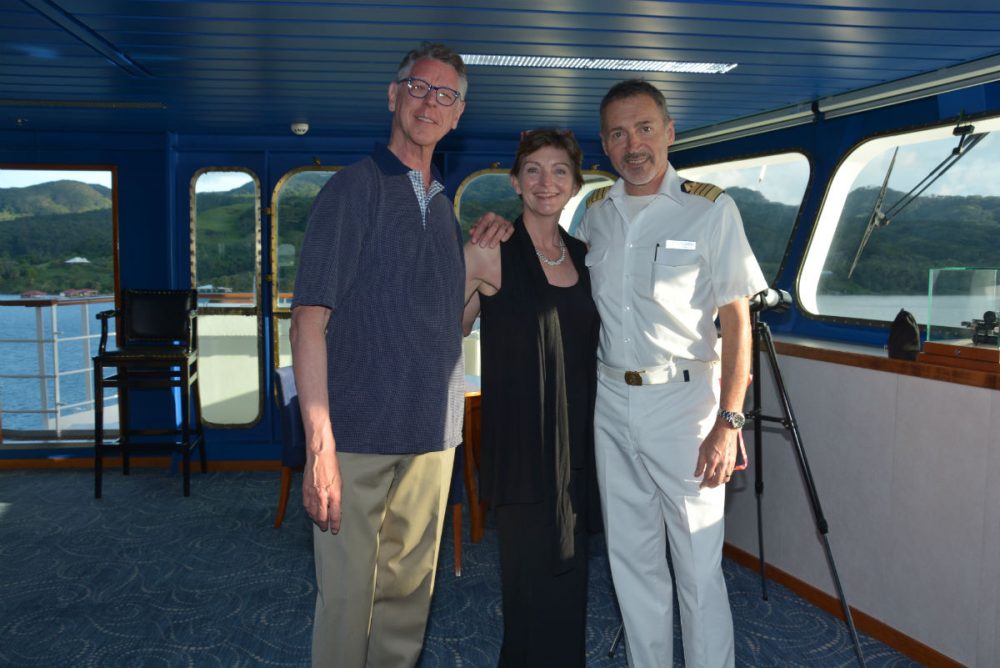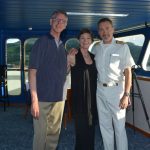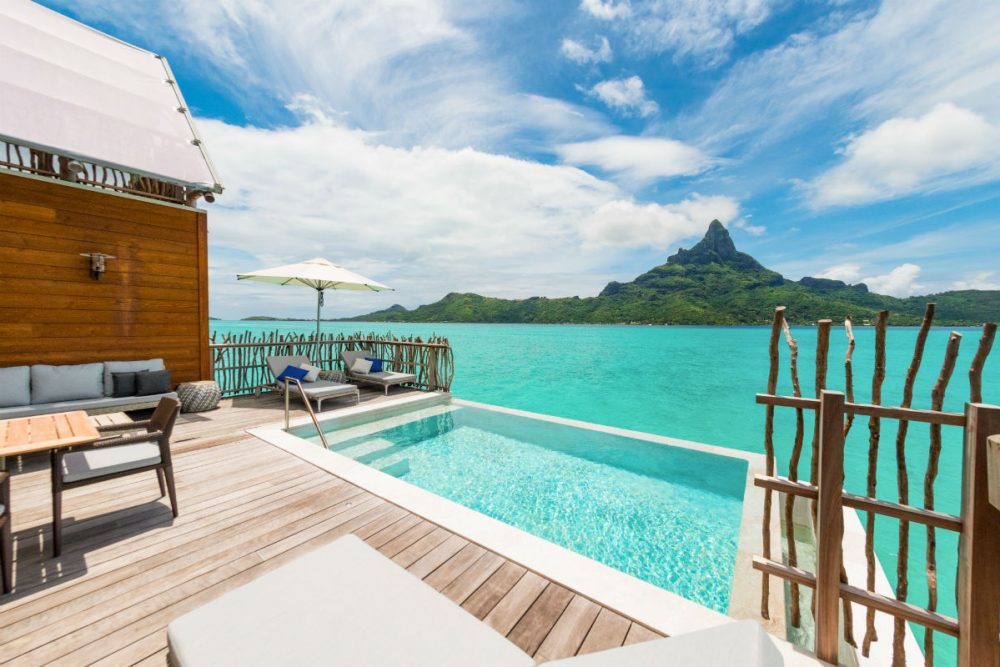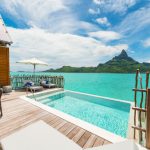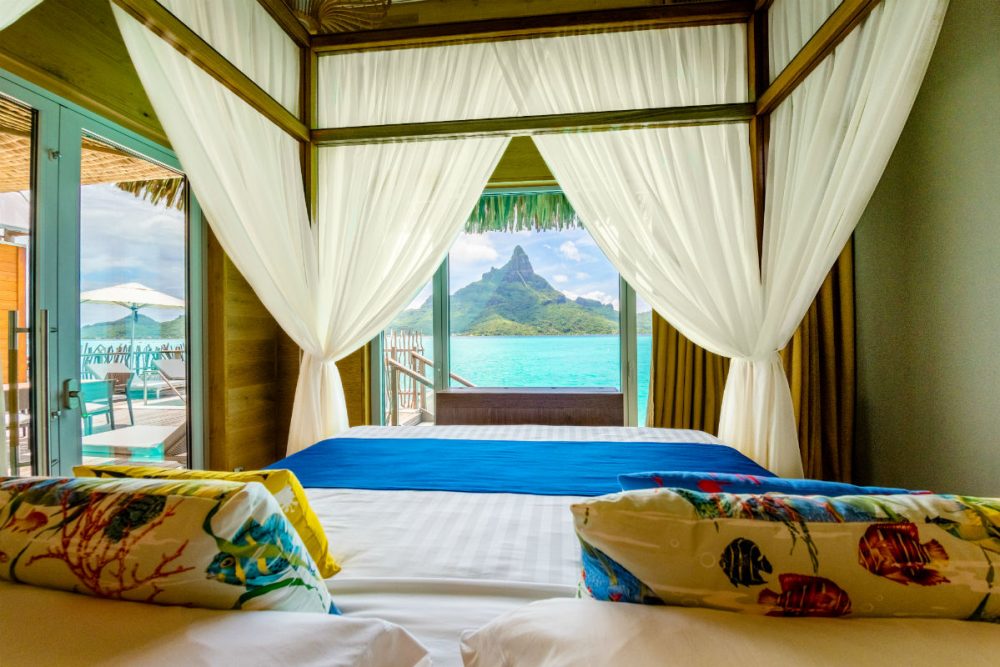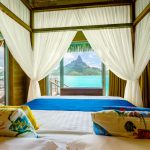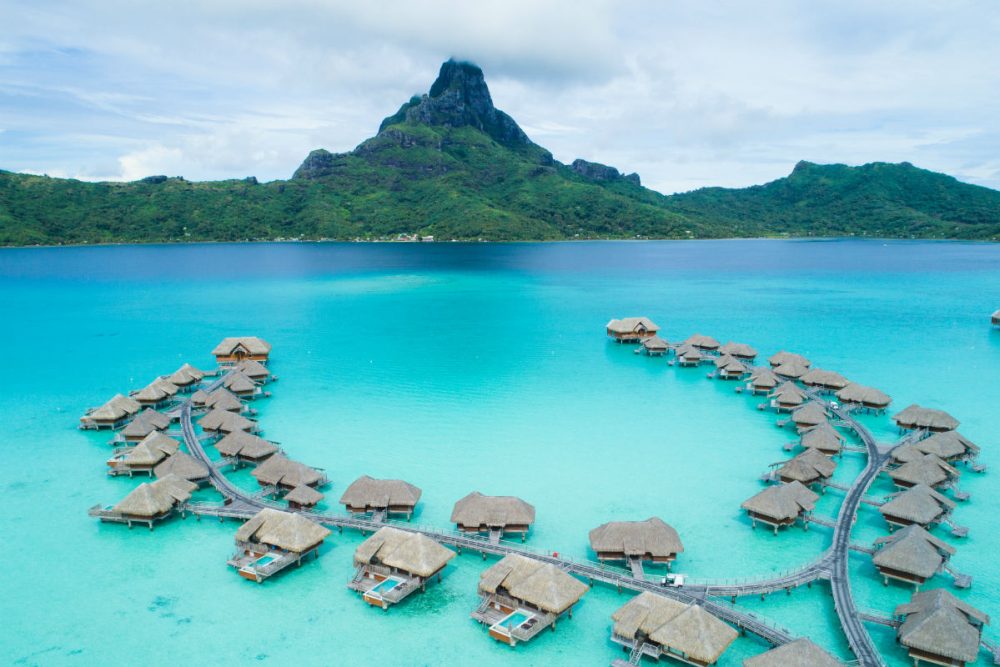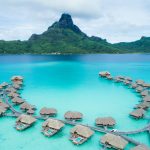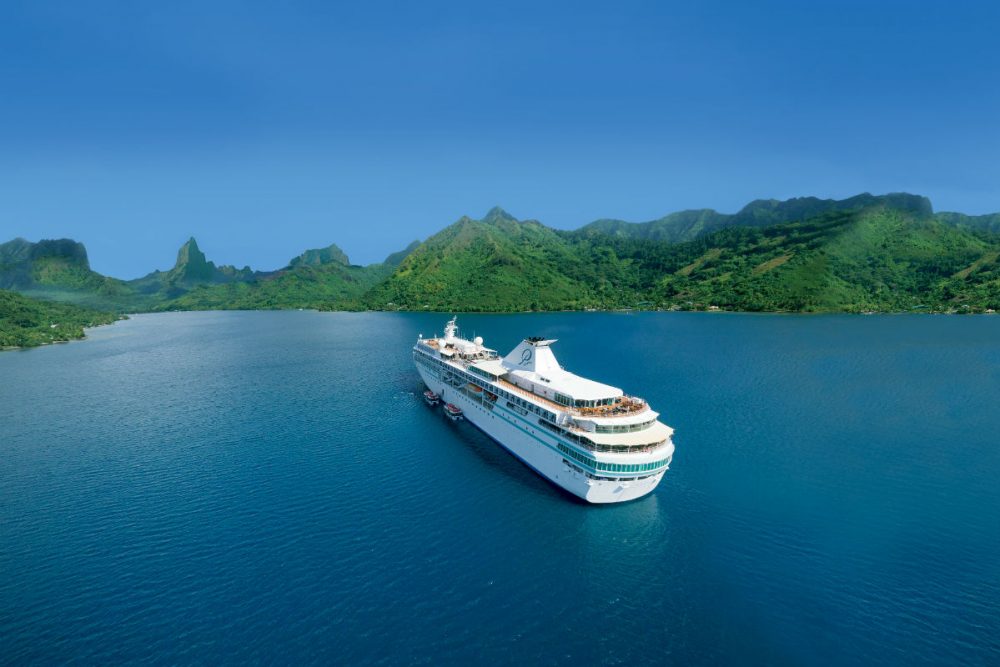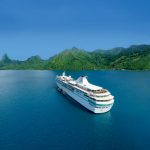 Sharonne and David Hayes recently returned from a trip to French Polynesia that included something special: a surprise insider experience curated by Wendy. We call these WOW Moments, and travelers can start on the path to earning one by using our WOW List buttons to launch a trip and then reviewing their Trusted Travel Expert after their trip. (Here's info on how to get your own complimentary WOW Moment on every third trip).
The Hayeses' trip was masterminded by Trusted Travel Expert Leslie Fambrini. Its centerpiece was a luxury small-ship cruise of the Society Islands aboard the Paul Gauguin. What the couple didn't know was that they would be spending one night in a brand-new overwater villa at the InterContinental Bora Bora Resort and Thalasso Spa. The resort's four Brando Suites, which only just opened in December, have 3,400 square feet of indoor/outdoor living space and 180-degree views of Mount Otemanu. The Hayeses were among the first travelers to get to experience these much-buzzed-about new overwater "bungalows."
Sharonne and David posted a review of their whole trip—you can read it on Leslie's reviews page—but of course we wanted to find out more about how their WOW Moment went. The Hayeses live in Minnesota, and on a frigid day in January, Sharonne pulled up her snapshots of blue lagoons and petal-strewn tablecloths to answer our questions.
Q: Let's start with your WOW Moment. Were you surprised?
A: The WOW Moment was way more than a moment. It was 24 hours of WOW. It was far more than we had expected.
We had been told in advance that on a certain day we were to pack an overnight bag. So we realized that our WOW Moment was not going to be on the ship.
The day before we reached Bora Bora, we were taken to the bridge, where the captain told us we were going to have our WOW Moment the next day—which we kind of knew, but it was fun to go up on the bridge.
We were told to get off on the 10:30 tender and take an overnight bag, and there would be a cab waiting for us. That was pretty much it.
The cab took us to the InterContinental, and the woman at the desk said, "Oh, your boat's at 12:45." That's when we thought, Oh, maybe the WOW Moment is a snorkeling trip.
The boat, a little shuttle, took us to one of these fabulous houses at the end of a row of overwater bungalows; we were admiring them from the boat. They told us we were going to stay there, and they brought out some Champagne. It had a tub with a view, you've got your own little pool, and you can hop right into the ocean. And we were standing there saying, "This is ours?"
They said, "Just enjoy your afternoon; we're going to come pick you up at 5:30 for a manager's reception." So we did. We just enjoyed ourselves. We just stayed outside and marveled at this place.
I'm looking at my pictures now, and…there was a certain wonderment about this WOW Moment. There was this school of fish under our bungalow and I was swimming around trying to capture a picture of them with my waterproof camera. I never was successful—they were always ten feet away from me. It really was just magical.
There were other people at the general manager's reception; it wasn't just for us. It was just lovely, and we had a great conversation with the general manager.
We had been told that we were going to be picked up for dinner, and we were actually taken back to our place, where they had strewn flowers along the walkway into our bungalow. We had our meal on the deck as we watched the sunset. The weather was perfect, the colors were beautiful, and we enjoyed talking with the servers, a man and a woman, and learning about their lives. They cleaned up and left, and we had a lovely night.
When we arrived at breakfast the next morning they asked for our room number and then directed us to a private table overlooking the water in an area adjacent to the restaurant.
So the whole thing was in keeping with the fact that we were looking to be pampered and relaxed on this trip, and that's what it was all about.
The whole time I'm there I'm thinking, "Oh, I wish my daughter and her husband were in the other bedroom." It's the kind of thing you really wanted to share with people.
Q: How was the rest of your cruise?
A: The Paul Gauguin was wonderful, and it was fun to be there on New Year's Eve. We do like cruises, but there were things that I really liked about that particular cruise. One was the age mix. There were a few families, a few kids, a lot of honeymooners, people in their twenties and thirties, young couples. This was an upscale cruise, so the ages skewed older, but many grandmas and grandpas were probably funding the trip for their extended families.
There were a lot of Polynesians. One night on the beach, the musicians were playing their ukuleles and singing, and a whole group of Polynesians joined in and it was just magical. Ten cruise-ship guests were out there singing this song, harmonizing and echoing back and forth.
Another thing I liked was you didn't feel pushed to sign up for shore excursions, but on every stop there was something you could do that was free, like a shuttle into town. I love to go to foreign grocery stores, so we went to shore but didn't do anything formal.
Q: How did you decide on the Paul Gauguin?
A: We've had two prior trips using the specialists on Wendy's WOW List—Costa Rica and Peru. Although the Peru trip was fabulous, it was also incredibly rigorous, and as my husband and I were walking down the Andes, breathless, he turned to me and said, "Our next trip is going to be a cruise."
My husband travels a lot for work. He does a lot of hard travel. So when the time came to book something, I said, "Do you really want to get on another plane, or should we just drive up to northern Minnesota and sit in a cozy cabin?" And he said, "No, I really want to get away."
We didn't know exactly where to go at that time of year. We were looking for the right itinerary and ways to fit it into our schedule. We had just nine days, and we wanted to go somewhere we had never been before, but we were not looking for an adventure cruise. What we really wanted was relaxation.
I went to Wendy's WOW List, and I couldn't tell which of the cruise specialists would be the best fit for us, so I sent an email to Wendy and got a response from one of her assistants within 24 hours. I think that speaks to the personal service.
Q: In retrospect, aside from the WOW Moment, did it help to have a travel specialist plan this trip?
A: I felt like we really benefited from Leslie's advice. We decided on the Paul Gauguin, and after that it was the logistics of getting it planned. For instance, we were going to have to fly in a day early and have an extra night on either end, and we didn't know what to do with it. One of the things that was really good advice, even though it was costly, was to have a hotel room ready and waiting for us in the early morning when we landed in Tahiti.
I've been on cruises before where the shore excursions are very important. And I didn't know if that was the case here. Leslie said, after several conversations, "What I'm hearing is, I don't think you should sign up for anything," which was my gut feeling, but it was nice to be given permission, and she was right.
Q: Can you tell us more about why, as frequent travelers, you rely on Wendy's WOW List?
A: I bought into using specialized travel agents more than a decade ago when we were going to Africa, and I've referred many people to Wendy's WOW List, partly because I think it's really curated. I enjoy the process of doing the research, but you can only do so much online.
Our Peru trip is a good example. It was two families. There were six of us, aged 17 to 60, with three different itineraries. Part of our time was together and part of it was apart. Our adult son didn't want to go on the Andean trek, so the travel specialist gave him some other options. It helped to be able to say, "The 20-year-old son is not buying this. What can you do?"
For the Peru trip, we had eight or ten hours from the time we got back from our Amazon cruise to our return flight, which normally would have meant an icky time in an airport. Instead, somebody picked us up and took us around to show us sights they wanted us to see—I couldn't have orchestrated that on my own. I would have had to find a car service and tell them where to go. I didn't have to do that.
For me, using a travel specialist is a no-brainer for a more complex trip, but even for a cruise, I can't see a reason not to. If you're booking through a cruise line and you have a question, you won't get an answer, or you'll get an answer that benefits the cruise line, versus the unbiased insider look.
Q: Is there anything else would you like to tell us about your cruise, or the WOW List in general?
A: Somebody who saw my pictures of Bora Bora said, "Is that like the best vacation you ever had?" I haven't asked my husband, but I would say it's the best vacation I ever had with just him, and I would include my honeymoon in that.
Wendy Wants To Amp Up Your Trip!
On every third qualifying trip, Wendy will add to your itinerary a surprise WOW Moment. A WOW Moment is an exclusive insider experience that helps make a trip extraordinary. Each WOW Moment is totally different. They vary depending on a huge range of factors, including the country you're headed to, the timing of your trip, logistics, availability, and more. You can read a sampling of the more over-the-top WOW Moments (those most conducive to editorial coverage) here. Learn which trips qualify, and how the process works, here: Wendy Wants To Amp Up Your Trip!