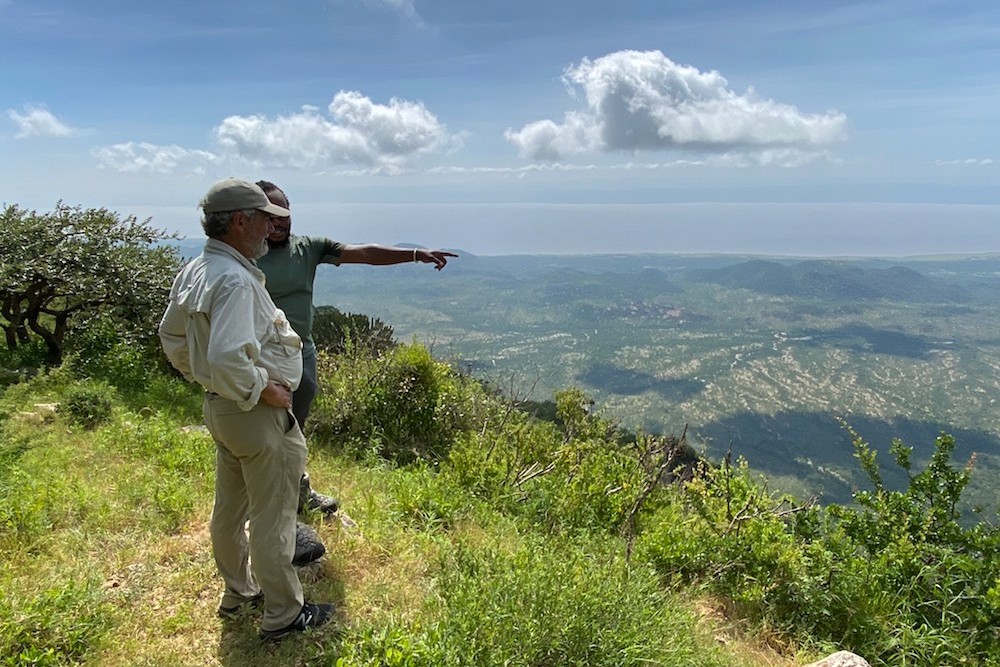 Thanks again for recommending we use the services of Cherri Briggs and her partner Katie McDonough to help us create our extraordinary 4 week trip to South & East Africa (Botswana, Tanzania, & Rwanda). After Katie talked with us extensively by phone, their recommendations for routing, lodges & camps were superb. Every travel connection, including transfers on some very remote airstrips in East Africa went perfectly. And after I had the misfortune of injuring my ankle in the Kalahari on our very first day, (a pathway collapsed that had been eroded by rain) both Katie & Cherri checked in regularly to help us get the medical assistance I needed, and made arrangements with various camps & guides to assist me so that I could continue the trip and not miss out on anything, including seeing the gorillas in Rwanda.
I have previously worked as a journalist and photographer, and spent much of my life working in documentaries at the Canadian Broadcasting Corporation. While we wanted to have the big game experience on the Serengeti, Katie also listened to my husband & my strong desire to interact with people and helped make that happen in a way that did not feel touristy.
Seeing the thousands of wildebeest on the Serengeti plains, the mothers giving birth & the wild dogs stalking their newborns…. the Silverback gorillas & their mates looking deeply into our eyes during a tropical rainstorm in the jungle… the bull elephant pinning back its ears & giving us a warning when we got too close…. all of these are vivid memories that we will never forget, but it was the people we met that made our trip so exceptional… both the local guides and opportunities to meet and interact with locals (including Kalahari Bushmen, Masai and their families). We spent a lot of time in markets, and small villages, and on several occasions had the opportunity to visit our guides' families and friends. All truly special, including one morning in the Southern Serengeti where the day began with a visit to our Masai guide's uncle's traditional boma. We were invited inside his grandmother's mud & dung hut for a tour of her humble home, but only after she'd carefully swept the mud floor, and cleared a seat for us on her husband's simple cot. Her son, who spoke fairly good English explained how he was responsible for inoculating their cattle against various diseases, and why they'd moved up into the hills until the wildebeests and the tourists left the area. We continued for a bush walk through the hills, accompanied by more Masai , and a park ranger with an AK 47. Our "security" team. The hike culminated with breakfast, cooked over the fire, at a stunning cliff edge perch overlooking the Rift Valley.
You'd think the day couldn't get much better, but we still had our WOW Moment ahead of us.
In the late afternoon, after another game drive witnessing herds of wildebeests, zebras, their predators, and the sometimes brutal cycle of life, we were taken to a very special quite spiritual escarpment called Sundowner Rock.
After the guides and Masai pushed and pulled me & my injured ankle up the rock face, we not only experienced a spectacular sunset and sundowner shared with about a dozen local Masai, we were then led around the back side of the rock where a surprise dinner was being cooked for us in a cave over an open fire. Two fires actually. One with local goat roasting on sticks for the Masai (which Paul also enjoyed), and the other grilling chicken and beef for us. After we'd all feasted, the Masai sang and danced and entertained themselves (and us) by the campfire, and we reveled in how lucky we all were. It was Truly magical!! And the African night sky was extraordinary. One of the most memorable evenings of our lives! Thank you Wendy for a once in a lifetime WOW Moment!