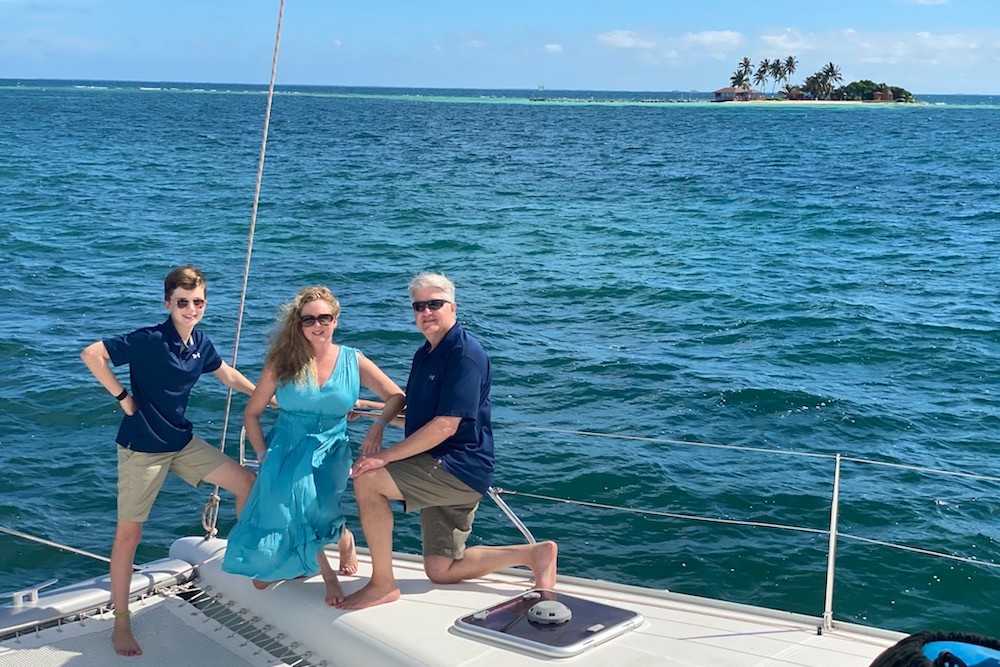 PANDEMIC TRAVEL An un-BELIZE-able family vacation
Choosing to travel internationally as a family during the pandemic was not an easy decision, but after hearing Rachael Wilson discuss the health and safety measures she was taking during one of Wendy Perrin's Zoom sessions, we decided to explore the possibility further.
The attraction to us was being socially distanced by miles versus feet. The yacht would serve as our accommodation, dining venue and entertainment for our 10-day vacation.
Another reassuring factor is that the country of Belize requires a negative Covid-19 test within 72 hours to enter. American Airlines offers PCR Covid testing through a partnership with Let's Get Checked. Passengers booked on AA flights are "guaranteed" results within 72 hours. We were pleased with the Let's Get Checked process and liked that they require you to take the sample while on a video chat with a health care professional.
Traveling during the pandemic does take additional planning. There were no last-minute trips to the store to pick up items as we self-quarantined for 2 weeks prior to our trip. In addition to the Let's Get Checked test, we took several local PCR Covid tests in the weeks prior to our travels. To minimize transportation exposure, we drove ourselves to the airport and parked in the short-term parking lot. My husband parked the car and walked across the street to enter the airport – well worth the additional cost. We chose flight times early in the morning and late in the evening to avoid the crowds at the airport. Wendy's seat selection recommendations were greatly appreciated. In our opinion, American Airlines did a wonderful job ensuring everyone was wearing their face mask properly.
If for some reason we would have been unable to travel, we had the option to reschedule the vacation within a year. A very generous offer that put our minds at ease when booking. Rachael and Patricia were very prompt in replying to our e-mails and providing additional information. They even tracked down poker chips at the last minute to add to our yacht – remember, I couldn't go to the store.
Joining us in our yacht bubble, were 2 wonderful crew members, Eric, the captain and Andrea 1st mate/chef. Whether it was playing silly reindeer games on a rainy Christmas day, spending extra time fishing for the prize catch or cooking up the prized catch, their dedication and attention really made the trip special. They covertly decorated the yacht for our 25th wedding anniversary while we were out kayaking. Andrea even found time to stealthy make a cake from scratch.
We are a SCUBA diving family and diving in Belize has been on our wish list for a while. Rachael and Patricia worked closely with us to arrange private dives and diving equipment that we could procure at the beginning of the trip and keep for the duration. The Amigos Del Mar dive shop in San Pedro were top notch!! We had 7 wonderful SCUBA dives with Carlos and Alex. Having private SCUBA diving excursions limited our exposure to others and ensured we were typically the only boat at the location. Also, it afforded us the opportunity to feel comfortable taking our 12-year-old son to the Great Blue Hole! An amazing experience and bucket list worthy location that not many young divers can say they have accomplished. The juvenile nurse sharks were quite playful and joined us on several of our dives. They showed us around their swim throughs ensuring we all stayed together. In our many years of SCUBA diving, we have never had the wildlife engage with us so much – I think they were feeling neglected with the lack of tourists.
In addition to SCUBA diving, we enjoyed the yacht activities of paddle boarding, kayaking, snorkeling, swimming, fishing, exploring deserted islands, spotting the rare red-footed boobie bird, star gazing and quality family time. My 12-year-old and I had an engaging conversation for 2 hours one evening while we gazed at the galaxies – a moment in time that I will treasure.
We will be talking about this vacation for years to come! Thank you to Rachael and Patricia for helping us feel safe while traveling during the Covid pandemic and making family memories that we will forever cherish.