When you use our Trip Questionnaire to get a WOW trip, you start by articulating your trip goals and challenges. You can find the right Trip Questionnaire for you via The WOW List's CONTACT buttons.
---
My trip request:
Antarctica had long been on my travel wish list. I wanted to go somewhere remote that is all about nature and rugged adventures. But I wanted to minimize the chances that I would get seasick or be too cold.
Biggest trip goal:
To leave my comfort zone, visiting a land almost entirely snow, ice, mountains, rocks, and to see penguins.
Biggest trip challenge:
I'm sensitive to motion sickness, and most Antarctica voyages require an often rough two-day crossing of the Drake Passage, the body of water that lies between South America and the Antarctic. I wanted to avoid those two days of rough seas on each end of the cruise.
Getting there:
We were starting from Maryland, so the travel time to Antarctica was approximately 19 hours over three days. We flew from Philadelphia to Miami, took a red-eye from Miami to Santiago, Chile, and overnighted in Santiago. Then we flew via Latam charter to Punta Arenas, near Chile's southern tip (where the flights originate to Antarctica), and then on Antarctic Airways to King George Island in the South Shetland Islands. There we boarded a minibus to the Zodiac "landing" (there are no cruise-ship docks in Antarctica), climbed into a Zodiac and sailed across Admiralty Bay, and boarded the ship from the inflatable boat. Luggage followed.
The itinerary:
One week in the Antarctic Peninsula. This surprised me: Aside from knowing where we would fly from (Punta Arenas) and to (King George Island), our 7-night itinerary from Silversea Cruises labeled each day, simply, "Antarctica Peninsula." That's because every day, and often several times in a day, weather (and winds) would be extremely variable and changed quickly, so the captain and the expedition leader decided each night (and sometimes the day of) where we would go next. It was a powerful reminder that nature was in charge, not humans, and that felt sort of relieving (especially because we knew we had experienced pros making decisions for us).
The expedition team aimed to offer two landings each day (again, highly weather-dependent). We ended up stopping at Danco Island, Cuverville Island, Orne Harbour, Petermann Island, and Port Charcot/Pleneau Bay. And then it got really exciting: Because weather conditions in the Shetlands were worse than expected and, unusually, better than anticipated inside the Antarctic Circle, our captain headed south, where we landed at Detaille Island, Porquis Pas Island, and Jenny Island before heading back up north. As the trip was about to wind up, we transited the Lemaire Channel, Neko Harbour, Wilhelmina Bay and Deception Island before returning to King George Island.
Antarctica itinerary options vary. For 7- to 13-night voyages, you'll spend more time in the South Shetland Islands because they're close to the Drake Passage. (Landings there are often combined with landings on—or on islands just off—the Antarctic Peninsula.)  Longer voyages, typically from 13 nights to three weeks, will also include the South Georgia Islands and the Falkland Islands.
Cruises primarily depart from either Argentina's Ushuaia (with an overnight in Buenos Aires) or Punta Arenas (with an overnight in Chile's southernmost city). Another option for setting off across the Drake is Chile's Puerto Williams.
Challenges solved:
Instead of two rough days crossing the Drake Passage, we flew across. The flight from Punta Arenas to King George Island was only a two-hour, and very smooth, flight. So, motion sickness averted. As for the cold, I needn't have worried so much! Even in November (which is early in the Antarctic's Austral spring and summer season), temperatures hovered at the 32-degree mark, though the wind could be chilling. Most cruise lines provide guests with complementary parkas (ours were thick, with a removable liner in case you got warm) and waterproof pants. You can rent boots (which means you don't need to pack them) and they are delivered onboard.
The biggest thrills:
The otherworldly landscapes. I loved riding in Zodiacs right up to icebergs, and around bays where you had to crane your neck to see the tops of mountains, and the feeling of the freshest of sea breezes (you couldn't really smell anything—too cold for that). I loved the islands, some flat, some quite hilly, all covered in snow or rock, where you could hike around to see penguins living their lives, sea lions resting from their great journeys to the ice, and the remnants of whaling stations (the only physical structures we saw beyond King George Island).
Our airplane landing on King George Island. The specially outfitted BAe 146 of Antarctica Airways, a plane designed for short runway landings and takeoffs, flew into an airport with no terminal and just a gravel runway that pilots, well trained, had to eyeball. The flight was smooth and the catering was delicious (a full meal, reflecting southern Chile's traditional meats, cheeses and pastries, was served). There wasn't much of a view (it was all sea) until you came right into King George Island, and then…wow, the ice, the snow, the craggy peaks that you'd read about but hadn't seen…. It was a dramatic beginning to our explorations there.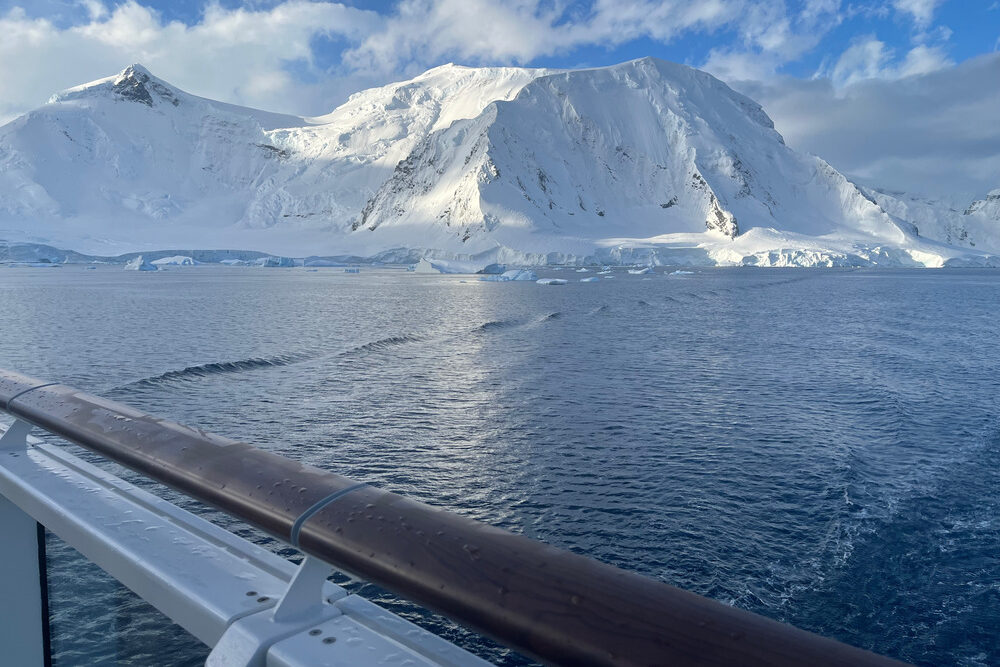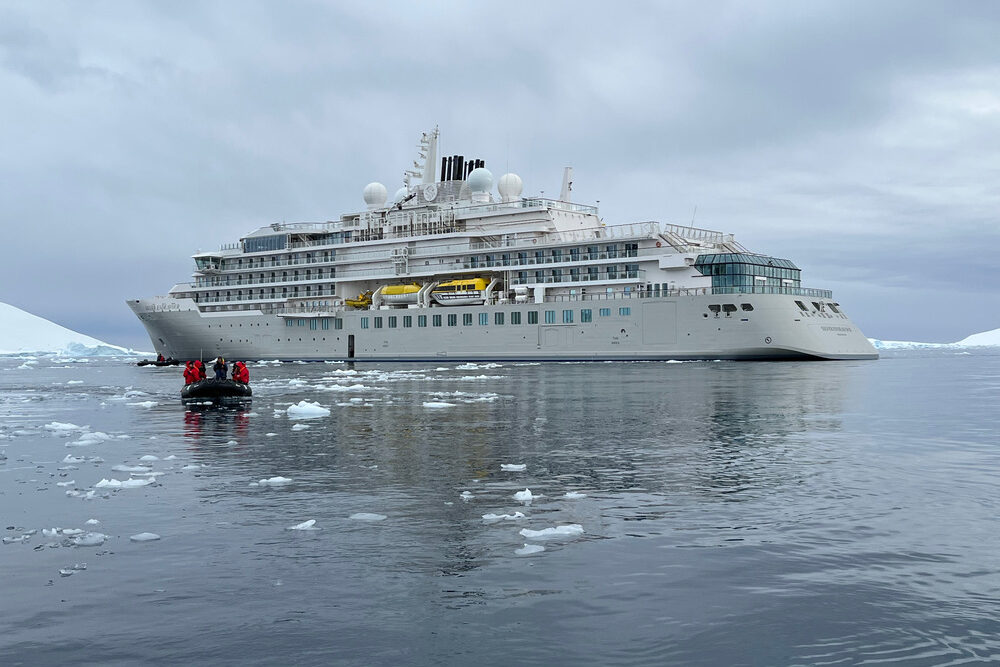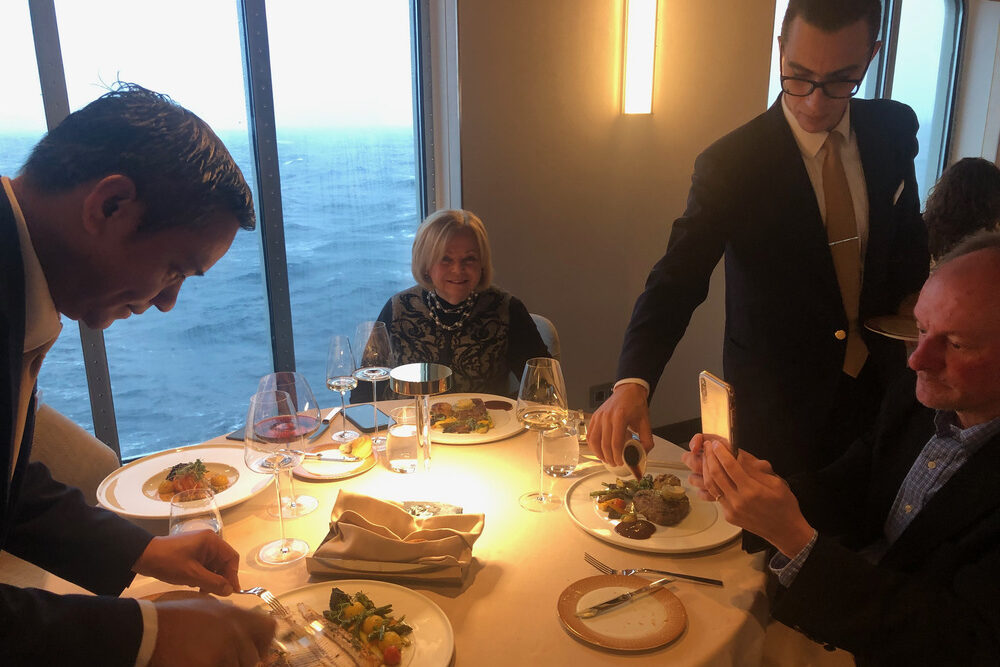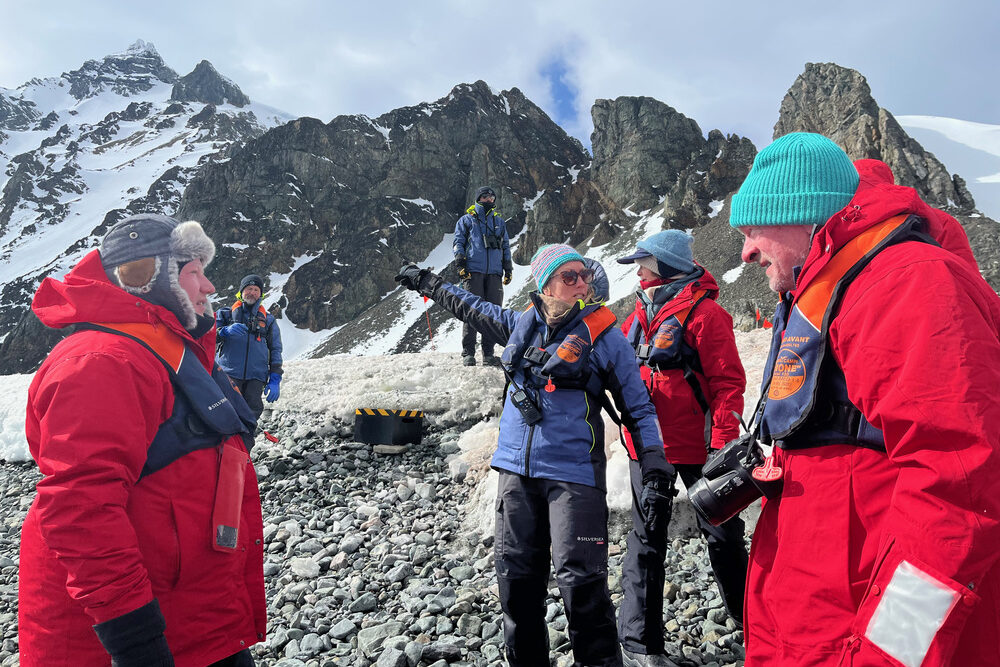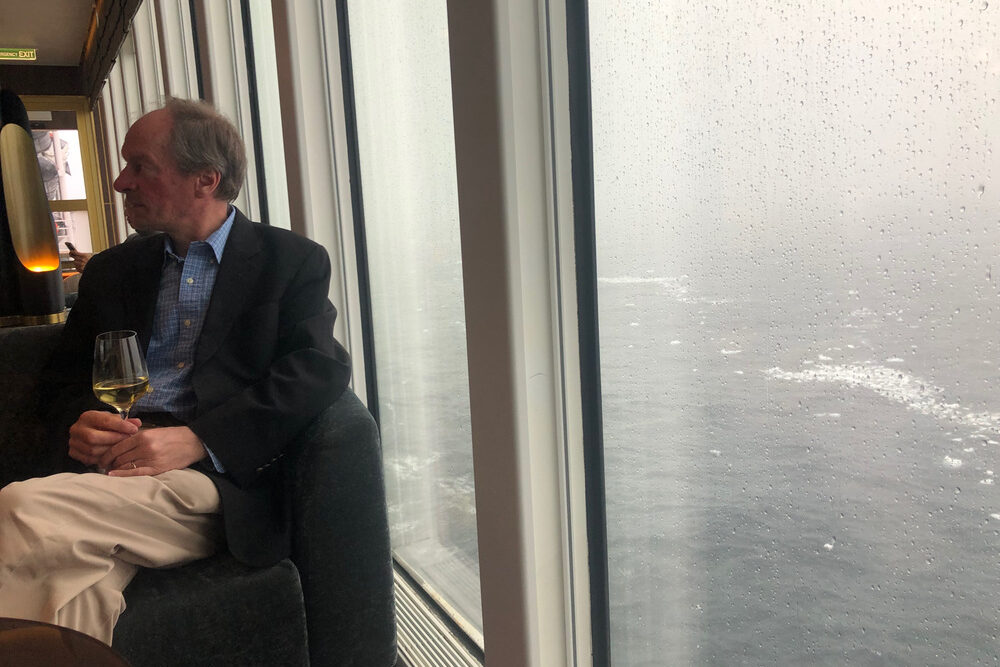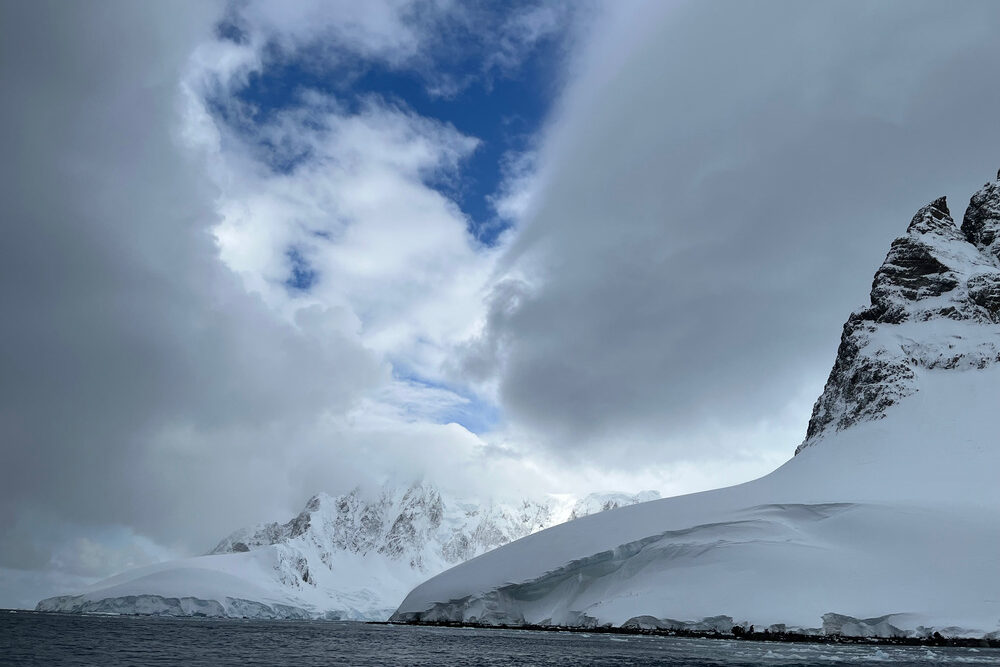 The creature comforts:
Silversea Cruises' Silver Endeavour, a brand new ship, was billed as ultra-luxury; every cabin is a suite, and every suite has a balcony. Would the luxuriousness of the vessel overwhelm the destination? It did not. It was a great place to rest up between landings. We loved that in our rare downtime, we could curl up in the sprawling library with its cozy nooks. Our bed was firm and comfortable, and our balcony was terrific when something fascinating slid by and we wanted to grab a photo. It was nice while on land to feel like you were roughing it, and then to come back to a ship where the crew couldn't do enough for you.
Best surprise:
The views from the hot tub. We immersed ourselves up to our necks in the outdoor whirlpool tub on deck six, with ice floes and towering mountains all around us. After 300 cruises, I can say that these were the best views from a cruise-ship hot tub ever!
Worst surprise:
Getting home one day late. Antarctica weather can disrupt arrival or departure. On our last day of the 7-night cruise, a storm front had moved into King George Island, and we could not fly home as scheduled. The good news: We got an extra day of exploring on land and luxuriating in the hot tub.
Most underrated:
The daily briefings by the expedition team. At 6 p.m. in the Expedition Lounge, where bar crew served espresso martinis and hot hors d'oeuvres, the team would recap the day's highlights via video and photographs. Then they'd give us a preview of the next day's plans (always subject to change, and they often did), followed by mini-enrichment lectures (10 minutes apiece) by staff on their specialities, such as maritime history, marine mammals, ornithology, etc. Prior to the trip, I thought this might be rather dry, but after multiple landings where you'd cruise on Zodiacs with the expedition team or chat with them on land, you got to know them a little bit as people, and that infused so much more enthusiasm than expected.
Thank God I packed:
Medicated lip balm (our expedition guides suggested Burt's Bees or Carmex, which have a 15 SPF rating). Sunglasses and sunblock (45 SPF was recommended). Wool touch-screen gloves that allow you to take pictures with your phone's camera. A woolen neck warmer from Patagonia. Moisture wicking tee-shirts. Leggings that you layer under the waterproof pants and parka.
What I didn't need to pack:
A portable modem. I was totally surprised to find that the Wi-Fi onboard Silver Endeavor worked very well for checking emails and even rebooking my return flight when our departure was delayed. My portable modem didn't work in Antarctica anyway because there is really no civilization.
Most bizarre tradition:
The Polar Plunge (which is also popular on Arctic cruises) is, for many, a frosty challenge. On our cruise, literally half the passengers onboard (and some staff and crew) donned bathing suits, hopped into a Zodiac, climbed up on its padded side, and dove, jumped, cannonballed or slid into the frigid sea. I wish I could say that I tried it.  I didn't, but it was fun to watch everyone's reactions, from an outdoor deck just above. No regrets on this end.
Lessons learned:
Pace yourself. Sometimes we just needed to relax in the hot tub, walk laps around deck 10, have a massage at the spa, or simply sip tea and read a book in the library.
Build in time before and after Antarctica. Even if you try to pace yourself, this is a busy trip, and the travel to and from Antarctica is tiring. Next time, I'll build in more days before and after the Antarctica portion.  Our limited time in Santiago made me want to explore further, and Punta Arenas is a gateway to the thrills of Patagonia.
Best trip memory:
One day, toward the end of the trip, our Captain found an ice field and maneuvered the ship into it. That was the most remote, desolate, wild place—where the ship's hull was able to glide through the ice that surrounded us. The views around us, craggy mountains, and utter silence made this the magic moment. This was the peace I had been searching for when I first considered a cruise to Antarctica.
Transparency disclosure:  Silversea Cruises provided Carolyn with a complimentary trip, and she does paid consulting work for Silversea.  She is also a longtime travel journalist who has taken 300 cruises.  Everything Carolyn did on the trip is accessible to every traveler who requests an Antarctica cruise via Wendy's trip questionnaire. Thanks to Wendy's WOW system, you'll be recognized as a VIP traveler.
Be a smarter traveler: Sign up for Wendy's weekly newsletter to stay in the know. Read real travelers' reviews, then use the black CONTACT buttons on Wendy's WOW List to reach out to the right local fixer for your trip.