How do we make friends in a foreign country during Covid, when masks cover our smiles and we need to keep our distance? I'm about to find out because my family is taking our first international trip since the pandemic started. In the past, when I've made friends in foreign countries, smiles and physical closeness have always been a big part of it. We've played soccer together, danced together, sung together, made crafts together, and cooked together. We've been invited into people's homes and to parties and wedding halls. The ways we connected with local people on our last international trip pre-pandemic, Uzbekistan, won't all be possible on our upcoming trip to Turkey. Even so, these strategies will hopefully work again someday, when we are post-pandemic and eager to build bridges around the world again. Here are my tips for how to make friends while traveling, when you don't speak the same language.
When someone wants to practice their English on you, let them.
We met the girls in the photo above in Khiva, and since then I've been friends with two of them on Instagram. They're Uzbek but live in Russia, and we met them because they wanted to practice their English on us. If you're in a country where you don't speak the language, and someone wants to have an actual conversation with you, let them—and keep your sentences simple.
When you visit a market or shop, ask questions.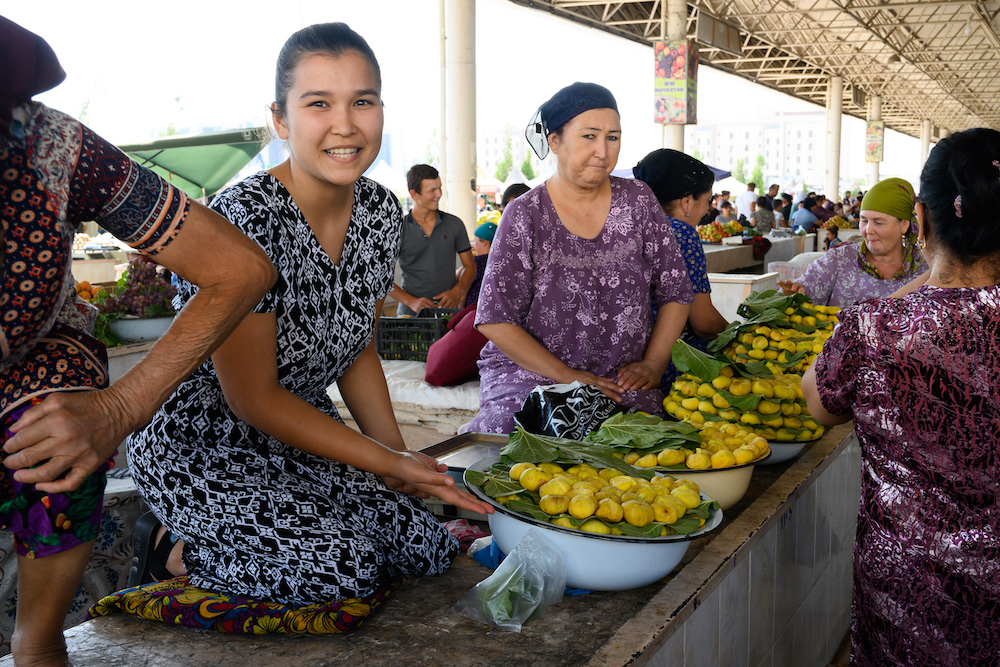 They always ask where you're from. So, if you're in a food market in Urgench and you ask about their yellow figs, that will lead to a conversation about the figs where you're from and how they're different.
Remember that they want to learn just as much about you as you want to learn about them.
When you go into a shop, don't be afraid to try on their clothes.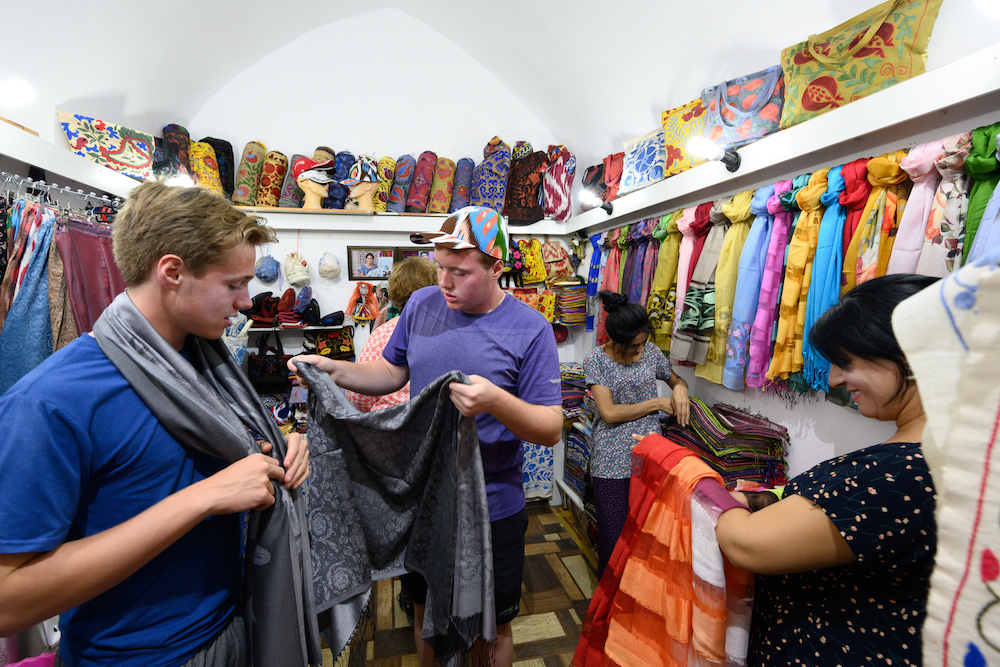 You can make them laugh by trying them on and looking funny in them. When you buy something, it doesn't have to be expensive. You can buy something for the equivalent of 50 cents, and you'll still get the same reaction from them.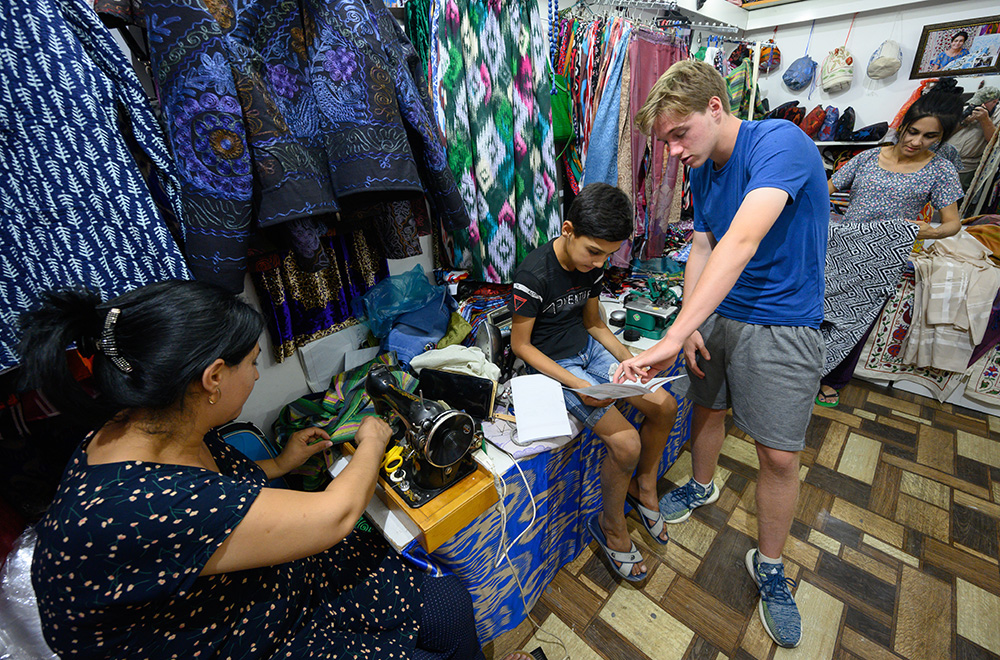 In this shop in Bukhara, while they altered a shirt for me that cost only $5, I helped the shopkeeper's kid with his English homework.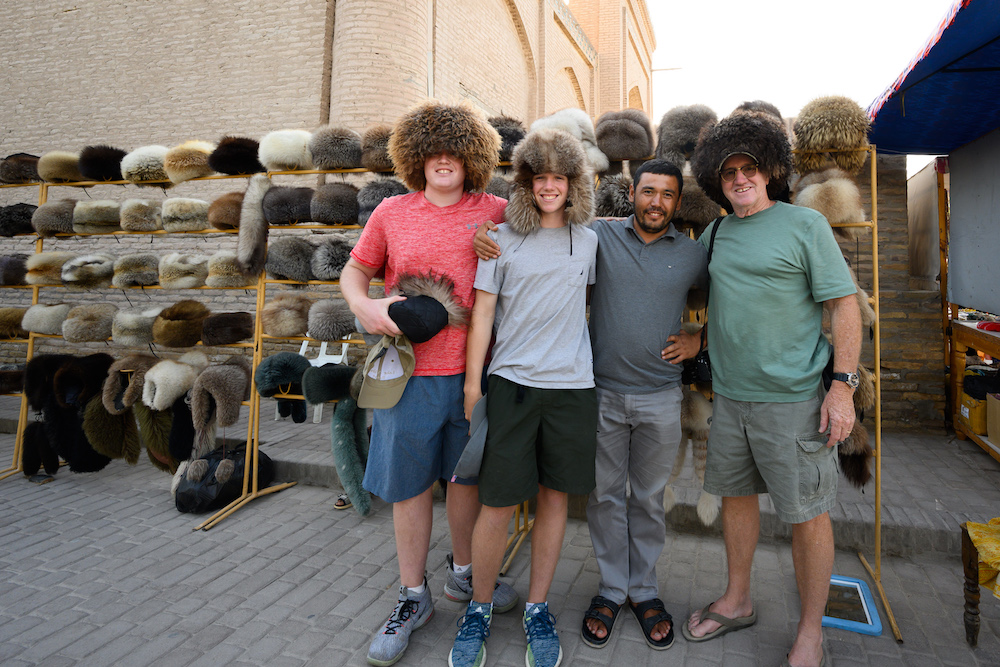 We made people laugh by trying on their headdresses and made friends that way.
Offer to take a photo of a group of people.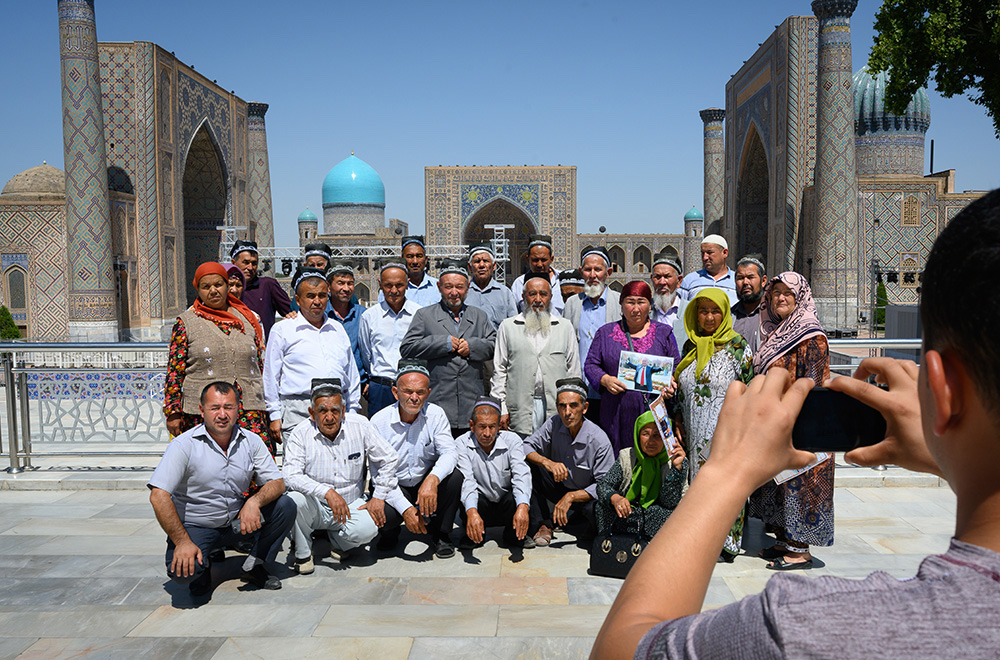 They'll appreciate it, and it usually leads to a conversation (even when you don't speak the language) about how to work the camera, how to fit everyone into the shot, whether everyone is looking at the camera and smiling, where they're from, etc.
Show people photos you've taken with your own camera.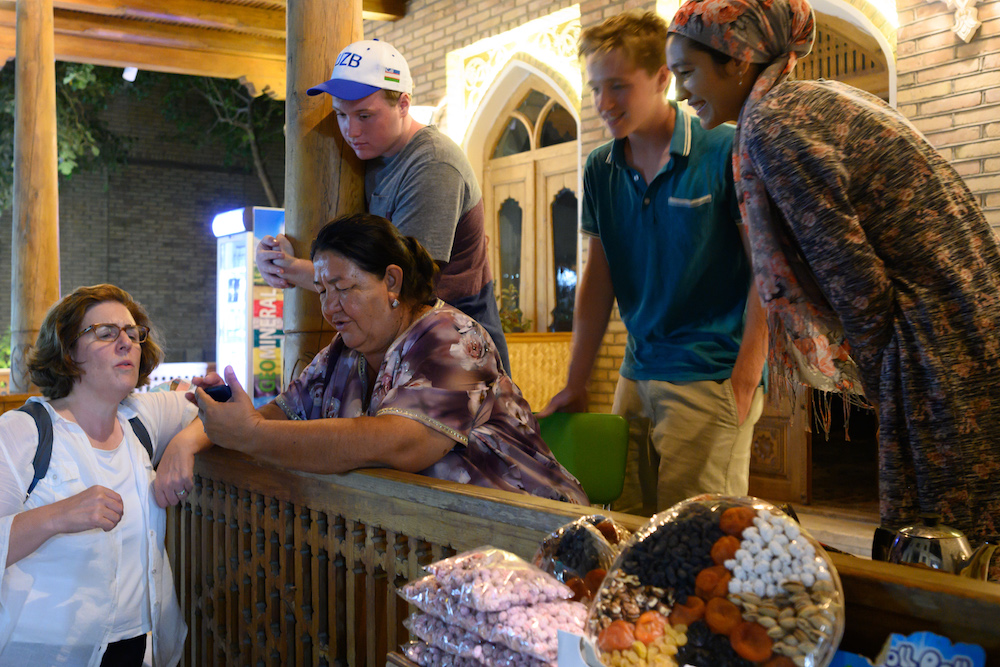 If you take a photo of someone (with their permission), it's nice to show them the photo you shot to make sure they approve. Often they're interested in seeing other photos you've taken too, and you end up showing them what else you've seen in their country.
In Zambia, we showed them photos from around the U.S. and around the world, and they were in shock at how different places like New York City are. Showing people your photos from home is a way of inviting them into your life, and then they invite you into theirs.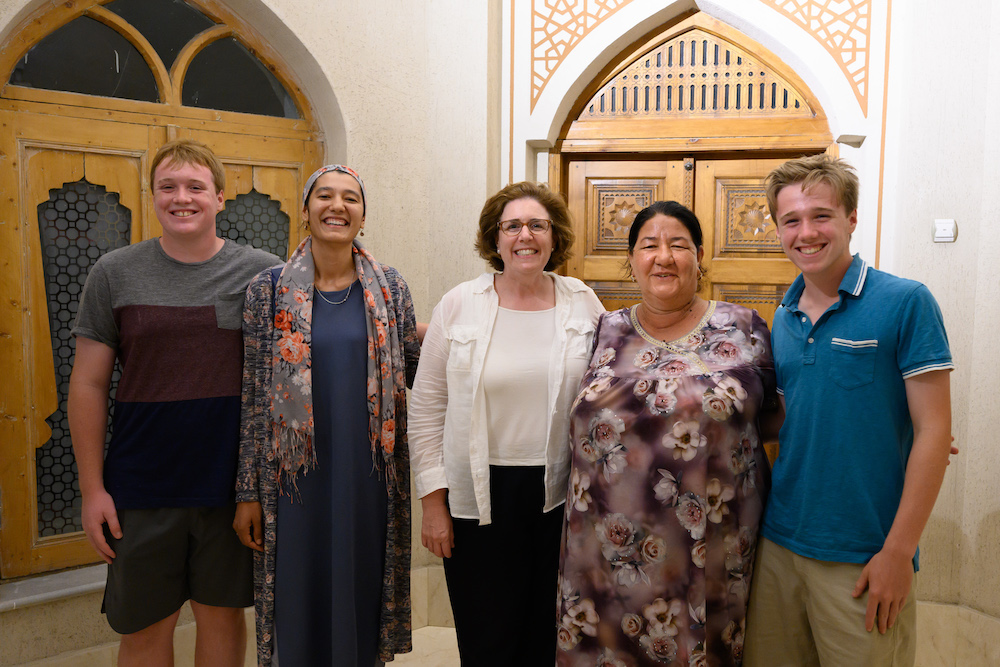 We loved this woman who sold fruit and nuts in the main square in Bukhara. And she approved this photo. Her daughter was about to get married. We gave her $20 as a wedding gift, so then her mom weighed us down with free snacks.
Bring a sports item they don't have.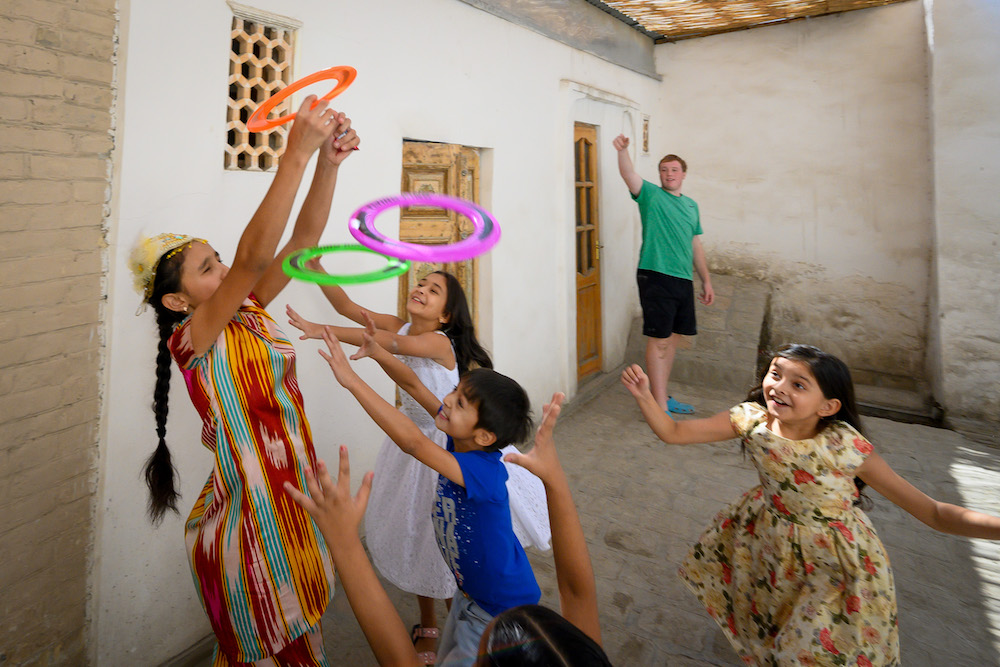 It's easy to make friends with kids through sports. They play soccer in every country, so you can always join a soccer game (or start one by bringing a soccer ball), but it's even better when you introduce them to a new game that you can play together. We brought flying rings to Uzbekistan for the younger kids. (They're lighter than frisbees and easier to pack and easier for kids to throw.)
We brought footballs for the older kids. They didn't know what a football was, so we taught them how to play. In Sri Lanka we brought Nerf footballs, which they'd never seen before. It's something you can enjoy together, and when you're done, you can leave the footballs there for them.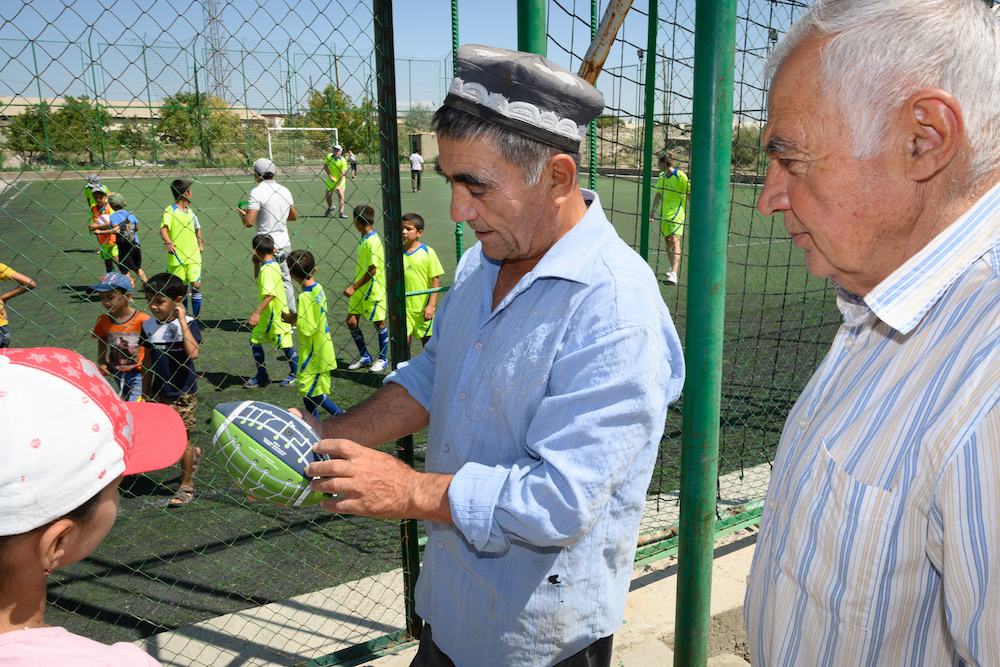 Bring treats for little kids.
Fruit by the Foot works well, since it comes in individually wrapped packages and won't melt. The kids can have races to see who can slurp it up the quickest.
If they invite you to dance, join in.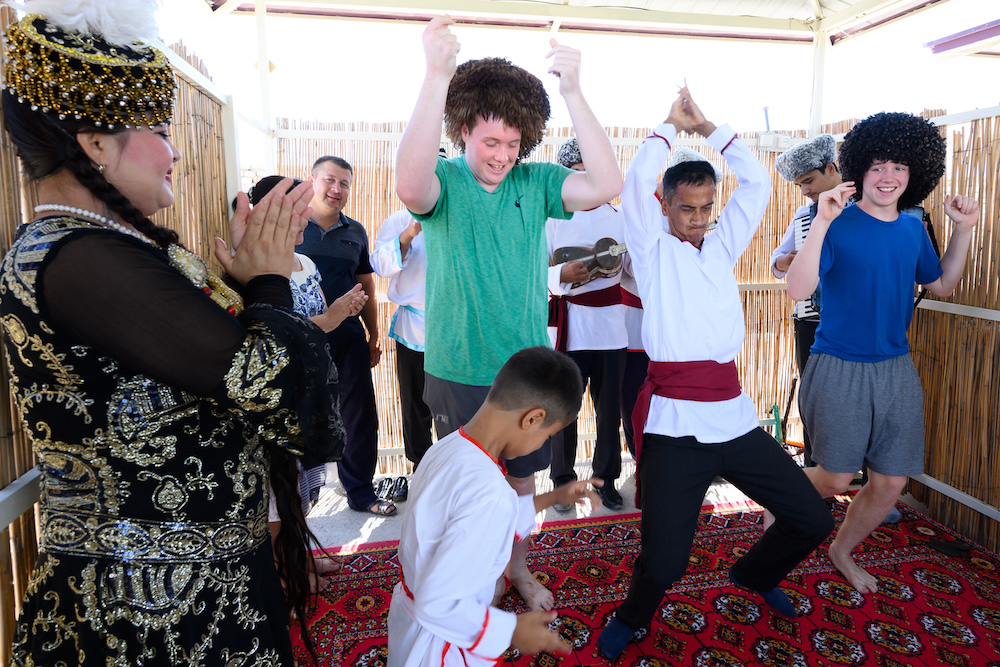 Embrace the culture, and don't be afraid to embarrass yourself. What would be embarrassing in the U.S. often won't be embarrassing in another culture. Also people will think: This seems like such a fun person; I want to get to know this person.
If they invite you to a party, go.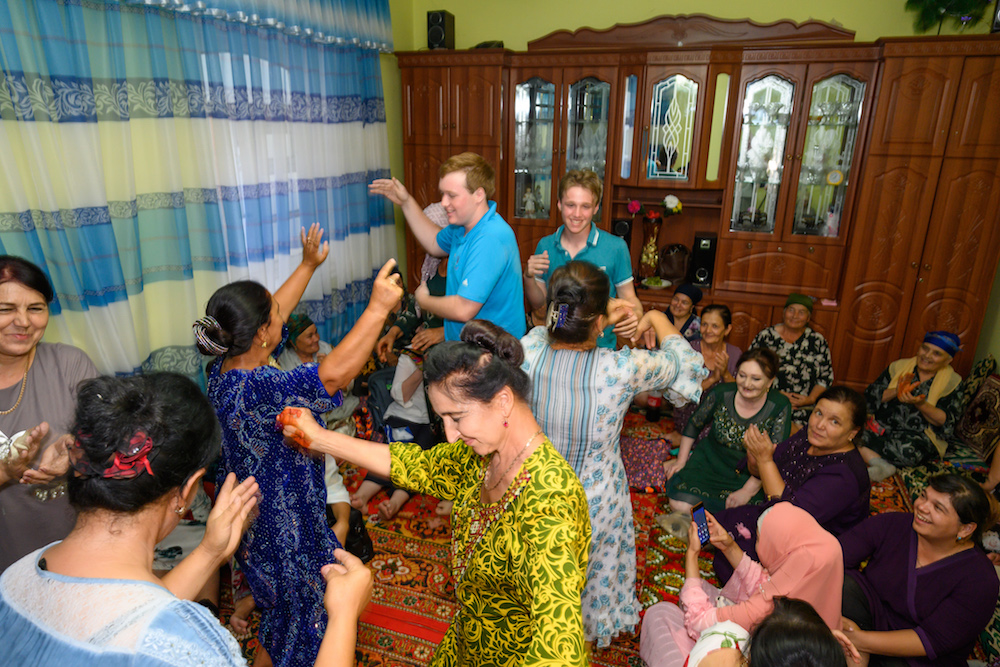 Parties are so different in different cultures, and chances are you'll never be able to go to another party like that again. In Khiva, when we were invited to a 63-year-old woman's "prophet age" birthday party, we knew it was our only chance to ever see such a party, so we went.
Learn a local craft from an artisan.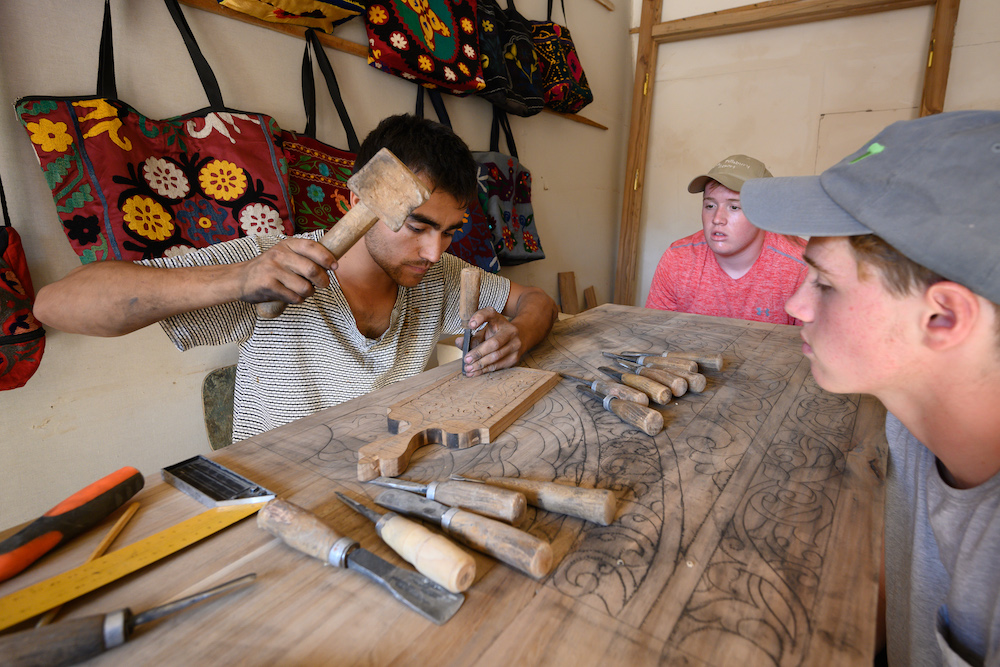 You get to know the craftsman, and you get to keep the thing that you make.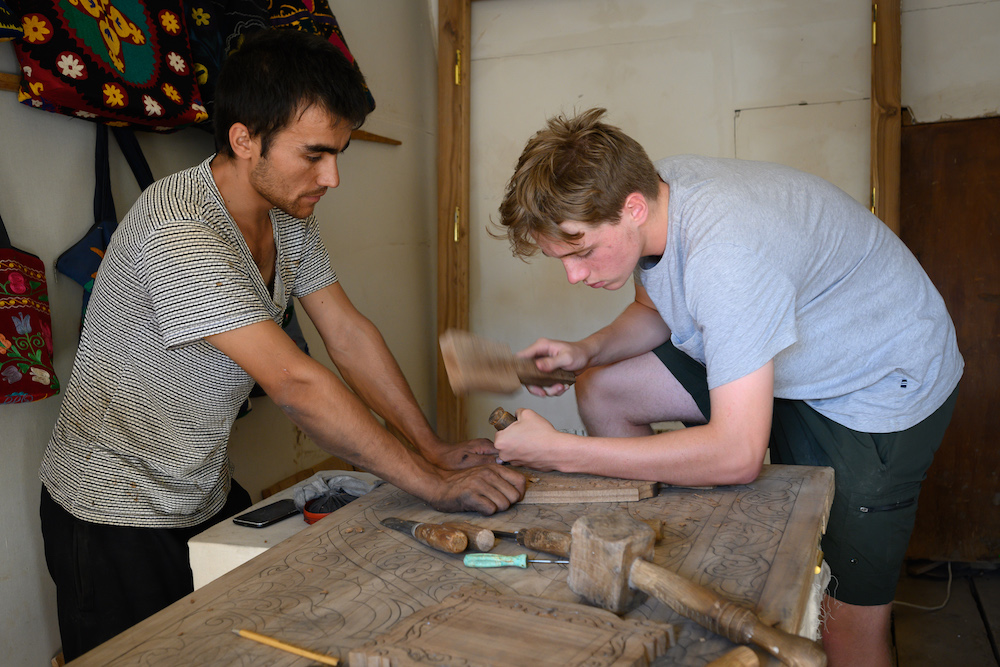 In Morocco we made goat-skin and goat-hair drums. In Sri Lanka we painted traditional masks. Every time I see these things, they remind me of the craftsperson I met.
If you're going to have a cooking lesson in someone's home, teach them how to cook something from your home too.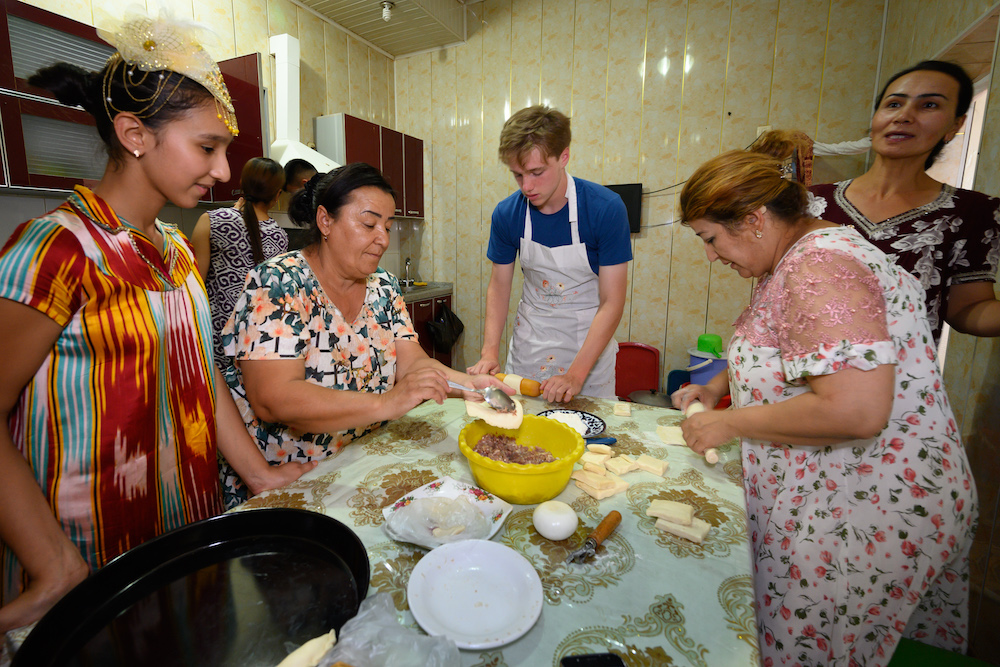 We visited Zulya's family in her hometown of Bukhara and got to cook Uzbek dishes in their kitchen. Zulya is from Uzbekistan, and she planned our trip.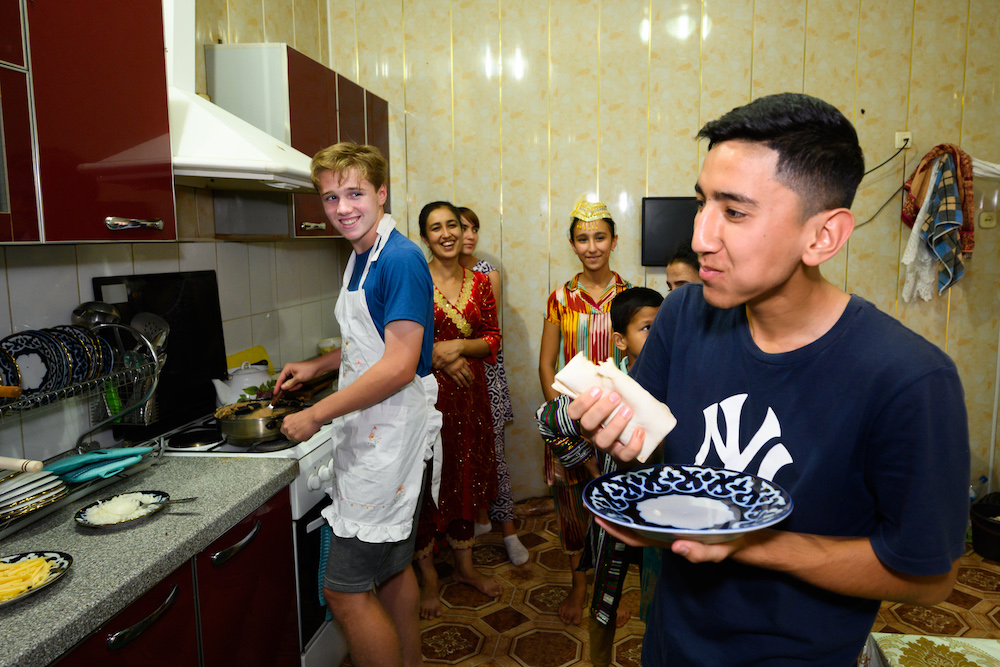 We brought ingredients from home for making a dish they're not familiar with. We brought brownie mix, and some flour tortillas and a couple of cans of baked beans for making burritos. They have completely different ovens and appliances than we do, so it wasn't so easy.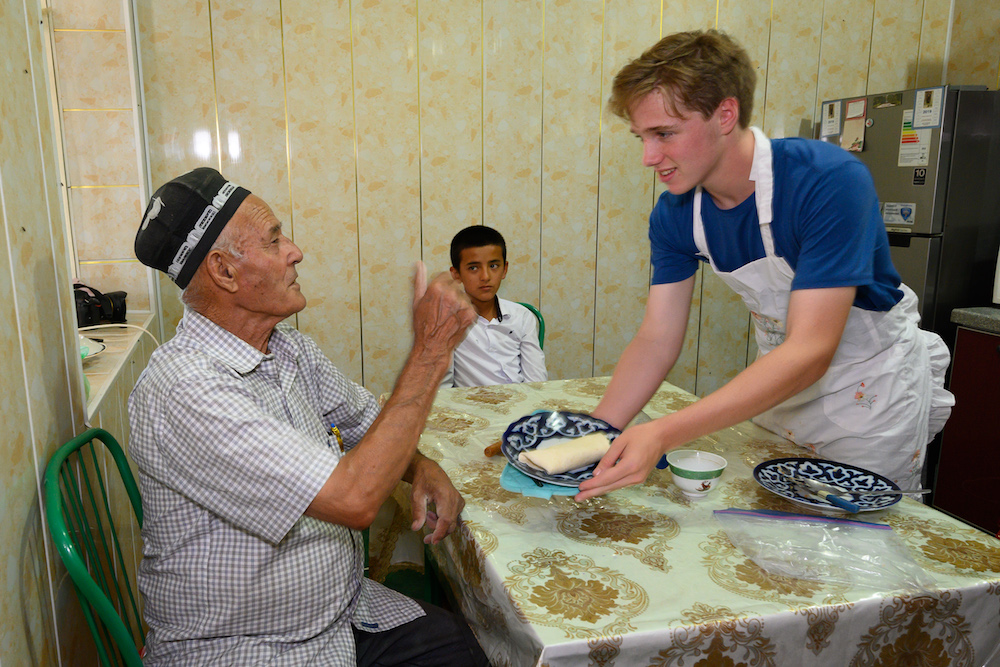 When you're serving food, especially to elders, always show them respect.
Visit places of worship.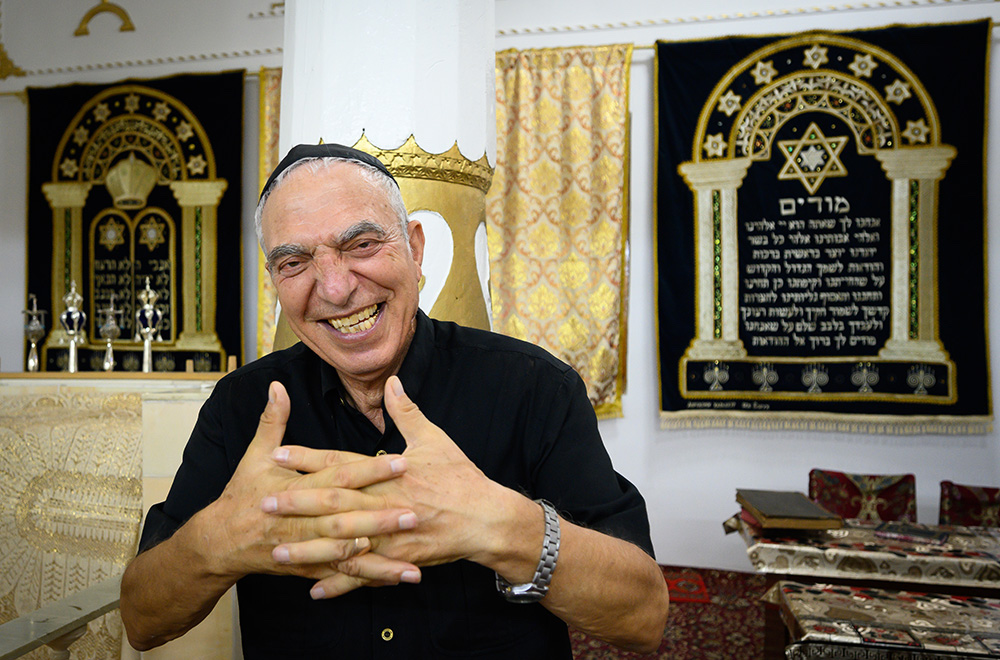 When you visit a church, a temple, or most other places of worship around the world, the people tend to be some of the most welcoming and outgoing people you will meet. In Uzbekistan, the best example of this was the rabbi who runs the oldest synagogue in Bukhara. He spoke about the great relationship between Bukhara's Jewish and Muslim communities.
Even if you don't know anything about a religion, places of worship will welcome you with open arms.
Play a public piano.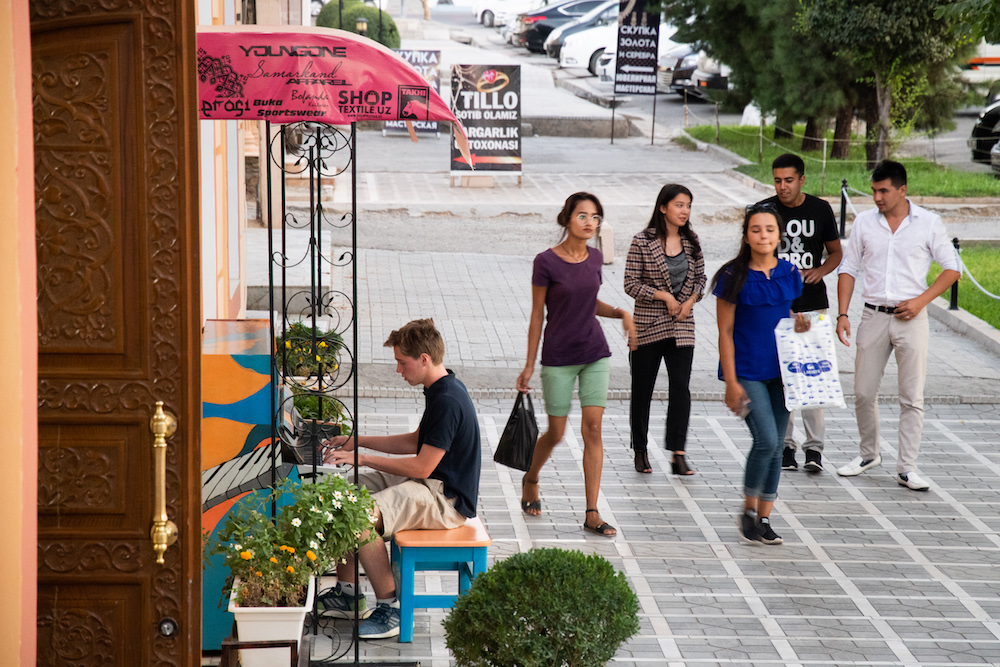 When you sit down and play a piano, people come by and start to talk to you. Chances are what you're playing is a type of music they haven't heard before, so they will be interested.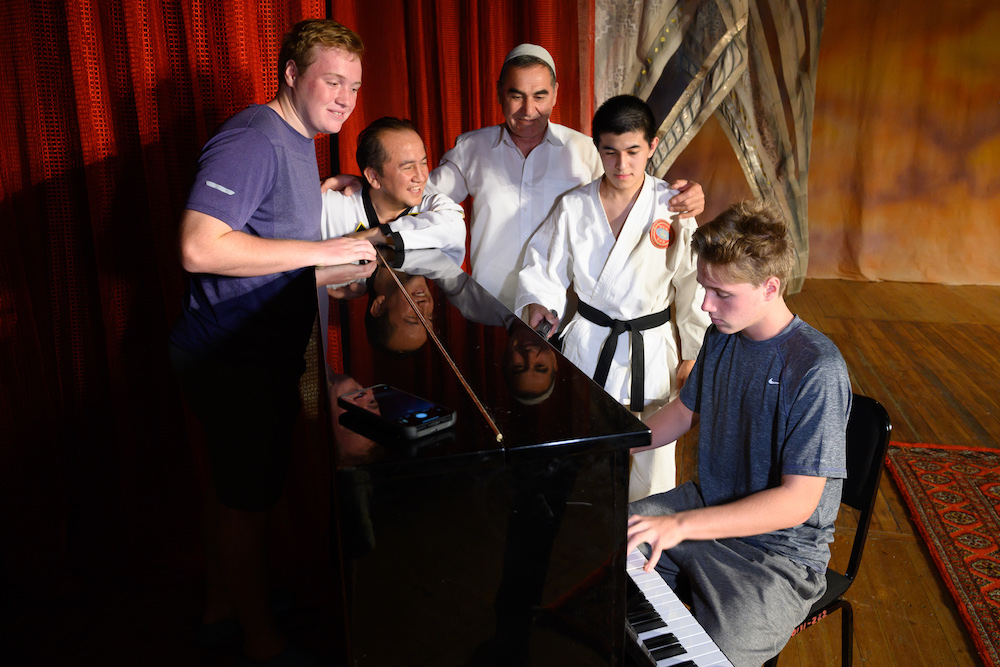 In the U.S. there are barely any public pianos, but we've found a lot of them in Europe—in Paris shopping centers, in the Brussels train station, in the Amsterdam airport—and there were quite a few in Uzbekistan.
It takes some getting out of your comfort zone to talk to strangers and dance at parties and play the piano in public, but in the end, you'll get a much better experience of a country if you do these things than if you don't.
---
We're Here to Help
Right now is a remarkable opportunity for global travelers. When your friends say that travel is problematic as a result of the pandemic—rental cars aren't available, service even at 5-star hotels is shoddy—the problem is they're not planning their trips right! Travel can be spectacular now if you choose the right destination, know the savviest local fixers, and approach them the optimal way. Check out these recent trip reviews to see the difference that Wendy's WOW approach to trip planning makes. And if you're looking for a similarly carefree travel experience, contact us at Ask Wendy.