The insider travel advice on this page is from one of Wendy's Trusted Travel Experts for Chile: Jordan Harvey of Knowmad Adventures.
Jordan's love affair with South America began with a high school study-abroad program in Chile. Recognizing the potential of Patagonia before it hit most travelers' radar, he developed the contacts—winemakers, true-blue gauchos, indigenous families—that now give travelers a deeply authentic experience of Chile and Argentina, from Salta's gorgeously rainbow-hued scenery to Easter Island's mysterious moai.  Jordan loves juxtaposing the several sides of Chile—the driest desert in the world, the temperate rainforest, and the vast Patagonian landscape—and combining awe-inspiring lodges with remote agritourism enterprises. His background as a wilderness guide gives him an edge in picking the best adventure experiences, from stand-up paddle boarding on blissfully empty lakes to horseback riding past jagged peaks and icy glaciers.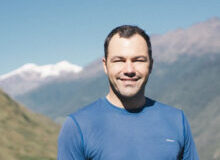 What to See and Do
Most underrated places
Aysen Region. Aysen comprises the areas south of the Lakes District but north of Torres del Paine/Punta Arenas. It's arguably one of the most beautiful parts of Patagonia, if not the world. Its complicated access (flights from Santiago and Puerto Montt to Balmaceda airport) makes it very difficult to fluidly connect the region to Torres del Paine, which has kept it a backpackers' paradise. However, the lodging infrastructure has improved greatly near the Marble Caves and San Rafael Glacier, and you can continue on for a five-star experience at Explora's new lodge in what is the Douglas Tomkins Foundation's crowning achievement, Parque Patagonia. Weekly charter flights from there to Explora Torres del Paine allow you to finally experience both of these Patagonian gems on the same trip without a bunch of inconvenient flight logistics.
Pucon itself is overrated, but the Lakes District as a whole should be on more travelers' radar. With turquoise rivers, abundant lakes, lush temperate rainforests, and photogenic volcanoes, the area around Puerto Varas—a less-developed Pucon—is a nature- and adventure-lover's paradise: Here you can raft the Petrohue River, take light hikes among ancient alerce trees, visit volcanically formed waterfalls, experience a small-town blend of German and Chilean cultures and architecture, and walk back in time by exploring the islands that make up the Chiloe Archipelago (which has its own mystical traditions and maritime culture that are quite disparate from the mainland's). Futangue Lodge, situated within its own private reserve, offers a five-star experience at a much lower price point then its Torres del Paine counterparts.
Wine Country. Food and wine are integral to Chilean culture. There are several valleys within driving distance of Santiago that produce wines of excellent quality—and value. As for places to stay, Apalta Residence (reopening with new villas in April 2023) does luxury wine-country experiences every bit as well as you'll find in better-known areas such as Argentina's Mendoza region. For a dash of wine country and relaxation, the colonial mansion of Casa Real at Santa Rita lies only an hour or so from the airport, making it ideal after Patagonia but before returning home.
The Atacama Desert. Imagine the surreal landscapes of the American Southwest mixed with the oddities and vastness of Yellowstone (both sit atop super volcanoes) and the indigenous cultures of Bolivia; throw in a dash of Mars and the clearest night sky on the planet, and you have the Atacama Desert. Hike through a sandstone canyon to the natural crystalline Puritama hot springs, photograph flamingos in the salt flats, and take in the sunrise as the Tatio Geyser erupts.
Easter Island. Situated 2,000 miles off Chile's coast, many travelers don't realize that Rapa Nui (Easter Island) is a part of Chile and that Santiago is your jumping-off point. Examine cave petroglyphs, discover deserted beaches, and hike amongst the Moai to the top of ancient craters for endless ocean views while searching for answers in this cultural and historical tropical paradise.
Most overrated place
Pucon figures prominently in guidebooks as a flagship adventure destination in the Lakes District, but it's overdeveloped and crowded.
Hidden gem
Lastarria is a historic Santiago neighborhood; its pedestrian mall is home to great shops and restaurants such as Bocanariz and Café Lastarria, and it's situated a stone's throw from Parque Forestal (the city's largest park) and the Bellas Artes Fine Arts Museum. Have an ice cream at the beloved Emporio la Rosa (Chileans are passionate about their ice cream), or visit San Cristobal Hill to see the local lovebirds and take in sweeping views of the city. The stylish boutique hotels you'll find in Lastarria are an alternative to the more whitewashed business districts of Los Condes, and they make Santiago a much more user-friendly, intimate destination where you can get a feel for modern-day Chilean life.
Cheap thrill
In the Lakes District, take a half-day rafting trip down the Petrohue River—a turquoise gem from which you can see four volcanoes on a clear day. While it's not at all technical and thus is suitable for beginners, the river's large wave trains will excite even experienced rafters.
Where to Stay and Eat
Best-value splurge hotel
Explora Torres del Paine has an unrivaled location in the park and a view that can't be beat. The lodge's biggest differentiator has always been its excursions. Being located on Lago Pehoe, which connects to the other main lakes in the park, allows them to use their private catamaran to access both the Grey Glacier as well as the French Valley, allowing fore more innovative and flexible excursions to those areas. They also have their own horses and stable, with by far the best and most comprehensive equestrian offerings. You haven't ridden a horse until you gallop with a gaucho across a Patagonian pampa!
Best bang-for-your-buck hotels
Patagonia Camp is right in the sweet spot: a huge savings from the region's ultra-spendy adventure lodges, and far more intimate—and closer to nature—than the three- and four-star alternatives. There are 20 yurts on the property. If you can spend a bit more, opt for one with a private jacuzzi on the balcony; of these, yurts 19 and 20 have entirely unobstructed views, but are still nicely secluded. Of the standard options, 4 and 5 are also more private.
Estancia Cerro Guido is Torres del Paine's newest lodging option. Well, it's actually the oldest, as it has been a working estancia for eons, but with a recent renovation the family will now operate it as a lodge as well. For those looking for an exceptional lodging experience that is authentically Patagonia—not to mention an incredible value (for the moment!)—Guido is the choice. The excursion offering is fairly robust and includes plenty of riding options, as well as culturally focused and estancia-oriented options, in addition to hiking and wildlife/scenery outings. The views from the common spaces are expansive and include both the Towers and the Paine Massif mountains. While combining two lodges often means the loss of a day of excursions and a lot of additional transport and cost, Cerro Guido pairs easily with Patagonia Camp.
Dishes to try
Sandwiches are the apple pie of Chile. Live like a local and order a lomo Italiano at the counter at Fuente Alemana in Santiago. With shaved pork as high as the Andes and what seems like pounds of palta (Chilean guacamole), tomatoes, and house-made mayo wrapped up in a crusty roll, this sandwich is not for the faint of heart. The name comes from the red, green, and white of the ingredients—just like the Italian flag. If you want a full entrée, the corn pie or Pastel de Choclo is a Chilean favorite, with abundant portions of beef or chicken, onions, a hardboiled egg, and an olive, covered by a corn mash and baked like a shepherd's pie. Add fresh tomato on top, or do the local thing and sprinkle sugar too. You won't leave hungry.
Meal worth the splurge
Chef Sergio Barroso has long been a centerpiece in Santiago's food scene with his past venture, 040, which closed in the wake of social upheaval and the pandemic. This Spanish chef, whose upbringing included time working at the mythical El Bulli, is back with Olam, located in Santiago's financial and business district, El Golf. Chile's vast coast and rich seafood resources are the headliners in this new project, which is also the first accredited zero-waste restaurant in Latin America. Barroso also leans on indigenous preparations and relies on his intense use of textures, flavors, and presentations to create a unique dining experience. Make a reservation here well in advance.
Restaurants the locals love
Chile has many picadas, which are essentially no-frills watering holes; the best of them become the center of the local community. Kiosko Roca has for eons been the heart of Punta Arenas, beloved to Magallanicos (the local people). Going there is really about the people—not the food—but try a traditional leche con platano (a banana milkshake) and a choripån (think of it as a Chilean hot dog). They also have a new location in Santiago Centro.
For a sit-down favorite that has a great list of local dishes, lots of local flair, and a diverse wine list, Liguria never fails. They have a few locations throughout Santiago; Manuel Montt or Lastarria are favorites.
The souvenir
Chilotes (residents of the Chiloe Archipelago) are renowned for their fine telares, or woolen handicrafts. Find them at the markets in the main town of Castro, and in nearby Dalcahue, which is a bit farther off the beaten path. The most intriguing pieces depict spirits from the local animist faith.