When you use our Trip Questionnaire to get a WOW trip, you start by articulating your trip goals and challenges. That's what Brook did when planning her kid-friendly adventure in Southeast Asia. You can find the right Trip Questionnaire for you via The WOW List's CONTACT buttons.
---

My biggest goal
My family wanted to spend our school break in Asia, avoiding crowds whenever and wherever possible.
My biggest challenge
Finding ways to keep our 11-year-old engaged and learning about the vast world around him—which meant we needed plenty of hands-on, interactive experiences.
The itinerary
This was my fifth trip to Southeast Asia, and my husband and son's second. This time, we chose to focus on Vietnam and Laos, with a dash of Thailand. In Vietnam, we based ourselves in Hue, the Mekong Delta, and Ho Chi Minh City. In Laos, we focused on Champasak (my favorite spot of the entire trip), Vientiane, and Luang Prabang. We capped off our adventure with two blow-out nights in Bangkok.
What made it WOW
Our savvy private guides and the local people they introduced us to.
The broad outlines of my trip were drawn by WOW List Southeast Asia specialists Sandy Ferguson and Ethan Crowley, but they left it up to their hand-picked, English-speaking guides on the ground to manage the details.
Adaptability is the most valuable asset in a private guide: someone who is experienced and knowledgeable enough to adjust things on the fly, revising the day's events to match weather, energy levels, and the group's specific interests. Not every travel company is willing to empower their guides, though. As one of my Vietnamese hosts told me, "When I work for other companies, I have to get permission for any change to the itinerary. With Sandy, the traveler's happiness is the number-one priority."
Take, for example, our time in Hue. While our written itinerary had us visiting the city's historic pagoda and walled citadel, as soon as our local guide heard that we enjoyed active and interactive experiences, she quickly brainstormed ways to further personalize our days in her city: We made paper flowers with deaf women at a quaint café on the outskirts of town, shaped fruitcakes once prepared only for the Imperial Court, carved art out of bamboo pulp in a clever and easy-to-pick-up amalgam of ancient and modern techniques, and caught the sunset from standup paddleboards on the Perfume River.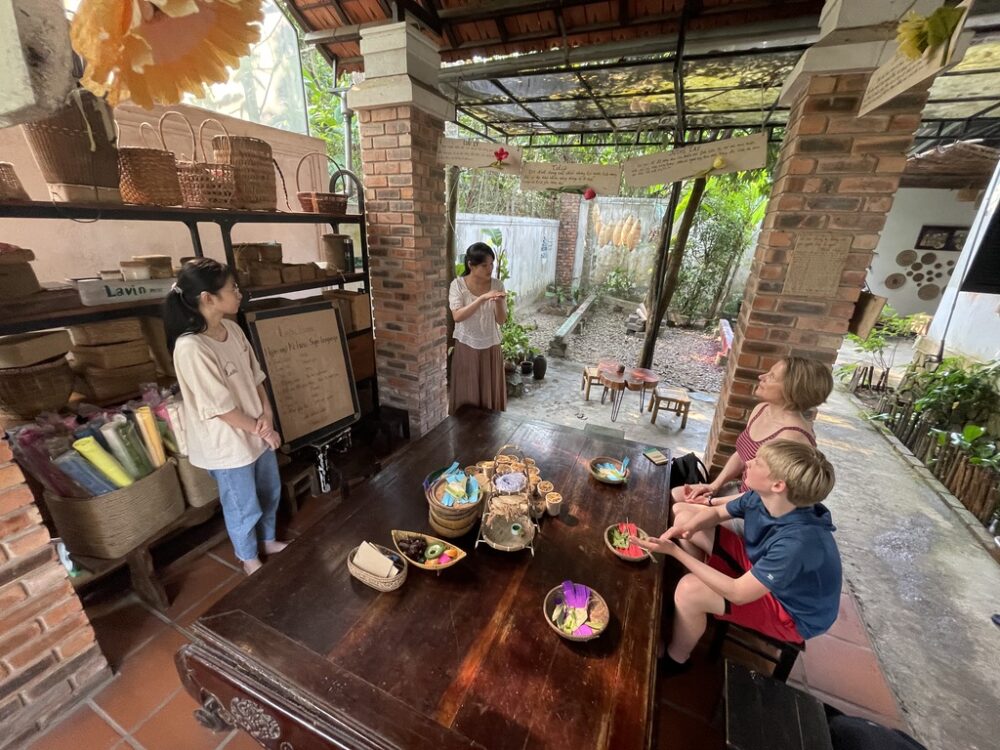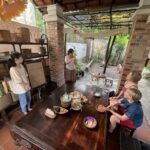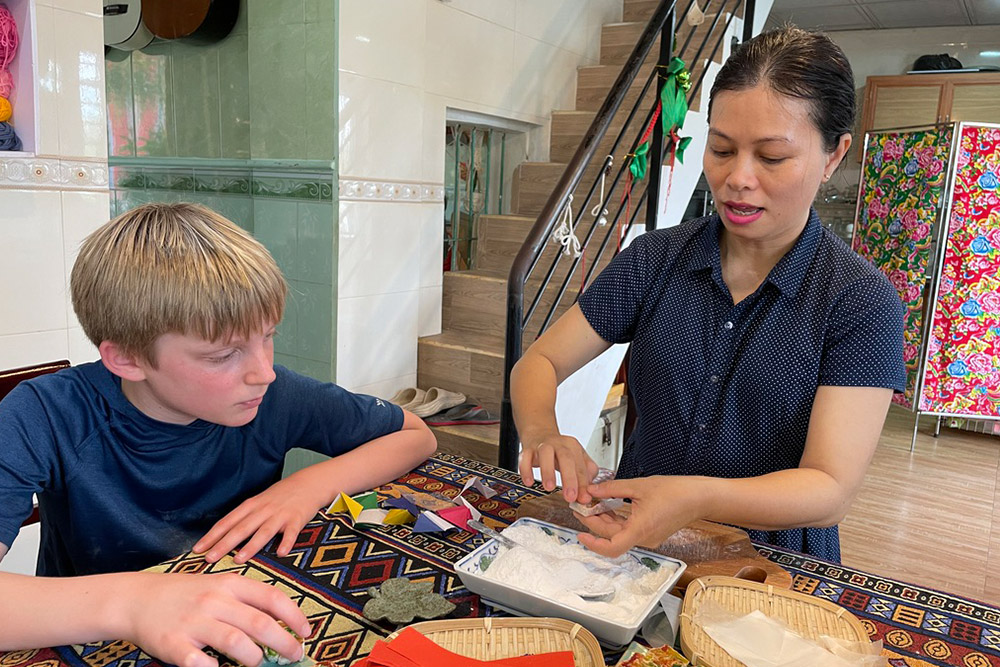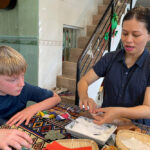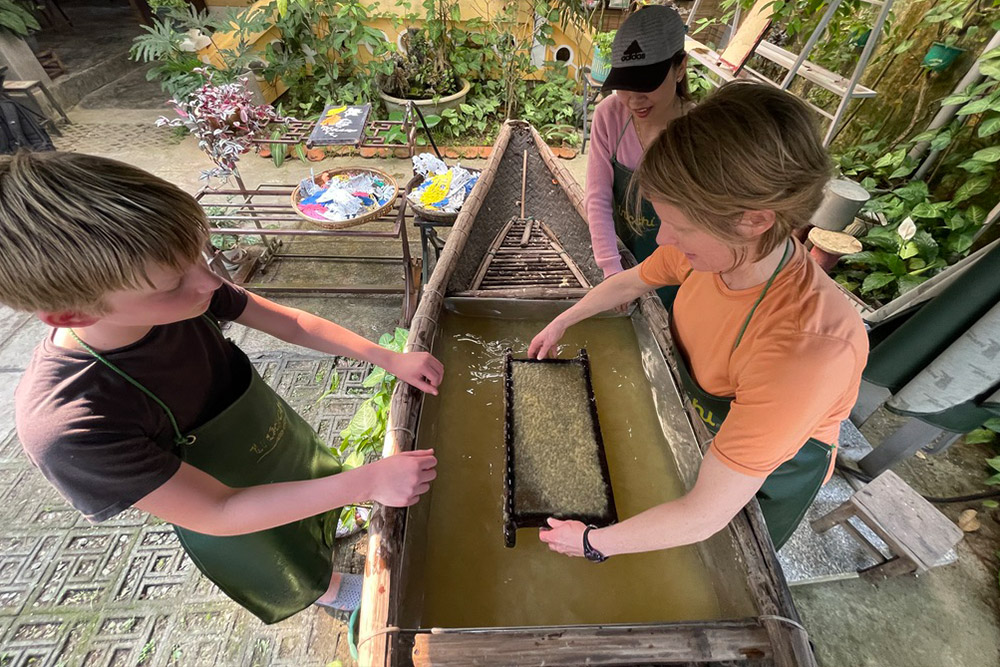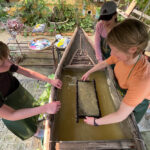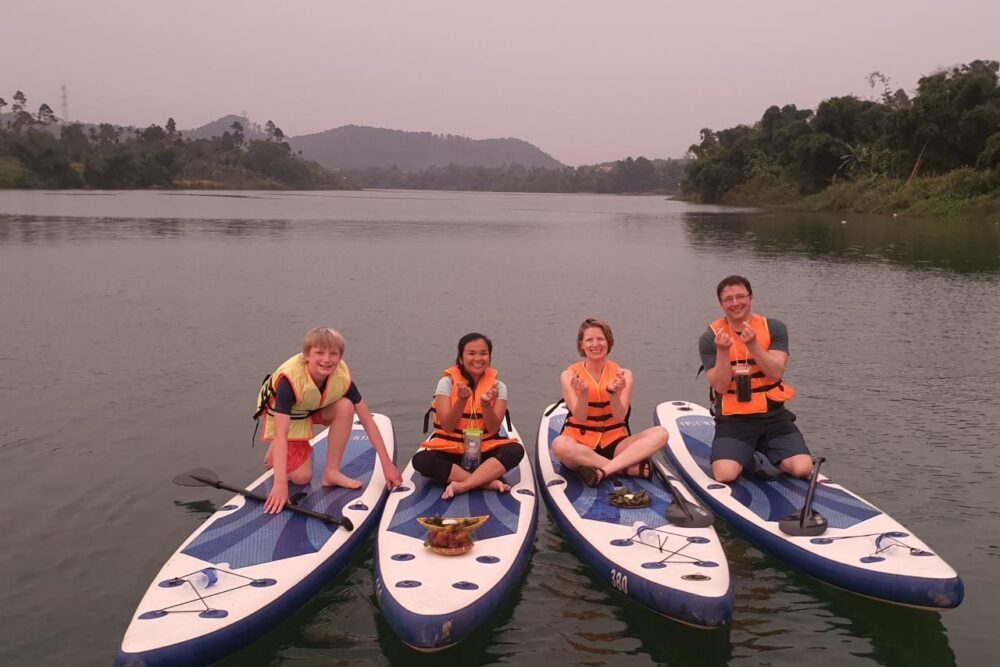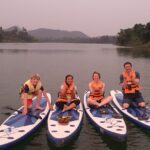 Of course, some things do require more advance planning, like the lunch we had in Hue with a sociable, retired couple who welcomed us into their home, sharing not just a meal but welcoming our help in the kitchen, opening up their wedding album as we sipped tea, and showing us the garden where they grew the figs, jackfruit, tamarind, and even black pepper we'd just enjoyed. We toasted our new friendship with rice whiskey and left calling our host "Uncle."
Best surprise
Laos New Year. We landed in southern Laos during the multi-day holiday; families and neighbors congregated in driveways, drinking beer and—because water provides cleansing for the coming year—aiming garden hoses and Super Soakers at passersby. Kids strolled along roads, their hair braided and dyed for the holiday, their cheeks smeared with baby powder, and their clothes completely drenched. We could have safely enjoyed the festivities from inside our van, but I didn't want to just spectate and asked our driver to stop at the next party. The teens there were initially nervous to aim their firepower at these foreigners, but before long we were dousing each other with bowlfuls of water (welcomed by all in the triple-digit temperatures), and they were refilling our glasses of iced Beerlao faster than we could drink them. A granny soon beckoned us over to the party next door, where the older generation displayed no concerns about emptying their buckets of water down our backs. It was these serendipitous moments, and the immediate welcome we received at every roadside party we strolled into, that will stay with me for years.
Worst surprise
The haze that typically descends on much of Southeast Asia from late February through March, but extended into April this year and seriously obscured the region's natural beauty. Back when weather patterns were more predictable, the first rains would have fallen by our mid-April trip dates and cleared the air of the smoke created by slash-and-burn farming. While I wouldn't trade anything for the experience of being in Laos during New Year, next time I'll plan my trip for the beginning of dry season (see "Timing tip," below).
Thank goodness I packed
A handheld fan took the edge off the 100+ temperatures.
Timing tip
October, the beginning of dry season, offers advantages in the form of both cooler temperatures and greener landscapes. But also consider traveling in the first half of the "rainy season" (May through July), when crowds are minimal, rates are lower, and the heaviest storms hit overnight so you can still sightsee by day between the occasional showers.
Best daytime ride
Biking in Bangkok. This didn't require navigating the city's hectic traffic on two wheels, but rather traversing a gentle, 13-mile loop around Bang Krachao, an island just south of the city that is peaceful and forested but within sight of the skyscrapers. We negotiated elevated boardwalks that spanned canals, met a women planting lotus flowers in front of her home, stopped for iced coffee and fruit shakes, saw egrets, storks, and a monitor lizard, hopped off our bikes for a short paddle in kayaks, and learned traditional methods of batik dying on handkerchiefs that we strapped to our handlebars to dry. It was an unexpected way to see this megacity, and one that brought it down to a human scale. I never would have known such a thing was possible without Daniel Fraser, the Thailand specialist on The WOW List who arranged my short stopover in Bangkok, where he lives.
Best nighttime ride
Seeing Saigon on vintage Vespas. This evening tour is half about the delicious food that appears at each stop moments after you arrive (the organizer takes all your food preferences at the start and then calls in orders of the dishes he knows you'll most enjoy), and half about cruising the city on two wheels in the thick of the seemingly chaotic motorbike traffic that is expertly navigated by your driver. It's one thing to see the current of two-wheeled vehicles that dominate Saigon's streets, and another thing entirely to be part of it. We whetted our appetites with fizzy drinks flavored with chunks of ginger, lemongrass, mint, pepper, and lime, filled up on street-food favorites at restaurants with no other Westerners in sight, listened to a trio of Vietnamese singer-songwriters at a hole-in- the-wall club populated by local Millennials on dates, and capped off the night with decadent hot chocolates made from farmed-in-Vietnam cacao. The experience perfectly encapsulated the after-dark vibrancy of this flourishing city.
Best public transit
A new high-speed train line opened in Laos in 2021, and I tested out the section from Vientiane to Luang Prabang. The business-class seats recline to nearly flat, and portions of the route are quite scenic. But I think the train's biggest impact will be in the volume of travelers it is now bringing from China (where it connects to the national rail system) to northern Laos—and, as the railway expands, beyond. Be prepared to encounter many more regional tourists in Laos in the coming years.
Smartest shortcut
The drive from Ho Chi Minh City to the Cu Chi tunnels—where North Vietnamese fighters hid from South Vietnamese and U.S. forces—can stretch past two hours, depending on traffic. Going by speedboat instead gives you a different perspective on the city (check out the $5 million mansions with private yachts docked out front) and then takes you along a pretty stretch of the Saigon River dense with foliage. Arriving in Cu Chi, I expected the vibe at this site of so much destruction to be somber, but it is oddly cheerful, with tourists even laughing as they emerge from tunnel entrances expertly hidden under a carpet of fallen leaves. Don't miss the propaganda film that runs on loop, which simplifies the war's actors to American "devils" and "gentle, simple peasants" (some of whom were smuggling weapons into Saigon in preparation for the Tet Offensive. You can now visit the impossibly narrow house in the city where the weapons were stored and descend through a hidden panel in the floor to an underground storage room).
Animals not to miss
The elephants cared for by MandaLao, a conservation organization based outside Luang Prabang. The project's aims are to shelter elephants rescued from logging and riding work, and to reintroduce wild elephants into Laos' protected areas. This work is partially funded by the ethical, non-riding experiences with these magnificent, endangered creatures that the program offers to visitors. As the elephants used their nimble trunks to pluck the finger-length bananas from my hand, they came close enough that I could hear their exhalations, which sounded like breath through a snorkel tube.
People not to miss
With such a young population in Vietnam (more than half its citizens are under 35), it's increasingly rare to encounter people who actually lived through the war. But there are still plenty of connections to the past: One woman told us about her grandfather's seven years in a reeducation camp (he had worked for the South Vietnamese government). Another described her childhood in the late 80s, when she caught fireflies in a jar to have enough light to do her homework; today her daughter has a laptop at home.
Best hotels for affordable luxury
After his first hotel brand, Aman, made him famous, Adrian Zecha founded Azerai to offer luxury and elegance without four-figure room rates. Think of Azerai as Aman-lite. Its three properties are all in Vietnam, and I loved the two I stayed at. In Hue, Azerai La Residence's French colonial building dates to 1930, with plenty of art deco touches still intact. Our fan-shaped suite had a wraparound patio that overlooked manicured grounds, a handsome pool, and the Perfume River. The staff here manages to show a genuine interest in your welfare, without the service ever feeling cloying. The Azerai Can Tho is the first high-end property situated in the Mekong Delta, allowing travelers to see more than they can on a day trip from Saigon, and giving access to a working (not just for tourists) floating market. The hotel is on a private island that is five minutes by speedboat from Can Tho, a city that shows off Vietnam's fascination with LEDs and amplified karaoke—it's a fascinating place to stroll in the evening, but the Azerai provides a welcome respite from the noise and lights. Book one of the lake-view villas, which are less expensive than the river-view ones but have a prettier view (the Mekong is the main industrial artery of the region, after all).
Best family-friendly urban resort
With its water features and local art, the Four Seasons Bangkok delivers a strong sense of place and lower rates than many of its luxury-brand competitors in the city. Its 299 rooms are set on a very large footprint right beside the Chao Phraya River; the extra-large family suites mean you won't be stumbling over your kid's cot or crowding each other in the bathroom. My 11-year- old didn't fit in the room's tipi, but it could work well for both play and rest time with younger kids—and he devoured the chocolate surprise left just for him.
Best hotel that's a steal
In southern Laos, The River Resort is a solid three-star on the banks of the Mekong and the best available accommodations in the region. The rooms are spare but spacious and cost less than $150 in high season. We paid $19 for a tasty dinner for three, including a few local beers, and just $12 to clean a week's worth of laundry.
Word of warning
Tourism in Laos does not run like a well-oiled machine—and that's part of the charm. Drivers occasionally miss pickup times, craft villages empty out for a resident's funeral, local kids grab all the bikes set aside for tourists. But it's all forgiven for the spontaneous moments of human connection, which are warmer than I've experienced anywhere else. And outside of Luang Prabang—a town that woos backpackers, Aman junkies, and seemingly everyone else in between—I saw only a handful of other Westerners in all of Laos.
Most underrated
The 4,000 Islands, a region of southern Laos, near the Cambodian border, where the Mekong River splinters around a handful of sizeable islands and countless smaller ones. You can explore the concrete path around the largest island, Don Khong, by bike or tuk-tuk, visit waterfalls where foamy, white-green water tumbles over the rocks, and see the remnants of the train the French built to get around this non- navigable part of the river.
Most overrated
For me, it was Luang Prabang. The streets were choked with tourists, and as UNESCO World Heritage towns go, I think Hoi An is more picturesque. But we also had some of our favorite experiences here: We strolled a morning market where locals were buying not just fresh produce and sticky rice, but also dried rats, live eels, and pig intestines. We spent an evening at our local host's home sharing dinner and a very special baci blessing ceremony. And we brought extra portions of that meal to the town's monks early the next morning. If you want to see Luang Prabang, the Amantaka provides a serene and welcoming bubble—not to mention an excellent spa and a ridiculously high staff-to-guest ratio—just a few blocks from the hubbub.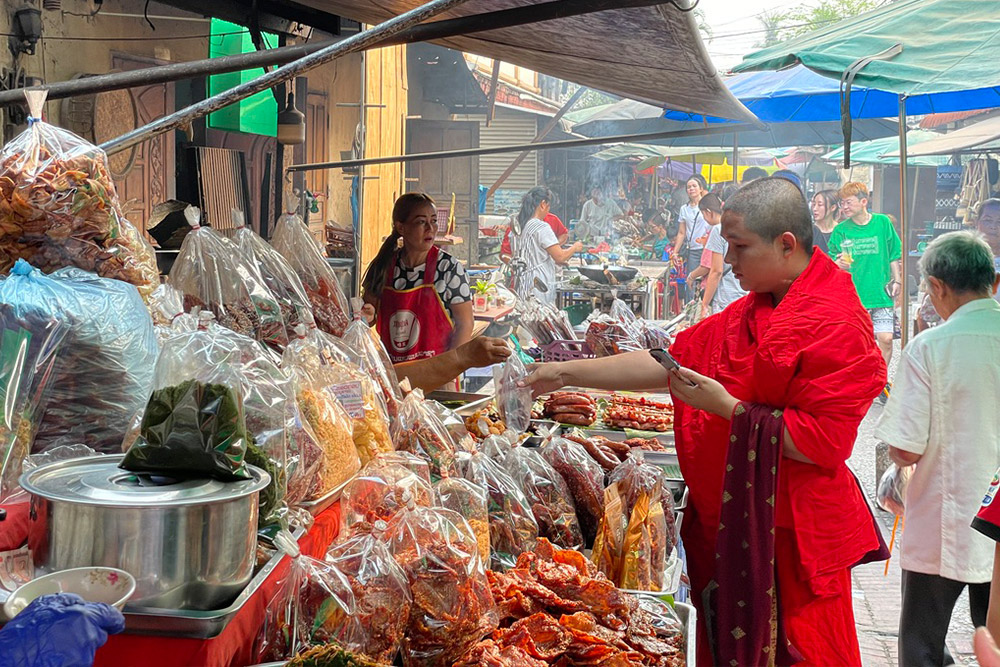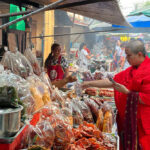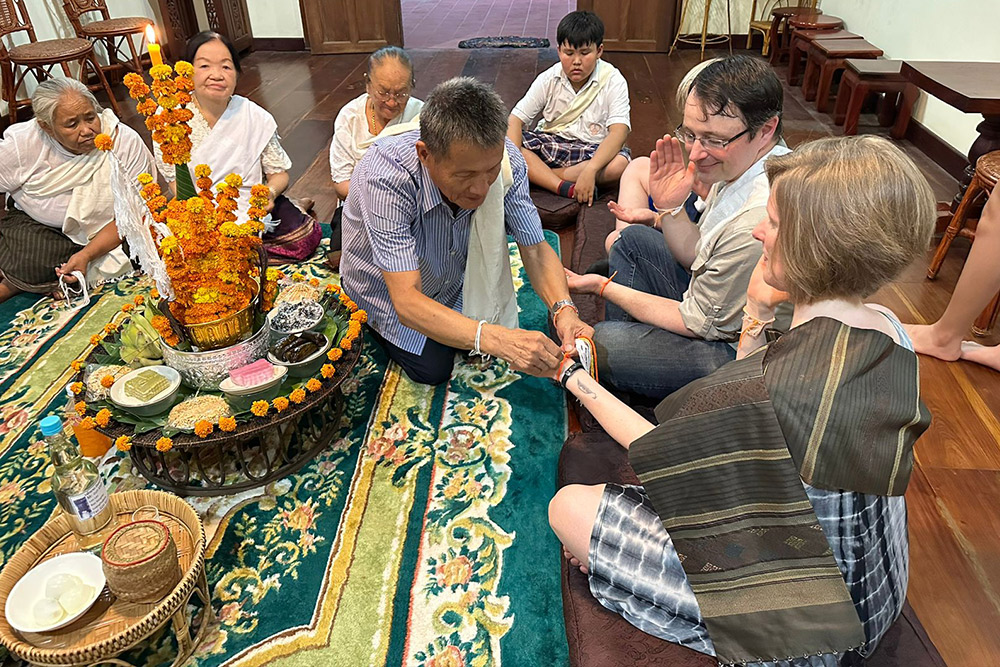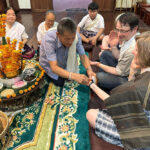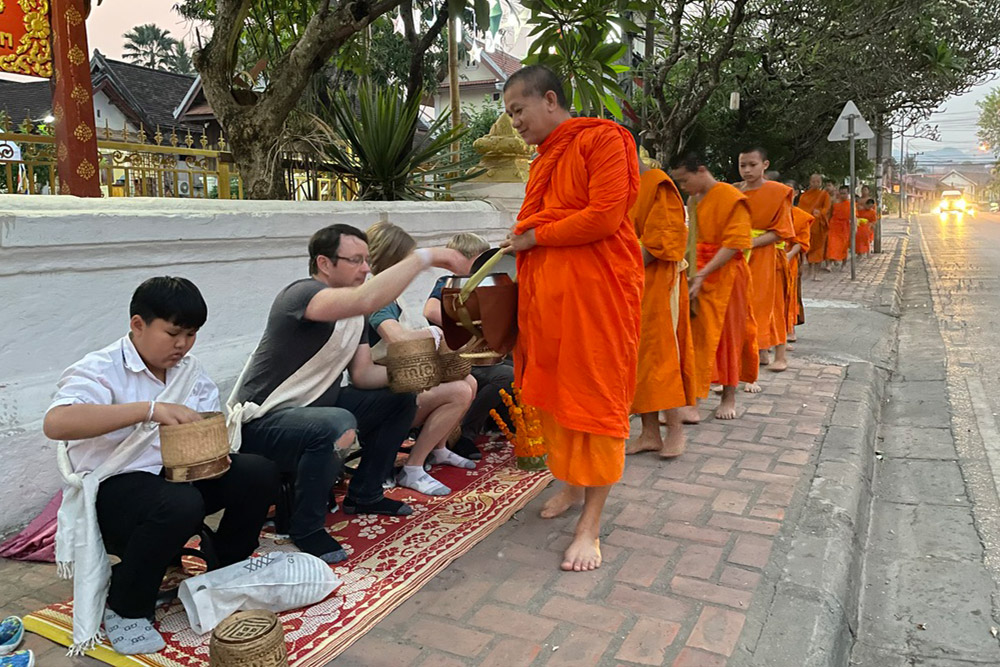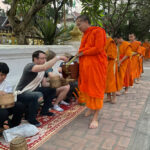 Biggest thrill
The circuit of zip lines around Tadfane Waterfall, on Laos' Boloven Plateau (click here for a video). The first, most hair-raising line runs 900 feet above a deep canyon, into which splashes the cataract's two long, skinny cascades. If you can manage that, the rest of the route is a piece of cake, with several shorter zip-line segments; a high-wire, balancing-act bridge; and a quick but steep hike through the jungle. My 11-year-old called it "one of the best experiences of my life."  Mission accomplished!
Transparency disclosure: So that I could experience Southeast Asia, WOW Listers Dan Fraser, Sandy Ferguson, and Ethan Crowley arranged reduced rates for my family's trip. Everything I did on my trip is accessible to every traveler who contacts Dan or Sandy and Ethan via Wendy's WOW questionnaire. Thanks to Wendy's WOW system, you'll get marked as a VIP traveler.