I'm just back from one of my favorite trips ever: a six-night, eight-passenger barge cruise on the Canal de Bourgogne. Too many people think a river cruise on a 160-passenger ship is their only option for traveling by inland waterway in Europe.  They are missing out.  France in particular has a big network of picture-postcard canals where intimate boats (4 to 12 passengers) glide from village to village, past medieval castles and old-world farms, with no cars in sight for long stretches. It's like floating through a bygone era. The pace is so languid that you can actually walk faster than the barge goes. I enjoyed hopping off to walk or bike along the towpath, then hopping back on.
The biggest surprise for me was how the escargot's pace of the barge forced me to relax more than I've been able to in years. We could have done the same sightseeing by car, sleeping in hotels—in fact, we could have driven from the village where we started (Vandenesse-en-Auxois) to the village where we ended (Plombières-lès-Dijon) in only 27 minutes!—but that would not have unwound us into the same state of deep relaxation.
Despite the slow pace, we actually covered a lot of territory, thanks to excursions by van each afternoon to historic sights, wineries, châteaux, and villages where we ended up visiting artisan studios, farmers' markets, antique shops, cheesemakers…. One of my favorite excursions was to the Chateau de Commarin, where the same noble family that has owned it for 26 generations still lives today; below you can see the Count's dog greeting me.
Most people would be surprised by the level of luxury, the modern creature comforts, and the exquisite cuisine on our barge. A private barge charter really is like having your own staffed vacation home, only with ever-changing views. And, because you wake up in a different village each day, there's always someplace new to explore outside your door, yet there are no logistics to deal with.
Tim and I can't wait to barge again:  Next on our list is the Canal du Midi.  Still, barging is not for everyone. I wouldn't recommend it to families with toddlers or teens (who could get bored on the barge or need more exercise than just walking and biking), nor to anyone who requires a hotel gym. Nor would I recommend it to people who don't like wine or cheese, given how much of it is served every day. (We tasted at least 40 wines and 40 cheeses during our six days.)
There are three groups of travelers who I think could really benefit from barging:
A group of couples who get together each year and are looking for something different and fabulous.
A family group without kids that is looking for an especially scenic and logistically easy villa-style vacation.
Busy execs who must work on vacation. That's because a barge lets you sightsee from your desk. I was able to sit on deck all morning, answering email on my laptop while bucolic scenery and history glided by, then take a break each afternoon for an excursion and gourmet pursuits.
If you're an individual couple without a group, there are certain weeks of the year when barges will have availability for you, but most barge cruises are private charters (typically for a group of four, eight, or twelve). Barges are pretty much sold out for 2023, but there is still a lot of availability for 2024.  If you've got questions about whether a barge trip is right for you, or if you could use a recommendation of the right boat, region, or itinerary for your needs, I'm happy to help via the Ask Wendy questionnaire.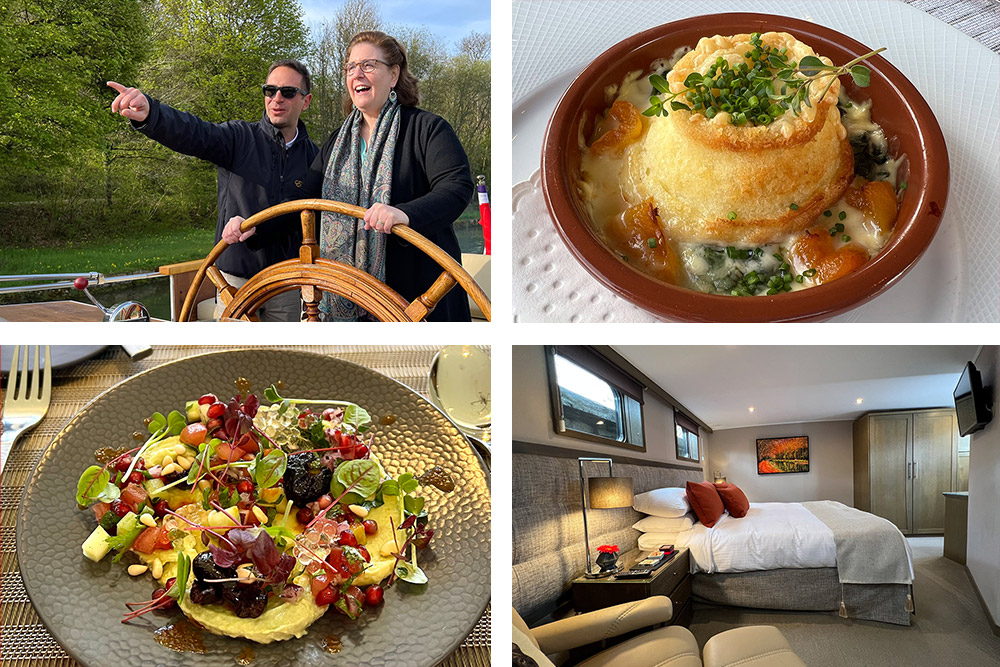 Be a smarter traveler: Sign up for Wendy's weekly newsletter to stay in the know. Read real travelers' reviews, then use the black CONTACT buttons on Wendy's WOW List to reach out to the right local fixer for your trip.