Hi everyone, Billie here. As you know, I went to Egypt this past October. Omicron hadn't arrived yet, nor had the peak winter tourist season, so when I saw that several families were venturing there over New Year's, I wanted to check in to see what the experience is like now.
Christa Sullivan is one of those travelers. Based in Florida, her family of six (her husband, and four children ages 12, 19, 21, and 25) just returned from two weeks in Cairo, Luxor, Aswan, and on a Nile cruise. Some of their experiences were different than mine—for instance, she found some places crowded that were empty when I visited—but, like me, they felt safe and comfortable and loved sailing the Nile on a dahabiya!
Why she chose Egypt
"I looked at the list you put out of the places that were open to Americans and didn't have a lot of restrictions. Egypt was on the list, and I already knew that Egypt was on my husband's bucket list. I've always thought it was so dangerous so I wasn't interested in going. But I asked my kids for their top three places in the world and Egypt was on their list too. Then I saw an article about traveling on the boat on the Nile and I thought, oh it's not just some dusty pyramids, this could be a really cool trip."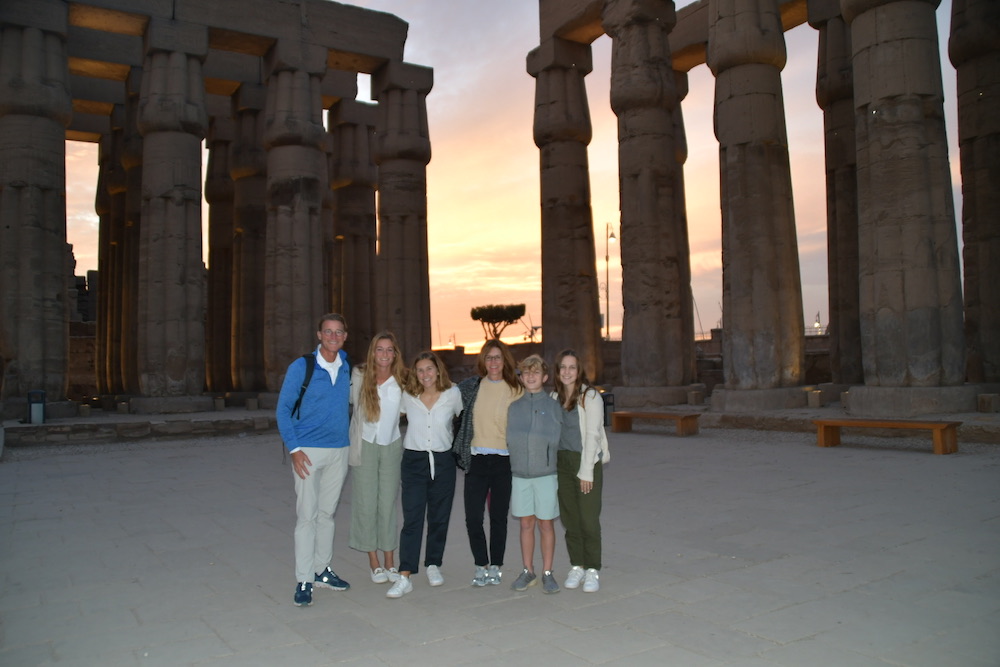 Pre-trip, her concerns (shared on the phone)
"I worry about safety as an American abroad more than I worry about the virus. When I called Jim [WOW List Egypt expert Jim Berkeley], I said I'm going with four kids—I don't want to be left on our own. And he reassured me: 'You'll never be on your own. We'll always be with you, we'll take you everywhere.' That took away the fear factor."
Mid-trip, her impressions (shared by email)
"The trip is very different from what I expected. As you know, I wasn't the one excited about going, but I have loved it. I was surprised at how warm, welcoming and kind most of the people have been. I have enjoyed the food and the culture a great deal, and having an Egyptologist with us every day has made all the difference in adding meaning to the temples, tombs and hieroglyphics we are seeing."
Cairo was crowded, but she wouldn't recommend skipping it
"Cairo was a bit overwhelming due to the number of people and the traffic.  You took your life into your hands when you crossed the streets.  Our guide Ahmed was amazing—he was very assertive and made us feel more comfortable maneuvering the city.  We did not like the number of vendors that have accosted us at each place as we walk through on our way to a monument.  They were too aggressive and made us very uncomfortable.  Ahmed was the best at keeping them away, and also keeping away the schoolchildren that wanted to take our picture.… "
They loved the dahabiya boat
"The Nile cruise has been a highlight!  It was a great break after the busy days in Cairo and Luxor to relax on the deck and watch the river and the scenery. Our kids have really, really enjoyed the boat (as have we).
Last night on the boat, we stopped at an island and our captain and Egyptologist took us to a little town back through the woods and we went inside one of the mud brick houses and met the owners and were served tea.  It was so neat to see what's inside one of their houses.  We also had a bonfire on the banks and they brought a table out and we had our dinner on the shore.  After dinner they danced and sang us some traditional songs."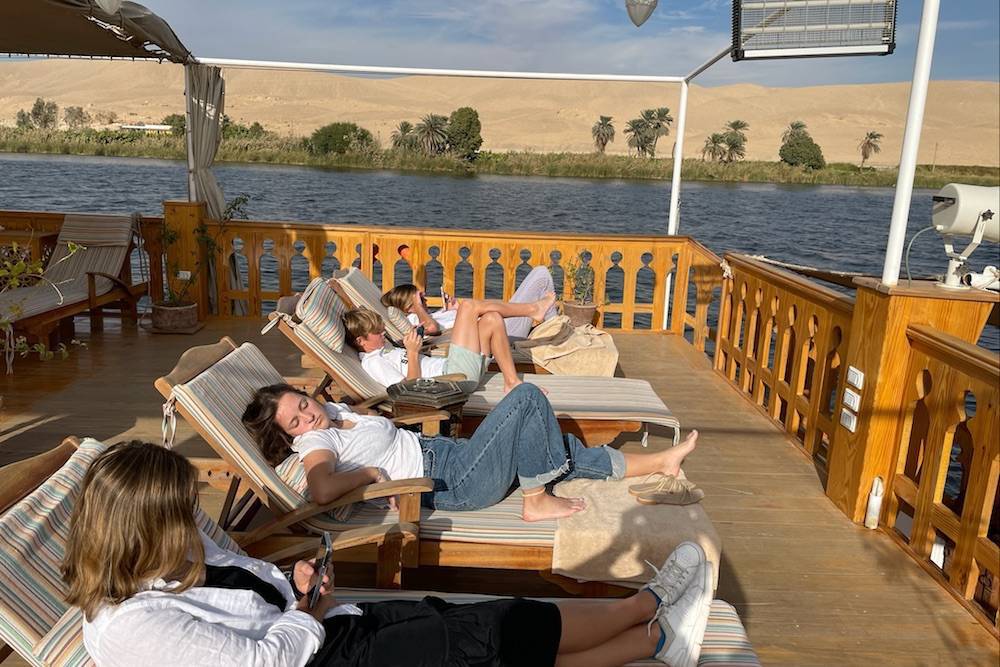 Her advice to other travelers
"For anyone concerned about Covid, I would avoid going inside the Great Pyramid.  It was tight and hot with zero ventilation. I would also be wary of the tombs in the Valley of the Kings in Luxor—they were very crowded with no ventilation.  The Valley of the Queens was not crowded…. Outside of Cairo, we haven't had any safety concerns at all."
---
We're Here to Help
As a travel journalist and consumer advocate for the past 30 years—first as Condé Nast Traveler's advice columnist, then as TripAdvisor's Travel Advocate—I'm all too aware of the travel concerns that need to be addressed as a result of this pandemic. For many trips, you'd be wise to use an extremely well-connected, extremely knowledgeable, destination-specific, trip-planning specialist who can act as your local fixer. You'd be even wiser to find and contact that trip planner via The WOW List, which is the first step in my WOW approach to trip planning, created by popular demand from my longtime readers. It's the approach used by the travelers who are submitting these trip reviews and getting benefits including priority status, VIP treatment, my advice from the start of your trip planning, and the chance to win a surprise, custom-designed WOW Moment on a third qualifying trip. It all starts when you tell us about the trip you want via the questionnaires on The WOW List. —Wendy