I am not a boat person.
I have no interest in cruise ships, I'm not overly fond of short ferry rides either, and I've even gotten seasick on one of those supposedly too-big-to-rock, giant family-vacation ships…while it was moored for a special event. So when our WOW List Egypt expert Jim Berkeley tried to tell me that the Nile was so calm, and that my private six-cabin dahabiya sailboat would be so smooth that I wouldn't even feel the movement, I dismissed him outright. People who don't suffer from seasickness are not reliable sources.
But I wanted to go to Egypt, and I wanted to cruise the Nile, and they make drugs for this. So I packed a ton of anti-nausea medication and resigned myself to the expectation that I'd just be meclizine-dazed for four days. But I didn't end up needing a single pill. What's even crazier is that my time on the dahabiya turned out to be my favorite part of the whole trip. No one is more surprised than me.
I tell you all of this so that you'll know that I am the last person who would steer you wrong about a boat vacation, and what I have to say on the topic is this: A dahabiya trip is the best way to experience Egypt.
Here are three reasons why.
It feels very Covid safe.
I was traveling with two friends, and we shared the boat with one other party: a family of four from Belgium who were all vaccinated (we swapped statuses soon after boarding). The boat crew was also all vaccinated, as were my guide and the Belgians' guide, since all tourism professionals must be per Egyptian law. And while the cabins below deck were small, none of us spent much time in them except to sleep. Even so, they each had large windows (and two of the cabins had balconies) that allowed in plenty of fresh air. (You can see all my photos below.)
It feels very private and keeps you away from the crowds.
The boat's small size allowed us to dock at sites where the mass-tourism Nile boats can't. So we got to see several fascinating places completely alone. My favorite: the rock quarries of Gebel Silsileh, a valley that provided the stone for the famed ancient temples at Luxor, Karnak, and Kom Ombo, among others. We chose to hike to the quarry rather than ferry right to it from our boat (which is an option), and that turned out to be a really special morning. For two kilometers, we walked right along the stark border between the desert and the green fertile strip next to the river. I couldn't take my eyes off that well defined natural line—except for when we were watching local farmers harvest dates and mangoes, and when an entire school of children poured out to their balconies to wave and shout hello to us.
Even when we visited the sights that all the boats go to, we usually were able to arrive before or after the rush—or on a different day entirely—since the big boats all follow a very rigid, fast-paced itinerary. (I recommend talking to your guide to find out what kind of flexibility you might have in your daily schedules; our guide sailed with us and that was a real perk.) For me, the trip felt like a relaxed meandering through off-the-beaten-path sites, rather than a to-do list of must-see temples.
It's so relaxing and fun.
Our days quickly fell into a delicious rhythm: In the morning, we'd tour some fascinating sight, and then come back to the boat for lunch made fresh by our incredibly accommodating chef, Ali. Then we'd spend the rest of the day lounging around on the comfortably shaded open-air deck watching the green and yellow scenery go by. (As we got closer to Aswan, I saw more and more of the big ships, and very few of those had covered top decks—I couldn't imagine how anyone could sit up there in Egypt's strong sun.) At night, we'd feast again and then play games and talk until the generator went off around 10 or 11 and we all turned in for the night. In those four days, I laughed so much, and cemented friendships all across the boat.
Finally, one of the more subtle bonuses of the wind-powered dahabiya is how blissfully quiet it is. Every day I could hear the gentle splash of water against the hull, the ripple of the main sail in the breeze, and the afternoon call to prayer rising from villages on both sides of the river.
I'm not sure if all of this means I'm finally becoming a boat person. But I can say one thing for certain: I'm now definitely a dahabiya person.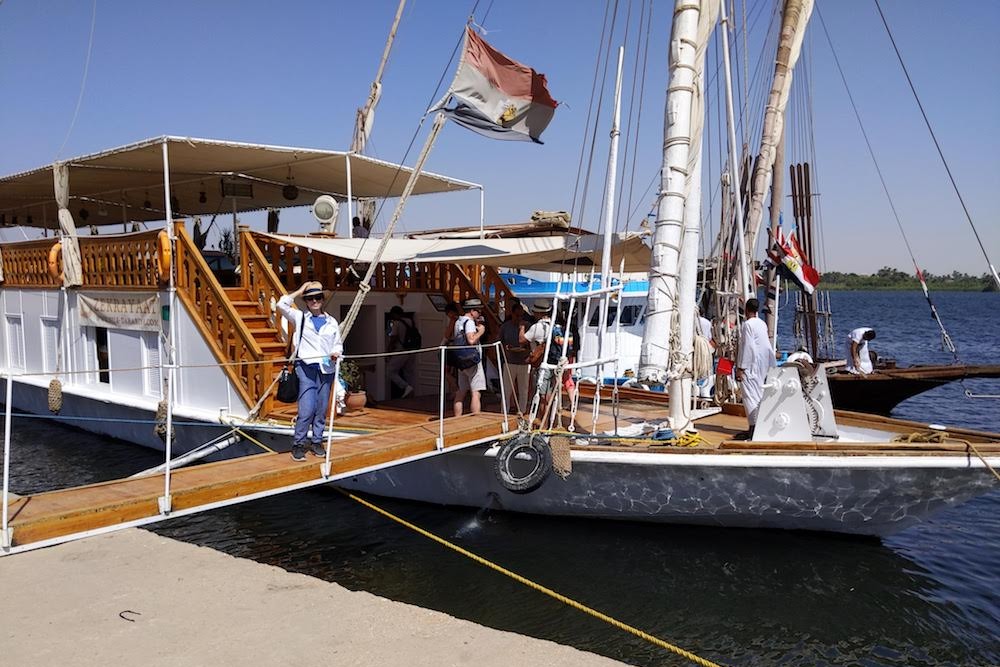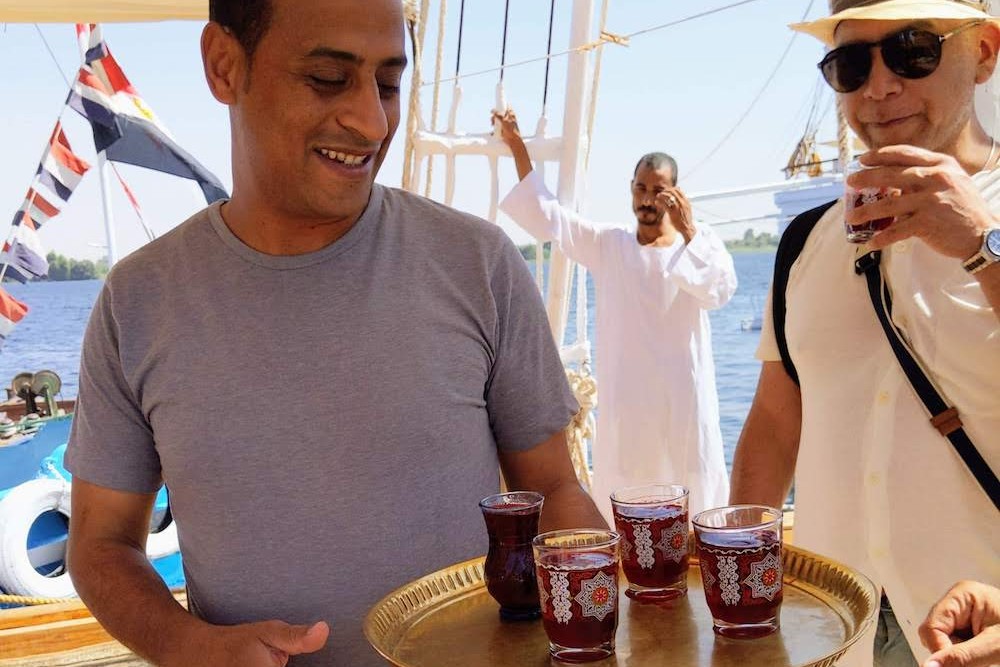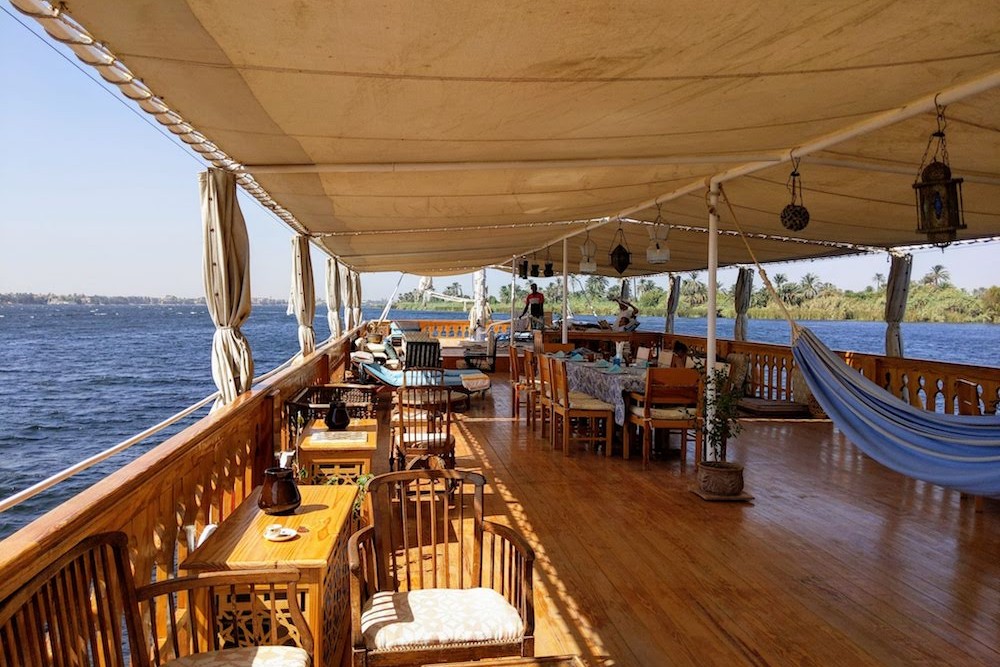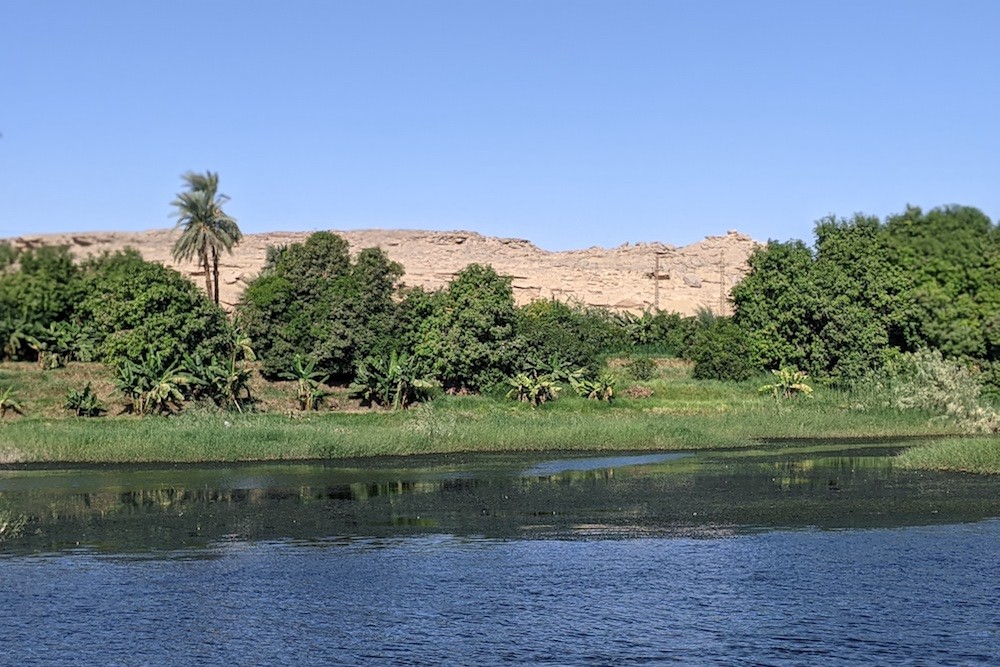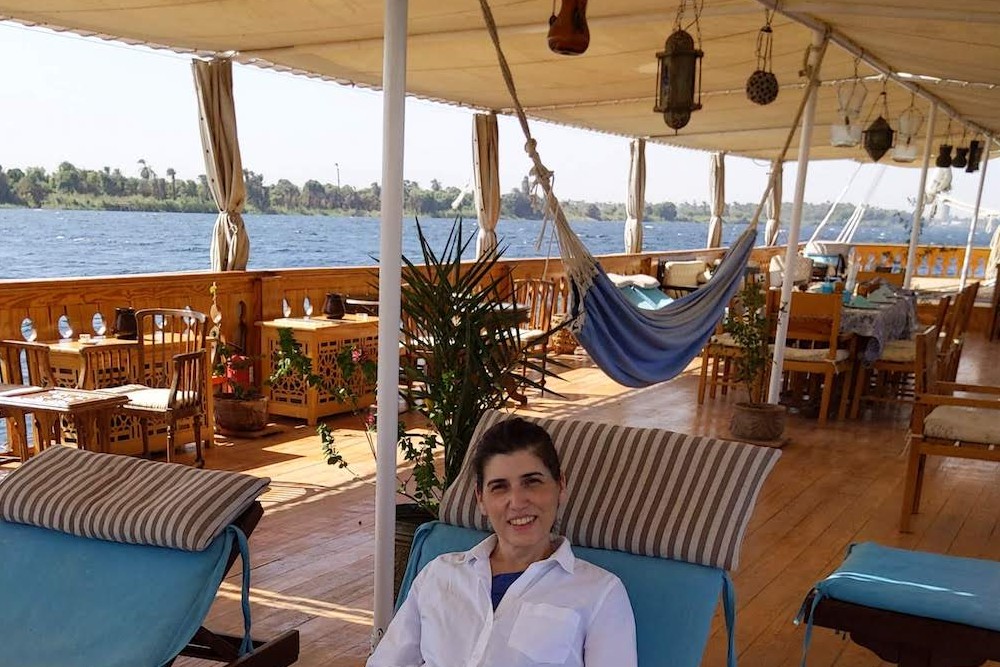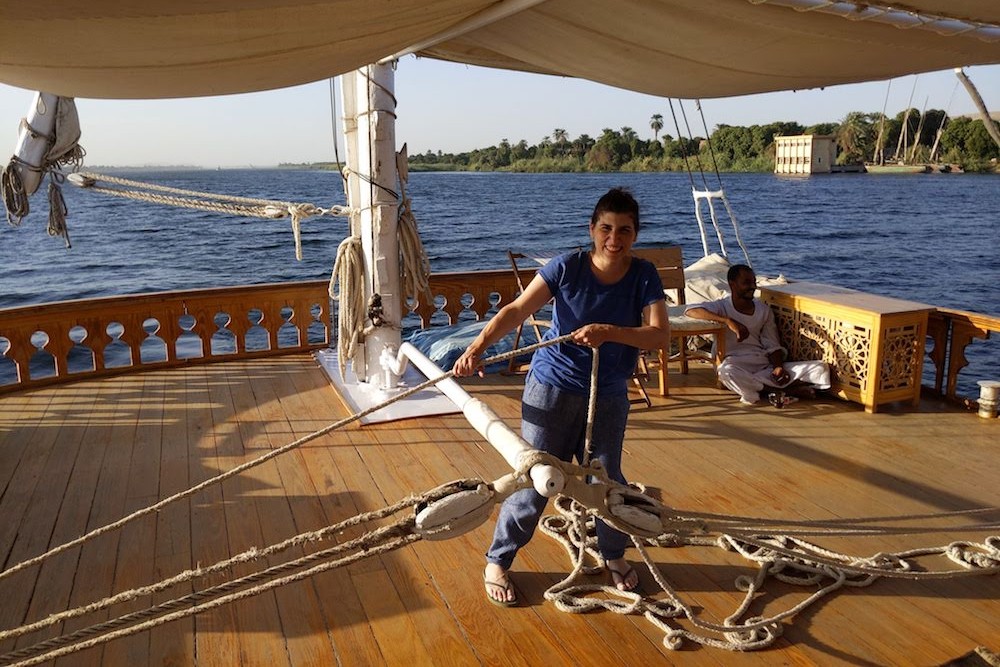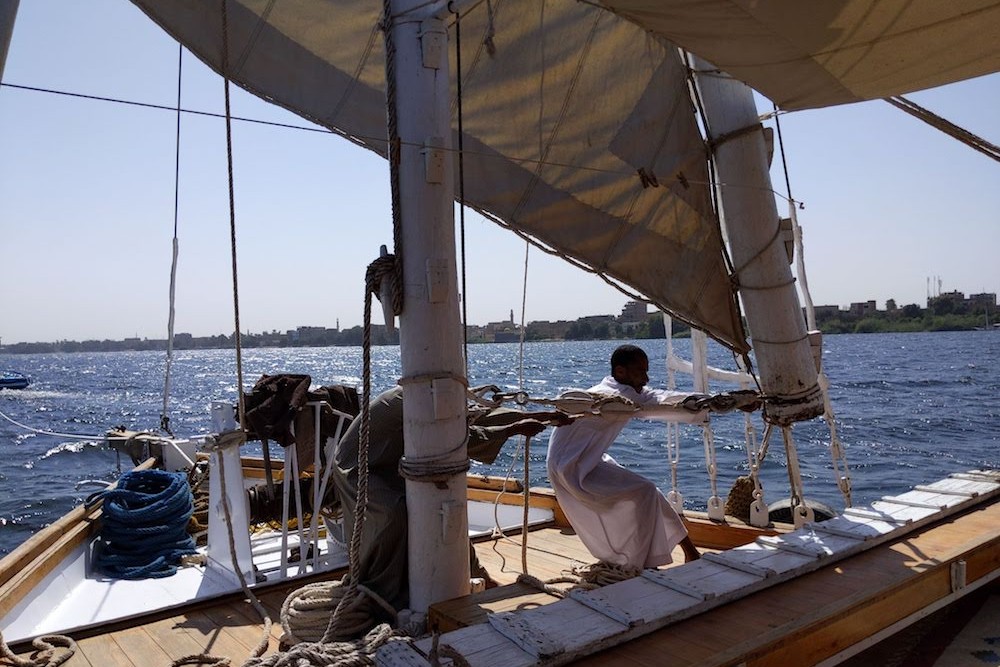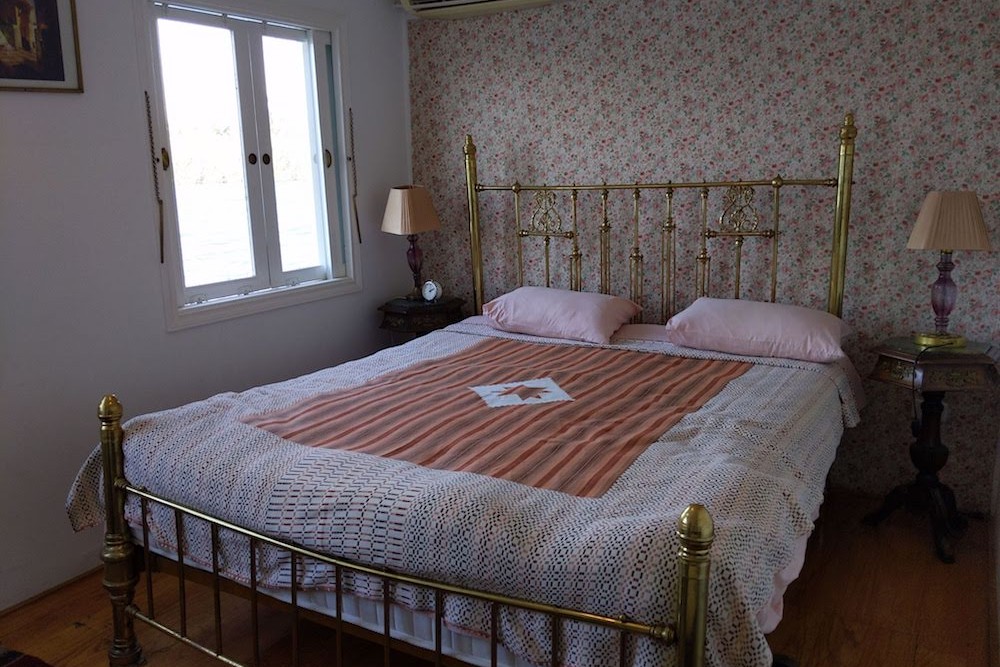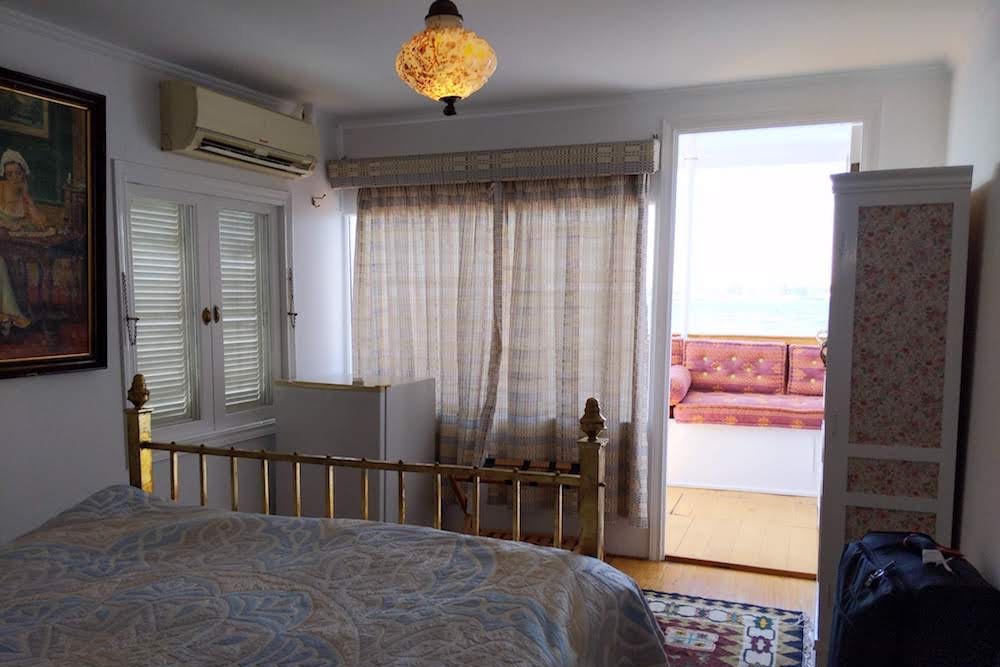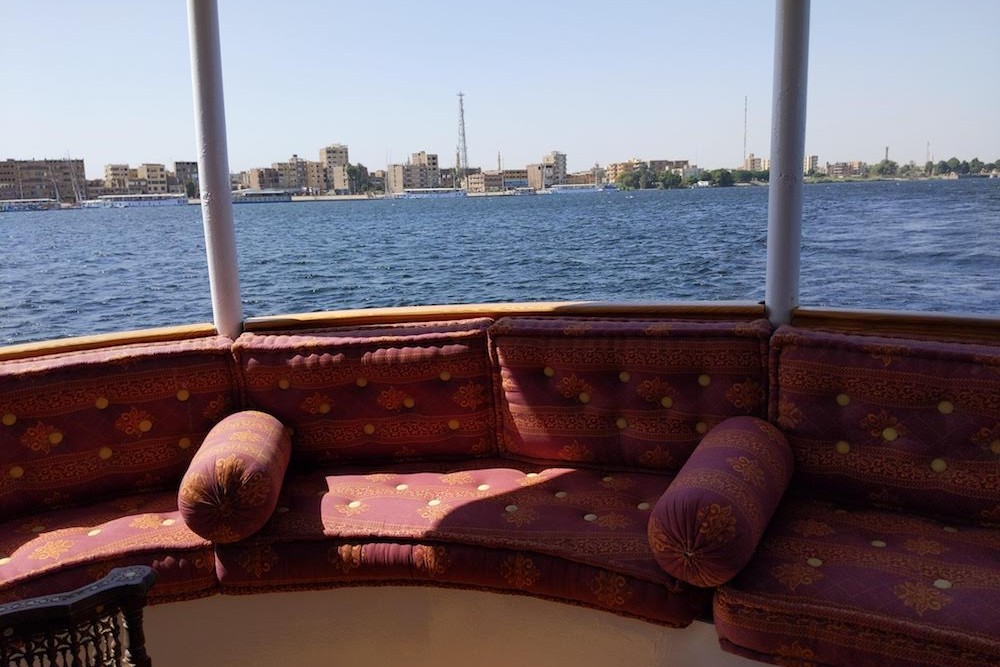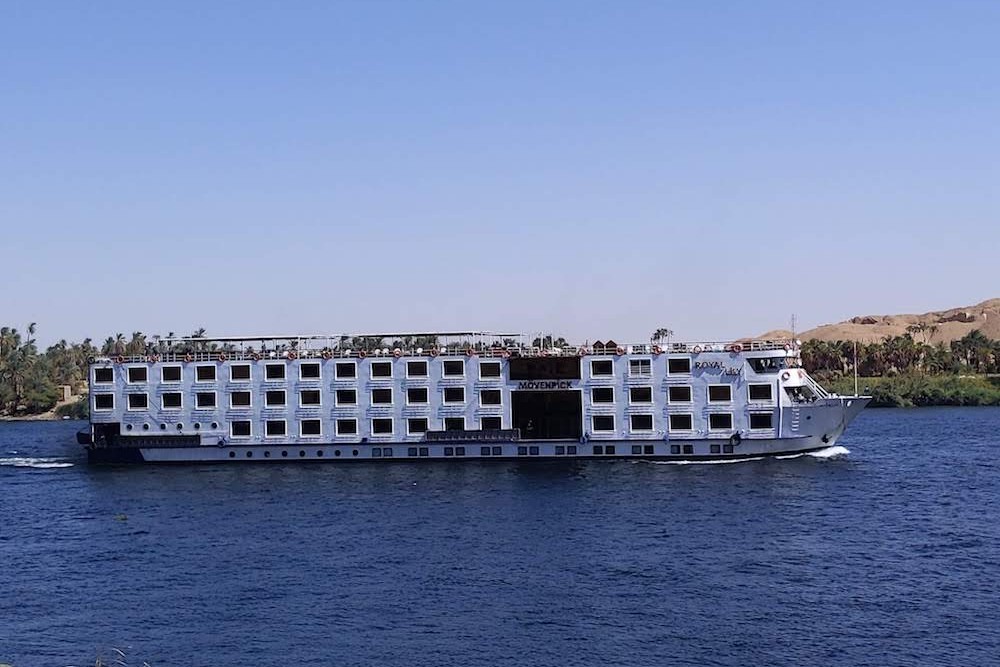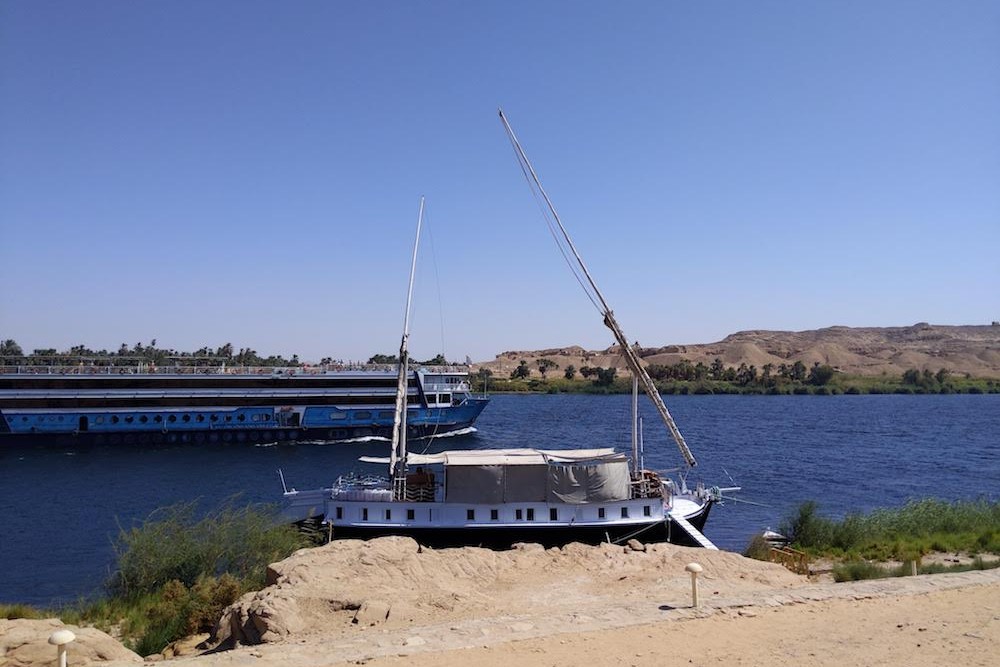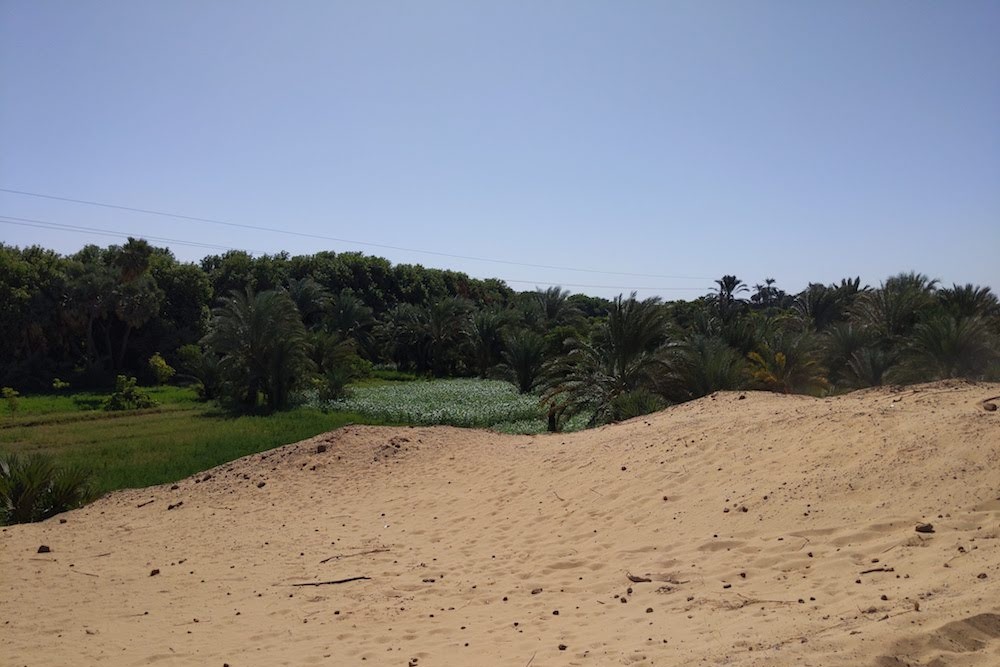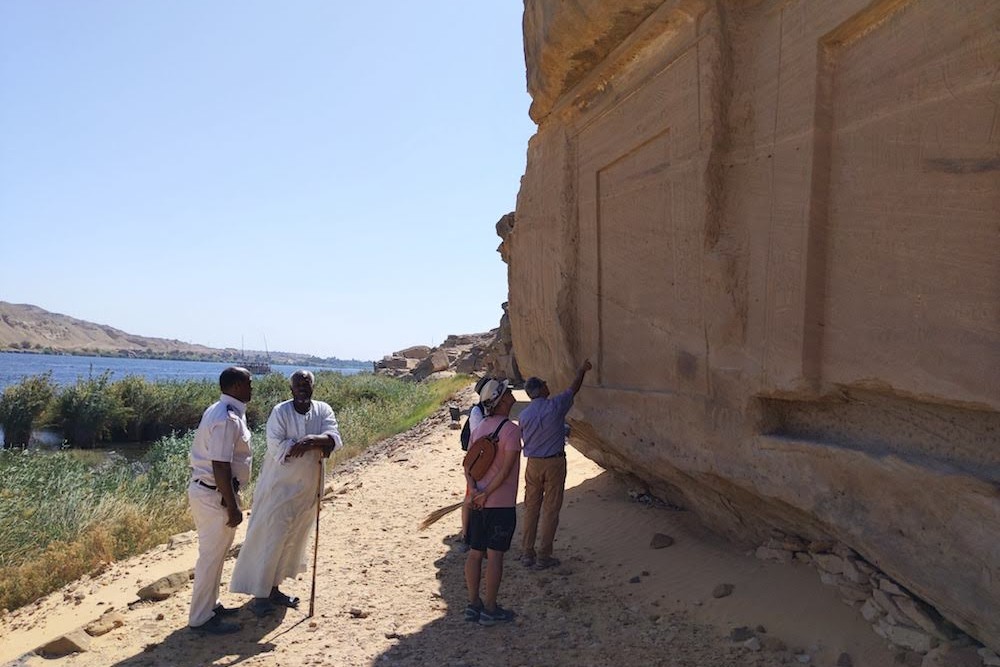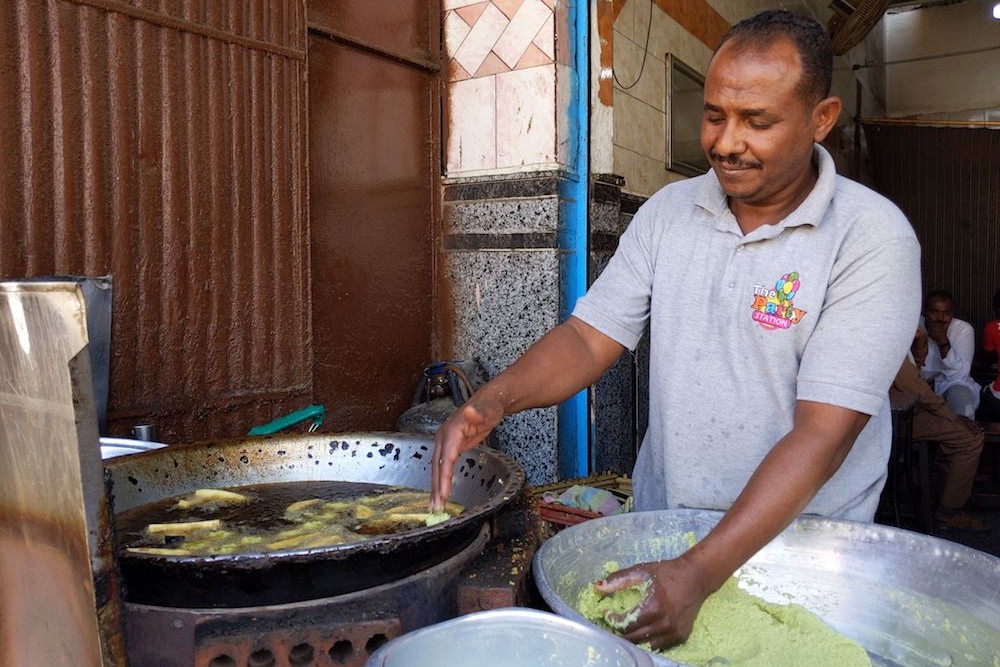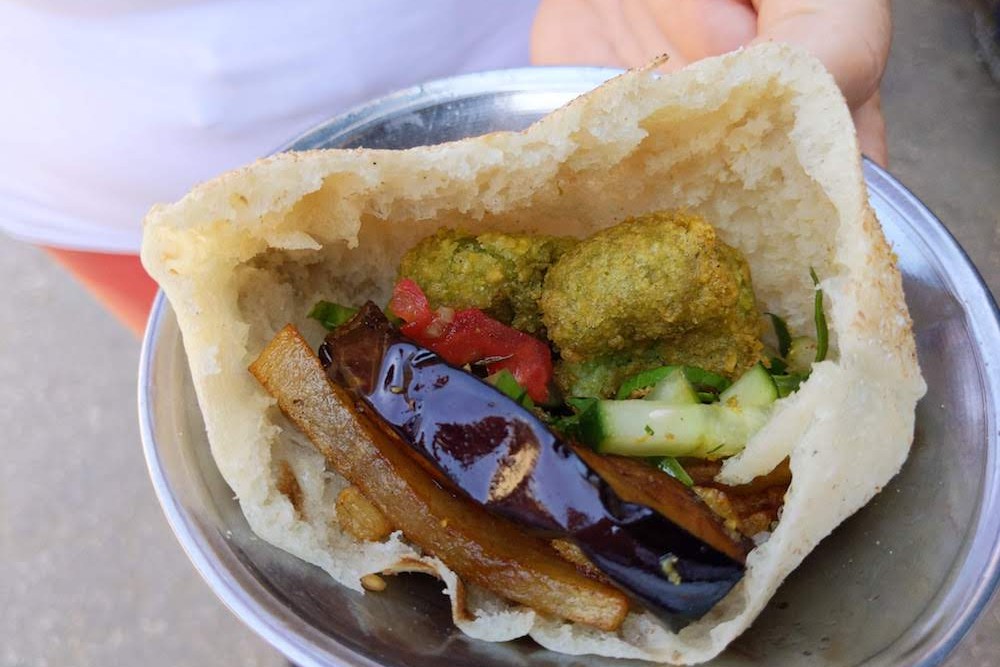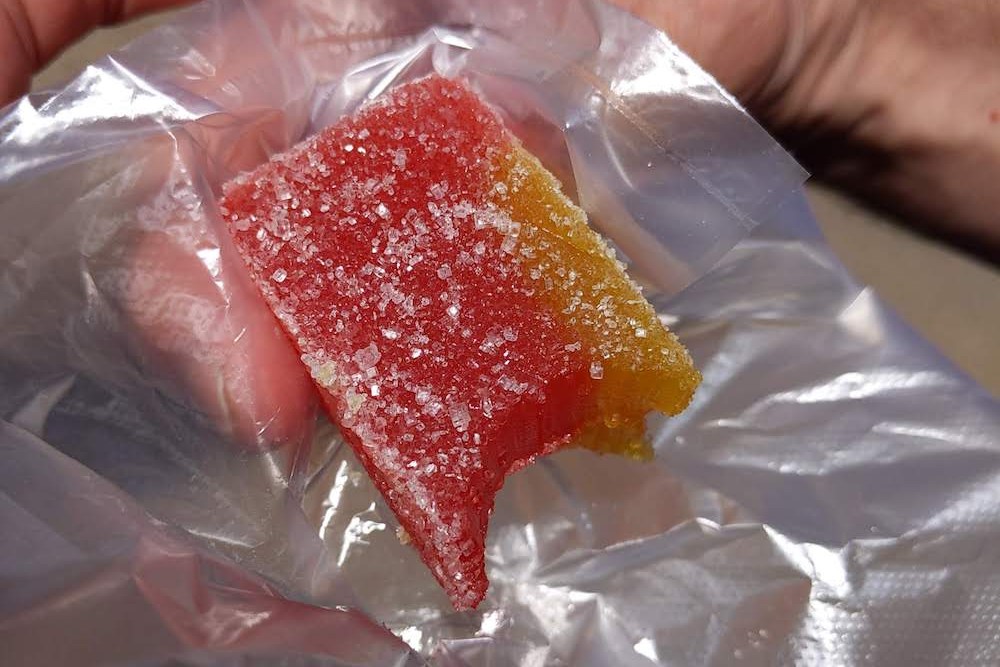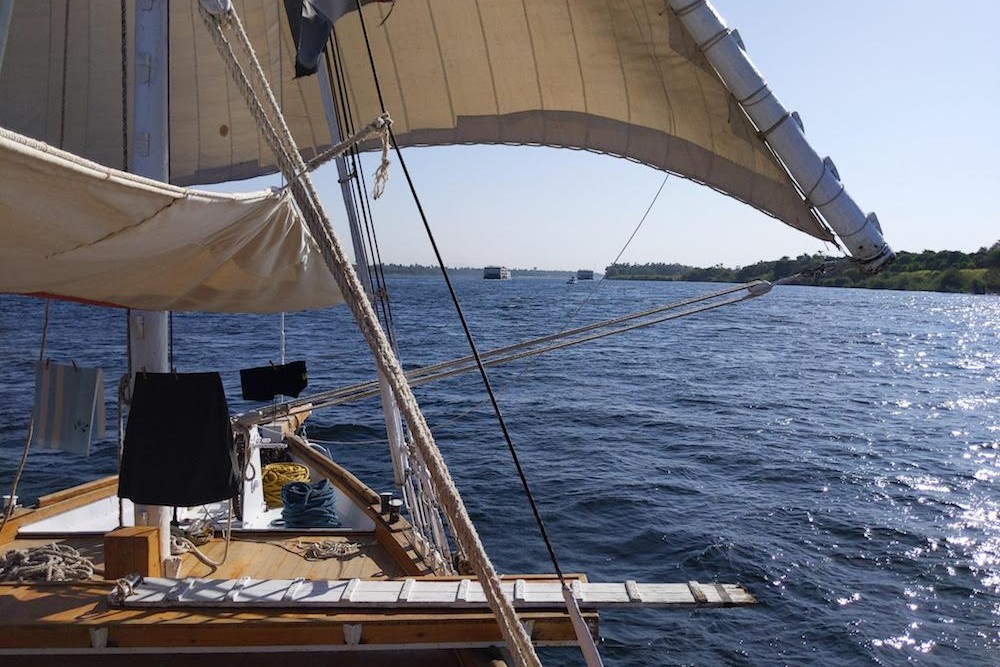 ---

Be a safer, smarter traveler: Sign up for Wendy's weekly newsletter to stay in the know. And read real travelers' reviews of Wendy's WOW List and use it to plan your next trip.