Note from Wendy: This article was written by my son Doug when he was 16, based on his experiences in more than 50 countries. 
Now that most of the world's countries have reopened and you can take your family pretty much anywhere again, I've thought back to some of my favorite foreign adventures. These are places where teenagers like me can go beyond the typical beach resorts, explore a different culture, talk to the local people, and learn what the world is really like.
Zambia and Zimbabwe
In the undisturbed wilderness here, animals roam free and rule the land, and they are magnificent. It was my first time staying at a bush camp, so I was excited but scared. After landing in Zambia, first we drove from Mfuwe Airport to the Mfuwe Lodge, where we stayed the first few nights.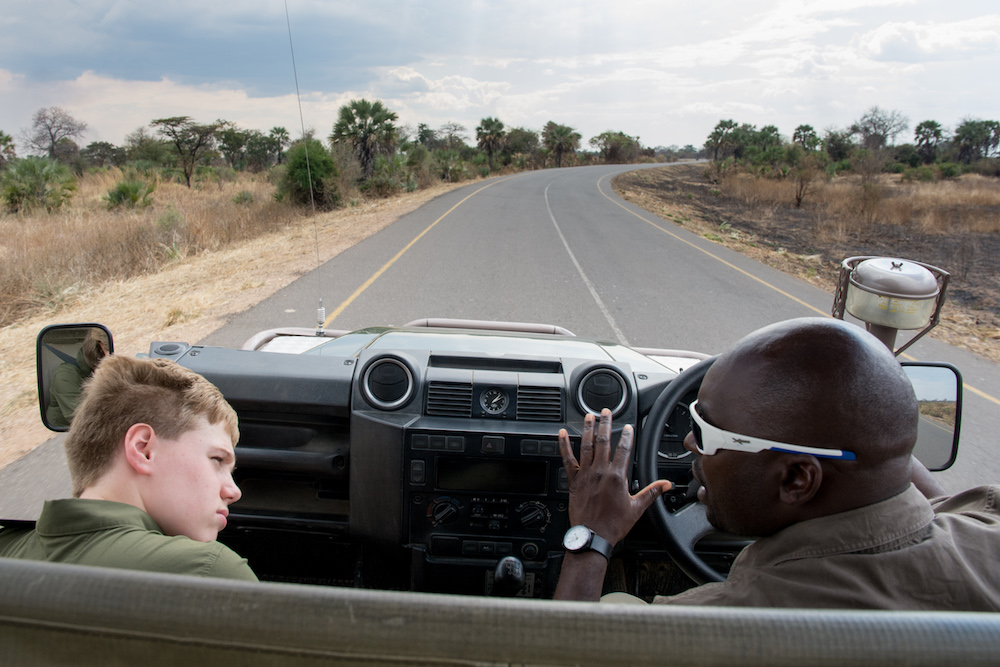 The moment we arrived, we were invited on a game drive that night. About three seconds in, not even moving, there it was: A beautiful leopard trying to get through the locked gate to the spa. Maybe to make his or her nightly spa treatment.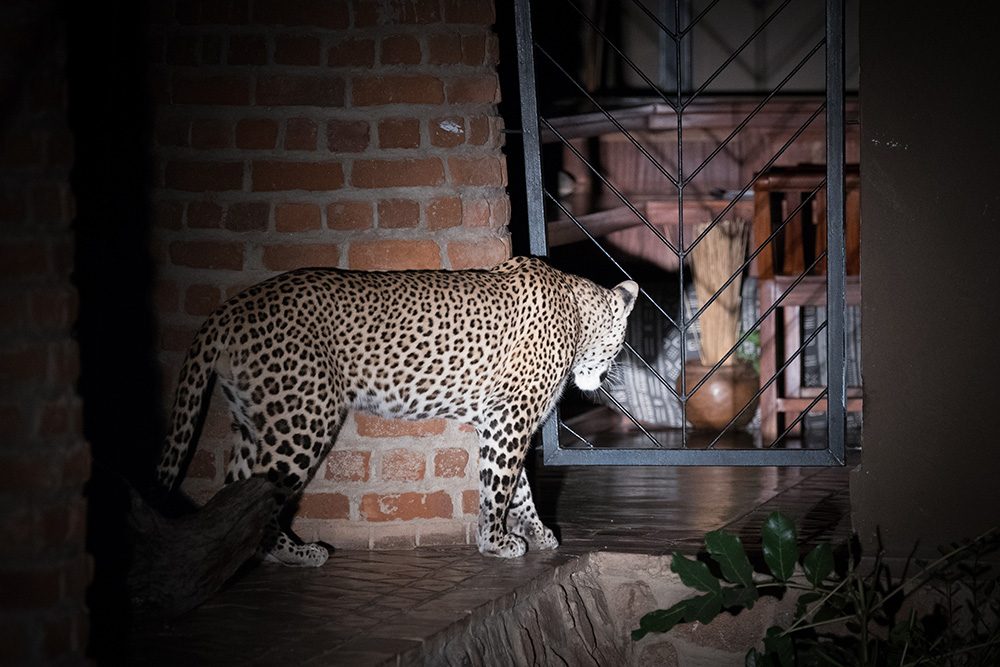 Then, three minutes into the drive, there was a baby hippo walking across the road.  On a night game drive, you see different animals than on a daytime drive—or, if they're the same animals, you see them in different locations.
We traveled to different bush camps almost every day. There were animals everywhere. On the third drive, we went to a lagoon that had three teenage lions. We got within 15 feet of them.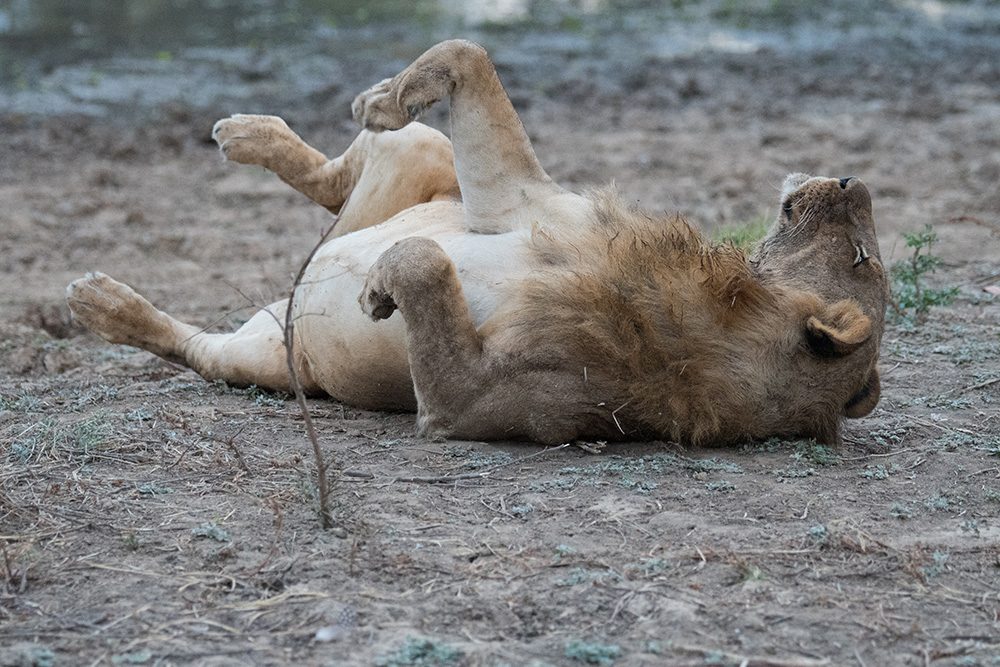 It was exhilarating but scary to be 15 feet from an animal that is 8 feet long, wild, and could kill you in seconds. We weren't too worried, though, because the lions had just gorged themselves and could hardly move.
We spent a few days in the village of Chiawa, where we saw how real people live in Zambia and learned about their culture and their life, which is very different from ours.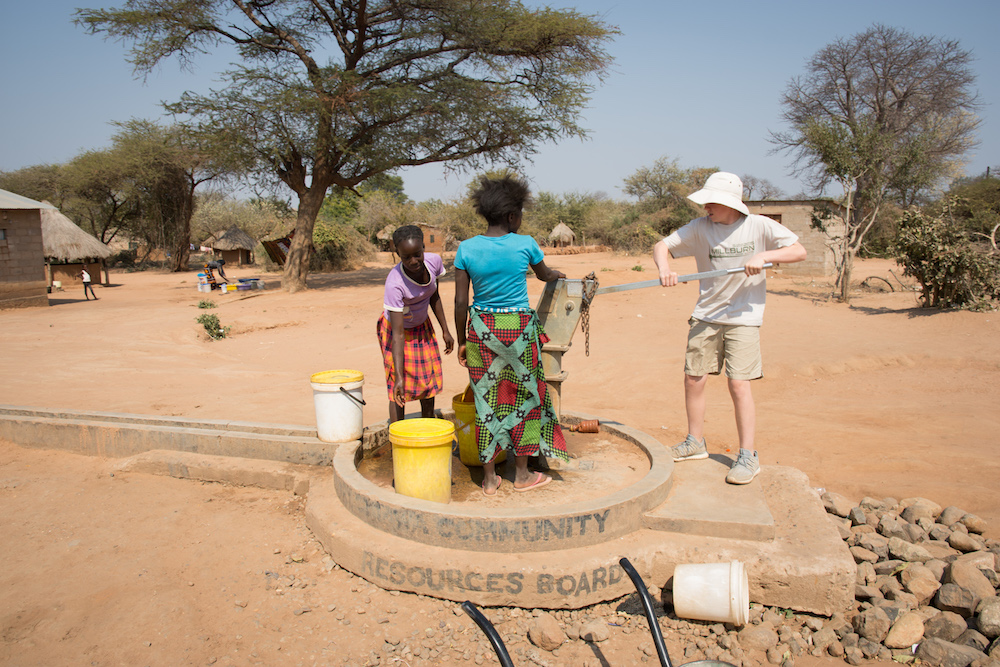 We got to visit a school there. The students were so welcoming to us and invited us to play with them. It was great getting to meet them.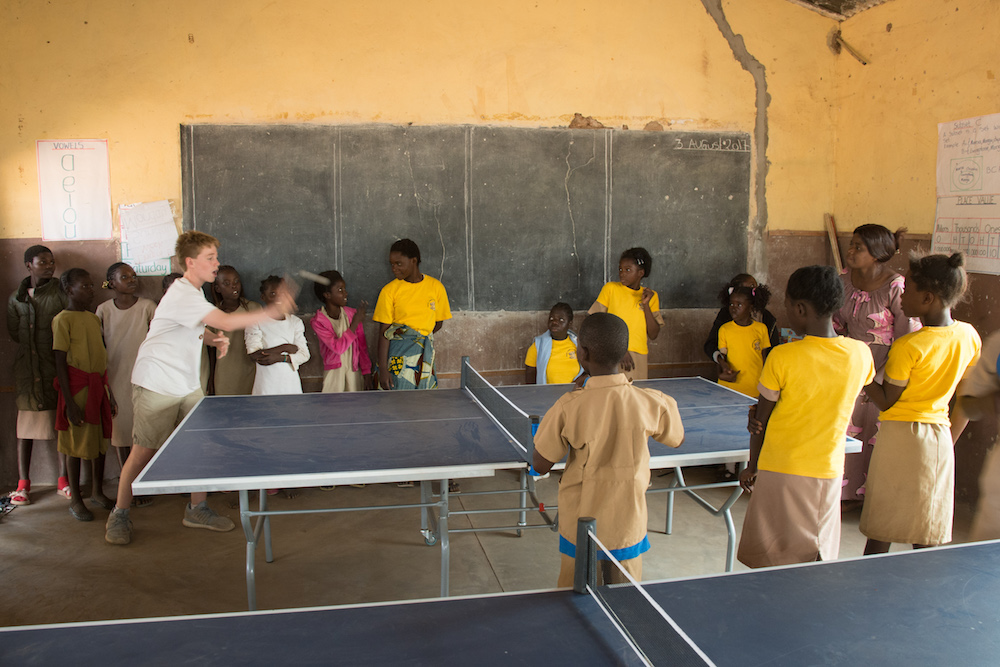 A group of girls called The Power Kittens, a girls' empowerment club, even greeted us with a welcome dance.
When you don't speak the same language, you can make friends with people through sports. That's why we brought frisbees with us as a gift for the school.  We played volleyball with the students too, and they showed us games they'd made up jumping rope.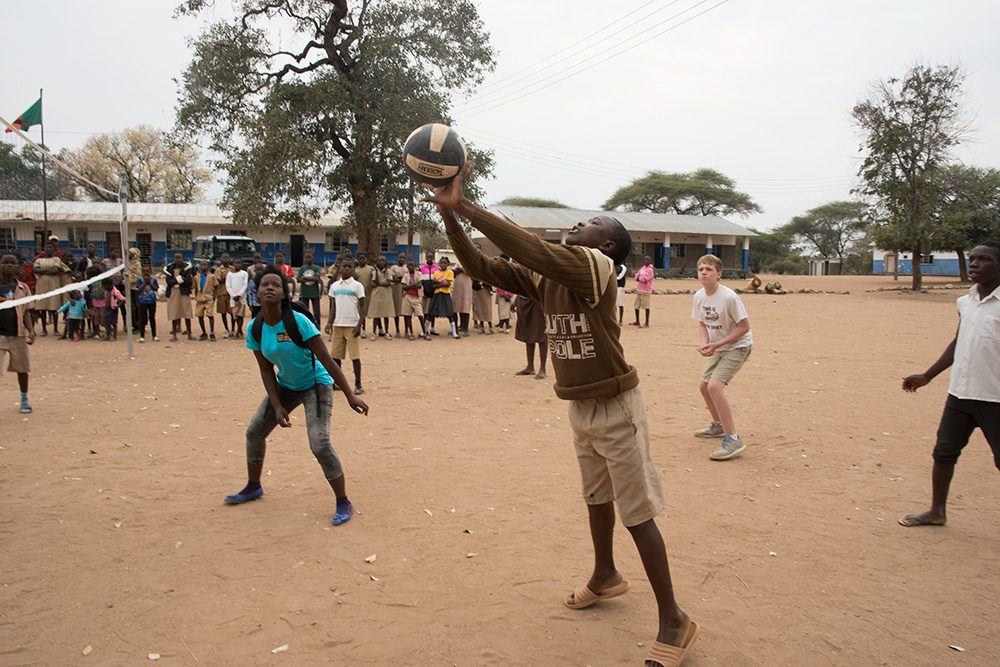 The next day we went to a church service in Chiawa. Many of the kids who went to that school attended the service. It was more fun and upbeat than the church services I had been to in the past. They sang in beautiful harmony.
Then we went to Zimbabwe and to Victoria Falls, which is one of the world's largest waterfalls.  You can really appreciate the beauty of the falls from a helicopter.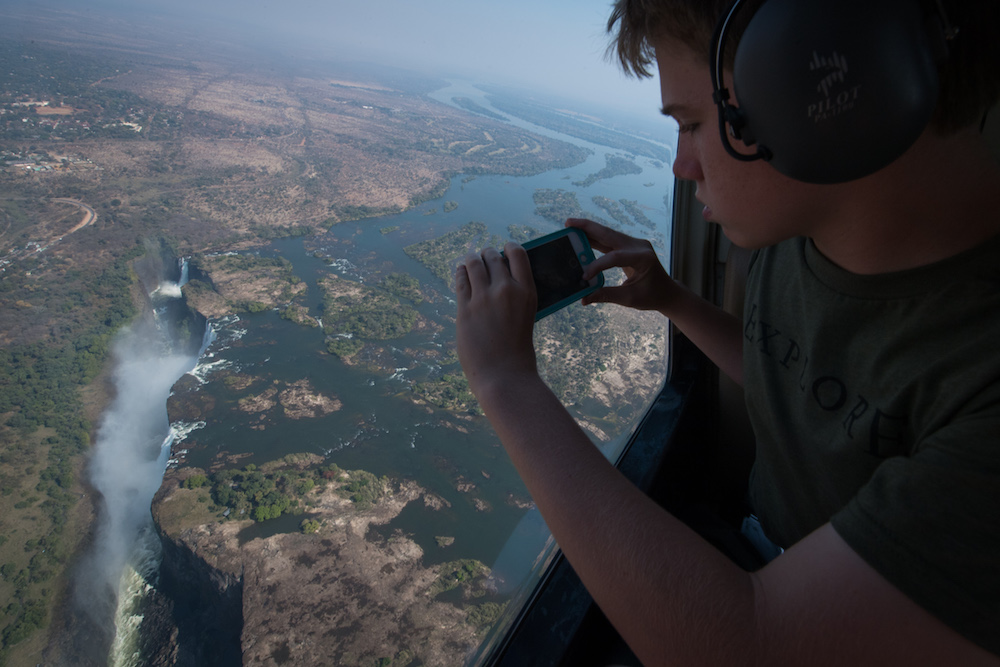 Another highlight of Victoria Falls was the Elephant Cafe, which rescues and rehabilitates elephants.  You actually get to hand-feed them. It was exciting to hand-feed peanuts to the world's biggest land animal that could kill you at any second.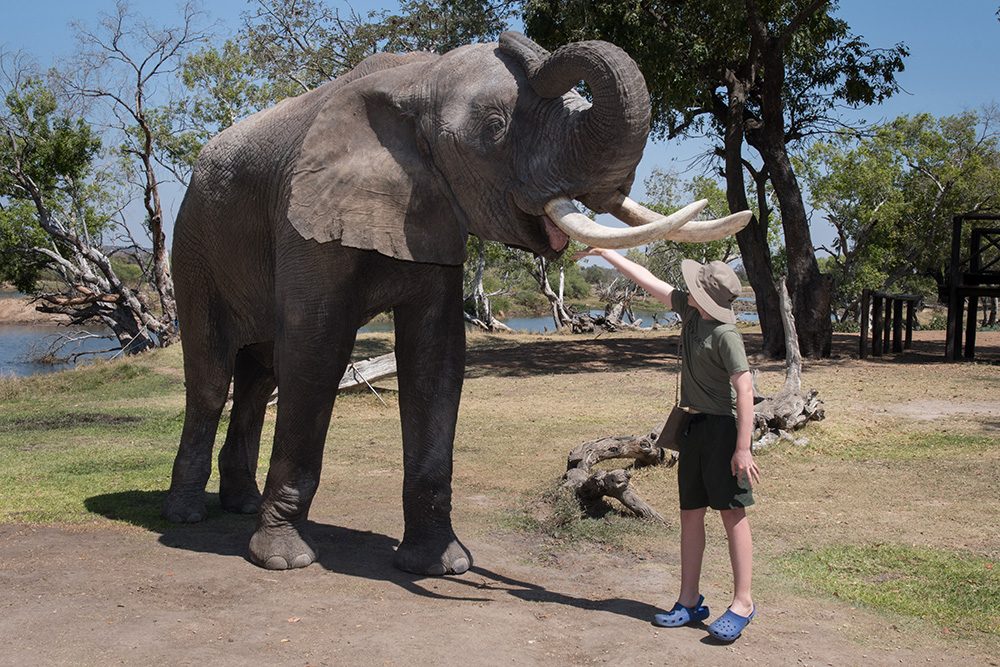 On the way to the elephants, we took a jet boat over rapids on the Zambezi river above the falls, The boat was bouncing over huge rapids, skimming the rocks, and water was flying every which way.  What surprised me was how fast a large boat could go over rapids, even when it was hitting rocks.
I got drenched in water. It was an unforgettable experience.
2. Israel and Jordan
Joe Yudin, who lives in Israel and guided us around the country, was so fun and amazing. The first thing he did was take us sandboarding in the Negev desert.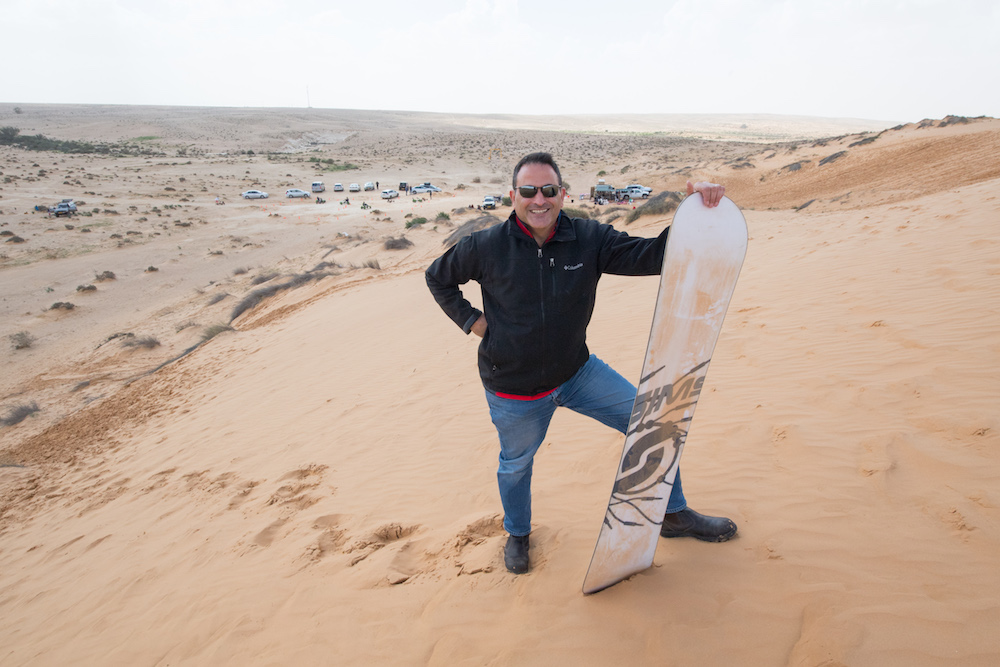 He gave us the best experiences possible, from all the religious sights to taking a powered paraglider over Masada and the Dead Sea.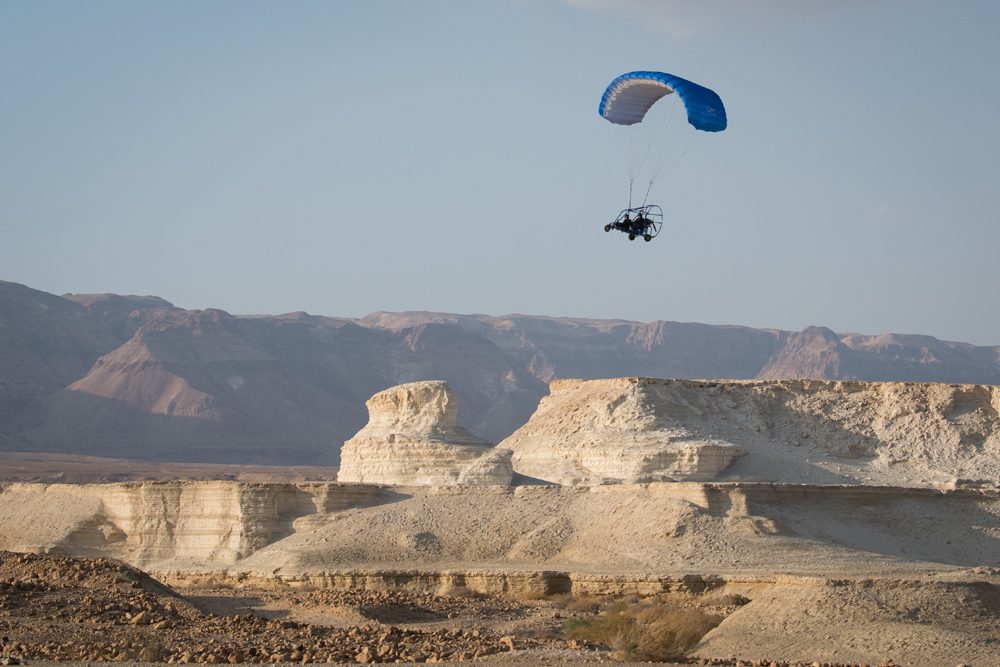 For more about the powered paraglider (and more photos and video), read my article 3 Cool Things To Do on a Family Trip in Israel.
We saw so much of the world's greatest history all in one spot. We did everything from spelunking through the buried city to visiting war zones and a secret underground bullet factory.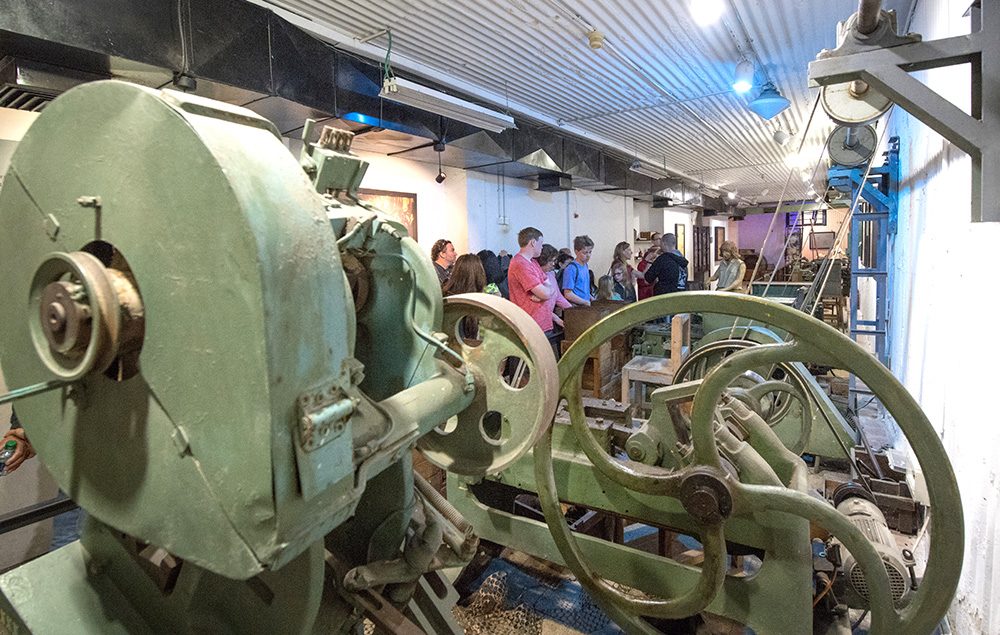 We learned about Israeli foods like all the different types of hummus, which taste like completely different dishes depending on the toppings. Food expert Inbal Baum gave us a food tour of Tel Aviv.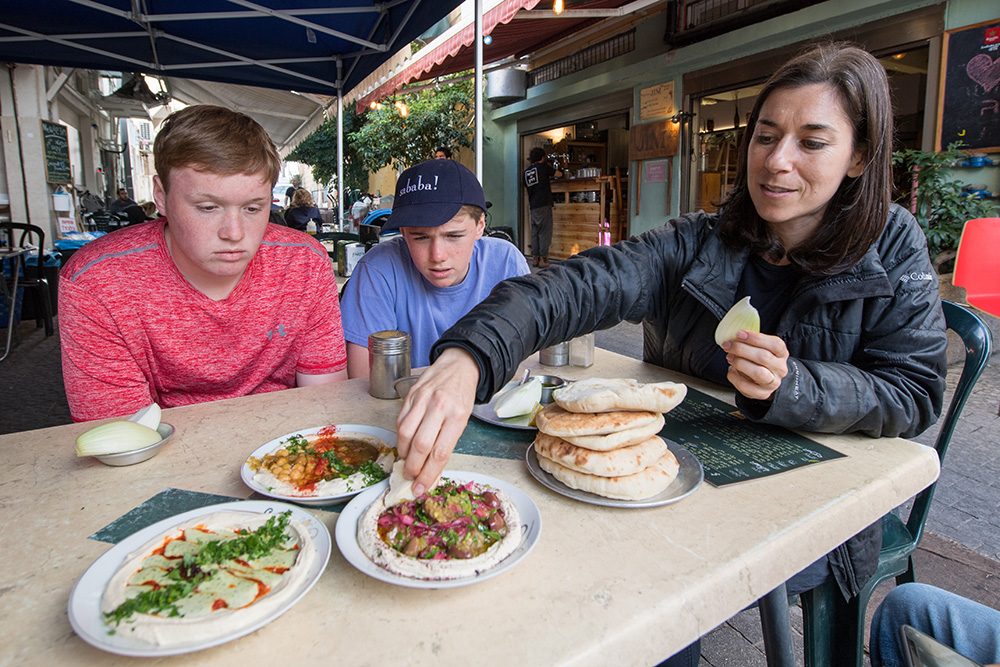 We went to markets to buy the food for an Israeli cuisine cooking lesson we had. The Mahane Yehuda Market in Jerusalem was massive, with all the smells circulating through your nose all at once.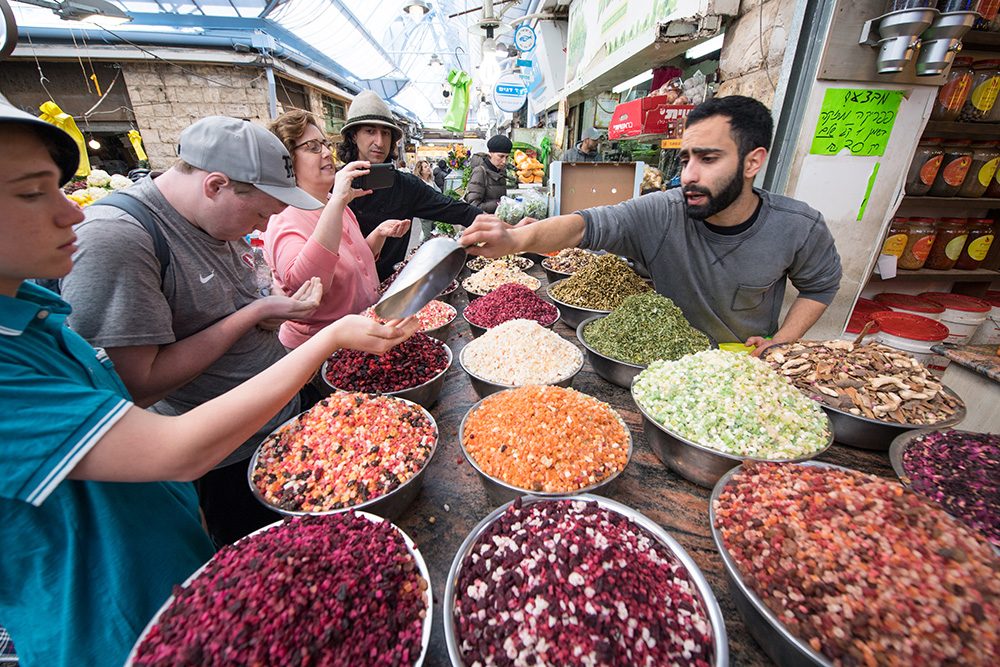 Then Chef Tali Friedman taught us how to cook the ingredients in her kitchen.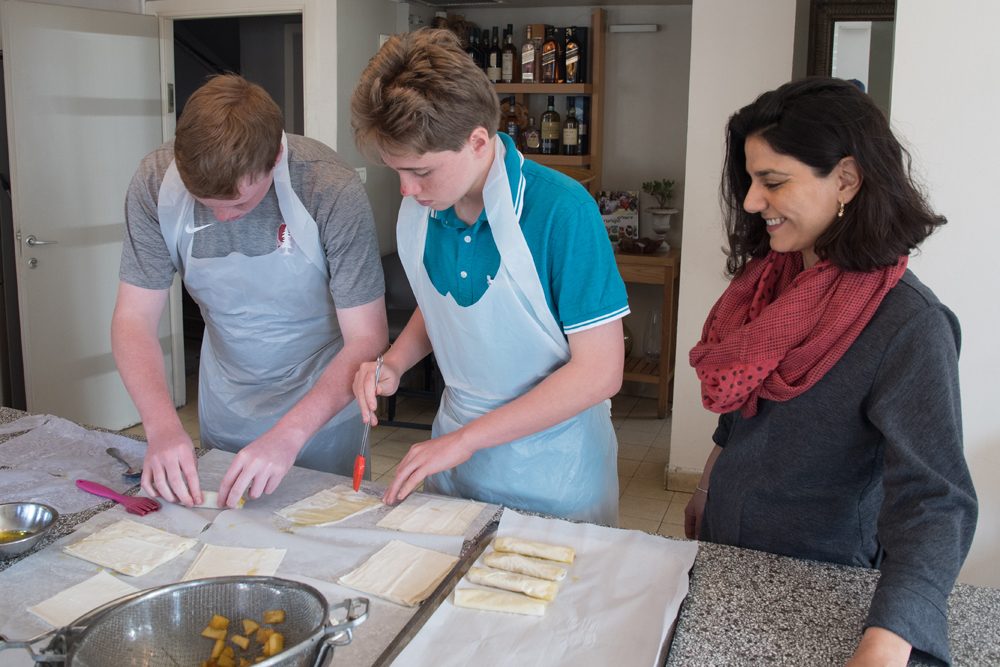 Later we went to an archeological dig site.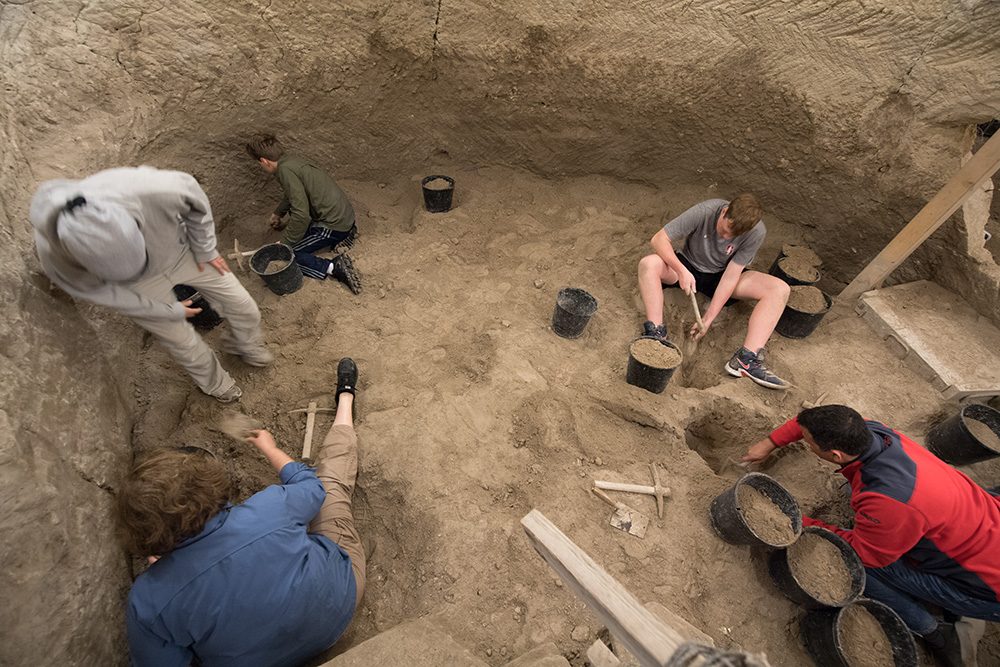 It was like the most unexpected treasure hunt.  We uncovered mostly broken pottery, but our neighbor was on an earlier trip there with her family and found jewelry, in the same spot we were digging in, that is now in a museum.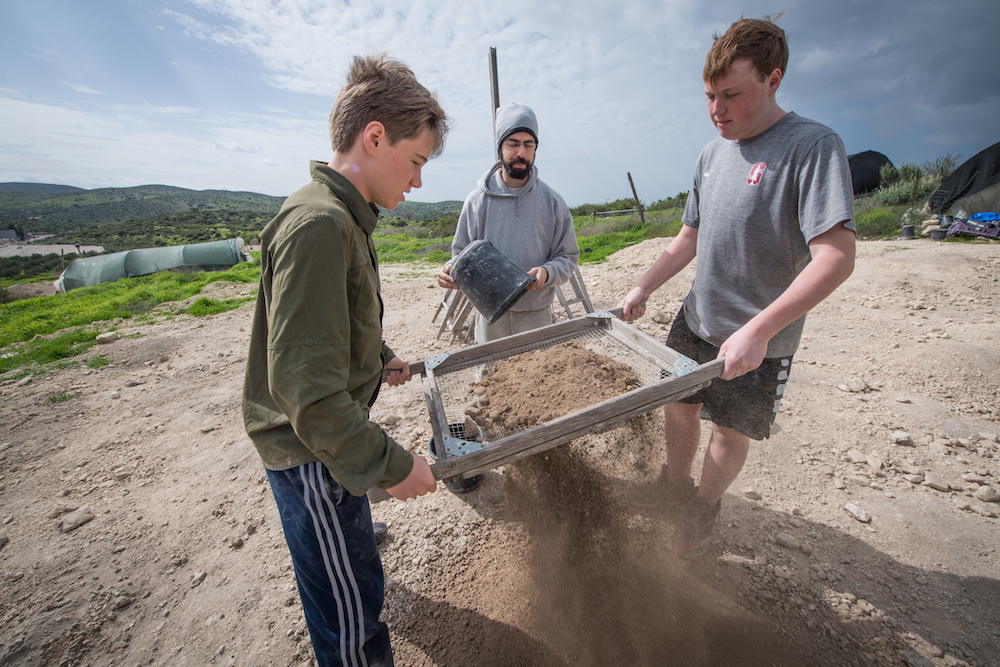 At the Dead Sea, we covered ourselves in mud, and when I went into the water it came off and it felt like my skin was reborn. Getting to float in the Dead Sea was spectacular.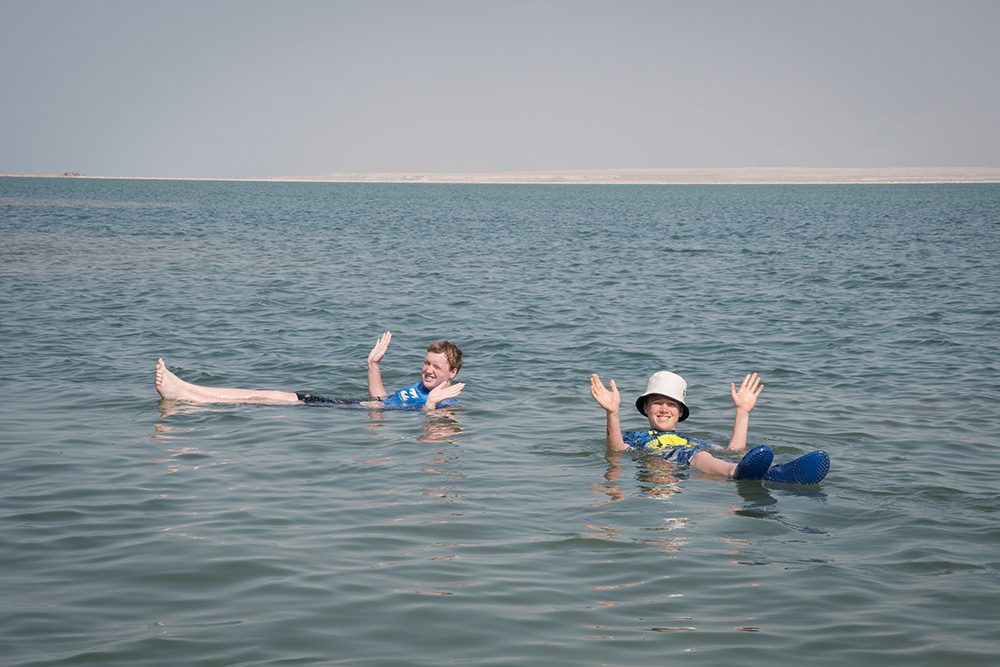 We also went to Eilat, which is the seaside city at the southern tip of Israel. We got to go scuba diving with dolphins.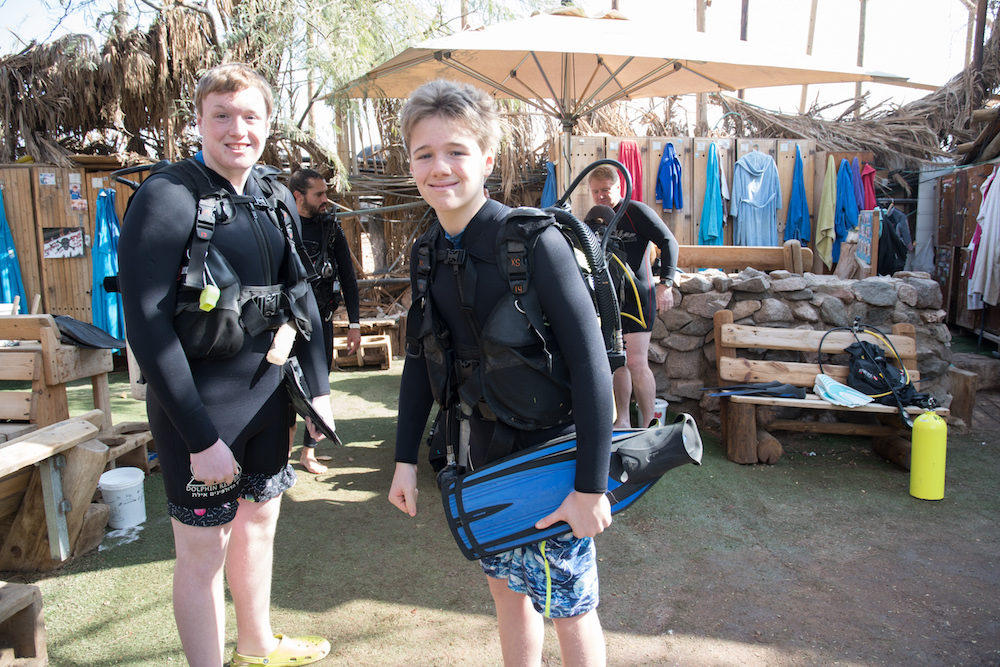 The dolphins would come up right next to us and put on a small show of their own. The cool thing was the dolphins were wild and free to swim in the Red Sea whenever they wanted.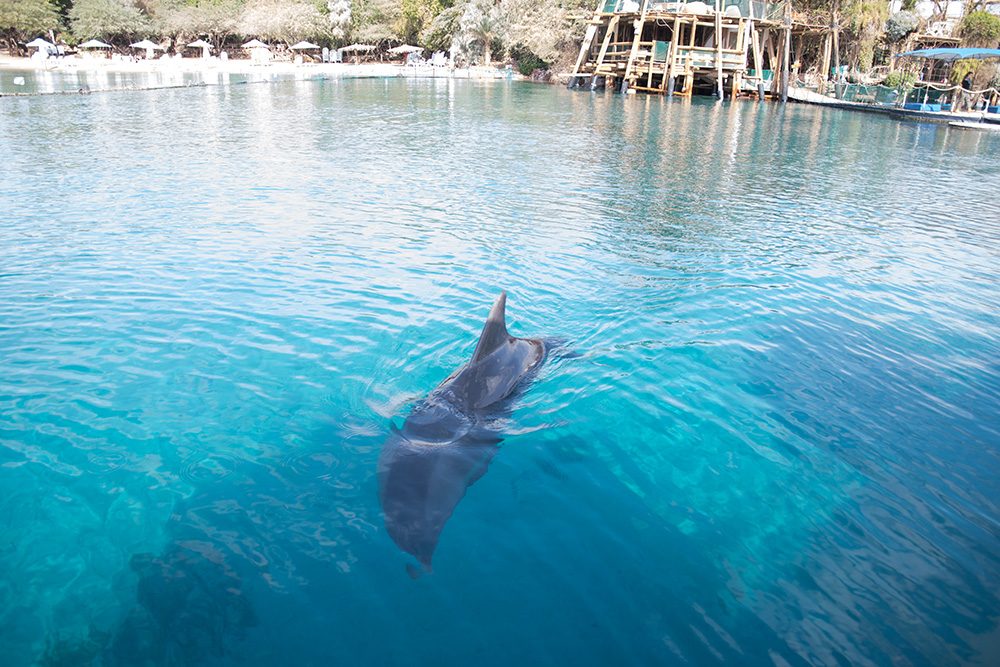 Also on that trip we took a mini two-day trip to Jordan. We wanted to see the ancient city of Petra, which is carved into a sandstone canyon.
We stayed at a hotel across the street from the entrance to Petra so we could be the first ones inside in the morning. At 6 a.m. we had the place to ourselves.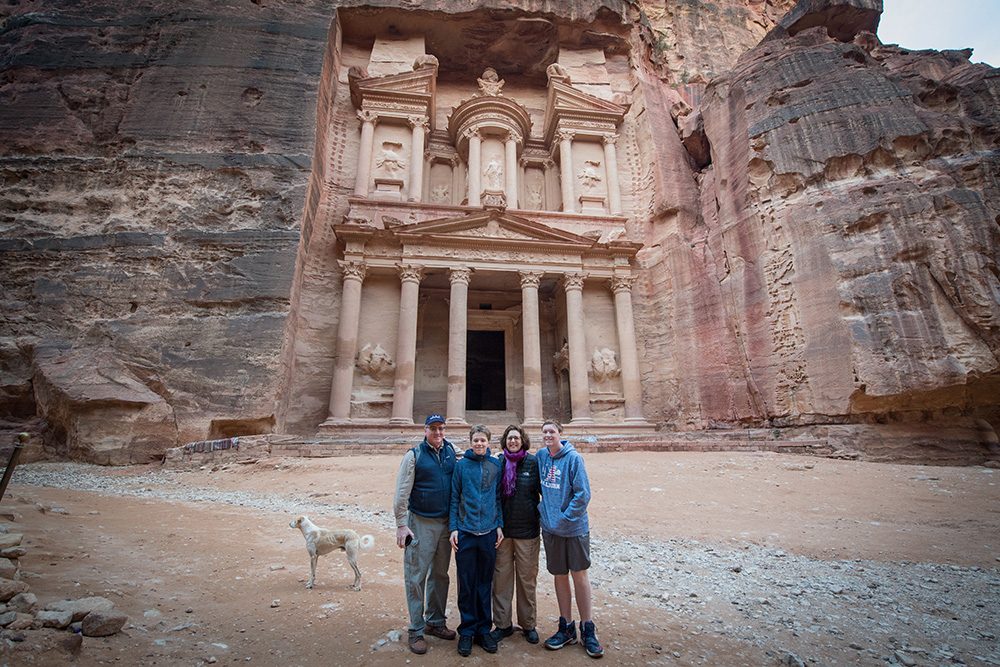 When you walk into Petra, the first thing you see is The Treasury. It is famous for being in Indiana Jones and the Last Crusade.
The city of Petra is huge. We hiked around there all day, learning about the architecture, the agriculture, and the irrigation system (they created their own aqueduct).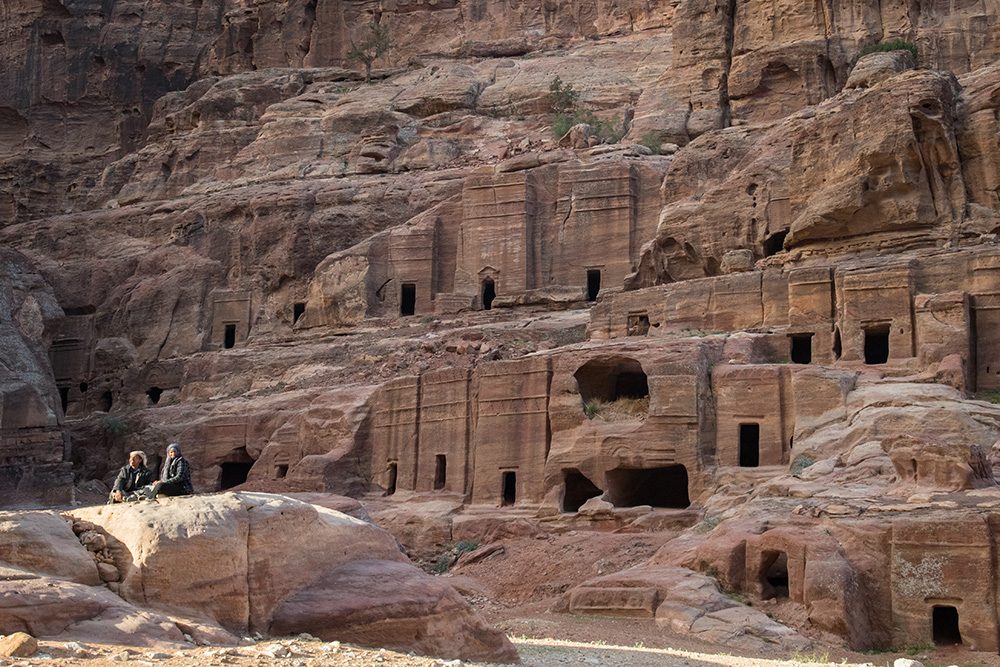 We got to see the painting on the ceiling of some of the houses and the remains of a huge amphitheatre.
Wadi Rum is nearby and is a vast desert that used to be the ocean floor.  There are random plateaus, 500 feet straight up, above the sand.  We drove around Wadi Rum in the back of a four-wheel-drive pick-up.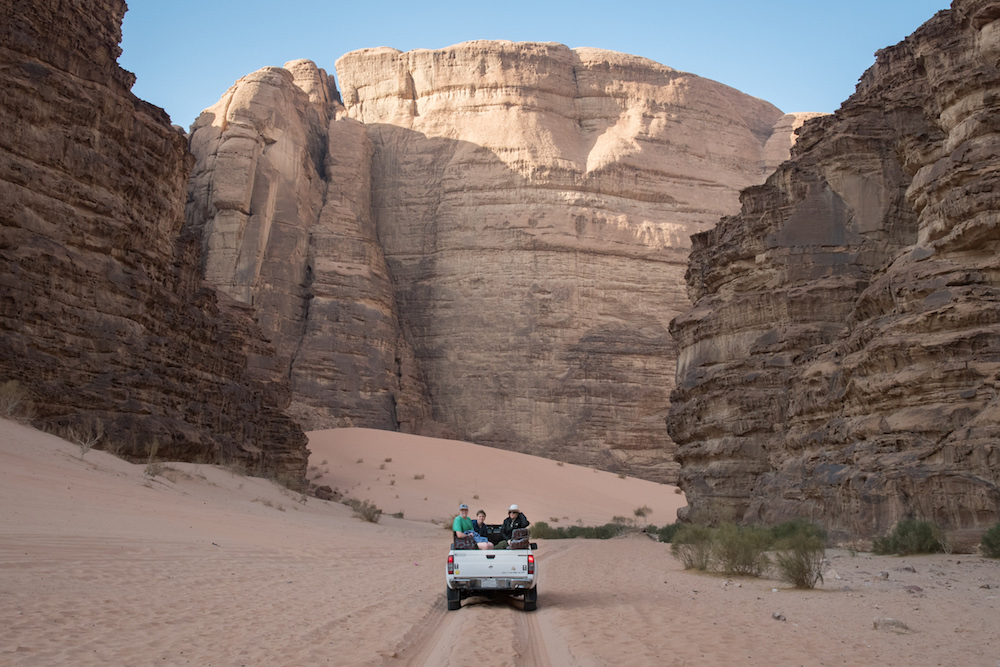 Miles of beautiful scenery. It's a landform you'll never see anywhere else.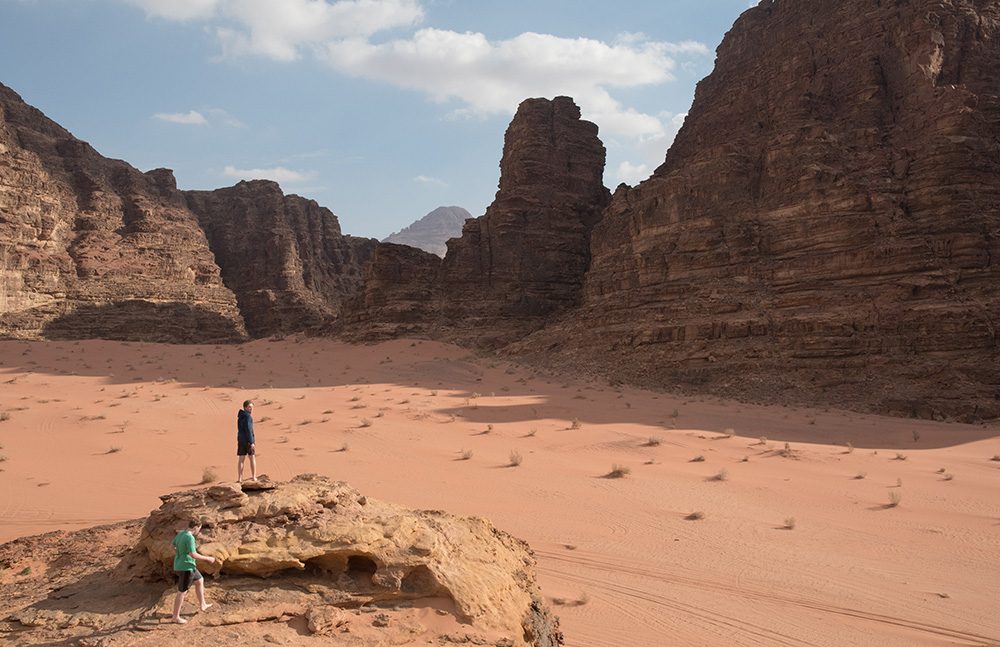 We saw where they filmed The Martian and Lawrence of Arabia.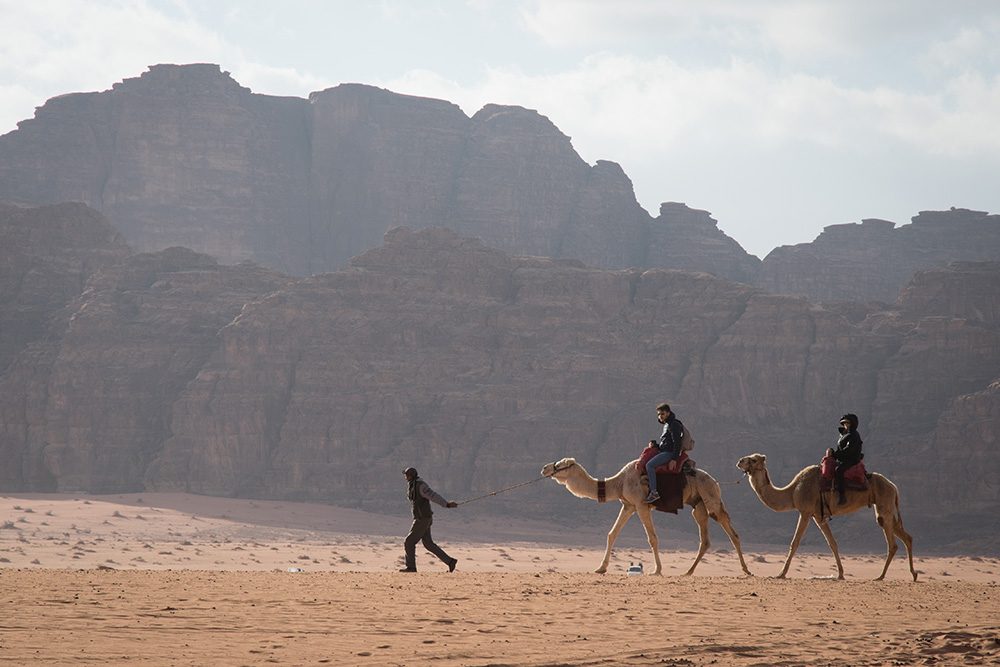 It was an all-around amazing trip.  Even if you're not religious, Israel (and Jordan) is still a trip you really should take because it has played such an important role in world history, and you really can do everything there.
3. Morocco
When we went to Morocco, we went with our family friends on a road trip all around the country.  We started off in Marrakech and ended in Fez.  Much was desert, but there was also farmland and even a ski resort.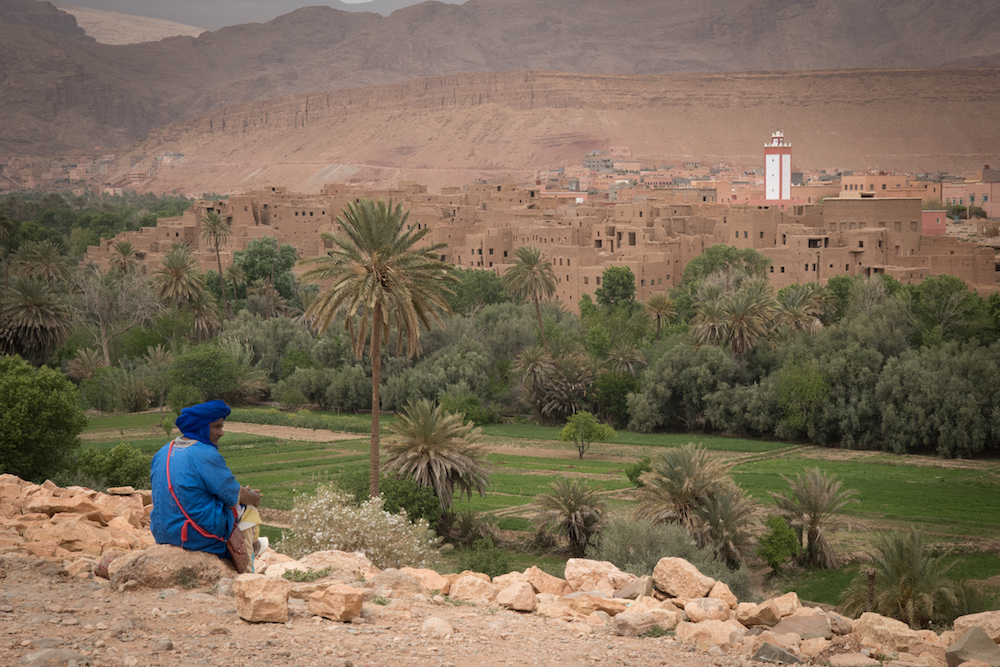 For the eight days we were there, we spent a total of 29 hours driving. On the long rides, in a nicely outfitted 12-passenger bus with Wi-Fi, we played Moroccan card games and built sites and markets we saw with Legos.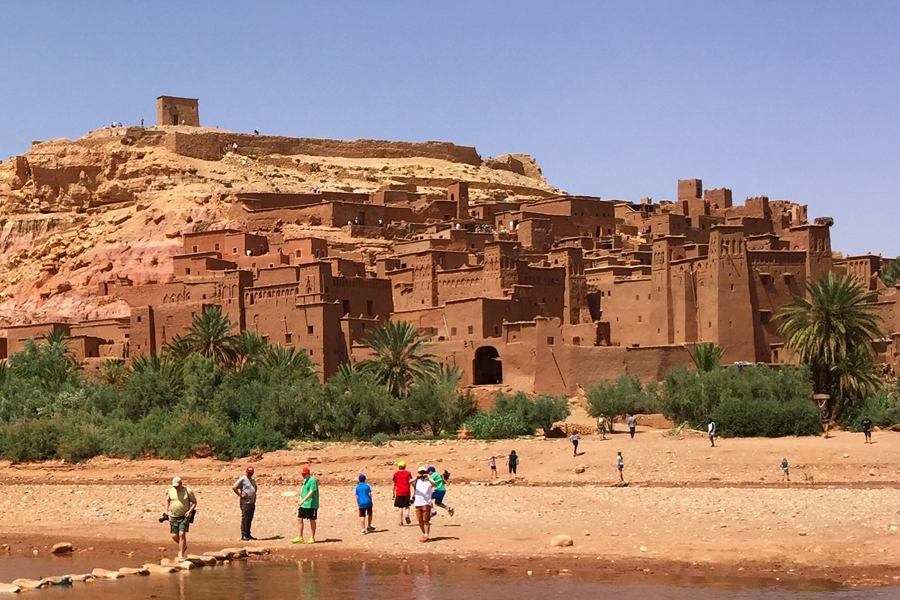 Along the way we had many great experiences, like making drums out of goat skin and making Moroccan bread at a family's beautiful home.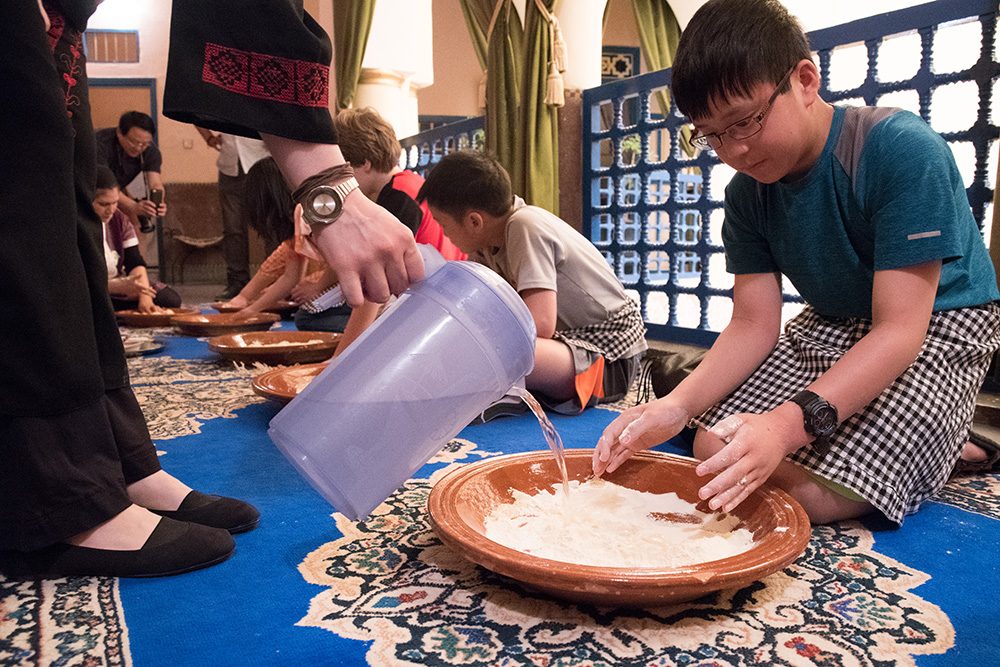 In between Marrakech and Fez, we glamped in the Sahara desert for a night and got to sleep like sultans in beautiful striped tents with real beds.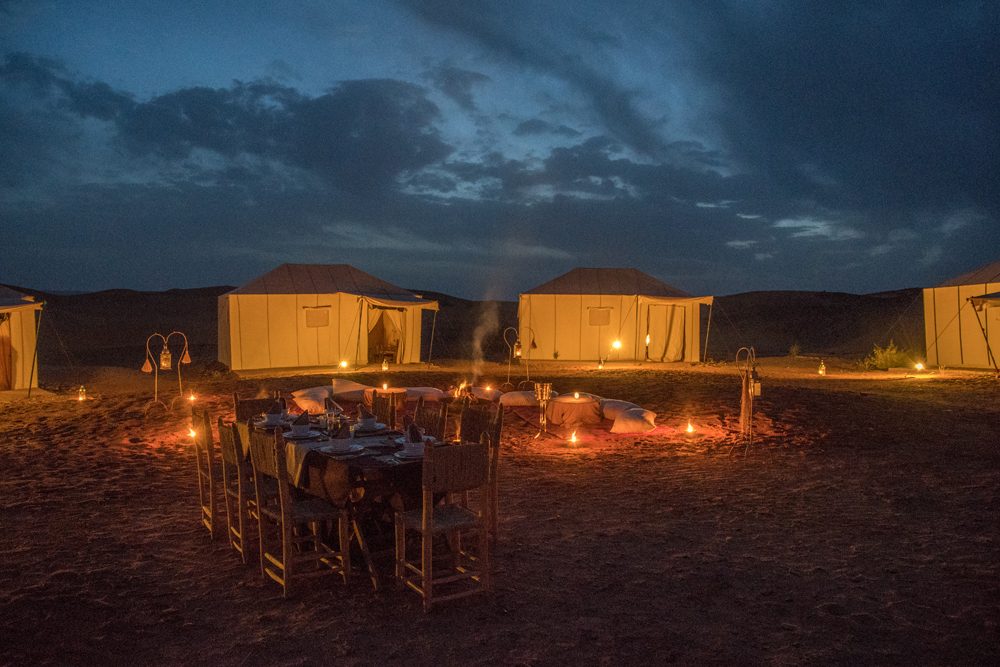 We got up at dawn for a sunrise camel ride and to go sandboarding down the dunes.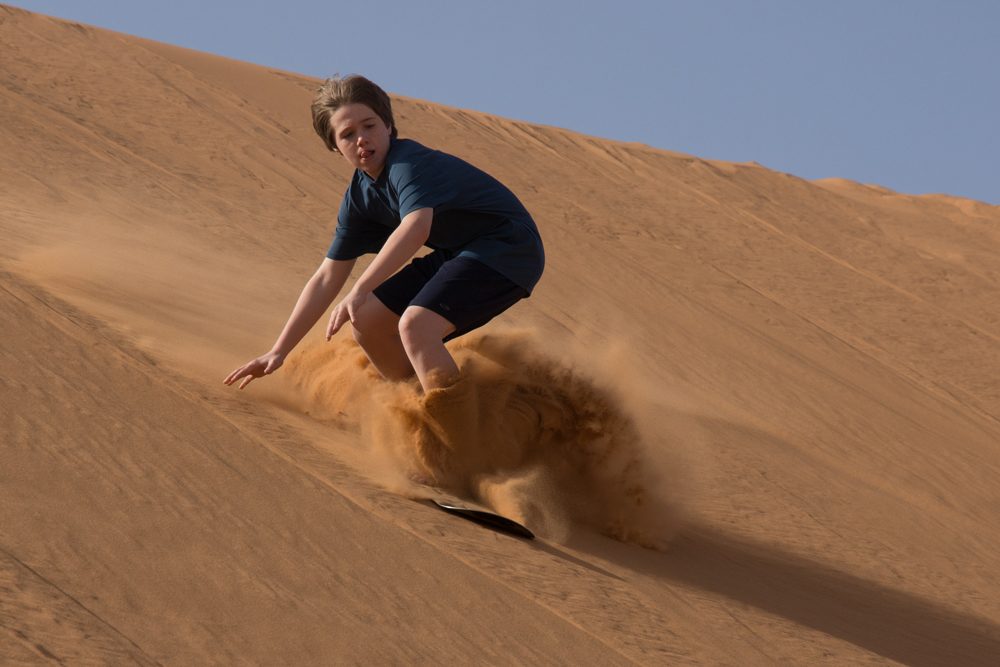 We went on a sunset camel ride too.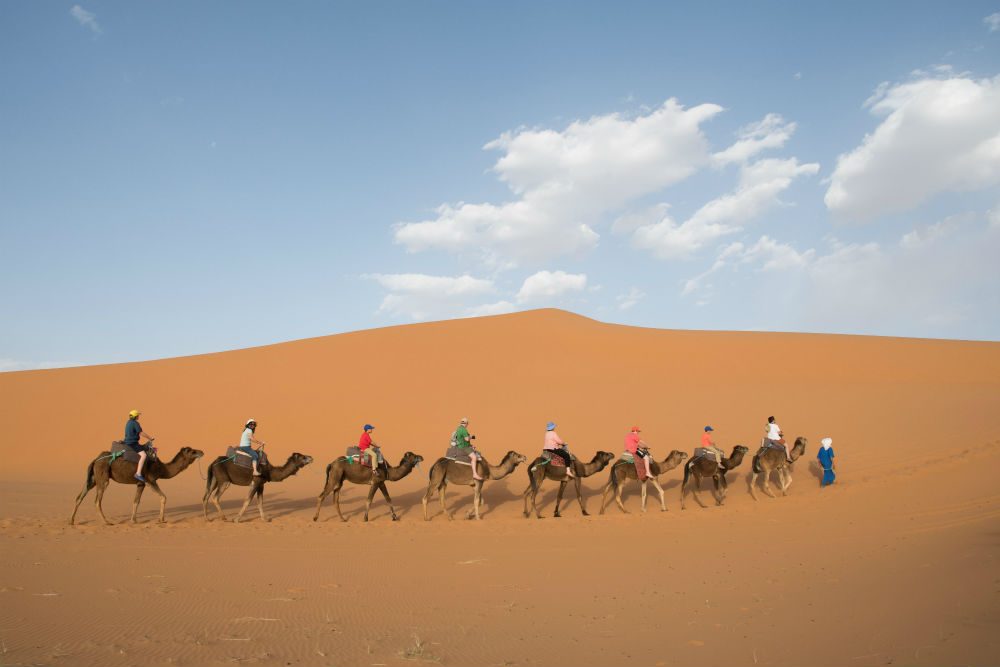 We had races running up and down the dunes. Running in such deep sand was extremely hard.  The slower you go, the more you sink.  Running at different speeds will cause the properties of the sand to be different. Running on it fast will make the sand compact quicker, so it feels like sprinting on concrete, but if you go slowly, you just sink.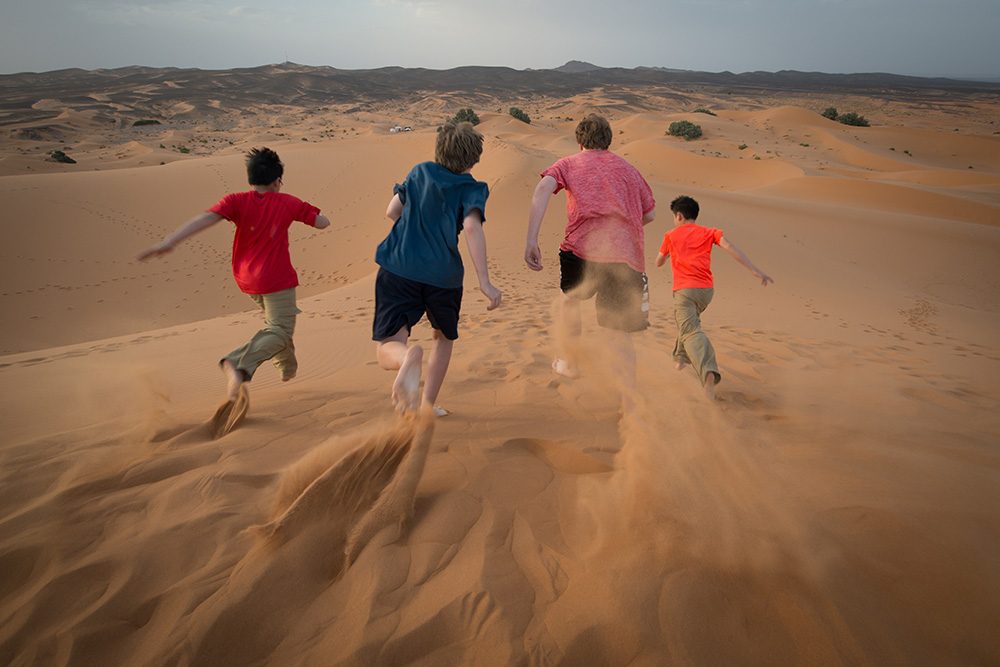 At the end of our trip we had a hammam.  A hammam cleanses your body and takes away a lot of dead skin. You have water splashed all over you. You sit in a really humid room, and then they shower you and scrub off all of the dirt and dead skin.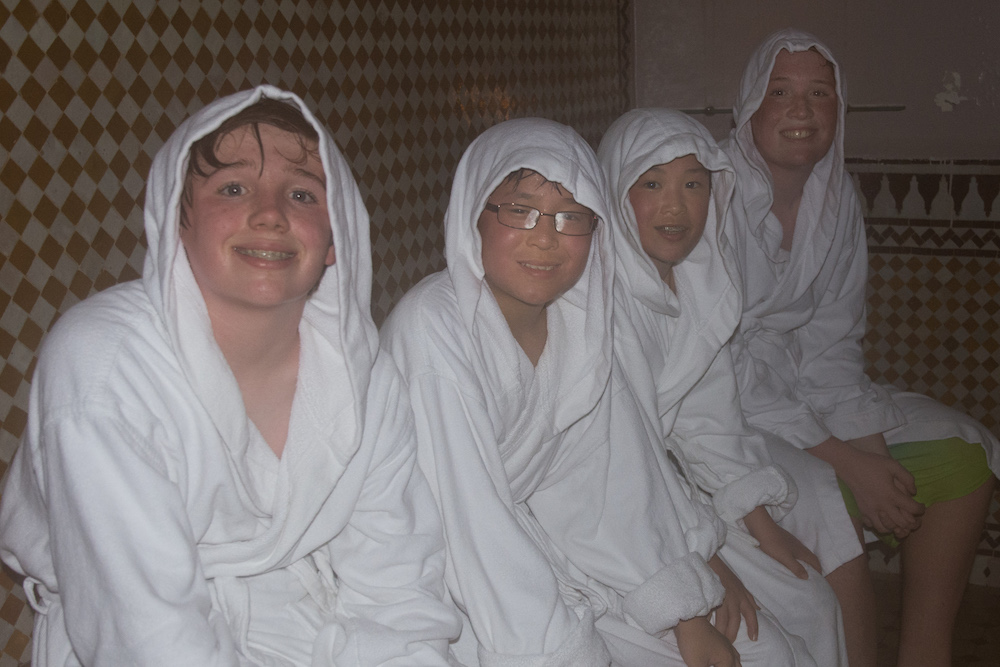 Having another family with us in Morocco added a lot to the experience.  When you travel to such an out-of-the-ordinary place, it's good to be able to share it with friends your age and get their take on it.  That trip was my first trip with these friends and hopefully not my last.
4. United Arab Emirates
The buildings in Dubai were so futuristic.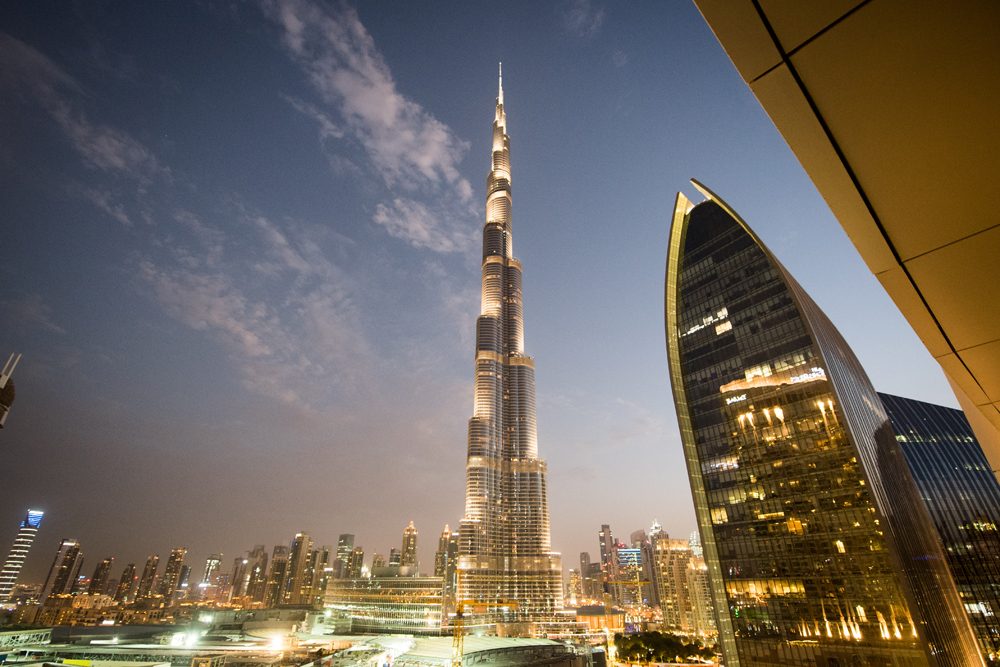 And there were million-dollar cars dotting the roads. I saw cars of famous YouTubers everywhere. I went to this car dealership called Deals on Wheels and it was amazing the type of cars that they had in stock. They had McLarens, Lamborghinis, Koenigseggs, Maybachs, and much more.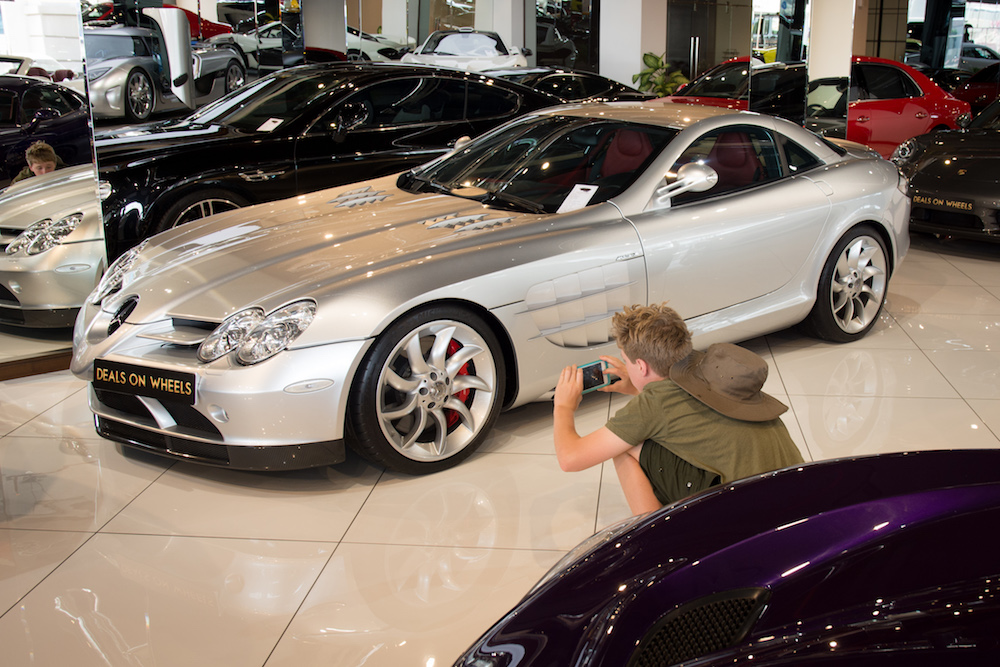 We checked out the Dubai Mall, which is the biggest mall in the world, at more than 12 million square feet. It's got more than 1,200 stores and one of the world's largest aquariums. It was all air-conditioned, which was important because we were there in August when it was 115 degrees.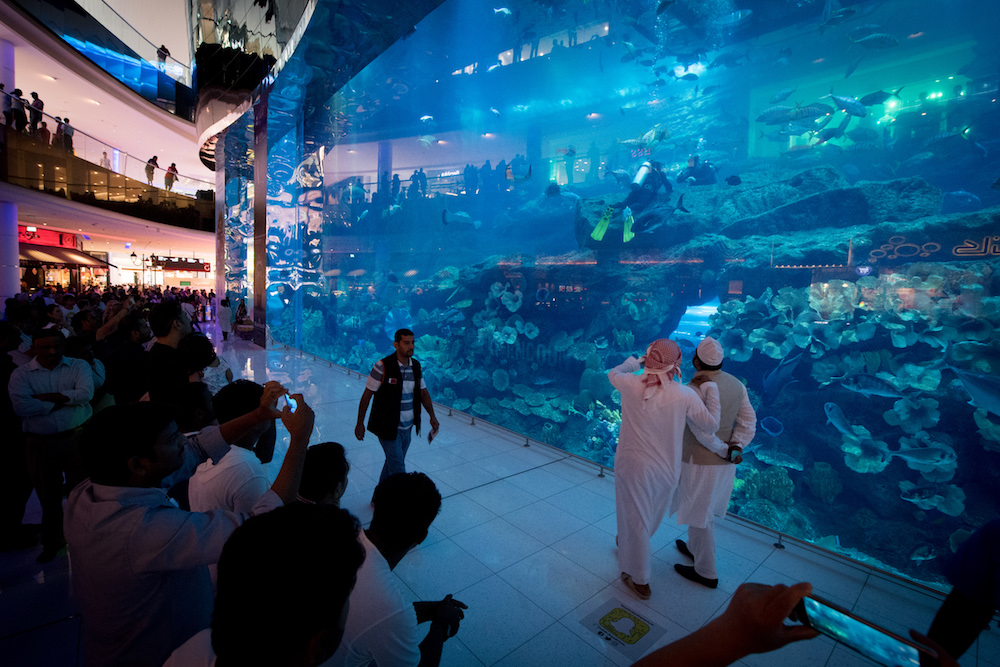 We also went to the Abu Dhabi desert for a couple of nights. We stayed at Qasr al Sarab, a desert resort where the cast of Star Wars: The Force Awakens stayed when filming. It looks like a huge Crusader castle in the middle of nowhere.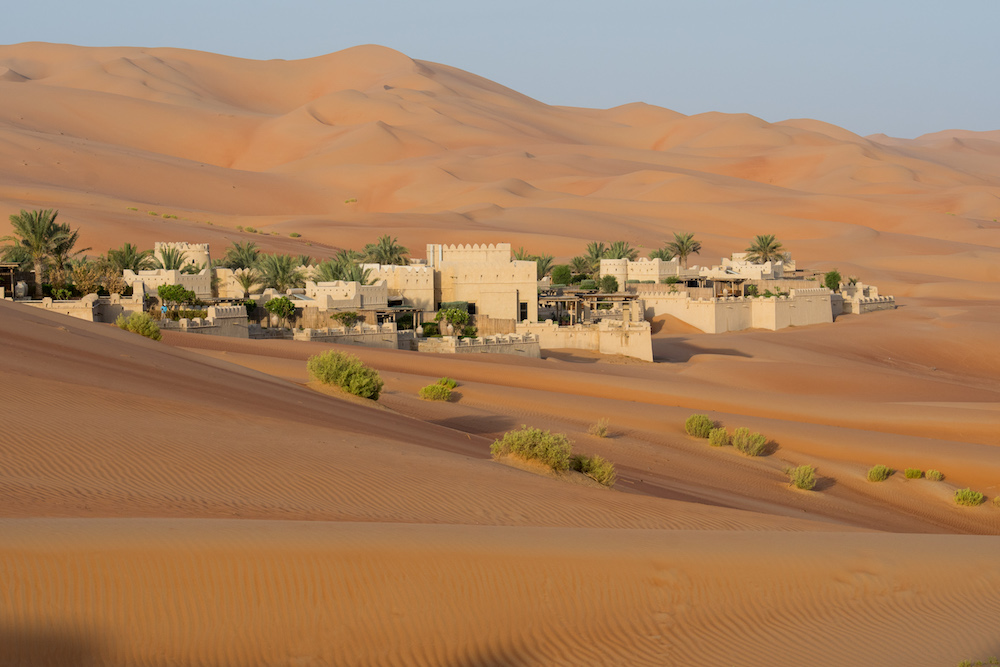 When I stepped outside to go sandboarding, the desert was scorching.  We walked about a half mile up a dune and the heat was so extreme that the boards didn't even work. When the sand is that hot, it gets sticky. It was sticking onto the board so much that the board couldn't really move.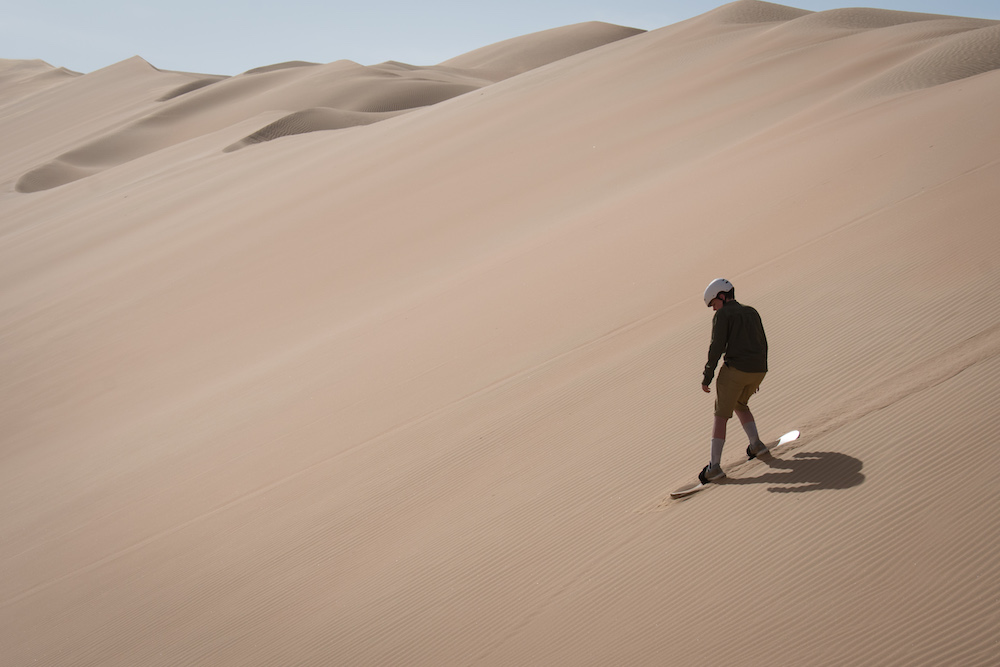 When I got back into the hotel, I felt so faint from the heat that I had to throw up. Fortunately, each villa had its own private plunge pool to cool off in.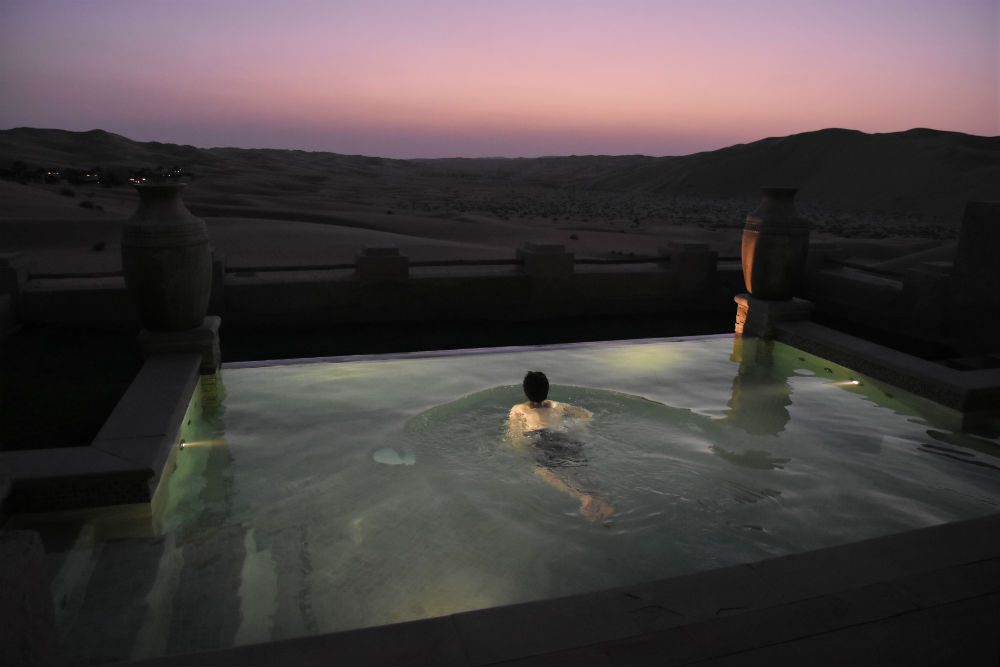 Every time I go to a desert, I go sandboarding and I also ride a camel. My favorite sandboarding and camel riding were in the Sahara desert, but it's important to try them everywhere because they're always different.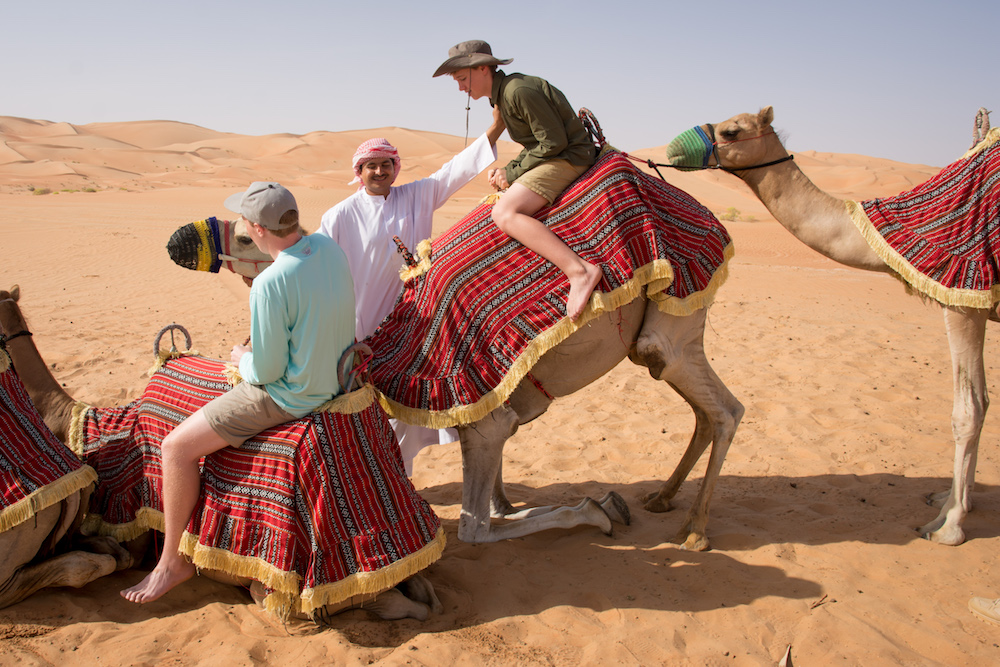 Between Dubai and the Abu Dhabi desert, we stopped at Ferrari World, which is a Ferrari-themed amusement park. As a car lover it was a dream for me. I got to sit in a real Ferrari and even drove a racing Ferrari simulator.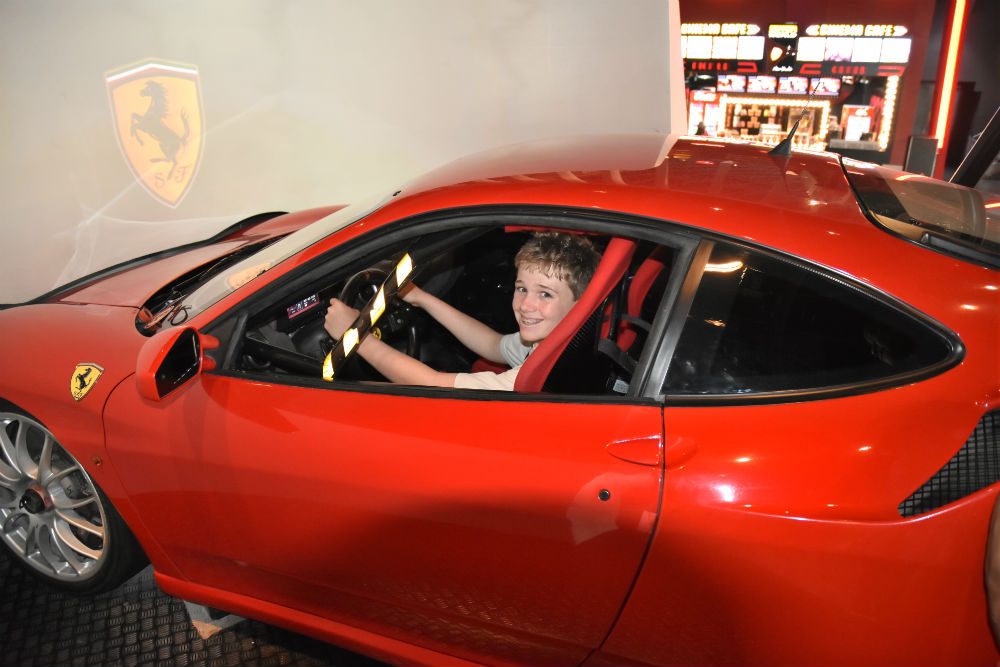 There was also the fastest roller coaster in the world, topping out at speeds of 150 mph in 4.9 seconds. They give you goggles (which you need) and put you on it. The coaster is definitely a 10 out of 10.
After the desert, back in Dubai, we stayed at the Burj Al Arab, which is one of the world's nicest hotels. It's built to look like a sail.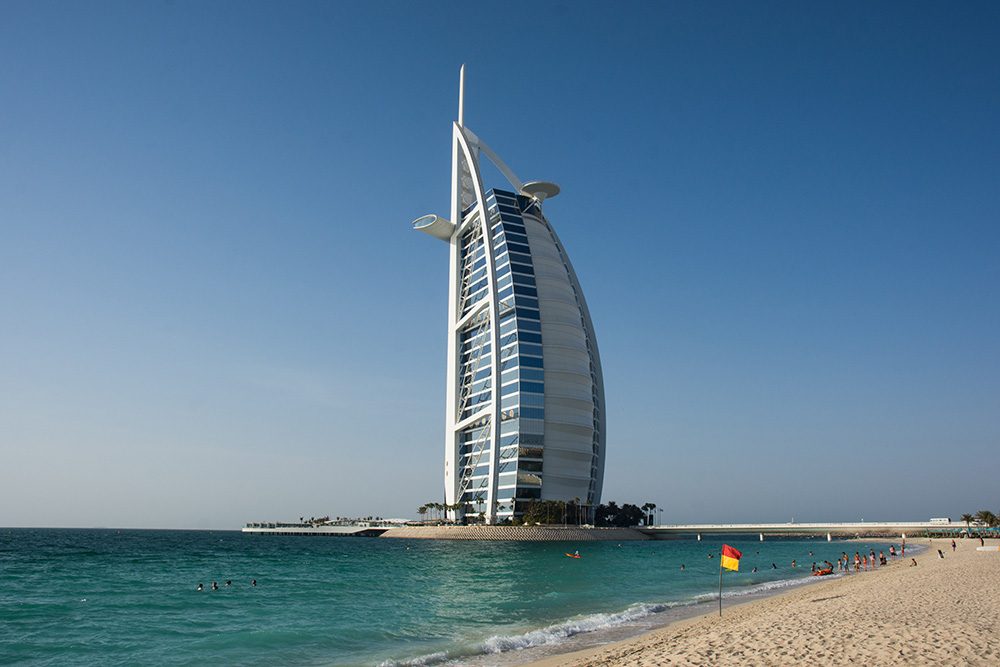 It's next to a water park belonging to a sister resort next door, and if you stay at one of those hotels you get free admission.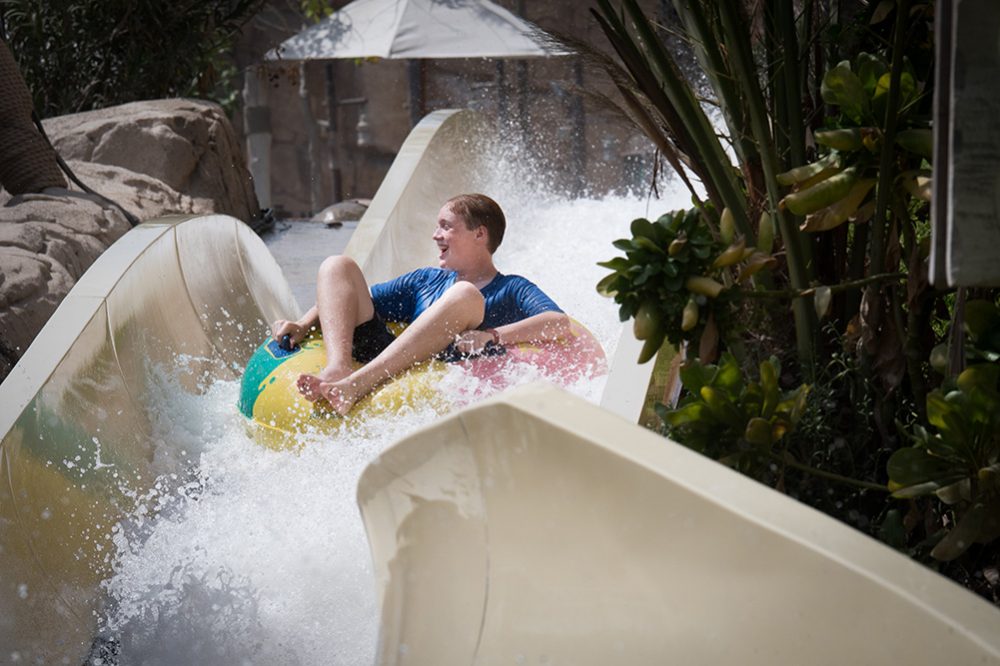 Mom's friend and her two kids around our age came to visit.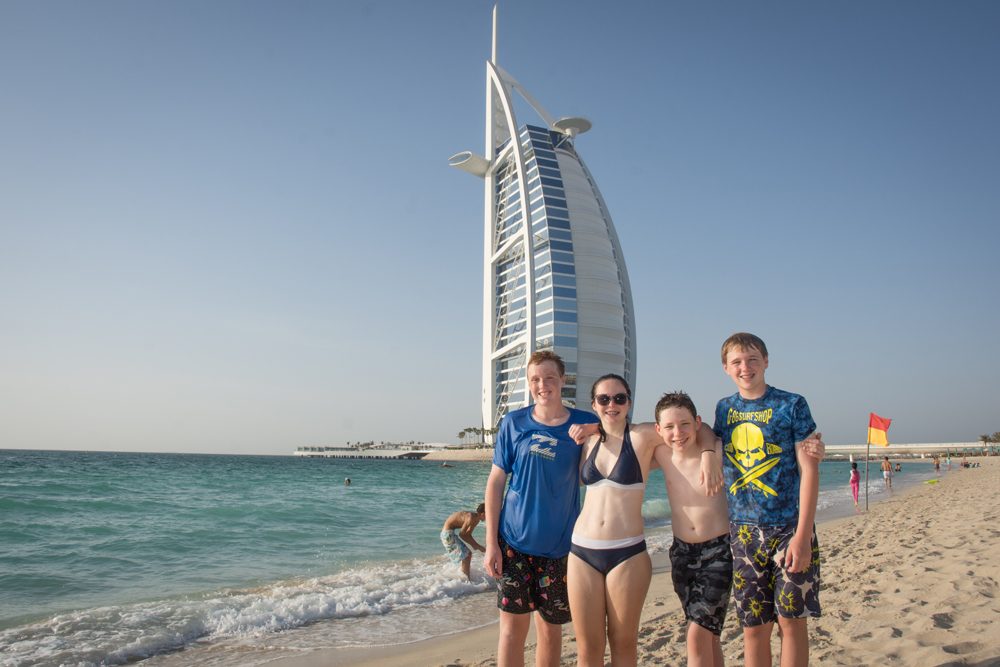 We played in the ocean and then went to Black Tap Dubai, which is a place that makes the most over-the-top milkshakes, which were phenomenal. That night we had dinner in a restaurant in the Burj al Arab that has an aquarium in it with lots of fish, sharks, and a few eels in the middle.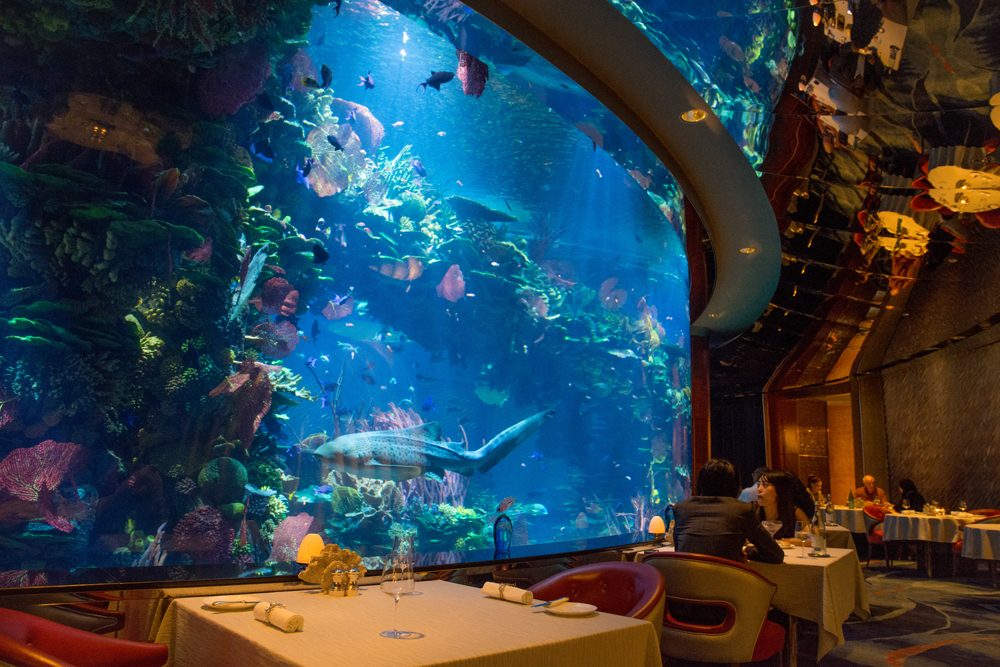 There's really no other place in the world like Dubai.  I would love to go back to the United Arab Emirates someday.
5. Sri Lanka
Even though it was such a long plane ride to get there, Sri Lanka was phenomenal.  The country has unique tropical animals I'd never seen before. At one hotel, we came back from dinner to find banana peels all over the floor of my parents' room. Monkeys had jumped through the window, found the fruit basket, and peeled and eaten the bananas.  They had no interest in the other types of fruit and left them behind in the basket for my parents!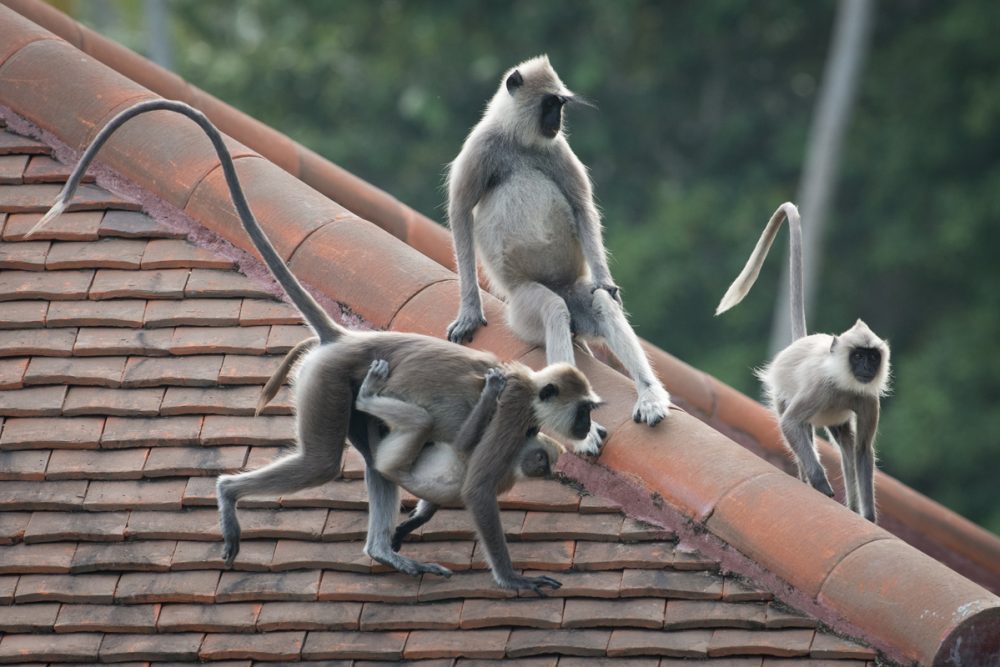 Sri Lanka has a culture that is totally different.  In our effort to learn about Buddhist culture, we went to a sacred rock temple that is one of the highest Buddhist temples in Sri Lanka.  It was a very steep hike up 670 feet to the top of the rock.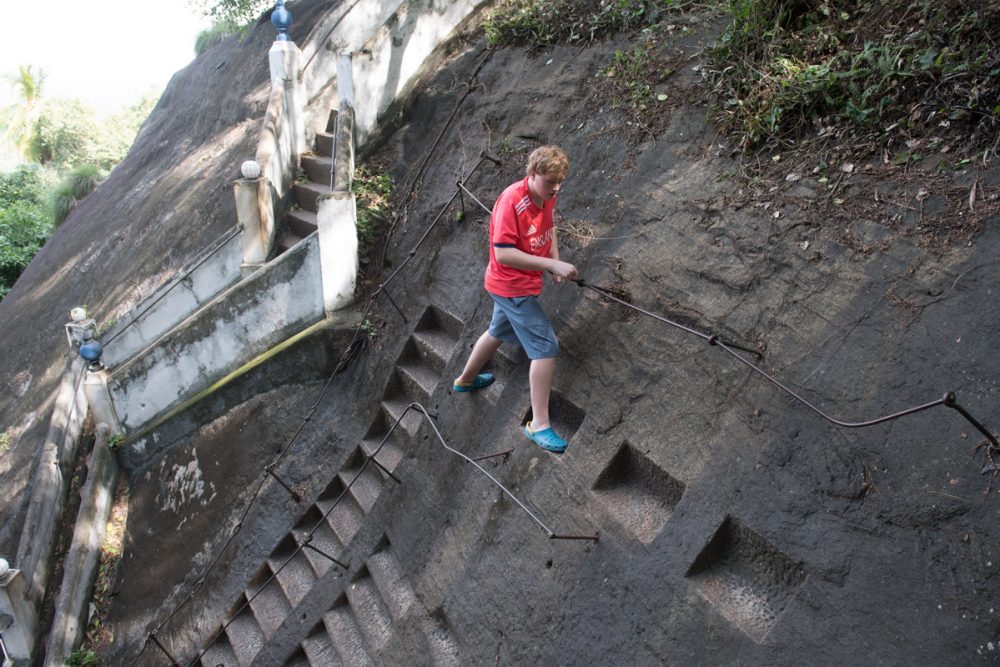 At different levels on the way up, we saw giant Buddha statues.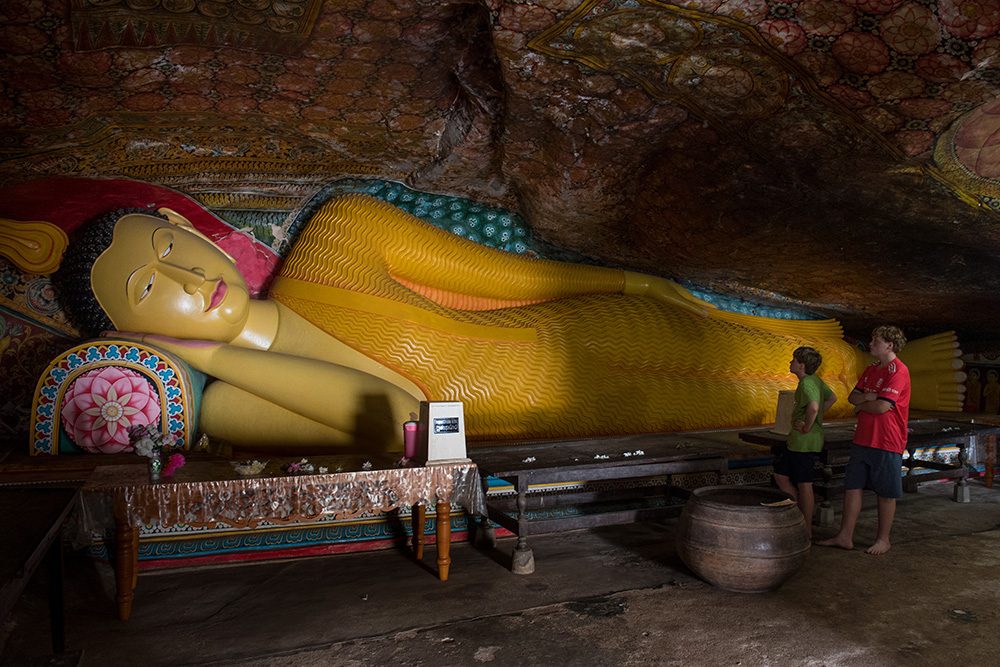 At the top of the rock, we received a blessing and a lesson about the colors of the Buddhist flag and what they mean.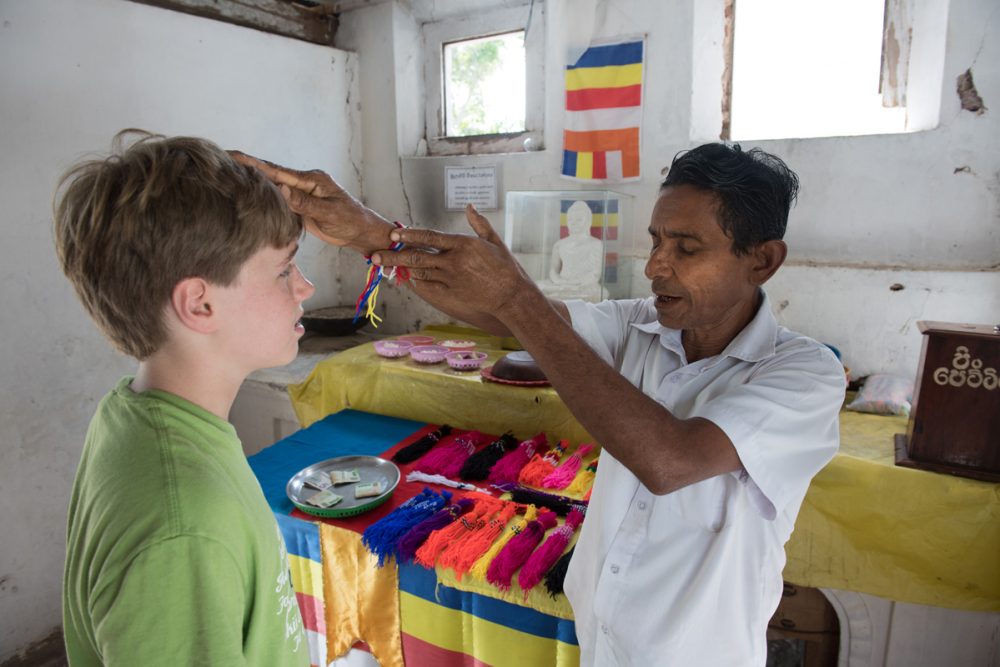 But the best part of the trip was when we spent Christmas Day at The Rainbow Centre. The Rainbow Centre is a school for kids who are in extreme poverty and can't afford an education. The students are picked up by bus every day, then washed, fed, and taught basic schoolwork.
The second we got there, we were greeted with happy smiling faces and a traditional dance that they put on for us. We hung out with the kids for a long time and played many games with them—like Rounders, Musical Hat (this is like Musical Chairs, except with a hat), and Draw the Tail on the Elephant. One of the blindfolded girls holding the marker accidentally marked my nose instead of the elephant!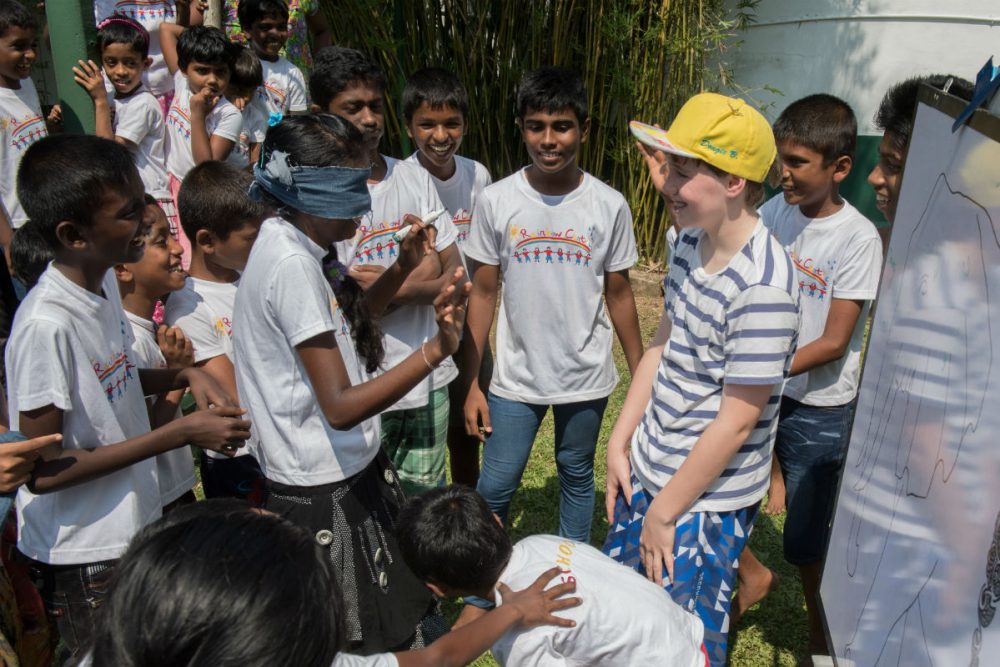 You can read more about our day at The Rainbow Centre, and see more photos and videos, in my article What Your Kids Get Out of Giving Back.
When we got back to the hotel, there was a man playing Santa—who probably weighed 90 pounds—riding a wave rider on the lagoon outside. He came and visited all of us kids staying at the hotel and gave each one of us a special present based on things we were interested in. It was definitely my most memorable Christmas!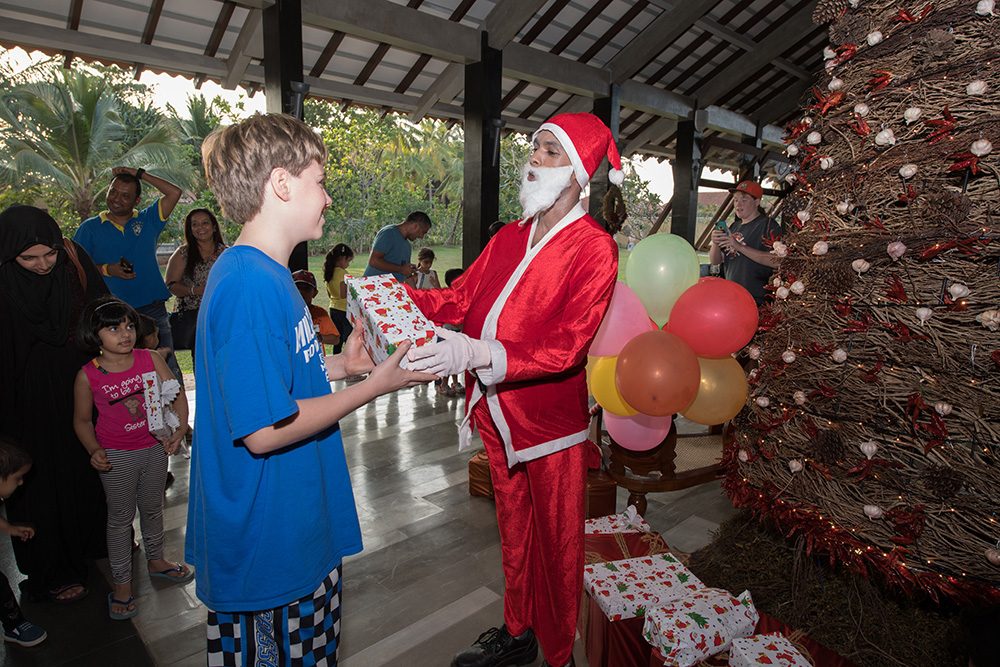 The next day we went to an elephant orphanage where they rehabilitate injured and orphaned elephants. One of the elephants had to have a prosthetic leg made out of wood and strapped to his knee. He was able to move around and had plenty to eat.  Watching the baby orphaned elephants was very funny because they were only a few weeks old and learning how to walk, and they didn't understand how to use their trunks yet, so their trunks kept flailing around randomly. It was so funny to watch.
Then we went on a safari in a jeep and saw dozens of big elephants in the wild.  They were so strong that we watched one of them uproot an entire grown tree just to be able to eat a few mangos off the top of it. That was amazing to watch.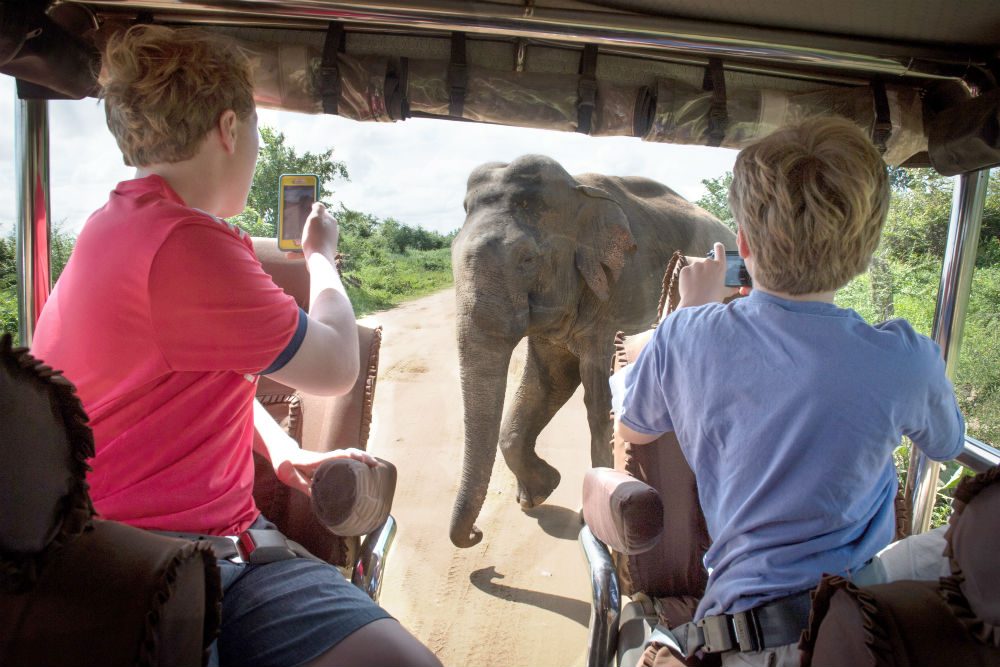 If you're trying to figure out where to take your own kids for an unusual trip, I'm happy to make suggestions. Just click on the black button below and ask for a reply from Doug.
This article was updated in March 2023. It was originally published in 2020.
Be a smarter traveler: Sign up for Wendy's weekly newsletter to stay in the know. Read real travelers' reviews, then use the black CONTACT buttons on Wendy's WOW List to reach out to the right local fixer for your trip.