The insider advice on this page is from one of Wendy's Trusted Travel Experts for southern Africa: Cherri Briggs of Explore Africa.
Cherri—who splits her time between homes in Zambia and Colorado—has spent the past 25 years combing the African continent to create unique travel experiences: canoeing the Zambezi; galloping on horseback with zebra and giraffe across the Okavango Delta; scuba diving off Mozambique; and exploring the remote corners of Ethiopia, Gabon, Madagascar, Cameroon, and the Congo Basin. She and her trusted deputy, Katie McDonough, ensure that clients—both private travelers and groups—enjoy excellent value and a smart selection of lodges and camps in Southern and East Africa. Cherri serves on the boards of several African conservation organizations, and she selects lodges that support local communities and invest in conservation. In 2013 she was appointed Honorary Consul to the USA by the Zambian government, and in 2014 she became the first non-citizen appointed to the Botswana Tourism Organization.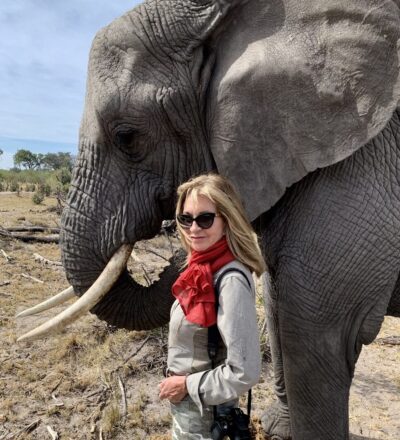 Camps and Lodges
Best-value accommodations
Zimbabwe is fast becoming known as the best value in the African safari world: Compared to equivalent camps in Botswana, you'll typically pay 25 to 40 percent less in Zim (as it's known). Cherri often combines Zimbabwe with Zambia, which is also on the more affordable end of the southern Africa spectrum. A high-quality safari anywhere in Africa comes at a price, as it's increasingly expensive to maintain wildlife areas, but when it comes to game viewing, quality accommodations, and authentic cultural experiences, Zim is on a par with its far pricier neighbors.
Khulu Bush Camp is in a great location on the edge of Hwange National Park; if you don't mind a bumpy road, you can drive there from Victoria Falls, which is much more affordable than a charter flight to a more remote camp. This boutique lodge, comprising just 11 accommodations, sprawls across the Sable Valley. The expansive grassy plain attracts an abundance of varied wildlife: cheetah, lion, leopard, Cape-painted wild dogs, and huge herds of buffalo and sable. Elephants also abound in this region. Delightful and spacious thatched chalets offer all the creature comforts, and a pizza oven near the pool is a hit with kids. Safari experiences range from open-top vehicles to guided walks to wildlife-spotting from a hide overlooking a watering hole.
For an eye-popping contrast, Amalinda Lodge, is in the UNESCO World Heritage Site of the Matobo Hills, just 45 minutes from the southern city of Bulawayo. Wedged into breathtakingly beautiful gigantic granite boulders, the main lodge has nine bedrooms of various sizes and layouts, while the Homestead offers a private, fully contained space for a family of six. Matobo is the country's oldest national park, and millennia ago it was a shelter for San Bushmen. Go rhino tracking by open vehicle or on foot, or change up your day with a visit to a local Matebele village, enjoying their kind and gracious welcome and hospitality. The resident sangoma, a traditional healer, will throw the bones for you to foretell your future. Visit the local school, clinic, and orphanage, all funded through the ongoing social programs supported by The Mother Africa Trust, which gets support from the lodge.
Visitors to Victoria Falls will be enchanted by the boutique Palm River Hotel, a newcomer and a calm oasis on the banks of the Zambezi River just 2.5 miles upstream from the falls. On a clear day, you can see the spray of the falls from your bedroom and hear the thunder of water crashing over the precipice. The Riverside Dining Experience showcases an authentic African barbecue dinner under the night skies; the occasional hippo, elephant, or buffalo may wander by to give their seal of approval. Enjoy a sunset cocktail at the outdoor bar while soaking up the tranquility of the river flowing past, or enjoy your cocktails on a boat cruise with a few other guests. Keen birders can do a very early guided walk in search of the rare species that call this river region their home.
The Northern Zimbabwe wildlife circuit offers some perfect wildlife gems, and this region remains one of the less-traveled areas; due to lower tourism volumes, visitors can enjoy a true sense of wilderness. Cherri loves Bumi Hills Safari Lodge, located on a hill in a private conservancy overlooking Lake Kariba. This boutique lodge has ten beautifully appointed suites, each boasting breathtaking views across this dramatic expanse of water that attracts a wide variety of Africa's big game. Boat rides and fishing in the massive lake are possible, as are game drives along the water's edge—which is always alive with elephant, buffalo, and other residents—or a visit to a local village.
Safari accommodations worth the splurge
Renowned conservationists, filmmakers, and National Geographic Explorers in Residence Dereck and Beverly Joubert run Mpala Jena Camp. The camp is located on the Zambezi River just upstream from Victoria Falls and reached by a game drive through the Victoria Falls National Park or by private helicopter transfer directly from the airport—the latter giving you the ultimate bird's eye view of the cascade on your way to camp. In addition to the four guest tents, each with their own wrap-around decks and plunge pools, there is a two-bedroom suite that is perfect for families or those wanting a bit more privacy.
At Wilderness Safari's Linkwasha Lodge, contemporary luxury tents provide the highest level of comfort and style found anywhere in the bush: food, wine, service, and wildlife guiding are all five-star. The lodge is in the company's massive private concession inside Hwange National Park, home to a dense population of rhinos, elephants, lions, leopards, cheetahs, and wild dogs.
If budget isn't an issue, fly into Singita's remote and spectacular Pamushana Lodge, located in a 130,000-acre reserve bordering Mozambique's Gonerezhou National Park. Zimbabwe's most luxurious lodge provides critical support for the conservation of this fabulous wilderness area by working closely with communities. It would take two full days to drive here from Hwange; the easiest and least expensive access to this remote area is via one of Singita's regular scheduled charters from South Africa.
Best safari options for families
Hwange's Somalisa Camp, a classic-style safari camp with zip tents on decks, offers outstanding value for quality. The newer Somalisa Acacia is more contemporary and luxurious than its older sister, with big canvas chalets, but both have great staff, food, and guides. Acacia is also kid-oriented, with two multi-bedroom family tents, an elephant drinking pool, and guides specially trained to captivate your children. The Somalisa lodges are in the heart of the territory where the pride once led by the famous Cecil still roams, and these stunning lions are often seen on game drives or heard calling when hunting near camp at night. And at both properties, the tents are strung out from the public areas, so your choice of accommodations generally depends on your personal preference of convenience versus privacy. Cherri can reserve the most senior guides for her travelers, and she can sometimes arrange for a private vehicle at no extra cost.
Families also love private traditional tented mobile safaris with Kazuma Trails, which is run by Dave Carson—one of the most experienced Zimbabwean guides. It's the ultimate bonding experience to be out in a remote portion of Hwange with just a fire and a few lamps to see in the dark.
Best for thrill seekers
Victoria Falls certainly qualifies as Africa's adventure epicenter, and one of the top five in the world. If you want to burn some adrenaline, spend a few nights here. You can choose from several ways to throw yourself into the 333-foot-deep Zambezi gorge: bungee jump off the Vic Falls bridge, fly through the air on the gorge swing, or rappel off the canyon rim. Or risk it with one of the most incredible Class V rafting experiences in the world: Batoka Gorge takes you through 22 rapids in just a few hours, and offers a good chance of a long swim in the Zambezi at no extra cost!
Of course, it's also possible to enjoy magnificent Victoria Falls without jumping off a cliff. You can spend an afternoon walking the one-and-a-half-mile rim of the falls, with numerous dramatic viewpoints (bring your raincoat), or book a helicopter for the eagle's view. The Victoria Falls Hotel is an African icon that has seen history pass through its doors since 1904. Cherri can arrange for an upgrade if space is available; both the Baines and Songwe suites have views of the magnificent Batoka Gorge, and you can hear the thunder of the falls from these rooms.
What to See and Do
Don't miss
Visit Hwange National Park (the country's largest park, covering an area the size of Belgium) for a classic African safari: spectacular Big Five game viewing, bush walks with Zimbabwe's world-renowned guides, sleeping under the stars, watching elephants up close from the safety of a hide.
Delve into the history and culture of Zimbabwe at Matobo National Park. Learn about the historical tribal wars and recent colonial incursions (Cecil Rhodes is buried here), or visit one of the villages of the Matabele people to have your fortune told by a traditional sangoma.
Stay at the historic Bumi Hills Safari Lodge, perched high above Lake Kariba, which has recently been entirely refurbished. Activities include fishing, game drives, visiting local villages, or cruising on the privately operated luxury houseboat Matusadona.
Hidden gem
The Jouberts (see "Safari accommodations worth the splurge," above) have also opened a more traditional safari circuit in a very remote part of the Lower Zambezi—not to be confused with the Upper Zambezi, which is about 90 minutes away by charter plane. The private, 300,000-acre Sapi Reserve expands the protected area of the adjacent Mana Pools World Heritage area. This is a stunning, very wild area; from May through mid-November, you can spend two nights each at three camps inside the reserve, which are limited to six guests at a time.
Bragging rights
Cherri loves to arrange genuine and authentic cultural exchanges for her travelers. Whether you'd like to share a meal with a Zimbabwean family, join some school kids for a friendly soccer match, make jewelry with the village grandmothers, visit a medical clinic, or help in the local garden, she can make it happen. Or indulge yourself with a Champagne lunch on a private island on the Zambezi.