The insider advice on this page is from one of Wendy's Trusted Travel Experts for Southern Africa: Cherri Briggs of Explore.
Cherri—who splits her time between homes in Zambia and Colorado—has spent the past 25 years combing the African continent to create unique travel experiences: canoeing the Zambezi; galloping on horseback with zebra and giraffe across the Okavango Delta; scuba diving off Mozambique; and exploring the remote corners of Ethiopia, Gabon, Madagascar, Cameroon, and the Congo Basin. Her obsession with all things safari ensures that her clients (both private travelers and groups) enjoy excellent value and a smart selection of lodges and camps in Southern and East Africa. Cherri serves on the boards of several African conservation organizations, and she selects lodges that support local communities and invest in conservation. In 2013 she was appointed Honorary Consul to the USA by the Zambian government, and in 2014 she became the first non-citizen appointed to the Botswana Tourism Organization.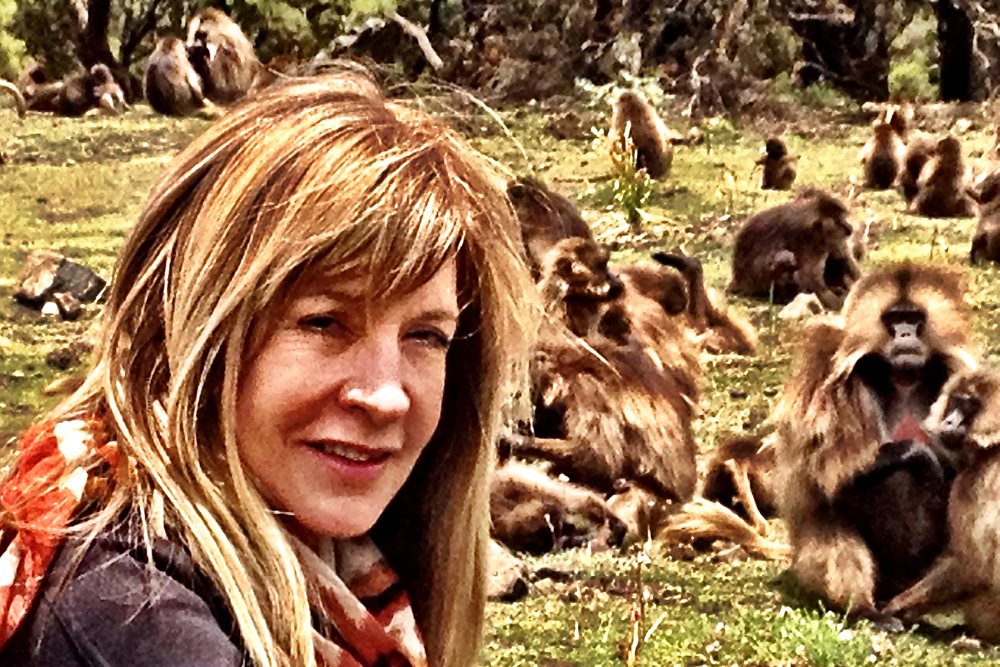 Camps and Lodges
Best-value safari camps
Ultimate Safaris, a Namibian-owned company, operates really wonderful, authentic, old-style safaris that visit semipermanent camps in two remote areas: Sossusvlei (near the Great Namib Sand Sea UNESCO World Heritage Site) and the Huab (core territory for the desert-adapted black rhino). The set-ups are not opulent, but they are comfortable—and environmentally sustainable. It's really affordable for four to six people, and still reasonable for only two.
Namibia Tracks and Trails takes you WAY off the beaten path with their mobile camping safaris, giving you access to the country's most remote and interesting areas. Although accommodations are basic, the guides are outstanding. There really is nothing like sitting around the campfire up in the Kaokoveld under the endless stars of the Namibian night, then retiring to your tent to sleep surrounded by the peace of this vast desert.
We also suggest Camp Kipwe and Onguma Tree Top Camp for excellent value for money.
Safari camps worth the splurge
Serra Cafema, in Namibia's far north near Angola: Fly in, fly out, and feel like you're at the end of the earth—with a swimming pool. This 100% solar-powered camp was entirely redone recently, using natural materials and emulating local village configurations. The contrasts of this beautiful land will astound you, whether you're zooming around the ancient dunes on quad bikes, or visiting with the Himba, one of the last truly nomadic people on the planet. It just doesn't get any more remote, wild, or rustically sumptuous than this!
Hoanib Skeleton Coast Camp is vast, remote, and isolated. The diversity of wildlife in what seems like a stark environment will make your head spin; where else on the planet can you see both desert-adapted giraffes and fur seals on the same day? (The coastal excursion requires a stay of at least three nights; you fly to a desert oasis, have a picnic on the beach, and get a bird's eye view of the famed Skeleton Coast.)
The Sorris Sorris Lodge is a fantastic addition to the luxury options in Namibia. With jaw-dropping views of the Brandberg Massif and the Ugab River basin, the climate-controlled suites provide luxury and comfort in this remote and desolate environment.
Best safari lodges for families
The Mushara Bush Camp, located just outside Etosha National Park, was specifically designed for families with children. Affordable and intimate, this camp has a special play area stocked with safari-themed toys, books, and games, as well as highly-trained and friendly babysitters. They also have a kid's pool, sand box, and jungle gym to keep the little ones happy outside. Most importantly, Mushara Bush Camp employs specialized guides who are trained to maximize the experience for your children.
Best for thrill-seekers
White-water rafting in the Kunene River on the Angolan border; the prime time for this varies from year to year, but typically falls between June and August.
Rock climbing the bald granite peaks of the famed Spitzkoppe.
Sandboarding on the dunes just outside the coastal city of Swakopmund. No talent required—it's as easy as sledding! (You can go fat biking there too.) For the highly skilled, the surfing and kite boarding in Namibia is world-class—but certainly not for the novice!
What to See and Do
Don't miss
Sossusvlei: a salt and clay pan surrounded by high red dunes, located in the southern part of the Namib Desert. This is an essential item on every Namibia itinerary, but I don't like to do it the way everyone else does. I recommend that my clients stay at Sossus Dune Lodge, the only lodge inside the national park, and have us arrange a private naturalist guide for your excursions. This government-run lodge is nothing special, but its guests (a maximum of 50) get access to the dunes for about an hour before anyone else arrives; this is hugely important, since the park is overrun with thousands of tourists by mid-morning. Besides the privacy and beautiful morning light, my favorite part of the whole experience is the sit-down, fry-up breakfast that your guide whips up! We can even set up a night-time excursion to photograph the stars; nobody else is allowed in after sunset!
The hot air balloon trip at Sossusvlei, offered by NamibSky, is a must; soaring above this magnificent landscape in a balloon is just too good to miss. And the champagne breakfast when you land is to die for!
The Stone Age rock carvings and paintings at Twyfelfontein (a UNESCO World Heritage Site) are well worth the effort for anyone interested in early human history.
Tracking black rhino on foot; the only population of this critically endangered species thrives in northern Namibia. Along the way, you learn about the difficult task of protecting these magnificent creatures from the rhino horn trade, which is decimating the species.
Don't bother
Fish River Canyon, near the country's southern border, is smaller than the Grand Canyon and thus usually a disappointment to the North American traveler. While it does offer great hiking for hard-core trekkers in one of the world's most dramatic desert settings, the time and cost required to get there are difficult to justify in light of the easy access to Fish River's much "grander" big sister here at home.
Unless you stay at a private concession and are guaranteed a great guide, skip Etosha National Park: The lodges are massive and charmless, and the miles of paved roads are jammed with tour buses and cars that all converge at water holes, making game viewing a chore.
Bragging rights
Fly over the bleached whale skeletons and rusted shipwrecks along the desolate Skeleton Coast in a vintage Chinese fighter plane. There's no better way to take in Namibia's phenomenal landscape than from the sky, and this plane allows you to fly low enough to touch the mists rolling in above the Namib Desert. I can arrange for the plane to stay with you for the duration of your journey, as you move between desert camps along the coast.
Learn all about the behaviors, habitat, and threats to rhinos as you track these horned behemoths with a researcher in the remote Damaraland region, wedged between the Kalahari and Namib deserts. I can arrange this extraordinary experience for just a day or up to a week, depending on your level of interest. You'll come away with a full understanding of these complex, compelling, and endangered creatures and photos that will put most others to shame.
I can arrange access to the little-visited, truly authentic Himba villages in the Palmwag concession, where the Himba continue their semi-nomadic way of life. There has been virtually no modern influence on these communities, which makes for a fascinating cultural exchange as you learn about their lifestyle and customs. This is an extremely remote Himba village, only known to a few people. You will be welcomed as a "friend of a friend," able to spend considerable time there learning about these fascinating nomadic pastoralists. This is very different experience from the frequently visited and often touristy villages that are easier for tourists to access.
Best photo op
The dunes in the Namib Desert change color throughout the day as the sun changes position. Be there at the first hint of sunrise or just before sunset to capture the most brilliant hues!
Must-have dish
Turf: Ranching is a big part of Namibia's economy, so you'll find no shortage of carnivore options. The kudu and oryx at Gathemann's in Windhoek are superb (and sustainably farmed). Joe's Beer House, a great value and local favorite, also serves great game in a fun and lively atmosphere.
Surf: You can't beat the Namibian oysters and juicy white kingklip fillet at The Tug, a classic old waterfront pub in Swakopmund.
Perfect souvenir
Namibia is deservedly famous for its tourmalines and leather goods. There are several great jewelry stores and leather shops (ostrich bags and wallets, springbok pillow covers) along Windhoek's Independence Avenue where the shopping is really rewarding. A few that I recommend are Nakara Leather Goods and Adrian & Meyer or City Gold for jewelry.