Egypt is on most people's bucket list, and with good reason: 5,000 year-old feats of engineering genius, fascinating historical drama, rich traditions and culture. While the pyramids and temples will still be around if you wait a few years to go, right now you can experience them in a rare and special way. I traveled in Egypt for two weeks at the end of October (you can see more of my photos here and here) and am so glad I did. Here's why it felt comfortable to me during Covid:
Almost all the sights are open air.
Nearly every place you'll visit in Egypt is outdoors. So whether I was at the Great Pyramid of Giza or the soaring mountain temple of Hatshepsut (the only female pharaoh), the grounds were so sprawling that they rarely felt crowded. I remember when we arrived at the temple of Kom Ombo on the Nile, there were maybe half a dozen large cruise boats clustered right outside (which was still fewer than the 20 or so you could expect in pre-pandemic times), and I expected to find all of those tourists clogging my path. But once we passed through the entrance arch, I was surprised. Everyone had dispersed throughout the grounds.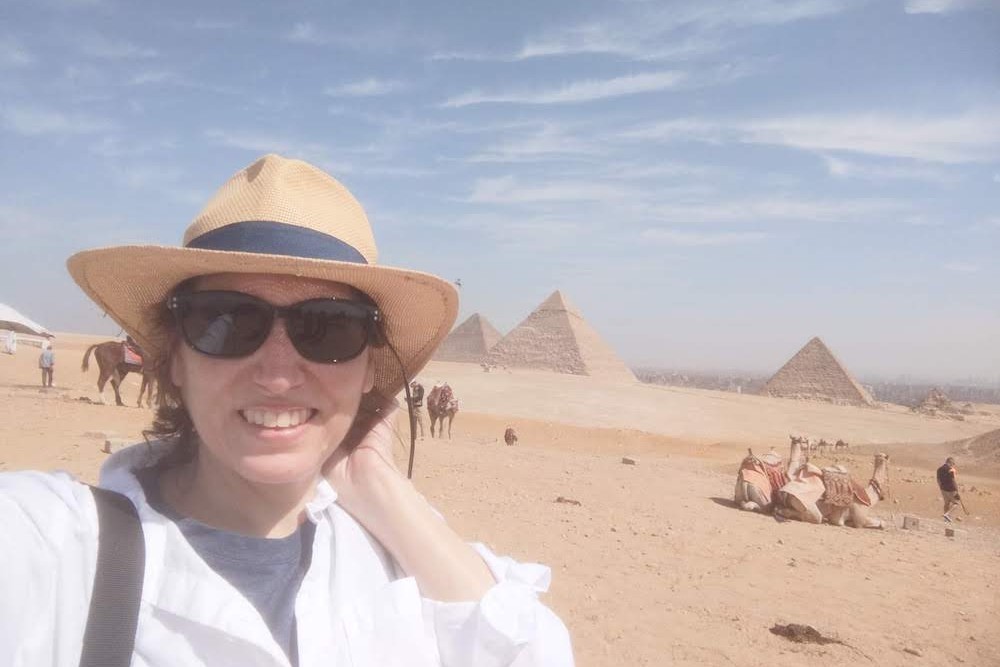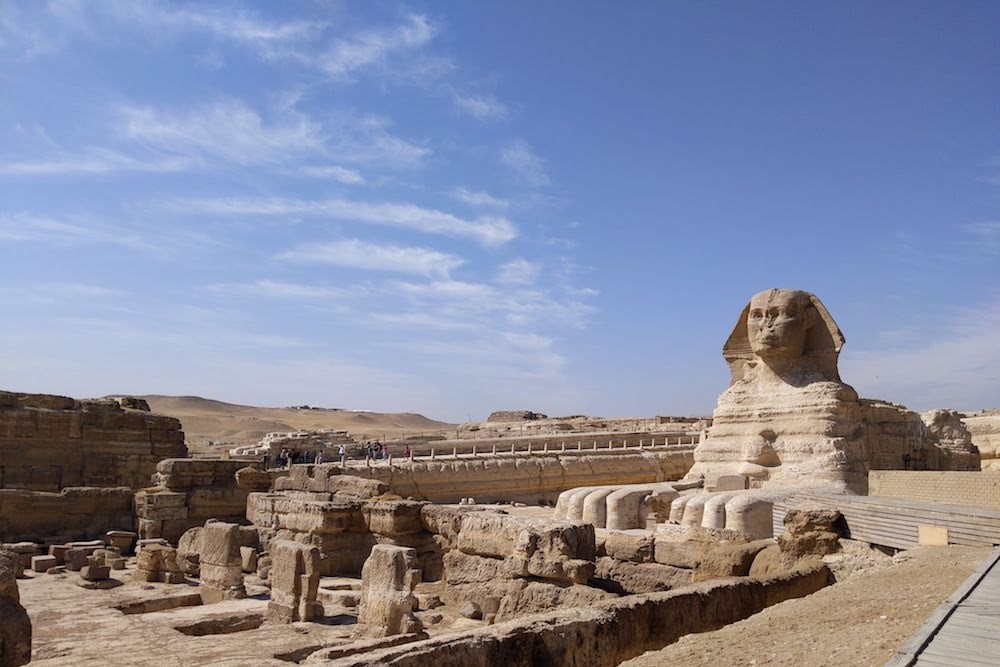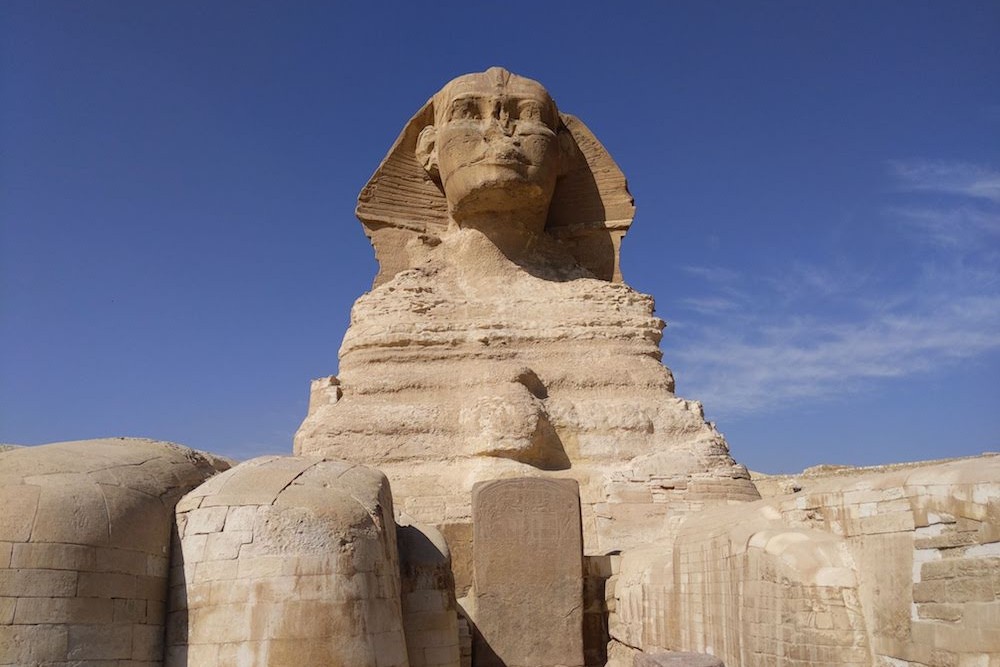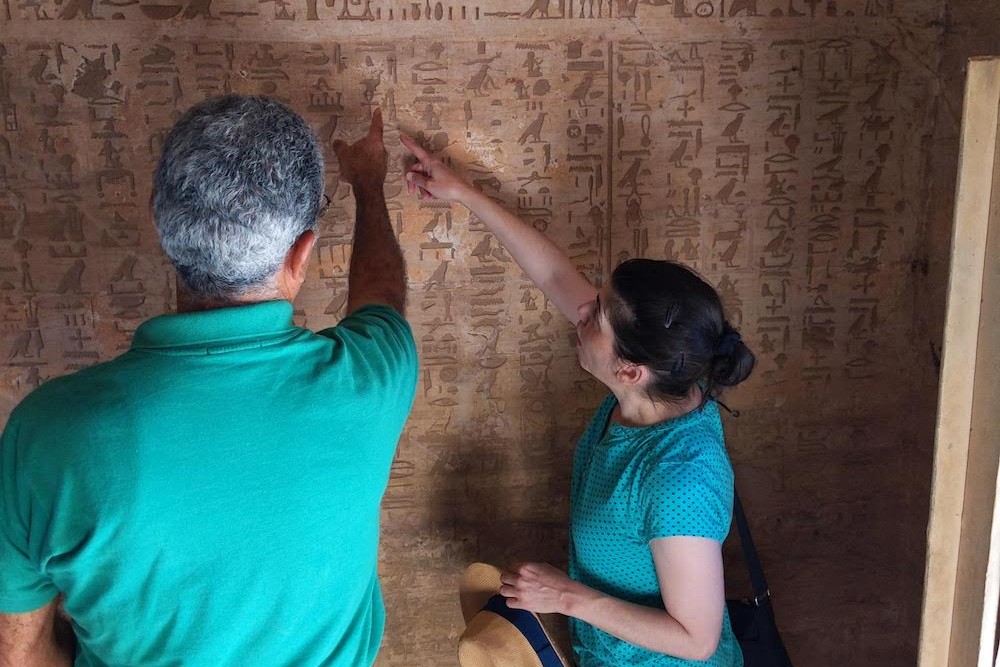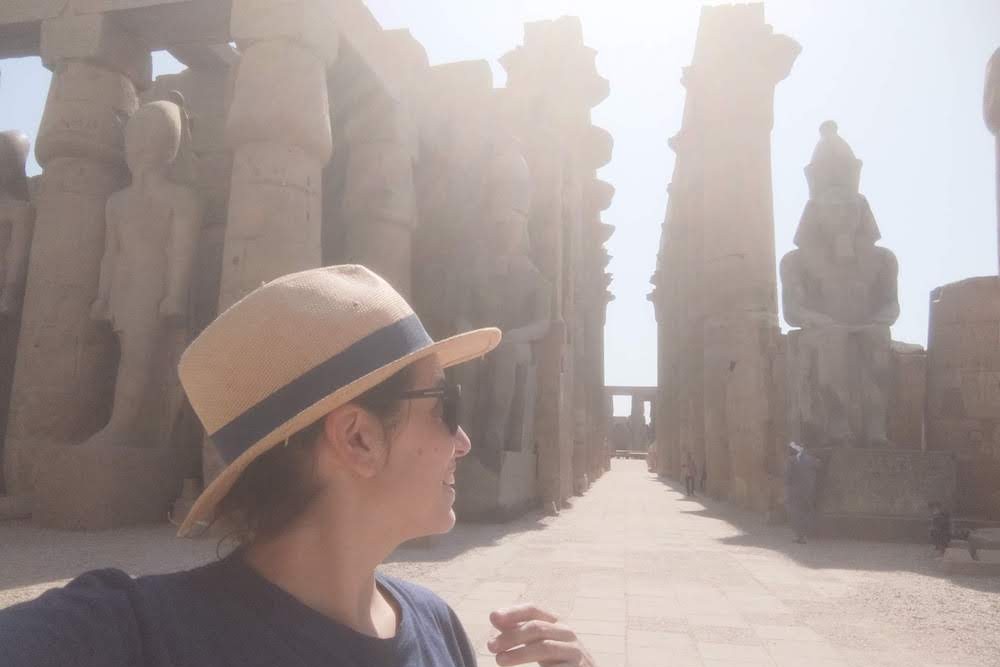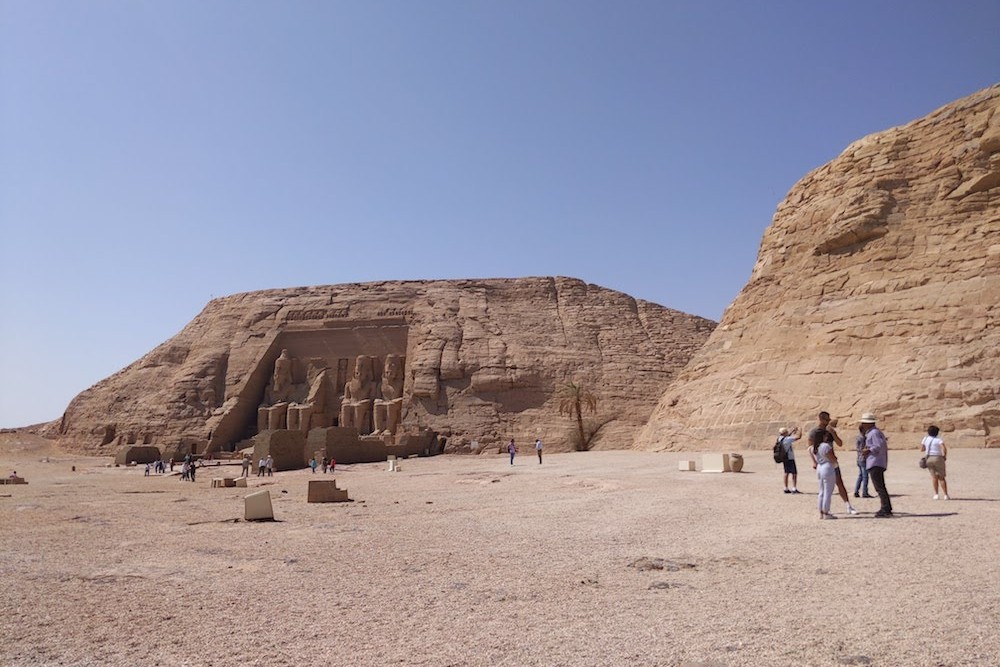 Most places aren't crowded.
The fact is that almost everyone who goes to Egypt follows the same route. Unless you're going to the beach resorts on the Sinai Peninsula, you're on the well-trodden track between Cairo, Luxor, and Aswan, probably with part of the trip spent on a boat. And yet, I rarely felt like I was one of those masses being led along a conveyer belt.
Thanks to the pandemic, the world's most popular places are not as busy as they've been in the past because tourism isn't back up to its usual numbers. Egypt is no exception, and this holiday season is likely to be one of the most enjoyable as a result. The Great Pyramid of Giza and the Sphinx are two of the most visited tourist sights in the world, but when I was there in mid-October, they had less than 50% of their usual number of visitors. The temple of Abu Simbel had less than 25%.
The few crowded places can be made uncrowded by the right local fixer.
At the Giza Plateau, my savvy local guide assigned by WOW List Egypt specialist Jim Berkeley arranged special access to the Sphinx's paws. Regular visitors have to view the famous lion-pharaoh from an elevated distant road, but we were able to saunter right up to its feet, stand under its imposing noseless face, and even stroll around the entire perimeter of its body (have you ever seen the Sphinx's tail? I hadn't!). After that, he led us along unconventional routes through the park so that we rarely saw other travelers until we headed back to the main entrance. Then, on the day we flew to Luxor, he suggested we hit Luxor Temple over the lunch hour, when all the other tourists would be eating and checking into their hotels. And he was right.
Even before our trip began, Jim had orchestrated the timing of our itinerary right from the get-go so that it could alternate with the timing of the mass-group trips where possible. For example, while the big Nile boats all race to pre-set stops and unload at the same time on the same days, our nimble, private dahabiya boat could mosey up to those same stops after the big groups had all gone, or on a different day entirely.
"Indoor" sights are Covid-manageable.
While most temples I visited were completely open to the elements (except for a small few where the roofs were still amazingly intact), the tombs were enclosed, meaning you'll descend staircases into underground rooms (as at Valley of the Kings and the Valley of the Queens) or duck into nooks carved into the side of mountains (as at the ancient necropolis of El-Kab).
Even so, I found every tomb manageable in terms of my own comfort with Covid. If there was a group inside, I could always wait to enter until they came out. Keep in mind that some tombs are manned by a local "caretaker" who will enthusiastically point out artwork details and side rooms you may not have noticed, offer to take your photo, and expect a few Egyptian pounds in return. He will also, most likely, not be wearing a mask. But since I was double-masked and vaccinated, and in most tombs for only a few minutes, I didn't mind. In fact, I really enjoyed those interactions: It's always fun to meet locals and try to have piecemeal conversations. What's more, tourism has been thin during the pandemic and these guys have been out of work—and they were clearly happy to have us back.
In all of my trip, there was no place where I felt stuck in a Covid situation I couldn't easily remedy. And that includes the Egyptian Museum in Cairo, which was the only place that really felt unsafe to me, due to its lack of air conditioning, hot rooms with no air flow, and swarms of large international tour groups who didn't wear masks. But even there, I wasn't trapped—I could just leave. And I did. Although my private guide did his best to navigate around the masses inside the Museum, and offered to bring us back at the end of the day when it might be less crowded, I opted to leave and wait outside, happily resting in the shade and reading my book about the history of the Nile. In contrast, my two friends felt comfortable enough to remain inside—so, again, it's a personal decision. (And one that will be a moot point once the enormous Grand Egyptian Museum opens, sometime in 2022.)
You can use private guides and drivers who are vaccinated.
Each of our guides and drivers was vaccinated and wore a mask religiously. Even if the three of us travelers in the back took ours off, they kept theirs on. Hotel staff wore masks too (as well as gloves at some of the hotel restaurants). But other than that, very few people in Egypt—both Egyptians and international tourists—wore masks. (Although I could always spot an American group, because they all wore their masks.) But like I said above, the lack of masks rarely affected me because we were outside so much and, when I went indoors, I put mine on.
You can stick to hotel rooms that have balconies or windows that open.
Now that I'm traveling again during the Covid era, I prefer to stay in hotels that are well ventilated. A great view doesn't hurt either. During my two weeks in Egypt, I stayed in four hotels, and each room had a balcony or window that opened.
At the Four Seasons Cairo, my balcony overlooked the Nile. In Luxor, Jim smartly put us in a hotel on the west bank of the river (the charming, courtyard-dotted Al Moudira)—which meant we were only a 20-minute drive from the Valley of the Kings and the Valley of the Queens, rather than 45 if we'd stayed on the east bank like all the big tour groups. In Aswan, we stayed at the gorgeous and storied Old Cataract Hotel, where Agatha Christie wrote Death on the Nile, and enjoyed large balconies with views of Aswan's tropical section of the Nile and the uniquely shaped rocks of Elephantine Island across the way. Even our airport-adjacent hotel on our last night in Cairo, the InterContinental City Stars Hotel, had two "Juliet"-style terraces with sliding-glass doors I could open for airflow.
A word of caution: In Cairo, most restaurants are indoors only. And people smoke. However, I've already been eating indoors in New York for months, and I felt that the restaurants we ate at in Cairo were less crowded than at home.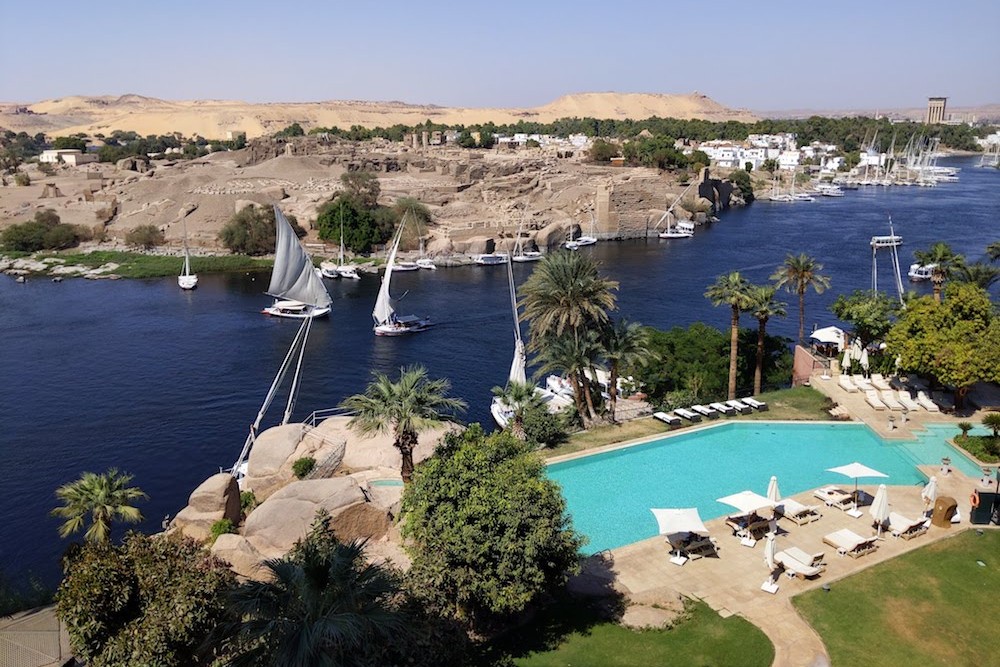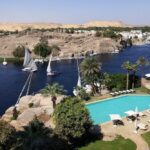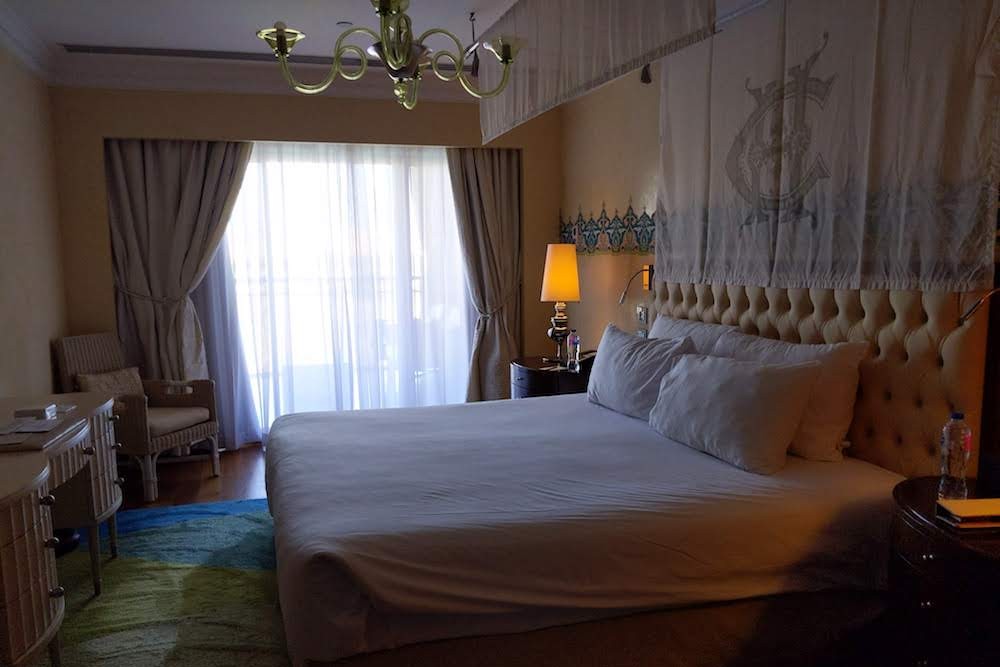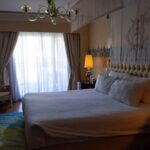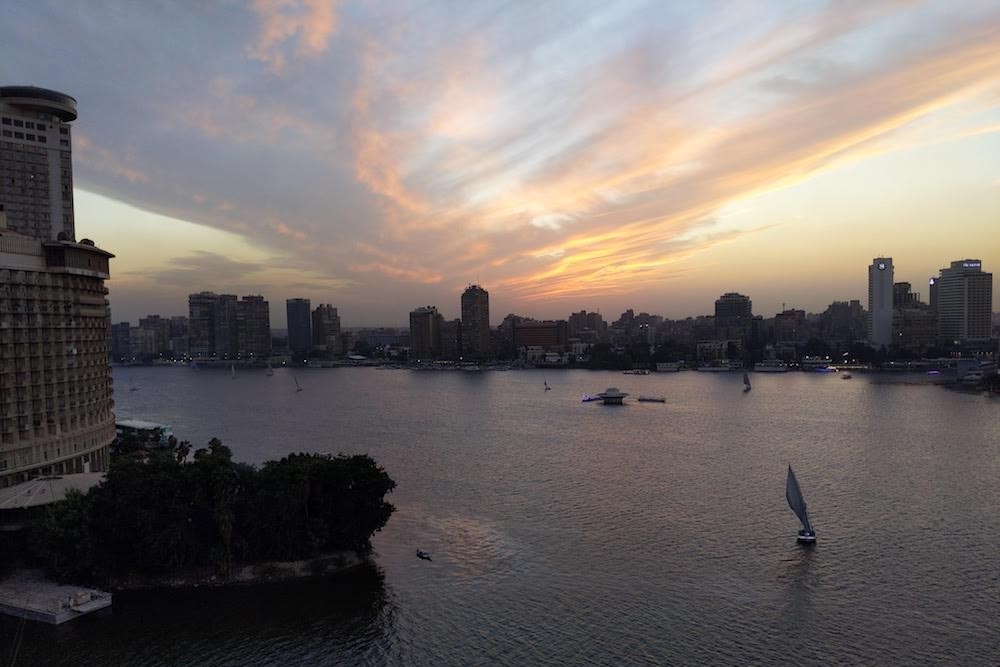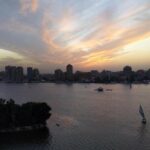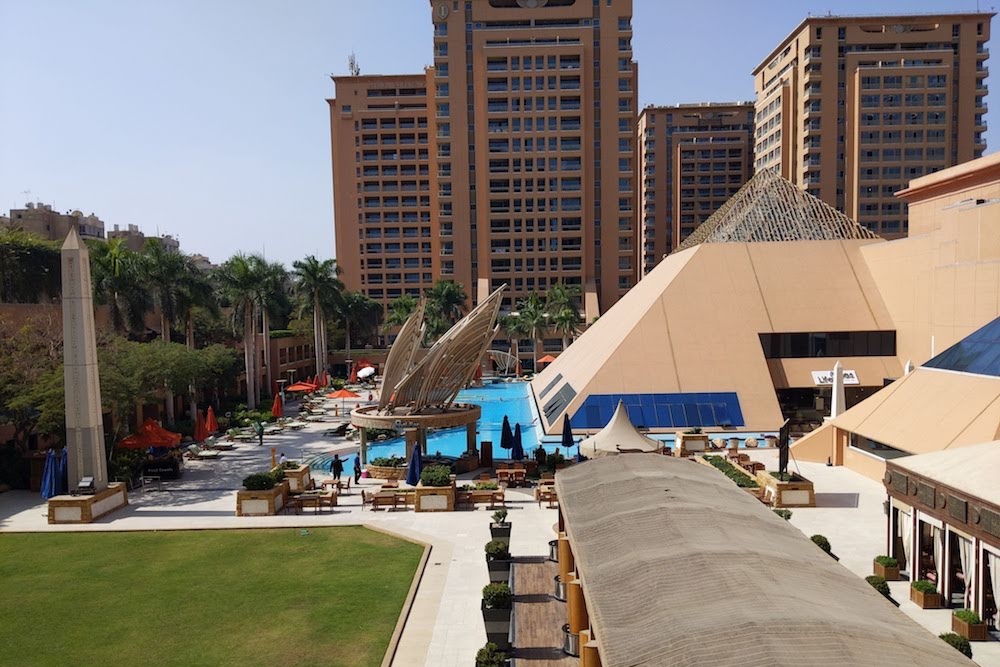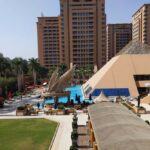 There's availability aboard private dahabiya boats that keep you from the crowds and get you to special sights.
Jim recommended I sail up the Nile on a dahabiya—a shallow-bottomed boat powered by two sails—and now I know why it is the best way to experience the Nile. For one thing, these smaller vessels can maneuver into ports that the big boats can't access, which meant I got to visit more off-the-conveyer-belt sights. It also meant that when we did hit the big-ticket spots, we usually arrived before or after the rigidly scheduled times that the larger Nile boats have to follow. For another, I felt very Covid-comfortable onboard our floating home. My small group of three shared this boat with only one other party (a family of four from Belgium, who had told us they were vaccinated by the time we had our first afternoon tea) and the small crew (also vaccinated, as required by the government). After mornings of touring, we spent almost all our time outdoors on the covered, open-air deck, whether we were eating meals cooked fresh by our very accommodating private chef, relaxing in the many chaises longues, or talking and playing games with our new friends long into the night.
Egypt is simply amazing.
As I walked, dazed, through all the temples and tombs on our trip, I said "amazing" so many times that it became a running joke with our guide—each of us trying to outdo the other with better synonyms. Spectacular. Astounding. Incredible. Awesome. No matter what words we came up with, the experience of getting so close to Egypt's ancient manmade marvels, and seeing the enduring details (and unexpectedly bright paint) of their artwork, is truly special. And to be able to do all that without battling crowds or jockeying for views between the heads of a hundred other visitors…well, that truly was amazing.
---
Transparency disclosure: So that I could experience Egypt, WOW Lister Jim Berkeley arranged reduced rates for my trip. Everything I did on my trip is accessible to every traveler who contacts Jim via Wendy's WOW questionnaire. Thanks to Wendy's WOW system, you'll get marked as a VIP traveler.
Be a smarter traveler: Sign up for Wendy's weekly newsletter to stay in the know. Read real travelers' reviews, then use the black CONTACT buttons on Wendy's WOW List to reach out to the right local fixer for your trip.