Greece opened to U.S. travelers on May 15, and I flew there this week to see what it's really like to be there now. First stop: Athens, where tourism had skyrocketed so high in 2019 that it caused concern about overcrowding. But as I peered out from the Acropolis, there was not a cruise ship to be seen in the port, and sights that would have been mobbed in pre-pandemic times were lively but comfortable. Here's a tour through Athens and some insight into what has changed and what hasn't.
The Acropolis
It's the sight in Athens, of course, and it's a good barometer for the tourism scene. As I walked up with my guide, Ifigenia, she remarked that, in pre-pandemic times, the wide path we were following would have been a sea of people. In fact, Greece had broken its own tourism records in 2019, topping 34 million visitors, and if you were at the Acropolis that summer, it would have felt like every single one of them was there (especially on Tuesdays and Wednesdays, which were cruise ship arrival days). The Acropolis in June 2021 is a stark contrast: At 10:30 am on a Friday, the ticket area, main entrance, and trails around the monuments were only sparsely peppered with people. I never had to jostle with anyone to get a good view or worry about anyone accidentally walking into my photos. Ifigenia got a kick out of the fact that we could simply stop walking at certain spots so that she could point out architectural details; before the pandemic, the momentum of the crowd would not have allowed for standing in place like that.
Logistics were easy: You can walk up to the ticket office and just buy your ticket—no advance online purchase necessary, no timed entries, no limited capacity. I do wonder if all of that will stay the same as the crowds build up again in the future, but for now the only rules I saw were: (1) You had to be masked (keep your ears open for a whistle: that's the cue that someone is getting scolded for not having one on). (2) There was a limit to the number of people who could be at one particular lookout point. (3) Group tours are supposed to be limited to 14 (but we saw one that numbered 16).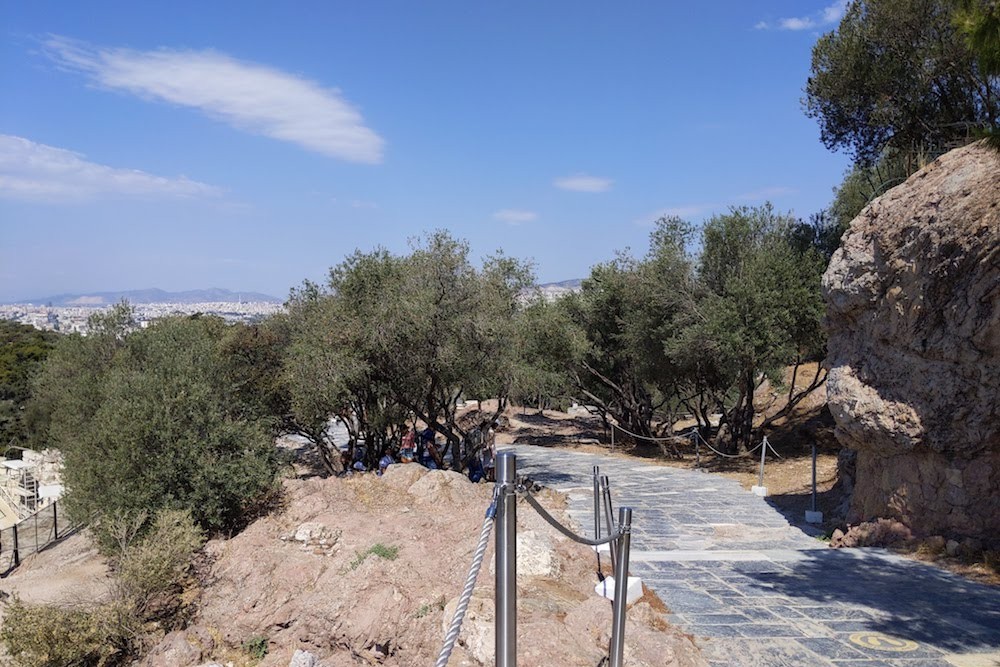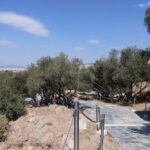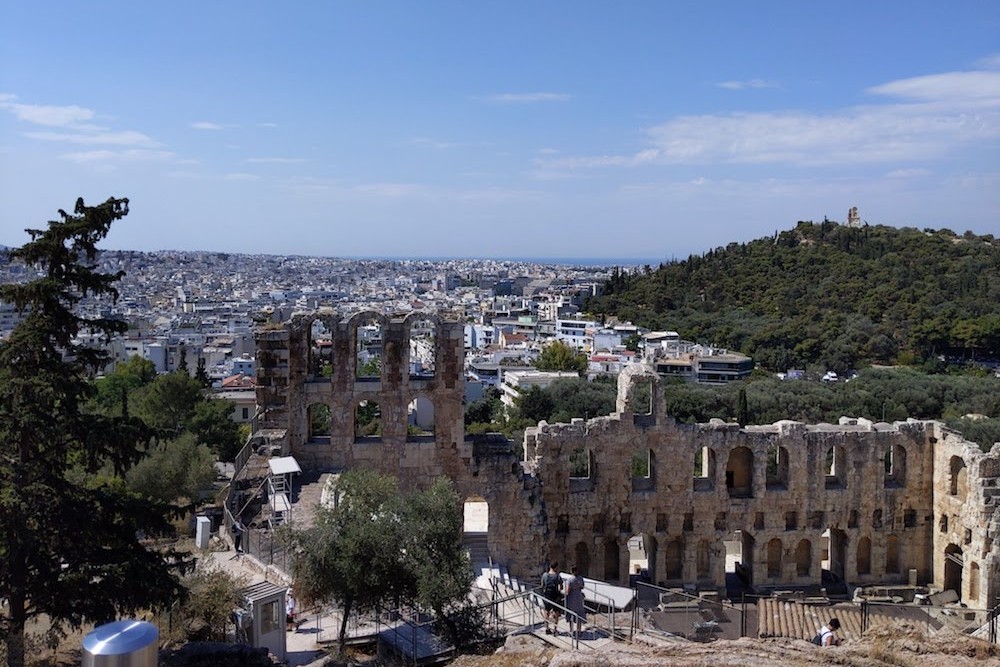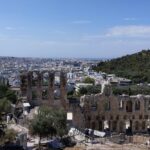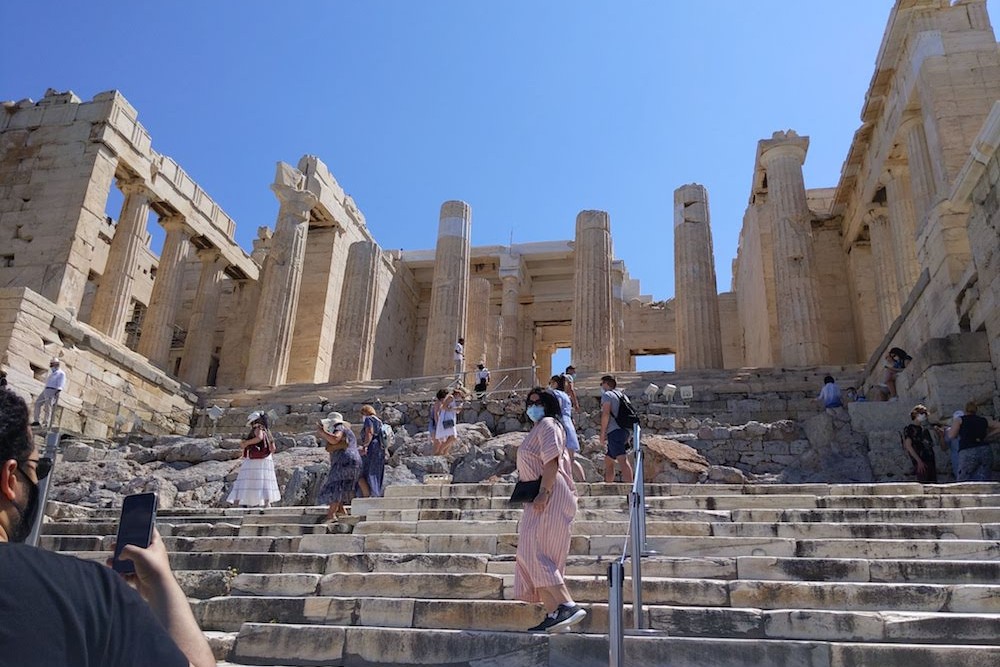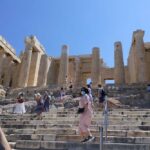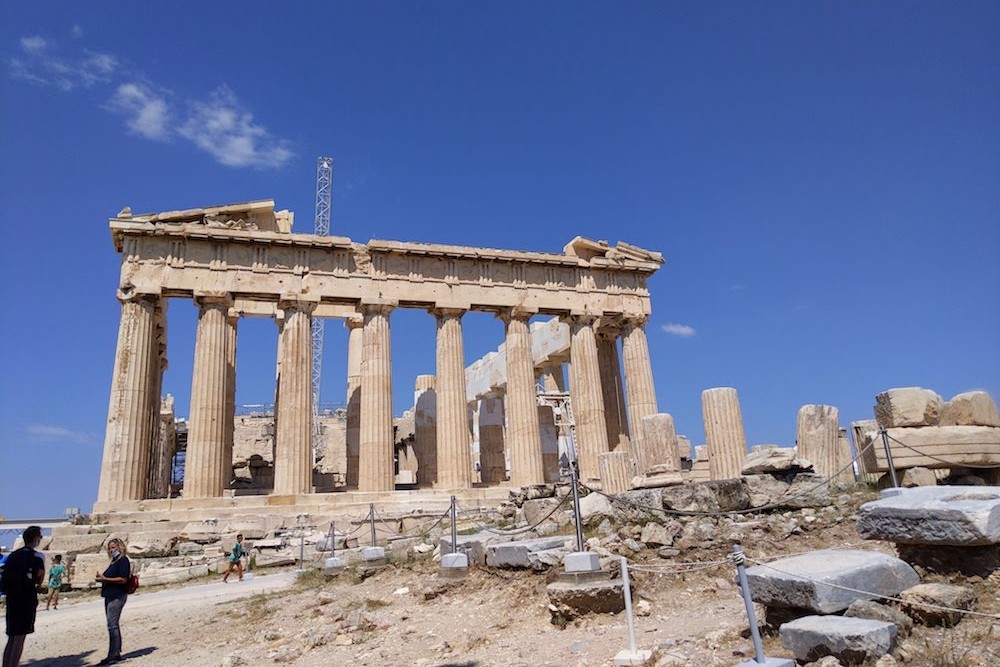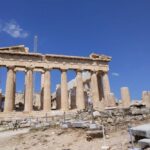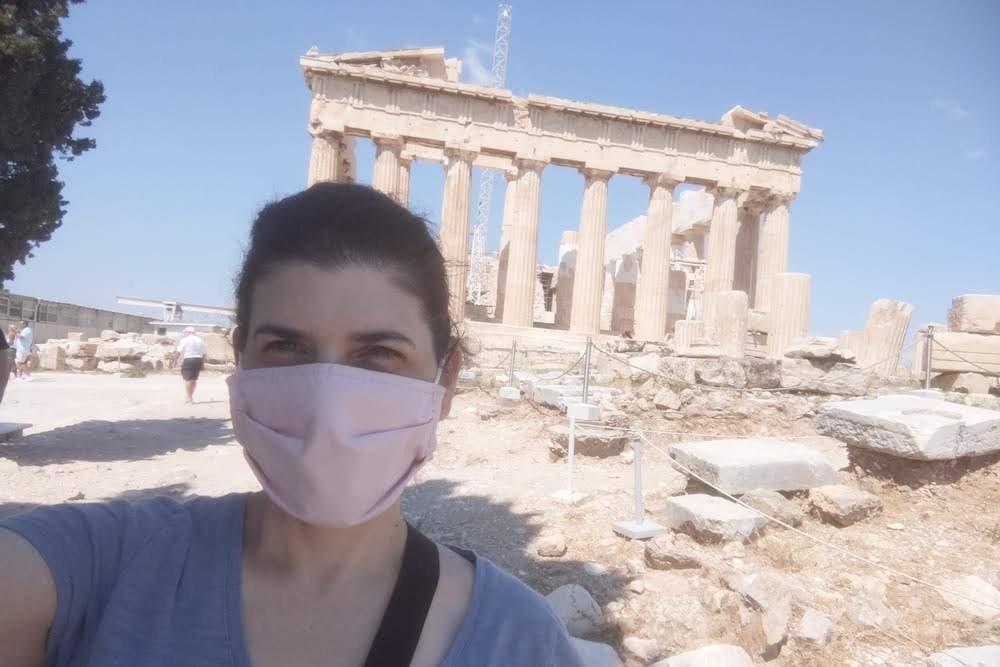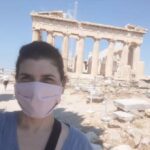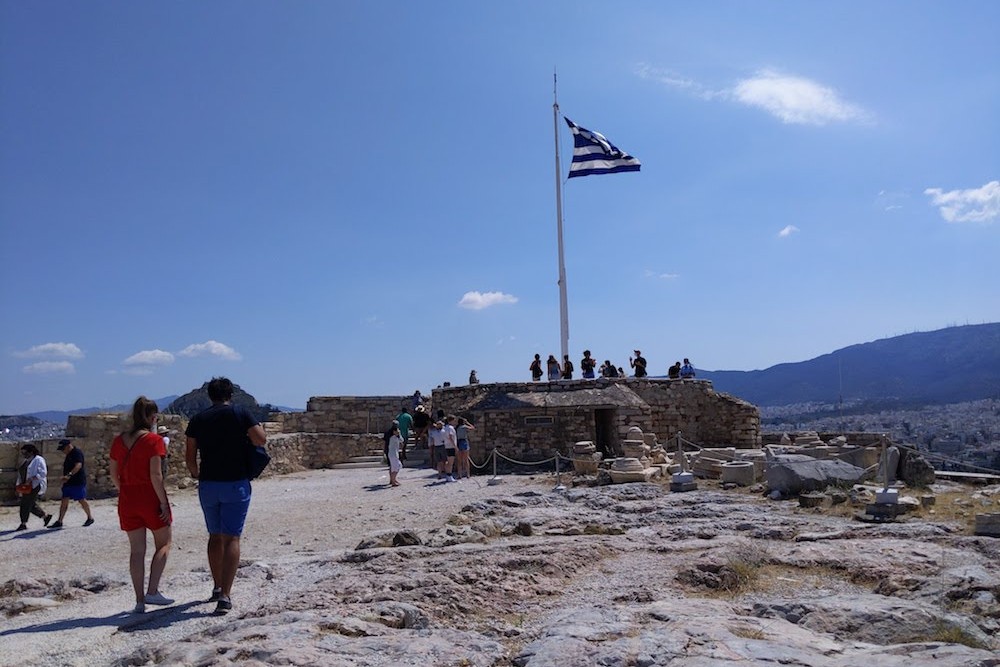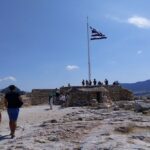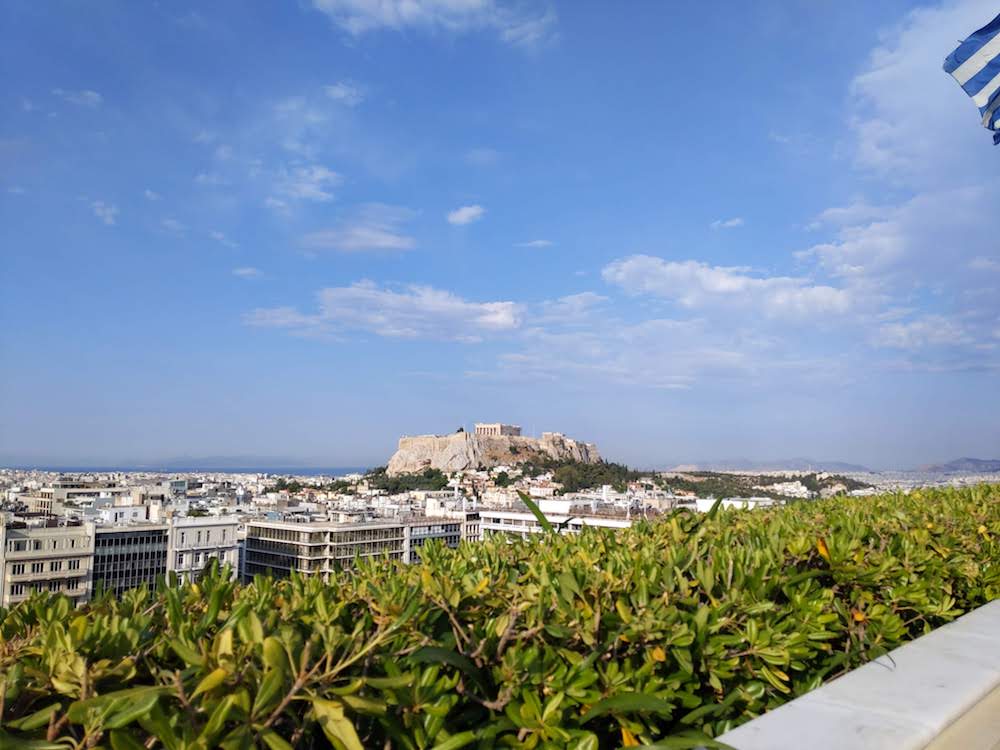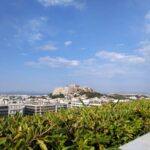 ---
The Acropolis Museum
This beautiful, modern-looking museum is a great compliment to the ruins on the Acropolis—it's ingeniously built with glass floors overlooking excavations too—and it is open pretty much as usual. You can get tickets online or at the desk when you walk in. I felt comfortable being indoors, as masks are required and there is a capacity limit\\. Besides, the space is sprawling and the ceilings are high, so even when there were other people around me, we were able to keep plenty of distance, and most of the layout is open—no small galleries or low ceilings. The museum's outdoor restaurant is open too. Just a few areas and amenities (audio guides, gallery talks, the kids corner, the reading room, etc.) were unavailable.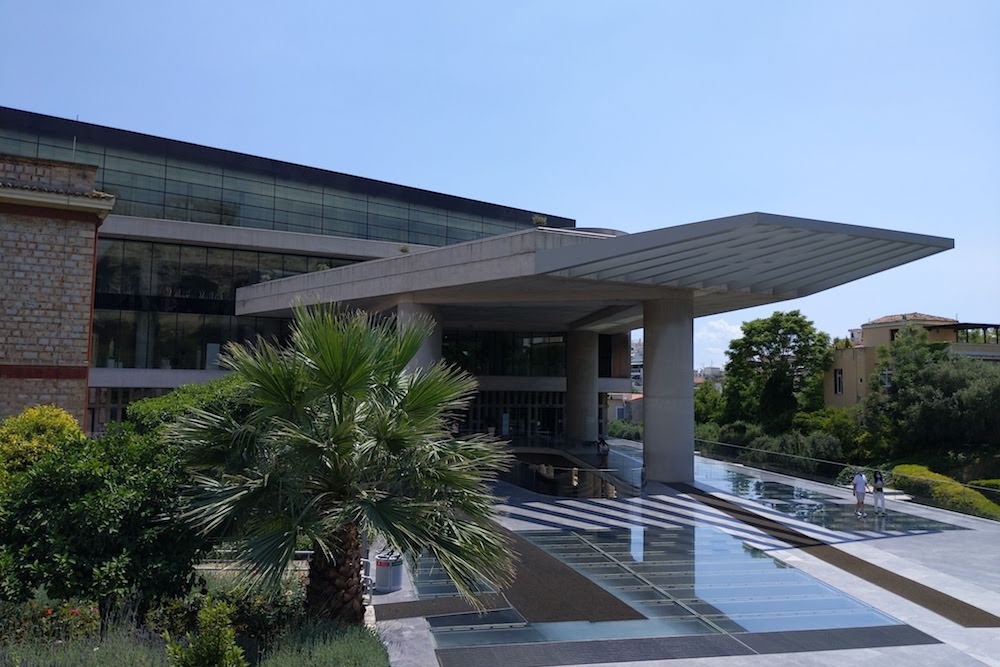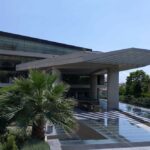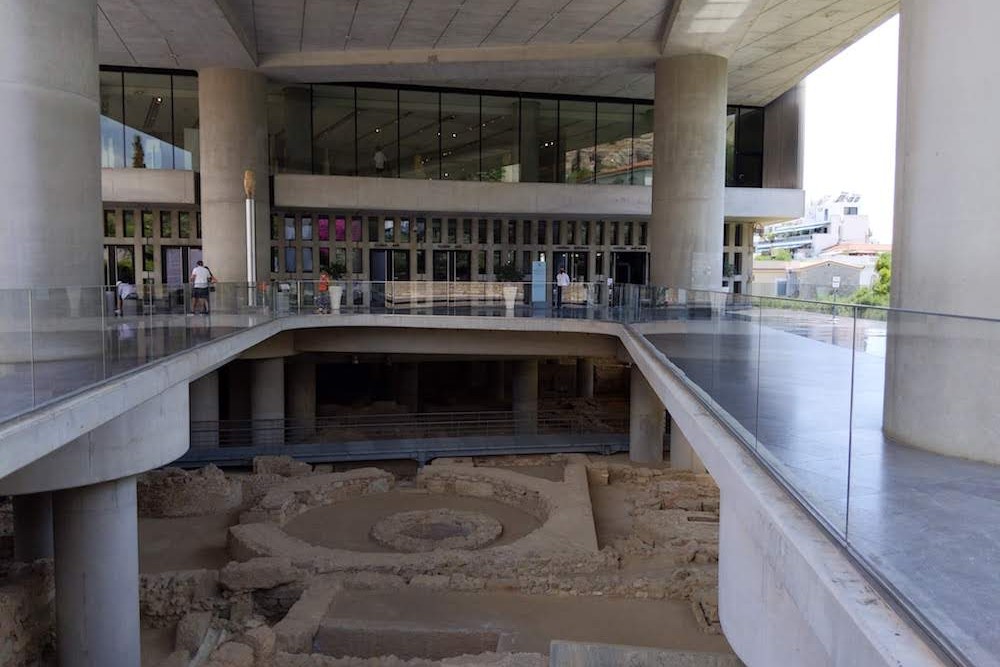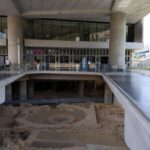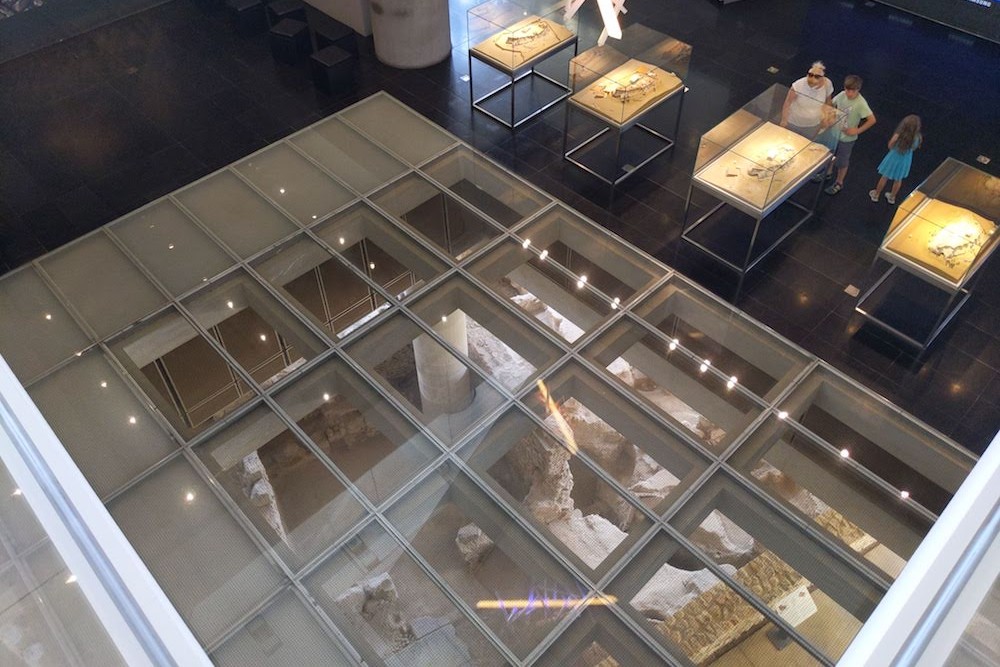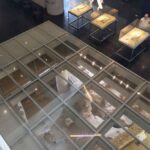 ---
The Hotel Grande Bretagne
I stayed at this historic hotel located on Syntagma Square, right across from the Parliament building. Built as a mansion for a wealthy Greek in 1842, the hotel still has that old-world, regal charm, but it doesn't feel stuffy or dated.  Cases in point: Internet is free and fast, there are enough outlets for all my devices (including a USB port), and there are Pringles in the mini bar.
The hotel is part of the Marriott family and follows the Covid-era cleaning protocols of that umbrella brand: e.g., the TV remote is sanitized between guests and then enclosed in a plastic bag; the mini bar is sealed with a sticker to show it's been cleaned since the last guest (a QR code on the sticker takes you to a page with all the cleaning protocols); and, in addition to the usual robe-and-slippers amenities, there's a gift-boxed "safety kit" with wipes, a mask, and hand sanitizer. But the best perk of all: a window that opens! Ask for a room facing the Parliament building; mine had the one big window, but some others have balconies. And if your room is well placed, you'll be able to watch the changing of the guard (see below) without leaving your room.
You could also watch the changing of the guard from the rooftop garden (where breakfast is served), but you'll probably be too busy looking up: from here, you've got a sweeping panorama of the Athens skyline, from the Acropolis to Panathenaic Stadium. It's a gorgeous way to start the day, especially if you can nab one of the tables that's fully outdoors (the rest of the space is sort of semi-indoors). Although you can order a la carte, which I did, I found it surprising that the hotel was still serving a breakfast buffet; most of the food was kept behind Plexiglas and guests could only be served by the staff, but there was one table (breads and pastries) that was DIY and not well covered. And since people were getting up to go back to the buffet for several rounds, they didn't always put their masks back on.
The hotel's restaurants, shop, pool, spa, and pool bar are also open, and a welcome video kiosk in the hotel's main lobby ran through some of the safety upgrades for those (socially distanced pool chairs, e.g.). I didn't have enough time to check out all of those areas, but I did notice that while the video stated that a maximum of two people were allowed per elevator, I never saw any staff person monitoring any elevator, and I ended up on several lifts with three to four people. I could have easily avoided this by waiting for the next elevator to ride alone or by taking the stairs, but since I'm vaccinated and I was always double-masked indoors (and the other guests were masked too), I didn't mind too much.
Overall, the hotel was really lovely, very comfortable, and made for an easy, stress-free stay.
View this post on Instagram
---
The changing of the guard
The changing of the guard might be one of the most Instagrammed events in Athens. All day every day, two members of the Evzones (the Presidential guard) stand motionless in front of the Hellenic Parliament and watch over the monument to the Unknown Soldier. They don't crack smiles and they barely blink, and they even have a helper to make sure the kilt, tassles, pom-poms, and hat of their unique uniforms are all exactly in place. Then, at the top of every hour, they swing into action. The guards and their replacements lift knees, kick out legs, flex toes adorned with pom-poms, spin their rifles, drag their shoes to make a scuffing sound, and stomp their heels to make a click. It's mesmerizing to watch—and it helps that their uniforms are so remarkable. During the week, they wear skirted summer khakis, but on Sundays at 11am the ceremony gets kicked up a notch: There's a band, and the guards switch to their traditional white uniform that dates to the guards' creation in 1868 — it's intricately handmade and every piece has a symbolic meaning. For instance, the white kilt has 400 pleats to symbolize Greece's 400 years of freedom from the Ottoman empire; and a taxi driver (so often full of great information!) told me that the shoe pom-poms used to hide knives for sneak attacks during battle.
The mini-show happens 24 hours a day, and even if you choose to watch at a peak time rather than in the middle of the night, you won't have to share the plaza with the pre-pandemic hordes of tourists all jostling to take photos. Since it was right across from my hotel, I passed by several times, and I saw maybe 50 people at most in the plaza (at sunset), but usually only about a dozen. Other than that, the only about this ceremony that has changed because of Covid is that the guards wear masks.
View this post on Instagram
---
Shopping, dining, and neighborhood life
Plaka is the shopping and eating district around the Acropolis. Lined with souvenir stands, I expected it to be overly touristy and garish, but somehow its village-y charm keeps it from veering too far in that direction. Normally these streets would be thronged with visitors on their way to or from the Parthenon (and plenty of cruisers), but right now there are just enough people to make it feel lively but not overrun. The adjacent neighborhood of Monastiraki—where you'll find a flea market, antique shops, and cool artsy coffee houses and restaurants—was similarly crowd-free and pleasant to stroll around. And I found Syntagma Square to be a hopping little park, with a color-changing fountain that glowed in the evening, groups of friends hanging out, and at least two busking musicians. At night, shops in all three neighborhoods stayed open late and restaurants were buzzing; their outdoor areas were cheerful and bright as diners lingered over meals. It all felt…normal. And invigorating too. It was clear that Greek locals and international visitors alike were happy to be out and about.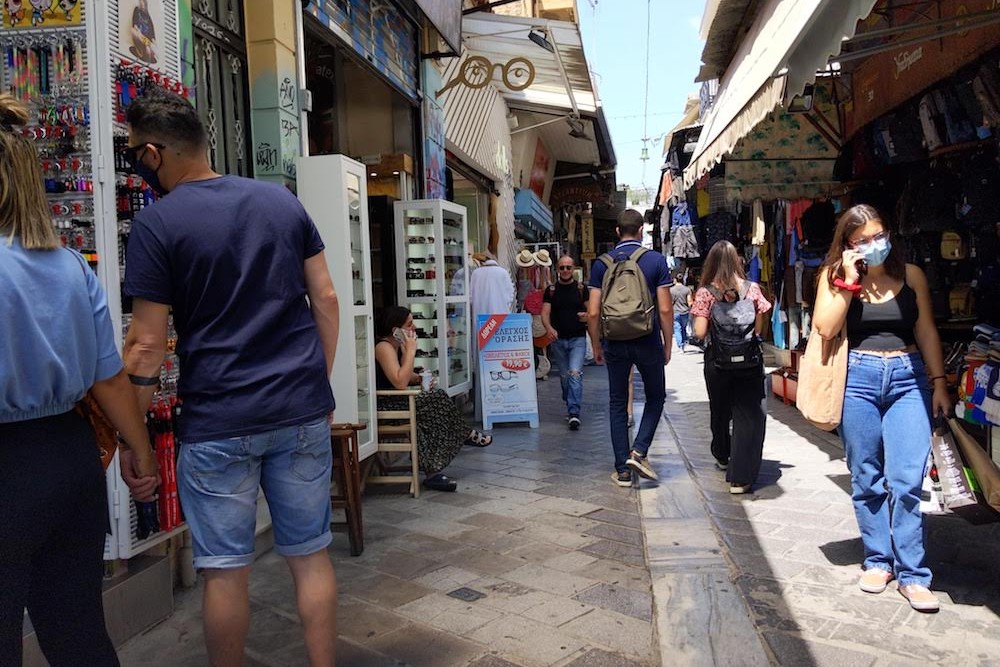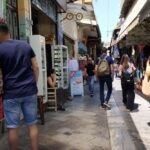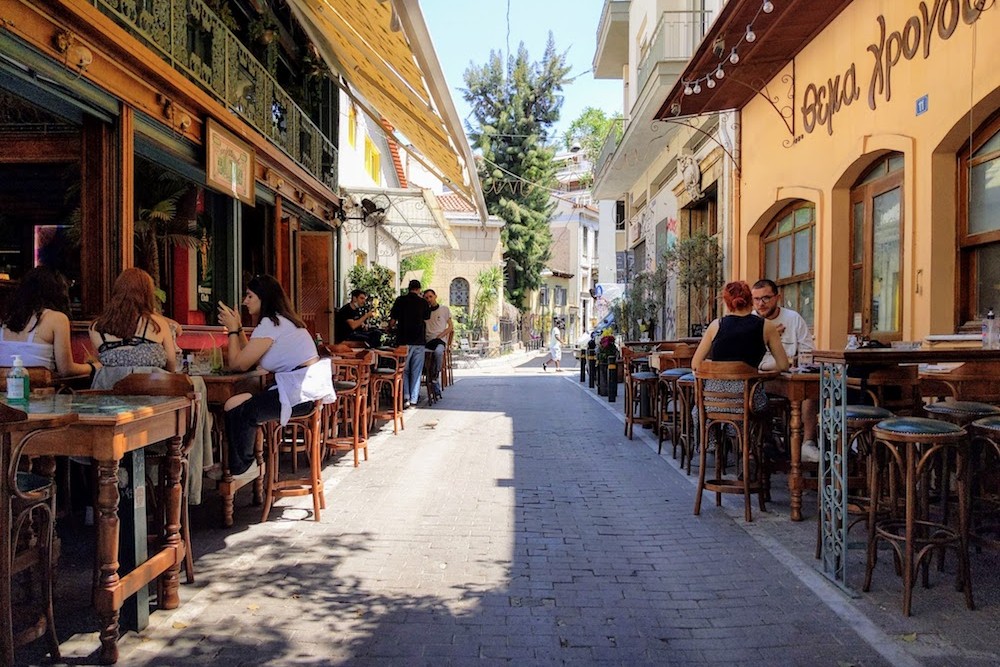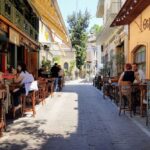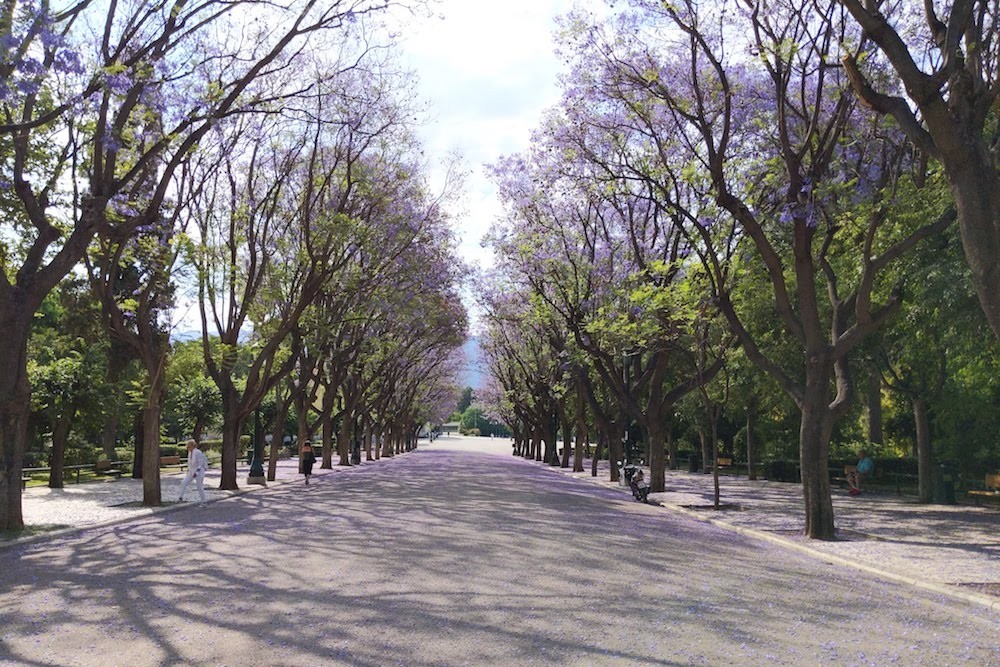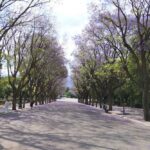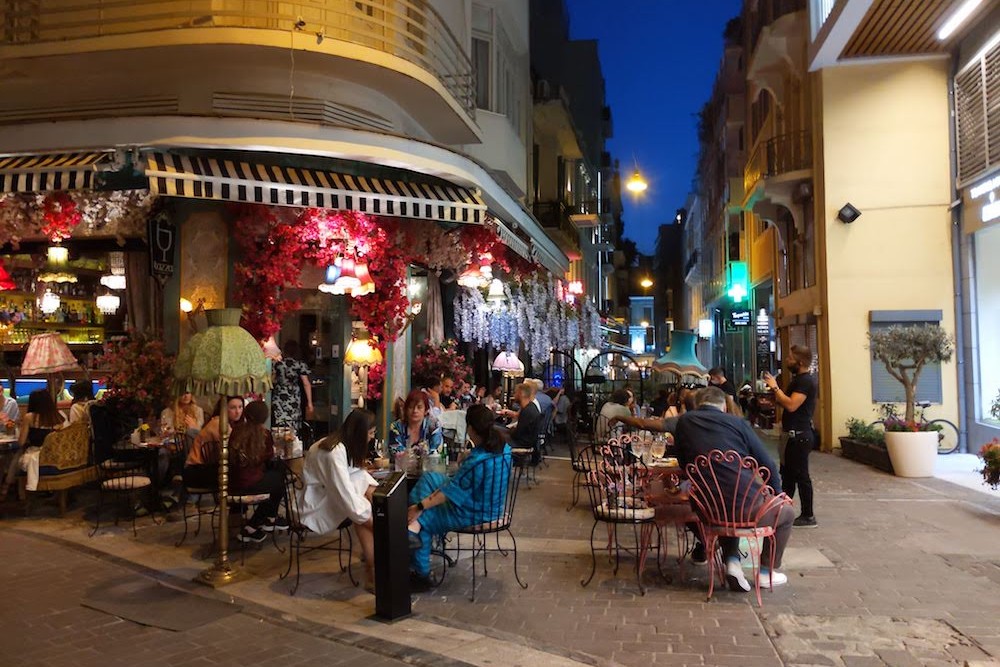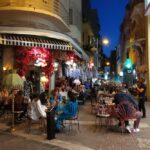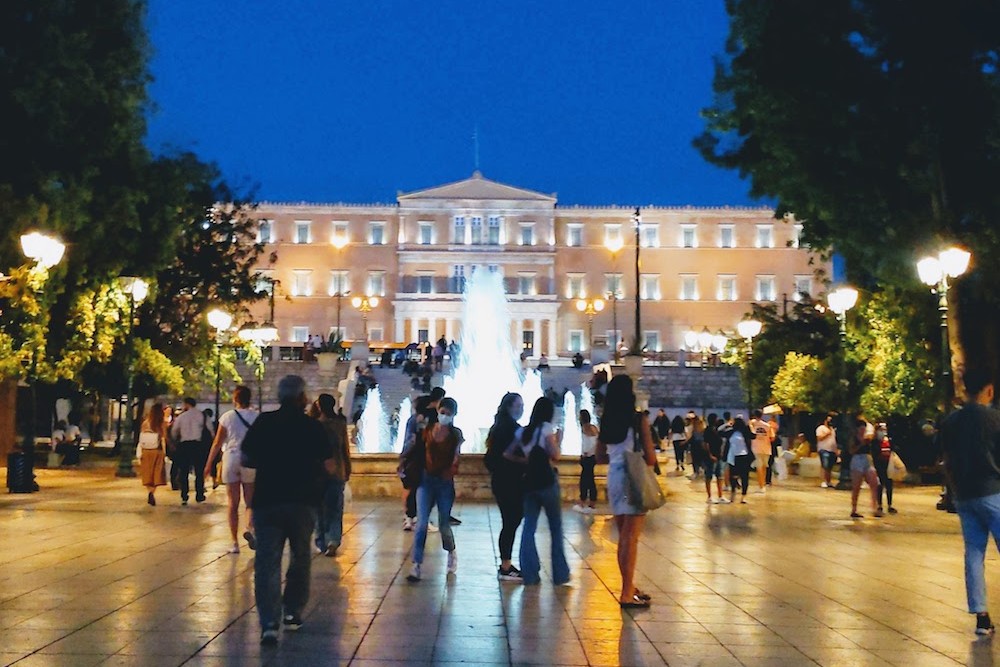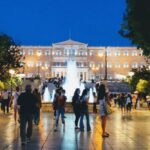 ---

Be a safer, smarter traveler: Sign up for Wendy's weekly newsletter to stay in the know. And read real travelers' reviews of Wendy's WOW List and use it to plan your next trip.