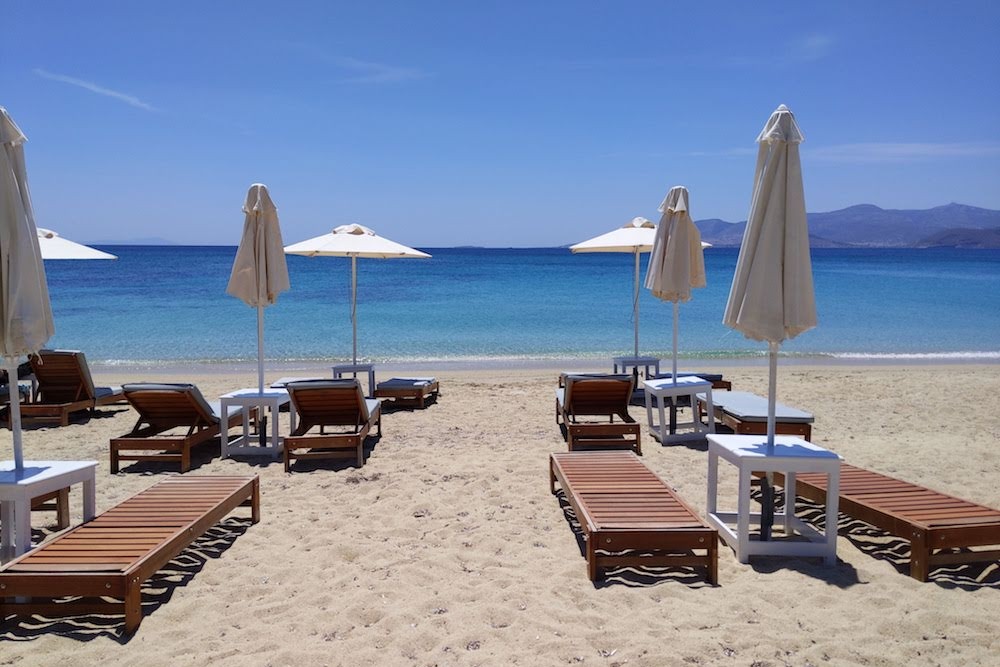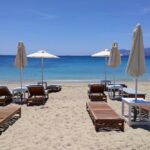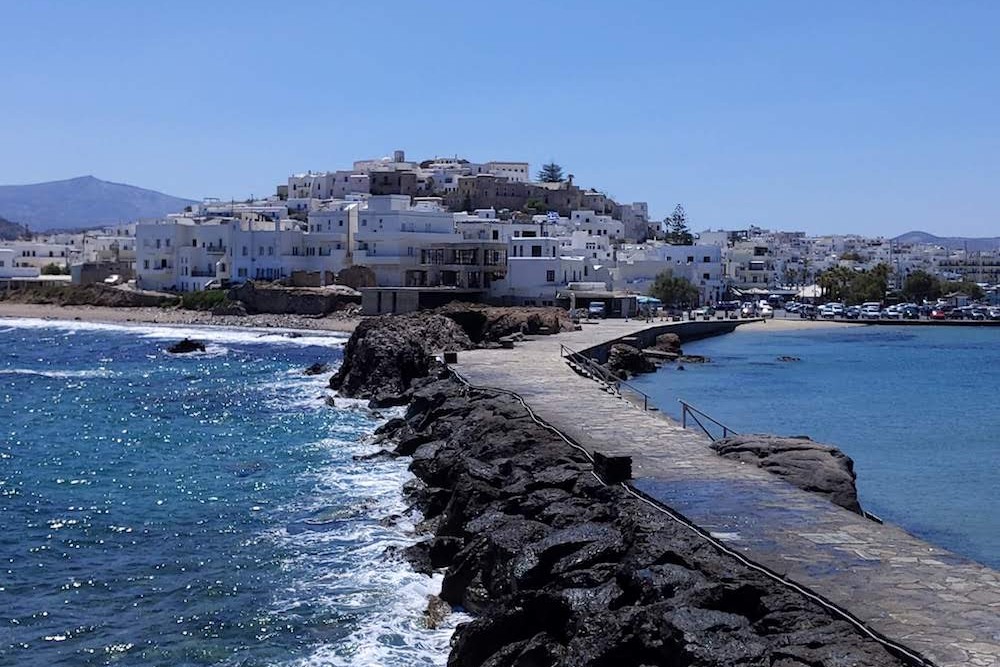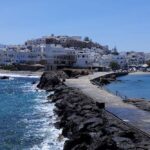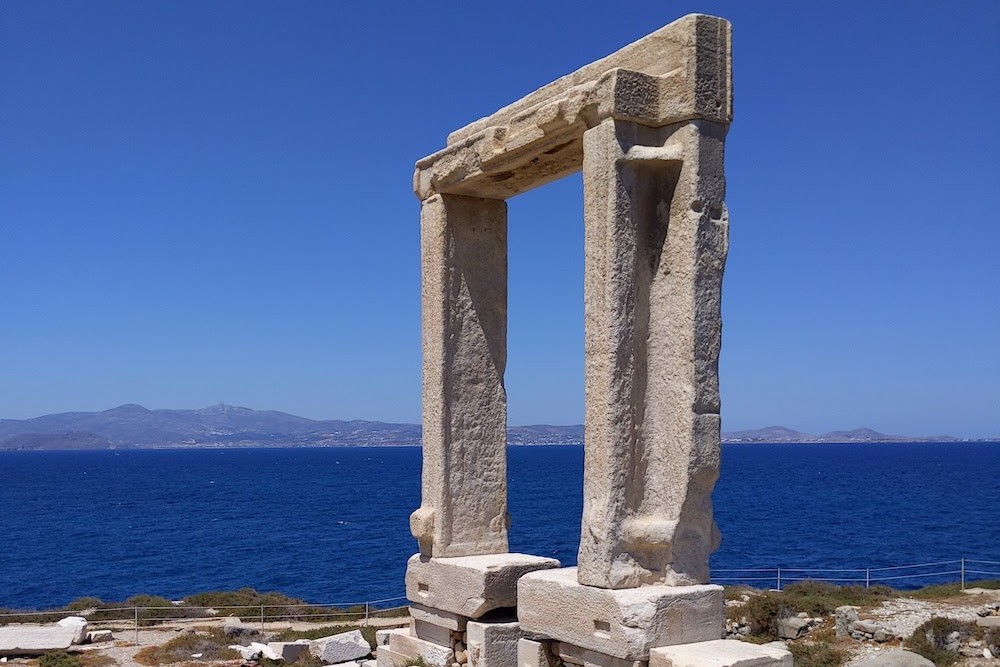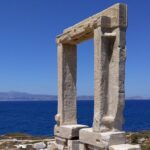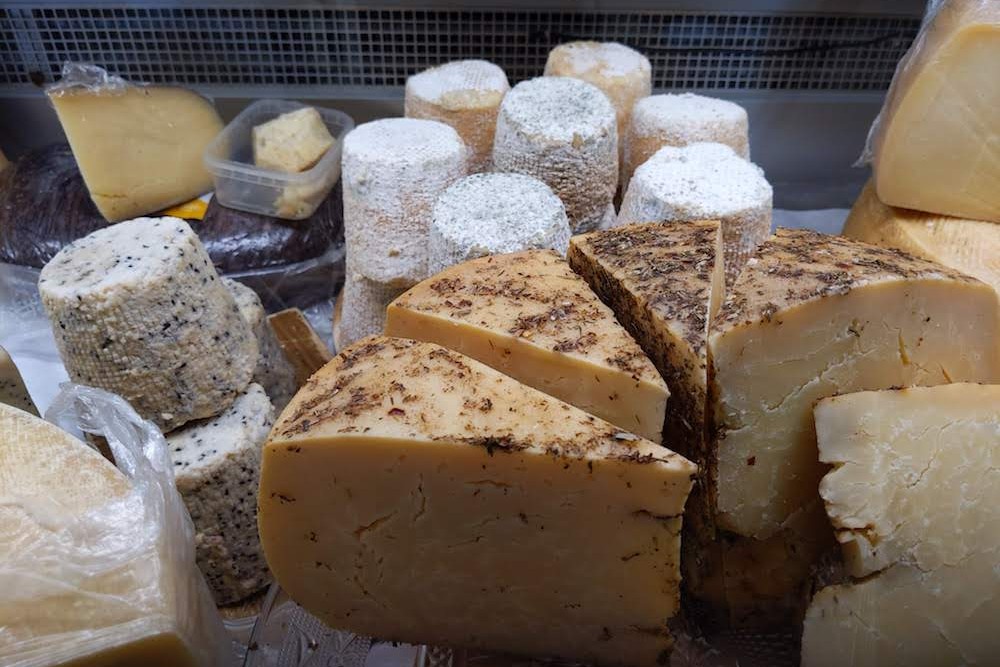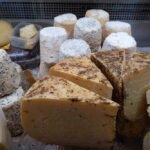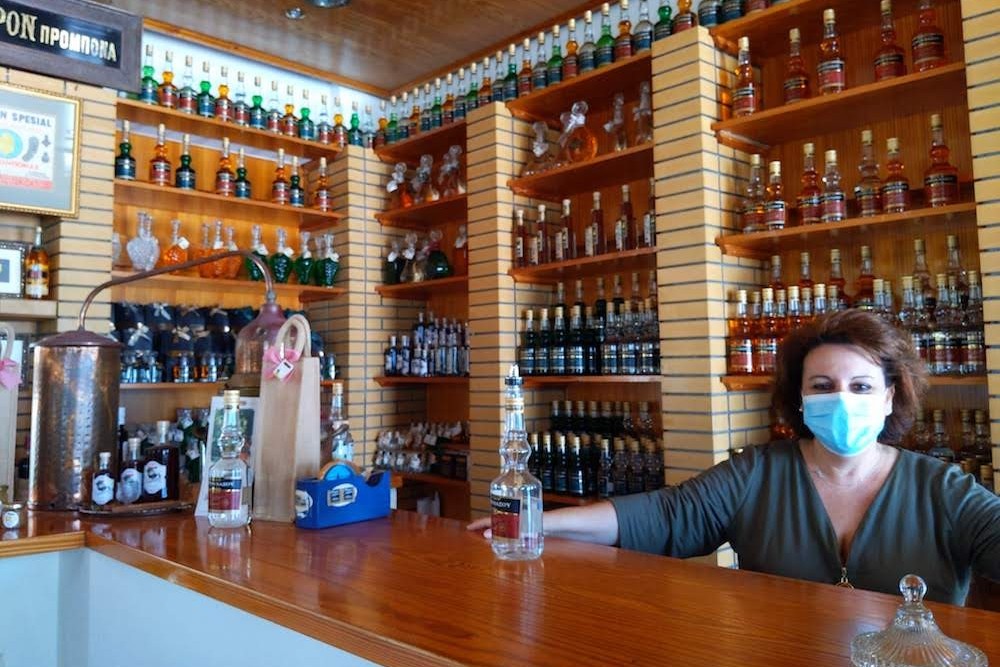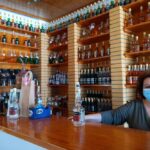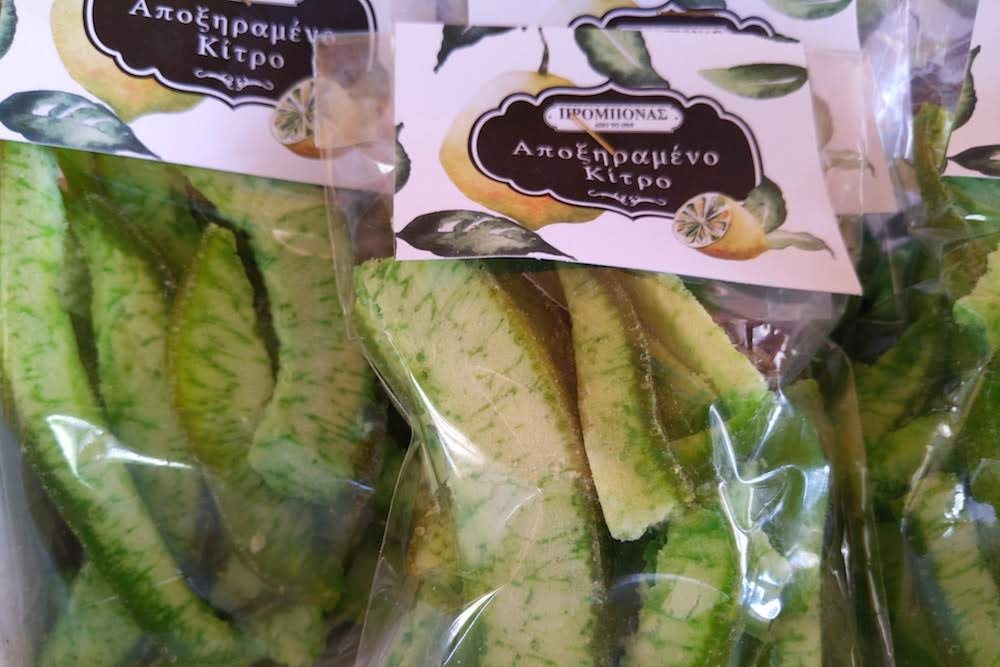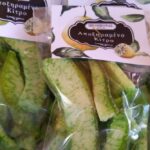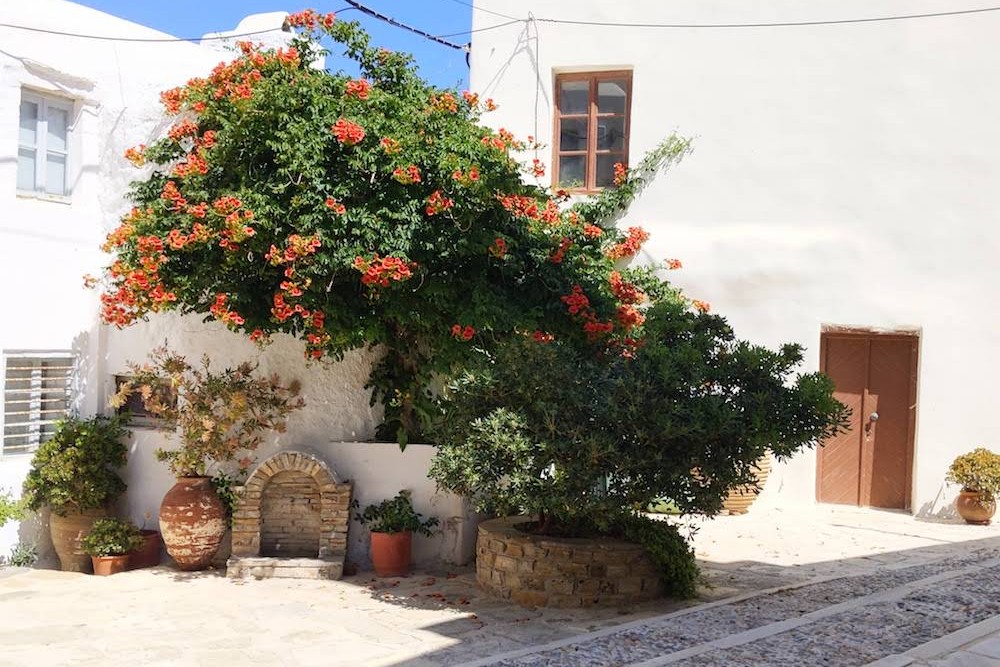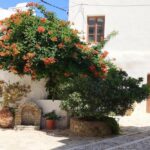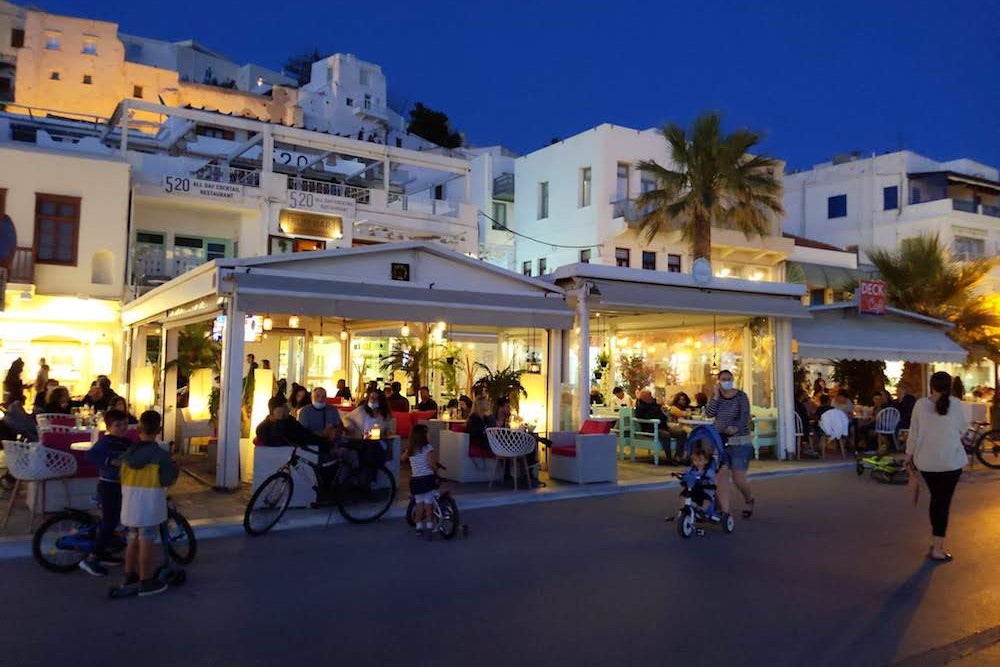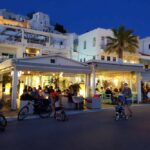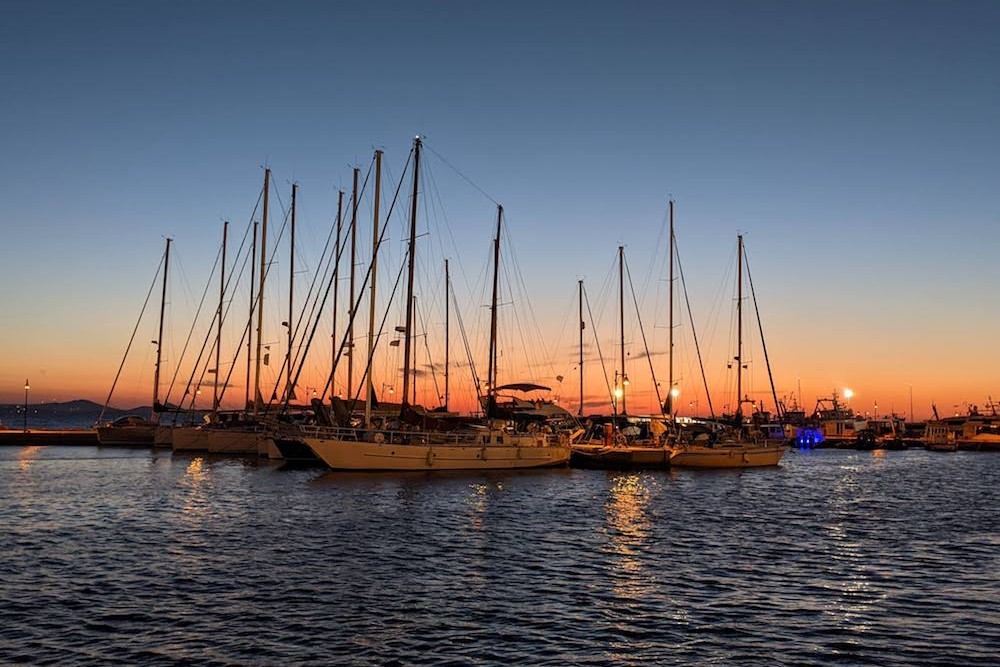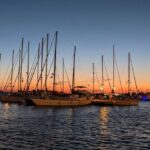 The Greek island of Naxos is known for its beaches and turquoise water, but it should also be on your radar for the food specialities produced here, the hidden-in-plain-sight history, and the tranquil atmosphere.
Even though it's the biggest island in the Cyclades, Naxos has dodged the overtourism challenges of neighboring Santorini and Mykonos so far, largely thanks to the absence of large cruise ships. When Greece opened to U.S. travelers in May, I talked to Mina Agnos, one of Wendy's recommended travel fixers for Greece, about where I should go. I put Naxos on my itinerary in order to get off the beaten path, see its lauded beaches for myself, and investigate whether the pandemic has changed the island experience.
The scene: relaxed and comfortable
On Naxos, it is easy to feel like the pandemic doesn't exist. Workers at shops, hotels, taxis, and restaurants do wear masks, wait staff also wear gloves, and hand sanitizer is everywhere, but since most of daily social life happens outdoors here, the rhythms and behaviors don't feel different. Tavernas have lots of tables scattered down adorable stone alleys, historical sights are in the open air, and the Aegean sea breeze blows over the beaches. Even the communal areas at my hotel, the 18 Grapes, were outdoors: a pool with socially distanced lounges, an al fresco bar, a breakfast area with floor to ceiling doors that opened to the pool deck; plus, all the 18 rooms also have private terraces.
At night, the island's main town (called Naxos Town or Chora Town), had many open restaurants along its narrow winding streets, but especially right by the water. Families and children were playing in the main plaza, and shops were open late, staffed by chatty, welcoming locals whose masks could not hide their happiness to have travelrs back. Don't miss the sunset overlooking the harbor.
So in all the ways that mattered, my time here felt like a "normal" slice of Greek island life. If anything, time on Naxos feels even more slowed down than usual.
The food: fresh and farmed right here
Naxos is mostly known for its beaches and turquoise water, and those are indeed stunning, but it's worth a visit for the agricultural products alone—they have a special character thanks to the island's green mountains, mineral-rich soil, windy micro-climate, and tens of thousands of sheep, goats, and cows. Its potatoes are known throughout Greece, and you can try the rich, yellow spuds with dinner at any taverna on the island. Look for the option to get them with cheese and you'll be adding Naxos's other masterpiece.  I spent some delicious time sampling the island's signature wheels with a fourth-generation cheesemaker from the Koufopoulos family, which has a farm on the island and a cute, stone-walled shop in town. Gloved and masked (and with no one else in the store), Maria handed me slices of two Naxian cheeses renowned throughout the Cyclades islands: arseniko (Greek for masculine), a hard, pungent cheese; and the milder, sweeter Graviera Naxou. Next she offered me a very unusual sour cheese called xinotyro and a delicious herbed variety made special by the family.
Naxos has yet another culinary distinction: It's the only place that produces Kitron, a citrusy liqueur made from the citron fruit. I sipped a glass with Katerina Probonas, whose family has been distilling the drink for 106 years, and which also makes jams, candies, and other products from the fruit. I was surprised at how delicious the dried, candied slices were, because the fruit on its own can be sour.
In between, I stopped at a market run by the Tziblakis family for three generations, where you can buy herbs, honey, olives and olive oil, traditional cookware and clay pots (for baking my new favorite Cycladic chickpea-stew recipe), and cheese from small farms that don't have their own shops. Kyriakos, the proprietor, let me try a few more slices, and explained that not only was everything in the shop made locally, the displays were even decorated with paintings by his wife.
My guide, Katia, was friends with everyone, and people waved and said hello even from the stores we didn't stop in. For anyone interested in a deeper dive into the agricultural and culinary scene on Naxos, she can arrange an all-day, progressive-meal tour, where you can stop at several Naxian villages and farms and eat a different course at each one.
The beaches: beautiful and not too crowded
As for the beaches, they were peaceful, picturesque, and not too crowded at this point of the season (and only a few weeks after the country reopened to travelers). The sandy stretches here are longer than on the other popular islands so there's more space to spread out and walk.  There are several beach areas around the island, so you can hop around and find your favorite. I was walked to the seaside village of Agios Prokopios from my hotel, where you can either rent one of the chaise lounges that various establishments have lined up on the sand (some farther apart than others) or bring your own blanket. And food can be ordered from shoreline restaurants and eaten al fresco.
The history: under your feet and at your fingertips
The iconic image of Naxos is the giant marble Portata, a gate standing 16 feet high over the port since 530 B.C. It is the entrance to what should have been a temple for Apollo but was never completed, and the structure is unusual because it doesn't face east as most ancient Greek temples do, but rather toward the island of Delos, where Apollo was supposedly born. It's also unusual because it's just sitting there on the hill — there's no entrance fee, there's not even an entrance gate, it's a literal open-air museum on a small hill that you can climb at any hour of the day (it's a particularly beautiful sunset spot). This lack of walls and barriers is very Naxian. The island has several ancient treasures scattered around, including the unusually shaped Temple of Demeter and a sunken Mycenaean-era city, and the entire top of Naxos town is part of the 13th-century complex where the Venetians ruled their Duchy of the Archipelago. So just walking through the streets, you can see (and touch) remnants of the past if you know where to look: a cross of the Knights Templar hidden in a sone wall, a fabric-measuring mark used by the Duchess when tailors who came to the castle door, granite foundations of a church from the 6th century BC, and (my favorite) an ancient marble column that now stands nonchalantly next to a fruit stand.
"This is not a monument," said my guide Katia as we wound through the old castle streets lined with houses. "People live here—you can see their laundry," she said pointing. "This is what makes Naxos special."
---

Be a safer, smarter traveler: Sign up for Wendy's weekly newsletter to stay in the know. And read real travelers' reviews of Wendy's WOW List and use it to plan your next trip.