Who We Are
Leveraging her 30+ years of journalistic experience, Wendy Perrin delivers a world of resources to discerning travelers eager to plan their next adventure.  With personalized tips, insider destination guides, and recommendations from Wendy and her vetted WOW List of Trusted Travel Experts, WendyPerrin.com is the go-to source for travel sophisticates ready to embark on their next journey.
Our Mission
The goal of WendyPerrin.com is to ensure our readers have extraordinary trips. We do that by providing honest, experienced advice and solutions, and by staying in close contact with readers throughout their trip-planning process—and even afterward, when they return—to ensure that their experience, the travel specialist's performance, and Wendy's recommendations all pan out to their satisfaction.
Unrivaled Personalization
Experience meets personalization on WendyPerrin.com. Travelers gearing up for their next vacation submit a comprehensive trip request that allows Wendy to connect them directly and immediately with the ideal Trusted Travel Expert (TTE). Together they develop an itinerary geared specifically to meet the traveler's needs, and the TTE makes it all happen.
Where and when?
Who is joining you?
How long will you be there?
What's your budget?
Where have you traveled and what did you love/hate?
Are there specific activities you have in mind?
What are your vacation goals?
Wendy responds to inquiries directly with suggestions fully customized to meet each traveler's needs.
Fixers At Our Fingertips: Wendy's WOW List
Wendy's WOW List of Trusted Travel Experts is a collection of exceptionally knowledgeable and well-connected trip planners around the world, all rigorously road-tested, based on her decades of experience as a travel journalist and based on recent trip reviews from our readers.
With detailed customer data in their hands, Wendy's Trusted Travel Experts—the most seasoned travel advisors and industry players in the biz—become personal concierges, transforming a traveler's initial inquiry into reality.
Our Expertise: Well-Informed and Effective 
Through our personalized advisory service, we:
Receive and advise on more than 5,000 trip requests per year.
Have received and advised on more than 34,000 trip requests since launch (in 2014).
Through our twice-weekly newsletter, we connect with our most engaged and active travelers. Our newsletters:
Inspire 140 trip requests per week, on average
Have an average open rate of 55% (far higher than the industry average), evidence that our subscribers rely on us as an authority on post-pandemic travel and trust us for insightful intel and reporting.
Drive desire for the specific destinations covered.  There is a strong relationship between the countries covered in the newsletter and the countries that travelers request.
Our Audience: Engaged and Eager
WendyPerrin.com readers have always been frequent world travelers. The pandemic proved that further. While the travel industry as a whole paused in 2020, many of our readers had to make essential trips in 2020, and they began traveling frequently again in 2021.
Conversion rate when travelers connect with WOW Listers:
41% of trip requests turn into bookings
Average trip expenditure (not including airfare) for trips of 7 days or more processed through Wendy's WOW system:
2019: $20,695
2020: $26,029
2021: $20,728
2022: $23,656
2023: $26,898
Total spend in 2022 through Wendy's WOW system:
$28 million
Total spend for all trips since launch (2014):
$137.4 million
Our reach includes thousands of travel-industry movers and shakers:
Because of Wendy's history, we have many readers who are travel agents, travel journalists, and travel-industry watchers.  "Wendy Perrin Reveals Her WOW List of Top Travel Specialists" was the #2 most-read article of 2021 in Insider Travel Report, which goes to 95,000 travel advisors.
A Growing Audience
150K+ travel enthusiasts visit WendyPerrin.com every month.
Real Travelers
More than 34,000 trip requests have been submitted since launch.
Newsletter
20,000+ loyal readers
High-level engagement: 55% open rate (higher than industry average); 8% click through (also higher than industry average)
Twitter, Instagram, Facebook
150K+ followers
A Wide Variety of Travelers
AGE
18 – 24          9.7%
25 – 34          35.05%
35 – 44          19.21%
45 – 54          14.28%
55 – 64          12.26%
65+                9.06%
LOCATION
U.S                   73%
International  27%
GENDER
Female            62%
Male                38%
SOURCE
Desktop         40.43%
Mobile            51.22%
Tablet             8.35%
Cultivating Loyalty the World Over
"The travel specialists that Wendy has recommended over the years have NEVER failed to be amazing in every way…"
—Jeffrey Bernfeld
"You have always steered us in the right direction, whether it is choosing a destination or a hotel or itinerary…."
—Lynne and Paul Goldstein
"So glad you have not left us travelers adrift in the Internet morass…"
—Susan Ford
Read more reviews of Wendy here, and reviews of the WOW List from real travelers who've used it.
Credibility and Thought Leadership
Wendy is one of the most trusted voices in travel. Town&Country magazine calls her "The Travel Whisperer" who will take you "as close as you can get to vacation perfection." Condé Nast Traveler praises "The Wizardry of Wendy" and her "encyclopedic knowledge of all things travel." After 30 years as a travel advice columnist and consumer advocate, first at Condé Nast Traveler and then at TripAdvisor, Wendy has amassed comprehensive knowledge of the world's best travel solutions and fixers. Many publications, TV, and radio programs have tapped her for her knowledge, including:  Town & Country magazine, The Wall Street Journal, Houston Chronicle/SF Gate, The New Travel Conference, HuffPost, New York Post, The Points Guy, U.S. News & World Report, Cruise Critic, and more.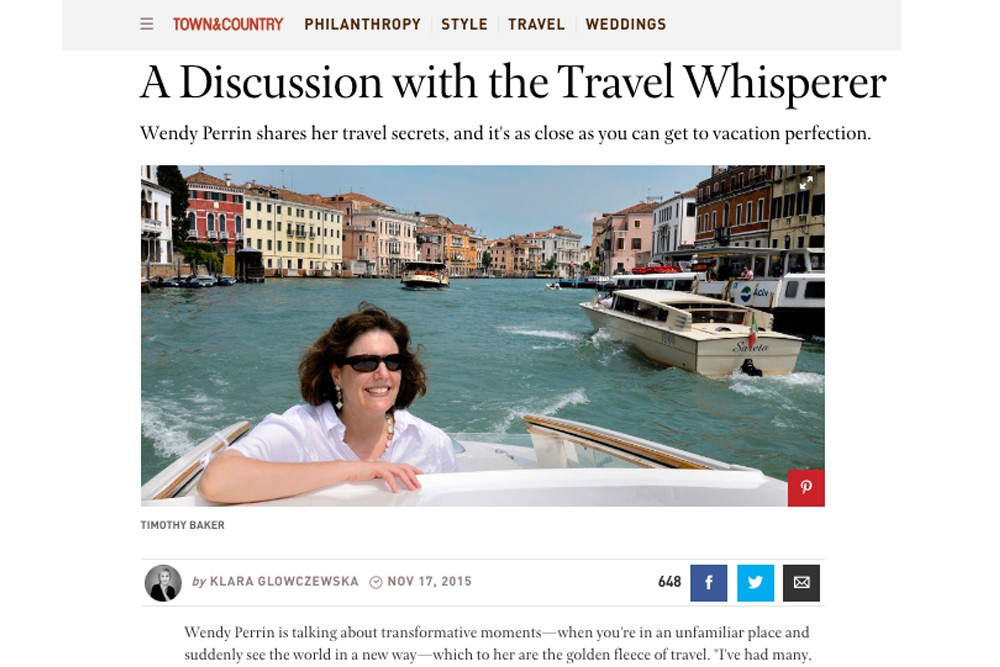 "Wendy's site is a compendium of tips, recommendations, and—especially valuable and unique—her assiduously vetted collection of the very best travel agents out there….It's like having a travel godmother."   —Town&Country
Join Us: The Wendy Perrin Global Travel Summit
The Wendy Perrin Global Travel Summit is an in-person conference where our team meets face-to-face with the private trip designers we recommend, many of whom Wendy has known—and monitored voluminous consumer feedback about—for well more than a decade. We discuss the latest trends, most popular destinations, and solutions to the biggest travel challenges. We then use that shared knowledge to improve our readers trip-planning experiences and to ensure they have extraordinary travels.
Read highlights from the 2020 Global Travel Summit.
Join Us: WOW Week
WOW Week is a virtual get-together with our community of sophisticated travelers. Throughout the week, we share the best new travel finds and intel via live Zoom chats with experts, social media conversations, and specialized content.
Inquiries about sponsorships and advertising may be addressed to Wendy at wp@wendyperrin.com.