The insider advice on this page is from one of Wendy's Trusted Travel Experts for Southeast Asia: Sandy Ferguson and Ethan Crowley of Asia Desk.
Sandy Ferguson and Ethan Crowley
Sandy and Ethan craft tailor-made itineraries that take travelers to multiple destinations in Southeast Asia and combine five-star creature comforts with authentic local experiences. Both grew up in the region: Sandy graduated from the International School of Bangkok in 1969 while his father was serving in the Vietnam war and has planned trips to the region for more than 30 years; Ethan was raised in Cambodia and is fluent in Khmer. Sandy now splits his time between Saigon and the U.S., while Ethan keeps the office running in South Carolina. This team is always candid about what works best for travelers, and, just as important, what doesn't. They have a vast network of powerful contacts in the hotel industry—which translates into status for you—and a wonderful selection of on-the-ground hosts, all charismatic locals whom Sandy considers family (some of them really are!).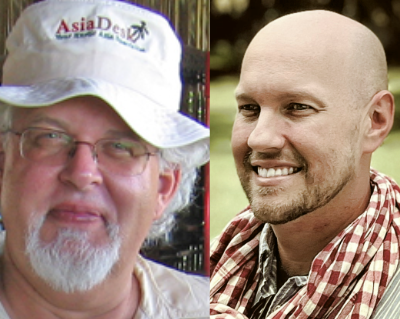 Expect WOW trips orchestrated by Sandy and Ethan to start at $800 per day for two travelers, including accommodations, breakfast daily and some lunches, transportation, private guiding, and all entry fees while sightseeing; minimum booking requirement of $5,000 for land arrangements of two or more people.
Where to Stay and Eat
Hotels worth the splurge
In Hanoi: The Sofitel Legend Metropole is not just the best hotel in Hanoi, it's part of the history of the city. In fact, every evening a local historian leads guests through its history, including the bomb shelter under the pool bar. The Historical Wing is undergoing renovations (expected completion at the end of 2023), but all public areas are open.
In Hue: The Azerai La Residence, another hotel set in a historical building, was constructed in a 1940s-era art deco design as an exposition hall and residence for the French governor general of Indochina when visiting the emperor in Hue. It overlooks the Citadel and Perfume River. For a real treat, stay in the Resident Suite on the third level: You'll have to negotiate stairs, but the view and the feel of days gone by is worth it!
In Hoi An: There are two distinct locations to choose from: on the beach, or in town a short walk from the UNESCO World Heritage-listed Old Quarter. The Four Seasons Nam Hai was the first—and remains the finest—luxury-class beach resort in the area, and the beach-front villas along the famed white-sand China Beach are an ultimate luxury. Although a 20-minute drive from the old town, it offers secluded relaxation with all the amenities of a Four Seasons. In town, which is preferable for only a couple of nights, the Anantara Hoi An is a river-side resort two blocks off the Old Quarter; you can walk in every night to shop, people watch, and enjoy hundreds of great restaurants and street-food vendors. The suites facing the river are great, but get one on the second floor for more privacy.
In Nha Trang: The Six Senses Ninh Van Bay offers a top-shelf experience 20 minutes by boat from the mainland; enjoy total seclusion with impressive rock formations overlooking the South China Sea, a white-sand beach, and towering mountains.
In Saigon: The newest, and undoubtedly best hotel in Saigon is not going to open until the city's new metro opens: The Mandarin Oriental Saigon sits on a prime spot at the top Saigon's grand Le Loi Boulevard, kitty-corner from the Opera House and a few steps from Ben Thanh Market. Until the Mandarin opens, the Deluxe Park rooms off the pool at the Park Hyatt Saigon a few blocks away are a quiet respite in this bustling metropolis.
Best bang-for-your-buck hotels
In Hoi An: The beach villas at the Boutique Hoi An Resort offer a wonderfully comfortable waterside location south along the coast from the Four Seasons, and a few minutes closer to old Hoi An.
In Nha Trang: The Amiana Resort is ideally located on a secluded headland at the north end of the bay, with spacious rooms and villas all elegantly crafted from local materials. Here you get a very private setting with a romantic ambiance, but are not too far removed from Nha Trang Town.
Restaurants the locals love
In Hue there is an outstanding place called Lạc Thiện Restaurant (6 Đinh Tiên Hoàng) near the old Imperial city. Here the Banh Khoai—a dish created to fulfill the Emperor's extreme demand for tasty food, which literally translated means "happy cake"—resembles a big smile and comes folded like a taco.
For comfort food it's Saigon all the way: Chuck's Burgers (46 Phạm Viết Chánh in Bình Thạnh) and Jake's BBQ (in District 1) are both excellent.
Dishes to try
In the north, it's bun cha: grilled pork in fish sauce with noodles. That's the meal that Barack Obama and Anthony Bourdain shared in Hanoi, at Bun Cha Huong Lien—which used to be worth a visit, before it got famous. Now the food is not that great but there's a line of tourists to get in. Instead, ask your local host to take you to their favorite bun cha place.
In the south, is banh xeo, crisp and savory crepes; Sandy's favorites are stuffed with beef and bamboo shoots. There is a local place, Thanh Dieu, with four branches in HCM City that serves the absolute best in in town.
What to See and Do
Don't miss
Dalat, known as the City of Love, was founded in 1893 by a French doctor who recognized the recuperative benefits of the mile-high elevation. The town overlooks lakes and is surrounded by pine tree-covered hills, and has some of the most beautiful old colonial buildings found in all of Asia. In 1940, a few years after the rail line was built to Dalat, France's Vichy government decided that Dalat would be the summer capital for all of Indochina. During the war years the French living in Vietnam prospered greatly, selling staples like rubber, coffee, and rice to the Japanese armies fighting in Asia. Unwilling to repatriate their profits to occupied France, a massive building boom—mostly of elegant villas and government buildings—fueled Dalat's economy. It was also during this period that Dalat became a university center for colonials and Vietnamese alike.
Ninh Binh—the outdoor set used in the newest Kong movies—is a breathtaking region of rice paddies and karst hills, but it's a bit of a hike outside Hanoi. Best to make a day of it, which includes a few hours on small local boats polling around the amazing topography.
Don't bother
The Ho Chi Minh Mausoleum in Hanoi is really aimed at Vietnamese visitors, mostly school groups. Plus, the lines are long for just a quick view of embalmed Uncle Ho, making it all a bit of a letdown.
Hidden gem
For a hands-on eco-adventure in Hoi An, spend a day with Sandy's old friend Jack Tran, providing unique insight into various components of rural Vietnamese life through close-ups of local farming and fishing communities. Start the day cycling along country roads, meet local farmers, ride a water buffalo in a rice paddy field, board a boat for a river cruise, meet local fishermen, and enjoy a hands-on experience of traditional net fishing.
Cheap thrill
In Hue, rise before breakfast and bike around the old fortress in the early morning hours; most hotels offer complimentary bicycles to guests.
Bragging rights
Hanoi is a center for the fine arts in Vietnam, and Sandy has an exclusive arrangement with an expat gallery owner to explore the local scene with her leading the way. Sandy has also spent many years working with veterans on both sides of the Vietnam conflict, and he knows a number of colorful characters—both American and Vietnamese—who will greatly enhance your Vietnam experience.
In central Vietnam, explore the ancient Cham ruins of My Son with Mr. Nguyen Thuong Hy. Part artist, part historian, part architectural preservationist, Mr. Hy has dedicated over 30 years to researching and beautifying these ruins; he even lives in a recreated ancient cottage that he built on a nearby hill. He knows every brick of the site and enjoys walking the grounds with travelers to add extra insight.
Downtime
The best place in Vietnam for downtime is the coastal area around Nha Trang. Even if you stay outside of town, set aside time to explore this beautiful city, which has some of the best seafood, beef barbecue, and fresh beer found anywhere in Southeast Asia. Once the capital of the great Cham empire, some remnants like the Po Nagar tower are quite well preserved. More recent sites like the Yersin Museum, a tribute to French-Swiss explorer and bacteriologist Dr. Alexandre Yersin, who founded Dalat, can be found within the compound of the Pasteur Institute. Additionally, the Oceanography Institute, established in 1923, was one of the first centers for scientific research in Vietnam and is an important location for tropical oceanographic research to this day. Nha Trang Bay is protected by a collection of large off-shore islands that can be explored by fast boat; for a real local experience, take the Vinpearl cable car out to Hon Tre Island one afternoon.
Best for thrill-seekers
There are a wide variety of adventures to be had in the Dalat highlands: If you're looking for a challenge, trek to Tiger Cave and along the Laba River, crossing two suspension bridges. Never rapelled by rope down a cliff? Sandy's guys can show you how up on Langbian Mountain, and then hike with you to a Lak tribal village. Or an easy, 12-mile mountain-bike ride takes you through countryside with lakes, rivers, farms, and pine forests. For the most hard-core, there's white-water rafting, spelunking, and canyoning, all in the high elevations above 5,000 feet.
Beach Basics
Danang's beach used to be known as "China Beach" during the American time; it's long and very wide, with the blue Pacific generating great waves for surfing. Staying just to the south, near Hoi An, allows you to combine cultural and dining opportunities with your beach time. Make time as well for an excursion by private speedboat to the Cham Islands. These eight small islands, nine miles offshore, make up the Cu Lao Cham Marine Park, where you can go snorkeling or diving on pristine coral reefs, enjoy a seafood BBQ lunch, and relax on some of Vietnam's most untouched beaches.
Further south lie the transparent turquoise waters of coastal Nha Trang, an abundance of offshore islands, and the old-world charm of colonial-era hotels and villas. Nha Trang has been a beach resort since the late 1800s, when the French dubbed it the Riviera of Indochina. This resort town is well known for its miles of shoreline, fantastic seafood, and the friendliness of its people. The city is flanked by nearly six miles of prime sand where the water is warm year-round. Tran Phu Boulevard is Nha Trang's most famous thoroughfare and runs the length of the beach, with most major hotels located along it. Unlike many Vietnamese cities where the primary mode of transportation is the motorbike, the people of Nha Trang still walk or use a bicycle as their means of getting around, adding greatly to the tranquility of the town.
In colonial times, the Con Dao Islands, a 45-minute hop from Saigon by plane, were known as "Hell on Earth" because of the French prison where thousands of Vietnamese nationalists were incarcerated. But with beautiful white-sand beaches, great diving and snorkeling, sea turtle hatcheries, and hiking trails criss-crossing Con Dao National Park, today it is a magnet for nature lovers as well as history buffs. (The prison complex is being preserved and is the largest colonial-era building in all of Vietnam.) Most of the coastline is untouched by development, with towering palm trees hanging over long stretches of postcard-perfect white sand. Note: the airport on Con Dao will close soon for a year to expand the runway; during the closure, only a full-day ferry ride will get you out and back from the islands.