The insider advice on this page is from one of Wendy's Trusted Travel Experts for Southeast Asia: Sandy Ferguson and Ethan Crowley of Asia Desk.
Sandy Ferguson and Ethan Crowley
Sandy and Ethan craft tailor-made itineraries that take travelers to multiple destinations in Southeast Asia and combine five-star creature comforts with authentic local experiences. Both grew up in the region: Sandy graduated from the International School of Bangkok in 1969 while his father was serving in the Vietnam war and has planned trips to the region for more than 30 years; Ethan was raised in Cambodia and is fluent in Khmer. Sandy now splits his time between Saigon and the U.S., while Ethan keeps the office running in South Carolina. This team is always candid about what works best for travelers, and, just as important, what doesn't. They have a vast network of powerful contacts in the hotel industry—which translates into status for you—and a wonderful selection of on-the-ground hosts, all charismatic locals whom Sandy considers family (some of them really are!).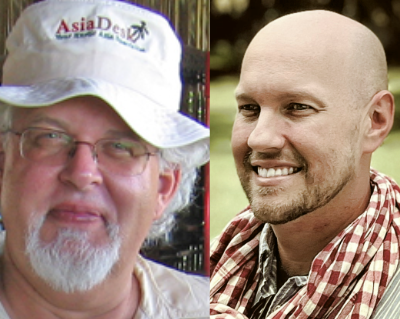 Expect WOW trips orchestrated by Sandy and Ethan to start at $800 per day for two travelers, including accommodations, breakfast daily and some lunches, transportation, private guiding, and all entry fees while sightseeing; minimum booking requirement of $5,000 for land arrangements of two or more people.
Where to Stay and Eat
Best-value splurge hotel
Luang Prabang's newest luxury property, MyBanLao, recently opened with a Lao-experienced hotelier at the helm. The location, a few blocks from Amantaka and the night market, was once the home of a Lao general in the former U.S.-supported government, and it doubled as a CIA office during the famed Secret War in Laos. The old "burn room" for keeping—and if need be, burning—sensitive documents, now a whiskey and cigar bar, is protected by a 12-inch-thick, blast-proof door. The property conforms beautifully to the UNESCO World Heritage architectural requirements in a most functional fashion and includes a couple of two-bedroom traditional Lao wooden houses for an exceptional, and very traditional, Lao experience.
Restaurants the locals love
Joma Bakery & Café, first opened in Vientiane in 1996, expanded to Luang Prabang three years later and now has 12 stores in four cities across three countries. Their coffee is the best in Laos, their Lao pumpkin soup is to die for, and they make the best reuben west of New York City!
Another popular local spot in Luang Prabang is Ban Khili Khao Piek Noodles, a small shop with only a few tables. Khao piek is a Lao noodle soup that has been perfected in Luang Prabang, and this shop offers the best in town. Only the one soup is available, but you can get it with pork, chicken, or vegetarian. Go before 11:30 a.m. or after 1:00 p.m. to avoid the lunch rush and get a seat.
Yaek Pak Pa Sak is a great place for local color in Vientiane; this eatery and bar is packed every night. It's not far from the town center, located on the corner of Sithane Road and Quai Fa Ngum, and just across the street from the beginning of Vientiane's famous Riverside Park.  The bar has views of the Mekong, live music, good eats and, and Beer Lao, which is by far the best brew in Southeast Asia.
Dishes to try
Lao food is famous for complex flavors presented with incredibly fresh local ingredients. The dishes seem endless and are all made with a lot of preparation and love. Sandy and Ethan's favorites include Luang Prabang sausage, as sold by Mrs. Noy at the local market beside the Amantaka during lunchtime. You can have a delicious meal of sticky rice, sausage, and jeow (dipping sauce made from eggplant, tomato, or pepper) for $2. If you miss Mrs. Noy at lunch, you can pick a close second at one of the stalls near the night market. They also encourage you to try mok paa, which is steamed fish in banana leaf. The fish, herbs, garlic, and peppers are all pounded together and packed into the leaf, making for a refreshing and highly fragrant dish. It's popular throughout the country, but Vientiane is especially famous for its mok paa.
Meal worth the splurge
In Luang Prabang, the newly opened Gaspard Restaurant is the best fine-dining experience in Laos.
What to See and Do
Don't miss
More than half of the world's Lao-speaking population actually lives across the Mekong River in Thailand, mostly in a northeastern region of the country called E-sarn. To get a full understanding of Laos, spend some time in E-sarn, on the Thai side of the river.
Most overrated places
Vang Vieng, the darling of travel blogs and influencers because of its incredibly spectacular scenery, should be skipped to avoid the crowds of backpackers who descend for the tubing, drinking, and sampling of local psychedelic mushrooms.
The Plain of Jars is a fascinating archaeological site to be sure, but many travelers find it underwhelming, depending on their expectations.
Most underrated place
Champasak and southern Laos. With the arrival of quality accommodations in southern Laos such as The River Resort, visiting the mysterious pre-Angkorian, 10th-century temple of Vat Phou, the islands of Don Khong and Don Khone, the Tad Somphamit waterfall, and other nearby attractions is a lot more comfortable than before. This area, a paradise known as the "4,000 islands," is rife with both ancient and colonial history; see it now before it's too late!
Hidden gem
Pakbeng, a small Lao town on the Mekong River, about halfway between Luang Prabang and the Thai border at Huay Xai. It sits on the north side of a deep valley where the Nam Beng River meets the Mekong and has been the end of a long trade route from Yunnan, China for a millennium. In only the past few decades, Pakbeng has been connected by a paved road to Oudomxai, the next major town along the river. An elephant sanctuary was opened on the opposite side of the river in 2017; every morning elephants come to bathe in the river and their calls echo throughout the valley. In 2018, Le Grand Pakbeng opened with 45 tasteful rooms atop a hill at the north end of town, with a magnificent 360-degree view.
Cheap thrill
Local Lao cuisine is a cheap adventure all by itself. You can easily go to a market in any town and order a couple of traditional dishes for about $1 each. The dishes will be much more authentic than what you would get in a restaurant in the main parts of town—and one-fourth the price.
Best wildlife experience
The MandaLao Elephant Sanctuary offers quite possibly the best—and most ethical—elephant experience in Southeast Asia, just outside Luang Prabang. MandaLao works with the WWF and World Animal Protection and is a haven for elephants rescued from the logging industry and riding camps. Spend the day helping to bathe and feed some of the most intelligent, caring, and enormous mammals on earth.
Prime picnic spot
From Luang Prabang, follow the Nam Khan River to the Tad Sae waterfall, a stunning limestone cascade with florescent turquoise pools. Here also lies the tomb of the 19th-century French explorer Henri Mouhot, the first European to see Angkor Wat and visit the Royal Kingdom of Luang Prabang. It's a great spot to picnic, as many Lao people do, so come early on weekends.
How to spend a lazy Sunday
Take a leisurely bike ride (all the hotels have bikes available) around Luang Prabang, stopping for drinks or snacks along the riverside and to have a massage. Sunday is a great day to ride a bicycle because there are not as many cars in town, as locals will either be home resting or have driven outside of town for the day.