"These might be the most comfortable pajamas I've ever worn."
That is my most lasting impression from my 13 hours on a Qatar Airways flight from JFK to Doha the other week. The big draw of the airline is its business class, which travelers have named best in the world in Skytrax's World Airline Awards for the past two years running (its seats, amenities, food, and lounge earned high rankings too). The back of the plane isn't shabby either: Skift named Qatar Airways Best Economy Long-Haul Experience in 2015. But it was the business class experience—complete with a Giorgio Armani amenity kit, soft gray pajamas, and cushy slippers—that I indulged in last week.*
The rise of the airline—which launched as a regional service in 1994 and was revamped as a global player in 1997—mirrors the rise of Qatar as an international tourist destination. A young country in general (it was a British protectorate until 1971), the capital city of Doha was raised into existence only 35 years ago, but already the wealthy Qatari government has positioned it as a luxury Middle East destination, attracting all the biggies in luxury travel brands: Four Seasons, St. Regis, InterContinental, and most recently Anantara, which recently opened the Banana Island Resort to which I was bound. There's star power in the culinary space (Alain Ducasse, Nobu, Shake Shack, and NYC cupcake stalwart Magnolia Bakery); in the arts scene (I.M. Pei designed the Museum of Islamic Art, and Richard Serra created a monumental series of obelisks for the museum and for the desert), and along the skyline (you'll find projects by Jean Nouvel, Norman Foster, and Rem Koolhaas). Construction is everywhere: a new cultural village packed with galleries and a striking 4,000-seat marble amphitheater; a new metro rail system; a new education "city" offering American universities to Middle East residents; the new Mall of Qatar (which will be the largest in the country); and, of course, a rush of new sports facilities in anticipation of the 2022 FIFA World Cup.
Travelers are taking notice, and their introduction to Qatar begins on the plane. It's an impressive one. Here are five things I loved about my nonstop business-class flight…and two things I didn't.
The Good
1. The personal attention begins as soon as you check in.
Qatar Airways' VIP service starts right at the airport check-in counter, when one of the desk agents offers to escort you to the lounge. I didn't know it at the time, but this was code for "you will get to cut every line in security and insert yourself and your bins right at the front." I definitely enjoyed the celebrity treatment's speed and ease, but it came with a side of guilt for cutting in front of all the regular folk waiting to make their way through the TSA maze. However, anyone flying QR in any cabin class can purchase this VIP treatment. It's called the Al Maha service and includes an escort from check-in to the gate and a welcome escort at Doha International Airport who will guide you through passport inspection and out to your ground transportation; the service is also available on arrival (prices start at 300 Qatari riyals each way).
Once onboard, you'll find a set of pajamas and a Giorgio Armani amenities kit stuffed with the usual essentials (ear plugs, eye shade, socks) and some Armani perfume and lotion.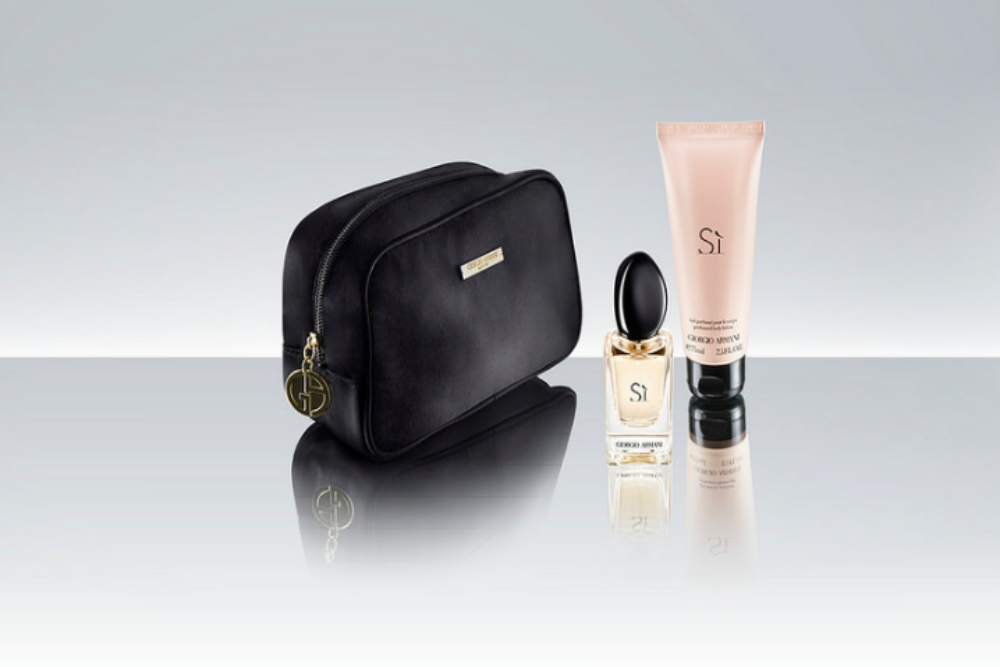 The Giorgio Armani business class amenities kit contains perfume and lotion—men get one set, women get another. Photo courtesy Qatar Airways.
2. The seat configuration allows for space and decent privacy.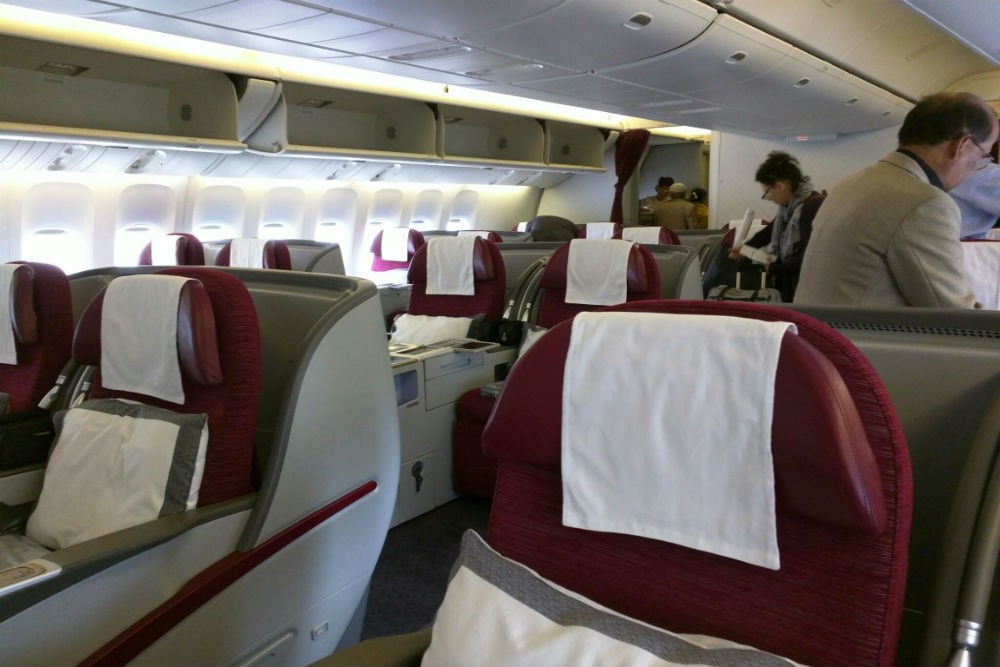 The 777 we took from JFK to Doha had a 2-2-2 configuration. For easiest access to an aisle, choose seats in the middle section. Photo: Billie Cohen.
My plane was the B777-300ER, which meant a 2-2-2 configuration in business class. I shared my nook with only one other person, with whom I could enjoy conversation while we got settled and then completely ignore once we reclined for movies and sleep, thanks to the cocoon-like design of the lie-flat seats.
3. The in-flight entertainment system made it kind of hard to leave the plane.
All seven of the Harry Potter movies, all three of the Lord of the Rings movies, an entire collection devoted to Meryl Streep, plus a ton of Bollywood films and TV and music from around the world. I kept thinking, Why can't Netflix have as good a selection? It was hard to choose between sleep and staying up all 13 hours to watch movies.
4. The food is good enough to be served on the ground.
Pumpkin and chestnut soup. Summer greens and mozzarella salad. Greek yogurt with raspberry compote and toasted granola. A selection of desserts from Ladurée. Special dishes created by Nobu Matsuhisa and Vineet Bhatia (the first Indian chef to win a Michelin star). And lots of small details added to the feeling of fine dining: warm mixed nuts, warm bread and butter, mini boxes of Valrhona chocolates, white-cloth napkins, real silverware, and real glasses. Unfortunately, my food pictures are horrible; I have not mastered the art of Instagramming dishes in any appetizing way whatsoever, so I haven't done justice here, but believe me this was food I would've been happy to be served in a restaurant. And the best part is that it's all delivered to your seat whenever you want, rather than when the flight attendants' schedule says it's time.
5. The award-winning lie-flat bed
As a light sleeper, I was skeptical that this "bed" would be as comfortable as promised. It was. After the flight attendants set you up with a thin mattress, a fluffy pillow and a light cloth quilt (none of that staticky fake fleece stuff), it is really hard to stay awake. On both flights, the lights were dimmed, with only the soft glow of the color-changing ceiling accents, which cycled through blues, greens, and oranges to indicate time of day. According to Qatar Airways, the purpose of the mood lighting—which exists in the economy cabin as well—is to decrease the effects of jet lag, but I'm thinking it has more to do with the beds than the light bulbs.
The fully adjustable bed not only made for comfortable sleeping, but for working, and curling up and watching Harry Potter. I especially appreciated the adjustable attached footrest; thanks to button controls that let you raise it to your comfort level, my short legs (which don't usually reach the floor on airplanes…or buses, subways and office chairs for that matter) enjoyed the full benefits of a footrest for the first time I can remember.
The Not So Good
No exit 
There I am, happily cozying up in my reclined seat, snacking on chocolates, flipping through movies while my neighbor gently snored in the next seat, when nature called and I discovered the first downside to life in QA's business class. Not the bathrooms (which were cleaned often and stocked with aromatic soaps), but the one drawback of these award-winning lie-flat beds.
I chose a window seat in on both of my flights. Great for sightseeing (I'm a sucker for takeoff and landing photos), but bad for every time I wanted to go to the bathroom. Once my seatmate was fully reclined and snoring, I was trapped: His feet reached all the way to the wall, so to get out of our row, I had to climb over his legs, a fate I had naively thought was limited to the coach-class experience. Thankfully he was a heavy sleeper and there wasn't much turbulence. Otherwise, there could have been a very awkward spill onto his bed. If you want to avoid this on your next business class flight, check SeatGuru to determine the cabin's seat configuration. If it's 2-2-2, like mine was, choose the middle section to guarantee easy aisle access from both seats.
No Wi-Fi, inaccessible power
Power plugs are a must-have these days. Even if you're distracted by Meryl Streep's complete catalog of films, at some point on a 13-hour flight, most of us have to do some work. But on QR's 777, the plug (which, conveniently, does not require an adapter) is inconveniently hidden behind the lower-leg portion of the seat. Even when the seat is in its fully upright position, it covers the recess where the plug is located; if I didn't have small hands (and if I wasn't willing to sit on the floor in front of my seat holding a phone flashlight), I would not have been able to plug in my computer. Once I did, I realized the other drawback of QR's 777s: no Wi-Fi. I understand that some aircraft are older and not able, or worthwhile, to be retrofitted—and the airline's 787s, A350s, and A380 all have internet—but business class should allow you to, you know, get some business done.
To be fair, these are pretty minor quibbles considering how comfortable the flights were, how impressive the food and service were, and how easy it was to sleep. While getting work out of the way is key to having a good vacation once you're on the ground, the truth is that you can't get anything done—on or off the plane—if you're tired and hungry, and Qatar Airways sufficiently takes care of both. Plus, you get those pajamas.
*Full disclosure: My flight was fully paid for by Qatar Airways, as part of a small media trip to Anantara's new Banana Island Resort, just off the coast of Doha. (The five of us were the first American journalists to see Anantara's new property here.) Onboard, I watched carefully to see if the flight crew treated me or my colleagues any differently than other passengers and it did not seem to be so.
In keeping with WendyPerrin.com standard practice, there was no request for or expectation of coverage on our hosts' part, nor was anything promised on ours. You can read our signed agreement with Qatar Airways here and with Anantara here. 
Be a smarter traveler: Use Wendy's WOW List to plan your next trip. You can also follow her on Facebook and Twitter @wendyperrin, and sign up for her weekly newsletter to stay in the know.