Note from Wendy:  Uzbekistan was a hard sell at first.  For seven years Zulya Rajabova, the Uzbekistan native who is the Silk Road trip-planning specialist on my WOW List, had been trying to show me her homeland. She was excited to introduce my teenagers to her cadre of youth ambassadors and teenaged guides-in-training back in Bukhara.  Finally, my family of four managed to get there—and it was the last trip we made together before the pandemic hit.  In the months of being homebound that followed, stuck around our kitchen table, we've spent a lot of time reminiscing about our exotic adventure. My photojournalist husband, Tim Baker, decided to write it all down. Here's Tim, along with a few of the thousands of photos he shot: 
When people ask me my favorite place to travel to, I often quote travel writer and friend Bob Payne: "Someplace I haven't been before."  So when Wendy said we were going to Uzbekistan, I was thrilled.  I knew nothing about Uzbekistan, other than it was on the Silk Road and, along with a handful of other 'stans, a former member of the USSR.
As I often do, I purposely avoided learning more about the country until we got there. Arriving with a blank slate is my own personal protest against all our modern travel information sources. You can learn so much about a place in advance, right down to the view you'll have out of your room in your hotel, but all that info deprives me of the sense of adventure I love and actively seek. Uzbekistan: Here was a clean slate. What is there to see? What are the people like? What do they eat? What are the flora and fauna? What's the weather like? How will Americans be treated?
What we found were warm and welcoming people, a fascinating culture, world-class historic sights, simple yet delicious food, and very, very few other foreign travelers.
If you are looking to sit poolside at a five-star resort and have umbrella drinks brought to you, Uzbekistan may not be for you. But if you are willing to endure a handful of bumpy roads and occasionally deal with Soviet-era logic and an early-stage tourist infrastructure, you will be rewarded with an unforgettable adventure. We certainly were.
What made it so special for us? The natural warmth of the people, for starters. We never had any reason to feel, anywhere, that we weren't entirely welcome. In fact, we were invited into people's homes and to family parties and celebrations. Our son Doug said we got a "firsthand look at the true culture" of the country. Our boys still keep in touch (through social media) with some of the young friends they made there.
A huge part of the education we got from the Uzbek people was learning firsthand the history of the Silk Road, the millennia-old overland connectors between Asia and the Mediterranean. The Uzbek people are rightfully proud of their history joining East and West.
While we had a number of meals in the finer restaurants, our favorite dishes were found at the simpler local bistros. Uzbek food—the quality of the ingredients and produce—was similar to what I remember from my childhood growing up on our family farm in northern California's Sonoma County: Carrots tasted like the ones we grew on our farm, and the barbecued lamb chops were every bit as good as Mom's!  The watermelons and cantaloupes were the sweetest and juiciest I've ever tasted. The biggest strawberries were only the size of quarters but exploded with flavor. The round national bread was among our favorite breads anywhere, especially when we got it right out of the oven in the markets. Which we often did, as nearly every town we visited had a market.
You might get a little "plov" weary. Plov is similar to rice pilaf and usually made in huge three- to six-foot diameter pans daily. Uzbeks put great pride in their plov. It varies slightly from region to region, with each region claiming that theirs is the best. And they are out to prove it, by making sure you get a plate full at almost every meal. The country's nascent wine industry has nowhere to go but up.
One of our most adventurous experiences was spending the night in a yurt on the edge of the steppes next to the ruins of a centuries-old mud fort along the Silk Road. The yurt experience was questionable in terms of modern creature comforts, with blowing sand everywhere, but we all agreed that it was one of our most memorable nights in all of our travels. Other favorite places we stayed were a former caravanserai where long-ago merchants from the Silk Road slept and traded, and a centuries-old former madrassa, a school for the study of Islam.
As a photographer, I found the whole country rich in subjects to shoot, from the colorful festivals to the many fine examples of Islamic architecture. Unlike in many countries, the people in Uzbekistan actually liked having their picture taken. The lack of tourist infrastructure works to a photographer's advantage too: Historic sights and landmarks had few, if any, signs or parking lots to shoot around or places you could not access for the best angles.
Would I go back?  You bet.  Tomorrow!  Before you and everyone else gets there.
I was rarely turned down when I asked if I could take a photo. Gold teeth are something of a fashion statement.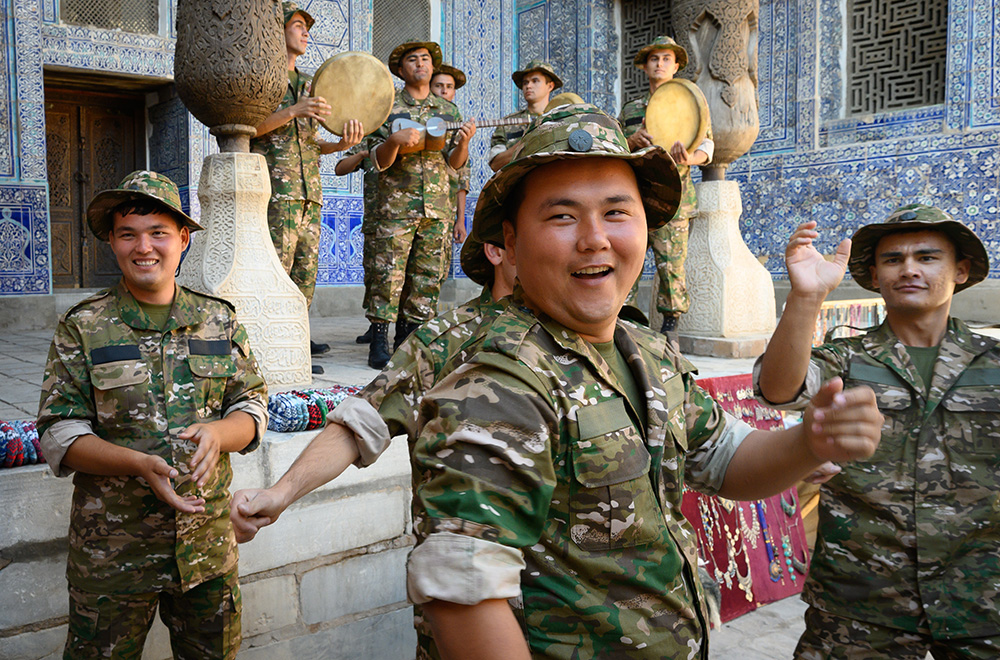 Part of a military band in town for a local festival. We were encouraged to dance with the locals wherever we went.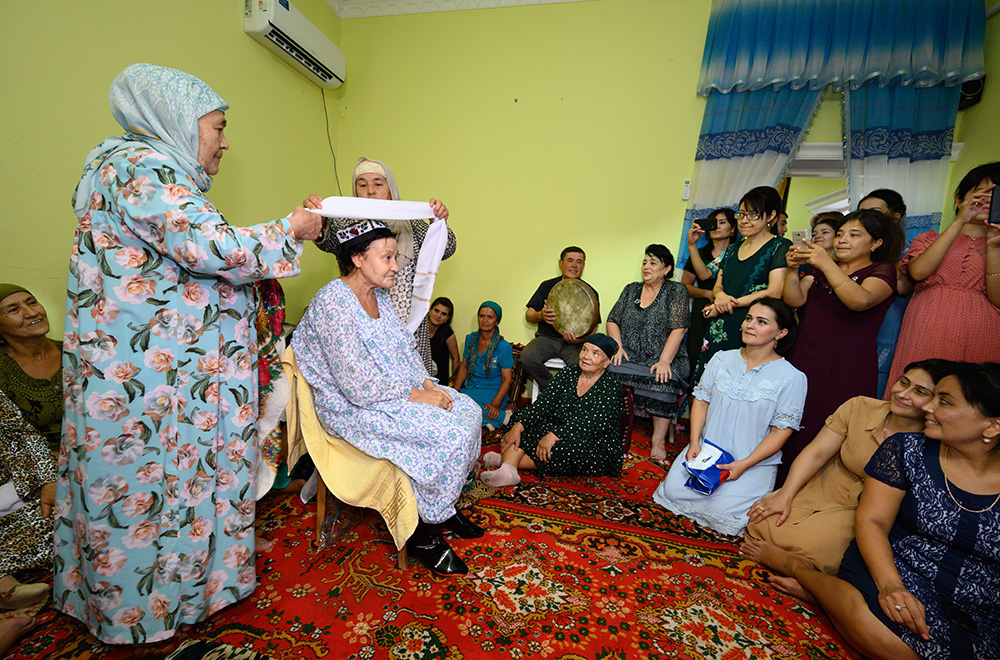 A family invited us to a birthday party for a 63-year-old woman. 63 is called "Prophet Age," since the Prophet Muhammad was 63 when he died. The family and friends invited to the party each took turns presenting a scarf to her and wrapping it around her head, on top of the other scarves. By the end of the party she probably had 30 scarves on her head, in a room that was hot and humid to begin with it.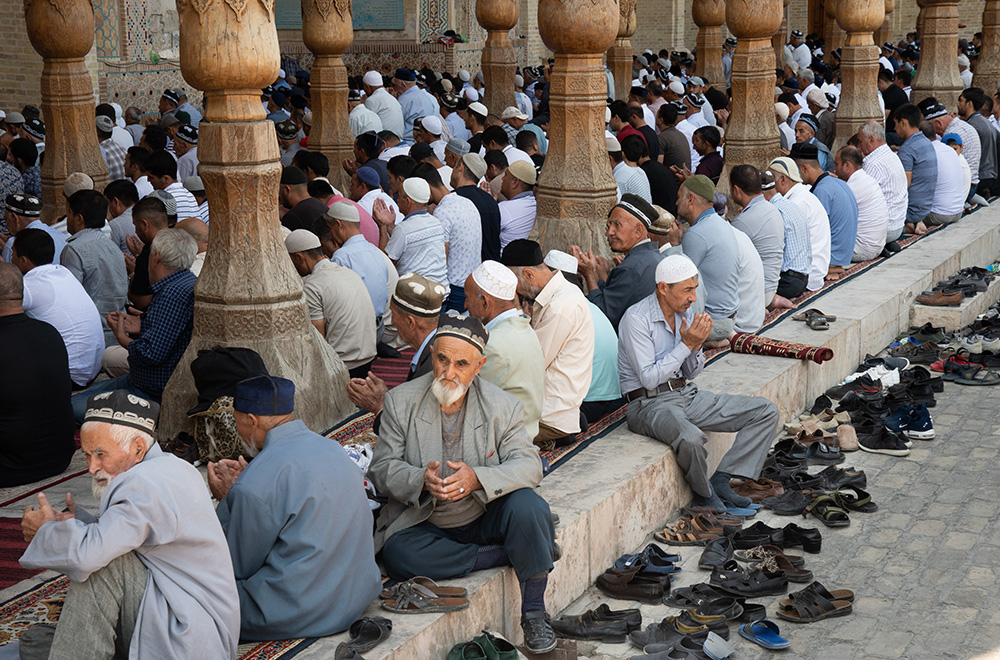 Men pray during Friday services at the Bolo Hauz mosque in Bukhara. Uzbeks pray with their hands held open.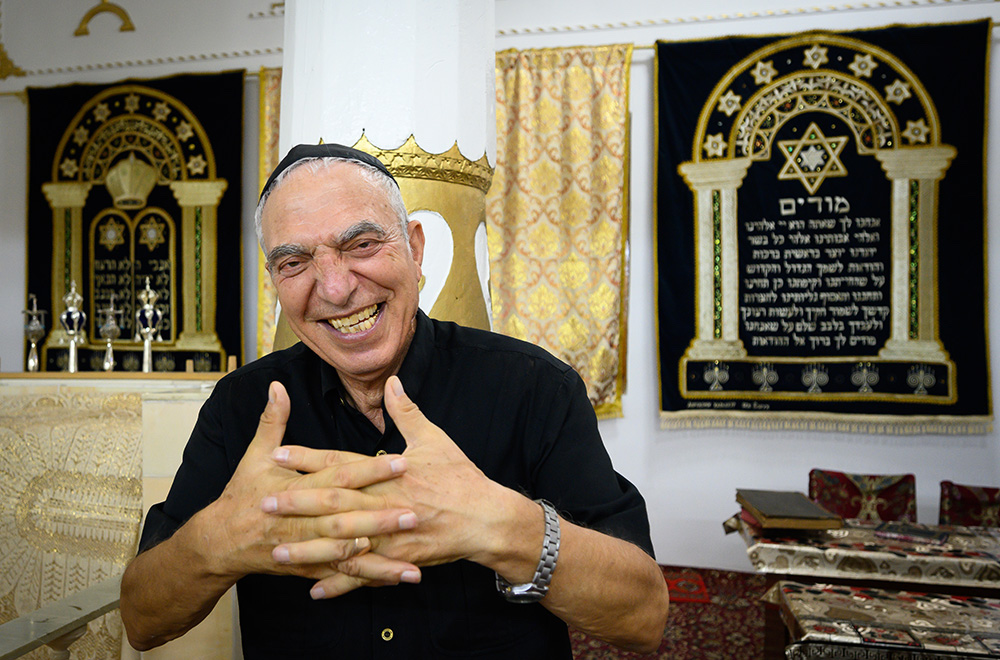 Interlacing his fingers to show unity between the overwhelming majority Muslim and miniscule Jewish communities, Rabbi Abram Ishakov of the oldest synagogue in Bukhara welcomes visitors. Once a thriving Jewish community, it's estimated that only about 150 Jews still live in the town.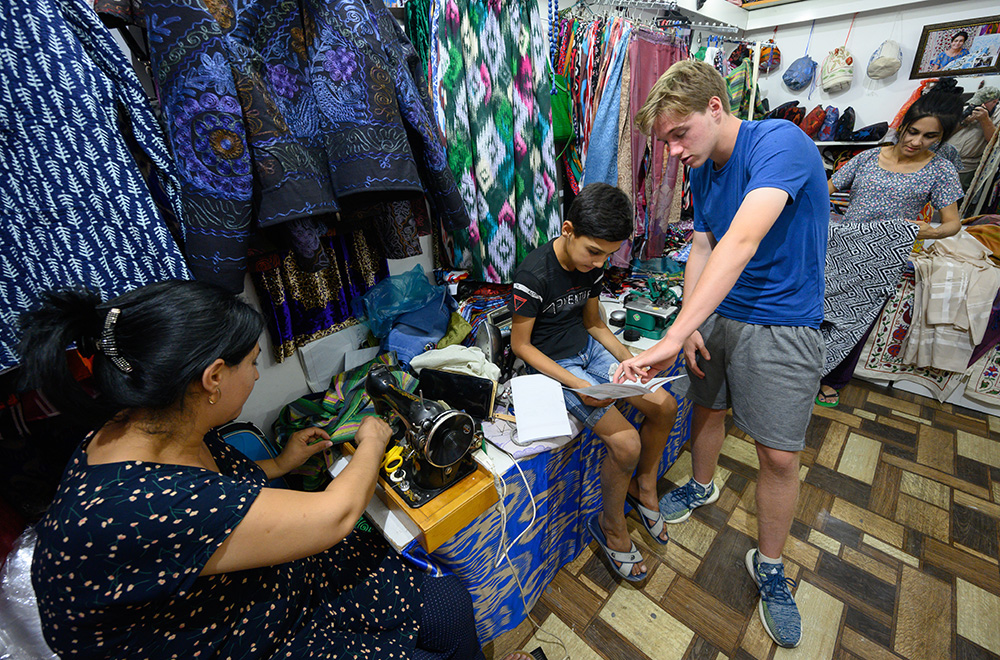 Son Doug has a shirt custom-made and helps the shopkeeper's boy with his homework while he waits.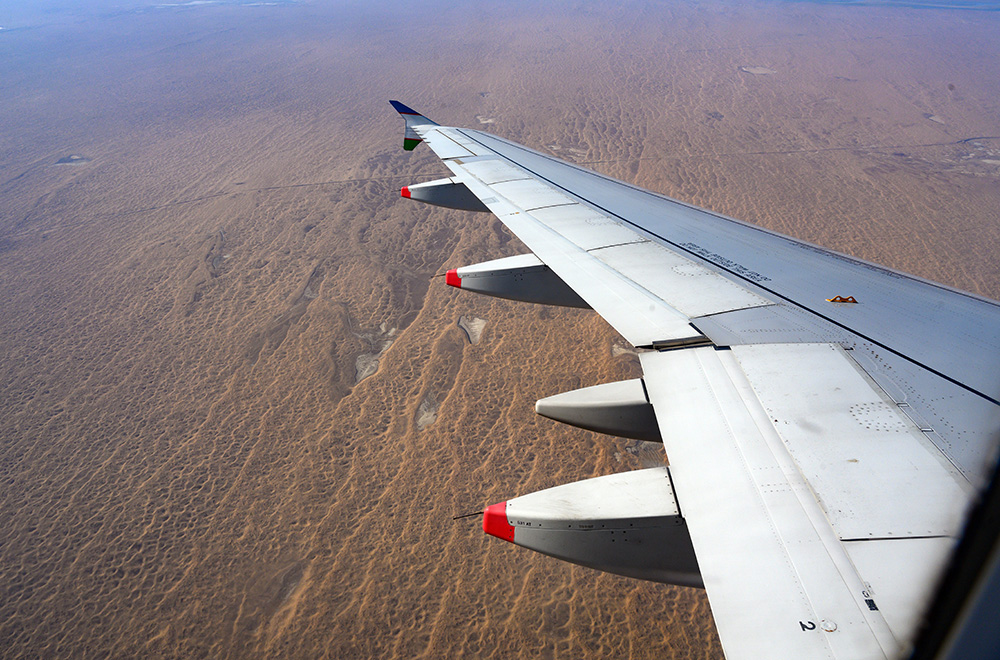 Flying from Tashkent to Urgench, the desert below resembled the skin of a cantaloupe. But along the banks of rivers and Soviet-era canals, the view was of lush, green farming areas.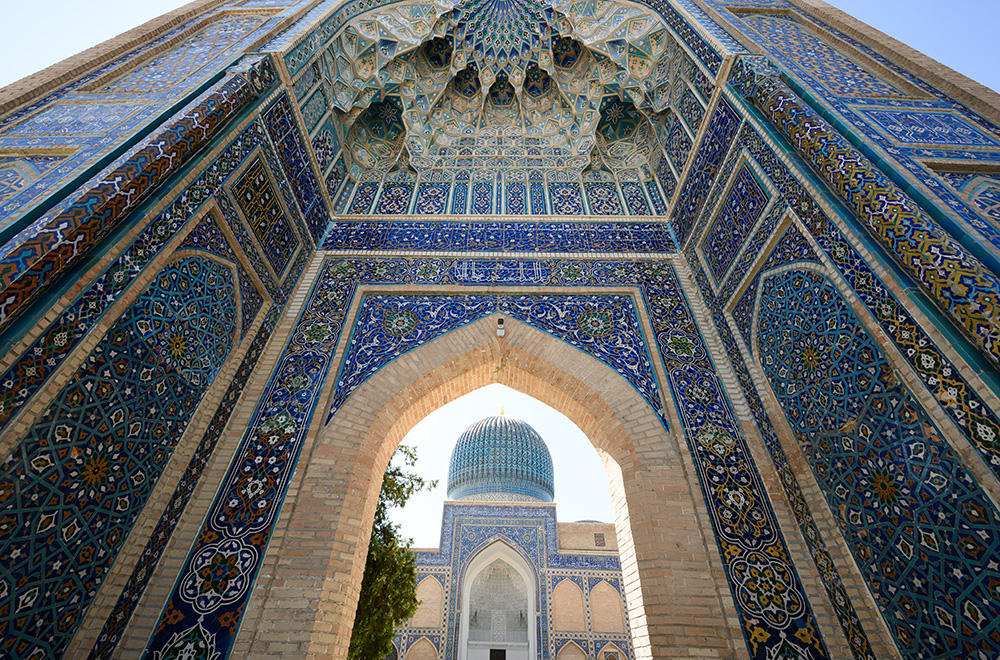 The 600-year-old Gur-e-Amir Mausoleum, the burial site of the country's founding hero, Timur, who dominated central Asia in the late 1300s.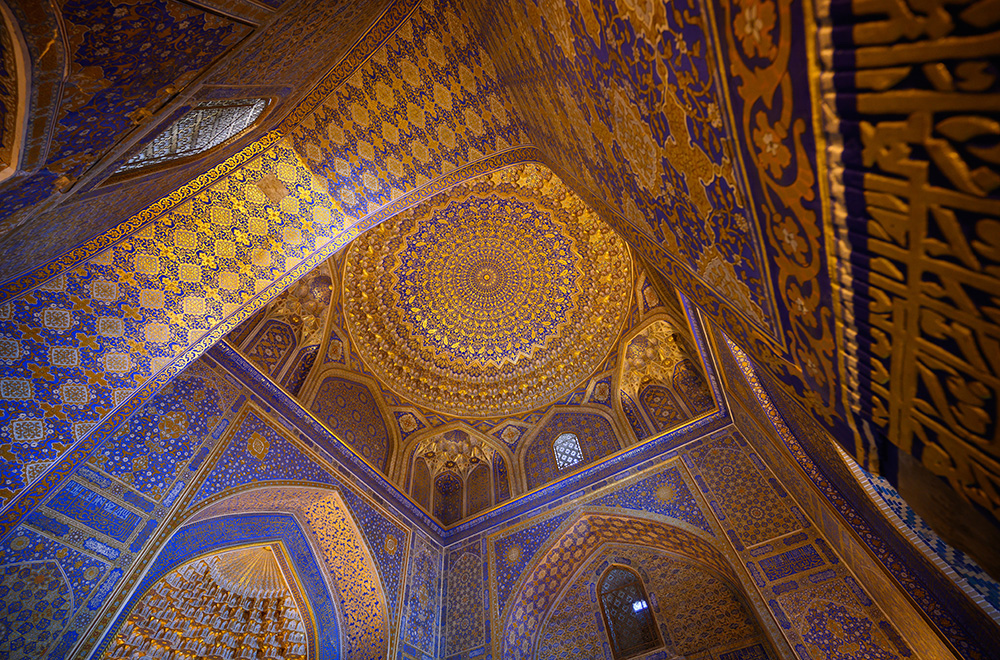 The ceiling of the Tilya-Kori Madrasa in the Registan in Samarkand. Every ceiling of every mosque we visited had some special feature. I could do a photo essay of just ceilings.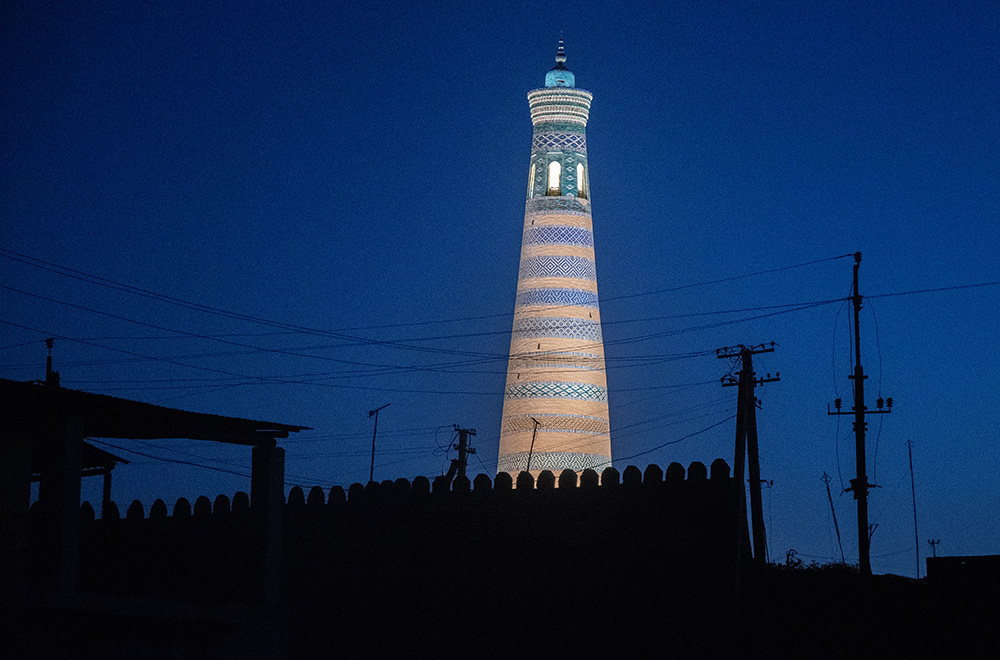 The minaret inside the city walls of Khiva at the Islam-Khodja complex. Climb the circular stairway to the top of the 148-foot minaret if you are fit, unweighted by backpacks, and comfortable in tight, steep spaces where people squeeze past you on their way back down. You'll be rewarded with a nice view of the city and its walls.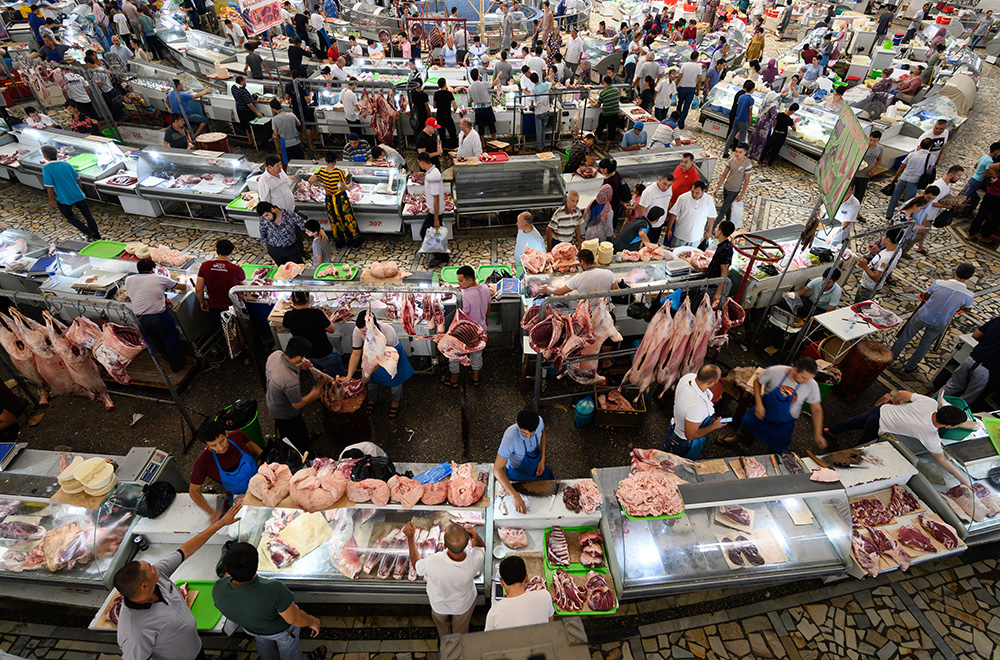 The main hall at the market in Tashkent. The mezzanine is a great vantage point for taking in the commerce below.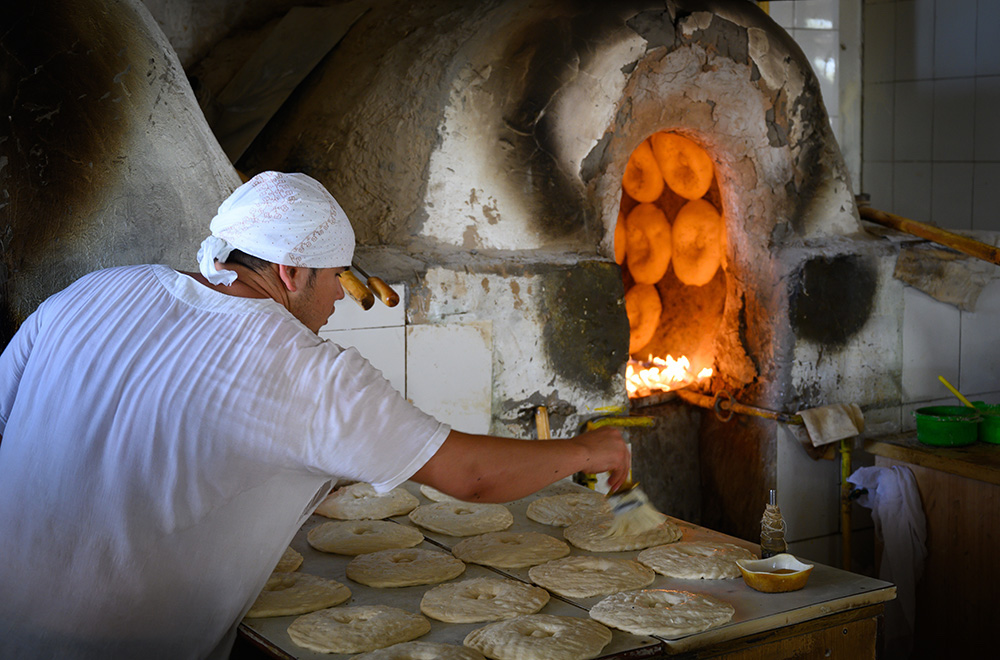 "Bread is Life" is a saying we heard many times on our trip. Get caught wasting even crumbs and you could get scolded by a local. The bread was best right out of the oven!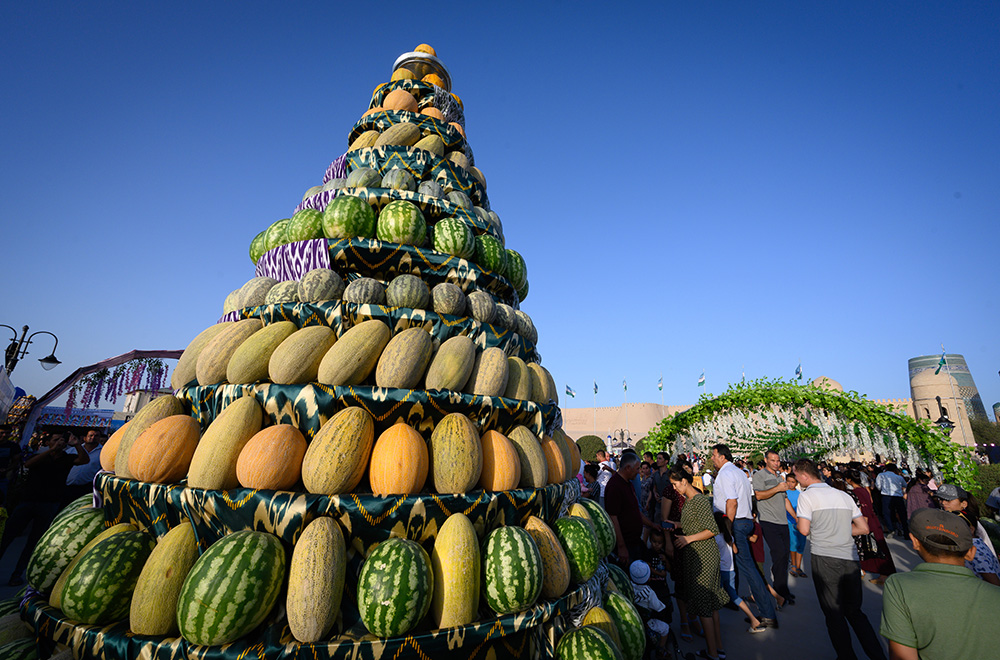 We were lucky enough to be in Khiva for their melon festival. Being a foreigner at a festival had its advantages, as the local melon producers—proud of their work—offered us samples of their best.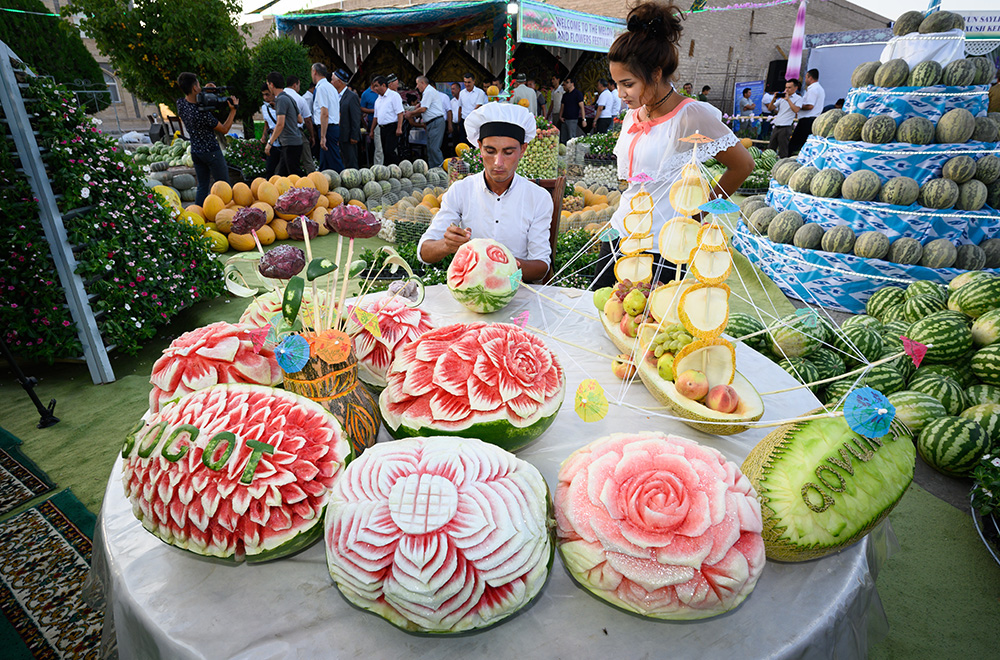 A local chef shows off his carving skills at the festival. I have never tasted better melons, nor have I ever seen so many, in my life.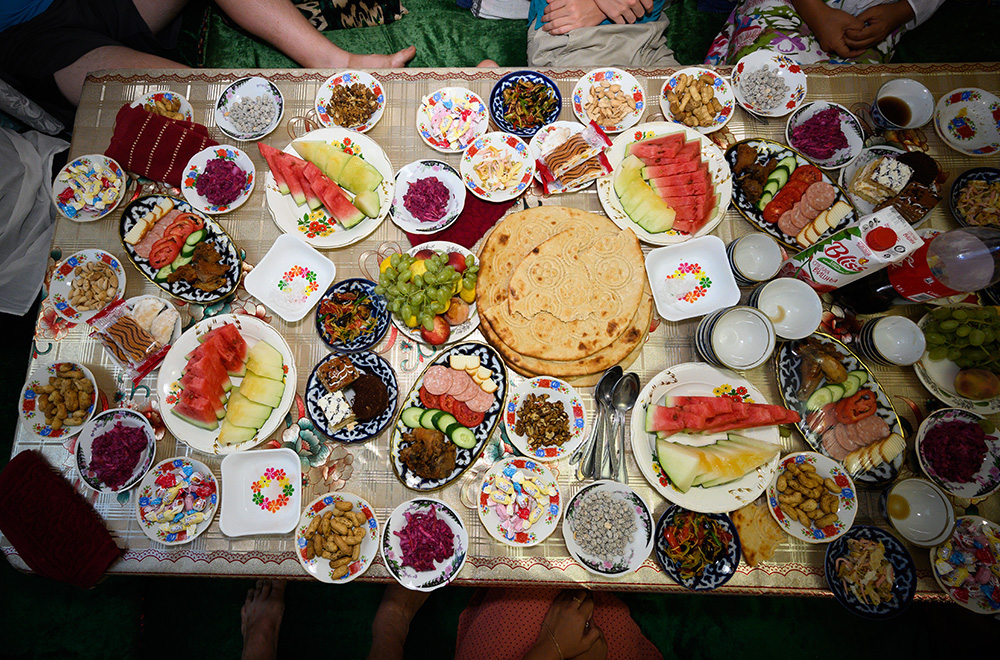 The spread at a family party we were invited to. Simple, fresh, and tasty.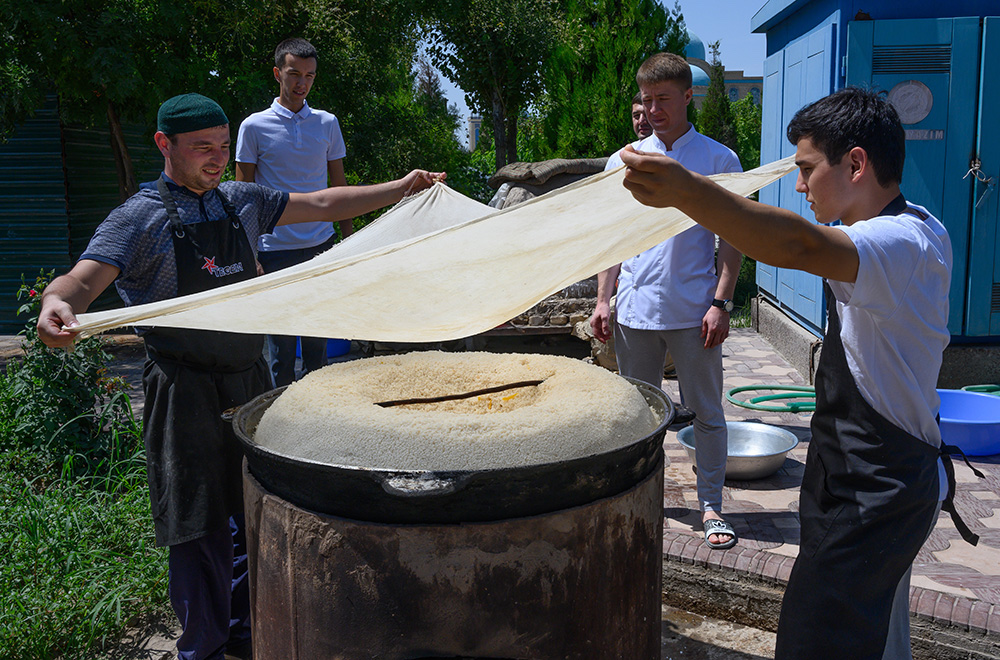 Men cook a truck-tire-sized pan of plov over a fire pit made expressly for the dish.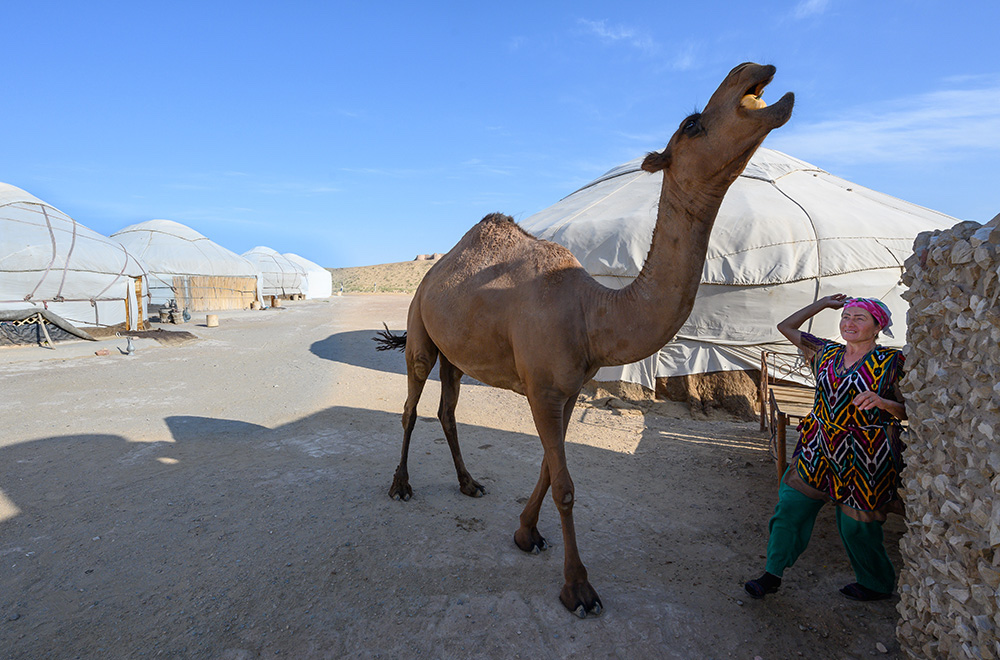 The manager of our yurt campground isn't pleased that a free roaming camel has stolen part of tonight's dinner off the wall to the kitchen. She got the pumpkin back after a couple of slaps with a dish towel.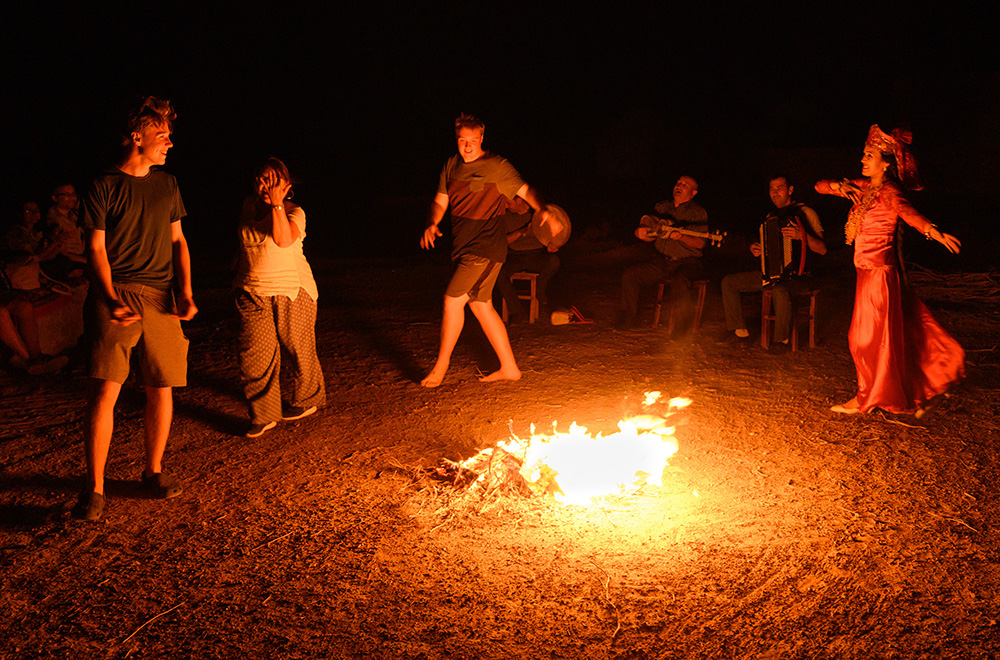 Evening music and dancing around the fire at our yurt campground. Uzbeks love to dance.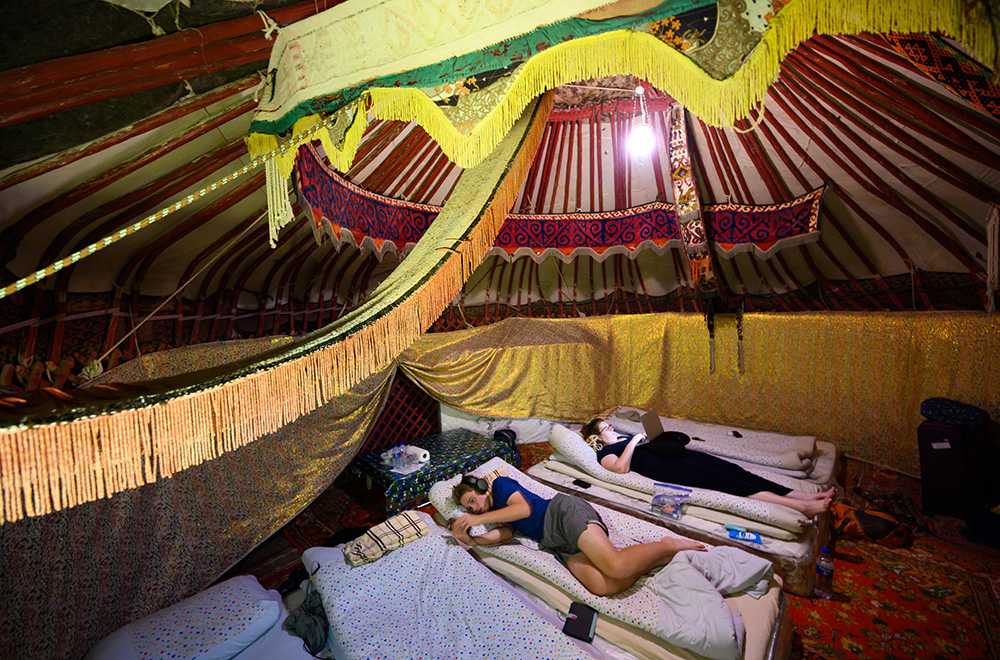 It was stuffy inside our yurt. But if you opened the flaps to get a little fresh air, you risked getting desert sand blown into your room and all over your belongings. Don't ask how I know this.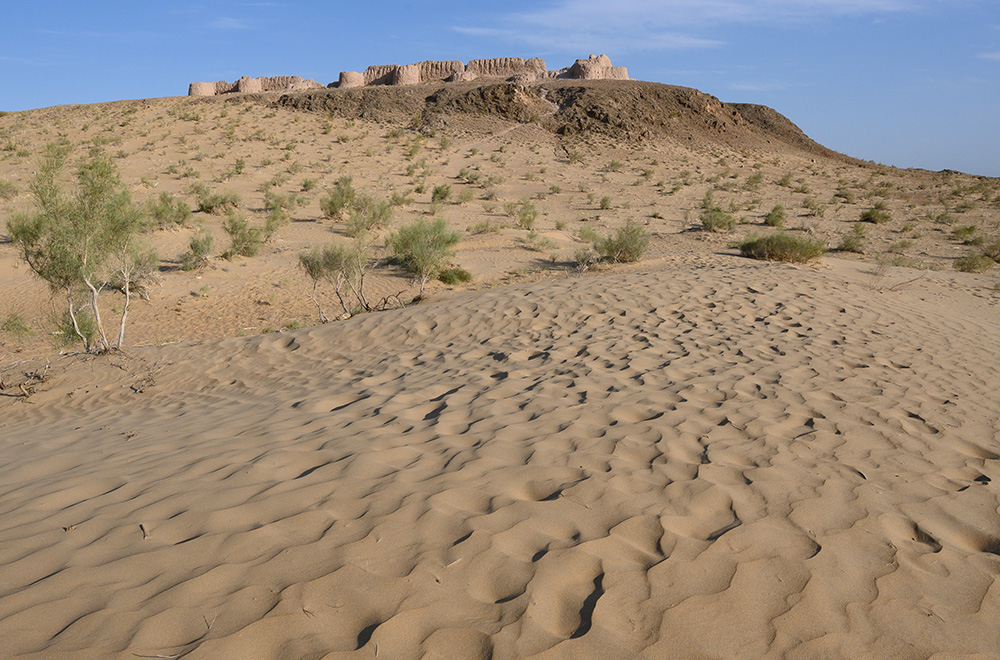 Ayaz Kala, in the Karakalpakstan autonomous region, dates back to the 4th century BCE. The mud-built fortress on the Silk Road was just a hike up from our yurt lodge experience. Tourists can get a totally organic run of the fortress. The interior is almost seven acres. But not much to see other than a few walls and arches.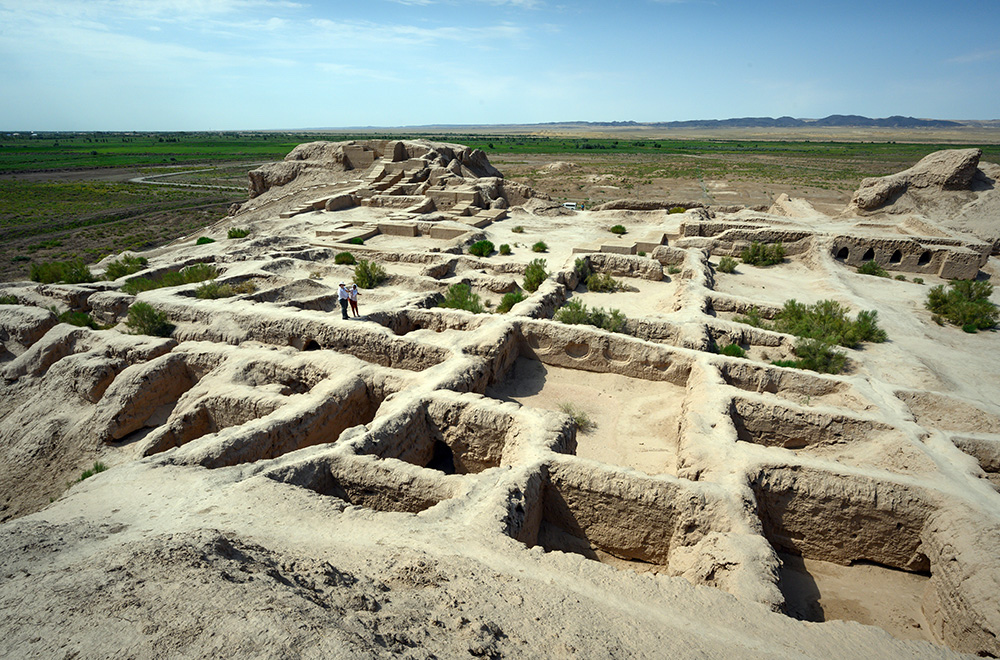 Toprak Kala, a fortified palace from the 1st or 2nd centuries, is visible from Ayaz Kala on a clear day.  It's another example of the lack of tourist infrastructure. You get a truer sense of adventure, but if you don't have a knowledgeable guide, you will be left with lots of questions. Some of which I was able to answer once I got home.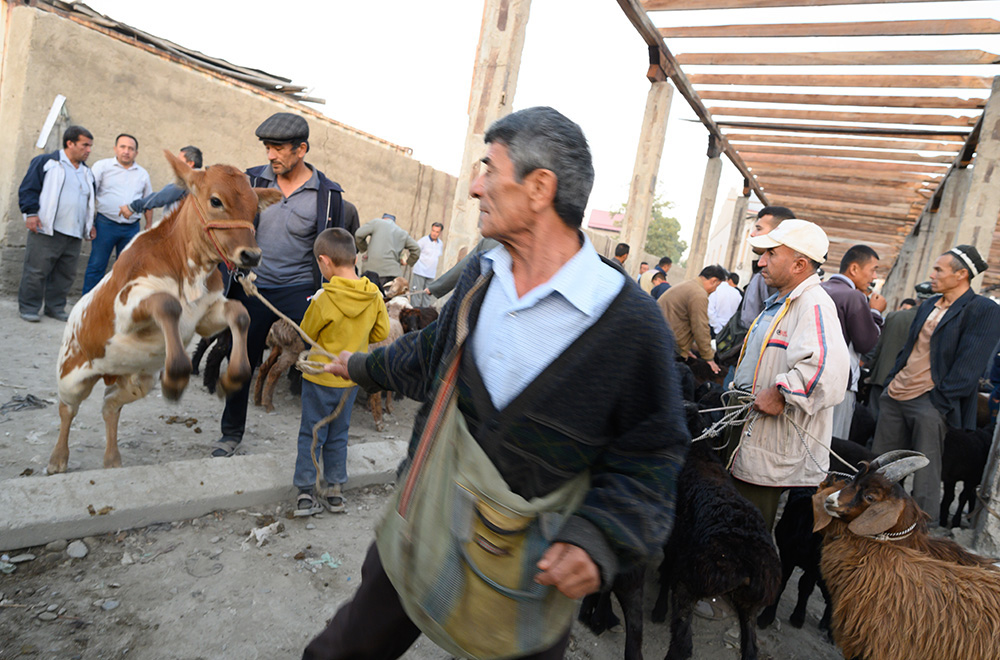 A farmer brings his spritely young bull to the early morning market. The market begins at 5:00 am. Being from a farm myself, I'm interested in markets and will set it up with a guide several days in advance.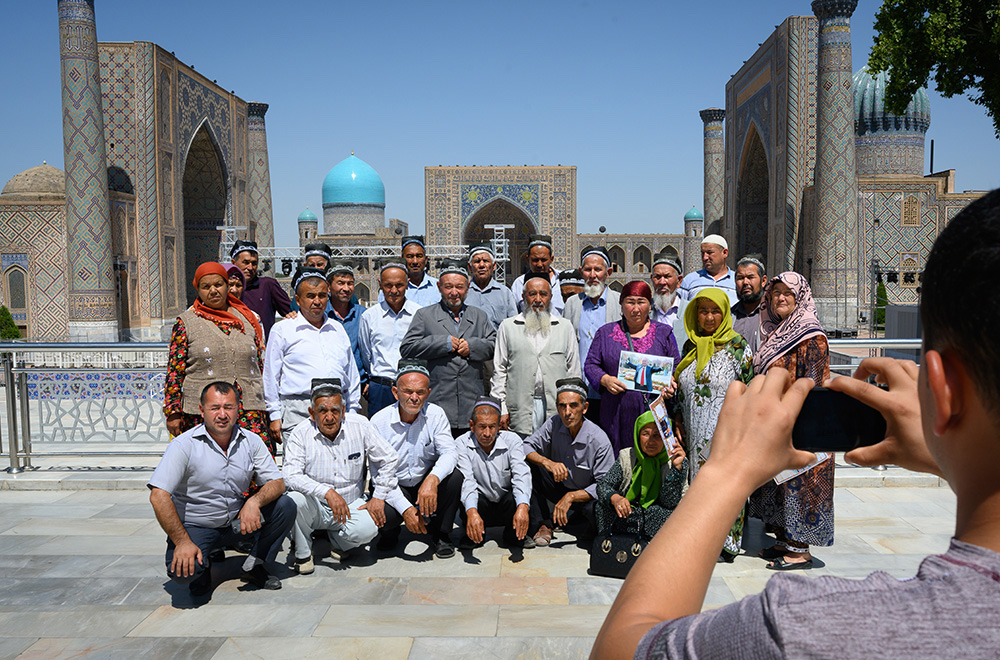 Most of the tourists we encountered were Uzbeks visiting from other regions of the country. Here, a group poses in front of the Registan in Samarkand.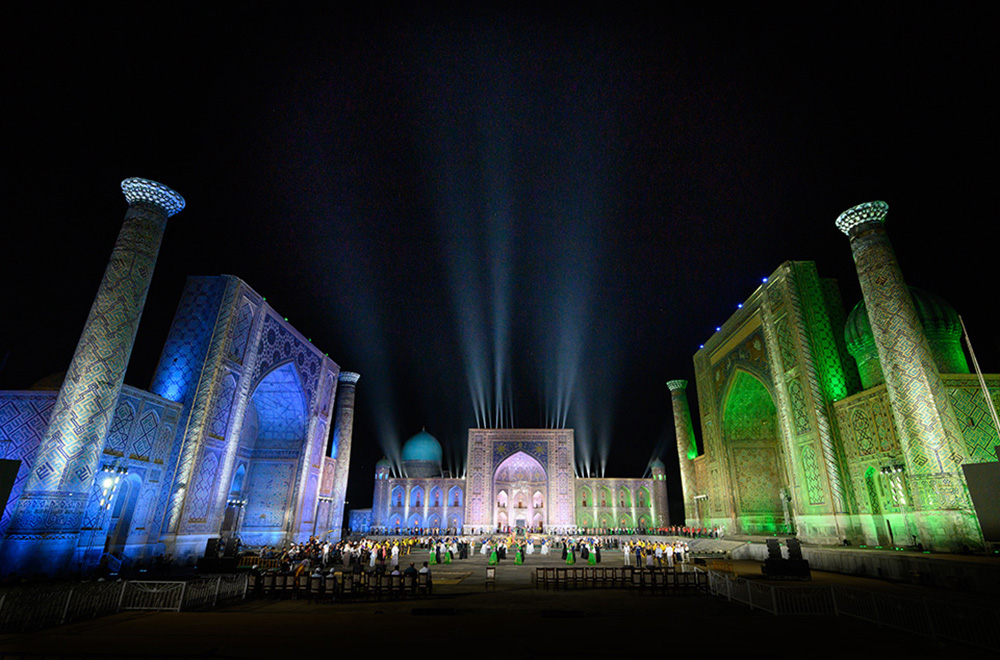 One evening at the Registan, we were lucky enough to stumble upon a dress rehearsal for the opening of an international music festival. We were treated to live music, hundreds of costumed dancers, and a colorful light show on the 400- to 600-year-old structures. During the finale, the band played, and dancers performed the Uzbekistan national anthem. The buildings of the Registan were lit to represent the nation's flag.
Transparency disclosure:  Most of our travel arrangements on the ground in Uzbekistan were complimentary, thanks to Zulya Rajabova's deep connections there and the Uzbek people's culture of hospitality. Tim paid Zulya back in photos!  Lest you think his reportage is biased, you can read your fellow paying travelers' reviews of Zulya's trips here.