Note from Wendy: The best way to beat lines, crowds, and meltdowns at amusement parks is, in my experience, to choose small, homespun ones and to go when the local children are in school. My family has done this everywhere from Paris to Sonoma, California, to Wildwood, New Jersey. But most families end up at gigantic theme parks—of the Disney, Universal, and Six Flags variety—on peak summer days. I've shared advice for how to save money at such places, but my 13-year-old, Charlie, has advice for how to manage your time:
The long lines and crowded pathways of large theme parks today mean you need to have a plan. With massive changes at major theme parks, such as the remodeling at Disney's Magic Kingdom, Universal bringing in Nintendo, and Six Flags' constant addition of new attractions, it's important to be a step ahead of the game.
Start with a ride at the back of the amusement park.
When you enter the park, your child will want to run to the first attraction he sees. But the ride at the entrance to the park always has a much longer wait than it's worth. At Universal Studios, the "Despicable Me Minion Mayhem" ride is the first one, resulting in a wait time of 80 minutes, when it should really only be 30. It's better to start with a ride toward the back of the amusement park and work your way around in a circle or the closest you can get to one.
Sleep in and stay up late.
Most families have a strategy of waking up early to be at the park within an hour of opening time, and that gives them a parking advantage. But those families go home well before the park closes because the parents are tired, because it's late, or because the parents say it's too late as an excuse for being tired. When those families leave, the number of people in the park is cut by about 65%, leaving 35% to enjoy short waits during the last three or four hours the park is open. If you arrive at the park later and depart later, you'll get more bang for your buck. (Here's an example: When our family went on the Disney Dream cruise ship, there was a 45-minute wait for the Aquaduck water slide during the day but no wait at all at 11:30 pm; I managed about ten rides between 11:30 pm and midnight.) In addition, some theme parks can be very pretty at night, so try to stay almost until the park closes.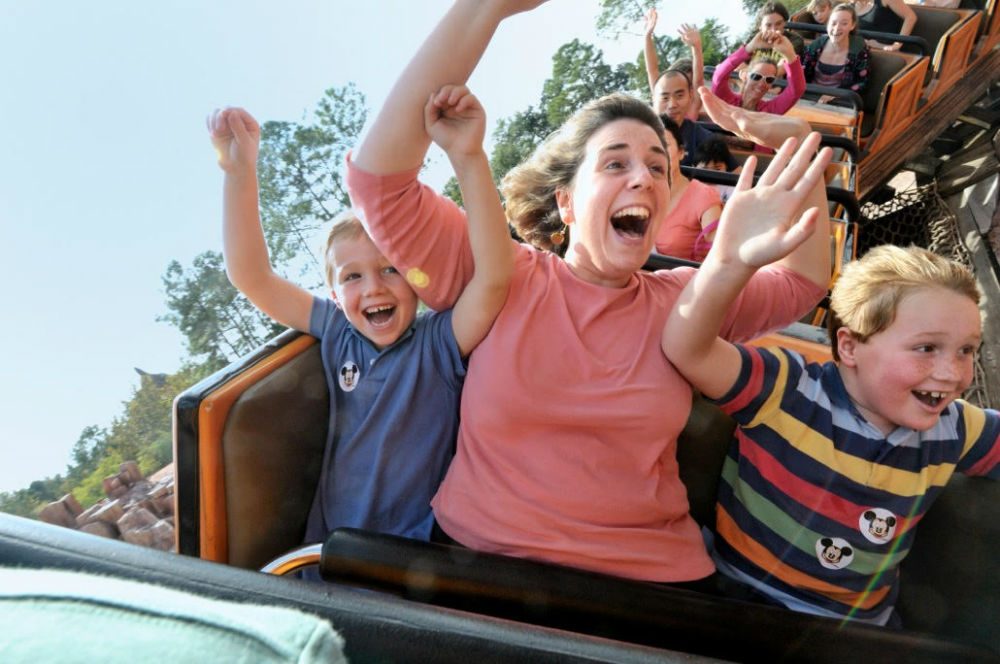 Make breakfast or dinner reservations, but not lunch.
Theme parks often consist of one to three fine-dining establishments, and the rest of them casual dining or just small stands. Unless you make plans at the fine-dining places for breakfast (before you explore the park) or dinner (when you're done), you shouldn't try to get to a certain restaurant at a certain time because it may require that you traverse the entire park to get there, or require you to leave the park and re-enter when you are done. This could reduce your time in the park by a lot more than you think, and it could also throw off your system of traveling through the park. At lunchtime it's best to just go with the place that's closest, especially since many of the places serve the same food anyway.
Give your kids a five- or ten-minute time limit in the gift shop.
Gift shops in theme parks contain tons and tons of kids' favorite characters, so your kids likely will drag you into them. You can give them a dollar amount they're allowed to spend, but they will take forever deciding what to buy, since they will want something that does not deliver too much change back to their parents. I recommend giving them a five- or ten-minute time limit, depending on the store size. If you see a gift shop with a line, you should just avoid it altogether.
To avoid gift shops completely, make that a condition of going to the amusement park in the first place.
If you want to spend absolutely no time in gift shops, which is in no way a bad idea, tell your kids this at the same time that you announce that you're going to the amusement park, to save them complaining when you get there.