The insider advice on this page is from one of Wendy's Trusted Travel Experts for Southeast Asia: Sandy Ferguson and Ethan Crowley of Asia Desk.
Sandy Ferguson and Ethan Crowley
Sandy and Ethan craft tailor-made itineraries that take travelers to multiple destinations in Southeast Asia and combine five-star creature comforts with authentic local experiences. Both grew up in the region: Sandy graduated from the International School of Bangkok in 1969 while his father was serving in the Vietnam war and has planned trips to the region for more than 30 years; Ethan was raised in Cambodia and is fluent in Khmer. Sandy now splits his time between Saigon and the U.S., while Ethan keeps the office running in South Carolina. This team is always candid about what works best for travelers, and, just as important, what doesn't. They have a vast network of powerful contacts in the hotel industry—which translates into status for you—and a wonderful selection of on-the-ground hosts, all charismatic locals whom Sandy considers family (some of them really are!).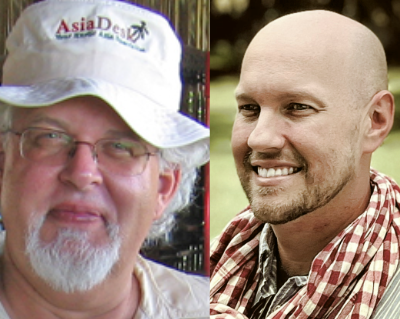 Expect WOW trips orchestrated by Sandy and Ethan to start at $800 per day for two travelers, including accommodations, breakfast daily and some lunches, transportation, private guiding, and all entry fees while sightseeing; minimum booking requirement of $5,000 for land arrangements of two or more people.
What to See and Do
Don't miss
Mekong Delta, Vietnam. Many people have heard that Saigon (the French district of Ho Chi Minh City) is boring and not worth a visit, but in fact it's one of Asia's most civilized cities, and it's small enough that you can see it all in a day. If you have more time, make the three-and-a-half-hour drive to Can Tho, the biggest city in the Mekong Delta (Asia's breadbasket), and the next morning experience a real floating market—not staged like you'll find in Thailand. Delta folks are the friendliest in the country, with an outstanding variety of cuisines and regional dishes.
Hidden gem
Southern Laos, a paradise known as "Four Thousand Islands." With the arrival of quality accommodations such as the River Resort in Champasak, visiting the mysterious pre-Angkorian tenth-century temple of Vat Phou, the islands of Don Khong and Don Khone, the Tad Somphamit (Liphi) waterfall, the famed Irrawaddy River dolphins, and the other attractions of the region is now a lot more comfortable. See it now, before word gets out!
Cheap thrill
Every weekend in Hanoi, the circular road around Hoan Kiem Lake is closed to vehicular traffic. The area fills with performances by local musicians, full stage shows in the park next to the post office, an array of traditional Vietnamese family games, and vendors of all sorts. Hanoians turn out in full force for the event, with entire multigenerational families attending together, making it a wonderful cultural experience for visitors as well.
Most overrated place
Phuket, Thailand has great beaches, but it's overdeveloped and rife with traffic jams and mass-market tourist scams. Amanpurii and The Surin share a lovely private beach on Pansea Bay, but that's about the only place you'd want to go.
Most underrated place
Luang Prabang, in northern Laos, is a UNESCO World Heritage Site with few international chains—no Starbucks, no Burger King, no 7–11—and the region's only PETA-endorsed elephant experience, the Mandalao Elephant Sanctuary.
Bragging rights
Only Sandy can arrange for you to see sunrise at Phnom Krom Pagoda in Siem Reap, which sits on a hill overlooking the Tonle Sap Lake and Angkor Wat. The experience is often the high point of a traveler's entire visit to Cambodia. It begins with a departure from your hotel just after 4 a.m. to join the monks at the pagoda for their morning prayers and meditations. The abbot is an old friend of Sandy's and you will meet him just before dawn, as the monks begin a purification ceremony that includes chanting, prayers, a sermon (which your guide translates), and a final blessing with holy water. The ceremony concludes just as the sun has risen and spreads light throughout the Angkor plain, with the great lake and temples of Angkor in sight. Step out of the temple to a picnic breakfast that is waiting for you on an excellent perch overlooking it all. After breakfast, you will bid the monks good-bye, climb back down the hill, and return to your hotel with many fond memories of this truly rewarding experience.
Downtime
Start early in the morning at the fresh market in Kep-sur-Mer, Cambodia and spend the rest of the day cooking with expert guidance at the Knai Bang Chatt Resort, until it's time to eat the fruit of your labors. After the meal, a hammock will do you right in this colonial-era seaside resort, just down the Cambodian coast from Kampot and Sihanoukville. Kep, which has the feel of an old colonial ghost town replete with casino, has no beach; there is instead a grand breakwater that stretches the length of the old town. The Gulf of Thailand forms a bay here with Kep on one side and the Vietnamese island of Phu Quoc on the other, so the water is as calm as a lake, with many piers jutting out.
Where to Stay and Eat
Best-value splurge hotel
Mandarin Oriental Bangkok. This is without a doubt one of the finest hotels in Asia and the best value you will find at the luxury end of the spectrum—it may be expensive, but you get so much more here than you would for the same price in London, New York, or Tokyo. The service is better than in most top-notch European hotels, because the Mandarin Oriental pays well and retains talent; everyone on the staff takes a lot of pride in the place. The hotel also has a great location right on the river (wherever you stay in Bangkok, make sure it's on the Chao Phraya), and it has recently undergone a complete room renovation. The Deluxe rooms in the River Wing are just fine, but if you want the prime view, book one of the eight Staterooms, which face the river head-on.
Restaurant the locals love
Charin, a family-run restaurant on the river road from Chiang Mai to Chiang Rai, serves the best pies (yes, pies) you will ever taste. Owner Khun Charin, who is in her 90s, spent more than 20 years living in San Diego and developing her baking skills before returning to Thailand to open this place. All of her ingredients—including pumpkins for the absolute best pumpkin pie in the world—are organically grown in her garden.
Dishes to try 
Khao soi is a simple northern Thai/Lao/Burmese curried chicken or beef soup with hearty noodles, coconut milk, and a rich depth of flavor. Be sure to throw in the deep-fried crispy egg noodles, pickled cabbage, and shallots, and squeeze a lime over it all.
Bánh Xèo—literally "sizzling cake," named for the loud sound it makes when the rice batter is poured into the hot skillet—is a Vietnamese savory fried pancake (it resembles a French crepe with a crispy edge) made of rice flour, water, and turmeric powder, and stuffed with slivers of fatty pork, shrimp, diced green onion, and bean sprouts. They are served wrapped in mustard leaf or lettuce leaves, and stuffed with mint leaves, basil, fish leaf, and other herbs, then dipped in a sweet-and-sour diluted fish sauce. The southern-style bánh xèo you get in Saigon also contains coconut milk.
Meal worth the splurge
Eon 51, on the 51st floor of the Bitexco Financial Tower right in the heart of old Saigon, is a sky-high restaurant taking fine dining to a new level in Saigon—quite literally. But be warned: If you're scared of heights, better give this open-theater kitchen a pass. Book in advance, as the restaurant is limited to 30 diners per night in order to ensure that the experience is amazing.
Prime picnic spot
Tad Sae Waterfall, Luang Prabang. Follow the Nam Khan River to a great spot just below this waterfall, a stunning limestone cascade with fluorescent turquoise pools. Here also lies the tomb of the nineteenth-century French explorer Henri Mouhot, the first European to see Angkor Wat and to visit the Royal Kingdom of Luang Prabang. Many Lao people picnic here, so come early on weekends to get a good spot.