The insider advice on this page is from one of Wendy's Trusted Travel Experts for Southeast Asia: Sandy Ferguson and Ethan Crowley of Asia Desk.
Sandy Ferguson and Ethan Crowley
Sandy and Ethan craft tailor-made itineraries that take travelers to multiple destinations in Southeast Asia and combine five-star creature comforts with authentic local experiences. Both grew up in the region: Sandy graduated from the International School of Bangkok in 1969 while his father was serving in the Vietnam war and has planned trips to the region for more than 30 years; Ethan was raised in Cambodia and is fluent in Khmer. Sandy now splits his time between Saigon and the U.S., while Ethan keeps the office running in South Carolina. This team is always candid about what works best for travelers, and, just as important, what doesn't. They have a vast network of powerful contacts in the hotel industry—which translates into status for you—and a wonderful selection of on-the-ground hosts, all charismatic locals whom Sandy considers family (some of them really are!).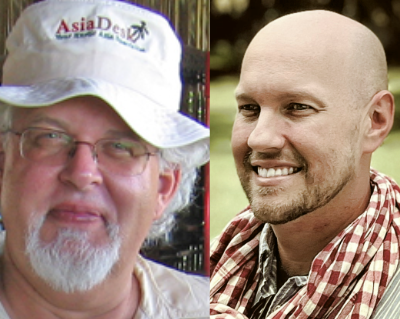 Expect WOW trips orchestrated by Sandy and Ethan to start at $800 per day for two travelers, including accommodations, breakfast daily and some lunches, transportation, private guiding, and all entry fees while sightseeing; minimum booking requirement of $5,000 for land arrangements of two or more people.
Where to Stay and Eat
Best bang–for-your-buck hotels
137 Pillars House in Chiang Mai. This 30-suite boutique property, located in the heart of town, is a member of the Small Luxury Hotels of the World and has been beautifully restored. It has a small museum, a spacious lounge, a library, and a fine-dining restaurant, complete with a baby grand piano. The Rajah Brooke suites are a great call, but the Louis Leonowens Pool Suite is the ultimate in comfort. A popular activity at the hotel is the afternoon cooking school, which includes a visit to the midday market and preparation of a great three-dish lunch (usually Pad Thai noodles, chicken with cashews, and a green vegetable curry).
Best beach resorts
There are so many island and beach resorts in Thailand that choosing a beach break can be overwhelming. For a full island cultural experience with a fabulous beach, Koh Lanta, off Krabi, is a great place to explore, and will keep you away from the over-development that is Phuket. The Pimalai Resort & Spa is the place to stay, and the hillside villas offer spectacular views. Spend a day kayaking through mangrove forest or exploring a marine park on a nearby island, then take the resort's private fast boat to uninhabited Koh Haa to enjoy some snorkeling and a wonderful sunset.
Restaurant the locals love
The Whole Earth Restaurant in Chiang Mai. It is mostly vegetarian but also serves some chicken and seafood dishes. It has been a consistent local favorite for years. Whole Earth has a warm, traditional feel to it (you take off your shoes to enter), and the baked-pineapple fried rice is both sweet and succulent.
Meal worth the splurge
The Service 1921 Restaurant & Bar, in the Anantara Chiang Mai Resort, is a splendid colonial house opened in 1921 as the British Consulate of Chiang Mai; the place reimagines this colonial era in an eccentric and fictitious reinvention of the British government's secret intelligence service. The contemporary Thai, Szechuan, and Vietnamese dishes are created by expert chefs, and the array of dumplings is amazing.
Dish to try
Khao soi, a simple northern Thai/Lao/Burmese–inspired curried chicken or beef dish with hearty wheat or rice noodles (much like spaghetti) and a surprising depth of flavor. It comes in many forms: Chiang Mai and Chiang Rai styles (the coffee shop at the Wiang Inn in Chiang Rai serves a great rendition) are the heartiest. The clear-broth style found in Luang Prabang is a bit lighter, uses minced meats, and is served at breakfast. The name means "cut rice" in most local dialects, because the dough for the rice noodles is spread out on a cloth stretched over boiling water. After steaming, the large sheet noodle is then rolled and cut with scissors. Be sure to throw in the deep-fried crispy egg noodles, pickled cabbage, shallots, and squeeze of lime before you attack a bowl of khao soi.
What to See and Do
Don't miss
Chiang Rai. With more than 60 artists' studios in the province, it's a great center for Thailand's creative community. It's also rich in history and was the site of the first Thai kingdom, which was established in 1328 along the Mekong River at Chiang Sean, where the city walls remain to this day.
Don't bother
Overdevelopment has ruined most of Phuket and devastated the Phi Phi islands. Yes, there are nice places on Phuket, such as the Trisara and Surin resorts, but as a whole, it's way too Cancun for most people. If you're looking for great beach resorts, go to Samui or Krabi Province instead (see "Best beach resorts," above).
Hidden gems
The Rai Mae Fah Luang Museum (or simply "the Rai"), in the city of Chiang Rai, celebrates the Lanna art and culture of the north, which is distinct from that in the rest of Thailand. It features a huge 18th-century royal residence comprising 32 wooden structures and collections of both sacred and secular artifacts.
The Hall of Opium, in Chiang Sean, about an hour's drive from Chiang Rai, is a world-class museum that every visitor to the Golden Triangle should see. There are no samples given after the tour, but you will come away with an in-depth understanding of the 5,000-year history of the drug and its significant impact on Thailand, China, and the rest of the region.
When driving from Chiang Mai to Chiang Rai (or vice versa) via Rt. 118 through Khun Chae National Park and Doi Luang National Park, stop for coffee and the best pie you've ever tasted at Charin Bakery. Khun Charin, a retired hospital administrator, has perfected the art making pie, especially her pumpkin and coconut cream flavors.
Cheap thrill
The Chiang Mai "Street of Walking People," as it translates from Thai. Every Sunday, rain or shine, most of Chiang Mai turns out for this market, which lasts from 4 p.m. until midnight, starting at Thapae Gate and running the length of Ratchadamnoen Road through the heart of the Old City. The street is closed entirely to vehicular traffic, allowing locals to meet, browse, socialize, haggle, and enjoy. The market is a real showcase of the art and craftsmanship of northern Thailand: Many of the stallholders, most of whom have other jobs, have personally made the items they sell. Food and drink are also available in glorious abundance, with vendors at a number of temples along Ratchadamnoen Road selling fabulous local treats cooked right before your eyes. You can enjoy your meal watching street performers that include traditional musicians, Thai dancers, puppet shows, and even rock bands all along the route.
Bragging rights
In Chiang Mai, Sandy and Ethan can arrange for you to have a private walking tour of the old town with Becky Weldon Sithiwong, or "Khun Becky," the first curator of the acclaimed Rai Mae Fah Luang Museum and a walking encyclopedia of Thai, Lanna, and Lao culture and languages. She has a master's degree in museology from Amsterdam's Reinwardt Academy, has worked for CARE and USAID, and opened Chiang Rai's first guesthouse and art gallery.
Downtime
Do a spa experience in Thailand, even if it is just a foot massage at a corner stall. Thai spas are some of the world's best at pampering, and you can really go all-out at some hotel spas and easily spend the whole day relaxing, steaming, and being wrapped, rubbed, and massaged. Just beware the traditional Thai massage, as the result can be painful and leave you not feeling well.