The insider advice on this page is from one of Wendy's Trusted Travel Experts for Southeast Asia: Sandy Ferguson and Ethan Crowley of Asia Desk.
Sandy Ferguson and Ethan Crowley
Sandy and Ethan craft tailor-made itineraries that take travelers to multiple destinations in Southeast Asia and combine five-star creature comforts with authentic local experiences. Both grew up in the region: Sandy graduated from the International School of Bangkok in 1969 while his father was serving in the Vietnam war and has planned trips to the region for more than 30 years; Ethan was raised in Cambodia and is fluent in Khmer. Sandy now splits his time between Saigon and the U.S., while Ethan keeps the office running in South Carolina. This team is always candid about what works best for travelers, and, just as important, what doesn't. They have a vast network of powerful contacts in the hotel industry—which translates into status for you—and a wonderful selection of on-the-ground hosts, all charismatic locals whom Sandy considers family (some of them really are!).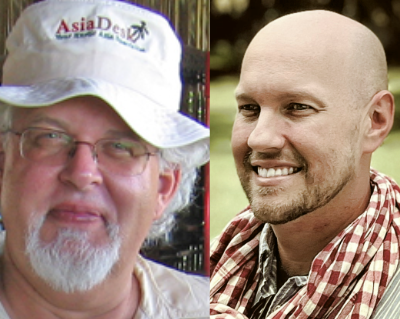 Expect WOW trips orchestrated by Sandy and Ethan to start at $800 per day for two travelers, including accommodations, breakfast daily and some lunches, transportation, private guiding, and all entry fees while sightseeing; minimum booking requirement of $5,000 for land arrangements of two or more people.
What to See and Do
Don't miss
Rattanakosin Island. Bangkok's old royal district is set on what was once an island bounded by the Chao Phraya River to the west and two connecting khlongs (canals) to the east. The entire area can be covered on foot in a day and has no high-rise buildings or shopping malls. This is without a doubt Bangkok's most interesting and exotic quarter and the site of, among other things, Wat Mahathat, the headquarters of Thailand's largest monastic order; the Grand Palace, which includes Wat Phra Kaew (Temple of the Emerald Buddha) and Wat Pho, Bangkok's oldest and largest wat, famous for its 50-yard-long Reclining Buddha. Wat Saket, in the heart of Rattanakosin Island, is a low hill crowned with a gleaming gold chedi, or stupa, dating from the Ayutthaya period (1350–1767 A.D.). In the morning light, it's a photographer's dream.
Don't bother
Patpong Night Market. After more than 30 years as Bangkok's most popular nightlife district, its appeal has fallen hard. Lots of pushy touts, aggressive vendors, and a host of seedy venues are just waiting to rip you off.
Downtime
The spa at the Mandarin Oriental is the best (see "Best-value splurge hotel," below), but if you are not a guest there try the Phothalai Spa (off Praditmanuthum Road in the Bangkapi area, about a 30-minute cab ride from most hotels). It's a full "leisure complex" and a favorite of locals. Massage treatments start at $58 for an hour and a half; follow that with a foot massage for $24, then brunch in one of the complex's many restaurants. (Remember that traditional Thai massage can be painful and leave you feeling sore.)
Hidden gem
Kudeejeen, an old Portuguese settlement on the opposite side of the Chao Phraya from the Grand Palace. Thailand's trading history shows through in the Roman Catholic Church of Santa Cruz, the neighborhood's architecture, and its food stalls. It's not uncommon to find Thai families here today with Portuguese last names.
Most overrated place
Chatuchak Weekend Market. Yes, you will be able to buy anything and everything here, but mostly what you'll find is things that won't fit in your suitcase, plus crazy heat, and insane amounts of traffic getting there. The MBK shopping mall is a good alternative, and it's conveniently located along the Skytrain.
Most underrated place
The Jim Thompson House Museum, an estate of gardens and teak houses right in the heart of the city, gives a glimpse into not only the silk industry but also life in Thailand as seen from a Western perspective. You can get there via a canal that runs through the middle of Bangkok and is used by thousands of people everyday to commute to and from work.
Cheap thrill
Motorcycle taxis. They're the best way to avoid traffic (and a ride usually won't cost you more than $2), but wear a helmet!
Instagram moments
The view of Wat Arun at night, when the stupa is lit up, from the rooftop of the Riva Arun hotel.
The Pak Klong Talat morning market, where vendors sell flowers of every hue for as far as the eye can see. Be sure to pick up one of the sweet-smelling chains of "love flowers," which you can see being hand-strung here. Costing almost nothing, these delicate flowers remain fragrant the entire day and make great posts on Instagram.
The souvenir
Casual clothing, such as colorful and light elephant pants for women and stylish denim-colored "farmer's shirts" for men, is sold everywhere. Opt for the native organic cotton and your garments will last a lifetime.
Where to Stay and Eat
Best-value splurge hotel
The Mandarin Oriental Bangkok is without a doubt one of the finest and most storied hotels in Asia. It's also the best value you'll find at the luxury end of the spectrum, and it has recently undergone a complete room renovation. The Superior rooms in the River Wing are just fine, but if you want the prime view, book one of the eight State rooms, which face the river head on.
Restaurant the locals love
Raan Jay Fai. This little street food spot has garnered a lot of attention since it was awarded a Michelin star. But owner Jay Fai stays true to her roots and is still working her open-flamed wok; her crab omelet is a favorite. They do have a new reservation system, but expect a wait that is well worth it.
Must-try dishes
Phad kra pao gai, or Thai basil chicken, is a local staple eaten for every meal. This mix of chili peppers, garlic, and basil in a sweet soy-and-fish sauce also comes in beef and pork versions. It's available at most any restaurant; don't forget the sunny-side-up egg!
Street satay, or grilled skewers of curried meat purchased from street vendors. Whether you choose pork (moo) or chicken (gai), grilled street foods are usually safe to eat, so knock yourself out! The best vendors are in the Victory Monument area and Phahonyothin Road (Soi 1), which is a five-minute walk north of the monument. Take the Skytrain to Victory Monument station and walk out Exit 3 or 4. The vendors start closing up shop after 8 p.m.
Meal worth the splurge
Sra Bua by Kiin Kiin serves Thai food with a modern—and sometimes molecular—twist, mixing traditional ingredients with cutting-edge techniques. It will definitely be different from anything else you have tried.
Prime picnic spot
Lumpini Park. Encompassing 142 acres, Bangkok's oldest public park was created in the 1920s by King Rama VI on royal property; a statue of the king stands at its southwestern entrance. Lumpini Park was actually named after Lumbini, the birthplace of Buddha in Nepal, and at the time of its creation stood on the outskirts of Bangkok. Today it lies in the heart of the main business district but still retains plenty of quiet spots for a midday picnic (with the occasional view of an impressive monitor lizard).