The insider advice on this page is from one of Wendy's Trusted Travel Experts for the Galapagos Islands: Allie Almario of Premier Tours.
Allie's passion for wildlife conservation, photography, and indigenous cultures helps explain her fascination with Latin America, especially the Galapagos Islands. As the former executive director of the International Galapagos Tour Operators Association, Allie has a bead on which ships operate sustainably and support local conservation efforts—and which don't.  She can pinpoint the best luxury ship for your needs, and she can even acquire a private guide (for a price) if you prefer private shore excursions. If you're spending a few days on Santa Cruz Island, she can arrange for you to interact with the one part of the ecosystem that visitors so often miss—the Galapagos' human inhabitants. Allie helped edit the bestselling guide to the region, The Galapagos Islands: The Essential Handbook for Exploring, Enjoying and Understanding Darwin's Enchanted Islands, and she served as location scout for the acclaimed documentary The Galapagos Affair: Satan Came to Eden.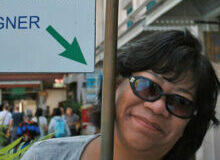 Ships and Cabins
Best-value ships
The Coral I and II. These first-class sister ships carry 20 and 36 people, respectively, and the range of cabin categories and cruise lengths helps the budget-conscious. Don't book any ship lower than superior tourist class unless you want iffy service and less-experienced (and less English-proficient) naturalist guides.
Best ships for a splurge
The 16-passenger Aqua Mare, the Galapagos' first self-proclaimed superyacht. By law, the Galapagos National Park requires at least one naturalist guide for every 16 guests on any excursion; this yacht provides one guide per eight guests. The Owner's Suite boasts a remarkable 10 windows. While that suite will run you $26,000 per person, rates for smaller cabins start at $9,500 per person.
The MV Grace. Used by Princess Grace and the Prince of Monaco for their honeymoon, this small, luxurious ship holds a maximum of 18 passengers, with a guide-to-guest ratio of 1-to-9. The staff pampers but doesn't cosset, which makes the ship feel elegant but adventurous.
The Origin and the Theory. A more modern and sleek design makes these identical 20-passenger yachts a top choice among the younger crowd. They also have a guide-to-guest ratio of 1-to-10, plus two rarely included amenities: free WiFi and an open bar.
Best large ship
The Santa Cruz II. With 90 passengers, the ratio is usually one guide to just 11 guests, and the majority of cabins are inter-connected and have convertible beds (king beds can be made into two twins, for example). There is also a small infirmary on board.
Best ships for families
The 100-passenger Legend is one of the few Galapagos ships to offer the elusive quad suite, which holds up to four people.
Cabin worth the splurge
The Legend's Legend Balcony Suite has one of the largest balconies of any ship in the Galapagos, and amenities include champagne on arrival.
Prone to seasickness? 
Allie works with a fleet of double- and triple-hulled catamarans, which are more stable and ensure that your sailing will be as smooth as glass. Sure, the ships may still rock while anchored, but you'll be more comfortable overall on a catamaran. Bonus: Many of them offer balconies, so you can easily step outside to get fresh ocean air and keep your eye on the horizon.
Tip for solo travelers
Since most of the Galapagos' small ships operate on very thin profit margins, it's almost impossible to find bargains as a single traveler. (In a ship with only a dozen or so cabins, an empty bed can mean operating at a loss.) The Petrel, a luxury 16-passenger catamaran, does have one cabin reserved for single travelers with no single supplement. Ask for a ship that offers a "willing-to-share" program and you'll be matched up with another traveler of the same sex. If you're lucky and no one else signs up, you won't be charged a supplement. This requires flexibility, sure, but it can save you thousands of dollars.
Where to Cruise
Need to know
The Galapagos National Park has chosen the most appealing visitor sites on the islands and assigns each ship an itinerary meant to maximize the variety of landscapes and wildlife seen—while minimizing human impact. Still, 99 percent of the time Allie knows which islands each ship is going to in advance. Once travelers narrow down their ship choices, she gives them sailing itineraries with a caveat: Due to weather conditions or national park rules, the plans may change while they are there. If you are interested in seeing a specific wildlife species, Allie can tell you which itinerary will give you the best chance of seeing it. For example, the flightless cormorant is only found on the islands of Isabela and Fernandina.
Don't-miss port
Puerto Ayora. On the only inhabited island on most itineraries (Santa Cruz), the Galapagos' largest village is a practical pit stop. You can pick up supplies, get cash out of an ATM or check emails or make phone calls. There are hotels, a medical clinic, handicraft shops, restaurants, grocery stores, banks, and the Charles Darwin Research Station.
Best shore excursions
Most ships call on both Bartolome and Isabela islands during their weeklong itineraries, but on short cruises (four or five days) you may only visit one or the other. Bartolome Island is where you're most likely to snorkel with marine iguanas, play with sea lions, and tread next to a bunch of bobbing penguins near the iconic Pinnacle Rock. And after climbing more than 300 steps to the top of Bartolome, you will have the best views of Santiago Island and its amazing alien-looking landscape—you'll swear you're on the moon! Isabela, one of the largest islands in the Galapagos, is ideal for short trips because you can do and see a lot. You could, for instance, hike to the top of Sierra Negra, one of the most active volcanoes in the world and home to the world's second-largest caldera (an almost six-mile-long ridged crater). Or you could snorkel amid baby fish and sea lions in the mangrove-shaded La Concha de Perla Bay, which is calm and shallow—perfect for nervous first-time snorkelers.
Side trip
La Danesa Hacienda, about an hour's drive from Guayaquil, makes for a lovely day trip from the city (itself a common but uninteresting gateway to the islands). Host Niels Olsen shares his family's private estate and estancia with a handful of guests. You will be met by Niels or his estate manager upon arrival, and they will design the day based upon your interests: You might head out for a horseback ride; or perhaps you'll choose to handpick cacao from their plantation, make fresh chocolate from it, and enjoy it after lunch. Kids can float lazily down the river surrounding the grounds or meet some local children.
Touring by land vs. touring by sea
Recent years have seen more land-based accommodations sprouting up in the Galapagos. Cruises are very efficient, allowing you to visit more islands and see how evolution has affected each ecosystem differently. Land-based tours are better for people who don't want to sleep on a boat and prefer a bit more independence and beach time—but you'll definitely want to add day trips to nearby islands in order to see a variety of wildlife and landscapes. The Finch Bay Hotel is a lovely little resort tucked away from the town of Puerto Ayora. It requires a boat ride to get there, plus a few minutes of walking, but it's well worth the effort for the privacy and access to nearby coves and hiking trails. The Finch Bay is the only hotel on Santa Cruz Island with a beach and a pool (the latter a favorite hangout for the hilarious ducks who like to crash land into it), and they have their own small boats for excursions to nearby islands. This place has just 27 rooms and is quite popular, so book way in advance; only the suites have ocean views. The Galapagos Safari Camp feels a bit like a tented experience in Africa—but instead of elephants and hyenas, you have rare birds and ancient tortoises roaming the property.