The insider advice on this page is from one of Wendy's Trusted Travel Experts for the Galapagos Islands and Ecuador: Allie Almario of Premier Tours.
Allie's passion for wildlife conservation, photography, and indigenous cultures helps explain her fascination with Latin America. She first traveled to Ecuador in the late 1980s while planning trips for a zoo, and soon discovered that the country's wealth of cultural experiences rivaled the natural attractions of the Amazon rainforest and the Andean cloud forest. She is always on the hunt for unique accommodations—especially haciendas that foster close relationships with indigenous communities or create their own cottage industries, such as award-winning rose plantations or cheese makers. Thanks to Allie's insider connections, you can kayak from one Amazon lodge to another, ride a horse across the Andes, or photograph some of the most beautiful orchids in the world.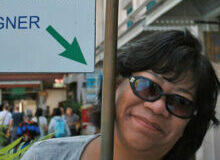 Where to Stay and Eat
Best-value splurge hotels
Casa Gangotena, an exquisite mansion in Quito's Old Town, is one of the city's two five-star hotels, but its location can't be beat. It's right on the lovely Plaza San Francisco and a short walk to other must-see sights, including the Presidential Palace. The service is also top-notch: Where else would you find white-gloved waiters serving breakfast at 3 a.m. for guests with early-morning flights? Book a plaza-view room for that classic panorama of the colonial architecture topped with snow-capped volcanoes. There is nothing like sitting on the rooftop balcony with a drink while watching the glow of the sunset bathe the Plaza San Francisco in soft hues of red and orange.
Hacienda Zuleta, owned by the family of a former Ecuadorian president, is among the highest-rated boutique hotels anywhere in South America. No wonder, since you may be joined at the nightly cheese-and-wine happy hour or courtyard bonfires by the president's daughter or other family members. (They are fervent supporters of rehabilitating local wildlife like the Andean condor.) Expect hot-water bottles tucked into your bed, fresh roses in your room, and embroidered linens hand-stitched by nearby villagers.
Best bang-for-your-buck hotel
In Otavalo—a town about two hours north of Quito made famous by its huge Indian market—stay at Hacienda Cusin. The rates are remarkably reasonable, given how much attention to detail has gone into restoring this seventeenth-century estate and its lovely gardens: The rooms are decorated with museum-quality textiles from the owner's personal collection, for instance, and dozens of fragrant roses bob gently in the water fountains. (The landscaping also attracts an astounding array of birds.) Don't be surprised to find a special surprise under your blankets—a toasty hot-water bottle to chase away the chill of the Andes. You could fill several days here with hiking, horseback riding, mountain biking, and Spanish classes.
Restaurants the locals love
Zazu is an Ecuadorian fusion restaurant that creates modern flavors out of typical local ingredients and dishes. When you dine here, you are treated like you are the favorite guest ever. Save room for the helado de paila; this traditional Ecuadorian sorbet is prepared tableside in a brass pan (called a paila). Even better are its simple and pure ingredients—just fresh fruit and real cane sugar, nothing else.
Dish to try
You don't want to hear this, but it's the guinea pig (known as cuy). Get it roasted—al horno. Believe it or not, it tastes just like chicken. Just don't look at the face or claws. Look for it at a local mom-and-pop restaurant; it's often promoted heavily on the signage, as it's an expensive treat (anywhere from $10 to $20) for Ecuadorians.
What to See and Do
Don't miss
La Ronda in the Old City of Quito. What used to be a rambling, dangerous mess of forgotten side streets has been revamped into a pedestrian-only showcase of whitewashed cobblestone alleyways, home to strolling musicians, street art, little restaurants, and craft shops that beckon you in. It's one of the most pleasant ways to spend an evening in the city.
Don't bother
The equator obelisk, located just outside Quito, seems to make for a great photo op as you straddle both the Northern and Southern Hemispheres, but it's not actually on the equator!  The true equatorial line is 300 yards away.
Hidden gem
The Inti Nan Museum on the true equator near Quito. This is where you bring your kids to balance an egg on a nail, or watch water swirl in a drain clockwise in one hemisphere and counterclockwise just one step away in the other hemisphere. The cultural exhibits are an added treat: Test your skills at blow darts and get an up-close look at a real shrunken human head from the Amazon.
Cheap thrill
Quito has more gold-leafed, architecturally stunning churches than you can shake a stick at. But take a closer look at the exterior at the Basilica of the National Vow, perched imperiously above the city. Is that a…marine iguana? Yes, this may be the only basilica in the world decorated with gargoyles of some of the world's most endangered wildlife. And for just $3, thrill-seekers can climb up a rickety set of steps and ladders to the tower for unobstructed views of the city.
Bragging rights
Take a private after-hours tour of Quito's spectacular Mindalae Ethnographic Museum, known for its collection of indigenous handicrafts and art. In the evening, the lighting in the galleries takes on a different atmosphere, and the hushed hallways bring a sort of reverence to the artwork. After the tour, you'll have a candlelight dinner at Rumiloma, a luxury hacienda overlooking the Quito Valley, at which Allie always adds a few special touches—perhaps a kitchen tour with the chef or a private wine-tasting.
Downtime
Have a wander around the Jardin Botanico in Quito, a lovely park that features Ecuador's astonishing collection of orchids. The rarity, vibrant color, and delicacy of each orchid are just breathtaking. There's nothing like sleeping in, waking up to a typical Ecuadorian breakfast—strong coffee, fresh watermelon juice, crusty bread slathered in butter, empanadas, and fried sweet plantains—and then spending an afternoon in these gardens.