The insider advice on this page is from Wendy's Trusted Travel Experts for French Canal Barge Cruises: Ellen Sack and Caroline Sack Klein of Barge Lady Cruises.
Ellen Sack and Caroline Sack Klein
Chartering a canal barge (ideal for groups of 4 to 12 adults) or booking individual cabins on such a vessel (for 2 to 4 travelers) is slow travel at its best: You get to glide along centuries-old canals and waterways through the bucolic European countryside, covering just a few miles a day between excursions to vineyards, villages, castles, markets, and local artisans' studios. Ellen Sack, the original Barge Lady since 1985, daughter Caroline Sack Klein, and individual-cabin specialist Juana Pfadt will level with you about the pros and cons of each itinerary, as well as the cuisine, service level, and sightseeing possibilities on offer for each vessel. The warm welcome their travelers receive onboard is testament to their close relationships with the vessels' owners.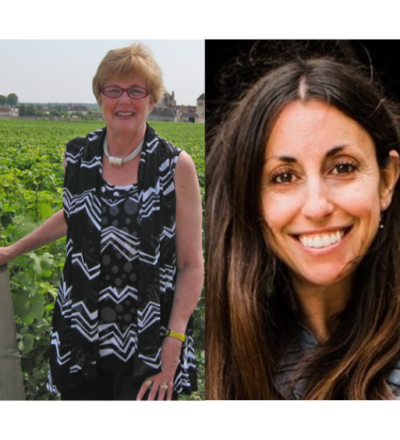 What a barge cruise is like
Barges meander slowly along antique canals through picturesque French countryside. For half the day you sightsee from the barge, including from the breakfast table and even from the hot tub. The other half of the day is spent off the vessel, on guided excursions to villages, castles, wineries, food markets, artisans' studios, and more. You could end the day playing petanque with lockkeepers or visiting the private homes of modern aristocracy. The vast majority of barge cruises are chartered for a small group of family or friends. It's like a private villa vacation, only the villa floats, has ever-changing views, and puts you in a new location each day.
It's not a river cruise
Barges are tiny compared with river ships. They ply narrow canals, as opposed to wide rivers. On barges, the countryside feels so close you can almost reach out and touch it. While river cruises cover hundreds of miles, barges cover only 30 to 50 miles over the course of six days. You can walk faster than the barge moves! Barges carry only 2 to 12 passengers. While most are rented as a private charter, there are a few 8-, 10-, and 12-passenger barges that can be booked by individual cabin.
The rhythm of the barge
Cruises are six nights long, from Sunday to Saturday. Barges move only during daylight, so you don't miss any of the scenery. During the half of the day when you are not on a guided excursion, you can laze on deck, walk or bike along the towpath, socialize in the salon over glasses of wine, or even join the captain at the wheel. In France, many barge voyages originate with a private van pick-up in Paris on Sunday and end with a drop-off back in Paris on Saturday; for others, services begin at the train station of a small town along the canal.
The meals
Breakfast, lunch, and dinner are served on the barge (on some cruises, you may dine at a restaurant one night). A gourmet chef uses local ingredients from specialty purveyors and seasonal produce from nearby markets. All meals are robust, with wine and cheese a big part of the culinary experience: Guests sample dozens of each during the course of the six days.
What's onboard
Most barges have a spacious living room, an outdoor sitting area (perhaps with a hot tub or small splash pool), and a dining room (perhaps with a demonstration kitchen), all located on the top deck. Cabins, one level below, have private bathrooms and daily housekeeping; a select few have televisions and mini-bars. The most luxurious vessels have cabins that are 250-plus square feet with a king-size bed (or a pair of twin beds). The most affordable barges have cabins of 100 square feet. All barges have bikes that you can use on the towpath or to explore local villages, but they have no gym.
The crew
All "hotel barges" are crewed, with crew members living onboard the vessel or close to the cruise route. The most luxurious barges have a crew of six, including captain, chef, tour guide, deckhand, and often two hosts. The most affordable barges are sometimes operated by the barge owners themselves, plus a crew of three to four.
For more about what a barge cruise is like
Read Wendy's article How to Know if a Barge Cruise in France is Right For You.
Best itineraries
From the rolling vineyards of Burgundy to medieval villages along the Canal du Midi, barges traverse canals in eight regions throughout France: Southern Burgundy, Northern Burgundy, Canal du Midi, Champagne, Provence, Alsace-Lorraine, Bordeaux, and Gascony. (While France is the best-known country for barge and canal cruising, you can also opt for cruises along the Caledonian Canal in Scotland; the River Thames in England; and the Po River Valley in Italy.)
Here are tips for the three most popular regions for a barge cruise in France:
Southern Burgundy
Barges cruise on the Canal de Bourgogne in this region known for its fresh produce, prestigious vineyards, and artisanal cheeses. The Côte d'Or route combines beautiful rural scenery with guided visits to castles, wineries, preserved antiquities, and charming towns. The Cote d'Or produces some of the most celebrated wines in France, such as Romanée Conti, the Grand Cru domaine where a single bottle of wine can cost more than $26,000. The Côte d'Or is also home to the 16th-century Château du Clos de Vougeot, a historic focal point of Burgundy winemaking with its giant centuries-old wine press. Miles and miles of towpaths allow for long strolls and leisurely bike rides.
Northern Burgundy
The Canal du Nivernais and the River Yonne are two of France's most scenic waterways, with groomed towpaths perfect for leisurely cycling and relaxed walking. A number of historical treasures bear witness to the area's influence over the centuries, and Renaissance châteaux and medieval castles spotlight a region where time seems to have stopped. Touring in Northern Burgundy emphasizes the region's spiritual centers along with its winemaking (it's best known for producing Chablis). In addition to wine-tasting and explorations of vineyards, highlights include touring Auxerre, with its delightful streets to stroll and shop, and a guided visit of the Basilica of Vézelay, a UNESCO World Heritage site with incredible Romanesque art and a pilgrimage spot where the relics of Mary Magdalene reside.
Canal du Midi
The Canal du Midi in southern France is the country's oldest constructed waterway. Built between 1667 and 1694, this 225-mile network links the Mediterranean and the Atlantic through 328 structures (locks, aqueducts, bridges, and tunnels) and is an engineering feat that helped usher in the Industrial Revolution. Its designer, Pierre-Paul Riquet, placed much emphasis on heightening the beauty of the surrounding countryside, and as a result many artists have been attracted to the region. The Nine Locks of Fonserannes, which lifts barges some 70 feet across a distance of 1,000 feet, is the canal's masterpiece.
From a culinary perspective, the Canal du Midi emphasizes Mediterranean-focused dishes and family-owned wineries, with the olive serving as the emblem of the area's loamy soil and Mediterranean climate. Tasting freshly pressed oils and tapenades at the region's cooperative mill, L'Oulibo, is like sampling sunshine in a bottle. Another highlight: After privately touring the Noilly Prat vermouth distillery, guests are treated to craft cocktails in an onsite VIP lounge.