The insider advice on this page is from one of Wendy's Trusted Travel Experts for India: Sanjay Saxena of Nomadic Expeditions.
The son of a brigadier general in the Indian Army, Sanjay was born in New Delhi and grew up living in numerous places throughout India. He began mountaineering and rock climbing in the high Himalayas at age 15, and since 1979 has led groups on trekking, climbing, touring, and safari trips not only in India but in Tibet, Mongolia, Sri Lanka, Nepal, and Bhutan. In 1992 he and David Breashears co-led the first western descent of the Brahmaputra River—a 250-mile whitewater rafting trip that was filmed for the BBC series "Classic Adventures"—and in 2001 he led the first Western group to journey overland from Kunming to Lhasa along the "southern road. Committed to running trips that are ecologically responsible and culturally sensitive, Sanjay has been named an "Unsung Hero of Compassion" and recognized by the Dalai Lama for the community projects he has created in South Asia. Travelers benefit from his rare combination of deep insider knowledge and talent for creating unique, intellectually engaging itineraries to both traditional and remote destinations.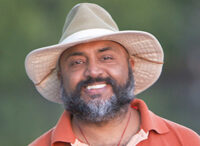 Where to Stay and Eat
Best bang-for-your-buck hotels
The Imperial, built almost a century ago for British officers transiting through Delhi, is now one of the city's premier hotels—not just for the heritage building, the spacious rooms (some of Delhi's largest), and the British-era art collection, but also because of its central location: Unlike many of the city's other five-star options, the Imperial is walking distance to Jantar Mantar, Connaught Place, India Gate, Bangla Sahib Gurudwara, and the Parliament. Since many of the least expensive rooms are awkwardly shaped, Sanjay prefers the Heritage rooms, which have more open layouts.
In nearly the same optimal location (at the other end of a very long block) but for roughly half the price, the Shangri-La is another fine option. Décor-wise, these two hotels are opposites, though: The Shangri-La is a newly built, modern hotel, with the top-notch service this chain is known for. Rooms on the higher floors have nice views, which you won't find at the Imperial.
Restaurants the locals love
Not Just Paranthas, located in the Greater Kailash II neighborhood, serves a ton of variations on the traditional aloo parantha (flatbread stuffed with spiced potatoes and peas). A favorite is the fried egg parantha; after your first bite, the yolk oozes out to cover the rest of the bread.
Karim's, in Nizam ud Din, serves Mughal cuisine. This is the destination for meat lovers—ask for the raan (leg of lamb) served with Khamiri roti, a leavened bread. Since this restaurant is run by Muslims, you'll find beef here, but no pork.
Sana Di Ge sources all its seafood directly from coastal areas along the Arabian Sea and specializes in traditional Malvani food (from the state of Maharashtra) and the Konkan food of Goa.
For lunch during a busy day, stop at Juggernaut, the city's current reigning king of South Indian cusine, for a masala dosa or their Juggernaut South Indian Thaal.
If you are hankering for some western cuisine, head to Fio Country Kitchen & Bar for an Italian meal al fresco. You must try their prawn appetizer, pan-seared and infused with a garlic saffron sauce.
Dish to try
Travelers often steer clear of street food for reasons of hygiene, but chaat—the tapas-style spicy treats you typically find in northern India—are now being safely offered in some restaurants. Dahi bhala is a local favorite: chickpea flour balls that are fried and then soaked in yogurt (dahi) mixed with tamarind sauce and a healthy dose of various spices; try them at Natraj Restaurant in Old Delhi. There's also papri chaat, or Indian nachos: crispy chips made from refined wheat flour and topped with chickpeas, crumbled potato, diced onions, and cilantro.
Meal worth the splurge
Dinner at Varq, at the Taj Mahal Hotel and helmed by the always-perfect Chef Rajesh. The eclectic cuisine is anchored in traditional cooking, but with a mix of foreign ingredients (lobster, sea bass), local organic produce, and a profusion of Indian spices. You must get the chicken gandheri, a chicken kebab wrapped around sugarcane and served in a tall glass with mango chutney.
Prime picnic spots
Delhi abounds with many parks. Adjacent to the UNESCO World Heritage site of Humayun's Tomb is a wonderful green space: Sundar Nagar Nursery & Heritage Park is more like a botanical garden, with over 300 species of trees, shrubs, and flowers set amongst ruins from the Mughal period of Indian history over a 90-acre space. Tons of Delhites come here for their morning or evening walk or a picnic. Lodi Gardens, near the Oberoi hotel, is great for people-watching; the park also has a number of ruins from the 15th- and 16th-century Lodi dynasty.
What to See and Do
Don't miss
Among the city's best-kept secrets are the 100-plus structures that make up Mehrauli Archaeological Park, a complex of ruins dating from various periods of the city's history. Though the ruins are close to the Qutab Minar, which sees hundreds of visitors daily, you'll rarely find busloads of tourists exploring Mehrauli's gardens, mosque, palaces, tombs, and beautiful stepwell (a common feature in these ancient landmarks, stepwells are an elaborate series of steps leading down to a pool).
Many travelers know about Delhi's fabulous Chandni Chowk bazaar, but few explore the city's smaller neighborhood bazaars, where locals do their daily shopping. Vendors sell everything from silverware to wedding dresses; this is where you can really get a sense of ordinary urban life in India. Two good options are the Lajpat Nagar bazaar, with its narrow alleyways and intense concentration of stalls, and the Karol Bagh bazaar, which gives timid visitors a bit more breathing room (both are named after the neighborhoods in which they're located).
Don't bother
Making time for the Red Fort: It has an impressive facade, but most of the fort is closed to visitors. A better option—assuming you're visiting Agra—is the much grander Agra Fort, a UNESCO World Heritage site.
Hidden gems
In the heart of Delhi lies Agrasen ki Baoli', the best preserved stepwell of Delhi. The city once boasted over 100 stepwells that were essential in providing water to residents. Few of these ancient structures now exist, as most were filled in and built over. Of the remaining stepwells, Agrasen ki Baoli' is a testament to the exquisite architecture and engineering skills from a millennium ago. The symmetry of arches and steps makes for excellent photo-ops too.
The Mandi House neighborhood is the heart of Delhi's contemporary art scene, with many galleries located around the Mandi House Chauraha (traffic circle). Of note are Triveni Kala Sangam (housing four galleries and a theater), the Shri Ram Centre (a gallery and theater), Lalit Kala Akademi (India's National Academy of Fine Arts), and Mandi House. After enjoying some art and perhaps a music performance, make the short walk to Bengali Market for a South Indian vegetarian dosa, followed by some delicious Bengali sweets.
Cheap thrill
A bicycle-rickshaw ride through the narrow alleyways of Chandni Chowk, in Old Delhi, will get your blood racing as your "rickshaw-walla" dodges carts, pedestrians, and motorbikes while monkeys follow you, darting along the rooftops and telephone poles.
How to spend a Sunday
On Sunday mornings, Delhites head to the Hauz Khas village, with its multitude of cafes, shops, and boutiques built around a reservoir; follow the locals here for some good people watching.
Also on Sundays, the Darya Ganj market closes and the street fills with book peddlers, their wares stretching for over a mile. You'll find volumes on almost any topic, all at cheap prices.
The souvenir
Gems and jewelry, silk carpets, wood-carved items, paintings, textiles and fabrics, pashmina wool shawls—so many things to buy and just one small bag. The four floors of goods at Cottage Industry on Janpath (opposite The Imperial hotel) is the perfect place to start. This government-run store showcases handicrafts from all over the country. The quality is high, as are the prices (all fixed; don't bother trying to bargain), but the items are genuine. Even if you don't buy here, a walk-through will give you a good baseline of prices to expect as you tour the country.