The insider advice on this page is from one of Wendy's Trusted Travel Experts for India: Sanjay Saxena of Nomadic Expeditions.
The son of a brigadier general in the Indian Army, Sanjay was born in New Delhi and grew up living in numerous places throughout India. He began mountaineering and rock climbing in the high Himalayas at age 15, and since 1979 has led groups on trekking, climbing, touring, and safari trips not only in India but in Tibet, Mongolia, Sri Lanka, Nepal, and Bhutan. In 1992 he and David Breashears co-led the first western descent of the Brahmaputra River—a 250-mile whitewater rafting trip that was filmed for the BBC series "Classic Adventures"—and in 2001 he led the first Western group to journey overland from Kunming to Lhasa along the "southern road. Committed to running trips that are ecologically responsible and culturally sensitive, Sanjay has been named an "Unsung Hero of Compassion" and recognized by the Dalai Lama for the community projects he has created in South Asia. Travelers benefit from his rare combination of deep insider knowledge and talent for creating unique, intellectually engaging itineraries to both traditional and remote destinations.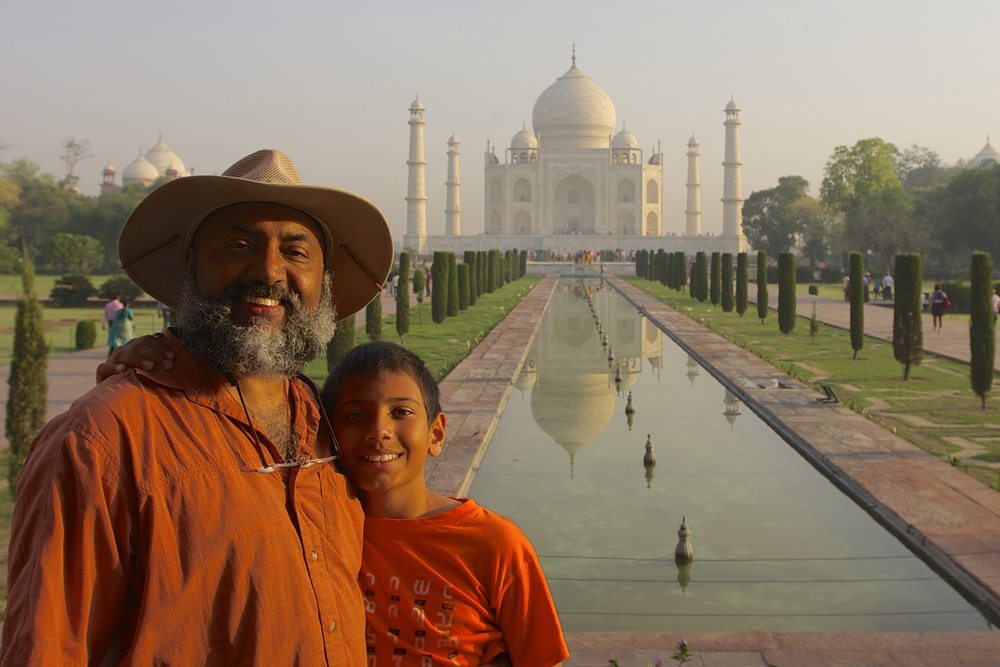 Where to Stay and Eat
Best bang-for-your-buck hotels
The Taj View Hotel, where the upper-floor rooms facing north have a view of the Taj Mahal and rates are half that of the Oberoi Amarvilas, which offers views of the Taj from every room. The recently upgraded Radisson also has 16 rooms with Taj views.
Restaurants the locals love
Pinch of Spice, just across the road from the ITC Mughal Hotel, serves local cuisine and is popular with locals and tourists alike.
Dasaprakash serves only vegetarian fare (and no alcohol), specializing in South Indian cuisine. For those only traveling to northern India, this restaurant offers a respite from the standard curries served everywhere. Ask for a masala dosa or an uttapam (a sort of Indian pizza), both very traditional South India favorites.
Dishes to try
For the more adventurous, Agra offers cheela, which is made of lentil flour cooked on a flat iron skillet like a crêpe, with tomatoes, onion, and local spices. Street vendors and small restaurants in Sadar Bazaar all make and serve this Indian crêpe. Buy one and eat it as you wander the bazaar.
If you have a sweet tooth, try panchhi petha, another Agra specialty. It's a translucent soft candy made from ash gourd, also known as winter melon.
What to See and Do
Don't miss
The Old City of Agra, best visited by foot. Its narrow alleyways are lined with small shops where locals come to buy their spices, textiles, ayurvedic medicine, kitchen wares, and prayer offerings. Some of the buildings in the Sadar and Kinari bazaars date back to the Mughal Empire (some over 400 years old), and there's quite an important Shiva temple here too. Best of all, a walking tour of the Old City reveals a slice of everyday life in Agra, far from the maddening tourist crowds.
Don't bother
Hiring one of the so-called guides that stand outside the monuments flashing badges. While they may have some knowledge of the site, they are unlikely to have the required government certification and will not be allowed to enter the monument. In general, they'll take you around the outside and then tell you you're free to explore the interior on your own.
Hidden gems
Itmad ud Daulah and Metab Bagh. These sites are close to each other, across the river from the Taj, and infrequently visited, as it takes time and effort to go across the river. Itmad ud Daula (the mausoleum of Shah Jahan's father-in-law) predates the Taj Mahal and has a far greater concentration of marble inlay workmanship than the Taj. Metab Bagh is a garden across the river directly opposite the Taj Mahal. It's reputed to be the site where the "black marble Taj Mahal" was going to be built for the king. Whether the story is true or not is unimportant; what matters is that the views of the Taj Mahal from here are glorious and unobstructed and you will share the site with just a handful of people.
Cheap thrill
Pose at the viewing platform at the main entrance to have a photo that looks like you're holding the Taj Mahal in your hands.
Bragging rights
Tripods and large-format cameras are strictly forbidden in the Taj complex—but Sanjay can obtain special permission for photographers to bring in a tripod for their 35mm or large-format field camera. The permits are valid for the Taj, Metab Bagh, and Itmad ud Daula. Under no circumstances are you allowed to take your camera with you inside the mausoleum.