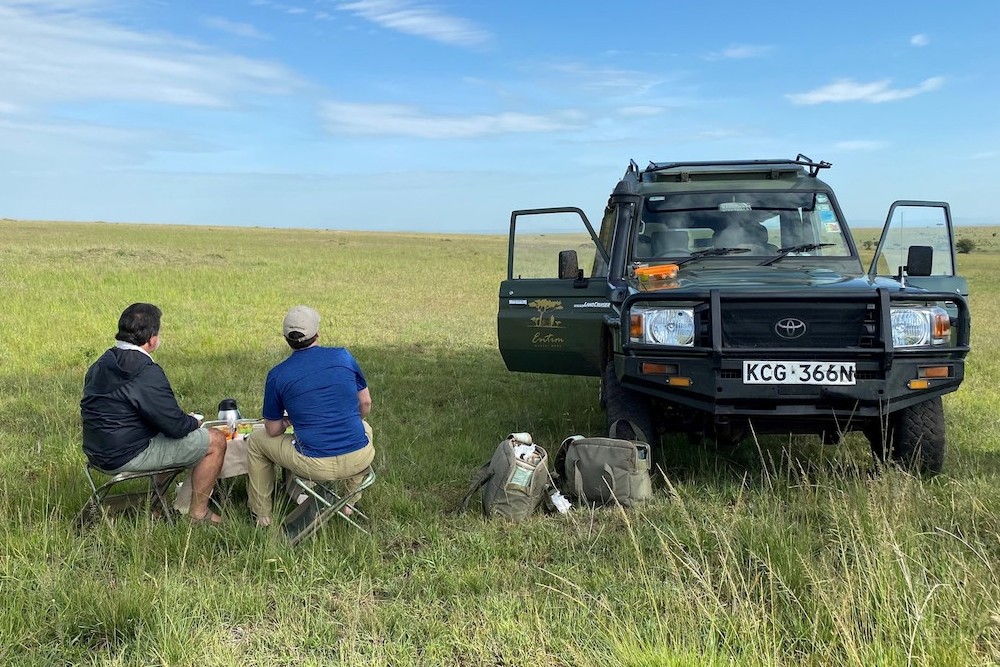 PANDEMIC TRAVEL  As an avid traveler, I knew that planning an African Safari was beyond my own abilities. After reading Wendy's article about WOW Lister Julian Harrison's recent trip to Kenya with his son, Dispatch from Kenya: What a Safari Looks Like Now by Billie Cohen, I knew that Julian could plan the right trip for me.
I first made contact with Julian on October 19, 2020. Julian was patient, informative, and knowledgeable. Julian's patience and planning were immediately tested when everyone in my travel group backed-out of this trip as soon as Julian had it completely planned and ready to go. Instead of complaining about these travelers backing-out, Julian sensed how much I wanted to take this tour to Africa, and he planned a solo trip just for me. As an added bonus, Julian was going to accompany me on this trip. As Wendy would say, WOW!
By November 12, 2020, Julian had modified a multi-person itinerary to a solo itinerary just for me. From December 4-14, in less than four weeks, I would be traveling to Kenya and the Maasai Mara.
I only had a few requests for Julian regarding this trip: 1. I wanted the best opportunity to see as much game and birds as possible (no checklist, just opportunity); 2. I wanted as much of the trip to be inclusive as possible, so that I did not have to incur additional costs during the trip; 3. I wanted private game drives so that my time searching for game would not be determined by others; and 4. I wanted to "go with the flow once in the Mara"–get up early, go to bed at a reasonable time, but see what the day and conditions dictated, rather than having a set time-table and schedule of things to do.
Julian not only delivered on each of these requirements, but he exceeded them. For most of this trip, I felt and believed I was the only person in the Mara. From his selection of camps, Instinct of the Mara and Entim Camp, to knowing what to look for and ask for, Julian's knowledge was invaluable. Notable, unexpected highlights included:
1. Traditional fire-roasted lamb prepared by Maasai men, accompanied by sundowners high on a hill in the Mara;
2. Persuading Richard and staff at Instinct of the Mara to prepare and serve an impromptu three-course-meal on a sandbar in the middle of the Sand River;
3. Assisting me with adding over 70 new bird species to my bird knowledge and inventory;
4. Innumerable animal encounters; and
5. An unexpected, secluded waterfall and resulting pool in the Mara.
Covid-19 protocols were evident at every step of the trip planning process and the trip itself. Admission to Kenya required a negative PCR test and answers to a Kenyan Government internet health questionnaire, which resulted in a QR code to be submitted upon arrival in Nairobi. The most stressful part of this trip was awaiting the results of my PCR test, which required that the test results be no older than 96 hours upon arrival in Kenya. I received my results at 10:30 PM, the night before my departure flight. (That was too close for comfort for me—outside the "cancel for any reason" window.  In hindsight, when I plan another trip of this magnitude and expense, I am going to have a second, "back-up" Covid-19 test conducted through the mail.) Julian pointed out all of the Covid-19 testing requirements early in the planning process, and he continually followed-up with me to ensure that I had what I needed for arrival in Kenya, including satisfactory trip insurance.
During the trip, every person in Kenya with whom I made contact was wearing a mask. Before entering any Camp or establishment, each time I was required to wash my hands, and hand sanitizer was present at all locations. In addition, all camps conducted temperature screenings prior to entering, and all eating establishments practiced social distancing by keeping patrons and guests separated. I felt each Camp did everything it could to ensure the most safety for its guests.
Even though a negative Covid-19 test was not required for my return trip to Georgia, Julian assisted me and was able to schedule a Covid-19 test prior to leaving Kenya so that I could have a high degree of assurance that I was not infected prior to returning home.
The most people I encountered at one time during my Kenyan Safari was at the major international airports—Atlanta, Amsterdam, and Nairobi. Everyone wore masks, and I kept my distance, finding a seat away from groups. I had never seen Atlanta's international terminal so empty, but Amsterdam and Nairobi were busy but not crowded. The international airports were the only places where my thoughts returned to Covid.
I look forward to another experience just like this one, and I will ask Julian for his assistance and planning when I do.
Asante sana, Julian.