Do you search for travel information on your phone? According to Google, mobile travel inquiries increased by nearly 50% from January 2015 to January 2016. The rise makes sense, considering how much everyone seems to be looking at their phones these days. And with that increase, Google has been able to find out some interesting things about where we're traveling lately.
Top 10 Trending Countries
Based on US searches on Google since January 2016
Top 10 Trending Cities
Myrtle Beach
Playa del Carmen
Cancun
Huntington Beach
Laguna Beach
Santa Cruz
Aspen
Newport Beach
Big Bear Lake
Park City
Based on US searches on Google since January 2016
Of course, all this interesting search information doesn't remove the challenges of actually planning a great trip. In fact, Google says that 70% of travelers worry that they may not be finding the best price or making the best decision while booking a trip.
That's why the search company held a press conference yesterday to introduce Destinations on Google, a new way of compiling certain kinds of travel information and displaying it to would-be globetrotters.
The tool works best as an overview of popular locations. For example, if you type in "Europe destinations," you'll get a list of popularly searched spots within Europe (London, Barcelona, Paris, etc). And if you tap into a city, you'll see suggested itineraries.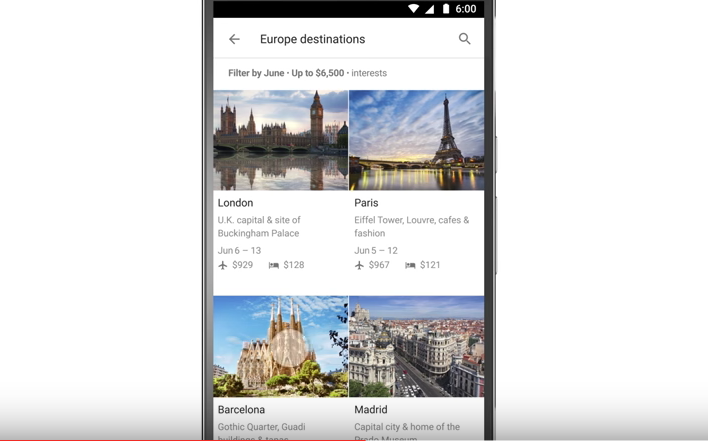 The breadth of the information is decent for overview or inspiration purposes—and you can do some fun filtering by interest, like for scuba diving or hiking—but you're not going to be able to plan a comprehensive trip from here, one with all the special experiences most people want to discover these days. The Google team says that's fine—that's not what they're trying to do. They're trying to complement the travel experts and travel planners, by offering a first stop for research.
And Destinations does work decently in that way…though to be fair, sophisticated travelers probably don't need Google to tell them that the top sights in Paris are the Eiffel Tower, the Louvre, and Notre Dame.
Instead, the most useful part of the tool is the same mechanism that powers Google Flights—so that when you type in "Greece destinations" or "Europe vacation," your search results will include a recommended vacation week, based on the lowest estimated airfare Google Flights can find from your location. Similarly, Google shows the average estimated hotel price, in your chosen star category, in the destination you're researching. Via its tool, you can find out the average starting price for, say, a seven-day trip from New York to Paris, in any particular month. Though the true price of a trip is never just the average air and hotel (there are meals, admission tickets, transportation, and activities to think about, not to mention the difference in cost between just any old hotel and the hot new spot everyone's talking about), it's still a helpful way to think about where you might want to go if you have a vacation coming up at a certain time of year.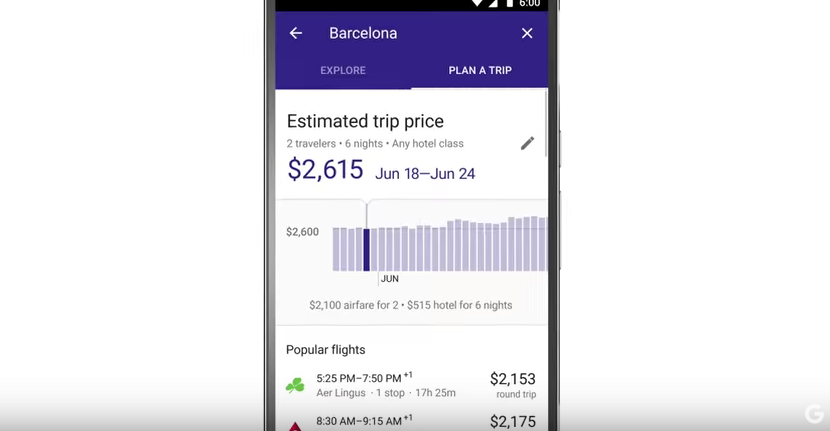 A few key things to keep in mind as you explore: Google doesn't do any of the booking (it'll direct you to each hotel's or airline's site to do that) and it can't refine for important personalized criteria (such as finding a hotel that is in your loyalty program or has the bed configuration or connecting rooms you need). Also keep in mind that Google is basing most of its information on popular searches that other people make. As an example, Google Destinations will tell you that May is when most people go to Athens; that is helpful information, but that doesn't mean May is the smartest time for you to visit (unexpected or off-season weeks can sometimes be the best times for travel). Google also doesn't tell you when a special local festival is happening a few miles outside of the city, or when the curator of the Acropolis Museum is available to take you on a private evening tour.
For that, you still need humans. And Google admits that freely. As a spokesperson explained, "This is not meant to replace travel agents, or TripAdvisor, or traditional travel media.It's meant to compliment and be used in concert with other resources."
That's no surprise to us here—we've been talking about the value of exceptional human travel planners for years. So while a smart digital tool like Destinations on Google can be a useful part of your travel toolkit, you'll still need to put down your phone to discover the most extraordinary parts of travel.
Be a smarter traveler: Use Wendy's WOW List to plan your next trip. You can also follow her on Facebook and Twitter @wendyperrin, and sign up for her weekly newsletter to stay in the know.