The insider advice on this page is from Wendy's Trusted Travel Experts for Sicily: Marcello Baglioni and Matteo Rota of Agave Travel Creative.
Marcello Baglioni and Matteo Rota
While running a school for Americans studying in Sicily, Marcello found himself planning trips for the students' visiting families—and thus his travel business was born. His fascination with Sicily derives from the island's important historic location at the crossroads of numerous Mediterranean cultures (Roman, Arabic, Spanish, Norman, to name a few), all of which left their mark on the region's unique food, wine, culture, and language. Matteo, meanwhile, has hospitality in his blood: Raised in his family's restaurant in St. Moritz, today he is known to moonlight upon occasion—when restaurateur friends need a break—in the front-of-the-house and show off his food-and-wine cred. Matteo, who speaks four languages, has lived in Sicily since 2012; Marcello divides his time between the island and the U.S. Together they excel at forging deep personal connections and can arrange anything from a hike or donkey ride on Mt. Etna with a volcanologist to a market tour and cooking class with a chef, a visit to Greek ruins with an archaeologist, a private lunch at an herb farm, or a tour on a lovingly restored sailboat, all hosted by passionate locals whom they consider family. From five-star palaces to rustic farm stays, they are so plugged into the hotel scene that they know which rooms will accommodate a wheelchair or, in the small properties, a late sleeper.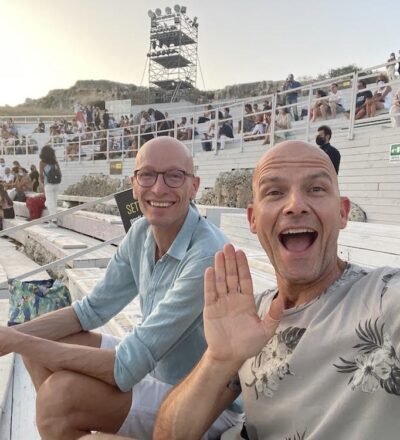 What to See and Do
Most underrated place
The historic town of Ortigia in Siracusa (or Syracuse) makes for the ideal home base in the southeastern part of the island. The area features a compelling mix of 3,000-year-old monuments, wide-open piazzas where you can relax with a nice gelato, outdoor food markets, and an ancient, eminently walkable harbor. It's also a convenient point of departure for day trips that explore ancient sites, Baroque towns, seaside villages, and hiking trails.
Most overrated place
Many visitors include the famous hilltop town of Taormina on their Sicily bucket list, and for some compelling reasons: The town features amazing views of both Mt. Etna and the Mediterranean, elite dining spots, and some of the best accommodations on the island. However, its tiny streets are frequently clogged with large tour groups on shore excursions from their cruise ships, and its geographical position limits day-trip options. If you stay here, you'll end up isolated from local life and culture.
Hidden gem
Mt. Etna is much more than just a volcano (though it is the tallest and most active in Europe). In addition to checking out the recent and ancient lava flows with a volcanologist, take some time to explore the charming local towns nearby and their wide array of culinary traditions, which include pistachio cultivation, the invention of granita, and wineries that are making the most of the volcanic terroir.
Where to Stay and Eat
Best bang-for-your-buck hotels
When it comes to accommodations in Sicily, the sweet spot is a selection of boutique hotels and farmhouses. Many of these properties are family-run, serving locally grown organic meals and with a kind and helpful staff. Here are a few that provide the right blend of location, luxury, and a unique experience:
Fontes Episcopi, located near the Agrigento/Valley of the Temple ruins, is an organic farmhouse owned by a pharmacist who decided to create a country resort that would heal and nourish his guests. The property features a small spa that uses healing muds and lotions, and the meals all come from the on-site gardens. The friendly staff will make you feel like part of the family.
Musciara Resort, a short walk or boat ride from Siracusa's historic center on Ortigia Island, has amazing sea views and a private beach area. From here, you can be part of local life while enjoying a peaceful perspective on the ancient city and sea. The rooms and public spaces have been lovingly designed by the owners and provide for a joyful stay.
While Taormina can get quite overrun with tour groups and leave you feeling at times as if you were in a Sicilian Disneyland, the Ashbee Hotel is a private oasis amid the hubbub, just outside the main area of town. The hotel was constructed in the early 20th century as an English-style villa, and while the rooms have been meticulously restored and updated, they still reveal details of the original architecture. The Deluxe Seaview rooms also have large private terraces.
Restaurants the locals love
In Sicily, you can dine at a Michelin-starred restaurant one night, then possibly outdo the experience at a seaside osteria the next. The island's complex history provides an almost endless choice of culinary traditions to explore, from ancient Greek and Roman to Arabic, Spanish, and French, all within the framework of Italian cuisine.
Bisso Bistrot. The setting couldn't be better, in the Quattro Canti at the heart of Palermo's city center, in what used to be an old family-owned bookstore. The menu features fresh takes on traditional Palermo street food, served with the bustling and frenetic energy (no reservations, shared tables) that best symbolizes the spirit of Sicily's capital.
Ciacco Putia Gourmet. Few travelers take the time to explore remote and rustic western Sicily, but those who do are well rewarded for their efforts. Located in Marsala's historic center, Ciacco Putia is the invention of a husband-and-wife team with both Tuscan and Sicilian culinary roots. Their simple yet creative dishes of seasonal items pair amazingly well with the Marsala wines for which the area is known and named.
Ristorante Manna Noto. In the heart of the Baroque town of Noto there is Manna, one of the few places that does an amazing job of serving contemporary takes on traditional dishes, alongside great interior design and impeccable service. This is a "must-dine" spot when visiting the area.
Dish to try
Pasta con le Sarde, or pasta with anchovy filets. It is often made with wild fennel, fresh anchovies, raisins, pine nuts, and finished off with some toasted breadcrumbs, although each province in Sicily has a slight local variation. The dish features a contrast of seemingly conflicting flavors that somehow come together on the palate, giving you a strong sensorial sample of the culinary and cultural mosaic that is Sicily.