The insider advice on this page is from one of Wendy's Trusted Travel Experts for the American West, Meg Austin of Meg2book LLC.
Meg has been skiing in Colorado since she was five, including a stint as an instructor. She lives in Vail and also knows Aspen, Beaver Creek, Breckenridge, Jackson Hole, Keystone, Telluride, and other resorts like the palm of her hand. She will gauge your group's experience level and use her local connections to put you not just on the right mountain, but in the best hotel room, condo, or house with prime access to the ideal runs. She's also strategic about squeezing the most value out of expensive lift tickets. Flustered by your family's complicated mix of ability levels and interests? Her private guides can help you avoid the lines and ski a variety of terrain—and if not everyone is a hardcore skier or snowboarder, Meg also knows where to find the best snowmobiling, snowshoeing, yoga, cooking classes, and spa treatments.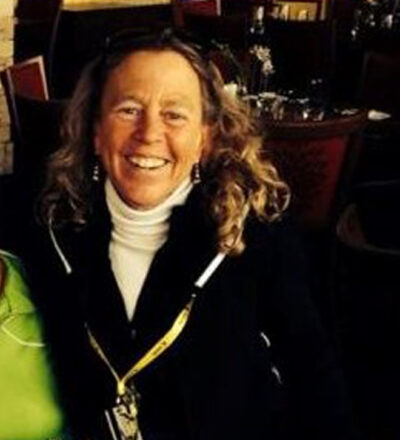 Covid safety intel
Meg lives in Colorado and has been skiing there this season. She reports that lift lines have been reconfigured for social distancing, with chair lifts and gondolas taking fewer skiers, and new rules are in place for areas where people congregate. Most resorts require masks both in town and on the mountain, screen employees for symptoms daily, and have reduced capacity by limiting ticket sales and requiring reservations for each day of skiing. Restaurants offer limited indoor and outdoor seating, so reservations are necessary for both lunch and dinner—but many take-out options are also available. To minimize your exposure, Meg can arrange for equipment delivery and private, Covid-tested ski instructors. She recommends home rentals and condo hotels, and she can have groceries stocked in your kitchen before you arrive.
Where to Stay and Eat
Chalet worth the splurge
In Vail: Game Creek Chalet, a four-bedroom, five-bathroom chalet that sits 10,500 feet above sea level—and high above Vail Village—in the Game Creek Bowl. Just getting there is an adventure on the gondola and snowcat (it's near Game Creek Club; see "Meal worth the splurge"). Once there, you and up to nine friends can have the whole place plus a butler at your disposal starting at only $1,250 a night. At the peak of peak season that rate can rise to $5,000 or more, but the per-couple price is still comparable to Vail Village accommodations—and the chalet's isolated mountaintop setting is in its own league: You'll never forget waking up and carving tracks in fresh snow before others are even thinking about catching the morning's first gondola up to the summit. If you want a deal, don't travel around the holidays.
Meals worth the splurge
In Vail: Food always tastes better after a day on the mountain, and it tastes even better at the remote Game Creek Club's restaurant. Get there by taking the Lionshead gondola to the top of Vail Mountain, then jumping into a blanket-filled snowcat for a ride across the slopes to the restaurant (try to plan your dinner for a full moon). The food is great—particularly the scallops, which melt in your mouth, and the delectable elk.
In Telluride: Take the gondola up to Allred's for a late happy hour or early dinner with stellar views of Telluride's boxed canyon, and a gorgeous sunset from 10,551 feet. The halibut is to die for—but so are the porcini rotelle and the bison ribeye! Make sure to request a window-side table.
Must-have dish
Rocky Mountain oysters, of course! It may be better not to know what they're made of, but when they're prepared well they taste like a combination of sweetbreads and calamari.
Best spots for a drink
J Bar in Aspen's Hotel Jerome. Built in 1899, it's a Colorado institution—and the best place in town for celebrity sightings.
The Remedy Bar at the Four Seasons Vail is all about views and fire pits, with floor-to-ceiling windows and a deck that is the perfect place to enjoy the stellar signature haute chocolate (add a shot of whiskey for a kick). Too cold? There are fireplaces inside, as well as huge TVs with the capability to watch all your favorite teams at the same time.
There are only eight chairlifts on Aspen Mountain and only one ski-in/ski-out hotel. Chair 9 at The Nell, right at the base of Chair 8, is the place to après. Reserve one of the four private booths, or try to figure out who did.
In Telluride, Gorrono Ranch sits on the Misty Maiden run; grab one of the signature margaritas and chill on a lawn chair to enjoy the epic Mt. Wilson view!
Slope worth the trek
Many resorts get day trippers due to their proximity to big cities (Denver, Salt Lake City). Not Telluride. This is the real 'Ole West. The scenery is stunning and dramatic, the town upscale but unpretentious. It's also known for its foodie scene, arguably better than Vail's or Aspen's, and quite varied for an out-of-the-way ski town: Here you can find Middle Eastern, Thai, Mexican, Detroit-style pizza, French, Italian, farm-to-table cuisine, and of course your basic steak-and-seafood mountain fare. Fly into TEX via Denver; the airport's just outside town.
What to See and Do
Don't miss
Night skiing. It's you and the mountain after dark at Keystone, Sundance, Snowbird, and Steamboat. The shadows are very cool, especially when there is a full moon. Access varies per resort; Keystone offers the best deal of the bunch since anyone with a day pass can ride the lifts until 8 p.m.
Best place for advanced skiers
For a good challenge, Jackson Hole is hard to beat. But Aspen Mountain, with its crooked fall lines, comes close: Normal fall lines go straight down the mountain, allowing you to plan your turns accordingly, but Aspen's crooked lines make for sharp changes in pitch and direction that require even expert skiers to concentrate (and wear helmets). If you can, stay at The Little Nell, the only true ski in/ski out hotel in Aspen.
Best place for children
Beaver Creek's ski school is known as one of the best in the country. For starters, you don't have to take three lifts before you can actually ski—just one easy, warm ride on Buckaroo Gondola at the mountain's base. Beaver Creek's long, wide green runs are perfect for beginners, and they end the day handing out warm chocolate-chip cookies! Manor Vail Lodge, at the base of Golden Peak in Vail, is another favorite with quick, easy children's ski-school access and wonderful multilingual instructors for the little ones. For those with more on-mountain experience, this property offers great "back bowl" access for powder seekers, and the terrain park is right there for those wanting to play or show off!
Best for skiers of different levels
Vail has varied terrain that is suitable for every level of skier. Some of the best Vail runs: Apres Vous in the back bowls; try the trees where the powder is deeper and because of the trees, lasts longer. Riva Ridge, four miles nonstop from top to bottom. Highline for bumps; perfect fall lines make it easier than it looks. Try it nonstop for a great workout! A bonus: Vail's Gondola One has heated seats and Wi-Fi. If Forever is groomed, go there first—but don't tell anyone else.
Best for skiers (not snowboarders)
Deer Valley and Alta don't allow snowboarders, so there is no fear of being in a boarder's blind spot. However, there are some wonderful properties at Dear Valley, including the Montage, that offer a quick and easy shuttle service to Park City for those who do want to board.
Best for purists
Big Sky is underrated and understated: no frills, just skiing. Another Wyoming resort, Jackson Hole, has steep-and-deep runs and a wild-west feel—and a few fabulous five-star hotels: The secluded Amangani is a (complimentary) 20-minute drive from the Jackson lifts. The new Caldera House is small but has all the necessities, and it's steps from the tram. A word of advice for these more remote destinations: If you see a baby moose on the slopes, steer clear or his mom will chase you!
Cheap thrill
Vail Resorts' Epic Pass and Aspen's Ikon are great deals for those traveling at peak times. Epic's unrestricted pass—which gives you unlimited skiing at Vail, Park City, Beaver Creek, and others, and skiing with few restrictions at Whistler Blackcomb, Telluride, Crested Butte, Lake Tahoe, resorts in Japan and Australia, and more—starts around $850 for an adult. Given that day passes in peak season can cost $200 at the window, this is well worth it for families who can only travel over school holidays.
How to spend a snowless summer
When the snow melts, you can enjoy five-star luxury and three-star pricing at many of these resorts, with music, dance, and other events scheduled all summer long, plus hiking and biking on the mountains (with some gondolas still open to save you the climb). See Summer at a Ski Resort? Yes, and Here's Why.