The insider advice on this page is from one of Wendy's Trusted Travel Experts for France, Italy, England, Ibiza and Monaco: Jennifer Virgilio of Queen of Clubs.
Jennifer is currently based in London and has also called Rome and Paris home—all the while building her outstanding connections to charming boutique hotels, hard-to-get-into restaurants, and expert private guides. She can make the line at the Eiffel Tower disappear, snag front-row seats for Fashion Week, or get you an after-hours tour of the Tower of London. Jennifer is equally deft at planning itineraries for families—she's taken her own daughter all over Europe—as she is for high rollers (she's a private-jet broker too). For those flying commercially, her VIP meet-and-greet starts at the aircraft door and includes fast-track entry through immigration to a waiting car.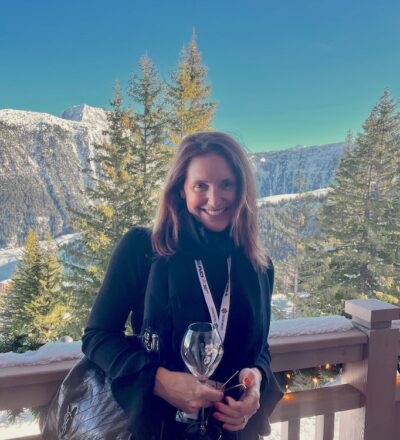 Things to Do and See
Most overrated experience
Eiffel Tower skip-the-line tickets don't always deliver what they promise: You still have to wait in the security line, which during peak season can be very long. (See more about this in How to Avoid the Crowds at Paris Museums and Cultural Sites.)
Most underrated places
There are many chateaux around Paris besides Versailles: Vaux le Vicomte (which was actually the model for Versailles), Fontainebleau, and Chantilly are historic and grand but less well known, so they're not overrun by tourists the way Versailles is. Chateau Chantilly makes for a fantastic day outside the city, and it now allows visitors into the apartments of the Duke and Duchess of D'Aumale.
Hidden gems
Père Lachaise Cemetery. Many great talents are buried here—including Jim Morrison and Frédéric Chopin—most beneath impressive monuments that tell a story. It's like an outdoor museum, though you won't forget that you're in a cemetery.
The 61-acre Parc des Buttes Chaumont, in the 19th Arrondissement, is one of the city's original parks, and it's a convenient place for a rest if you're already visiting Montmartre. It's known for the Temple de la Sibylle, which sits atop an island in the middle of a lake, and for its bridges and waterfalls.
How to spend a lazy Sunday
Sunday mornings are the best time to walk around Paris while the city is still asleep. Take advantage of this quiet moment. Arrive for brunch early, especially if you're dining at a hip Montmartre spot. Afterward, visit the Marché aux Puces de Saint-Ouen, a flea market that is open only on Sundays and Mondays. It's in a very non-touristy area of Paris, and you'll find antiques, inexpensive clothing, and North African dishes to taste. End your day with a stroll in Saint Germain des Prés, along the Rue du Bac. Walk toward Le Grande Épicerie, for food shopping, and Le Bon Marché, one of the oldest department stores in the city—and one of the most luxurious.
Prime picnic spot
For first-timers, there's nothing better than sitting on the Champ de Mars in the heart of Paris with that iconic view of the Eiffel Tower. Or set up in the Jardin du Luxembourg, a beautiful park near the Left Bank that's perfect for a picnic after you've explored the Latin Quarter.
Openings and reopenings
The iconic Musée Carnavalet, which traces the history of Paris from antiquity to the 20th century, has reopened after four years of renovations. Located in the Marais, this is the ideal museum for families and history buffs.
The Hôtel de la Marine is a little Versailles in the heart of the city. The iconic monument, located on Place de la Concorde, is a fine architectural ensemble that Ange-Jacques Gabriel, the king's chief architect, designed in the 18th century. This magnificent mansion's heritage, symbolizing the French art de vivre, is finally revealed to visitors after a multi-year renovation.
The Pinault Collection, located five minutes from the Louvre in the heart of the city, is a new modern-art museum showcasing François Pinault's private collection, as well as rotating exhibitions. This is the cultural opening of the year, adding to both the architectural grandeur and the artistic credentials of the 1st Arrondissement.
Where to Stay and What to Eat
Best-value splurge hotels
France has a unique designation, "five-star palace," for hotels with the highest standard of service (they're often not actually historic palaces). These include the Hotel de Crillon, Ritz, Hotel Plaza, Le Bristol, and La Reserve, a hidden gem close to the U.S. embassy with impeccable service. The Cheval Blanc Paris will soon open its doors in a wing of La Samaritaine; everyone is already talking about its beautiful architecture and amazing location in the heart of the city.
The best value is typically found at the four-star level—think Le Saint or Hotel Pas du Calais—although there are five-star boutique hotels that offer great value, charm, and location: these include Relais Christine, Grand Hotel du Palais Royal, Le Nolinski, Splendide Royal, Pavillon de la Reine, and Hotel Alfred Sommier. In the end, what's best depends on each traveler's budget and preferences. Jennifer's travelers almost always get complimentary breakfast and other perks at these hotels.
Restaurant the locals love
Restaurant Pages, in the 16th Arrondissement, is a Michelin-starred spot that doesn't feel stuffy. It has an open kitchen and an affordable prix-fixe lunch menu at about $45 per person.
La Closerie des Lilas, a formal restaurant and more casual brasserie on the Left Bank, has a long history that includes names such as Emile Zola and Paul Cézanne, and an authentic Parisian ambiance and décor. When dining in the brasserie order the escargot, a classic preparation of this quintessentially French dish.
La Poule au Pot, located in the 1st Arrondissement, was revamped by Chef François Piege in 2018. This is a true Paris institution: As you dine in the classic setting, you can see the names of the stars who have also enjoyed a meal in this restaurant—from Mick Jagger to Dalida to David Bowie.
Dishes to try
Pierre Hermé is one of the country's best pastry chefs, and his macaroons never feel mass-produced; they melt in your mouth. For sweet and savory crepes and galettes, follow the locals to Breizh Café in the Marais.
Meal worth the splurge
The experience of dining once at a three-star Michelin restaurant is often enough, but not so at L'Arpege, where chef Alain Passard keeps people coming back again and again. His dishes focus on the vegetables he grows at his biodynamic farm just outside the city.