The insider advice on this page is from two of Wendy's Trusted Travel Experts for France: Michael Eloy and Alex Zglinski.
Michael Eloy and Alex Zglinski
You might say that their job training started at birth: Michael and Alex grew up in France's famed regions of Provence and Burgundy, respectively, alongside the next generation of winemakers, restaurateurs, farmers, and private guides. Today, still living near their hometowns, they sprinkle these local connections throughout their itineraries, helping independent-minded travelers—especially those who want to rent a car and explore on their own—to experience the best of what's off the beaten track in France. Their in-depth itineraries will ensure that you drive the most scenic roads, sleep in the most charming and unusual accommodations, and dine in the most authentic local eateries. They've got their finger on the pulse of what's new and exciting but still under-the-radar, as well as what's old and magically atmospheric that most travelers miss. Use them for wine tasting in Burgundy, chateau-hopping in the Loire Valley, hiking in the Dordogne, cycling in Corsica (Michael used to be a biking guide), exploring Paris (where Alex has lived) by vintage Citroen, stepping back in time at WWI and WWII sites, or road tripping through all of it and then on into Belgium, the Netherlands, Germany, Spain, Italy, or Switzerland. Contact Michael and Alex only for trips of one week or longer, and note that their pricing (see above their photos) includes all hotels (or villa/apartment rental), regional flights or trains, car rental, visits and guided excursions, and some meals.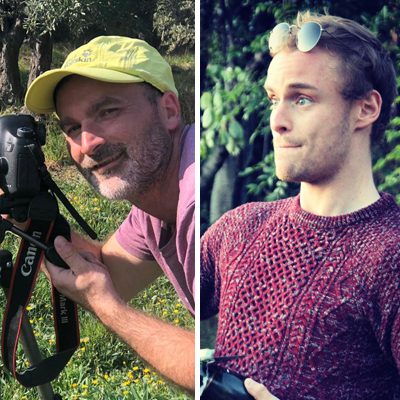 Where to Stay and Eat
Best bang-for-your-buck hotel
The Pavillon de la Reine in the Marais. It's not cheap, but its most expensive suite goes for the same price as a standard double in the palace hotels. Run with discreet professionalism and a (not always present in Paris) smile, it offers Michael and Alex's travelers its best rates and free breakfasts.
Restaurant the locals love
Le Sévero in the fourteenth arrondissement, for steak and frîtes. You know the food must be good when a restaurant is run by a man (a butcher, in this case) with literally none of the usual hospitable graces, utterly unbending in the application of the house rules, all designed to make sure your meal is terrific, not that your whims are accommodated. No mustard allowed. All steaks served rare. Don't even whisper the word ketchup within 500 meters of the front door.
Chez Casimir, in the tenth arrondissement, for an excellently priced prix fixe lunch or dinner, with a great cheese trolley (which have all but disappeared in the low- to mid-range restos).
Auvergne ham and Cantal cheese baguette sandwich at Le Petit Vendome in the second arrondissement, a restaurant that defines the word bustling at lunchtime; it offers a sandwich service from the bar, which is worth the elbow-fight to get to.
Don't-miss dish
You may think of the croque-monsieur as French, but more specifically it's Parisian, and indeed the untoasted-baguette version (a simple ham-and-cheese sandwich) is called a Parisien. Proust gives the sandwich its first literary outing, in A la Recherche du Temps Perdu, published in 1913. The croque-monsieur is therefore at once a cultural, historic, and artistic way of saving 40 euros at lunchtime, eating on the trot, and saving your appetite for dinner. The best is at the sandwich shop of the ancient Julhes deli on the rue du Faubourg St Denis.
Meal worth the splurge
Three-star Michelin restaurants are both extraordinarily good and extraordinarily expensive. Beneath those, it's really very easy to eat extremely well for 40 to 50 euros per person including wine. So a useful tip is to split the difference, perhaps at the Carré des Feuillants by chef Alain Dutournier, originally from southwest France but now a fully adopted Parisian. Why? Because for 60 euros you can have the prix fixe lunch, which is a great way for those on a tighter budget to try a top restaurant at a really decent price (especially given that most people think he should have three stars). Then, at the other end of the scale, for the bargain price of 200 euros per person (for tables of five and up), you can tuck into the Grand Menu, a five-course extravaganza that includes aperitif, wines, water, and coffee. What's more, he can cater to kosher clients, and he offers 35 percent for clients under 35. Who said French cuisine wasn't moving with the times!
Prime picnic spot
On the banks of the Seine, on the Île St Louis, just beneath the Quai d'Orléans, looking up to Notre Dame across the river. It's an absolutely unbeatable view, and there's a cobbled sitting area beneath the trees for the perfect evening picnic.
What to See and Do
Don't miss
The "other side" of the Butte Montmartre—the eighteenth arrondissement beyond Sacré Coeur. The neighborhoods on the far side of the hill of Montmartre are mostly residential areas, home to African and Caribbean immigrants, newly arrived hipsters, and more traditional French families who've been there forever, such that the combination makes for a great mix of influences. Exotic and foreign, trendy and utterly, gallically old-fashioned—all for the most part curiously devoid of tourists and well provided with decent restaurants, cafés, and markets (whereas around Sacré Coeur and even in Abbesses there is hardly a good spot to eat). It's a great area to explore.
Take in a sporting event. It's not for everyone, of course, but it's easy to pick up tickets to see Stade Français play rugby at the new Stade Jean Bouin, or Paris St Germain play soccer at the Parc des Princes; or to head to the hippodrome in the Bois de Boulogne, or the far more picturesque setting of Chantilly. Particularly at the rugby matches, the locals will be surprised to see you there, and will enthusiastically adopt anyone showing the slightest glimmer of enthusiasm. For the especially keen, Michael and Alex can have a local sports journalist host you for the day, and take you for lunch with the superfans beforehand.
Don't bother
Having dinner or lunch on a bateau mouche. Although the boats that ply the Seine are worth doing, you should never eat on one. In a city that's heaving with good restaurants, it makes no sense to eat bad food prepared from frozen in a boat kitchen.
Visiting Monet's gardens at Giverny. Unless you have a furiously active interest in this particular style of gardening or in the life and work of Monet himself, there are better gardens to visit for the layperson, and there are better places to see Monet paintings or to connect with the history of the artist and his contemporaries.
Cheap thrill
A self-guided walk in Paris. Fill a half day, or a full day, or your entire trip, strolling with Michael and Alex's guidance through different neighborhoods, getting out your wallet only for meals along the way (bearing in mind it's hard to go one minute in Paris without passing a boulangerie).
How to spend a Sunday
Start off with coffee and people-watching on the rue Cler in the seventh arrondissement, where the weekend morning scene is particularly pleasant; then head to the church of St Sulpice for the weekly organ recital at 11:30 a.m. (the pipe organ at St Sulpice is one of the finest in the world); picnic in the Jardins de Luxembourg or lunch in the gardens of the Musée Rodin; then take in a movie in one of the many art-house cinemas in Paris—known for having more movies showing per day than any other city in the world, many in English; have a tartine of pain poilâne and a glass of wine at the Chai de l'Abbaye in the sixth; finish the day at the Caveau de la Huchette or the Caveau des Oubliettes for some live jazz, both open on Sundays.
Instagram moment
The pétanque (boules) court in the Jardins de Luxembourg, where the sign telling you that only members of the Association Sportive des Jardins de Luxembourg are allowed seems perfectly in tune with the looks of fierce concentration on the faces of those playing. Oh, and the backdrop's not bad either.
Perfect souvenir
Visit Gab & Jo in the sixth, and pick up a pair of red, white, and blue Y-fronts made by Le Slip Français.