The insider advice on this page is from two of Wendy's Trusted Travel Experts for France: Michael Eloy and Alex Zglinski of Trufflepig.
Michael Eloy and Alex Zglinski
You might say that their job training started at birth: Michael and Alex grew up in France's famed regions of Provence and Burgundy, respectively, alongside the next generation of winemakers, restaurateurs, farmers, and private guides. Today, still living near their hometowns, they sprinkle these local connections throughout their itineraries, helping independent-minded travelers—especially those who want to rent a car and explore on their own—to experience the best of what's off the beaten track in France. Their in-depth itineraries will ensure that you drive the most scenic roads, sleep in the most charming and unusual accommodations, and dine in the most authentic local eateries. They've got their finger on the pulse of what's new and exciting but still under-the-radar, as well as what's old and magically atmospheric that most travelers miss. Use them for wine tasting in Burgundy, chateau-hopping in the Loire Valley, hiking in the Dordogne, cycling in Corsica (Michael used to be a biking guide), exploring Paris (where Alex has lived) by vintage Citroen, stepping back in time at WWI and WWII sites, or road tripping through all of it and then on into Belgium, the Netherlands, Germany, Spain, Italy, or Switzerland. Contact Michael and Alex only for trips of one week or longer, and note that their pricing (see above their photos) includes all hotels (or villa/apartment rental), regional flights or trains, car rental, visits and guided excursions, and some meals.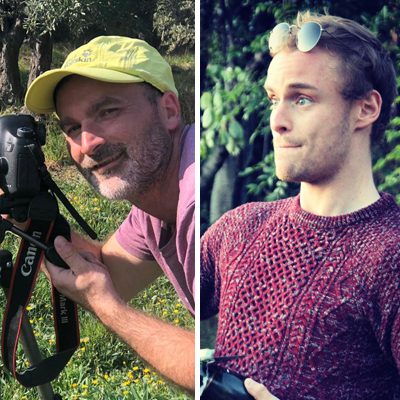 Where to Stay and Eat
Best bang-for-your-buck hotel
Burgundy hotels on the whole are not excessively priced. L'Hôtel de Beaune offers the best rooms and location in town, and for half the price of similar hotels in Paris or Provence. Michael and Alex's travelers get breakfast included, as well as the preferential service that comes from their having worked with the hotel since it opened.
Restaurants the locals love
Travelers chatting with Alex will soon realize his utter obsession for Japanese cuisine and how perfectly it blends with Burgundian gastronomy. Case in point: The "three buds" running the kitchen at Trois Bourgeons, in Chablis, all hail from Japan. Two of them trained in Michelin-starred spots within France, and all are applying their skills with élan. Since its opening in early 2017, the place has proven to be the talk of the town, featuring seasonal cuisine and the great whites of Chablis.
Right outside of Beaune at the head of the Ouche Valley, La Clé des Sources in Lusigny is an old bistro address taken over by the new kids in town who were trained (both on the floor and in the kitchen) by Beaune's infamous Italian chef Giada Scarton. Expect a short carte, perfectly executed and inexpensive. Fuss strictly verboten.
Right by the Saône, 25 minutes from Beaune, the Beau Rivage in Allerey has the perfect terrace overlooking the river for a warm summer night. The restaurant is known all over Burgundy for sourcing its product rights off the river that streams by: a selection of local freshwater fish, and what some consider the best frog legs in the whole world. There are also some Burgundy specials on the menu, for those afraid to give the batrachians the chance they deserve.
In Beaune itself, La Lune still holds the number-one spot in all the rankings one can think of. It's a victim of its own success, so you'll have to book at least a couple of weeks ahead in high season to secure a spot in Chef Seiichi's kingdom. Elsewhere in town, chef Romain Escoffier's Table du Square and chef Giada Scarton's Les Pôpiettes are prime choices for everchanging menus crafted with the freshest products possible (and, as always, a many-paged, perfectly curated wine list).
Dish to try
Oeufs en meurette: eggs poached in a wine reduction, with garlic and lardons. Of all the Burgundian hearty classics, this is the one not to miss. Le Cellier Volnaysien, in the quaint little village of Volnay, make some perfectly executed ones. If you're already oeufs en meurette connoisseurs, try the critically acclaimed white-wine variant at the Bistrot Au Bord de l'Eau in the hamlet of Levernois.
Meal worth the splurge
It's an old classic but it's every local's pride: Lameloise, in the town of Chagny. The restaurant has sported three Michelin stars for decades now, and chef Eric Pras has helped walk this old lady into the new century, breathing some fresh air into an already revered institution. It's also widely known to be one of the most affordable three-star meals in the country.
What to See and Do
Don't miss
Tasting in a small winery. Whether you're discovering Burgundy wines for the first time or already have an extensive cellar, don't look down your nose at the smaller village wineries that the critics pass by. A phone call in advance is often all it takes to open the doors to a complete tasting and presentation of a family domaine's wines with the owner and winemaker him- or herself. It's an experience that can be tremendously informative, not to mention great fun. Such visits are free; and for the money you'd pay to visit a larger winery, you can buy a case and ship it home—or just pick up a few bottles for picnicking during your trip. Some spoken French is generally required, and for this reason a guide or driver may be helpful, but not strictly speaking necessary.
Don't bother
By the same token, skip out on the large winery visits and tastings in Beaune where (with a few exceptions) you'll pay money to taste relatively unremarkable wines, hosted by a salesperson rather than a winemaker. It's not terrible—it's just not the same experience.
Cheap thrill
Walking in the vineyards. Pick up picnic supplies and head out into the vineyard trails for a walk—anything from a gentle stroll from one village to the next, to full-day hikes that take you above the vines to the hills beyond, and some quite wild, almost Mediterranean landscapes. The best views of the village rooftops, the strip of vines, and of the plain beyond are from high up on the Côte, and the petite randonnée trails that crisscross the vineyards are extremely well sign-posted. For those who don't care to walk, a similarly inexpensive day out can be had biking along the tow-path of the Canal du Bourgogne.
How to spend a Sunday
Pick up rental bikes in Beaune and bike out through the vineyards, where the roads–though never busy–are quietest on Sundays and thronged with local cyclists. Head south through the vineyards to Chagny's Sunday morning market and pick up some picnic supplies, then continue to Chassagne Montrachet, where you can taste in the Caveau de Chassagne (open Sundays) before buying the bottle of your choice. Bike through the vineyards, up to the little village of Gamay, and picnic on the bench by the old chateau. Roll home via Meursault and stroll the streets of Beaune, popping into the Athenaeum to buy your souvenir Rats de Cave (see "The Souvenir," right).