The insider advice on this page is from two of Wendy's Trusted Travel Experts for France: Michael Eloy and Alex Zglinski.
Michael Eloy and Alex Zglinski
You might say that their job training started at birth: Michael and Alex grew up in France's famed regions of Provence and Burgundy, respectively, alongside the next generation of winemakers, restaurateurs, farmers, and private guides. Today, still living near their hometowns, they sprinkle these local connections throughout their itineraries, helping independent-minded travelers—especially those who want to rent a car and explore on their own—to experience the best of what's off the beaten track in France. Their in-depth itineraries will ensure that you drive the most scenic roads, sleep in the most charming and unusual accommodations, and dine in the most authentic local eateries. They've got their finger on the pulse of what's new and exciting but still under-the-radar, as well as what's old and magically atmospheric that most travelers miss. Use them for wine tasting in Burgundy, chateau-hopping in the Loire Valley, hiking in the Dordogne, cycling in Corsica (Michael used to be a biking guide), exploring Paris (where Alex has lived) by vintage Citroen, stepping back in time at WWI and WWII sites, or road tripping through all of it and then on into Belgium, the Netherlands, Germany, Spain, Italy, or Switzerland. Contact Michael and Alex only for trips of one week or longer, and note that their pricing (see above their photos) includes all hotels (or villa/apartment rental), regional flights or trains, car rental, visits and guided excursions, and some meals.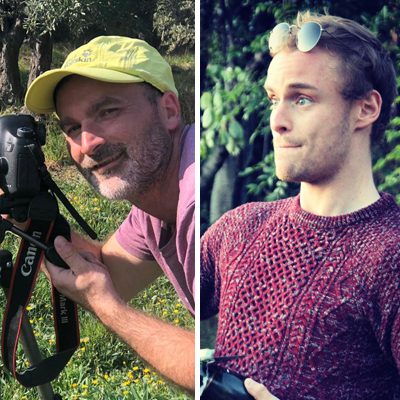 Where to Stay and Eat
Best bang-for-your-buck hotel
Burgundy hotels on the whole are not excessively priced. L'Hôtel de Beaune offers the best rooms in town for half the price of similar hotels in Paris or Provence. Trufflepig clients get free breakfasts, as well as the preferential service that comes from our having worked with the hotel since it opened.
Restaurant the locals love
Driving from Paris to Burgundy in the summer months, I often break the journey at the Auberge Les Tilleuls in the village of Vincelottes on the river Yonne, one of those old-fashioned countryside gastronomic restaurants that used to dot the national roads all over the country. Chef Alain takes your order himself, and serves timeless dishes, shamelessly giving the French classics their pride of place, and doing a particularly good line in lobster. Pop open a bottle of Chablis and listen to the Yonne as it whispers by the terrace.
In the vineyards north of Beaune, the Bistro des Coteaux in Villars la Fontaine looks like nothing special but the meat grilled on the fire is close to perfection.
In Beaune itself, the newly opened La Lune is proving popular, combining Japanese cuisine with French ingredients, with countertop seating, a tapas style menu, and late hours—all pretty much unheard of in France not so long ago.
Must-have dish
Oeufs en meurette: eggs poached in a wine reduction, with garlic and lardons. Of all the Burgundian hearty classics, this is the one not to miss. Debate rages about where the best one is to be found, but to my mind the Auberge de la Miotte in Ladoix is hard to beat.
Meal worth the splurge
The tasting menu at Bernard Loiseau in Saulieu will put a dent in your kid's college fund, but it's as memorable and as elegantly produced and presented a meal as you can find in France.
What to See and Do
Don't miss
Tasting in a small winery. Whether you're discovering Burgundy wines for the first time, or already have an extensive cellar, don't look down your nose at the smaller village wineries that the critics pass by. A phone call in advance is often all it takes to open the doors to a complete tasting and presentation of a family domaine's wines, with the owner and winemaker himself. It's an experience that can be tremendously informative not to mention great fun. Such visits are free; and for the money you'd pay to visit a larger winery, you can buy a case and ship it home—or just pick up a few bottles for picnicking on trip. Some spoken French is generally required, and for this reason a guide or driver may be helpful, but not strictly speaking necessary.
Don't bother
By the same token, skip out on the large winery visits and tastings in Beaune where (with a few exceptions) you'll pay money to taste relatively unremarkable wines, hosted by a sales person rather than a winemaker. It's not terrible— it's just not the same experience.
Cheap thrill
Walking in the vineyards. Pick up picnic supplies and head out into the vineyard trails for a walk—anything from a gentle stroll from one village to the next, to full-day hikes that take you above the vines to the hills beyond, and some quite wild, almost Mediterranean landscapes. The best views of the village rooftops, the strip of vines, and of the plain beyond are from high up on the Côte, and the petite randonnée trails that crisscross the vineyards are extremely well sign-posted. For those who don't care to walk, a similarly inexpensive day out can be had biking along the tow-path of the Canal du Bourgogne.
How to spend a Sunday
Pick up rental bikes in Beaune and bike out through the vineyards, where the roads, never busy, are quietest on Sundays and thronged with local cyclists. Head south through the vineyards to Chagny's Sunday morning market and pick up some picnic supplies, then continue to Chassagne Montrachet, where you can taste in the Caveau de Chassagne (open Sundays) before buying the bottle of your choice. Bike through the vineyards, up to the little village of Gamay, and picnic on the bench by the old chateau. Roll home via Meursault and stroll the streets of Beaune, popping into the Athenaeum to buy your souvenirs Rats de Cave (see "Perfect souvenir," right).