Based in Copenhagen, Mads travels frequently throughout Denmark and its territories (e.g., Greenland and the Faroe Islands) to stay abreast of the latest offerings for his travelers—like a candlelit dinner inside the Stone Age collection at Copenhagen's National Museum, or a private cruise aboard a former royal yacht. When it comes to Iceland, adventure is Mads' forte, from river rafting to horseback riding to glacier walking, but it can be made soft enough to please grandparents on a multigenerational trip. He works with elite driver/guides who own safe, luxe vehicles that can venture off Iceland's main roads and into the rugged backcountry.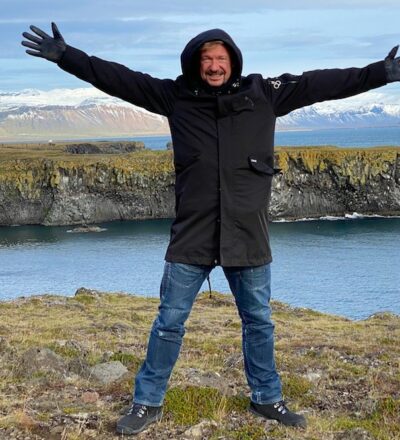 Where to Stay and Eat
Best-value splurge hotel
Hotel rooms in Iceland tend to be shoeboxes, but even the smallest ones at The Black Pearl, in Reykjavik, have a separate bedroom, a full kitchen, and a balcony. The hotel is well located in the city center, not far from the water and not on one of the pedestrian streets (where it can get noisy).
Best restaurants
Eating out isn't really part of Scandinavian culture (when they go out, Icelanders are more into clubbing than dining). But Apotek, Kol, The Fish Market, Messin, and Grillmarket—all in Reykjavik—are very popular among visitors. They're expensive but worth it for the amazingly fresh seafood and the creative new-Nordic cuisine.
Dish to try
Lobster soup at Tryggvaskáli in Selfoss. Not only is the soup of outstanding quality, so rich in taste, but the restaurant has a homey feel and a friendly staff. It's an easy place to make a stop while driving the Golden Circle.
What to See and Do
Hidden gem
The Westman Islands are fantastic for birders; from May to August, it's one of the best places in Iceland to see puffins. There are only a few hotels on the islands, so if you are one of the lucky few to spend the night, it feels extremely remote.
Most overrated place
The main section of the Blue Lagoon is packed with busloads of tourists from morning to evening. (While there are many hot springs around Iceland, people come here because the silica-rich water is thought to be rejuvenating.) Instead, book a visit to the Blue Lagoon's much more exclusive Retreat Spa and Lagoon, where you'll have access to your own private changing rooms, pools, and comfy seating. It's more expensive, but you get a much more pleasant experience without the lines, and you can stay for five hours rather than the standard two.
Most underrated place
Thorsmork Valley. It's a different world, with an astounding variety of landscapes: crater lakes with crystal-clear water, hidden waterfalls, rocks blown out in the most recent volcano eruption, and fabulous hiking trails that offer a chance to see very different flora than in other parts of Iceland. The valley isn't easy to access—you'll need either a specially modified "super jeep" or a helicopter—so it sees considerably fewer tourists than other parts of the south.
Cheap thrill
A "Viking Sushi" boat tour. You catch scallops, sea urchin, and fish, which the crew prepares as sashimi and sushi. It's as fresh as food can get.
How to spend a lazy Sunday
Watch local professional sports teams compete at the Laugadalshöllin in Reykjavik; the most popular events are handball, soccer, and swimming. Or hop on a bike or in a cab and head to a local hot spring; they're all over the country, and the staff at your hotel can direct you.