The insider advice on this page is from one of Wendy's Trusted Travel Experts for Cabo, Mexico: Julie Byrd of Cabo Villas.
With its natural beauty, wide-ranging daytime activities and nightlife, and warm hospitality, Los Cabos is an easy getaway, made even easier by Julie Byrd. Her deep roots and intimate connections there will save you money and spare you trip-related headaches. She knows the resorts like the palm of her hand, but she also has a sizable portfolio of vacation rental properties that include 100 luxurious villas and condos suitable for families, couples, and groups of friends. Byrd and her Cabo-based concierge team are available 24/7 and can arrange everything from fishing and yacht charters to destination weddings and other celebrations.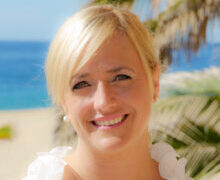 Covid safety intel
Julie has traveled to Cabo multiple times during the pandemic to check out protocols for herself. The concierges and caterers she works with have all passed health certifications; they wear masks, undergo daily temperature checks, and are Covid-tested at least once per month. As for dining out, she's been impressed with the safety measures at SUR Beach House, NIKSAN, and Los Tres Gallos. The Pueblo Bonito Resorts have contactless online check-in, contactless room service and dining menus, and a team at each resort dedicated to sanitization; guests can opt out of housekeeping if they like. Julie can expedite your arrival at the airport (though flights are spaced out so that travelers are in line only with other people from the same flight).
Where to Stay
Best bang-for-your-buck hotel
Mar del Cabo by Velas Resorts is a boutique-style gem with a lot of charm located in the Corridor area with a great beachfront location. This intimate hotel has charming Mediterranean-style architecture, gorgeous Sea of Cortez vistas, and ocean-view dining, making it perfect for a romantic getaway.
What to Eat
Restaurant the locals love
The very casual Tacos Gardenias, near downtown Cabo. This small eatery doesn't look like much, but it turns out some of the best Baja-style fish tacos—the fish is freshly caught, then battered and fried (if you don't want it fried, ask for your order a la plancha, or grilled). They also have delicious shrimp tacos and cochinita pibil (slow-roasted pork)—plus the coldest beers in town.
Dishes to try
Push beyond your comfort zone and try the chicharron (fried pork rinds) tacos at Tacos Gardenias for a surprisingly delicious treat.
The Drunken Barbacoa taco at La Lupita Taco and Mezcal joins tender lamb and aged cheese in a housemade blue-corn tortilla—delicious!
If a cocktail is what you're seeking, try The Revolution at La Revolucion in San Jose del Cabo: It's a mezcal-based delight with flavors of citrus, sesame, and pumpkin seed, and it pairs wonderfully with their octopus and chicharron tacos.
Meals worth the splurge
It doesn't get any more farm-to-table than Flora Farms, in San Jose del Cabo: Their ten-acre organic plot produces the lion's share of what's served at the restaurant, and the vegetable trimmings feed the free-range pigs and chickens at their nearby ranch. The attractive open-air dining room is surrounded by lush gardens and swaying palm trees, quite a departure from the rest of this arid region. It's pricey, but absolutely worth the trip (on a dirt road). Reservations are required; they are packed almost every night.
Metate, just outside of Cabo San Lucas, serves incredible traditional Mexican cuisine with some unusual regional dishes. The excellent food and stylish garden atmosphere make it a stand-out.
Things to Do
Most overrated place
Puerto Paraiso Mall has the same high-end shops and restaurants you'll find almost anywhere. They don't typically have the latest trends, but you will pay a premium for anything you buy.
Most underrated place
San José del Cabo. This quaint town is full of culture. Located close to the Los Cabos International Airport and about 20 miles from Cabo San Lucas, San José del Cabo has a traditional town square anchored by a beautiful old church and a thriving arts district. There are also numerous lovely courtyard restaurants that just ooze charm. From November through June, the Thursday Night Art Walk is a great way to take in the local galleries—plus, there's live music in the streets and great specials at restaurants. Just outside the historic downtown lies the lush San José Estuary; this natural oasis is full of palm trees and is a great spot to see many migratory bird species, a striking contrast to the prevailing desert landscape of Baja Sur.
Hidden gems
Todos Santos. About an hour from Cabo San Lucas along the Pacific coastline, this former sugar mill town surrounded by a natural palm oasis has attracted organic farmers, surfers, and artists with its lovely old buildings; the old mission church of Nuestra Señora del Pilar dates to 1747. Be sure to browse the town's many art galleries. Nearby beaches, including Pescadero and Cerritos, offer gorgeous, wind-swept stretches of sand, and breaks sought out by experienced surfers. (Most of the beaches along the Pacific coastline are not recommended for swimming due to strong riptides.)
An ATV tour through the desert outback and along the Pacific bluffs at Rancho Carisuva gives you a very different taste of Baja and its unique landscape, flora, and fauna.
Prime picnic spots
Stake out a spot on the sand at Santa Maria Bay or Chileno Bay, some of the prettiest beaches in Los Cabos. Both bays also happen to be favorites among snorkelers, with many colorful tropical fish and pristine water. During the winter, you may even catch a glimpse of migrating whales passing along the coastline.
How to spend a lazy Sunday
Relaxing by a pool; most locals are off on Sundays, so the beaches are more crowded than normal.