The insider advice on this page is from one of Wendy's Trusted Travel Experts for Japan: Scott Gilman of JapanQuest Journeys.
After seven years living in Japan working for Goldman Sachs—and raising three children there—Scott launched his own firm focused on delivering five-star-only journeys into the soul of Japan, peppered with the sorts of experiences that are normally very difficult for travelers to access.  He has spent decades cultivating local relationships, hand-picking the savviest guides, and uncovering unusual opportunities that unlock the mysteries of Japan.  He and his son Jason, who now works alongside him, orchestrate trips for visitors of every age, from children fascinated by samurai swords and manga comics to romantic couples in pursuit of exquisite ryokans with secluded hot springs. Based in Washington, D.C., and Tokyo, they custom-tailor itineraries to your interests and can fill them with up-close-and-personal encounters with experts in pottery, textiles, kendo, taiko drumming, and more. They can even deliver a practice session at a sumo training stable where you are seated a few feet from the wrestlers or a dinner with geisha entertainment at a teahouse open only to invited guests.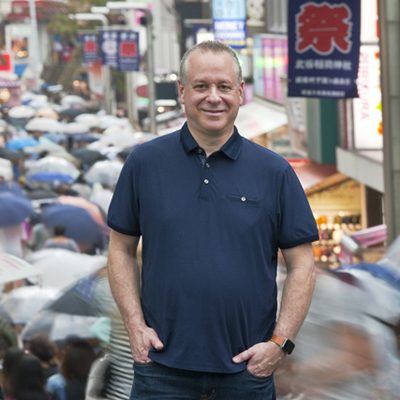 What to See and Do
Most overrated place
Hakone is a well-known hot spring region that is convenient to Tokyo but can be very touristy and crowded. For a more authentic experience still near Tokyo, go instead to Shuzenji, on Izu Peninsula. It is a beautiful village where you can relax in hot-spring foot baths, walk along a river that runs through town, explore smaller temples, and enjoy views of Mt. Fuji. Two of the very best onsen (hot spring) ryokans are tucked away there, too: Yagyu no-Sho and Asaba.
Bragging rights
Sit just a few feet from the action at a sumo training stable full of Japan's elite wrestlers in Tokyo, accompanied by a well-known journalist who is an expert in sumo. The air is electrified as 400-pound heavyweights crash into one another again and again. Access to these intimate practice arenas is very hard to secure; sumo-world contacts are essential to guarantee the chance to get up close to these living links to the past (sumo has its origins in the Shinto religion).
Enjoy a private dinner with entertainment by the most accomplished of geisha at an invitation-only teahouse in the Gion district of Kyoto—a quintessential experience that even very few Japanese ever get the chance to see. Relish the superb kaiseki cuisine while watching the geisha's graceful dancing and enjoying their renowned charm.
Tour a sake microbrewery with the owner, who will explain the process of brewing, as well as the drink's place in Japanese society. Afterward, the brew master will expertly guide you through a tasting, describing the nuances and subtleties of their sake range.
Or we can take you to Wajima, on the Noto Peninsula, where you can sit down one-on-one with a designer and craftsman of the finest lacquerware in Japan, whose family has been doing this for many generations.
Where to Stay and Eat
Best-value splurge hotel
Araya Totoan is a remarkable inn in western Japan; though no ryokan is cheap, this one is a good value for its fabulous hot springs, amazing food, exquisite local pottery collection (like getting free museum entry with your accommodations), and an upper-floor bar available only to certain guests (including our travelers, of course). Relax in the confines of a simple tatami room, look out at an exquisite private garden while sipping delicious green tea, enjoy an enticingly warm "ofuro" bath, and return to your room for a fabulous kaiseki traditional Japanese meal. The kimono-clad owner welcomes you to her inn (family-owned for generations) with a cautious politeness but a genuine warmth that makes you feel instantly welcome.
Restaurants the locals love
Access to the smaller, local restaurants that serve the finest Japanese food and sake is difficult—if not impossible—unless you speak Japanese. However, we work with a network of such restaurants where the chef will treat our travelers as if they are regular clientele.
Dish to try
For lunch, slurp handmade soba or udon at almost any local soba shop.
Meals worth the splurge
Japan is an expensive place to eat. These three restaurants can easily cost $150–$200 per person with drinks.
In Tokyo: Shiba Tofuya Ukai is a beautiful restaurant built around a large Japanese garden; it specializes in tofu dishes.
In Kyoto: Yoshikawa, one of our favorite tucked-away counter restaurants, serves wonderful, lightly battered tempura using the freshest of vegetables and fish. You'll b up close and personal with the chef, observing his secret methods.
In Gion: Takumi Okumura serves exquisite and innovative French/Japanese fusion cuisine in a beautiful former machiya, or townhouse.