The insider advice on this page is from one of Wendy's Trusted Travel Experts for Japan: Scott Gilman of JapanQuest Journeys.
After seven years living in Japan working for Goldman Sachs—and raising three children there—Scott launched his own firm focused on delivering five-star-only journeys into the soul of Japan, peppered with the sorts of experiences that are normally very difficult for travelers to access.  He has spent decades cultivating local relationships, hand-picking the savviest guides, and uncovering unusual opportunities that unlock the mysteries of Japan.  He and his son Jason, who now works alongside him, orchestrate trips for visitors of every age, from children fascinated by samurai swords and manga comics to romantic couples in pursuit of exquisite ryokans with secluded hot springs. Based in Washington, D.C., and Tokyo, they custom-tailor itineraries to your interests and can fill them with up-close-and-personal encounters with experts in pottery, textiles, kendo, taiko drumming, and more. They can even deliver a practice session at a sumo training stable where you are seated a few feet from the wrestlers or a dinner with geisha entertainment at a teahouse open only to invited guests.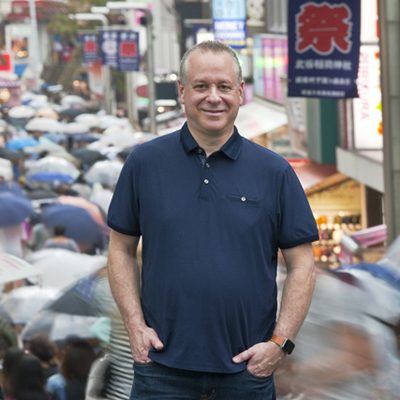 What to See and Do
Most overrated place
Hakone is a well-known hot spring region that is convenient to Tokyo but can be very touristy and crowded. For a more authentic experience still near Tokyo, go instead to Shuzenji, on the Izu Peninsula. It is a beautiful village where you can relax in hot-spring foot baths, walk along a river that runs through town, explore smaller temples, and enjoy views of Mt. Fuji. Relax at one of the very best onsen (hot spring) ryokans tucked away in Shuzenji: Yagyu no-Sho.
Bragging rights
Tour a sake microbrewery with the owner, who will explain the process of brewing as well as the drink's place in Japanese society. Afterward, the brew master will expertly guide you through a tasting, describing the nuances and subtleties of their sake range. (If alcohol is not your bailiwick, Scott can instead arrange a tea tasting with an expert in Japanese tea.)
Scott has close relationships with a number of artisans who will permit you insider access: Meet with a fifth-generation gold-leaf artisan at his 140-year old traditional house and studio in Nishijin, Kyoto's textile-weaving district. Visit a traditional kimono maker in Kyoto to see how kimonos are designed and made. Or head to Shiga Prefecture and meet with a fourth-generation indigo artisan, who makes works for Imperial collections, to visit his studio and home and watch a demonstration of indigo dying.
Enjoy a private dinner with entertainment by the most accomplished of geisha at an invitation-only teahouse in the Gion district of Kyoto—a quintessential experience that even very few Japanese ever get the chance to see. Relish the superb, multi-course kaiseki cuisine while watching the geishas' graceful dancing and enjoying their renowned charm.
Where to Stay and Eat
Best-value splurge accommodations
Spend a fabulous night or two at Sasayuri-ann, overlooking the rice terraces in rural Nara. Sasayuri-ann's two thatched-roof private villas—one a 350-year-old structure that has been recently renovated, the other newly built in a similar style—are equipped with brand-new facilities and have breathtaking views of mountains and rice terraces. Couples can rent just one villa, while larger groups will want to take over the entire property. A Michelin-starred chef from Nara will come to your villa to prepare a kaiseki dinner before your eyes, or you can enjoy a delicious shabu-shabu dinner while sitting around a beautiful iori, or hearth. While staying at Sasayuri-Ann, wake up early one morning and join a Buddhist priest for a relaxing walk in Akame, a forested area famous for its waterfalls and as a historical training ground for ninjas.
Restaurants the locals love
Access to the smaller, local restaurants that serve the finest Japanese food and sake is difficult—if not impossible—unless you speak Japanese. However, Scott works with a network of such restaurants where the chef will treat his travelers as if they are regular clientele.
Dish to try
For a fun lunch in Hiroshima or Osaka, try okonomiyaki; this delicious, savory pancake is made of flour, eggs, and shredded cabbage, as well as each chef's preferred fillings and toppings.
Meals worth the splurge
Ginza Yanagi Sushi serves an exquisite meal of the finest and freshest sashimi and sushi based on the chef's selection of the day. The best beef fillets in Tokyo can be found at Shima, a small, intimate steakhouse. Michelin-starred Mizuki—inside The Ritz-Carlton, Kyoto—prepares some of the country's best tempura. Florilège has earned two Michelin stars for its modern French and fusion cuisine, and MOTOÏ has one Michelin star to tout its rustic yet refined blends of Japanese and French dishes (along with original French fare).
Japan is an expensive place to eat. A meal at the above restaurants can easily cost $150-$200 per person.