The insider advice on this page is from one of Wendy's Trusted Travel Expert for Greece: Mina Agnos of Travelive.
Mina is the choice for first-timers to Greece (or Europe) who want help seeing the country's iconic sites and navigating its tricky logistics. She's been visiting since childhood and now divides her time between Athens and Florida, regularly road-testing an array of islands, experiences, and accommodations. Her knowledge of reliably good places to stay extends to rental villas, yacht charters, and an organic agritourism farm in the Peloponnese where you can pick olives, stomp grapes, and make pastries with the village ladies. Mina has two teens, so she is especially helpful to families who are new to Greece.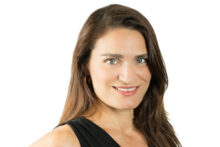 Island Intel
While much of Greece is very dry, the Ionian Islands see quite a bit of rainfall (mostly outside the summer months), which gives these islands a greener, more lush appearance that stands in stunning contrast to the clear blue sea. The Ionians also have more of a Venetian influence—versus the Ottoman influence of islands to the east—and are known for their artistic and cultural scenes. Corfu's Old Town, for instance, is a UNESCO World Heritage Site, and the islands are lauded for their long history of folk music.
Things to Do
Hidden Gems
The shores of Ithaka Island are dotted with secret coves and beaches ideal for swimming and snorkeling, and some of the best are only accessible from the water. For that reason, it's a great place to hire a private boat for the day and let the captain steer you to his favorite spots.
Don't Miss
For the best views on Corfu, drive to the top of Mount Pantokrator. On a clear day, you can see not only the rest of the Ionian islands and the Greek mainland, but also Albania, and even as far away as Puglia in Italy (80 miles distant).
Don't Bother
Spending precious time on a glass-bottom boat ride. You'll get a very generic tour and won't actually see much of the underwater world.
Most Underrated Experience
Zakynthos may be perceived as a mass-tourism magnet, but most of the island is still very much untouched and can deliver a taste of the Mediterranean as it once was. Porto Zante Villas & Spa, for instance, can deliver an extraordinary Greek island getaway with all the bells and whistles, plus a private beach away from the crowds.
Bragging rights
Visit the mythical home of wandering Odysseus: Ithaka is a hilly island off the coast of Kefalonia and the most rustic one in the archipelago. Mina can arrange for an archaeologist to accompany you to a few of the island's dozens of excavation sites, which go as far back as Neolithic times. Don't miss the ancient Acropolis or the Cave of the Nymphs, where Odysseus supposedly hid the gifts the Phaeacians gave him.
Cheap Thrills
Ionian beaches are famous for their deep blue and turquoise waters, their dramatic rock formations, and the verdant greenery that surrounds them. Some of Mina's favorites are Issos and Kanoni Kassiopi on Corfu, Porto Vromi on Zakynthos, Porto Katsiki on Lefkada, and c. Animal lovers should check out the Zakynthos Marine Park, which was established to protect several local species, including loggerhead sea turtles and monk seals.
Pick one of the many hiking trails that have crisscrossed the islands since ancient times, such as the Battery trail in Kefalonia. Or take a walk around Korission Lagoon on Corfu, where you might even spot flamingos.
Best spot to see and be seen
On Kefalonia there's a fabulous beach club on Makri Gialos Beach, frequented by visitors and locals alike, called Costa Costa. Servers bring snacks and cold drinks to the sun beds and cabanas set up on the sandy beach; the club plays chill beats and stays open until sunset.
Biggest Rookie Mistake
Springing for an all-inclusive resort package. If you've prepaid for everything at the resort, you might be tempted never to leave it. But you will gain a much better understanding of the authentic island lifestyle if you leave your hotel to wander the cobbled, vibrant streets of Corfu or Kefalonia, stroll through the laiki (farmers' market), or just while away the hours in an old-fashioned kafenio (café).
Where to Stay and What to Eat
Best-Value Splurge Hotels
Corfu makes for an ideal home base, thanks to its easy connections to the mainland and other islands, its rich history and cultural heritage, its storybook mountain villages and hiking trails, and its unique blend of Greek and Venetian flavors.
The Grecotel Corfu Imperial sits on a peninsula with three sandy beaches and offers a wide array of accommodations to suit everyone from honeymooners to families, at a variety of price points. The hotel also runs a boat from its pier to Corfu Town. Mina can sometimes nab room upgrades for their travelers when space is available.
Elsewhere on Corfu, Mina favors the Ikos Dassia, the Rodostamos Hotel & Spa, and the adults-only Domes Miramare, but they're watching carefully as several new luxury hotels are due to open on the island in 2021.
Restaurants the Locals Love
On Zakynthos, Ampelostrates Stables and Restaurant is an agritourism project in a mountainous spot surrounded by vineyards. Come for a farm-to-table experience with a warm atmosphere, long-forgotten local recipes, and a friendly welcome from the owners, Andonis and Mika.
On Kefalonia, Kamaroules Stamatelatos has an idyllic location with tables set right along the water, shaded by leafy trees. The local fish here is excellent, but they also have a great selection of vegan options among the Mediterranean-themed dishes.
On Lefkada, ERGON Lefkada is an outpost of a company that sells artisanally produced goods from all over Greece: everything from olive oil and wine to marmalade and honey. The restaurant's menu changes daily, and you can choose your own steak or fish from what's on offer. It's also a sort of artisan supermarket, where you can purchase goods or have them shipped home for you.
Dishes to Try
Pastitsada. This braised beef, pork, or rooster dish cooked in a spicy tomato sauce and served with rigatoni pasta has a very distinct flavor in Corfu, thanks to the addition of cinnamon, cloves, and bay leaf—and in some villages even cumin and nutmeg. Porta Remounda in Corfu Town serves Mina's favorite version.
For a meatless option, order aubergines skordostoubi. The eggplant is slowly pan-cooked in a rich tomato sauce with potatoes and carrots, and generously seasoned with paprika, vinegar, and loads of garlic cloves and local extra virgin olive oil. Order it at Agnadi in Zakynthos. Kali orexi!