The insider advice on this page is from one of Wendy's Trusted Travel Experts for Iceland: Chris Gordon of Icepedition.
After his first trip to Iceland more than 20 years ago, Chris gave up a career as a creative director for the likes of Ralph Lauren and Tory Burch and turned his artistic eye to helping travelers make the most of their time in Iceland. Chris usually has travelers rent a car and drive themselves using his clear, Wifi-enabled route-finding. Just before departure, he mails you a novel-sized set of day-by-day directions and regional guides; the printed itinerary may feel old-school to some, but his recommendations of specific beaches, waterfalls, and roadside turnouts for self-guided days are smartly curated. His trips combine jaw-dropping landscapes with the cushiest available places to stay, from high-design hotels to friendly guesthouses. He can arrange for you to spend your days kayaking among icebergs and soaking in secret hot springs; Iceland has a very high standard of living and locals' time comes at a high cost, but for the right price Chris can also have you listening to family sagas in small fishing villages and foraging with famous chefs. During a trip, Chris is available 24/7 and will send travelers Aurora alerts if the northern lights may be visible where they are.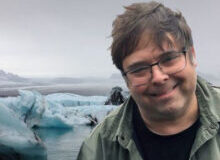 What to See and Do
Don't Miss
Iceland has many rare natural wonders: Walk behind a waterfall, discover another one inside a secret cave, and climb to the top of a third, where a path leads you to 24 more. Soak in natural hot springs and hot rivers in remote locations; explore ice caves and marvel at the impossible turquoise glow of icebergs floating in a glacial lagoon. You maybe lucky enough to witness a volcano erupting—but it's still an exhilarating experience to climb to the rim of an extinct one. The haunting sounds of glaciers creaking as they inch forward, and the vast spectacle of auroras overhead, are life-changing experiences that even native Icelanders never take for granted.
Don't Bother
Certain experiences like dogsledding (not a traditional Icelandic mode of transport to begin with) and the Thrihnukagigur magma chamber tour consume most of a day when you factor in travel time, yet offer only a brief experience on-site—often just 45 minutes in an eight-hour day. There are comparable options with simpler logistics and lower costs, which allow you to pack more into each day of your trip.
Most Underrated Places
Friðheimar's elegant tables set among allées of tomato vines inside a geothermal hothouse seem more like a chic Parisian idea than an Arctic tourist destination. Go to this tomato-themed restaurant, near the famous Geysir hot springs and Gulfoss waterfall, for all-you-can-sip tomato soup with artisan grilled-cheese croutons, endless loaves of rustic bread, delicious Bloody Marys, and clever house specialties like a surprisingly subtle tomato ice cream.
You'll find more traditional ice cream flavors at the nearby Efstidalur dairy farm; check out the pampered cows on view, eagerly queued up for their bovine massages.
Most Overrated Place
With each room set inside a clear plastic dome, the Bubble Hotel may seem like the ideal way to see the northern lights. But keep in mind that the lights are typically only visible once or twice in a ten-day period, so the chances of your reservation overlapping with a nighttime show are slim. Furthermore, you may need to hike through a blizzard in the middle of the night to find the separate bathrooms, and you have to book the hotel's day tours and a multi-night stay.
Hidden Gems
The hot saltwater infinity pools at Geosea Spa hang over a cliff, facing a dramatic fjord with a snowy mountain range across the water. Humpback and even blue whales can sometimes be seen breaching from the spa's edge. GeoSea is located along the Arctic Circle on the opposite side of the country from Reykjavik, so it's reasonably priced and never crowded.
For an experience of ancient solitude largely lost in modern times, take a ferry past 10,000 uninhabited islets to Flatey Island, occupied for over 1,000 years and now a time capsule of 19th-century wooden houses preserved as historic national treasures. There is also a church, Iceland's smallest library, a captivating beached shipwreck—and no cars or roads. The Greenland Saga was penned here: the only written account of the Icelandic Vikings, led by Erik the Red, who voyaged to Greenland and North America 500 years before Columbus. The elegant Hotel Flatey has austere rooms and a top chef imported from Reykjavik; some stay here just for the memorable dinners made from fresh, local ingredients including fish and wild scallops from the bay. At night you are lulled to sleep by songs of seabirds and calm waves quietly lapping on the shore just outside your window. Around the summer solstice, the hotel's bohemian staff are known to sleep outside in sunny fields of wild buttercups.
Cheap Thrills
A langoustine po-boy grilled right before your eyes in a food truck at the Jökulsárlón glacier lagoon parking lot.
"Glacier ice cream," made by the Brunnhóll dairy farm at the foot of the Vatnajökull glacier, in flavors such as Icelandic licorice (a sweet, creamy, salted anise flavor) and wild dandelion. Wonderful conventional flavors are also available for those less daring.
Bragging Rights
Chris can arrange private performances by noted Icelandic musicians playing ancient and modern music inside significant places, both man-made and natural. He can have an opera singer perform a medieval form of chanting unique to Iceland, called Rimur, in the iconic black church at Budir, which is not open to the public. Or he can book an Icelandic cellist to play Bach concertos alongside modern electronic music in a vast, newly discovered complex of caves constructed by Vikings more than 1,000 years ago.
Traditional Icelandic foods, including wild game, are getting harder to find; that's why Chris is always excited to commission off-menu meals in restaurants, or even prepared by his friends in their chic Reykjavik homes. He can also ask an Icelandic celebrity-chef friend to take his travelers foraging and to meet with farmers, fishermen, and hunters—after which everyone prepares a lavish outdoor private dinner party together in an incredible Icelandic landscape.
Where to Stay and What to Eat
Best-Value Splurge Hotel
One of Iceland's newest gems is the five-star, suites-only spa hotel, The Retreat at Blue Lagoon. Its soaring, modern architecture is set beside steamy turquoise waters and vivid black lava flows. While rooms here can cost double what the next-best property charges, your krona are well spent: The staff are preternaturally attuned to every need, the rooms are stocked with Duxiana mattresses and sublime sheets and robes, and the breakfast buffet is vast and exceptional. Overnighting at The Retreat also grants you entry into several lagoons that would otherwise cost $300 to $400 per person. Do make sure to book spa treatments in advance, as they fill up; Chris can also arrange a private wine tasting at the chef's table in MOSS, the hotel's restaurant.
Restaurants the Locals Love
For decades, the hands-down favorite of locals and visitors alike has been Reykjavik's unpretentious, always exceptional Fiskfélagið (Fish Company), set in a cozy, romantic 19th-century lava-stone cellar by the old harbor. Fiskfélagid's fame lies in warm hospitality, elegant and modern decor and exquisitely prepared ingredients from around the world: Greenlandic reindeer, Japanese yuzu, French truffles, Moroccan dates, Indian saffron, Brazilian passion fruit, Cuban rum, Irish beer, and Italian coffee may make their way onto your table. While the world's best fish usually steals the show, there are plenty of other options. The chef often sends surprises not mentioned on the menu. Do not leave without ordering an extravagant, exotic dessert.
Chris's Icelandic friends are known to starve themselves all day just so they can gorge with abandon on succulent, fresh-caught local langoustine tails grilled in herb butter and served by the kilo with wine and ocean views at Fjöruborðið (By the Sea), just outside Reykjavik. You'll be brought piles of napkins and served a trough of just-grilled tails as everyone rolls up their sleeves and devours them with bare, buttery hands until they can eat no more. Langoustines are also served in what Icelanders call "lobster soup," elsewhere considered a dense, rich bisque made by simmering their shells for hours and adding heavy cream to extract flavor. There are other dishes too, including lamb, the best burgers, and even Mediterranean salads. Whatever you choose, save room for the indulgent desserts.
In Iceland's farthest northwestern region, the seafood-specialty restaurant Tjöruhúsið (Tar House) serves up a dozen different all-you-can-eat masterpieces on a chic, self-serve buffet inside an austere, 18th-century timber warehouse. Many rank Tjöruhúsið the best dinner in Iceland; even fish-haters often give it their best reviews. It's important to note that the restaurant has adapted effectively to Covid-era protocol, even while famously serving at communal tables.
Dishes to Try
While the fish is fairly new to the U.S., Icelanders have been serving Arctic char for a millennium. It's a natural cross between a salmon and a trout, with all the character of salmon but less pungent and oily. Key to its success in Iceland is its freshness and suitability for simple preparation, most often sautéed in butter with salt and pepper.
Icelanders really love dessert, and especially ice cream. In Reykjavik, try the hard-to-describe rye bread ice cream at unpretentious Café Loki, or the homemade licorice ice cream at the opulent KOL restaurant. For a morning sweet, have a still-warm cinnamon bun from Brauð & Co (Bread & Co) bakery in Reykjavik.