The insider advice on this page is from one of Wendy's Trusted Travel Experts for French Canal Barge Charters: Ellen Sack and Caroline Sack Klein of Barge Lady Cruises.
Ellen Sack and Caroline Sack Klein
Chartering a canal barge (ideal for groups of 6 to 12 adults) is slow travel at its best: your own luxurious boat plying centuries-old canals through the bucolic French countryside, covering just a few miles a day between excursions to villages, chateaux, markets, and local artisans' studios. Ellen and daughter Caroline Klein will level with you about the pros and cons of each itinerary, as well as the crew, cuisine, and sightseeing possibilities on offer for each vessel. The warm welcome their travelers receive on board is testament to Ellen and Caroline's close personal relationships with all the vessels' owners.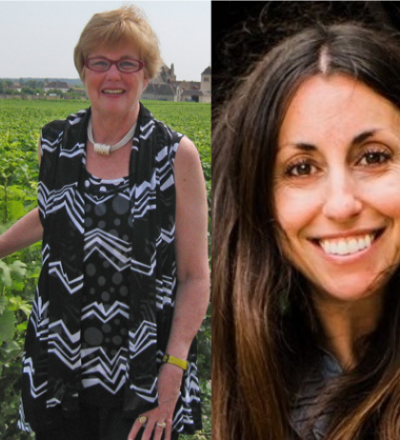 Ships and Cabins
Best-value barge
At $3,750 per person, the eight-passenger Savoir Vivre, cruising in Burgundy's Cote d'Or, was conceived as an option for travelers more interested in authentic culinary experiences than deluxe amenities: Unique among all barges, the cruise fare includes dinner on shore each night at a different bistro; breakfasts and lunch are delivered by a top local chef and served on board. Daily sightseeing includes a goat cheese tasting and a visit to Dijon's lively market. The boat's interior is space-saving and flexible; for instance, the salon converts to an informal dining room in minutes, while the kitchen is open and always available to guests.
Best-value barges for families
In Northern Burgundy, the 12-passenger Luciole offers the Family Adventure Cruise, a personalized and private experience for three-generation families. Priced at less than $6,000 per person, this is an excellent value, as the daily programming includes events perfect for passengers of all ages: Kids can enjoy zip-lining, go-karting, and kayaking, while excursions to local markets and working vineyards appeal to adults. The gourmet cuisine includes wine pairings and nightly cheese platters as well as special children's menus, ensuring that everyone enjoys their family time together at the table. Also included are chauffeured transfers to and from Paris, all onboard food and wine, an open bar, and use of on-board bicycles.
In southwest France, the Family Fun program on the 10-passenger Athos takes multigenerational travelers on a private cruise of the Canal du Midi. Family-friendly adventures include kayaking, horseback riding, swimming in the Mediterranean, helping the chef pick out the best produce at the local market, touring nearby Roman ruins, and lots of cycling along the beautiful towpath. Mealtimes are taken al fresco when the weather permits, and the chef is happy to provide kid-approved fare while serving seasonal delicacies and regional wines to those with a more sophisticated palate. Priced from $4,950 per person, the fare includes all food and wine, an open bar, all excursions and activities, and use of onboard bicycles.
Best barge for a splurge
The eight-passenger Prosperité in Burgundy's Cote d'Or has the most spacious accommodations in barging: Its four identical cabins are 270 square feet, complete with king-size beds, a full-sized shower, and a bathtub. The open kitchen encourages casual cooking lessons with the chef, while gourmet French cuisine and top Burgundy vintages are served in the formal dining area. When not socializing on the large deck or lazing in the hot tub, guests can stroll or cycle along the canal's refurbished towpath. Sightseeing includes guided visits to working vineyards, lively markets, and picture-perfect towns. A top British-French crew of six welcomes guests so warmly that many return again and again. Round-trip chauffeured transfers from Paris are included in the fare.
Best small barge
Rendez-Vous, a four-passenger barge in Burgundy's Cote d'Or wine region, feels more like a sleek boutique hotel than a traditional barge, with well-appointed cabins, an open chef's kitchen, and a shaded sundeck. The onboard cuisine combines traditional ingredients with modern cooking techniques, while the wine pairings emphasize the region's world-famous vintages. Sightseeing includes visits to markets, vineyards, chateaux, and the perfectly preserved 14th-century Hospices de Beaune (see "Best Land Excursions"). You can also explore the towpath and neighboring villages by bicycle. Round-trip chauffeured transfers from Paris are also included in the fare.
Best barge for foodies
Every barge in Europe could win this category, as the entire style of travel is focused on locally sourced ingredients, seasonal cuisine, and boutique wines. Depending on the barge's itinerary, foodies could also enjoy shopping with the chef at local markets, attending informal cooking demonstrations in open kitchens, or enjoying impromptu spirit tastings from the onboard bar.  As well, many tastings and samplings are included in the daily activities, with guests sipping small-batch wine at area vineyards, nibbling on bonbons at an artisanal chocolatier, or savoring freshly made cheeses at a fromagier.
Where to Cruise
Best itineraries
The Côte d'Or route through Southern Burgundy combines some of the most beautiful rural scenery in all of France with guided visits to the region's many cultural attractions, preserved antiquities, and charming towns. Then there are the region's great traditions of food and wine. Barge guests can tour Dijon's vast and colorful Les Halles market, with its array of fresh produce, cheeses, and pastries; sample top vintages from famed wine towns such as Nuits St. Georges, Pommard, Puligny Montrachet, and Volany; sip the locally produced blackcurrent liqueur, Cassis; and of course shop for the area's iconic mustard. Miles and miles of beautifully refurbished towpath are perfect for long afternoon strolls or leisurely bike rides.
Don't-miss stop
Vessels cruising on the idyllic Canal du Midi in France's Languedoc-Roussillon take passengers to the Cité de Carcassonne, a beautifully restored medieval fortress, encircled by a moat and wall, that was declared a UNESCO World Heritage site in 1997. This is France's second most visited tourist attraction (after the Eiffel Tower), but barge guides know how to avoid the inevitable crowds.