The insider advice on this page is from one of Wendy's Trusted Travel Experts for Orlando and Disney World: Michelle Allen of Travel Magic.
The seemingly infinite array of hotel, activity, and dining options that Walt Disney World offers can overwhelm anyone—and Disney's in-house agents are focused on selling (and upselling) quickly, so they don't get to know each family. Michelle, by contrast, designs the perfect Disney vacation by learning the details of your group (which characters you want to meet, how scary a ride your kids can handle), sorting through the veritable banquet of choices, and helping you decide what to put on your plate. She continuously checks all rates to make sure you pay the lowest possible prices—even if a discount appears after you've booked—and she maximizes your time at the parks and minimizes hassle by arranging all expedited passes as soon as they're available (which Disney's agents won't do) and tackling other logistical concerns in advance. Michelle arms travelers with customized itineraries that include park maps and tips for everything from the best places to view parades and fireworks to where to meet a favorite character. And it's all accessible as an app on your phone, including a feature that lets you instant-message her with any questions or concerns. Whether your plans involve Walt Disney World, Disneyland, Adventures by Disney, Universal Orlando, Aulani (the Disney resort in Hawaii), or Disney Cruise Line, she's the ticket.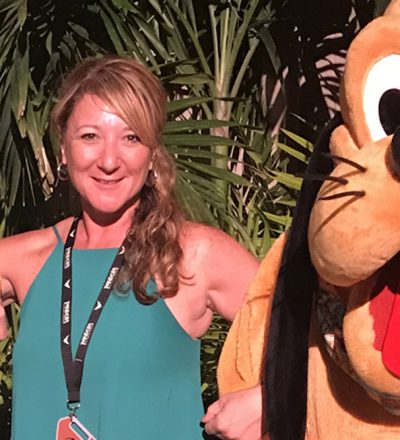 Where to Stay and Eat
Best bang-for-your–buck hotels
The Garden Wing rooms at the Contemporary Resort allow you to stay in the most expensive neighborhood at Disney (the coveted "monorail" line, which is the closest to the Magic Kingdom) without having the most expensive house on the block. By not paying the premium to have a lake view or a theme-park view in the main Tower building, you can enjoy staying at a deluxe resort in one of the best-priced rooms.
The Port Orleans French Quarter Resort is in Disney's moderate category, but don't dismiss it. This sweet Dixieland-themed property inspired by the French Quarter has only 1,000 rooms, so there's less competition for space at the pool and the food court than at other mid-priced resorts, which can be twice as large. The kids will love the water slide at the pool, and the whole family will appreciate the direct buses to each of the parks and the option for a boat ride on the canals to Disney Springs.
Families enjoy the Family Suites at the Art of Animation Resort. Although a value-category resort, its suites can sleep up to six people, have two bathrooms, and are themed after Cars, Finding Nemo, or The Lion King. You also get a separate room from your kids! Rates start at about $325, which is a much better value than paying for two rooms.
Dishes to try
The tandoori chicken sandwich at Sanaa, in the Animal Kingdom, is flavored with minted greens, onion, tomato, and cucumber all atop fresh naan. Amazing flavor combinations in every bite!
In the Italy Pavilion at Epcot, Via Napoli's mushroom truffle pizza is exquisite. Also in Italy, Tutto Gusto is a hidden gem. It's a no-reservation wine bar where you can enjoy authentic antipasti and a wide selection of wines.
Restaurant with a view
For a spectacular view of the Happily Ever Fireworks in the Magic Kingdom and a scrumptious meal (order the oak-fired filet), head to the California Grill at the Contemporary Resort.
Don't bother
Going to the Be Our Guest restaurant for dinner; go for breakfast and lunch instead. Why? You can pre-reserve your meal 30 days in advance, pick your table, and your food magically arrives as soon as you sit down. It's quick and efficient—and is a money saver compared with dinner. As an added bonus, if you book a breakfast time before park opening, you can get expedited entrance down Main Street and secure that coveted photo in front of the castle without thousands of people in your shot.
What to See and Do
Don't miss
The pools at the deluxe resorts are welcome oases from the theme-park scene. People often feel they need to spend every moment exploring the parks, but the pools are attractions themselves. How about a slide built into a volcano (Polynesian Village Resort), a sand-bottom pool and gently flowing river (Yacht and Beach Clubs), or a splash-and-play area for the younger set in the Alice in Wonderland–themed pool at the Grand Floridian. At the Animal Kingdom Lodge pool, you can even watch giraffes stroll by.
Of all the character meet-and-greets, encounters with Gaston (from Beauty and the Beast) or Cinderella's stepsisters are especially memorable. They are walking comedy acts! Challenge Gaston to a push up contest, or propose to one of the stepsisters; their reactions are priceless. Find out where and when to meet them through your My Disney Experience app.
Want to battle Darth Vadar with a light saber? Head over to Jedi Training Academy at Disney Hollywood Studios. Limited tickets for this popular stage show are released first-thing in the morning for ages 4-12. The kids will love this Star Wars experience.
Don't bother
The Park Hopper ticket option, which gives you same-day access to all four theme parks (Magic Kingdom, Epcot, Animal Kingdom, and Hollywood Studios) is an expensive ($80) add-on that many people don't really need. If you plan your time well, you may find that you can easily fill a day in a single park, eliminating the need for the Park Hopper option and saving significantly. If you're reserving your trip online, the Disney website automatically defaults to upgrades you may not want—higher room categories, the Park Hopper option—with additional features like water parks added in. Review carefully before you click.
Cheap thrill
For bang for the buck, you can't do better than timing your dinner at California Grill or Narcoossee's so that it coincides with the spectacular fireworks show over you-know-who's castle (times vary depending on the season). The restaurants even dim the lights and pipe in music to heighten the spectacle. You'll pay for dinner, of course, but the entertainment is free.
Having a sweet-tooth emergency? Check out the cupcake ATM at Sprinkles cupcake shop in Disney Springs!
Check out these nightly activities in Fort Wilderness: Travel under the moonlight on a 45-minute wagon ride (about $9/adult, $6/child); sing around the campfire and watch Disney movies under the stars; or enjoy a marshmallow roast with Chip and Dale. The latter two are free to all Disney guests!
Bragging rights
Disney is in the business of making dreams come true, and Michelle can work with its special events department to create marriage proposals, birthdays, and other celebrations, complete with actors, props, music, and other surprises. The experience is limited only by your budget. She recently arranged a private breakfast and a visit from Mickey for a family of 20 in the Animal Kingdom park before it opened for the day. Price tag: $5,000.
Downtime
Play a round of golf at the Four Seasons Resort Orlando, fish for bass on Bay Lake, or enjoy a massage at the Grand Floridian spa.