The insider advice on this page is from one of Wendy's Trusted Travel Experts for New Zealand and Australia: Sarah Farag of Southern Crossings.
A native New Zealander based in Auckland, Sarah works her superb connections—from sheep farmers to helicopter pilots—to open doors for her travelers. She can set you up with a driving itinerary and rental car with stops for scenic hikes, wine tastings, and whatever else you might enjoy, but for those times when you'd prefer not to worry about driving on the left-hand side of the road and to be able to lose your eyes in the country's countless glorious vistas and navigate to its most charming hidden corners without having to keep your eyes on the road, she has the savviest private drivers at her beck and call. Sarah has pull not just with the country's top luxury lodges, but also with its guesthouses and even private homes with chefs. And, as a mom of two teenage sons, she is especially tuned in to what families enjoy most. For those wanting to see more of the region, Sarah can add beach stops in Fiji and other South Pacific islands, or coordinate with Sydney-based colleague and fellow WOW Lister Stuart Rigg to include time in Australia.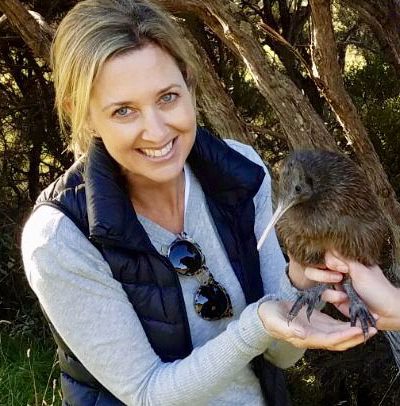 Combining countries
Always book your trans-Pacific flights into one country and out of the other, so you don't have to backtrack. It usually makes sense to start with New Zealand: Since you make up time flying from there to Australia and arrive just two hours after you departed, you can still fit a lot into your travel day.
If you have two-and-a-half weeks, you can go wine tasting on New Zealand's Waiheke Island, explore Maori culture and geothermal features in Rotorua, scratch your adventure itch in Queenstown, enjoy Sydney's harborside delights, take in Uluru and learn about Aboriginal culture in Australia's Red Centre, and end your trip on a pristine Queensland beach near the Great Barrier Reef.
Wine lovers will need three weeks to cover the major regions in each country: Waiheke Island, Hawke's Bay, and Central Otago in New Zealand, and the Barossa Valley, Mornington Peninsula, and Hunter Valley in Australia. Cap it all off with a few nights to detox on an island in the Great Barrier Reef.
Wildlife lovers will need a bit more time to get to the most remote spots. The mountains and rainforests of New Zealand's South Island hold the last remaining wild populations of most of the country's bird species, not to mention the marine life hiding along its rocky coastline. Australia's top nature destinations are spread across the country, from Kangaroo Island in the south to Kakadu National Park in the Northern Territory and Western Australia's Ningaloo Reef. Hone in on the creatures you most want to see, or expect to spend a good bit of time getting from place to place.
What to Do and See
Most underrated places
New Zealand's Lake Hawea isn't as well known as Lake Wakatipu in Queenstown, or even neighboring Lake Wanaka. But it's just as scenically impressive—if not more so—and you are likely to have the vast majority of it to yourself. It's well worth stopping for a picnic when driving along the country's west coast, but nowadays you can stay longer thanks to fabulous new options for an overnight, such as the ultra-luxe Mt Isthmus private villa or a cottage on Lake Hawea Station, a sheep and cattle farm focused on regenerative agriculture.
Australia's Northern Territory can be tricky to work into a multi-country itinerary due to the time required to get there and get around (given the vast distances), but those who make it are treated to red-earth deserts, lush green watering holes, star-filled skies, uniquely Australian wildlife, and authentic Aboriginal experiences.
Most overrated place
While Auckland is a thriving city in a beautiful location, New Zealand is all about getting out of the cities. Auckland is also a mini version of Sydney—so if that's on your list, you can skip the former, or use it only as a base to explore the beautiful islands and beaches on its doorstep.
Hidden gems
Both countries are known for their trekking routes, but they're also a casual walker's paradise, with countless shorter trails that you can easily enjoy on your own.
Blue Pools Track in New Zealand's Mt. Aspiring National Park is an easy, three-kilometer track through beautiful beech forests and via an Instagram-worthy swing bridge suspended over the glacial Blue Pools and the Makarora River.
Sydney's Bronte to Bondi coastal walk is one of the most scenic places to watch the sunrise over the Pacific Ocean and see Sydney locals going about their morning rituals (ocean swims, a before-work surf, beachside yoga, and flat white coffees in a trendy local café).
Don't bother
Hiring a campervan. They have become very overpriced, and now that many parts of both countries have banned "freedom camping"—the ability to park anywhere—they no longer offer the flexibility they once did. Campervans are also not particularly compatible with New Zealand's winding roads, and many locals are quite opposed to the scenic obstructions when parked en masse in the height of summer.
Cheap thrill
There are countless places to enjoy star-studded Southern-Hemisphere skies—from New Zealand's Southern Alps (the South Island's Aoraki Mackenzie region is home to an International Dark Sky Reserve) to Australia's vast outback. Time your stargazing right and you may even catch the spectacular Southern Lights (Aurora Australis).
If "cheap" isn't a requirement for your stargazing, book one of the glass pods at The Lindis in the Ahuriri Valley and enjoy the twinkling skies from your outdoor hot tub with a flute of New Zealand sparkling wine in hand.
Bragging rights
Sarah listens carefully to each traveler's interests and employs her wide network of contacts to tailor special experiences that you won't find online. She's chartered a helicopter and hired a Department of Conservation ranger to take her travelers to parts of New Zealand where few others have ever set foot—including a natural hot springs with a secret location.
In Australia, she's arranged a birthday party on Shark Island in Sydney Harbour with an Aboriginal welcome and smoking ceremony, didgeridoo players, dinner prepared by one of the city's most acclaimed chefs, and a private fireworks display.
Prime Picnic Spot
Take the ten-minute ferry ride from downtown Auckland across the harbor to historic Devonport. Collect picnic provisions from any of the quaint local cafés before walking up the nearby extinct volcano of Mt. Victoria for panoramic views of the Auckland skyline, the sailboat-filled Waitemata Harbour, and across to volcanic Rangitoto Island.
Across the Tasman, Sydney's waterfront Botanic Gardens are hard to beat for the picture-perfect picnic spot: a beautiful leafy setting with the harbor, opera house, and bridge as your backdrop.
Where to Stay and Eat
Best bang-for-your-buck hotels
Auckland's Hotel Britomart is the first in the country to earn five green stars from New Zealand's Green Building Council; it gets another five stars for its service and elegance. All of the rooms are the same extremely compact size—but all exceptionally tasteful and considered—so you're best off booking one from the least expensive Laneway category.
In Sydney, if your time is short, it's possible to combine Sydney Harbour views, native Australian wildlife right outside your room, and dinner at one of the city's hottest new restaurants in a single hotel stay, provided you book a room at the Wildlife Retreat at Taronga, located within Sydney's Taronga Zoo.
Best-value splurge lodges
As accommodations go, New Zealand is best known for its small luxury lodges; one of the most charming is Pihopa Retreat in Nelson. Situated on the outskirts of Nelson, this wonderful boutique property offers six spacious and beautifully appointed suites among 5.5 acres of gardens; continental breakfast is included and dinners can be arranged by the delightful New Zealand owners, who live in the main house with their family.
Ten miles off the coast of Queensland, Australia, Qualia's 60 ultra-luxe pavilions (what they call their standalone private villas) are nestled into the northern tip of Hamilton Island and surrounded by the Great Barrier Reef. You can fill your days here with snorkeling, scuba diving, flightseeing by helicopter or seaplane, spa treatments, or even a jaunt by private yacht to a secluded beach where you'll be dropped off with Champagne and a gourmet picnic.
Restaurants the locals love
Amisfield is a restaurant and winery on the outskirts of Queenstown, near Lake Hayes. Despite receiving a lot of press after the Duke and Duchess of Cambridge visited in 2014, the bistro's team have kept their heads down and continue to serve delicious dishes with a lovely local flair—nothing too fancy or fussy, but reliably tasty. The place is always full of locals, which tells you something about its consistency of service and culinary excellence. If you have time for a long and lazy lunch, ask for the "Trust the Chef" option: Simply let them know of any dietary requirements, then sit back, relax, and they'll bring a selection of dishes to your table.
Fratelli Paradiso is a lively neighborhood trattoria in Sydney's trendy Potts Point, and a favorite with both locals and in-the-know visiting celebrities; Elton John never fails to enjoy a casual meal here when in town. Friendly waiters translate the blackboard menus as the chefs prepare their signature dishes—Calamari Sant'Andrea and delicious lasagnes—best enjoyed with a glass of wine from the extensive list of Italian and Australian labels. As locals would expect, it's open seven days a week for all-day dining.
Dish to try
Spring is whitebait season in New Zealand, when these tiny freshwater fish become one of the country's most sought-after delicacies. They aren't bought in the supermarket; locals have a "whitebait guy" they buy from. The fish are most often cooked with eggs to create omelet-style whitebait fritters, which can be found everywhere from New Zealand's top restaurants to small roadside takeaway stalls. Four of the six whitebait species are endangered, so ask if what's being served has been sourced sustainably.
Meals worth the splurge
On New Zealand's South Island, in a region inscribed as a UNESCO World Heritage site, Sarah can arrange for the ultimate indulgence in both fresh seafood and untouched scenery: A private helicopter takes you on a scenic flight—over rainforests, mountains, glaciers, and fjords—to a custom-built boat in Dusky Sound, one of Fiordland National Park's most remote inlets. Here you can fish or hike the shoreline where explorer Captain Cook first came ashore in 1773, and where today dolphins, fur seals, and other wildlife abound. For lunch, your pilot will actually dive into the icy-cold waters, harvest a couple of crayfish from the sea floor, and barbecue them to be served with gourmet sides and New Zealand wine and beer.
In Australia's dining capital of Melbourne, Attica serves innovative degustation menus that showcase local Australian produce such as salted red kangaroo and King George whiting in paperbark, as well as ingredients foraged by head chef Ben Shewry himself.
How to spend a lazy Sunday
Farmers markets' have made a big comeback in recent years and are held in most cities and towns across New Zealand on Sunday mornings. Head down for a delicious brunch freshly harvested by the farmers themselves, and ask the locals which coffee cart is the best. Don't miss the markets in the waterside precincts of Wynyard Quarter (Auckland), Queens Wharf (Wellington), The Terrace (Christchurch), or Steamer Wharf (Queenstown). In Australia, there is Melbourne's Queen Victoria Market, the very tasty South Melbourne Market, and Hobart's lively Farm Gate market.
As for your Sunday afternoon, if you're in Auckland, catch the ferry across the Waitemata Harbour to Waiheke Island. Known affectionately as the Island of Wine and just 40 minutes from downtown, Waiheke is where locals go for a relaxed vibe, long lunches looking back across to the city, strolls past coastal sculpture, and beach walks.
For a lazy Sunday afternoon in Sydney, catch the ferry across the harbor to Manly, where you can enjoy a coastal stroll, a swim in the surf, and a sundowner with the locals by the water's edge on Manly Wharf.